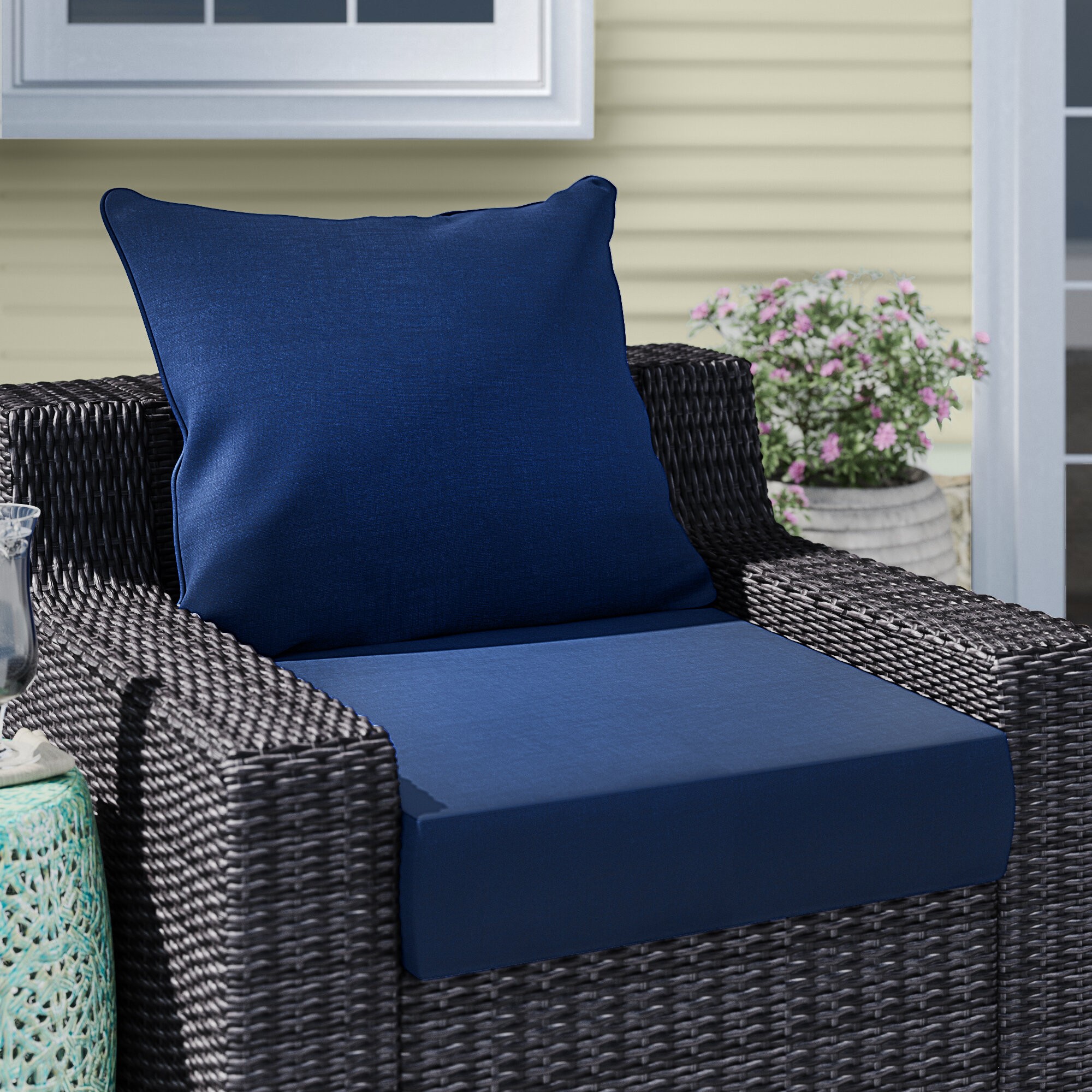 Leala Texture Outdoor Lounge Chair Cushion
Combining absolute comfort with an elegant design, this pair of lounge chair cushions feature a large pillow back with welt detail and a bottom cushion. This durable set made of polyester outdoor fabric is UV treated, weather and fade-resistant, perfect for adding style to your patio seat with its vibrant colors, and can easily be cleaned with soap and water.
Pair with patterned pillows with the same color accents for a well-styled patio setting.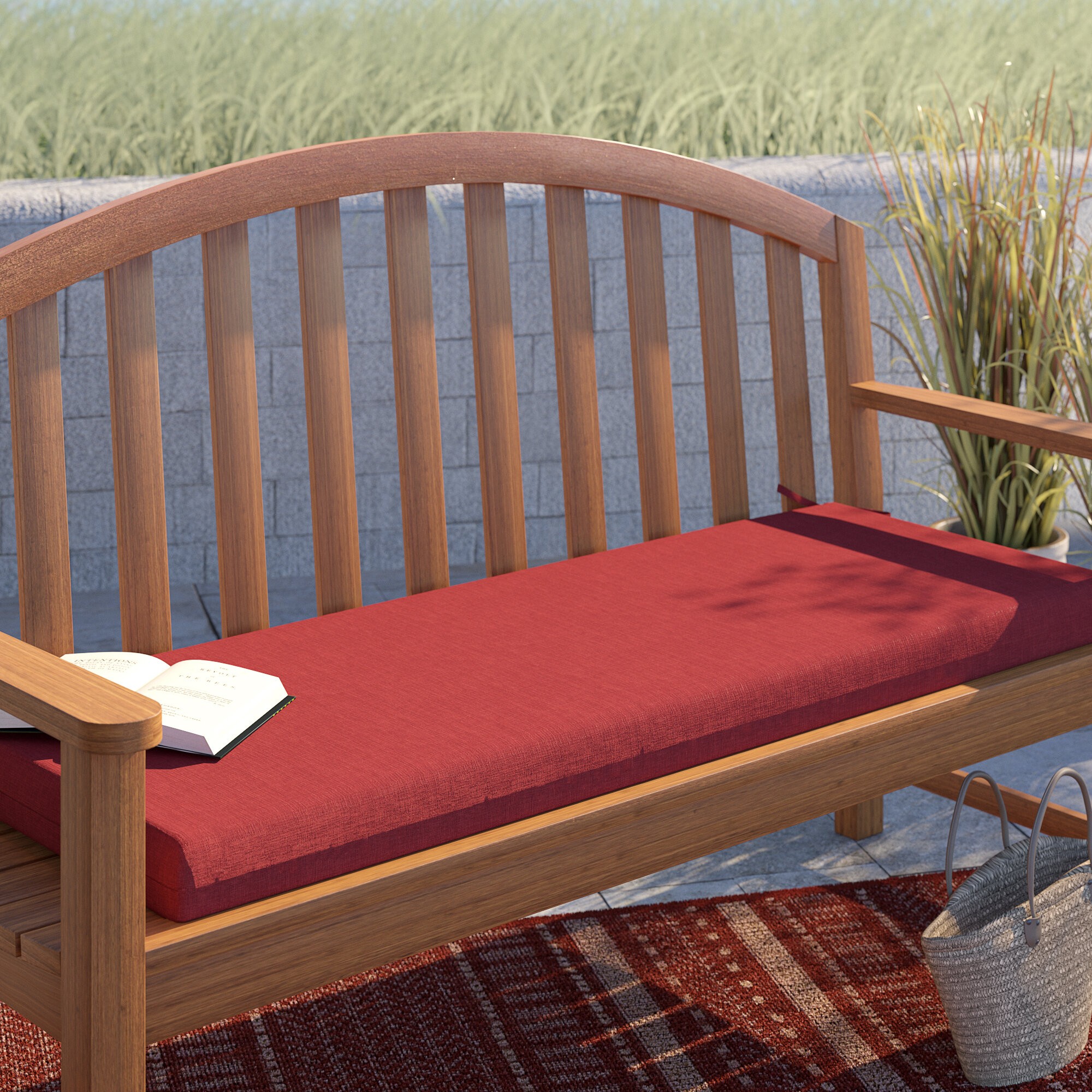 Texture Outdoor Bench Cushion
Transform your outdoor bench into an interesting and charming seating with this outdoor bench cushion. Available in beige, blue, dark green, blue/green, and red, this accessory piece adds comfort and a pop of color to your bench.
With a measurement of 46"W x 17"L x 3"T, this cushion fits most standard benches and features 2 sets of ties to keep securely fastened to the bench and a polyester fiber that helps the cushion retain its shape.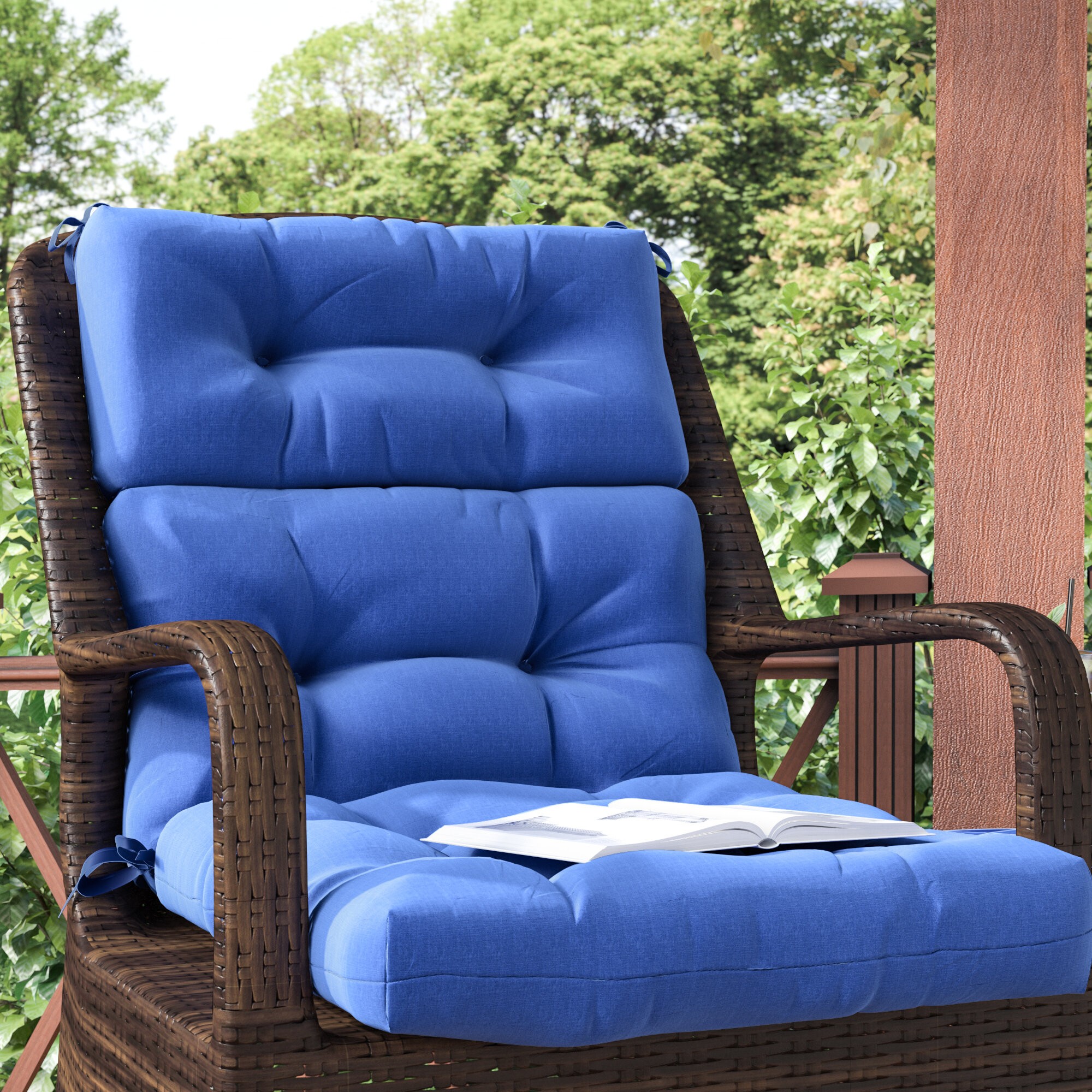 Sarver Indoor/Outdoor Seat/Back Cushion
This one-piece cushion is perfect if you're looking for a colorful, comfy, and functional accessory for your indoor or outdoor high back chairs. Made from a polyester blend in solid-hues, patterns, and stripes, this cushion is 5" thick, fade-, weather-, and stain-resistant, and features string ties to hold the cushions in place and button tufts to keep the fill in place.
Complement this cushion with throw pillows in the same color scheme for a relaxed and welcoming space.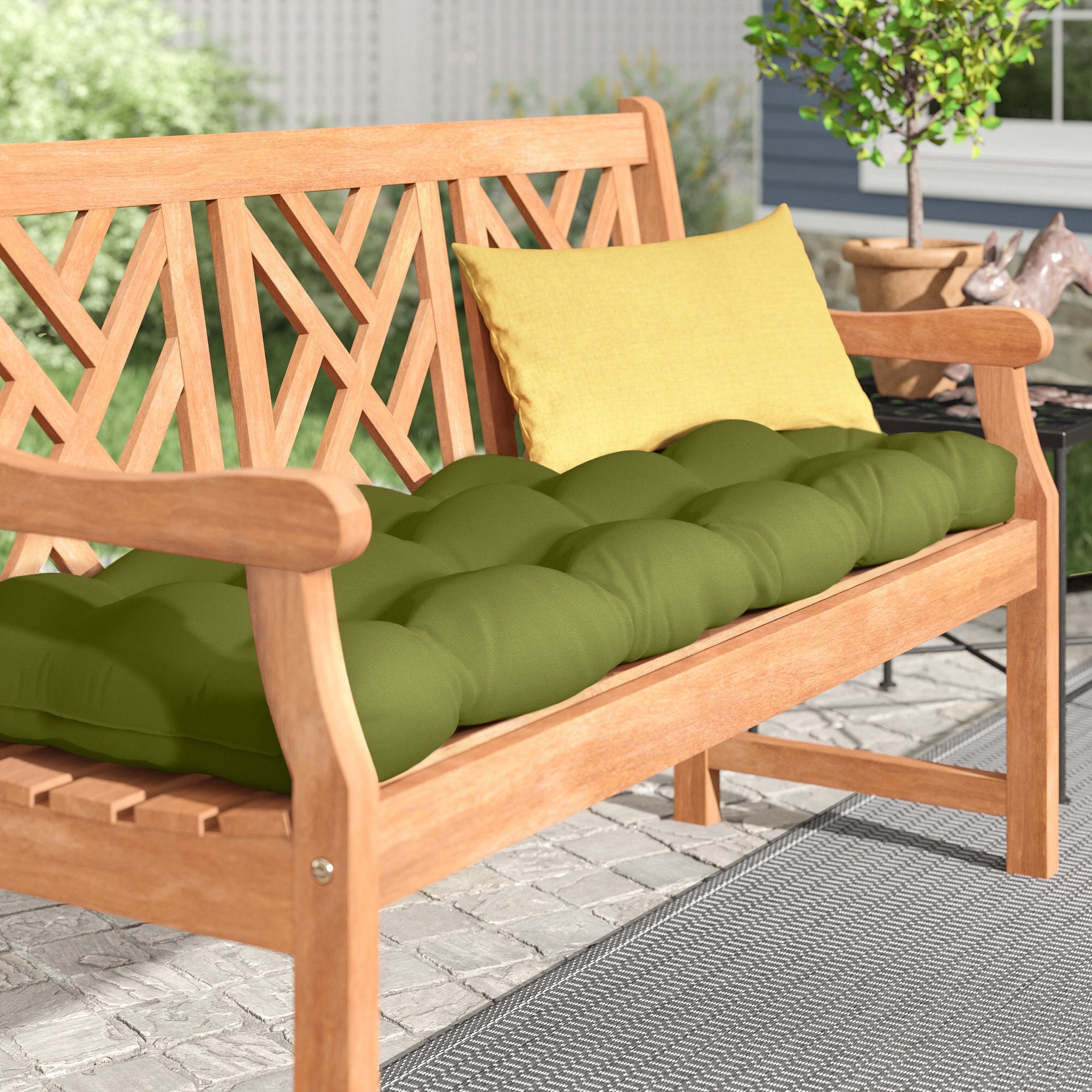 Outdoor Seat Cushion
Super padded with a vibrant color, this outdoor seat cushion will keep you comfortable and relaxed in your patio. It comes in a wide range of solid hues that can easily match with various color palettes and decors and adds a splash of cool to your backyard.
This plush cushion is soft to touch and sit on, and is fade- and weather-resistant for longevity. Pair with matching or patterned pillows in similar color arrangements for a lively and charming setting.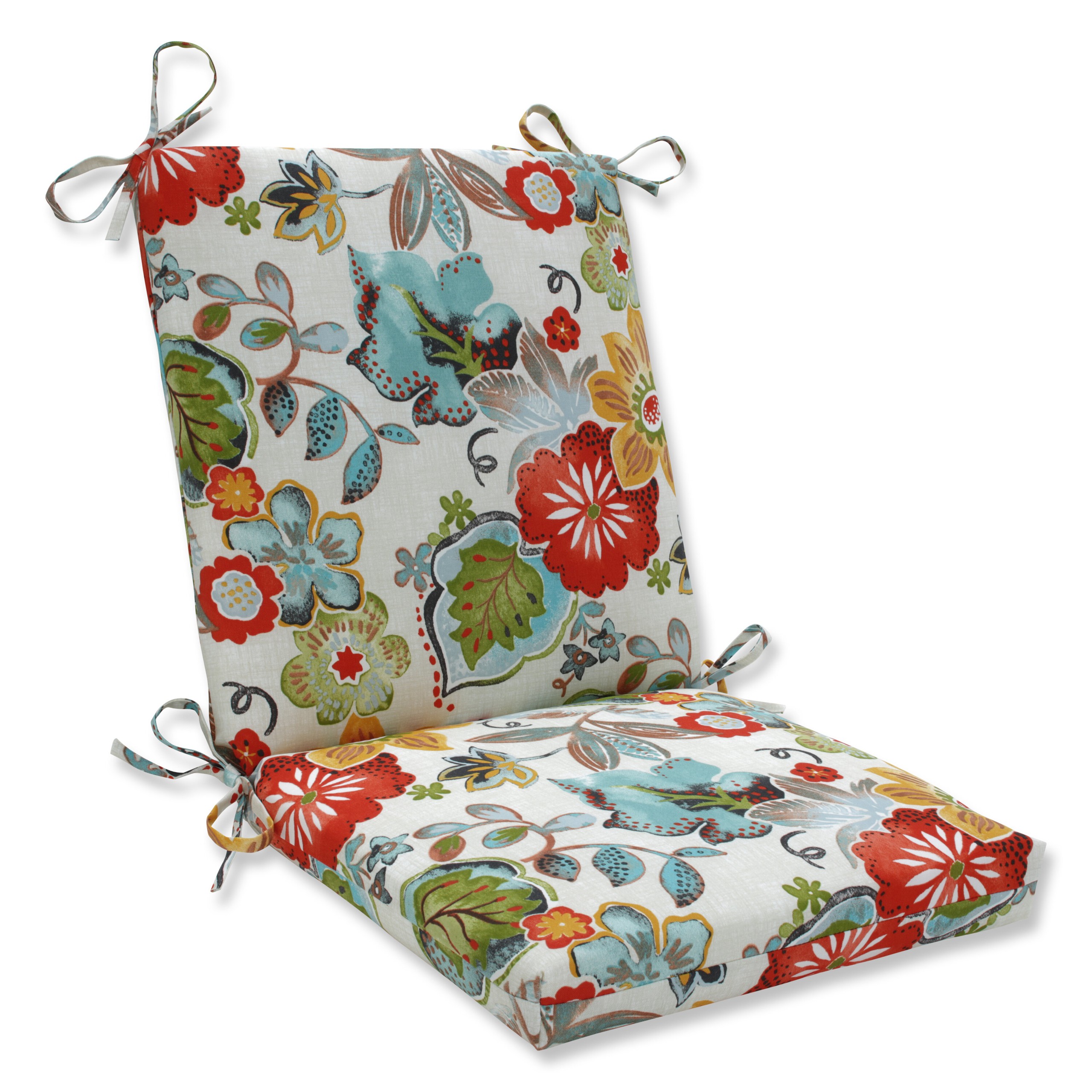 Osian Squared Corners Indoor/Outdoor Dining Chair Cushion
Brighten up your patio with these colorful indoor and outdoor dining chair cushions. Their vivid floral design is eye-catching and adds sophistication to any setting. Featuring a soft texture, square corners, and 14" ties to keep them fastened to your furniture, these oversized seat cushions are a combination of style and function.
Made of polyester fabric, these cushions are weather- and fade-resistant. Add throw pillows in different colors and sizes for a radiant and striking look.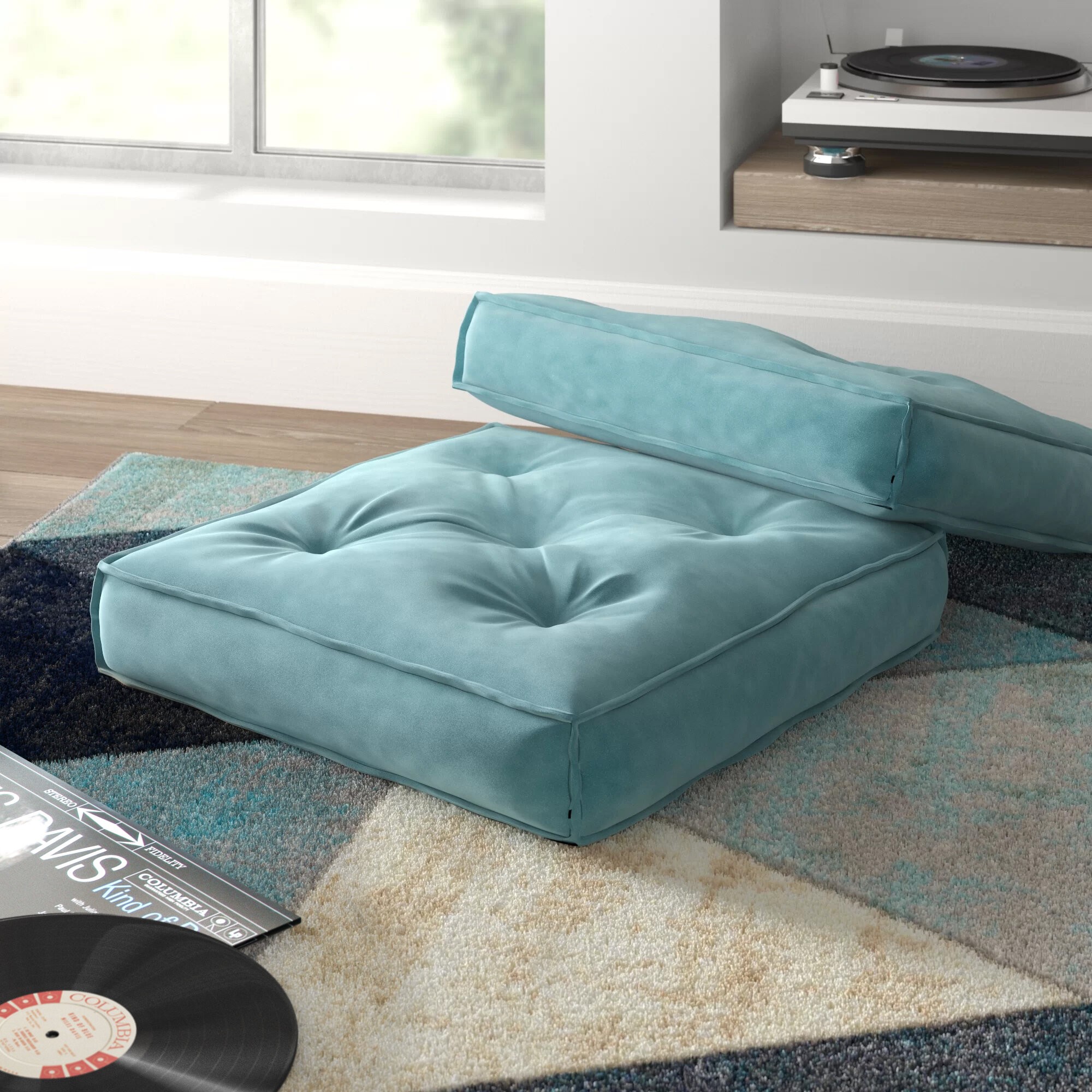 Asaad 24" Floor Pillow
This floor pillow provides you with comfort while adding a laid-back and relaxed touch to the atmosphere. Available in elegant pastel colors with a velvet cover, this floor pillow is a great eye-catching focal point suitable for various home styles and is perfect for lounging on the floor.
It adds interest to the room and can act as an extra seat for your guests. Place next to a houseplant and carpet to create a cozy corner for relaxing and reading.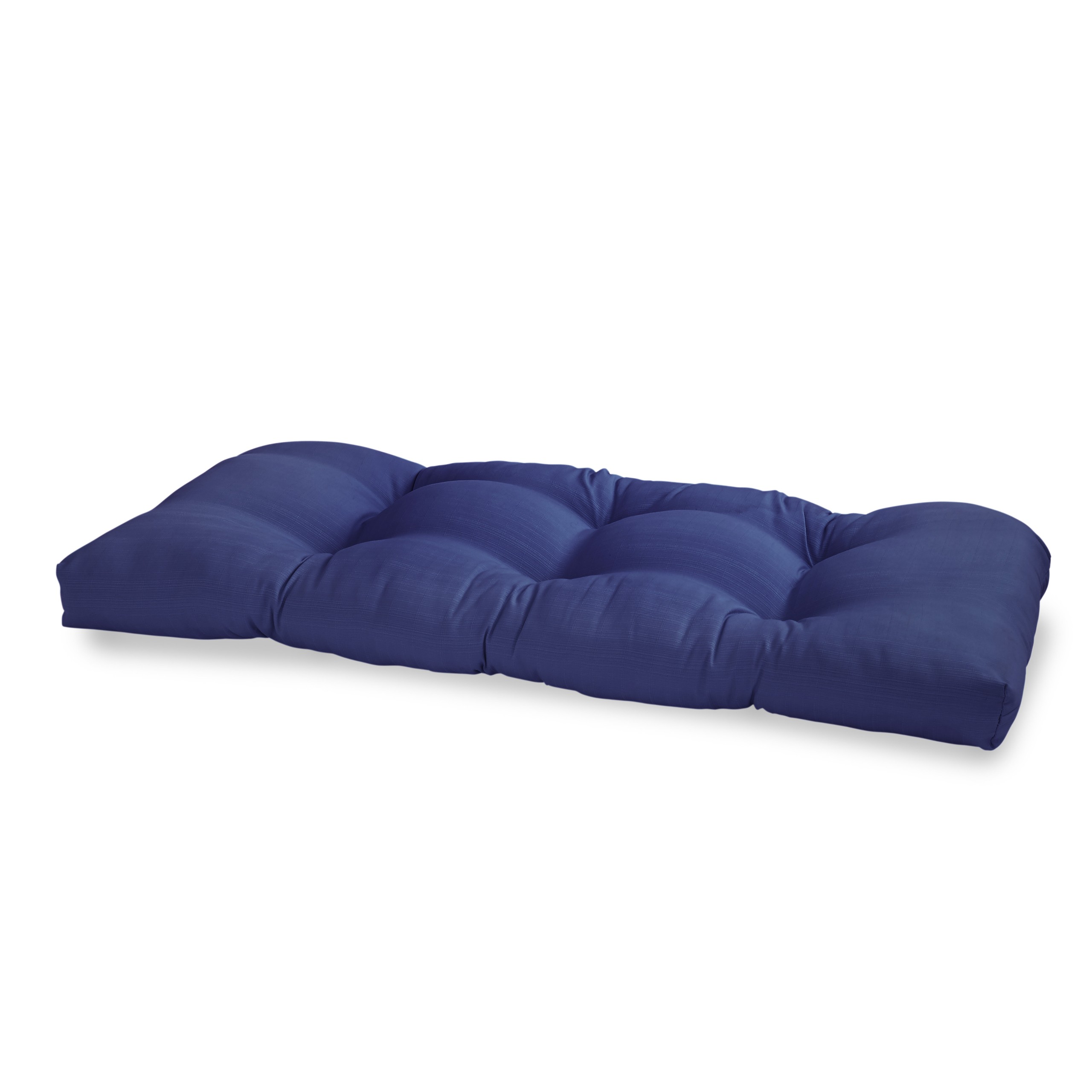 Settee Indoor/Outdoor Seat Cushion
Comfy with lots of padding, this cushion has an overall dimension of 45" W x 19" D x 6" H making it a perfect fit for benches, porch swings, and patio loveseats. It comes in an array of solid colors and can easily be coordinated with your existing outdoor decors.
Made with extremely soft polyester fabric, this stylish and durable outdoor cushion is UV and weather resistant. Pair with a matching carpet and throw pillows for an aesthetically pleasing patio.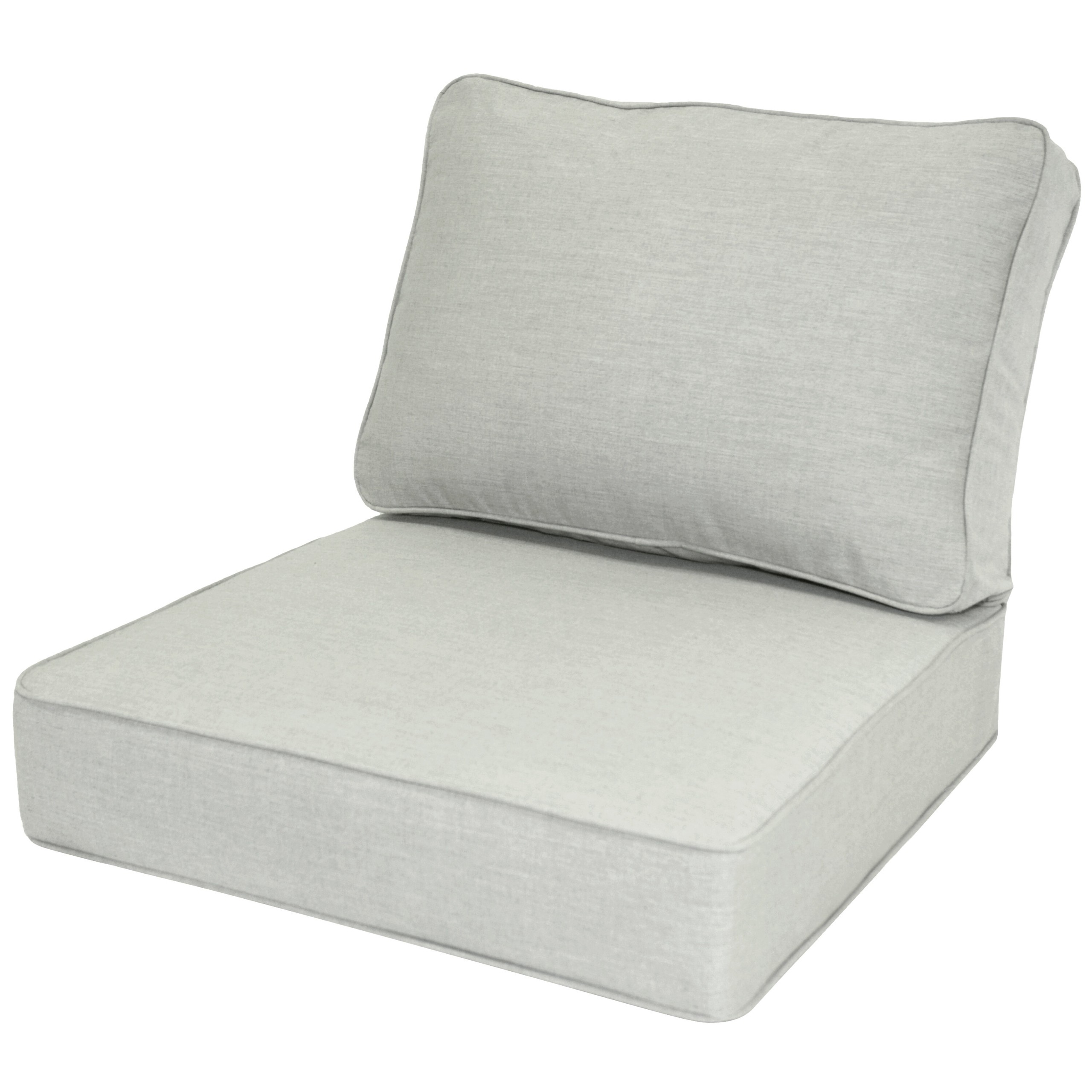 Outdoor Sunbrella Seat/Back Cushion
Modern with a minimal design makes this seatback cushion set the right choice for contemporary patios and backyards. It features one seat, one back cushion, and zippers to remove the covers whenever you want.
Available in a wide range of colors, you can easily pick one that best suits your outdoor furniture and decors. The cushions are comfortable and firm ensuring you will get many years of use. Pick 3 sets for a sofa and 2 for a loveseat.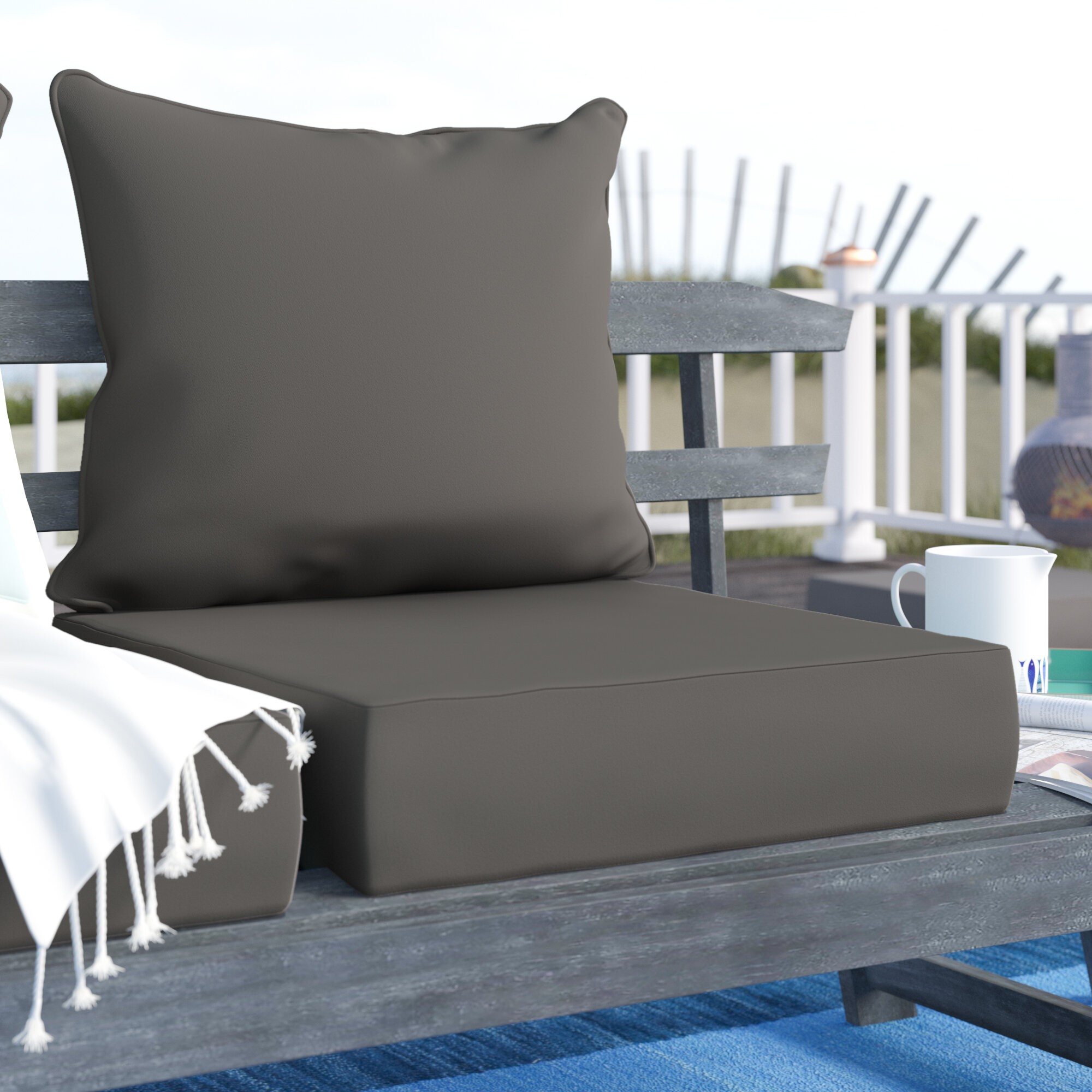 Adelia Texture Outdoor Cushion
Enhance your outdoor area with this simple yet sophisticated cushion set. Featuring one pillow back and one seat cushion in acrylic high-performance outdoor fabric, these cushions are UV treated, fade-resistant, robust, and can last for years.
They provide style and comfort with their sleek design and thick padding that remains in the same shape after a while. Make sure to bring them indoors when raining or when not in use for a longer lifespan.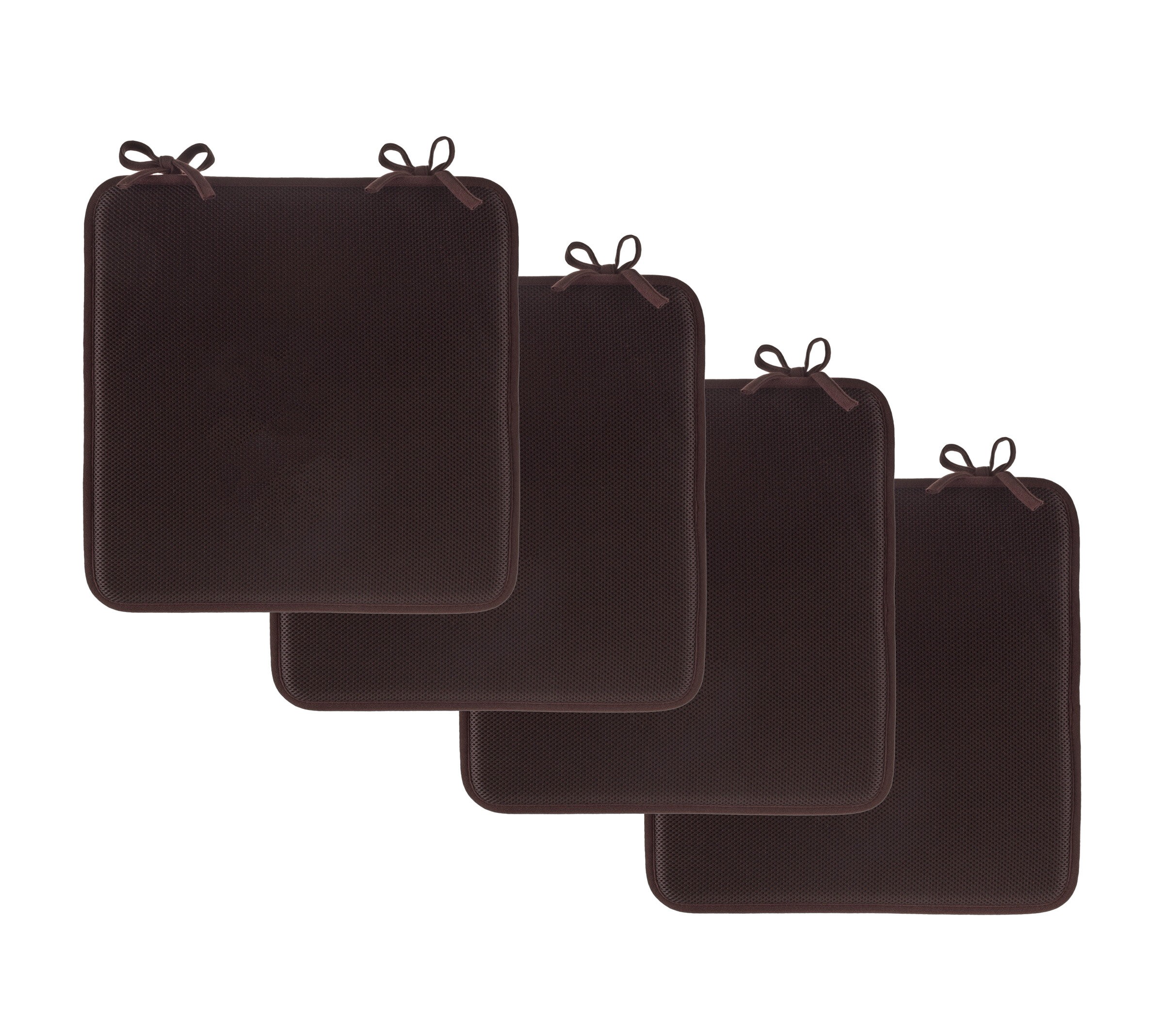 Indoor/Outdoor Dining Chair Cushion (Set of 4)
Thin but comfortable, these indoor and outdoor dining chair cushions are ideal if you're looking for a set that's elegant yet practical. This set of 4 comes in dark gray, tan, brown, and green, giving you multiple color coordination options for your dining areas.
These cushions are weather-resistant and can easily dry when wet. Place underneath a carpet in the same color scheme to brighten up the space.