Our Choice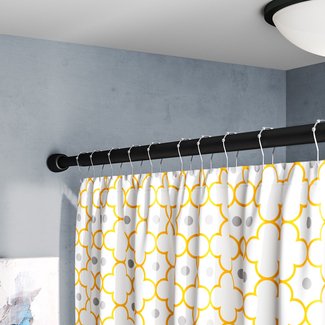 Larosa 87" Adjustable Straight Tension Shower Curtain Rod
If you're looking for a sleek tension shower rod in black, bronze, or white, this rod is a perfect choice! This 87'' adjustable straight shower rod is crafted from stainless steel, so it is corrosion and rust-resistant. The rod is also fitted with two non-slip feet, so you can expect it to stay in place, even after the shower curtain and liner become wet.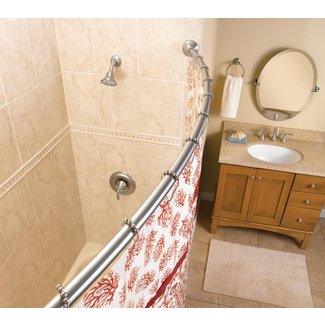 60" Curved Fixed Shower Curtain Rod
Delivered with a length of 60'', this curved curtain rod extends 5.80'' away from your tub or shower. These extra few inches give the impression of a comfortable, much roomier shower for you and your guests. This fixed shower rod comes with a pivoting mounting post and screws, so you will not need any additional materials for the installation. Keep in mind that the shower rod cannot be installed on an angled wall.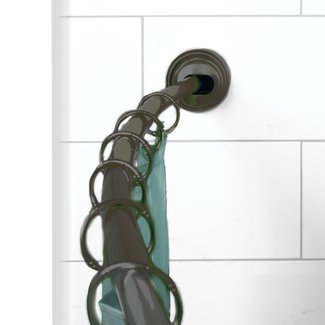 NeverRust™ 72" Adjustable Curved Tension Shower Curtain Rod
This curtain rod is one of the very few curved, tension-mounted options on the market today. Available in a brushed nickel or oil rubbed bronze finish, this curtain rod is the perfect addition to any traditional-style bathroom. The screw holes are discreet and covered by brushed nickel end flange caps. Made of sturdy lightweight aluminum, this shower rod is easy to install and built to last. At the time of purchase, the manufacturer will provide a lifetime warranty against rust, so you won't have to worry about finding a replacement any time soon.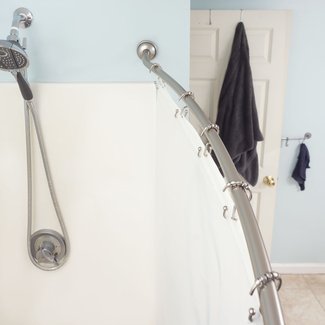 Steel 1.5" W Curved Shower Curtain Rods
This mounted curtain rod is the perfect choice for smaller bathrooms in need of a style update. Available in satin nickel, bronze, and chrome, each shade will blend in seamlessly with a variety of décor styles. The curtain rod's curved shape provides extra room and comfort in the shower. It can extend from 42'' to 72'' to fit the majority of standard shower sizes.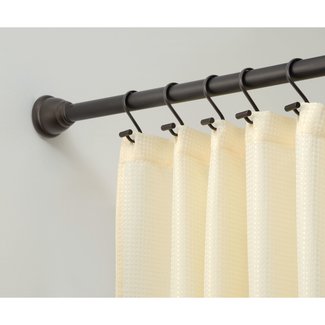 Cameo XT 75" Adjustable Straight Tension Shower Curtain Rod
Made of steel and plastic, this straight shower rod looks expensive but doesn't come with the price tag. Thanks to its classic shade, adjustability, strength, and durability, this versatile 75'' rod can be used around the home. In addition to holding shower curtains and liners, it can also conceal open-faced closets, support heavy blackout curtains, or even partition small living spaces.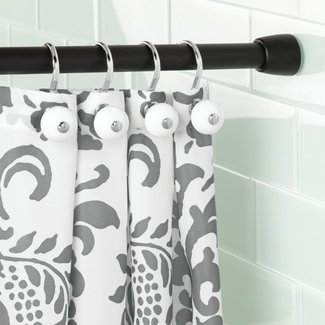 Proulx 108" Adjustable Straight Tension Shower Curtain Rod
At 108'', this straight curtain rod is much longer than the standard rod you will find in your neighborhood home improvement retailer. This tension-mounted curtain rod is adjustable, so you can put it to use for areas between 78'' and 108'' wide. Due to its length, this is the perfect curtain rod to use on outdoor balconies or inside 5th wheels to create some privacy.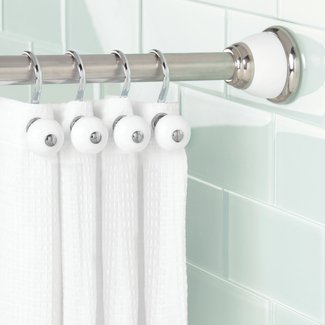 Norris 46.7" Adjustable Straight Tension Shower Curtain Rod
This adjustable tension curtain rod provides just the right amount of flair to your bathroom with its polished stainless steel and white finials. But this tension curtain rod isn't just something nice to look at – it is extremely reliable! The new constant tension technology works to keep your curtain in place, even when it is wet. This rod is also corrosion and rust-resistant so that it will last for years.

Edenscape 72" Adjustable Straight Tension Shower Curtain Rod
Available in three metal finishes, this adjustable tension curtain rod is great for a variety of styles. The polished chrome finish is a classic and matches most bathroom fixtures.
The brushed nickel is the best accent hue for granite or marble tiling, while the oil rubbed bronze option provides a bit of rustic flair. This curtain rod, made from 430-grade stainless steel, is rust-resistant and supports up to 25 pounds.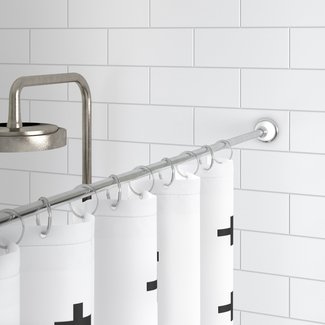 Norris 87" Adjustable Straight Tension Shower Curtain Rod
Designed with larger showers in mind, this 87'' straight shower curtain rod is tension-mounted for easy installation. No assembly required; you only need to place this rod in the correct position, turn, twist, and extend. However, it can be difficult to install this rod on your own, so make sure you have a helper. The beautiful stainless-steel rod with white finials is the finishing touch your bathroom is missing.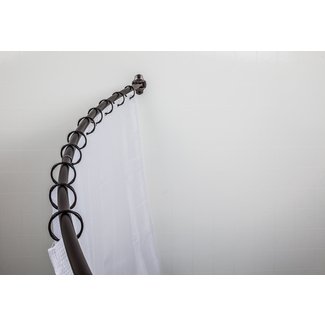 72" Adjustable Curved Fixed Shower Curtain Rod
This curved shower curtain rod is available in chrome, nickel, and bronze finishes to perfectly complement your bathroom décor and fixtures. This curtain rod can be adjusted to span 60'' to 72'' to fit most standard showers. To adjust, just pull or push on one end of the rod to activate the sliding adjustment mechanism. However, once the fixed rod has been installed, the brackets will not pivot. So make sure this curved rod has the right angle before mounting.