Orthopedic Chairs
Orthopedic chairs have ergonomically designed features that will adjust to your unique situation. They often have lumbar support to cradle the lower back, an adjustable neck/head rest to keep your spine aligned at the base of your skull preventing headaches, and the tilt features below the seat to allow you to customize the way you sit so you can be comfortable over long periods of time.
And these are just a few features. Take a look at the styles of chairs we have on this list. Maybe there is one that will help you.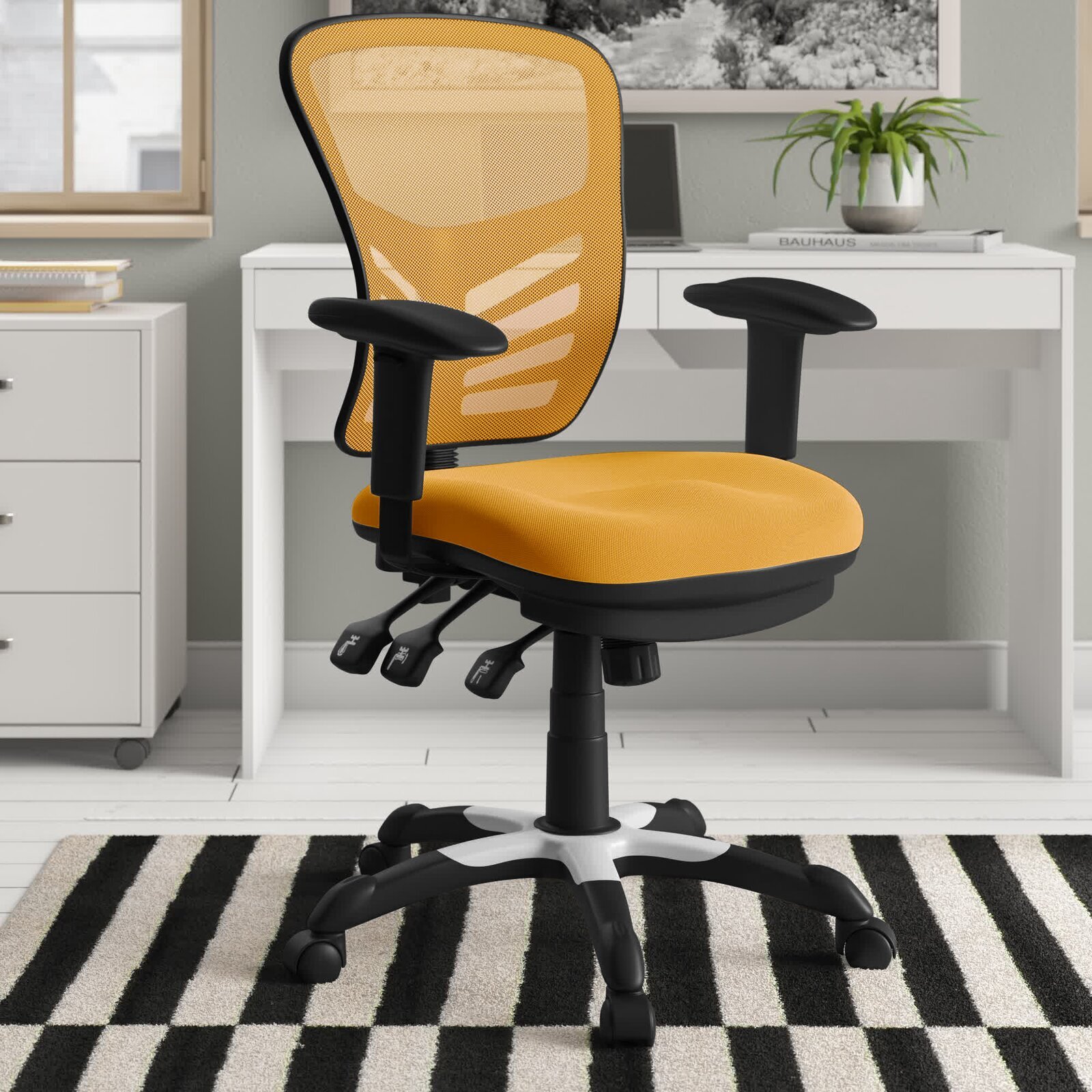 Billups Ergonomic Mesh Desk Chair

Leather chairs are fine, but if you sit for hours on end, they can get a little sweaty. Mesh on the other hand is breathable and gives plenty of airflow to your back and rib area. You will have no sweaty stains and strange wrinkles on your shirt or suit jacket when you sit on one of these tasteful mesh backed chairs.
This model is adjustable three ways, and even allows you to raise the back two full inches. It comes in 10 colors, many of them vibrant, and offers lumbar support, which you will feel right away as your back strain melts away. And if that wasn't enough, it features a tilt-lock mechanism so you don't lean back too far.
What we like:
● 10 colors
● Lumber support
● Three adjustment modes
● Full 360-degree swivel
What we don't like:
● Armrests cheaply made
$192.76 $485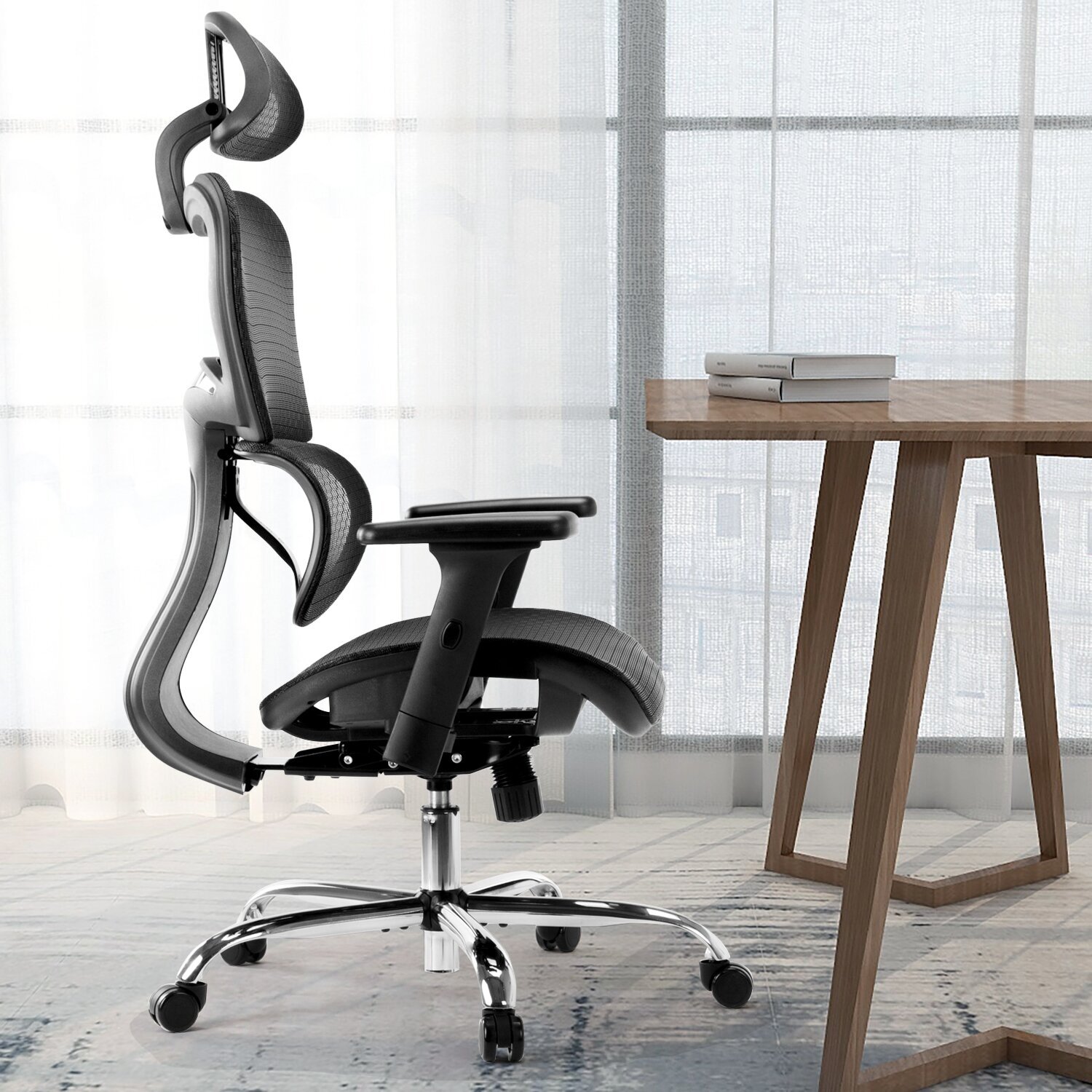 Aloura Ergonomic Task Chair

A high-back desk chair, this model features a curved design that allows it to conform to your body. The back is all mesh and composed of three individual pieces. The headrest is ready to cradle your head and neck, the upper back will support your shoulders, and the lower back is perfect for keeping your lumber area relaxed with just the right tension.
The padded seat is not too soft, but just right for keeping the blood flow to your legs on course, with a dip at the front to natural conform to your hips and thighs. It comes with two hardened plastic armrests that are easily adjustable. And to round it all out, the base and piston shaft are polished steel for a very modern look
What we like:
● Three-piece back
● Adjustable headrest and armrests
● Polished steel base
What we don't like:
● Recline feature unsafe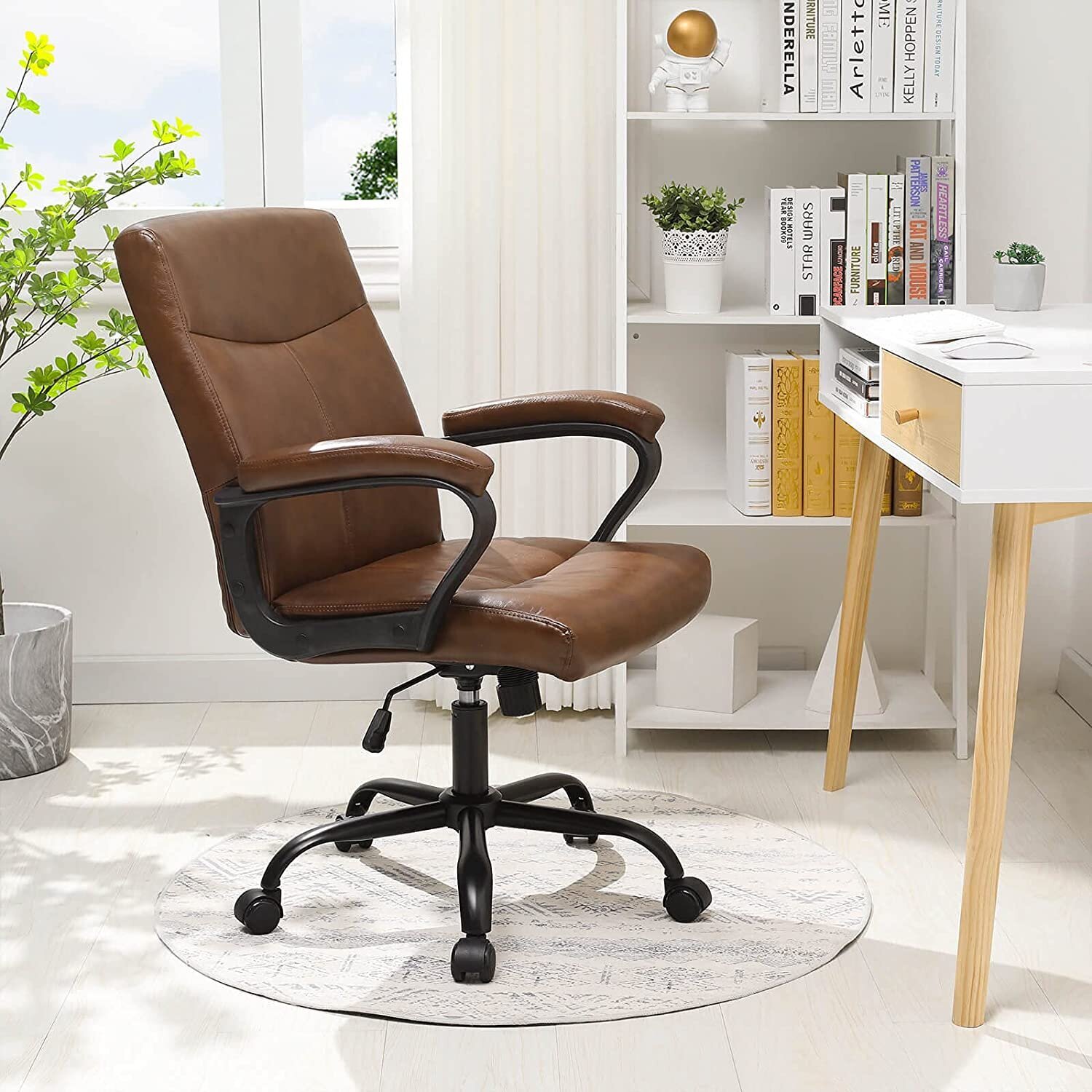 Pu Leather Office Chair

Just because it is ergonomic, doesn't mean it can't be stylish. This leather option for your ergonomic office chair is all about style and class. It is the best of both worlds, carrying a vintage appearance with some very modern features. Two of those features being a very soft lumbar support and tilting back option.
The armrests are steel with padded top to match the leather of the chair body, it has a tilt lock to prevent accidents, and the seat is extra-padded. One of its most useful features if you are more than the average person is a weight capacity of 400 lbs. This is more than most other ergonomic options.
What we like:
● Support 400 lbs.
● Quality leather
● Tilt lock
● Back tilt
What we don't like:
● To narrow for larger users
● Unstable when bending
$151.99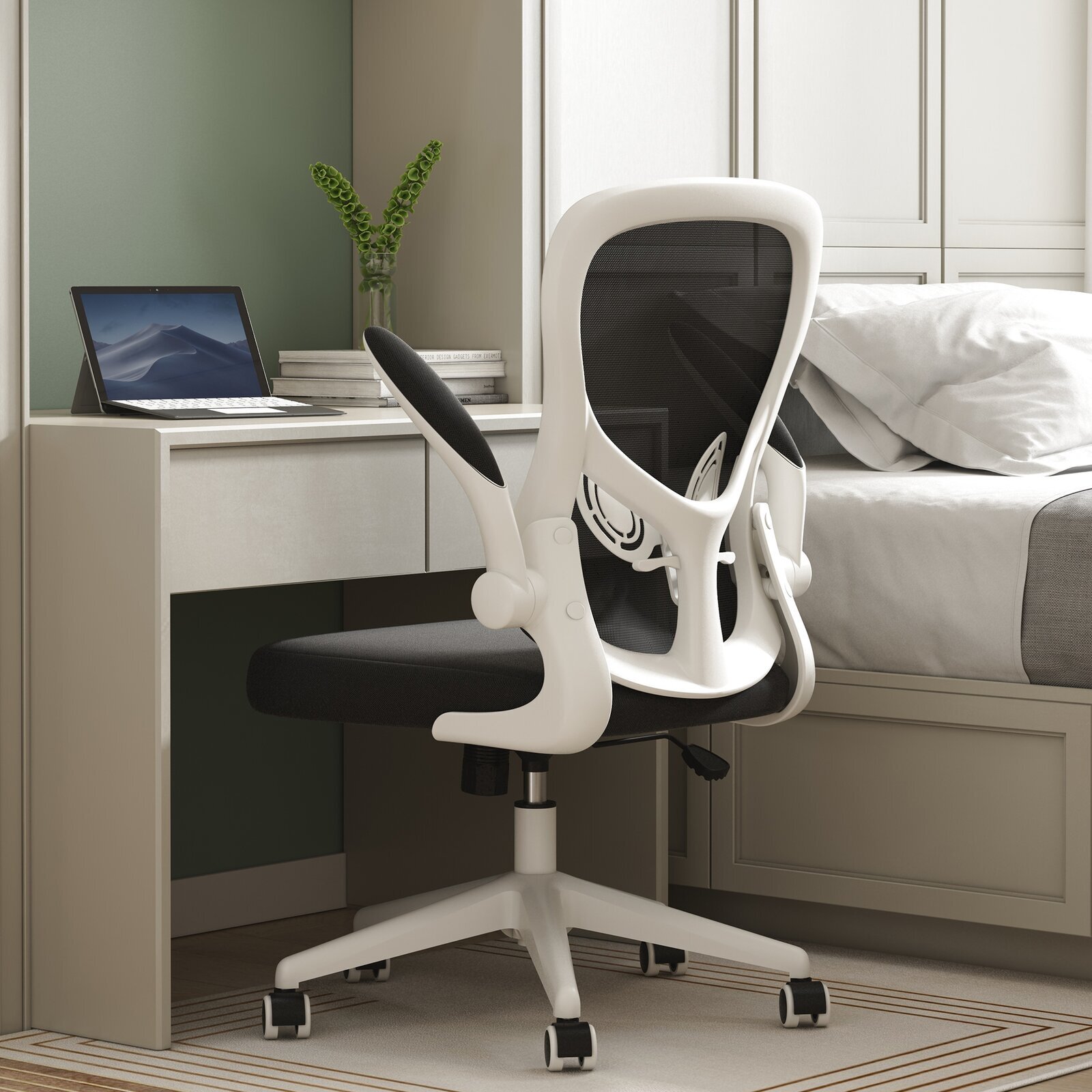 Polyurethane Task Chair

For something a little different, this ergonomic chair has all the features you love, with an additional sturdiness and overall dexterity you will appreciate over a long period of use. The seat is overstuffed for comfort, while the back, complete with lumbar support, is mesh, breathable, and cool over time.
It is lower to the ground giving it additional stability, and the base is wide with five hardened castors. Behind the mesh lower backing you will find adjustable lumbar support hands, and below a tilt lock mechanism. Feel free to lean back in this chair without fear of toppling. And it is lighter than most steel models.
What we like:
● Sturdy design
● Lighter than steel
● Adjustable lumber support
● Comes in black and white
What we don't like:
● Cheap seat cushion
$159.99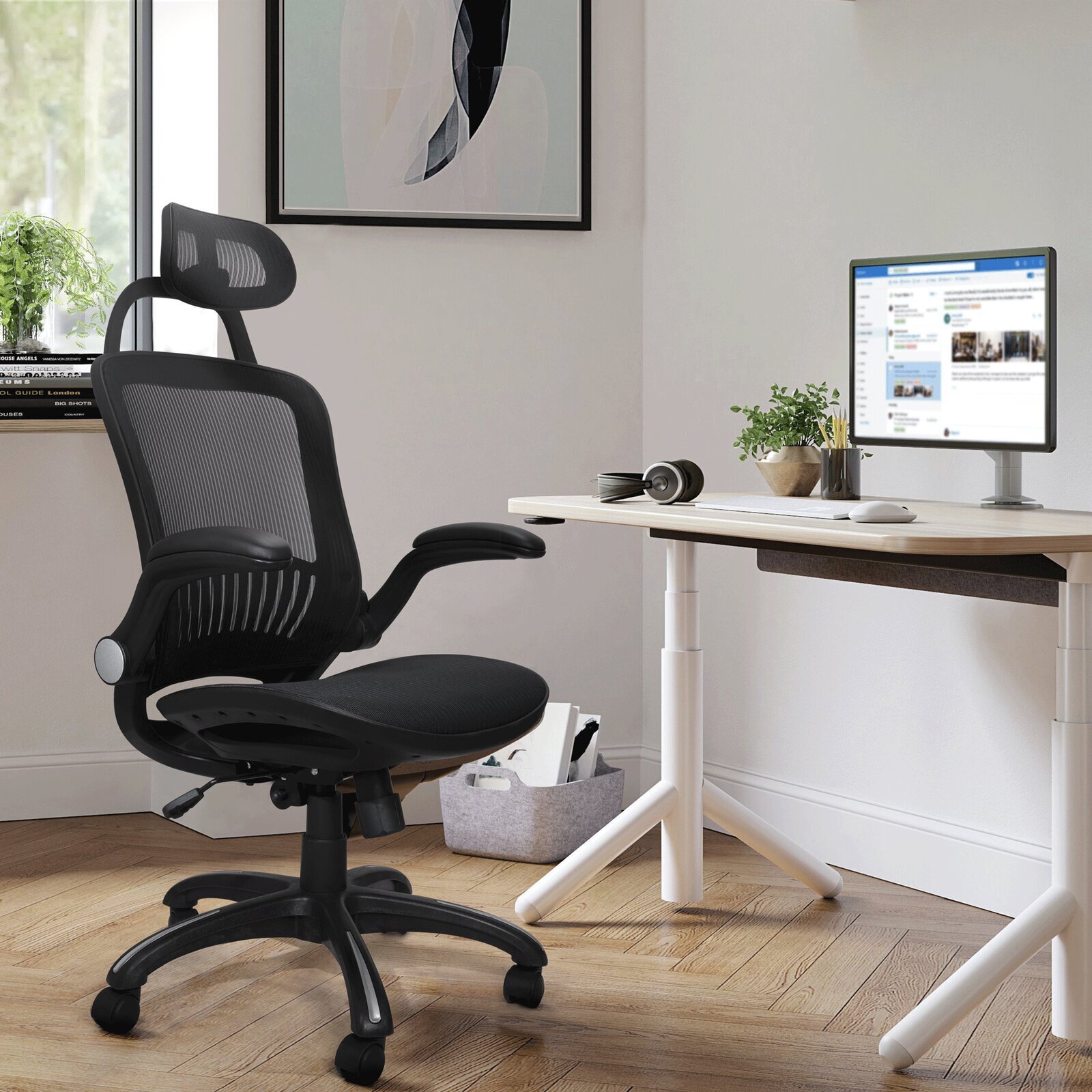 Ergonomic Office Chair

The first thing we all look for in an office chair is the adjustability and the back support. This chair features lumbar support that cradles your back perfectly, adhering to your natural curve. But the second thing people look for is neck support, and in that, this chair is amazing. It has a headrest that doubles as a supportive neck cradle.
The padded seat is thick and soft, filled with memory foam, and the armrests are made of hardened plastic and are completely adjustable. The back is mesh to keep you from sweating through your shirt, and it has the traditional 360 degree of swivel. All of this set on five large castors for ease of movement.
What we like:
● Adjustable armrests
● Headrest/neck support
● Thick padded seat
What we don't like:
● Only in black