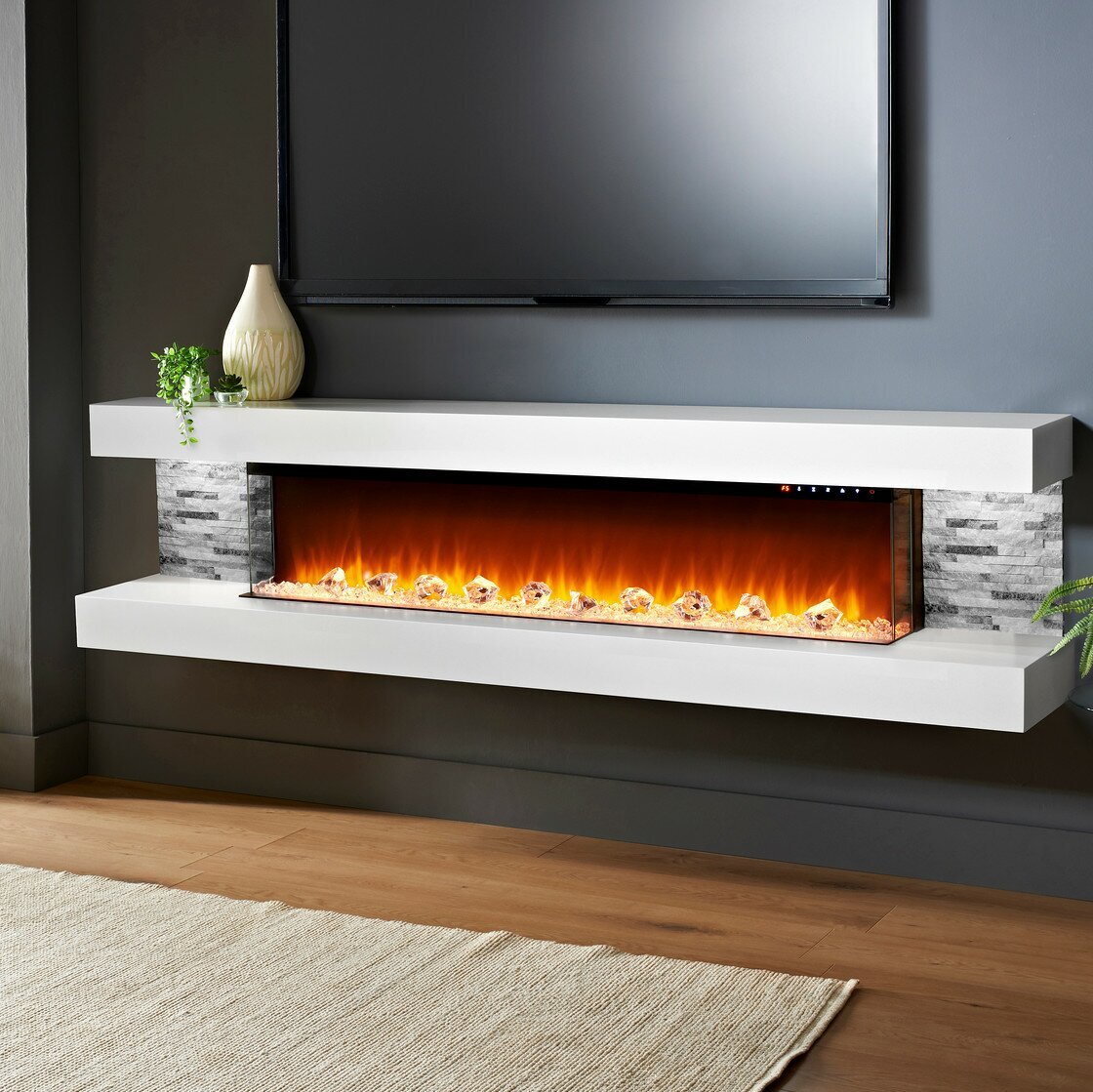 Mahalick Electric Fireplace with Cool Glass Feature

What we like: large fireplace and touchscreen controls
What we don't like: slight buzz with heating option
This fireplace wall unit is perfect for placing under a wall mounted TV. Its long, narrow shape beautifully complements a large flat-screen, and its contemporary faux-stone design adds a sophisticated and sleek touch to a living room.
When looking for a wall mounted electric fireplace, opt for a fireplace with a cool glass feature. Electric fireplaces draw in cool air from a room, heat it with a heating coil, and spread it out with a fan. With the chic 3-sided cool glass feature, this unit never gets hot enough to cause burns, making it a safe choice for homes with small children and pets.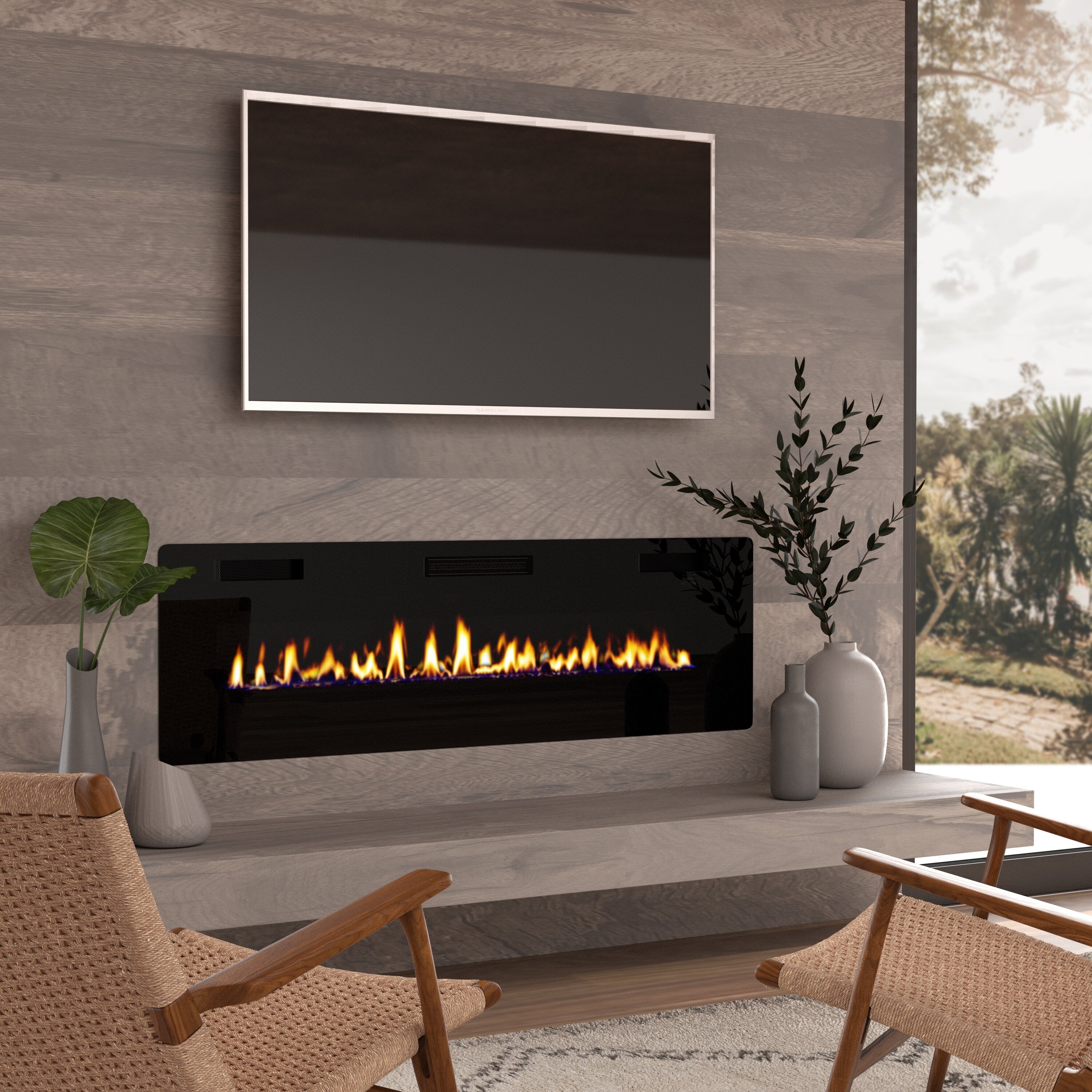 Ultra thin Wall Mounted Electric Fireplace

What we like: ultra-thin design and many customizable settings
What we don't like: no space to place books or pictures
This ultra-thin fireplace wall unit offers an attractive contemporary look that is versatile and beautiful. With an insert depth of just 3.86" you can place this fireplace in almost any location, and the front panel sits flush with the wall for a sleek, modern aesthetic.
The flame color is customizable and comes with five different dimmer settings so you can adjust the ambiance to suit your mood. It features two heating settings: warm and hot. The hot settings offer approximately 10,000 BTU output, so this unit is suitable for heating mid-to-large areas and open plan spaces.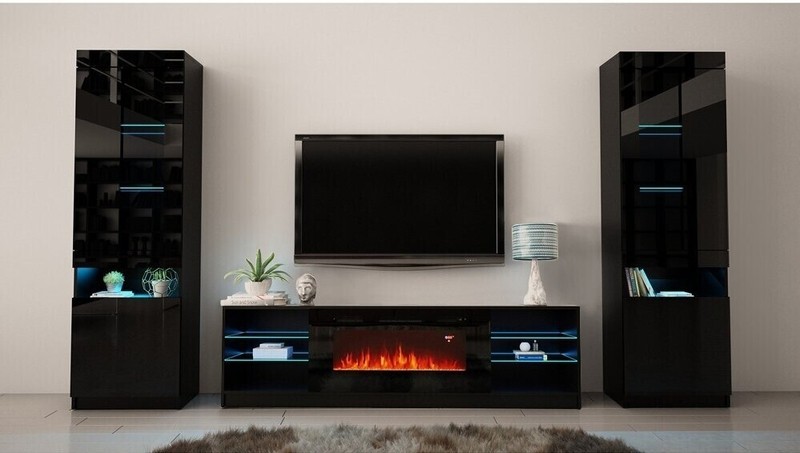 Delaine Wall Entertainment Center With Fireplace Included

What we like: large entertainment center with ample storage space
What we don't like: relatively small fireplace
This large entertainment wall unit with a fireplace has a modern and stylish design. With this entertainment unit, you can keep your living room warm while giving it an incredible look.
The unit has light blue neon lights, which look great in the dark, and the flames can be set to three different colors. The entertainment set comes with two large cabinets with closed and open storage spaces, perfect for keeping all your movies, CDs, vinyls, video games, and books. A media unit with a fireplace like this one has everything you need to create a cozy and fun space.
$1759.99 $1899.99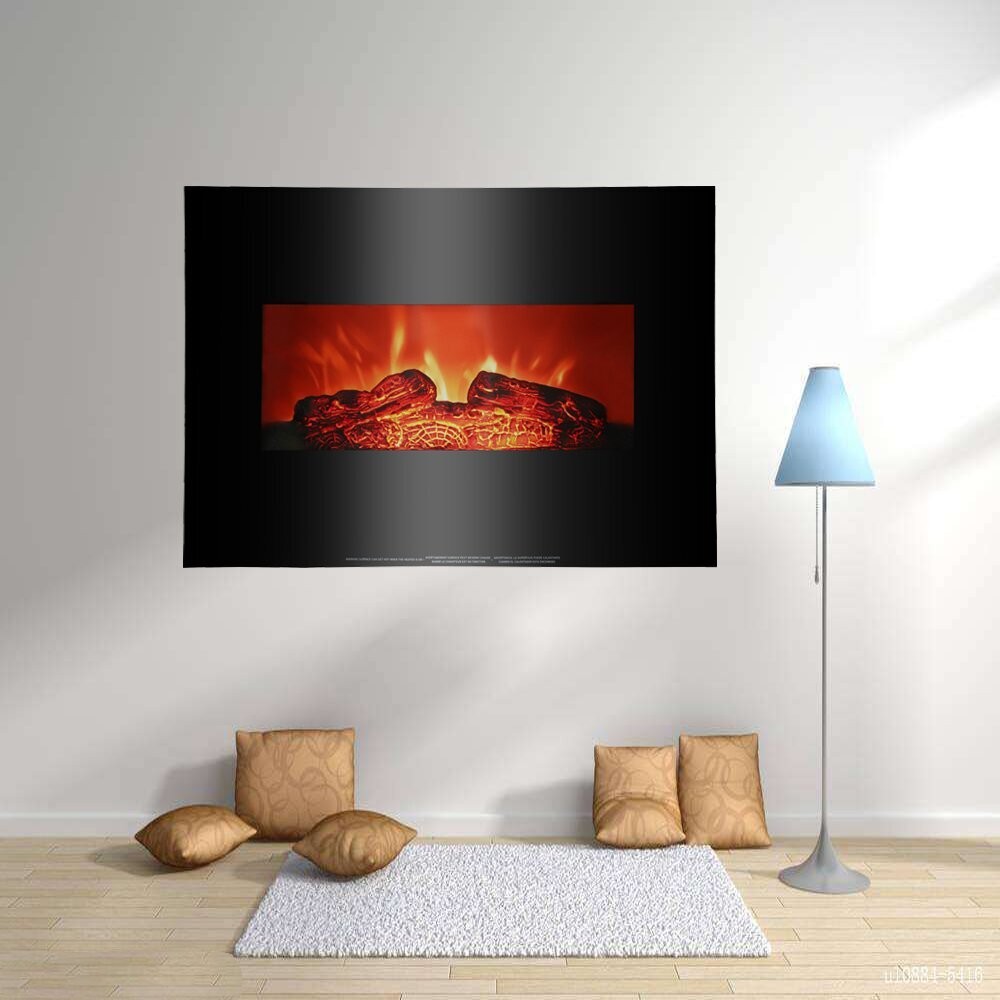 Chandara 26'' Electric Fireplace With Glowing Embers

What we like: glowing embers design and compact size
What we don't like: no remote and few adjustable features
You don't need an extra-large fireplace wall unit to heat your home. Large designs can look great under a TV, but smaller models can provide heat for a medium-sized room of about 300 ft², ideal for a master bedroom, games room, or den.
Unlike many other wall units with fireplace models, this piece features glowing logs and embers rather than flickering flames for added coziness. It is CSA-certified for safety and features an automatic shut-off and thermal overload protection to reduce the risk of a fire hazard or short circuit.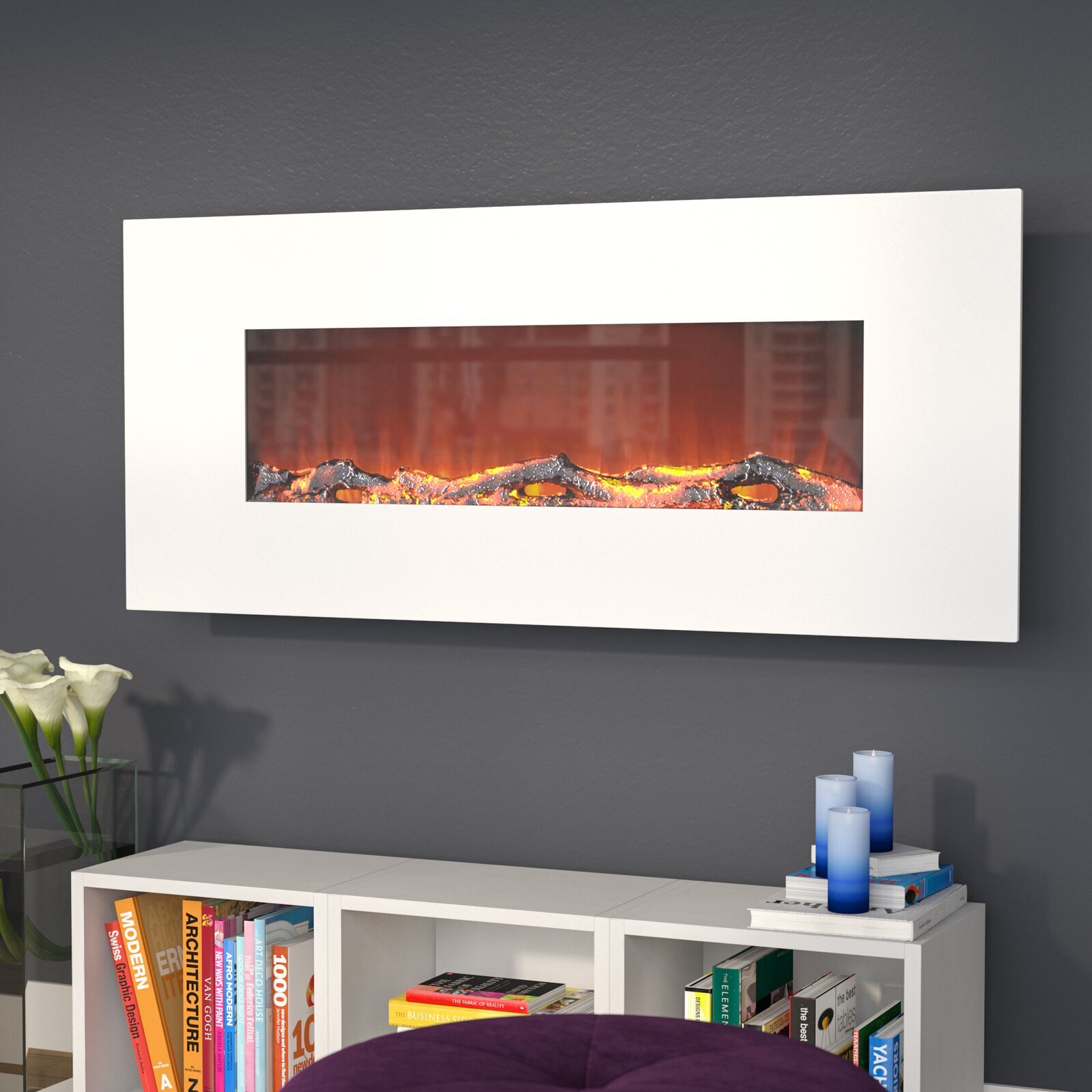 Lauderhill Electric Fireplace With Large Wide Frames

What we like: elegant design.
What we don't like: it takes a bit for the engine to heat a room.
This piece is ideal if you want to combine a TV wall unit with electric fireplace. This electric fireplace has an elegant design with beautiful wide frames and a narrow, elongated shape to fit perfectly underneath a floating shelf or wall mounted flat screen.
It comes in four different frame finishes, from sleek black and modern stainless steel to glamorous mirrored glass and crisp white. Contrast the frame with the background wall color for a stylish effect. It also comes with convenient technology features such as cool-touch glass and a simple plug-in system, so no hardwiring is necessary. If you are looking for a fireplace to add some glamour to your home, this sophisticated design is a great choice.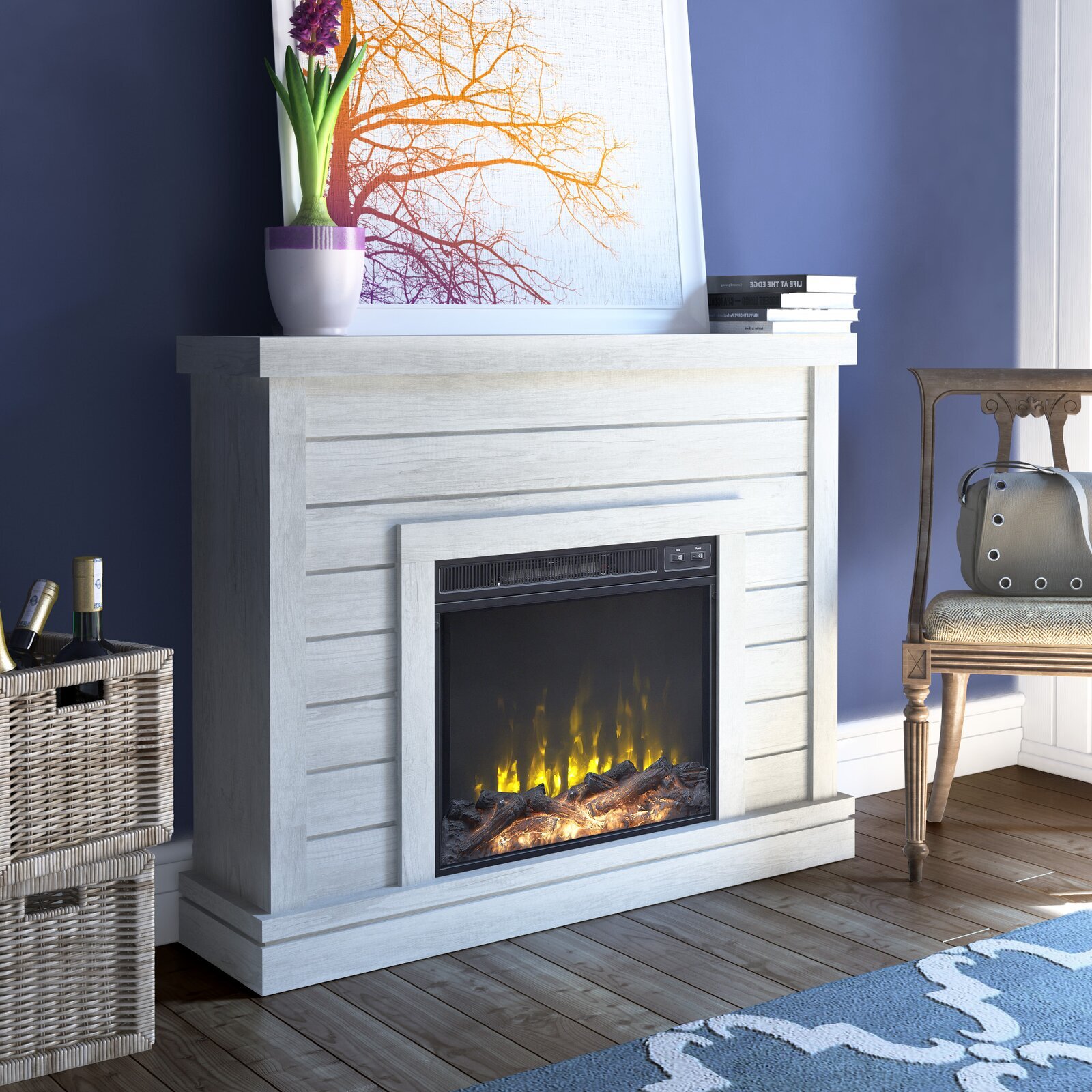 Sargent Oak Terrance Electric Fireplace With Large Mantle

What we like: nice mantle for placing music speakers or decorating with pictures.
What we don't like: no remote
Decluttering and organizing your living room can change the whole vibe, and an entertainment unit with a fireplace can help you store digital players and multimedia discs neatly and stylishly.
This unit comes with a stunning shiplap mantle on which you can place pictures, candles, and other objects to decorate your home, in addition to storing DVDs and CDs. You can also place speakers on the mantle and a flat-screen TV mounted on the wall for cozy and exciting movie nights. This fireplace's natural wood design is available in four different finishes to add an elegant touch to your home.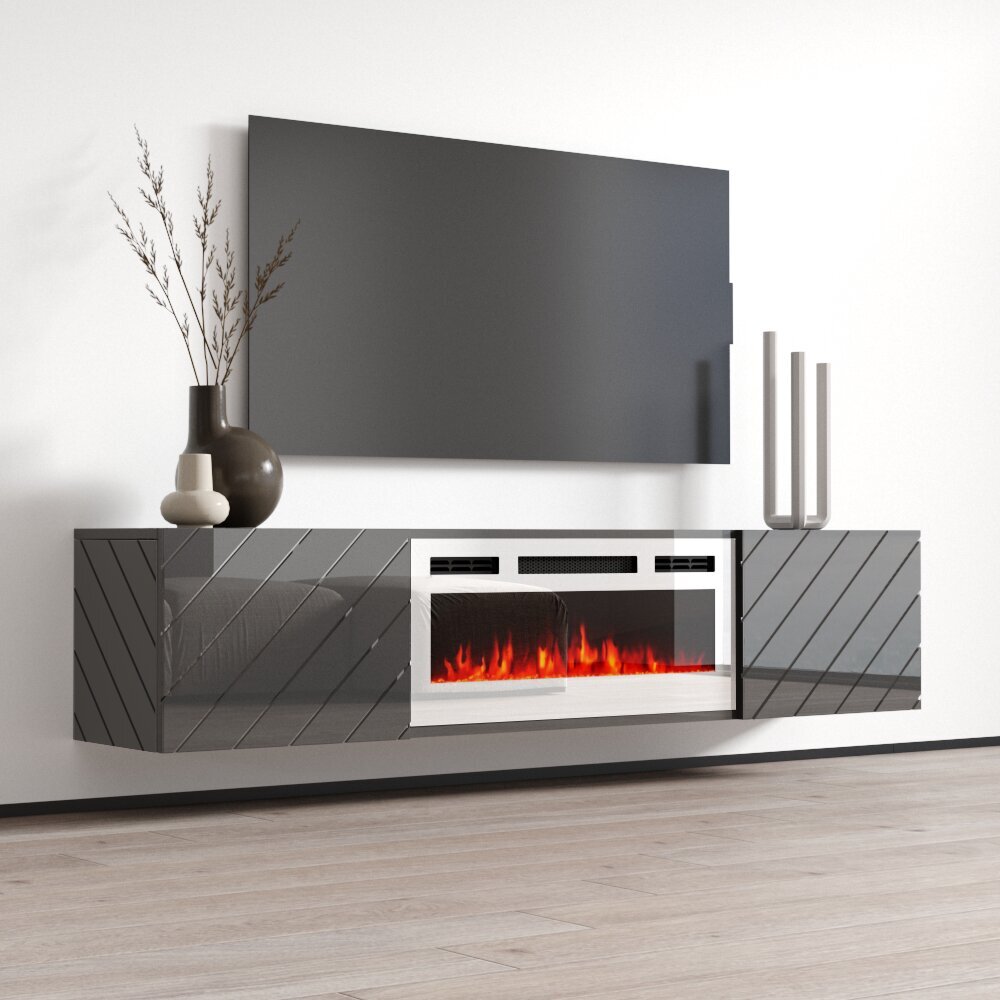 Gray Friddle Large Wall TV Stand With Fireplace Included

What we like: a large stand with enough room for a large TV and other equipment
What we don't like: relatively difficult to install
This floating TV wall unit with fireplace is a stylish choice for any modern home, with reflective high-gloss cabinet doors and a contrasting fireplace insert frame. The unit can support up to 70 lbs. and accommodates a flat-screen up to 88" wide.
The fireplace insert comes with a remote control that offers a timer setting, dimmer switch and allows you to choose between three flame colors. An entertainment stand like this one provides enough space to place DVDs, music speakers, or several keepsake items.
$489.99 $699.99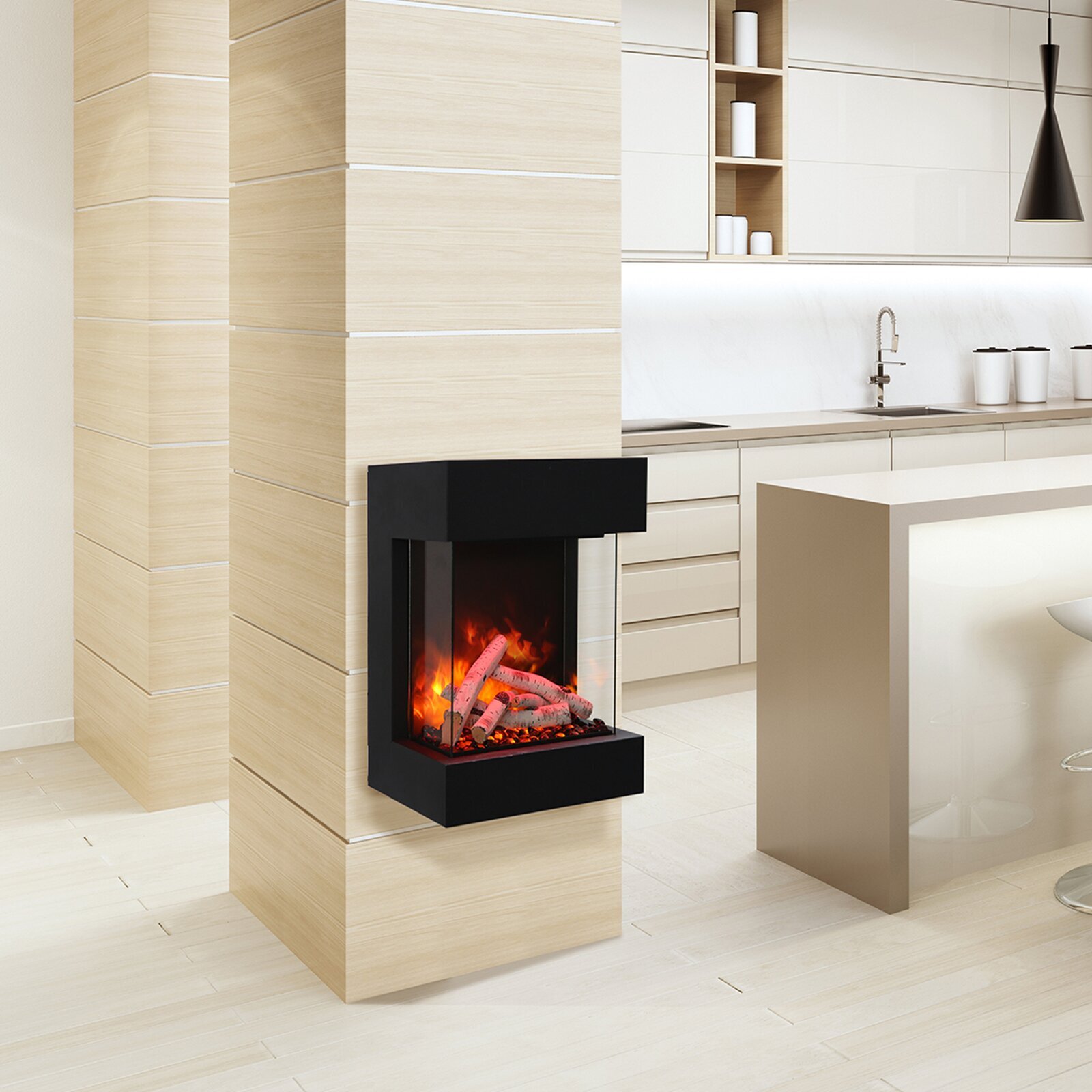 Amantii Small Cube shaped 19,62'' W Electric Fireplace

What we like: creative design that can go in many rooms
What we don't like: slightly intrusive so someone could easily bump into it
This small wall mounted fireplace in the shape of a cube is highly versatile and can be placed in numerous rooms in your home, from the kitchen to a home office. A small fireplace like this one could be great for warming up a studio apartment.
Capable of heating up to 500 ft², this fireplace features a 2-stage heater and alluring Fire and Ice® flame set, allowing you to switch between traditional yellow and orange flames to blue and purple flames. The set comes with a six-piece log set for a realistic glow, which you can enjoy through the 3-sided glass firebox.
One possible disadvantage of this fireplace is that it sticks out from the wall several inches. Someone could bump into it if it's attached to the wall in the wrong place.
$1349.99 $1499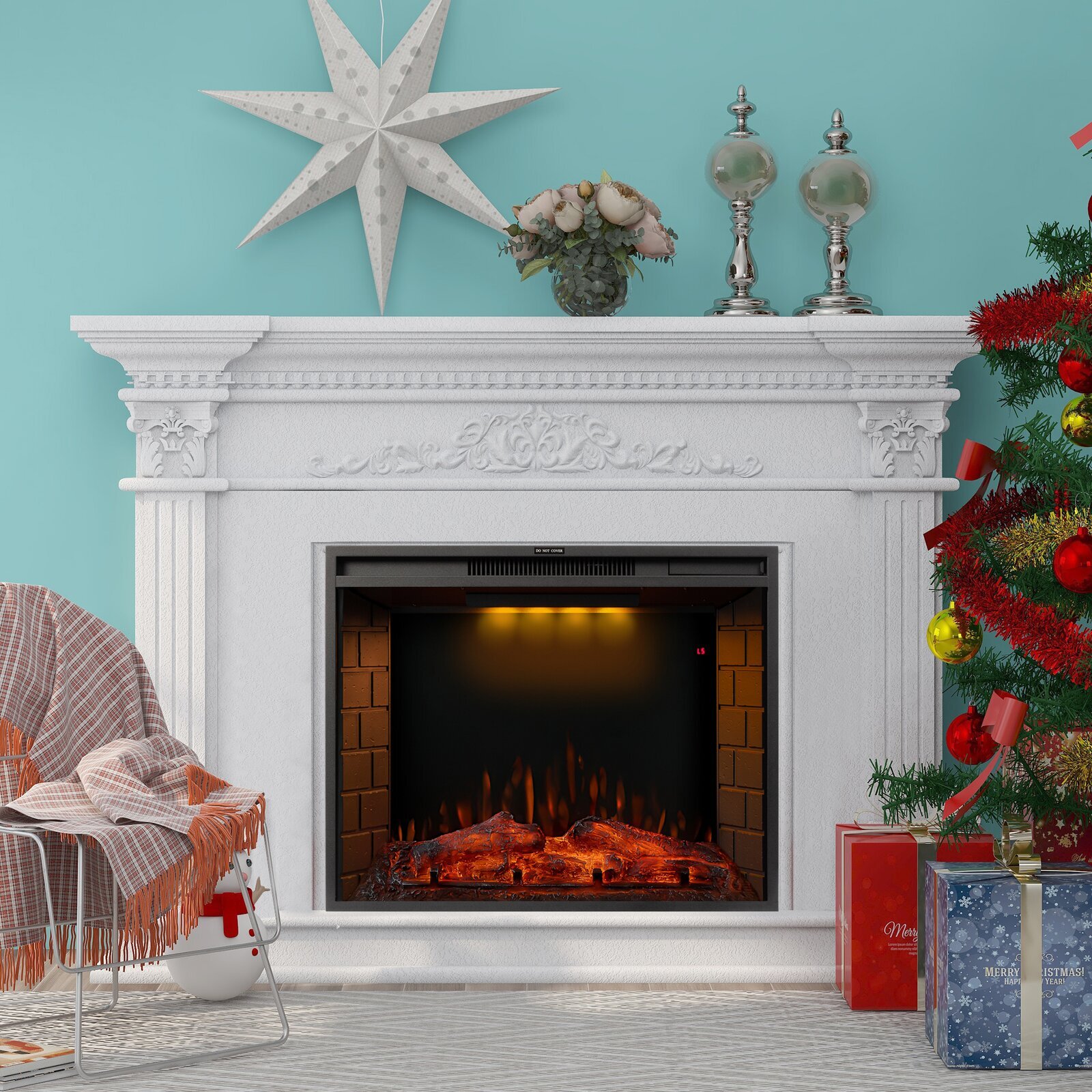 Traditional Style Electric Fireplace Wall Insert

What we like: elegant traditional design
What we don't like: very thin mantle
If you prefer the look of traditional wood fireplaces, you can mix the convenience of an electric fireplace with a traditional-looking frame. A white frame like this one provides a nice contrast with the dark colors of the electric fireplace insert.
The fireplace insert offers three different heat settings, three flame colors, and five brightness intensities, so you can customize the look of your fireplace to suit your style. The resin logs on the interior provide a cozy glow and provide enough ambient heat via the fan to heat a 400 ft² space.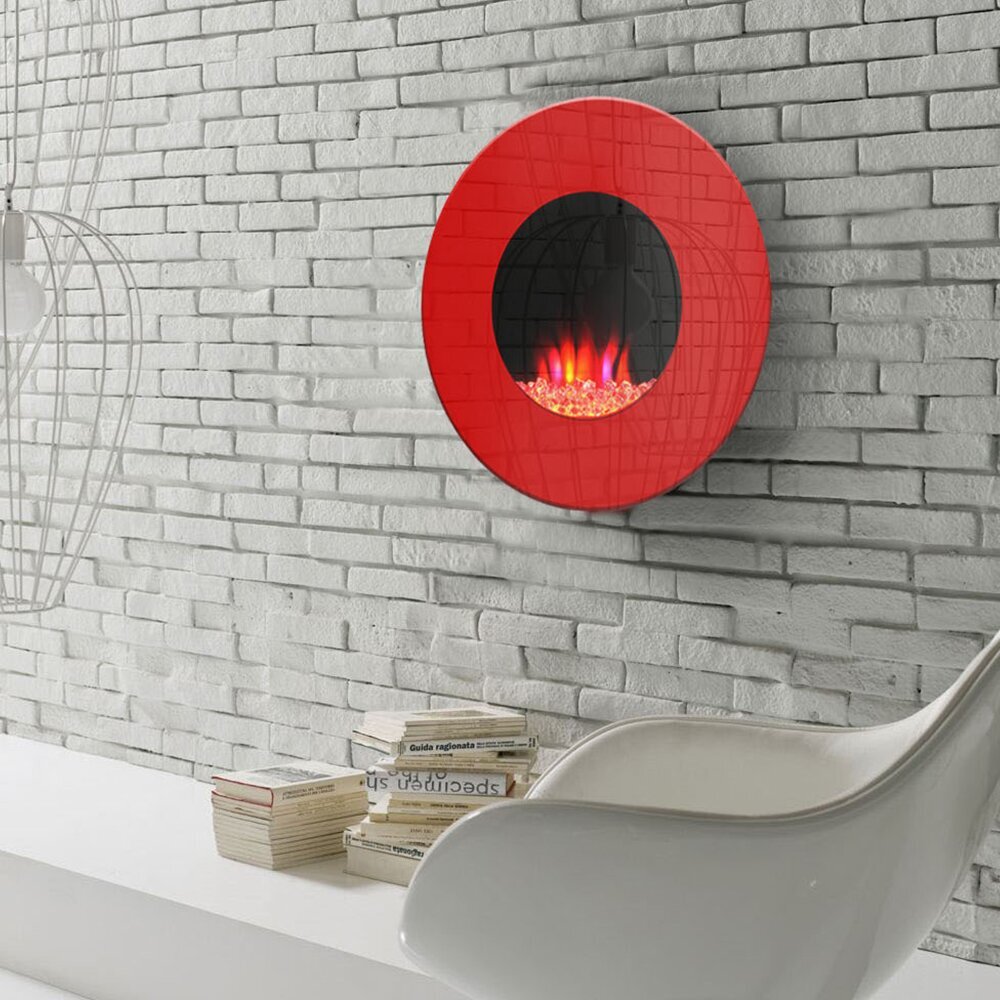 Small Round Laurent 22,44'' W Electric Fireplace

What we like: unique round design
What we don't like: only heats a small room of 150 ft²
This small fireplace wall unit has an attractive round design. Since most fireplaces have square or rectangular shapes, a small round electric fireplace can add a unique and creative touch to your space.
This type of design is perfect for a small room, living room, or kitchen. The red-colored frame provides a charming contrast with the background wall color. The unit is easy to install; it's a plug-in unit that requires no hardwiring. The heat is emitted from a small aperture in the top of the unit, so the fan vents don't disrupt the bold mod aesthetic.