Bunk beds maximize your floor space while still providing enough sleeping space for children and teens. However, families with three or more children may need to invest in a triple bunk bed to make the most of a small bedroom. Although a room may theoretically be able to fit two or three beds, this results in much less room for dressers, toy chests, and other essentials.
Standard triple bunk beds have all 3 bunk beds right on top of each other, which creates a taller bed that may be difficult to climb in and out of. Plus, the middle bunk is squeezed in tight, with little headroom for both the bottom and middle bunks. This creates some safety issues for young children without much hand-eye coordination.
Furniture designers have risen to the challenge by designing triple bunk beds** in different shapes and configurations. These new designs balance occupants' comfort and safety with the need to maximize floor space. Here are seven of the best designs currently available for rooms of various sizes.
1.

L-Shaped Bunk Beds

To make the standard triple bunk bed design more comfortable, some designs rotate the middle bunk 90 degrees to allow at least part of that bunk to be uncovered. These designs make it easier for growing children to climb in and out of the bottom and middle bunks without bumping their heads.

Although they takes up more floor space than the standard triple bunk design, they may be more comfortable for children. Small children who are claustrophobic or don't like being in the dark will appreciate that their heads can be out in the open on the middle bunk.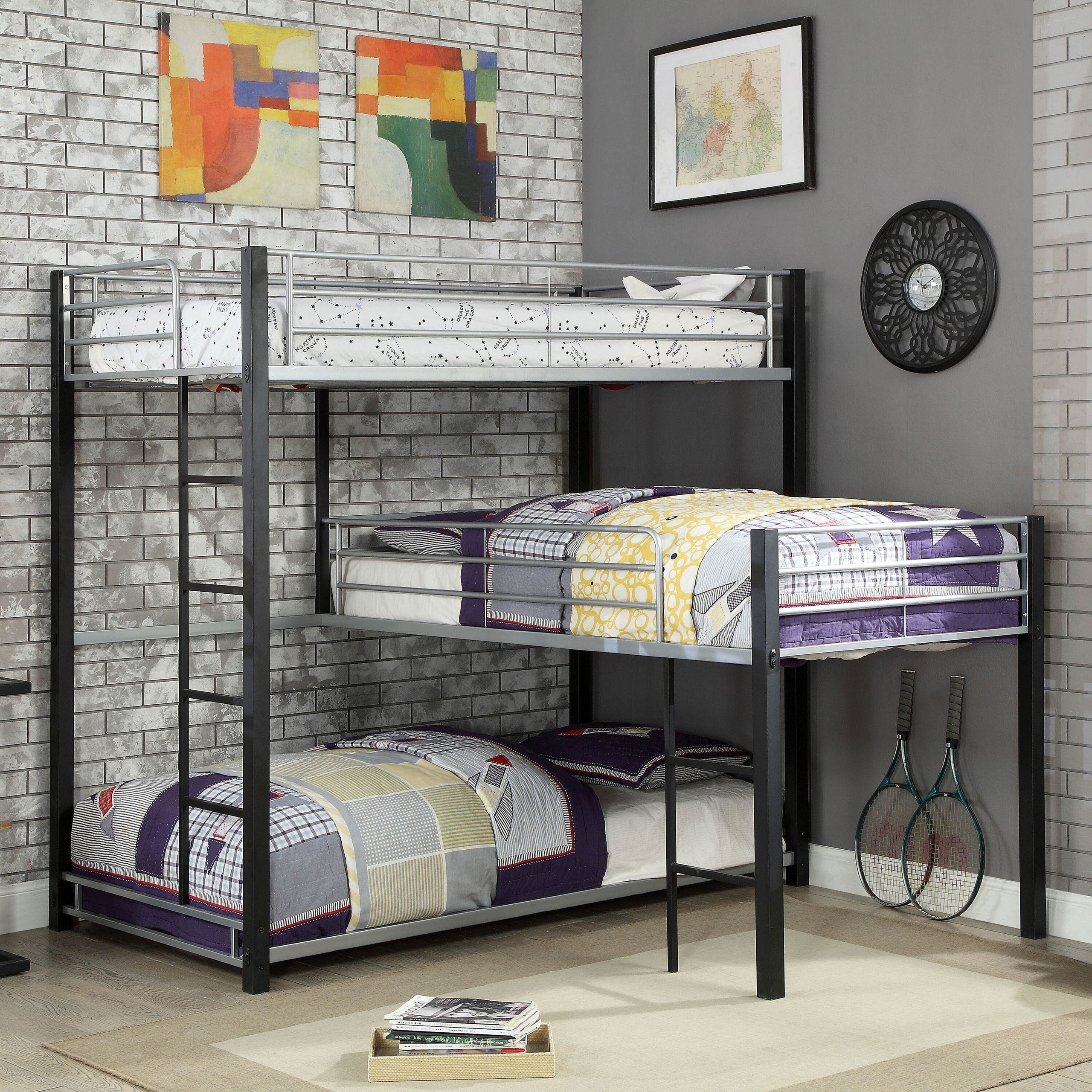 2.

L-shaped Bunk Beds (2 Up, 1 Down)

Arranging a standard bunk bed with a loft bed creates a safe and secure triple bunk bed with room for furniture underneath. Triple bunk beds that use this design fit beautifully in the corner of a room, and since it's all one piece of furniture instead of two, the pieces connect seamlessly for optimal safety and visual appeal.

This design tends to be somewhat larger than the standard L-shaped bunk bed since the middle bunk doesn't overlap with the others. However, it's essential for older kids who need more room than ever before. The space underneath the second top bunk is perfect for a large desk or dresser.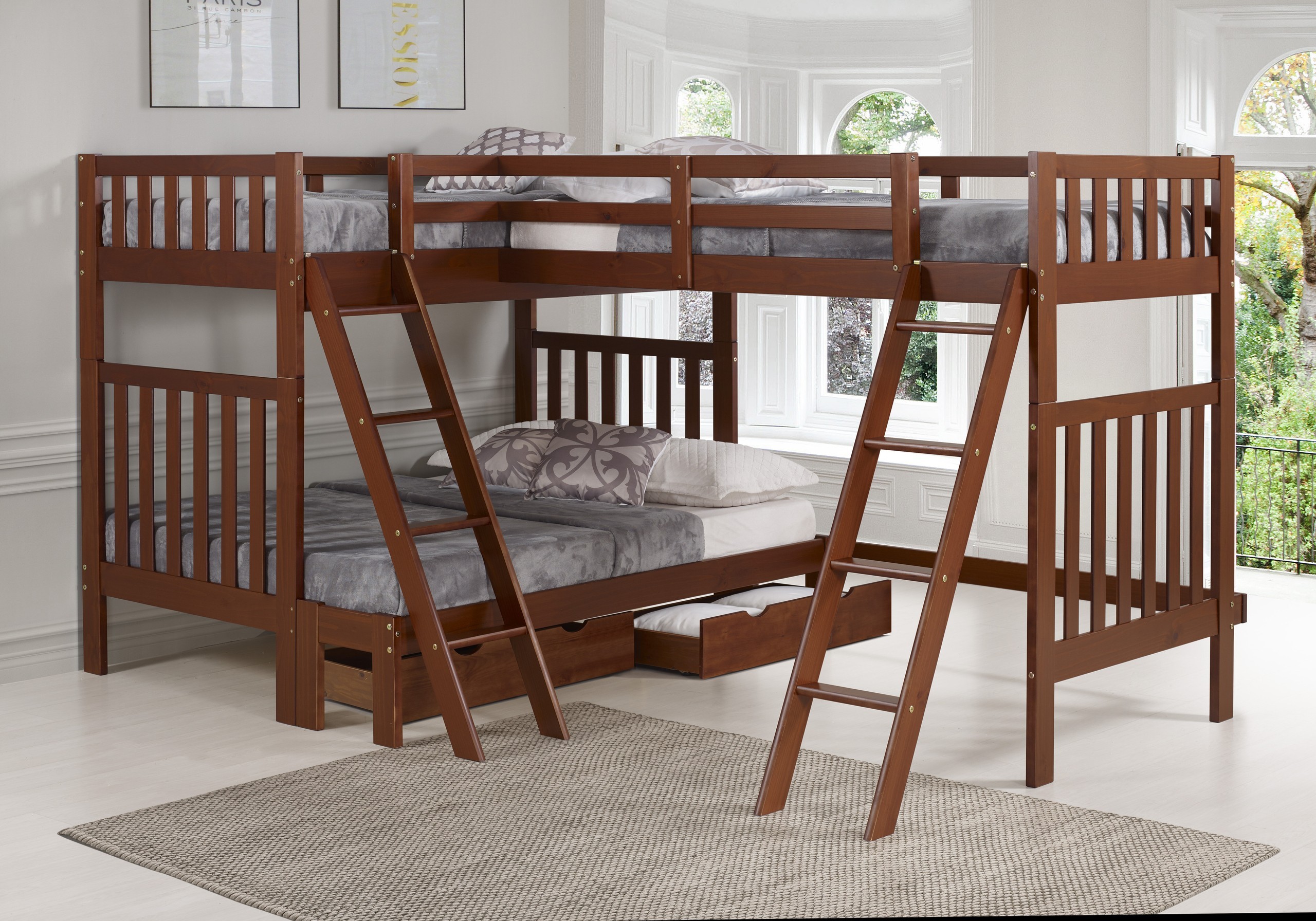 3.

L-Shaped Bunk Beds (2 Down, 1 Up)

Most L-shaped bunk beds have two bunk beds up high and only one on the bottom, as this arrangement maximizes floor space. However, some L-shaped beds have only one bunk on top and two on the bottom in an L shape.

This design works great for families with one child who is old enough to climb into a top bunk, and two more who aren't quite old enough yet. Thanks to how the bunks are arranged, all three occupants can sleep comfortably without feeling cramped or having the bottom of the next bunk right overhead.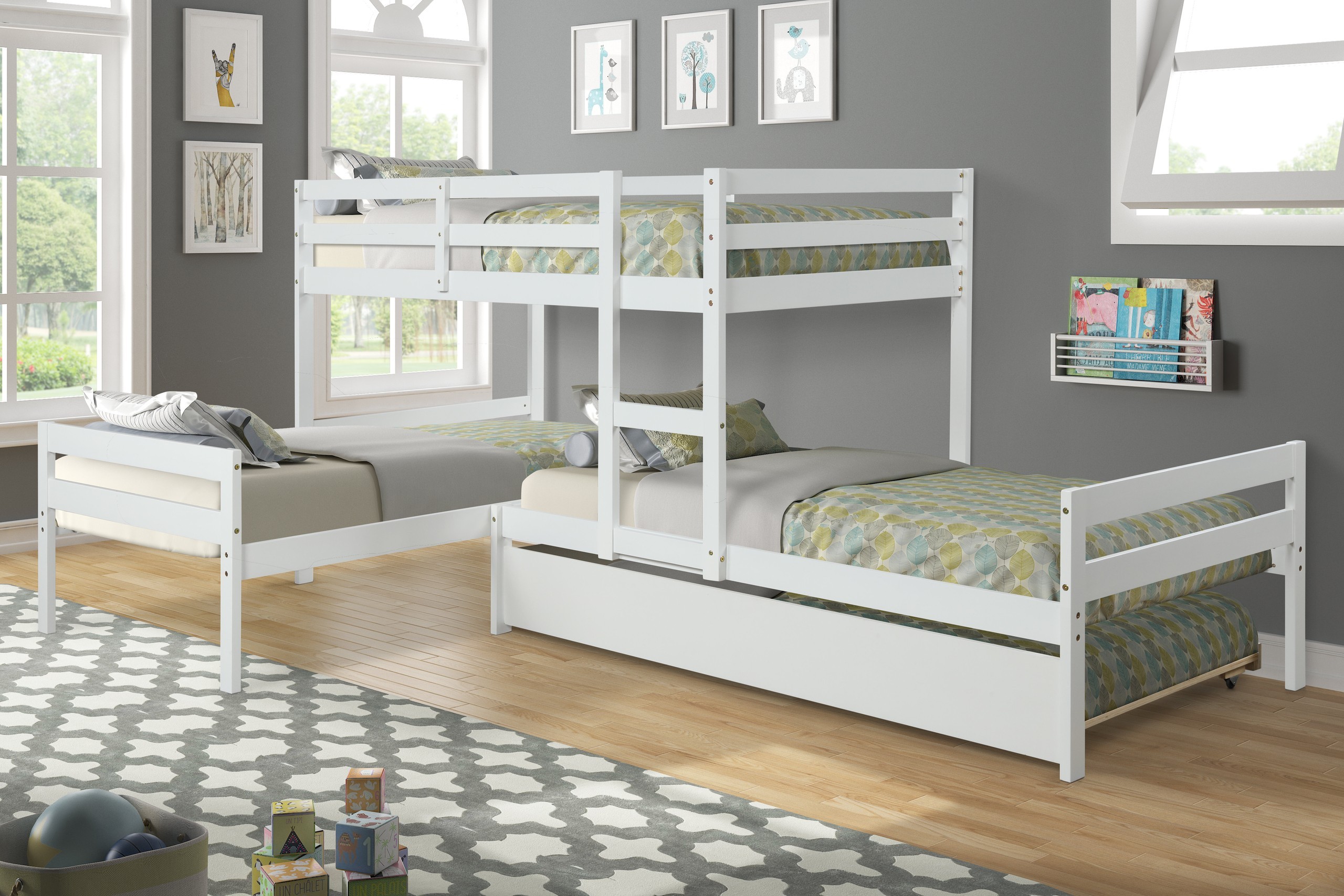 4.

Bunk Beds with Trundle Beds

A standard bunk bed with a twin-size trundle underneath makes an excellent option for rooms with low ceilings. This design allows floor space to be opened up during the day without trying to cram in a bunk bed with three vertical layers.

Although kids must remove pillows and thick comforters from the trundle bed before rolling it away, some won't mind this extra task as long as it opens up more space to play. It's also a good option for rooms that usually have two occupants but frequently have a guest or family member spend the night.

Even though they're close to the ground, trundle beds can be just as comfortable as a standard bunk if they use a high-quality mattress. Look for a trundle bunk bed that is thick enough for a standard 8" mattress.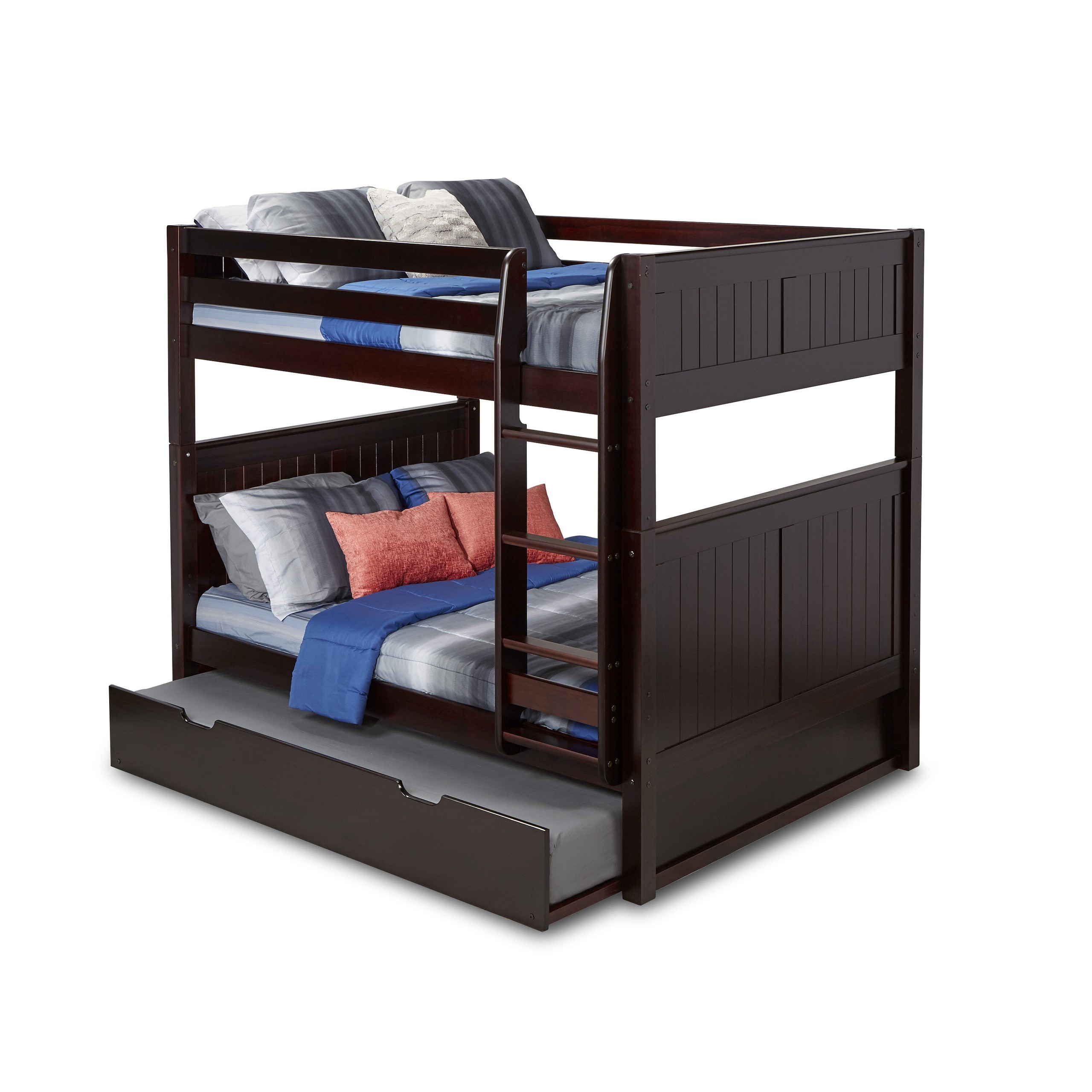 5.

U-Shaped Bunk Bed

A U-shaped triple bunk bed has one upper bunk and two lower bunks that are turned 90 degrees. About half of each lower bunk sticks out from under the top bunk, allowing kids to decide whether they want to have the top bunk over their heads or their feet.

This is an easy way to squeeze another bed into a room that needs to fit three kids. Since two of the beds are accessible from the ground, it's a perfect fit for rooms where two of the younger siblings aren't quite ready for a top bunk yet.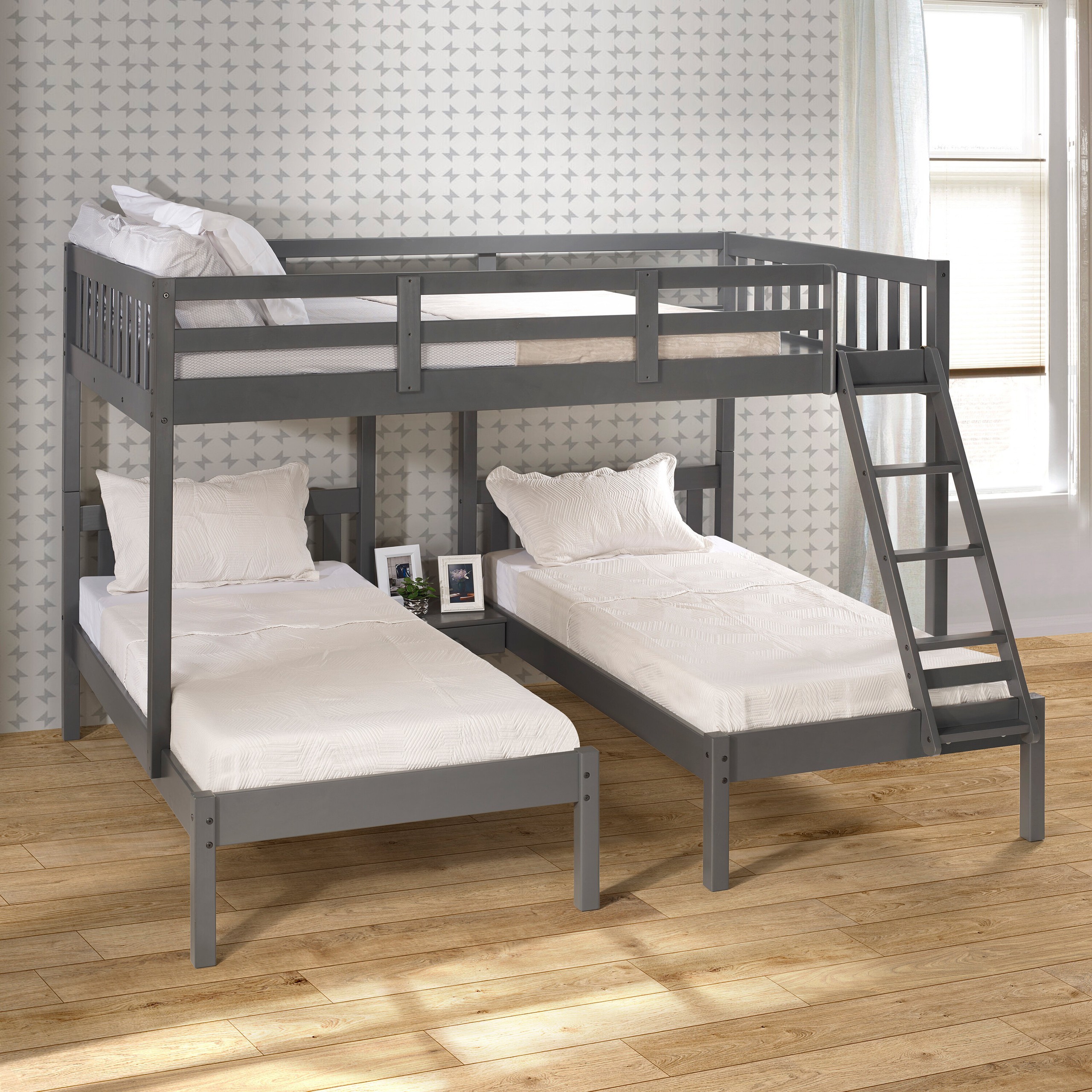 6.

Bunk Beds with Steps

Most bunk beds use vertical ladders to provide access to the top bunk. However, this can be difficult for young kids to master and presents safety problems when kids try to get in or out of bed in the dark.

A triple bunk bed with built-in steps reduces safety risks, especially if the steps are solid without room for feet to slip through gaps. These steps can even double as handy storage with shelves or drawers, making them as space-efficient as possible.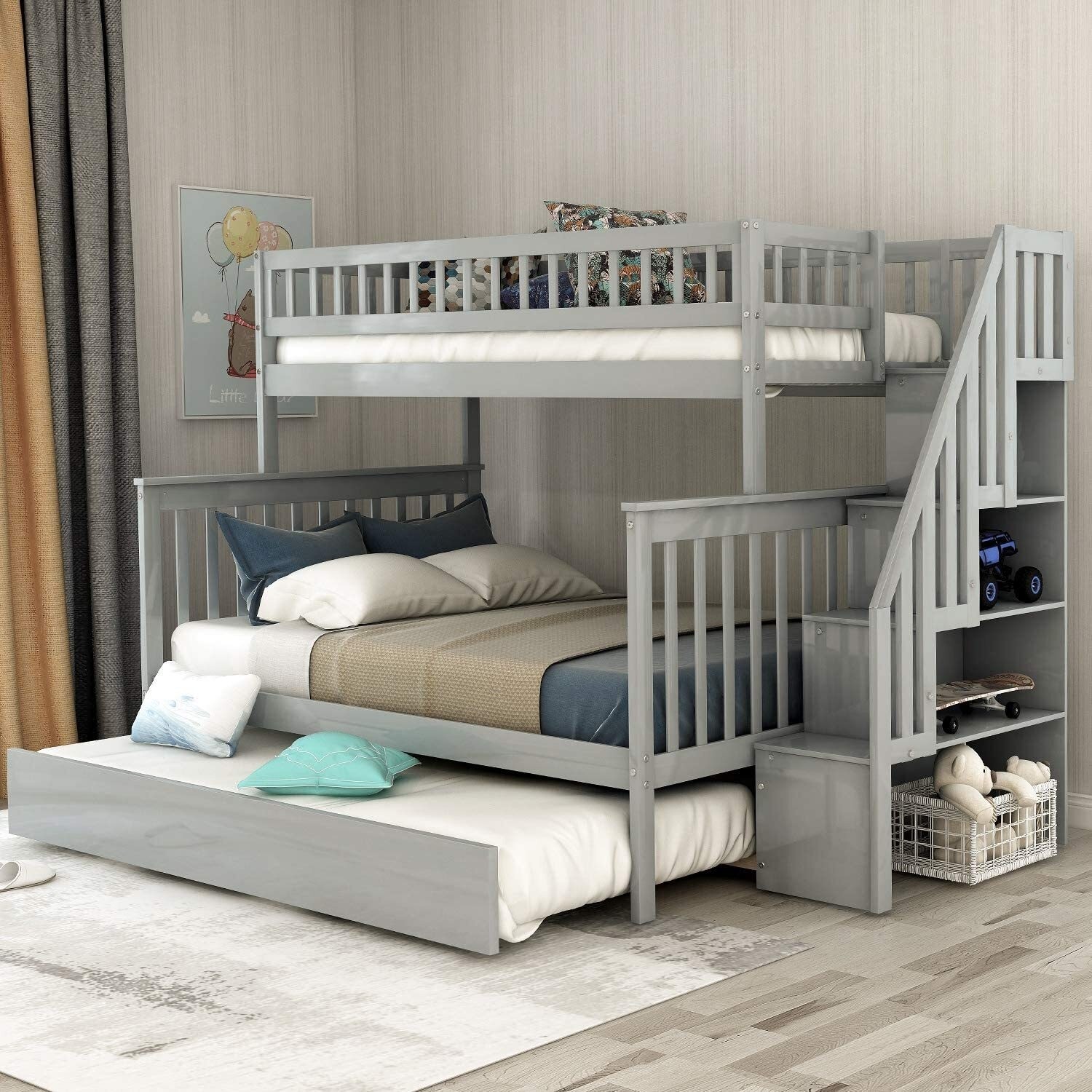 7.

Twin Over Full Over Queen Bunk Beds

Most triple bunk beds have all 3 bunk beds the same size, usually twin size. However, a small selection of triple bunk beds has different sizes at each level to create a staggered silhouette.

A triple bunk with twin, full, and queen size bunks allows you to give older kids more space. The recessed upper bunks also provide the bottom and middle bunk users more room to climb in without risking bumping their heads.

Some of these beds use ladders that curve and conform to the recesses on each level. These ladders are a little easier for kids to use because some steps are easier to see when climbing down from the top bunk. Although they look unusual, bunk beds with a combination of mattress sizes can be perfectly safe and a memorable addition to kids' rooms.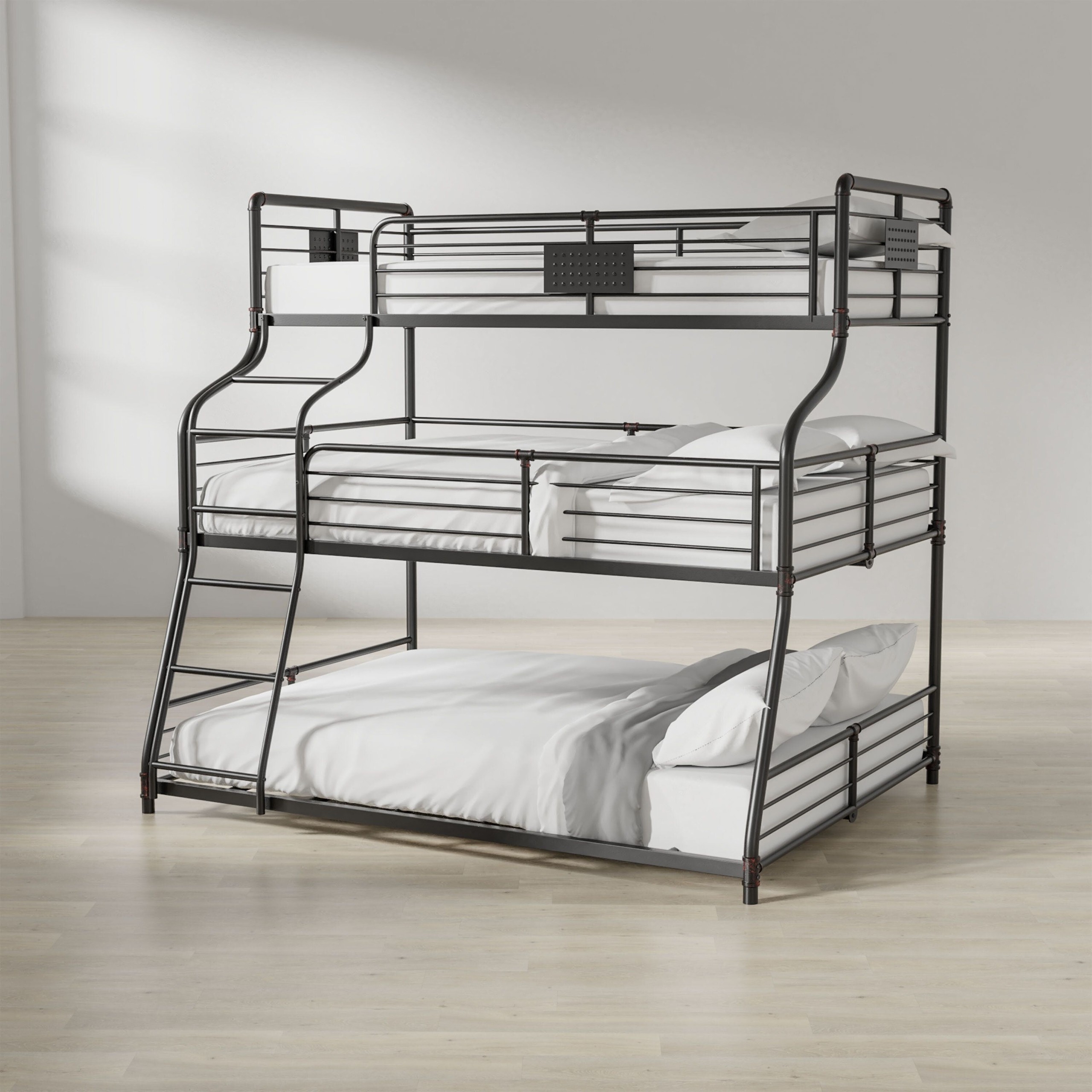 Choosing the Right Triple Bunk Bed
Your children's age plays a significant part in determining which triple bunk bed is right for them. Small children require extra safety considerations and growing pre-teens will inevitably need more space.
If in doubt, look for a bunk bed that maximizes floor space while maintaining safety. Your children will be asleep for the majority of the time that they spend in the bed, so its style and color features are less important than its functionality.
Make sure to pay attention to assembly instructions and materials, too. Stainless steel or solid pine is a standard frame material for bunk beds, although many include some components made of manufactured wood. Take the time to invest in a sturdy bed made of high-quality materials so you and your children can all sleep soundly.