Decorating your front door with a Christmas wreath is a wonderful way of spreading your Christmas spirit to your neighbors and welcoming visitors with holiday cheer. Hanging a wreath on the door takes much less effort than stringing up hundreds of twinkle lights, yet the look is always effective. Just like an artificial Christmas tree, wreaths can be used for many years, so it's worth investing in one you really love.
When you think of Christmas wreaths, you may envisage pinecones, ribbons, and holly. However, while there are plenty of classic offerings on the market, there are also designs to suit all styles, from minimal and modern to rustic farmhouse chic. We've gathered some of our favorite outdoor Christmas wreaths to help you find the perfect fit for your home.
Plaid Fabric Wreath
Made from red and black plaid and rustic burlap, this charming fabric wreath is at once fashionable and timeless. At 18.9" in diameter, this generous cotton wreath makes for a homely, welcoming sight on any door. The unusual fabrics are a perfect example of the farmhouse Christmas trend, but the simplicity of the look means it won't date and can be used year after year.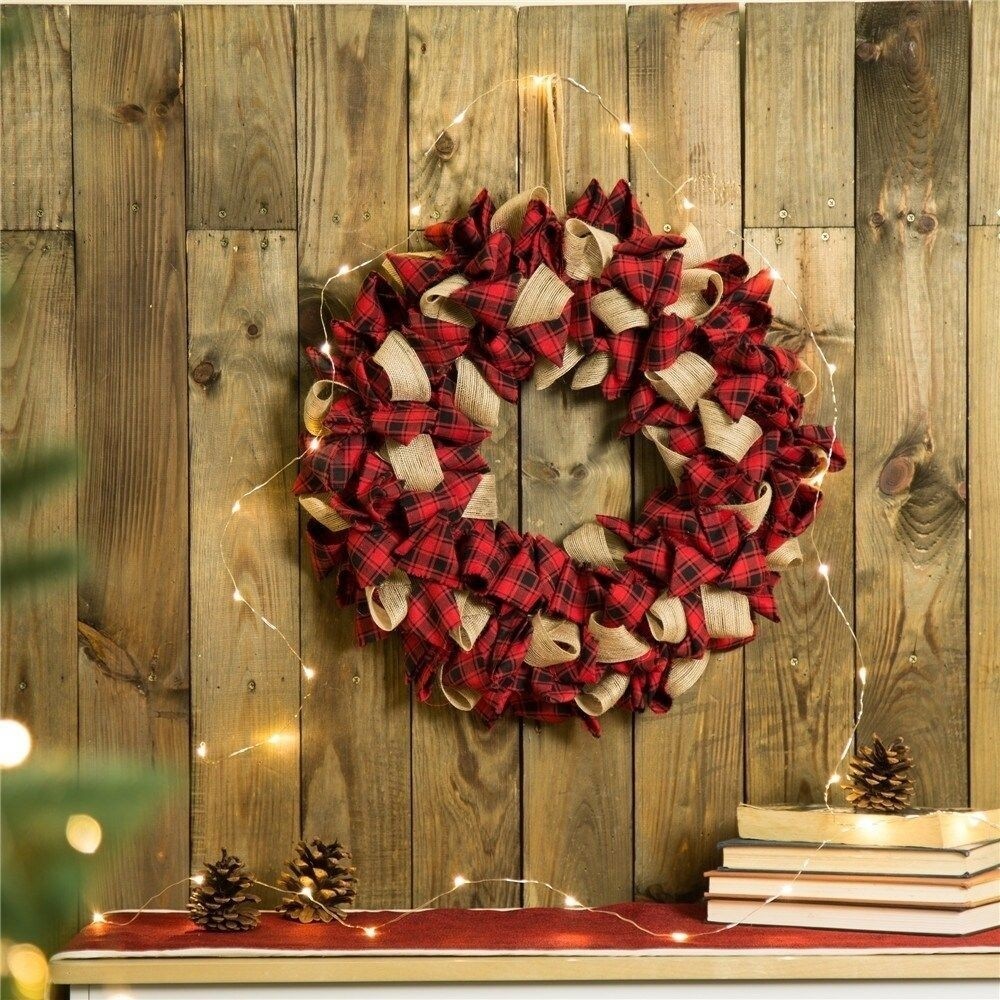 Red Spiral Berry Wreath
The fruit of this realistic looking Spiral Berry Wreath shines like hundreds of crimson baubles without a piece of glitter in sight. The striking monotone color scheme keeps this wreath classy and sophisticated, ideal for various home decor styles from minimal to country to shabby chic.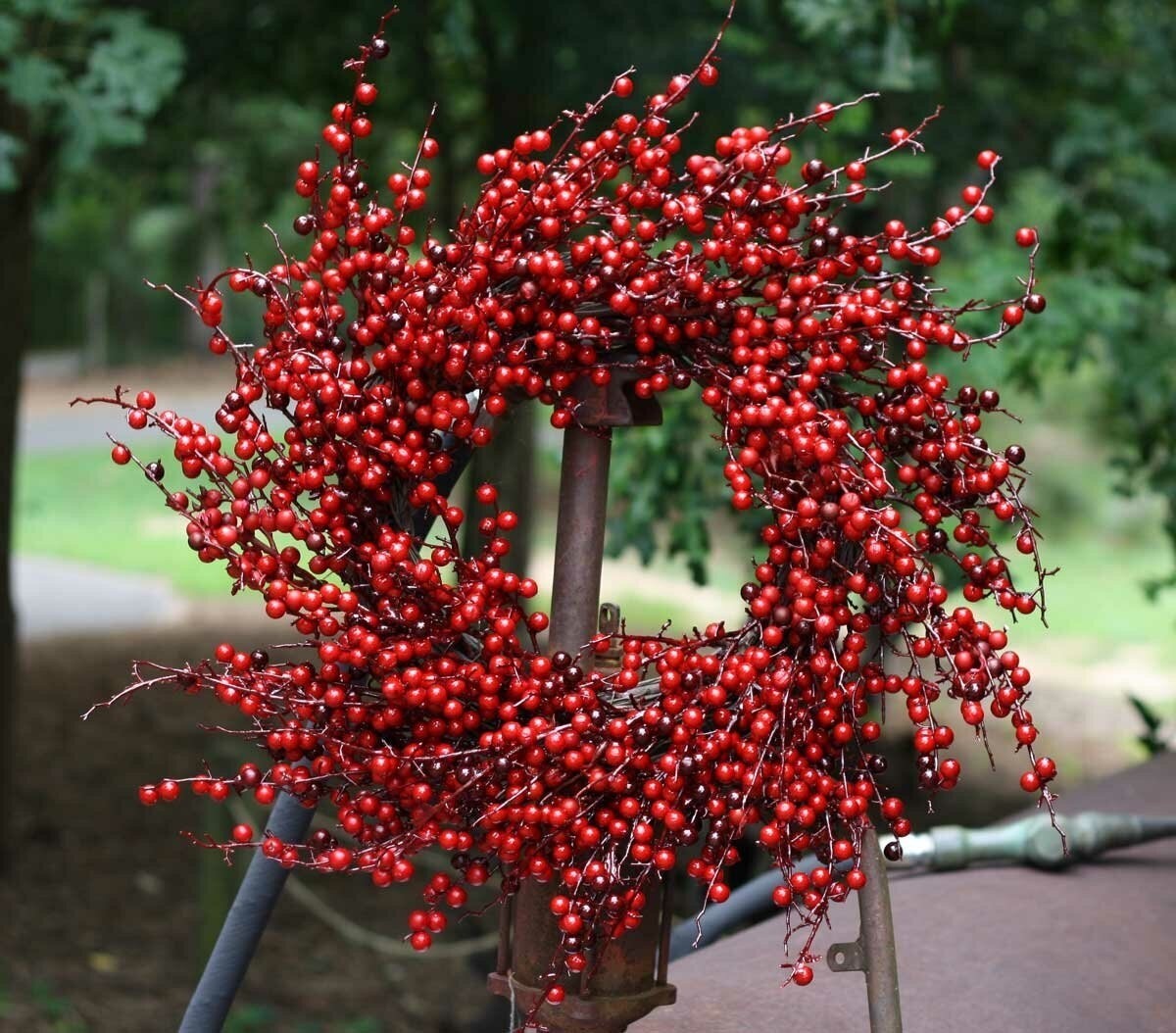 Burgundy Protea, Cosmos, and Calla Lily Wreath
If you prefer to experiment with more unusual colors for your holiday decoration, splurge on this luxurious floral wreath in blush and burgundy tones. Abundantly adorned with blooms and berries, it makes a statement and is sure to impress family and friends. Pair with natural accents and warm wood tones for stunning visual depth.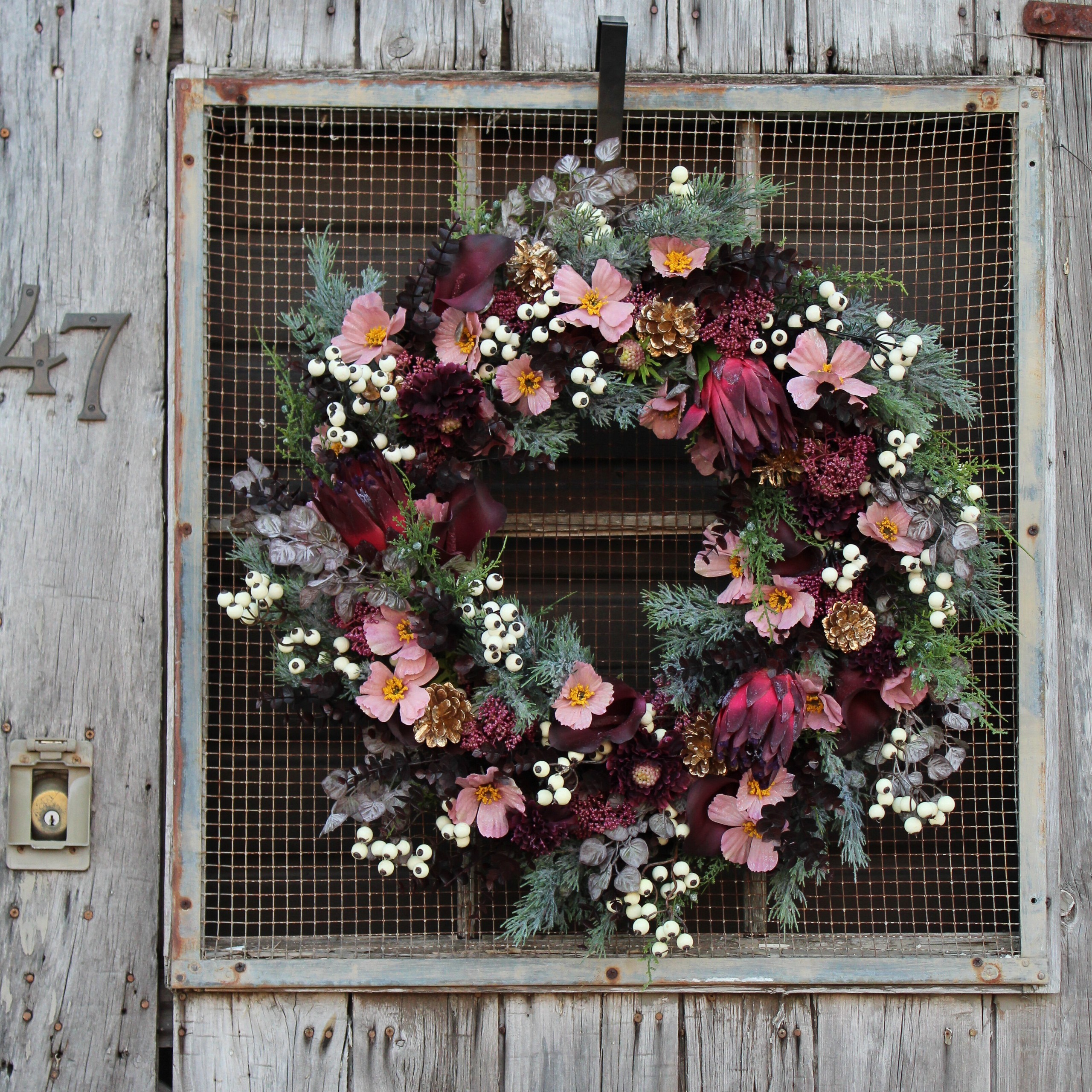 Magnolia PVC Wreath
Welcome your guests into a winter wonderland with this handcrafted shimmering magnolia wreath. Made from glittering foliage and ornaments in icy tones, this 22" frosted fantasy is perfect for stylish homes that favor a glamorous look over a cozy cottage.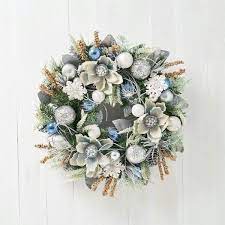 Bird Metal Wreath
Holiday wreaths made from non-traditional materials, such as this metal bird wreath, are in vogue this festive season. This exquisite 24'' H x 22'' W x 2.5'' D piece, made from high-quality iron, puts a contemporary spin on the classic Christmas wreath finishing off the elaborate foliage with delightful robin. When it comes to stylish decor, sometimes less truly is more.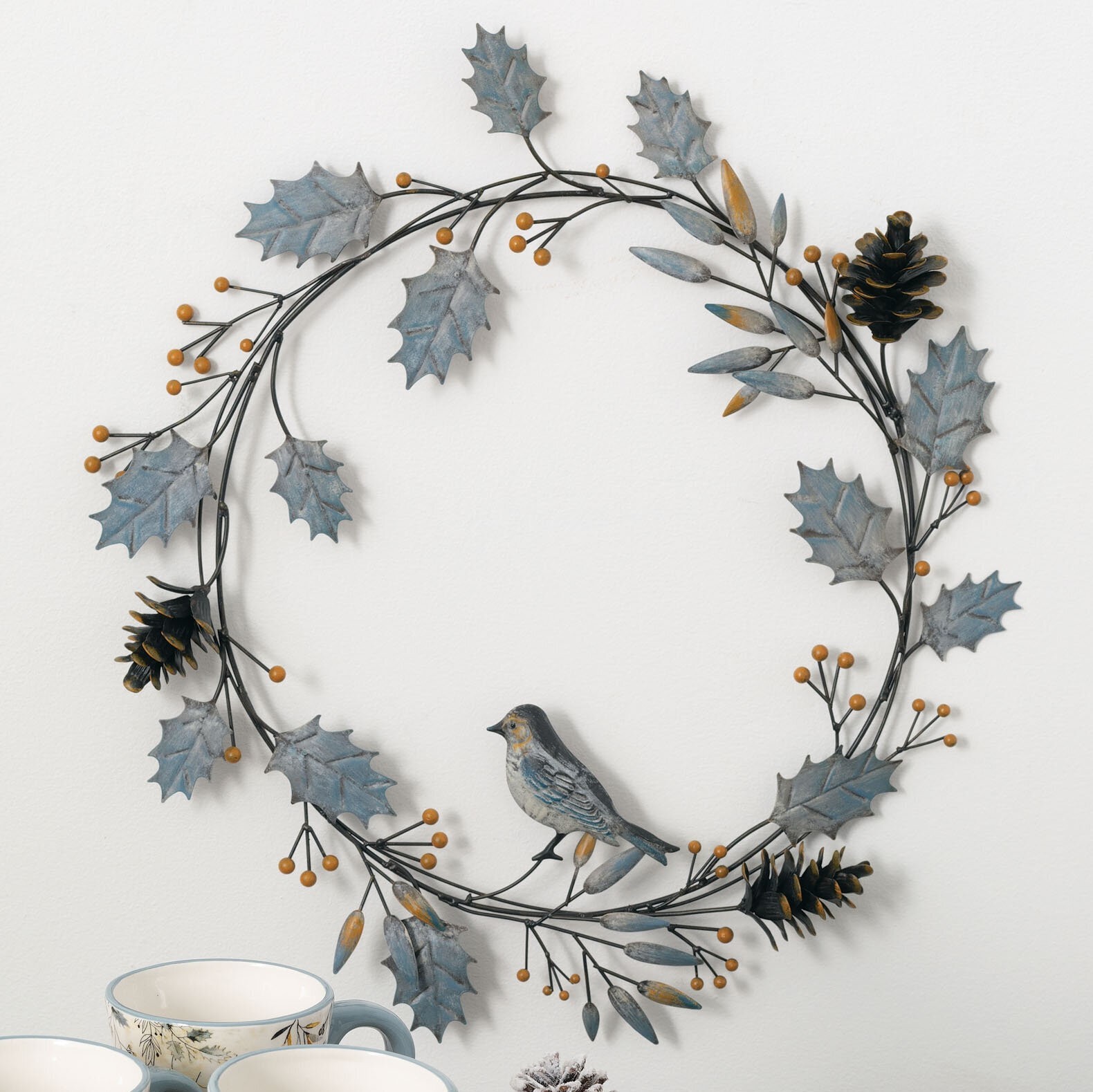 Boxwood Red Berries & Pinecone Festival Garland
For a splash of classic festive color this holiday season, this 18" boxwood festival garland is the perfect choice. The red boxwood shavings are curled into delicate rose shapes and mixed with realistic pine cones and artificial fir needles. The unique combination of materials creates a beautifully textured wreath that will look at home adorning any front door.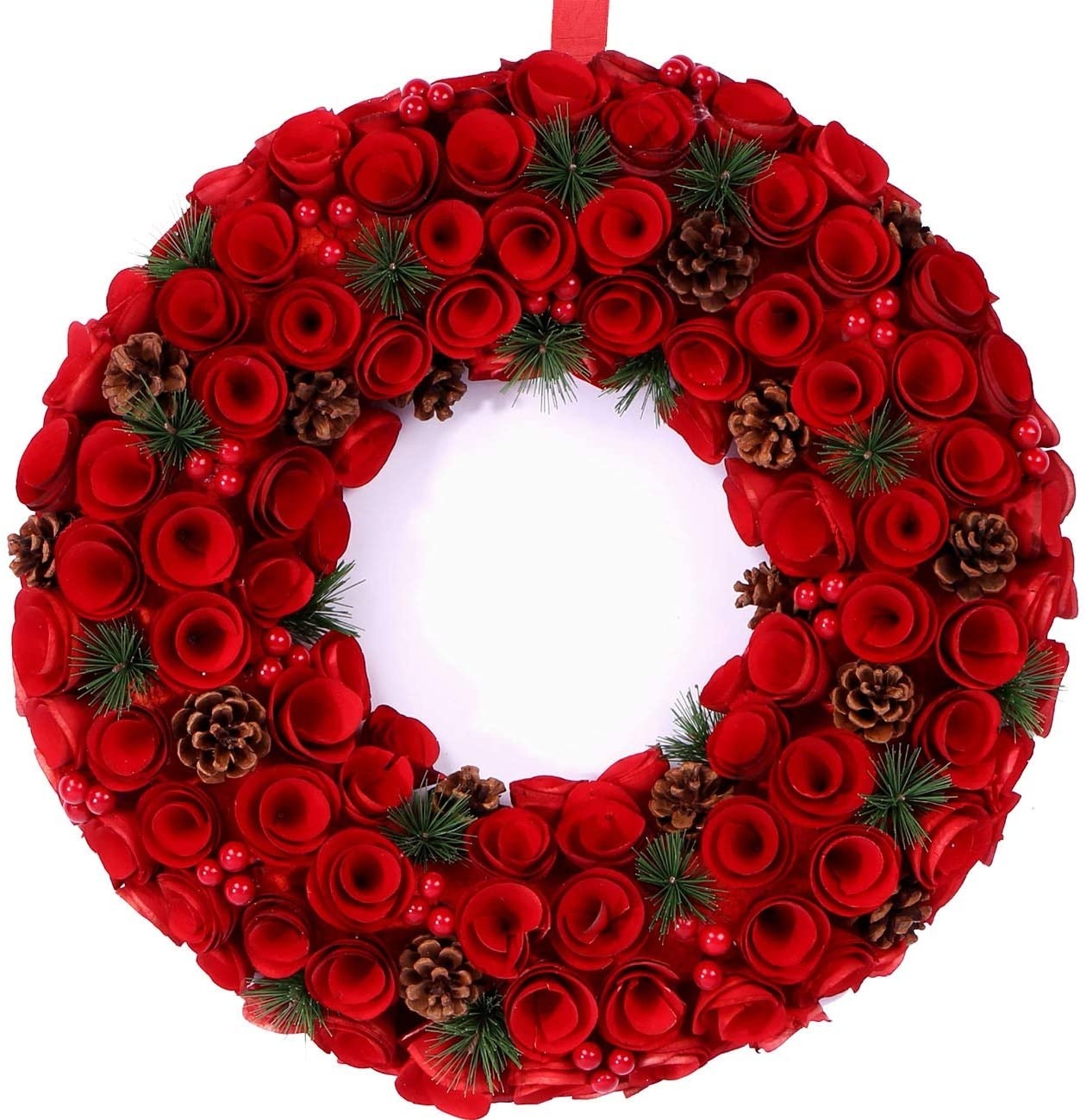 Plaid Lotus Pod PVC Wreath
This eye-catching handcrafted 22" lotus pod wreath combines exotic fruit elements with traditional foliage and ribbons. The mixture of design features creates a wreath that's full of life and feels warm and welcoming. With such a timeless style, a wreath like this will last for many Christmases to come, making it an excellent festive investment.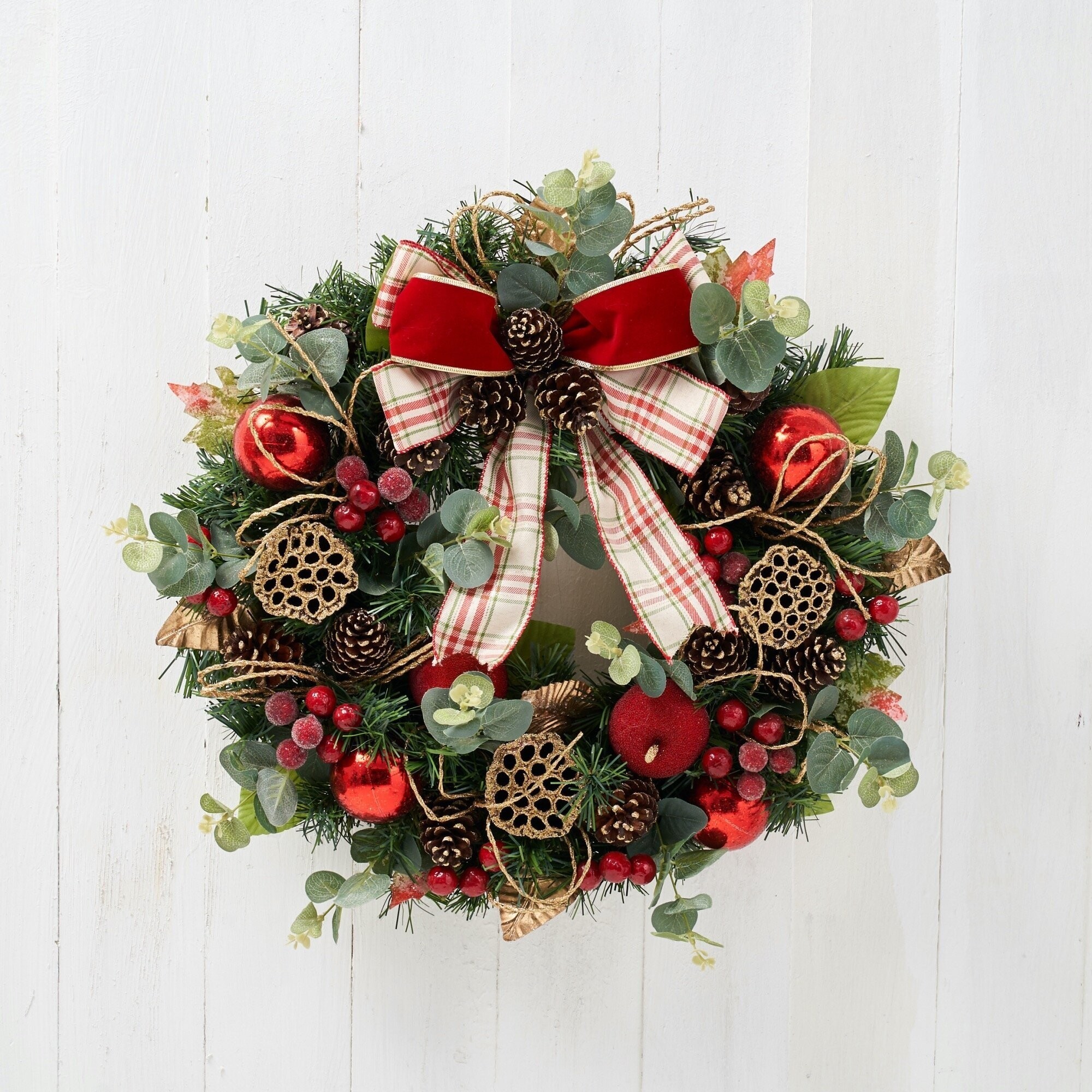 Dunhill Fir Lighted Wreath
Perfectly blend the traditional with the original with this lighted star-shaped fir wreath. The wreath's festive pine and berries ensure it will fit in with other conventional holiday ornaments while surprising visitors with its unique shape. It also incorporates twinkling LED lights, which provides a lovely warm glow all night long.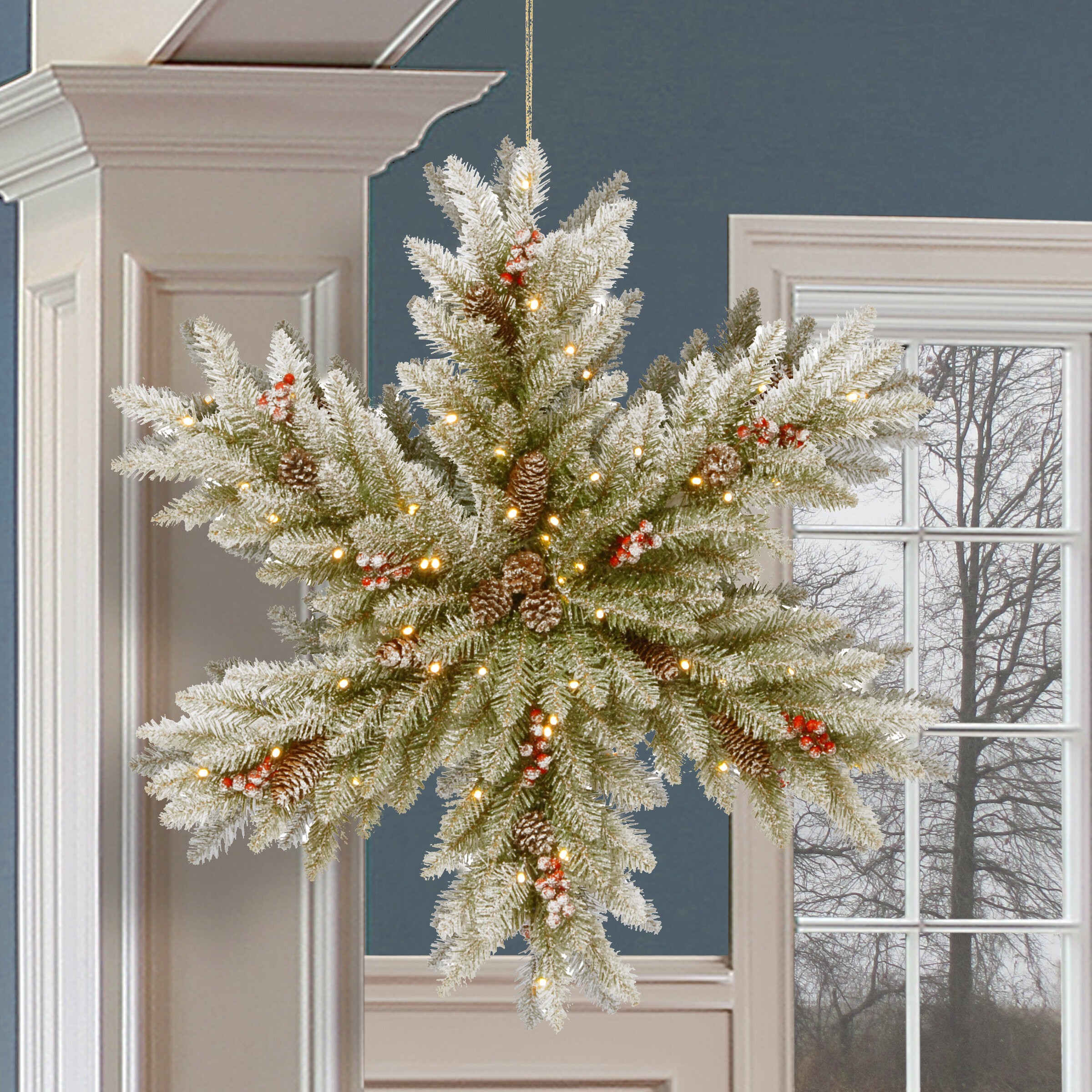 Multicolored Rainbow Pom Pom Wreath
This unconventional rainbow pom pom wreath will make a colorful addition to any neighborhood this holiday season. Perfect for lovers of all things quirky, or for an eclectic boho-style home, this cheerful wreath is made from hundreds of multicolored felt pom poms. It's also incredibly versatile as it could be repurposed for various events and celebrations.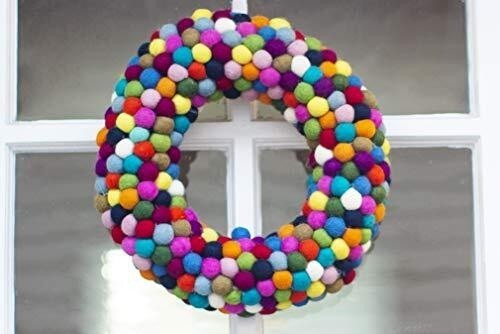 Snowy PVC & PE Blend Wreath
Minimal yet majestic, this snowy wreath is a wonderfully wintery decoration. Gorgeous white winter berries adorn realistic branches in this elegant monochromatic wreath. It would look striking hung on a front door painted a contrasting color, or above the mantle of a glowing fireplace.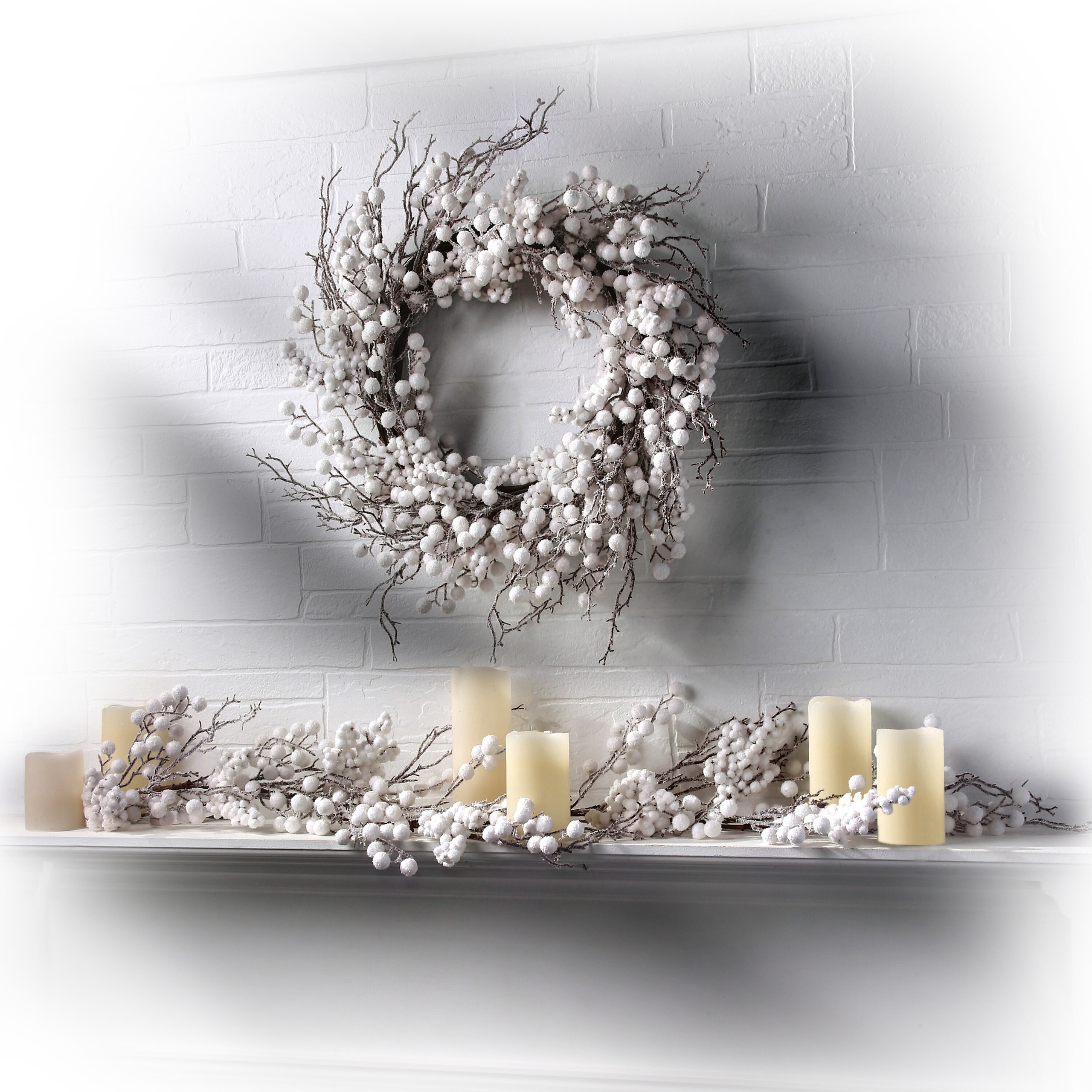 Battery Operated Ball Lighted Plastic Wreath
Available in a variety of different colors, this lighted plastic bauble wreath provides seasonal cheer with a bold design. Composed of 56 shatterproof ornaments intertwined with tinsel and LED twinkle lights, this bright wreath will put a smile on the face of anyone who knocks on your door, from Christmas carolers to friends and family.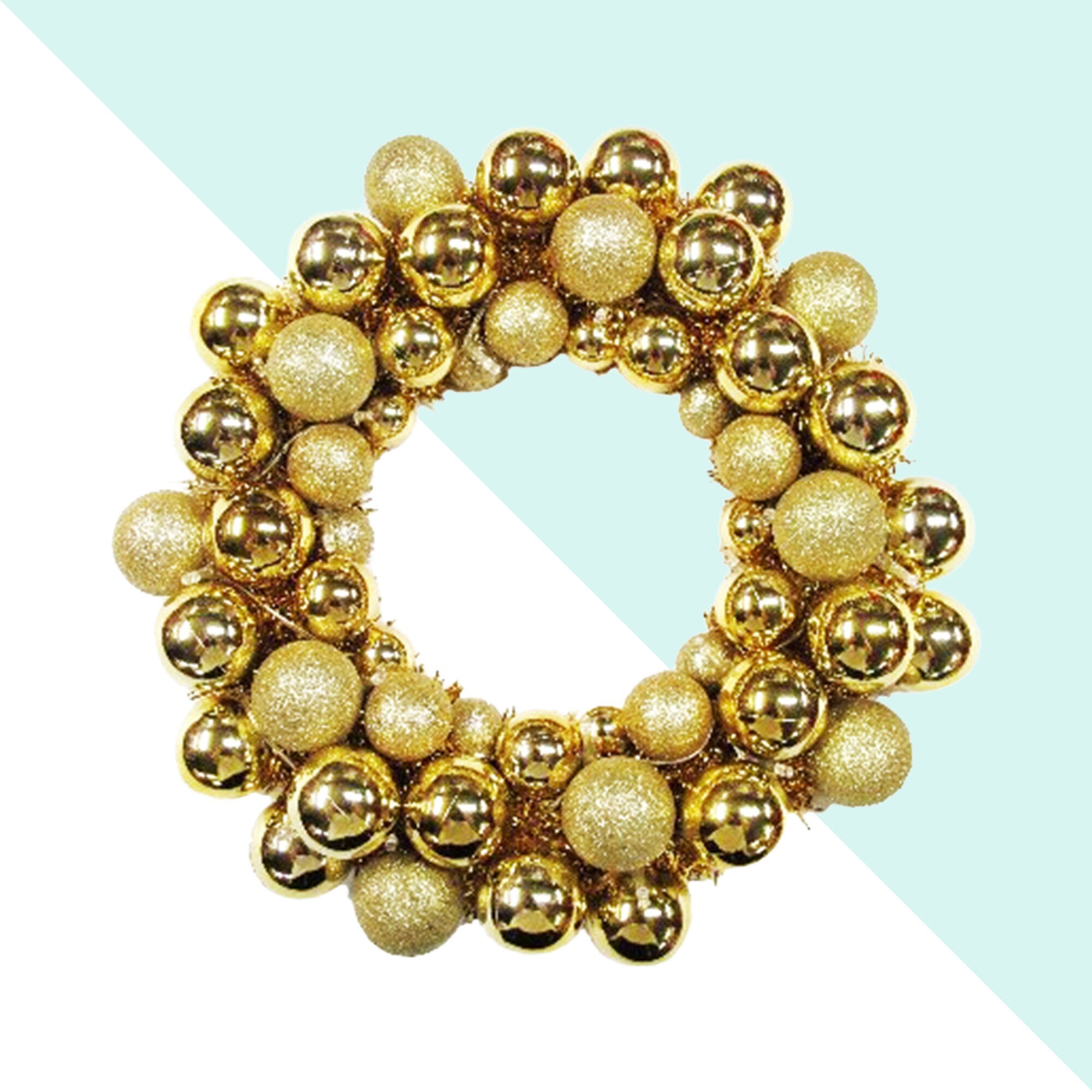 PVC Pine Needle Wreath
This understated wreath is perfect for lovers of scandi style holiday decor. Despite being made from PVC, this pine needle wreath has a realistic look that will make visitors think you've foraged in the woods to create a subtle, delicate door ornament. This natural design is chic and timeless, and perfect for celebrating the natural beauty of the winter season.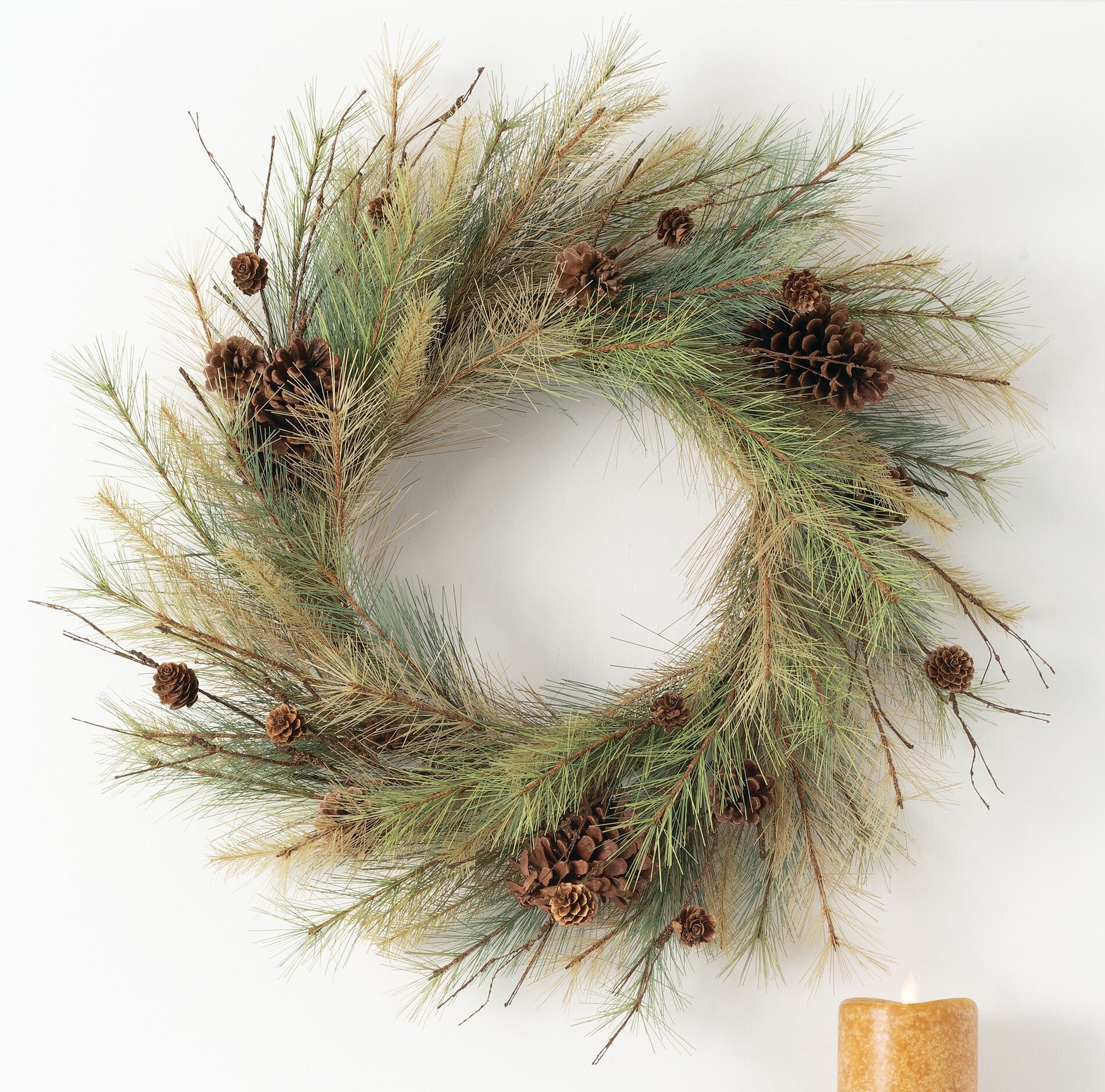 Frosted Mistletoe Wreath
This 22" diameter frosted mistletoe wreath is ideal for all the style-conscious romantics out there. The elegant green and white color scheme set on a lifelike woven twig base will never date, so year after year, you can greet your loved ones with a festive kiss at the door.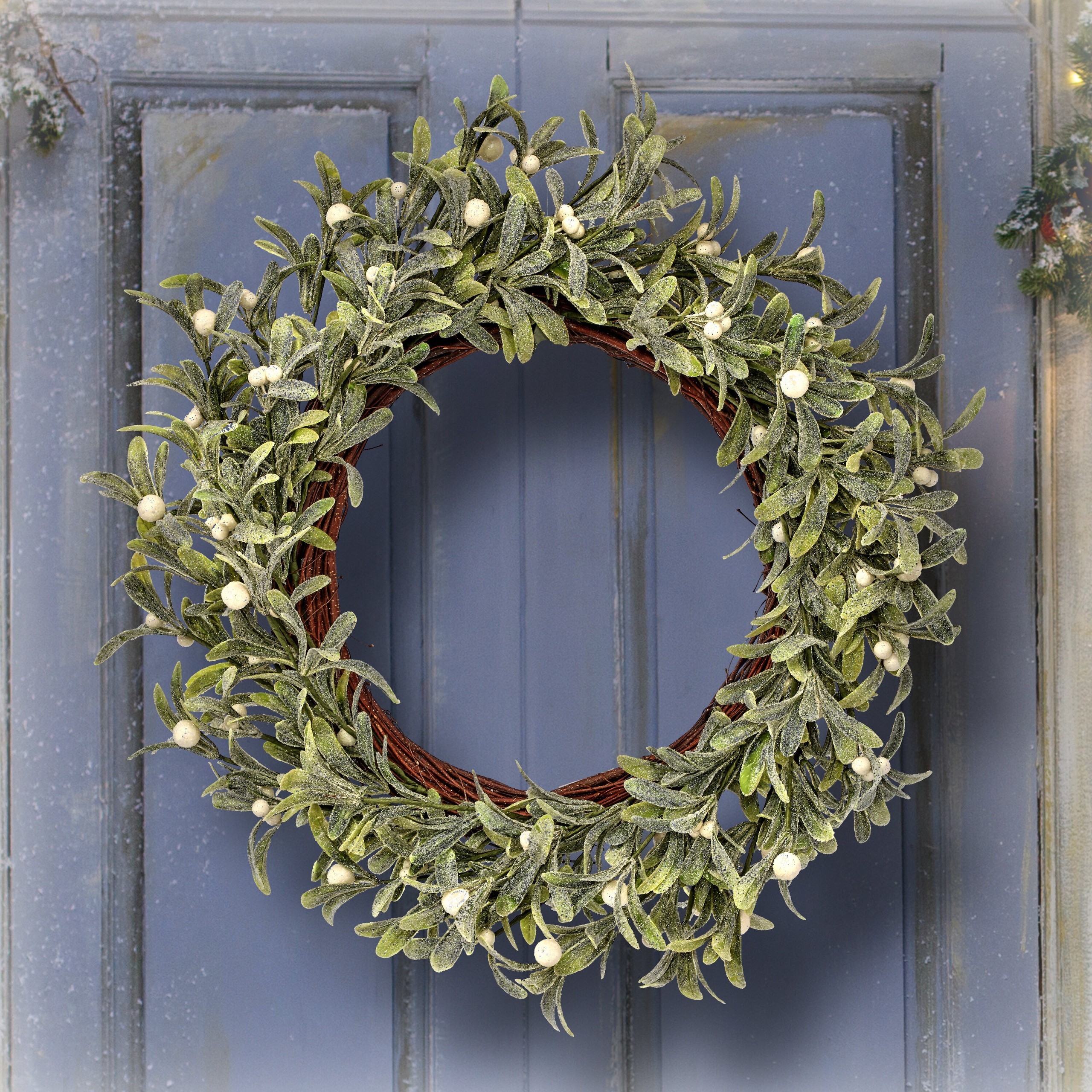 Festive Holiday Wreath
For traditional style combined with modern technology, this festive holiday wreath is a striking choice. The beautiful green, red and gold bauble intertwined with traditional pine is lit with 50 mini LED lights that create a welcoming glow. This wreath may not be the most original design, but its cheerful colors are sure to put all your visitors in the festive spirit.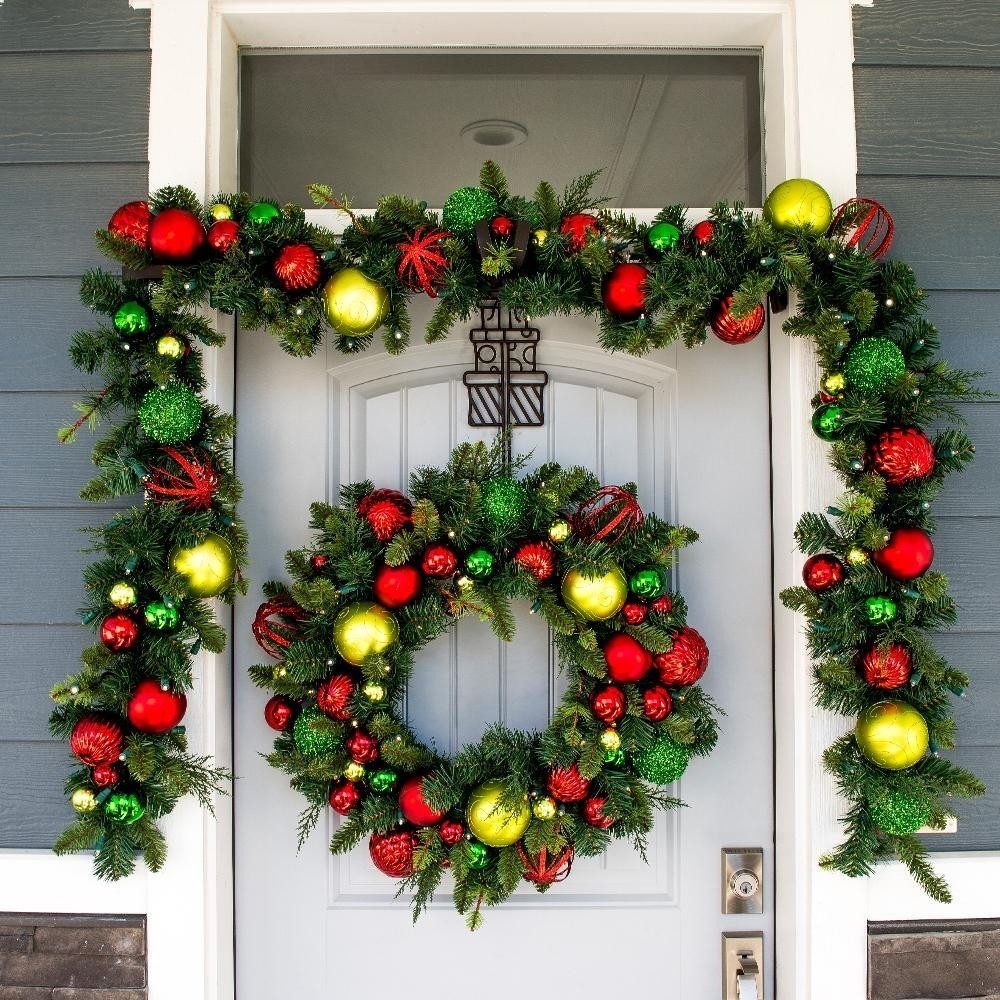 Final Thoughts
When it comes to Christmas wreaths, as with many outdoor holiday decorations, there's a style to suit everyone. Whether you prefer unconventional and minimalist or classic Christmas design, one of these wreaths is bound to speak to you and coordinate with your existing decorations.
Whichever wreath you decide to go for, we recommend investing in a wreath storage container in the appropriate size so that your decorations can be brought out every holiday season for many years to come.