Our Choice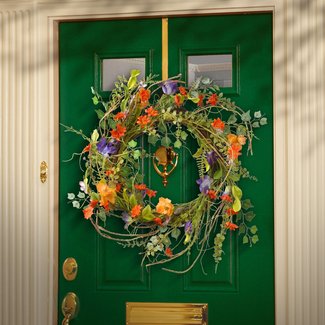 22" Fabric Floral Wreath
The vibrant colors on this wreath make it a versatile home accessory suitable for spring summer and fall.
This whimsical wreath comes with a variety of wildflowers and vines woven in a loose open pattern to give the piece natural charm. The stems are easily maneuverable, which allows the vivid wreath to be wispy or full.
Hang on a boldly colored front door to make the wreath pop, or indoors over your mantle to bring a touch of summer sunshine into your home's interior.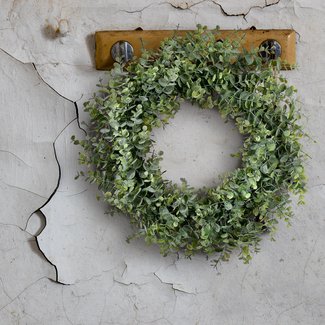 Frosted Eucalyptus 20" Foam Wreath
Perfect for a rustic style home, this wreath makes a charming way to invite guests to your home when hung an outdoor white gate. Or hang it above a farmhouse style mantlepiece to complement the textural tones of your living room.
At 20" in diameter, this versatile piece is suitable for most home décor. The lush eucalyptus leaves are easy to clean to keep your space immaculately styled.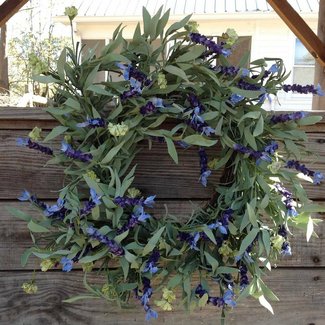 22" Lavender Wreath
The natural-looking lavender flowers and foliage are woven and mounted on a 22" grapevine base. The combination of purple flowers and mint green leaves make a stunning combination that is ideally suited to adding a pop of color to rooms styled in neutral shades.
Hang above your bed to create a whimsical headboard, or on an outdoor gate to complement the flowers in your garden bed.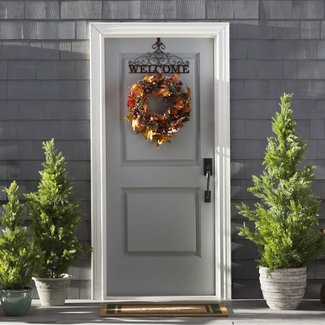 Rustic Welcome Wreath Hanging Accessory
Make a stylish first impression on your guests with this ornate brass French country wreath holder.
The holder is designed to hold wreaths of all sizes to celebrate the seasons. With a curved top to fit neatly over almost any front door and a hook base to mount your wreath, the ornate scrollwork makes for an inviting and elegant entry to your home.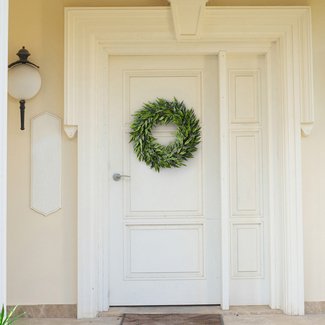 Ficus Microphylla Leaf Polyester Wreath
Understated and tasteful, this microphylla leaf wreath is the perfect addition to your front door and coordinates well with almost any home décor.
The wreath comes in two sizes 18" and 22" to suit the width of your front door without overwhelming it. The realistic-looking ficus leaves are made from polyester for easy maintenance, and the simple design works well to complement rustic or farmhouse style rooms, but can also be accessorized with flowers or ornament for seasonal décor.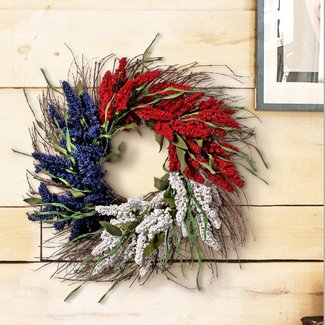 Atsilbe 24" Foam Wreath
Show pride for your country, with this patriotic red, white, and blue wreath that makes an eye-catching decoration for any national holiday. Hang on a front door for Memorial Day, Independence Day, Veteran's Day or to celebrate a loved one in the military.
The large 24" diameter and stunning color design make a bold statement in any home. Display above the TV in the family room during celebrations or combine with a photo to create a touching memorial for a loved one.
White Berry Magnolia 22" Polyester Wreath
With subtle magnolia leaves and white berries, this rustic traditional wreath will add warmth to your home in the winter months.
Perfect for natural Christmas décor, the 22" wreath makes a stylish display above a mantlepiece or over a mirror. Add to a dining room hutch to complement the natural wood grain or hang at the top of a blanket ladder to emphasize the color in your quilt collection.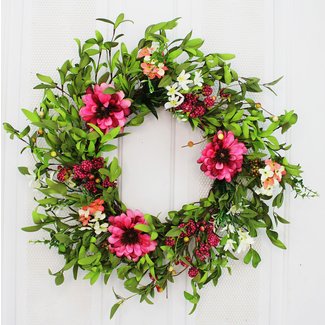 Medium Peony Flower 19" Silk Wreath
Bursting with vibrant floral colors, this spring and summer wreath features a dazzling combination of natural-looking silk flowers, plump red berries, and lush foliage.
At just 6 lbs., this lightweight wreath is an excellent addition to your home as the weather warms up. Use it as a centerpiece on a dining table accented with decorative candles for a romantic ambiance. Or hang on a large mirror to enjoy every facet of this stunning piece.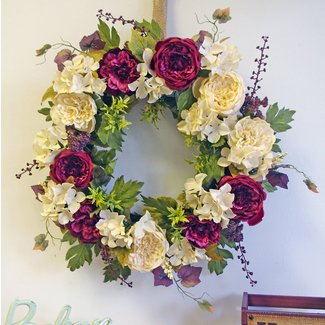 Cabbage Rose and Hydrangea Berry 22" Polyester Wreath
Hydrangea, berries, leaves, and blooming cabbage rose are mixed in this alluring wreath. Available in 5 different color palettes to match your style, you can use this wreath all year long.
The realistic flowers are a great way to add a splash of color indoors. Hang above a fireplace or in a front window to complement the wall color in your home. Or display it on a lavish solid wood wardrobe in your bedroom to contrast with the natural wood grain.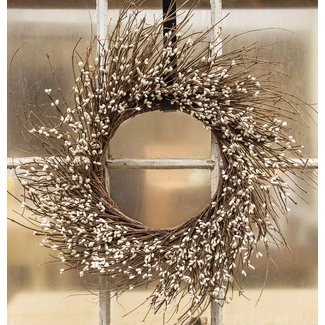 Ivory 22" Wreath
Full of texture and style, this wreath is crafted from slender twigs dotted with off-white berries to create a wispy, rustic wreath perfect for your country home.
The stylish neutral wreath is ideal for use all year long, and the artificial material makes it suitable for both indoor and outdoor use. Hang on window shutters or a glass door pantry to create a cozy kitchen. Or position against blue or black front door for a stunning contrast that will catch the eye of everyone in the neighborhood.