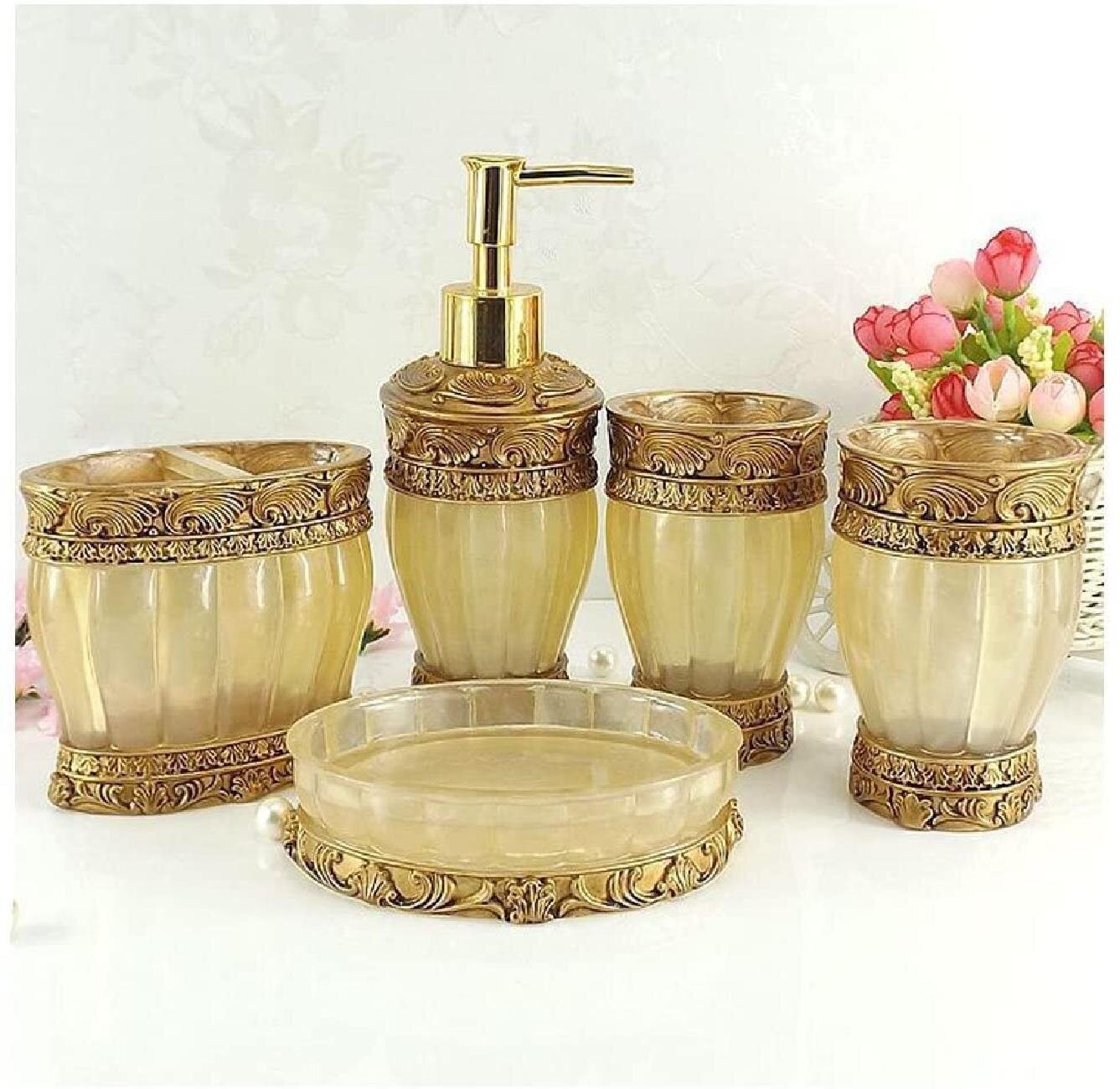 Vintage Luxury Gold Bathroom Accessories
If you're a fan of vintage-inspired designs, this five-piece set is a perfect choice. Including a soap dispenser, toothbrush holder, tumbler, and soap dish, all pieces are mildew resistant. The design features gilded gold detailing with a pearlescent center.
Designer Advice:
Get creative and be inspired by the throwback vintage glamour of this set. We think it would look amazing in a bathroom that has marble accents or existing gold metal detail. Both of these options would bring out the gleam of the gold on the top and bottom. Plus, the pearl center won't show dirt as easily as white.
Merchant links are sponsored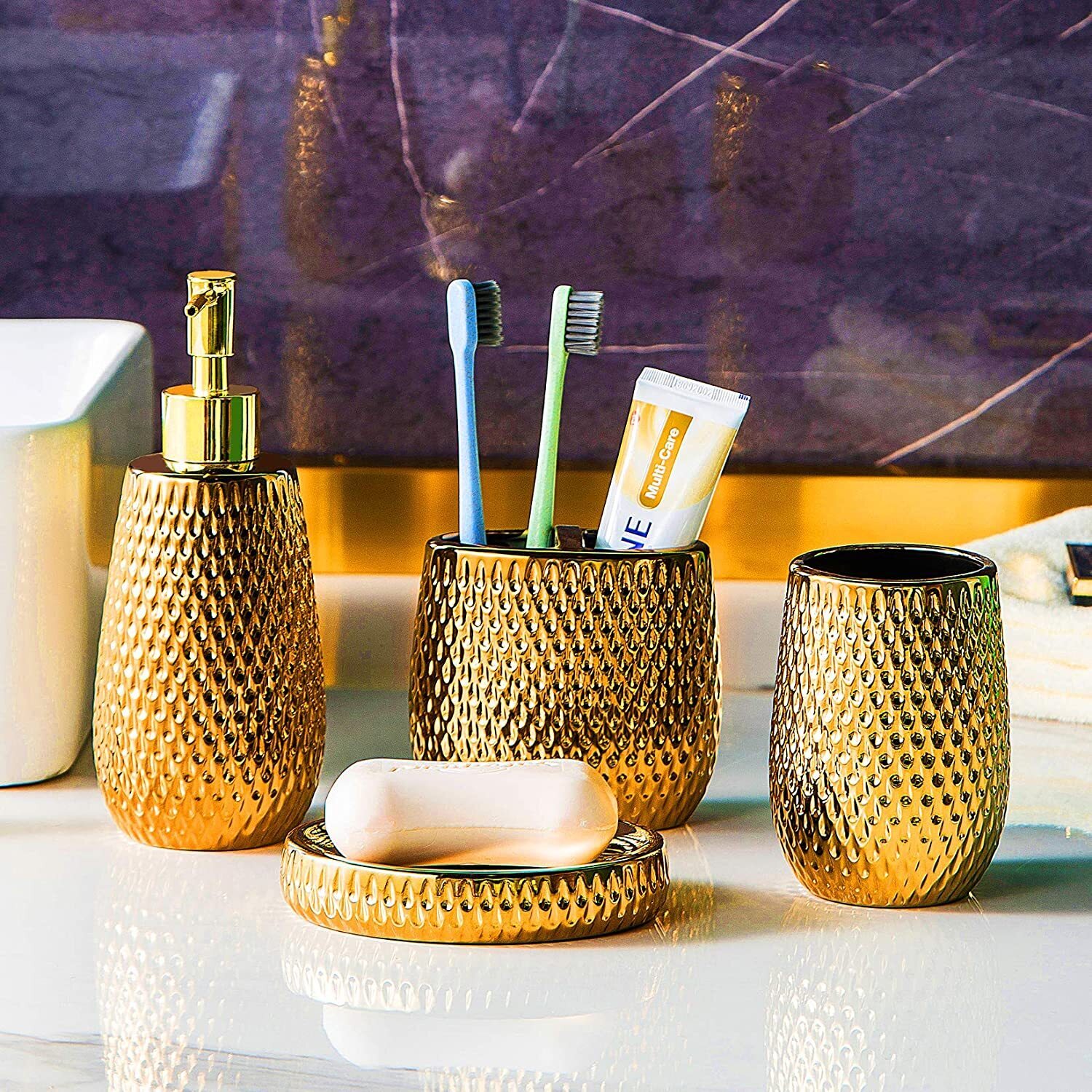 Textured Gold Bathroom Accessories
This set has four pieces - a toothbrush holder, dish tumbler, soap dispenser, and soap dish. Made of ceramic, the textured finish and rain-drop shaped items will add a touch of whimsy to your bathroom. The pump is plastic plated.
Merchant links are sponsored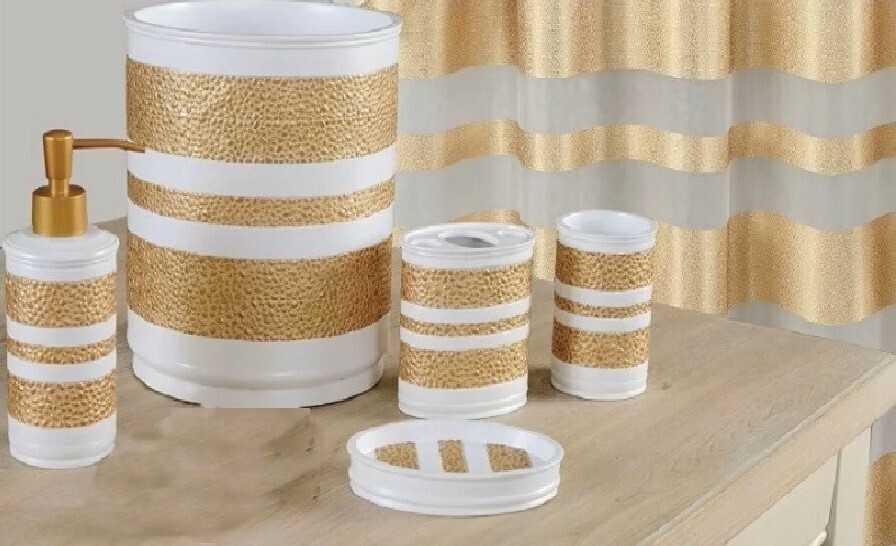 Striped White and Gold Bathroom Accessories
Breakwater Bay
Crafted from resin, this set includes five pieces – a wastebasket, soap dish, toothbrush holder, tumbler, and soap pump. All feature a bright white background interspersed with bold glitter gold stripes. As their design is slim, they won't take up much counter space.
$77.99 $99.99
Designer Advice:
This set is a good alternative if you're worried an all-gold set might look a little overwhelming. The white background prevents the glittery gold stripes from looking tacky, as does the matte gold pump of the soap dispenser. As for décor, we recommend sticking to an all-white décor scheme so the gold stripes stand out even more.
Merchant links are sponsored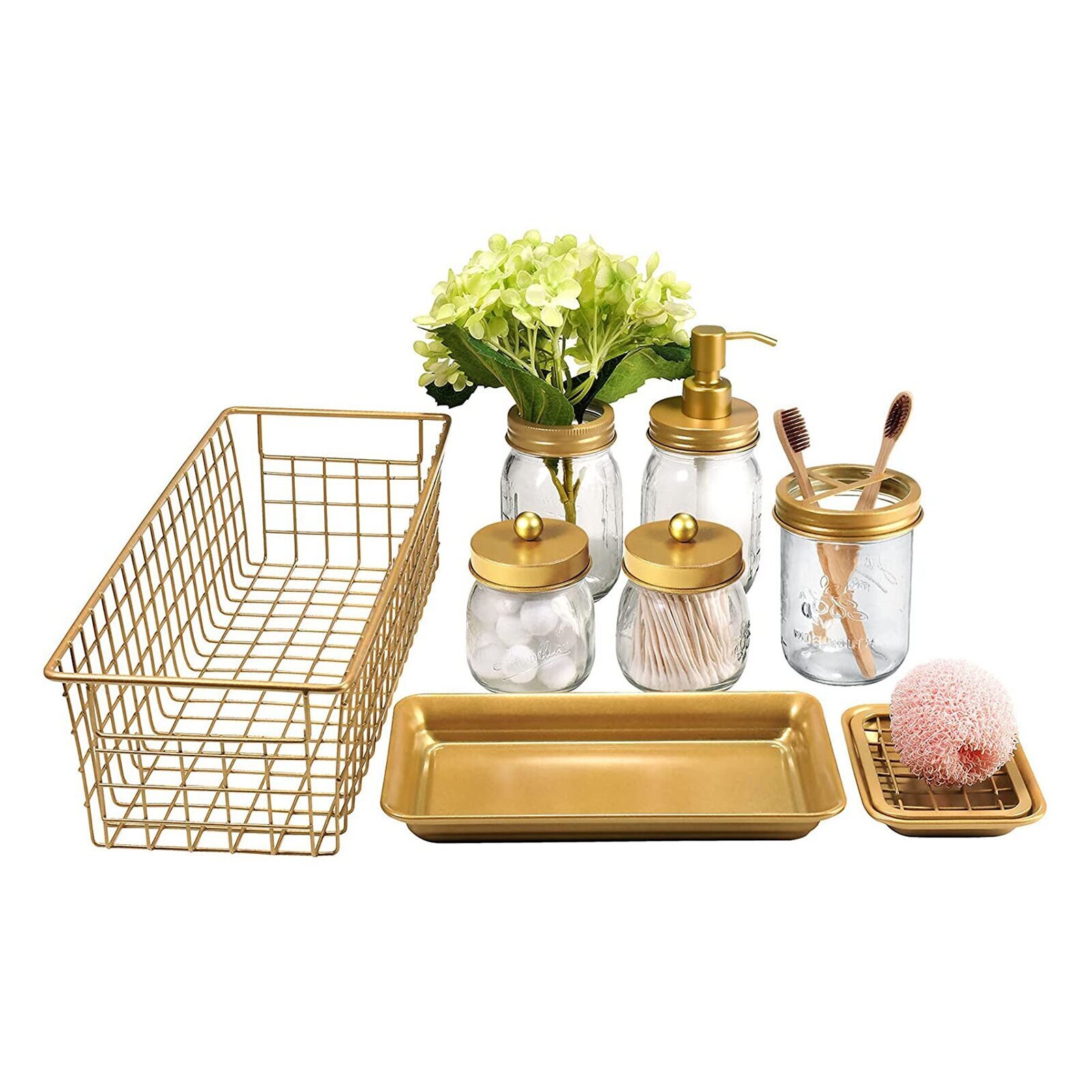 Farmhouse Gold Bath Accessories
Everly Quinn
Coming with eight pieces, including a soap dispenser, a storage bin basket, and a vanity tray, this set embodies farmhouse chic. Made of glass and strong steel with a rust-resistant finish, it has a brassy matte gold finish.
Designer Advice:
We love that this set comes with a vase for flowers. You don't have to use the vase in your bathroom – it would make an adorable finishing touch in a corridor or kitchen window. Moreover, you could use the storage jars for cotton pads or Q-tips. Accentuate the strong farmhouse influence with plaid or fringed cream bath towels.
Merchant links are sponsored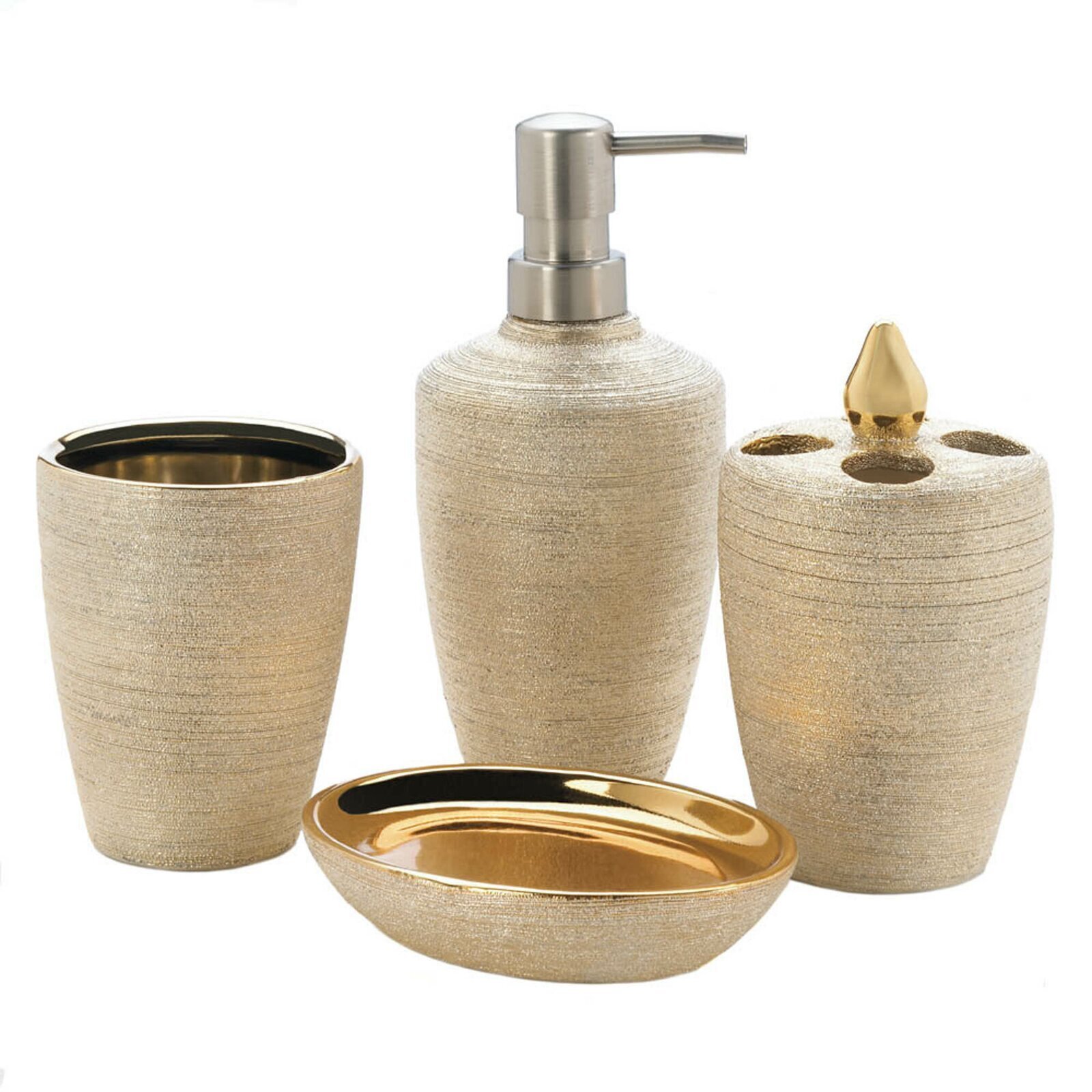 Shimmer Bathroom Accessories in Gold
World Menagerie
Including a soap dish, toothbrush holder, soap dispenser, and storage jar, this set is made of ceramic. The subtle shimmer finish is featured on all pieces alongside as a shiny gold interior on the soap dish.
$19.99 $29.99
Merchant links are sponsored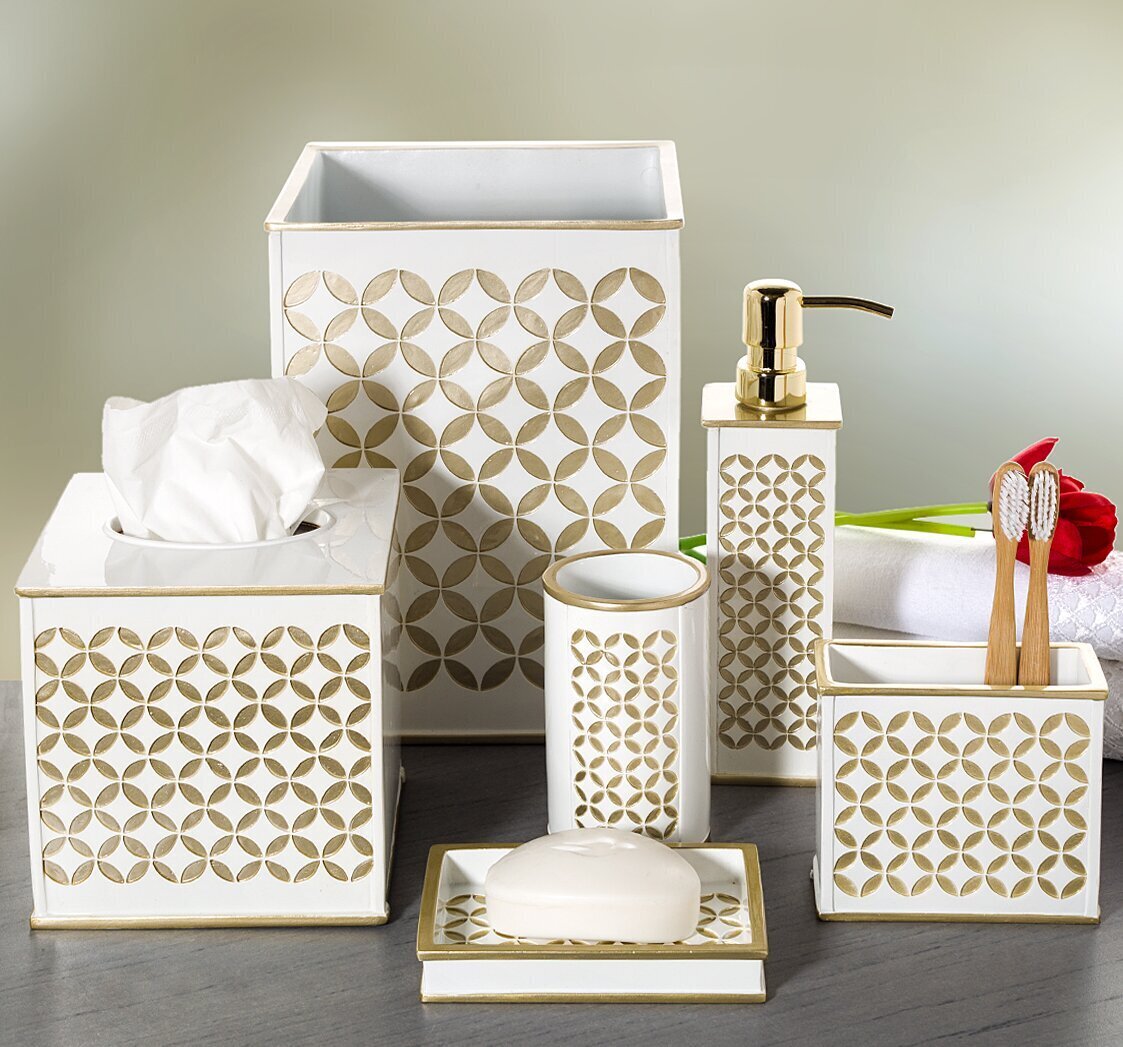 Geometric Gold Bathroom Décor
Mercer41
Clean lines and symmetrical shaping come together with this bathroom décor, which has a timeless design. It comes with six pieces, including a wastebasket and soap dish. Each piece has a white background with a golden-brown geometric pattern.
Designer Advice:
Chic and visually appealing, the geometric pattern featured on this set takes inspiration from the Art Deco era. Its white background and muted gold color contrast to create a contemporary but timeless look. We recommend opting for yellow towels to bring out the gold pattern even more as white towels may cause the gold to look dull.
Merchant links are sponsored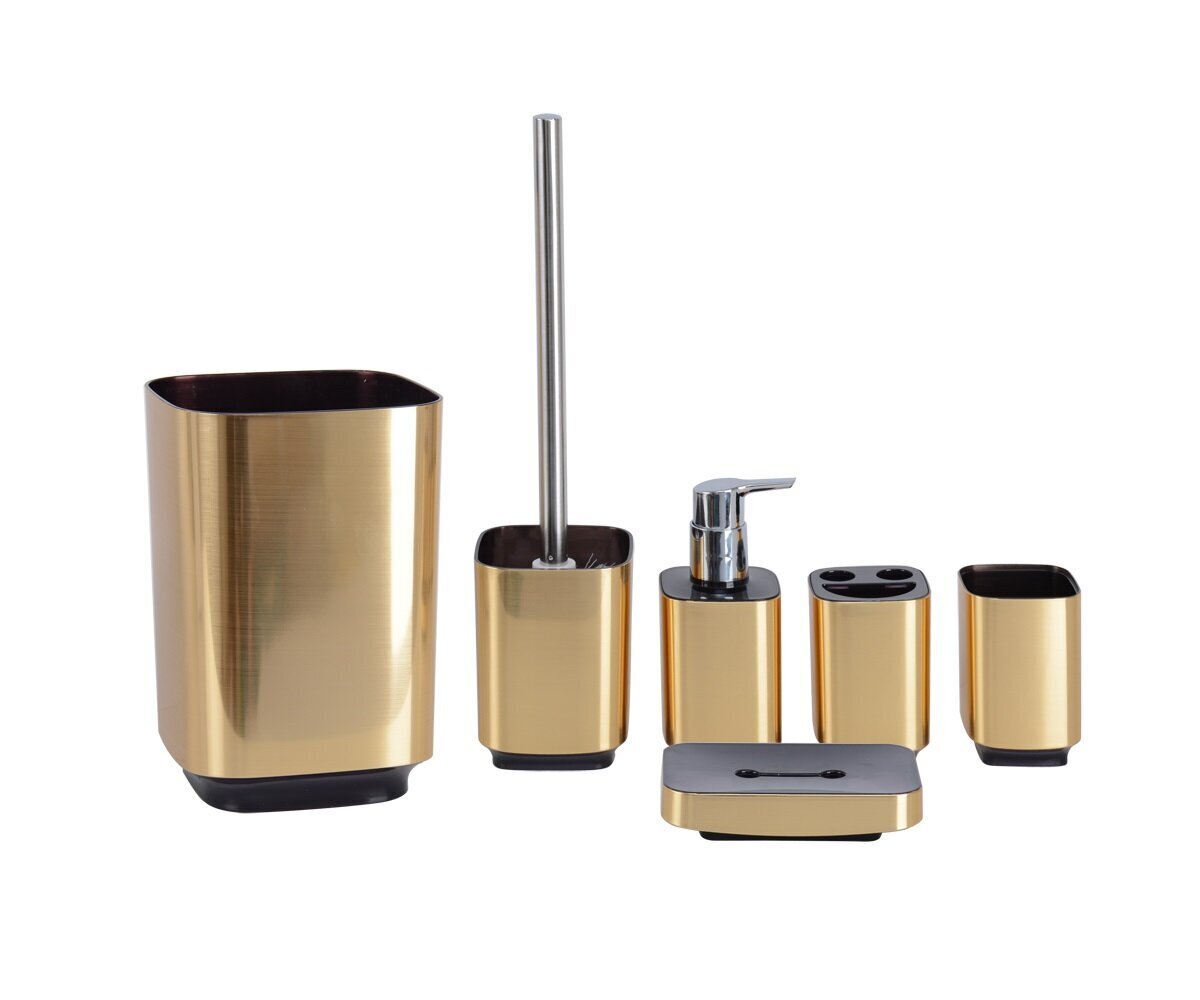 Matte Gold Accessories for Bathroom
Ivy Bronx
Featuring a modern design, this set has everything you need for your bathroom. Amongst the seven pieces are a toilet brush and holder, a wastebasket, and a soap dispenser. Everything is crafted from acrylic plastic with a matte gold finish.
Merchant links are sponsored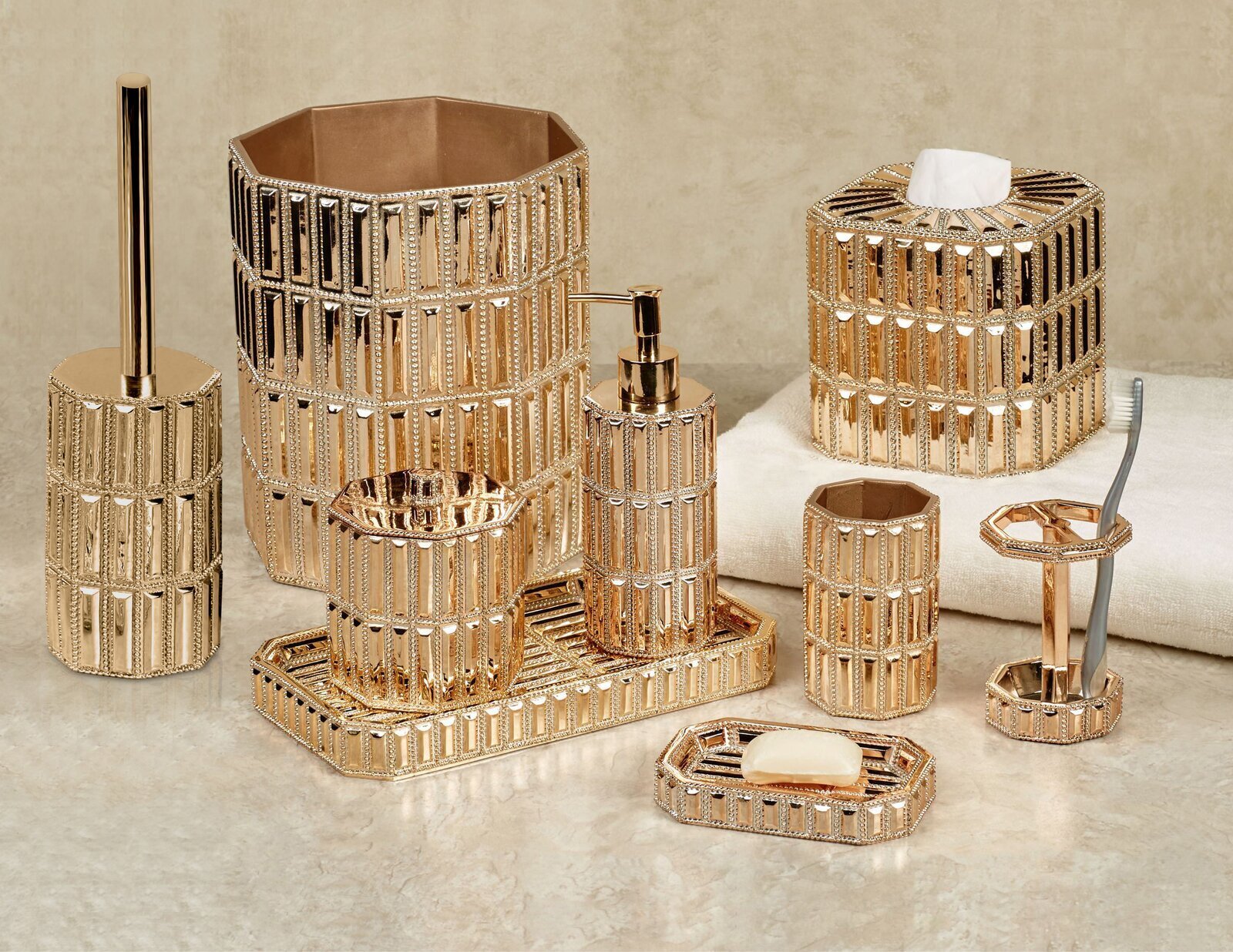 Old Hollywood Gold Bathroom Set
Etta Avenue™
Coming with an impressive nine pieces, this set includes a soap dish, amenity tray, and toilet brush holder. Each piece is made of water-resistant and mildew-resistant resin. Inspired by charming Old Hollywood designs, the geometric pattern has a glistening finish.
Designer Advice:
The sophisticated and utterly glam look of this set is down to its Old Hollywood look. The luxe metallic finish will gleam all day and night long, especially if your bathroom gets a lot of natural light. Plus, as each piece has a small and slim design, you can group the set or dot the pieces around your house.
Merchant links are sponsored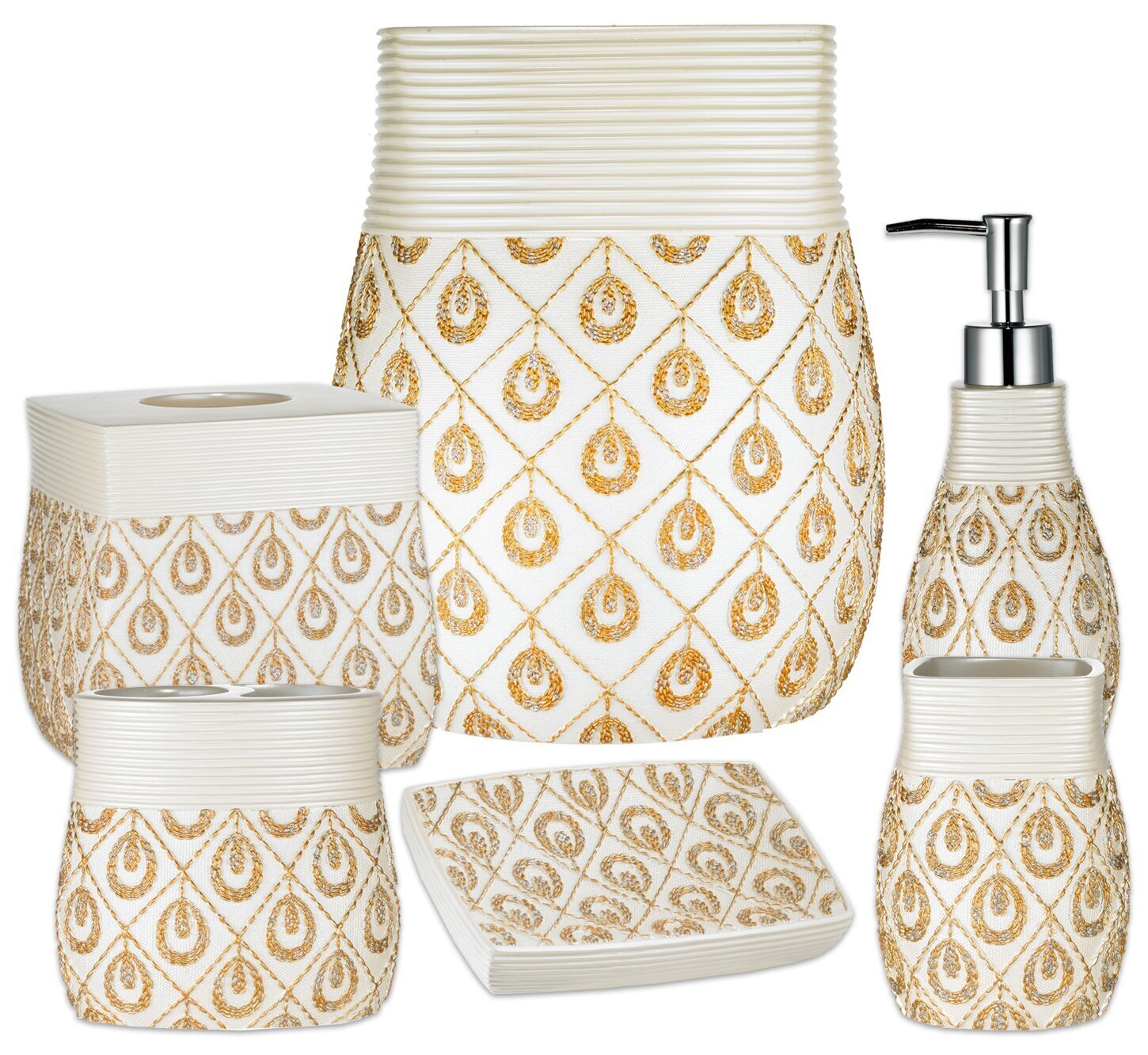 Unusual Gold and White Bathroom Décor
World Menagerie
The metallic gold pendant pattern on this bathroom set is full of elegance and will never go out of style. It includes a soap dish and soap dispenser, though the pump is silver. Each piece is made of resin and has a white background.
Merchant links are sponsored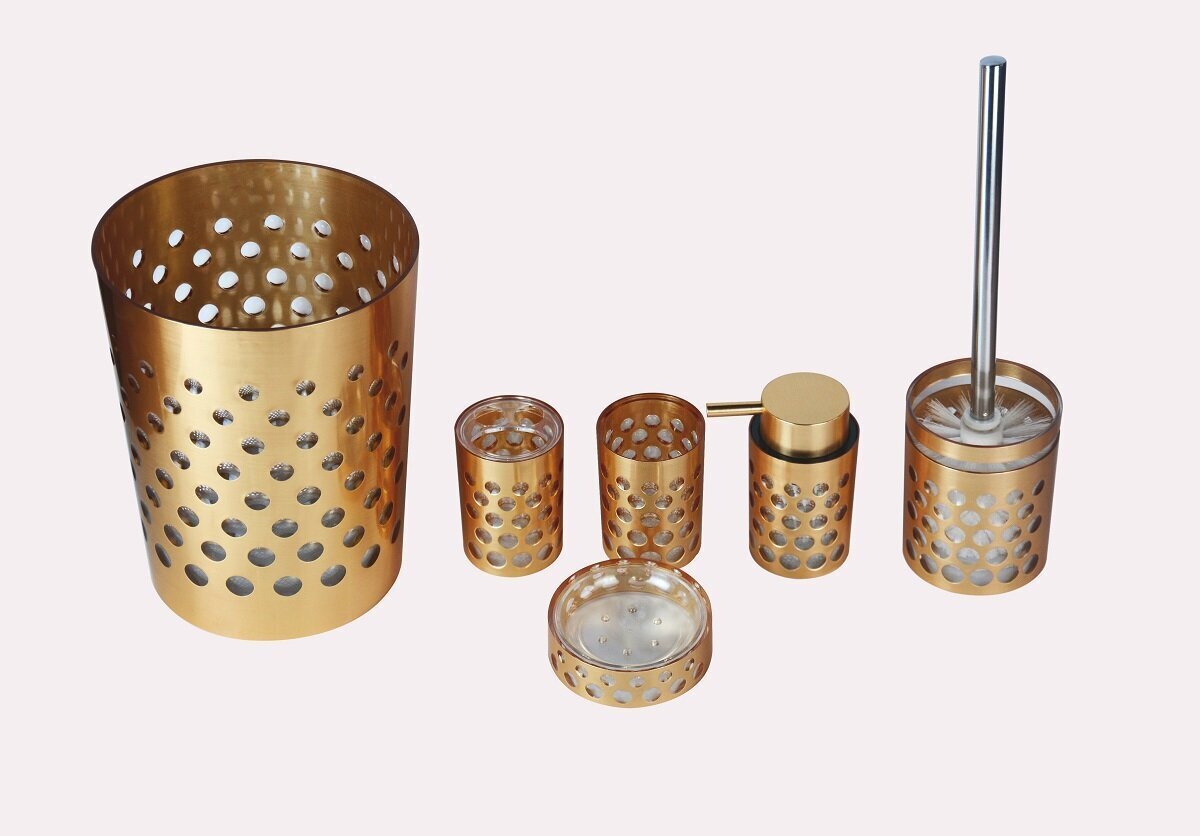 Modern Gold Bathroom Accessories
Orren Ellis
Made of BPA-free high-quality acrylic, this set is additionally shatter resistant. There are seven pieces in total, ranging from a soap dispenser to a wastebasket. The contemporary dot cutout pattern can be seen on each item.
Merchant links are sponsored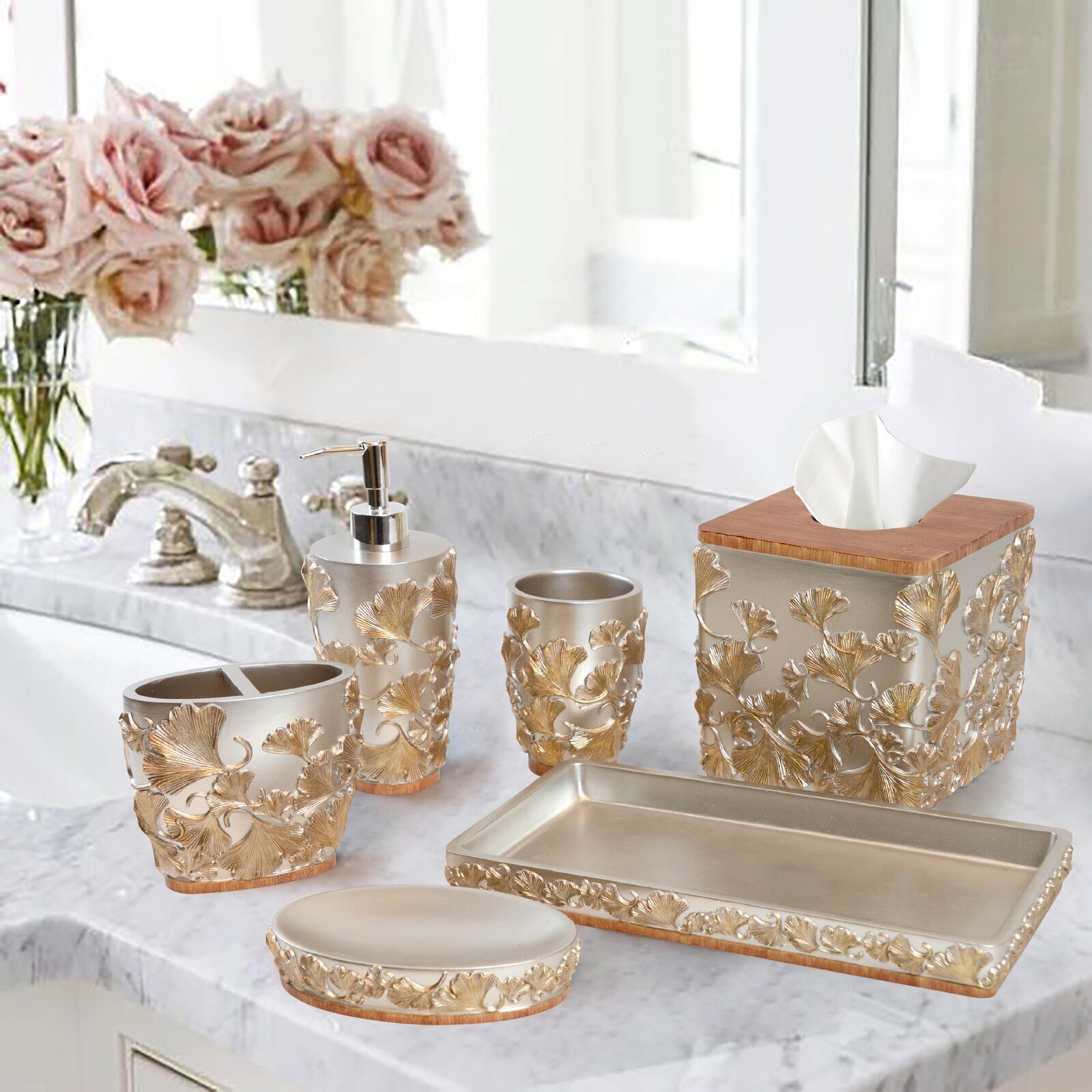 Gold Leaf Bathroom Accessories
Etta Avenue™
Crafted from mildew-resistant resin, this set of bathroom accessories comes with six pieces, including a tray and tissue box holder. The embossed gold leaf pattern sits against a pearly base that won't show marks or stains easily.
Merchant links are sponsored