The dreamiest Christmas tree and decorations can mean something different to everyone. Some households can't feel the Christmas magic without the busiest, Winter Wonderland-style displays, whereas some others prefer a more minimalist approach to keep fewer ornaments in the spotlight.
Does the latter sound like you?
You're in the right place, then! Minimalist doesn't have to be synonymous with bare and boring. On the contrary, there are so many magical possibilities to choose from.
Here's some ho-ho-ho so beautiful minimalist Christmas tree inspiration.
Traditional Christmas colors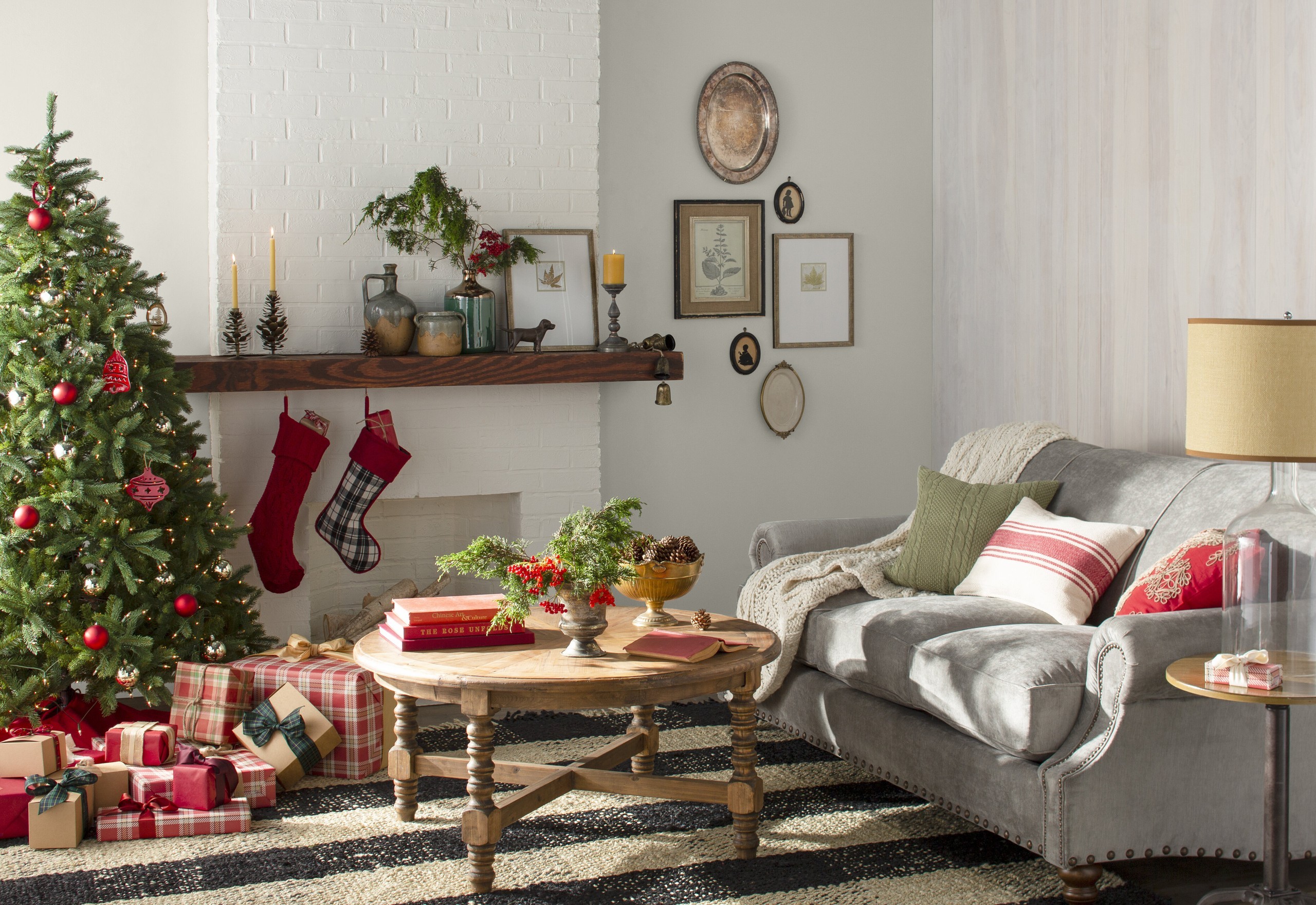 There's this widespread misconception that minimalist décor can't be cozy and homely, but this couldn't be farther from the truth. If you want your minimalist Christmas tree and display to feel welcoming and traditional, you're going to love this idea!
One of the best ways to create a Christmas atmosphere without filling the entire room with ornaments is to focus on the most festive colors, like green, red and gold;

A big Christmas tree will take care of the green part for you, so all you need to do is add a few simple red balls and decorations, topping it all up with a couple of strings of lights;

To complement this traditional look in the rest of the room, we recommend limiting your decorations to a small number of natural ornaments and some that match your festive palette;

For example, get creative with red stockings, green and crimson berry decorations, wood, and pinecones. And why not add a tree topper in one of those colors?
Industrial Christmas tree style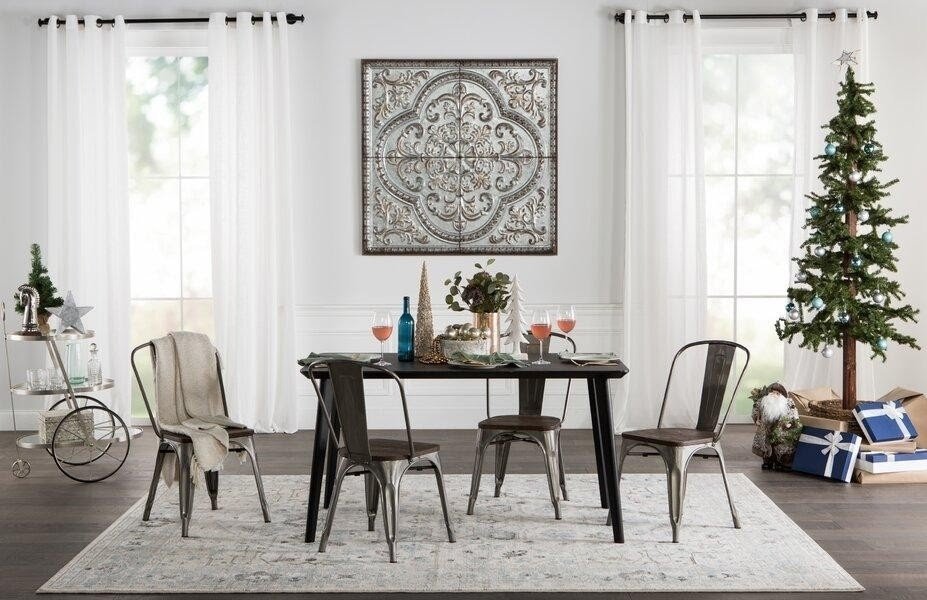 Industrial décor and minimalism usually go hand in hand. Can't get enough of the raw and unfinished vibes of your living or dining room? Then you certainly don't need to wave them goodbye during the Christmas season:
To emphasize the streamlined look of your chairs and furniture, choose a thinner tree, perhaps a taller model with a long trunk;

As for balls and ornaments, we recommend keeping it simple by sticking to a two-color combination. The best way to maintain an element of consistency while introducing some Christmas vibes is to pick a more neutral color from your existing room's palette (e.g. white or beige) and add a festive hue like red, gold or blue;

You can then complement your Christmas display by adding a few attention-grabbing ornaments, like a centerpiece. Again, try and stick to the same palette and accent color!

Alternatively, if you want to take your love for industrial décor to the next level, you can even pick a silhouetted metal tree.
Modern farmhouse tree style with meaningful decorations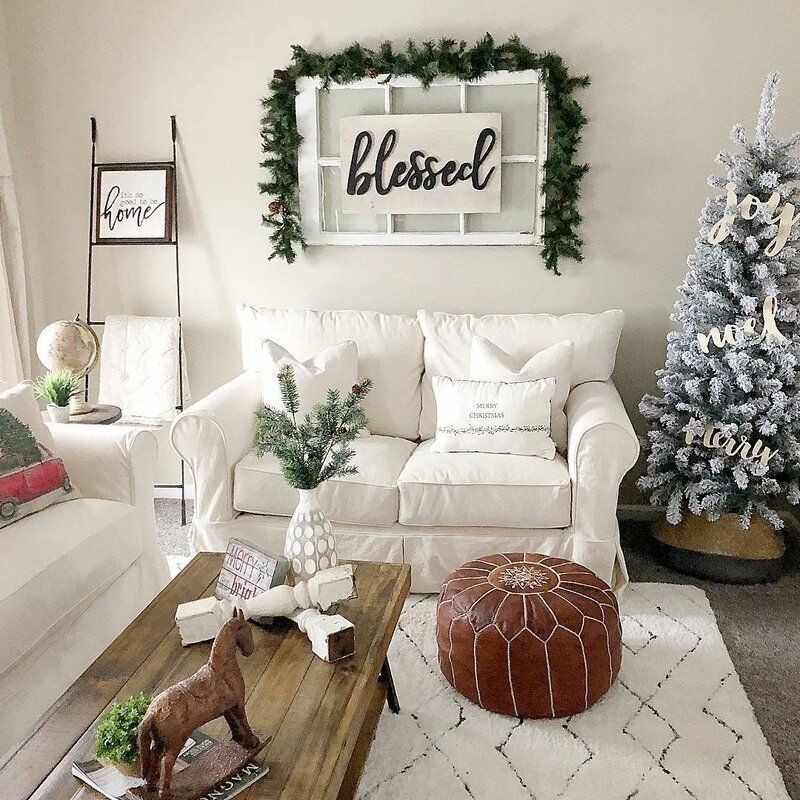 This style is ideal for those who want to add a modern touch to the rustic farmhouse style by embedding their personal meaning of Christmas in their decorations:
Is it joy? Being merry? Feeling blessed? Whatever it is, we promise there's an elegant handwritten-style ornament with that word, out there!

Choose a bare, simple tree - either green or with fake snow - and use those ornaments to decorate it, so that the focus stays on their meaning;

As for the rest of the room, you can maintain this handwritten style or bring nature inside your home by decorating it with branches, green wreaths and pinecones.
Sparkly Christmas tree style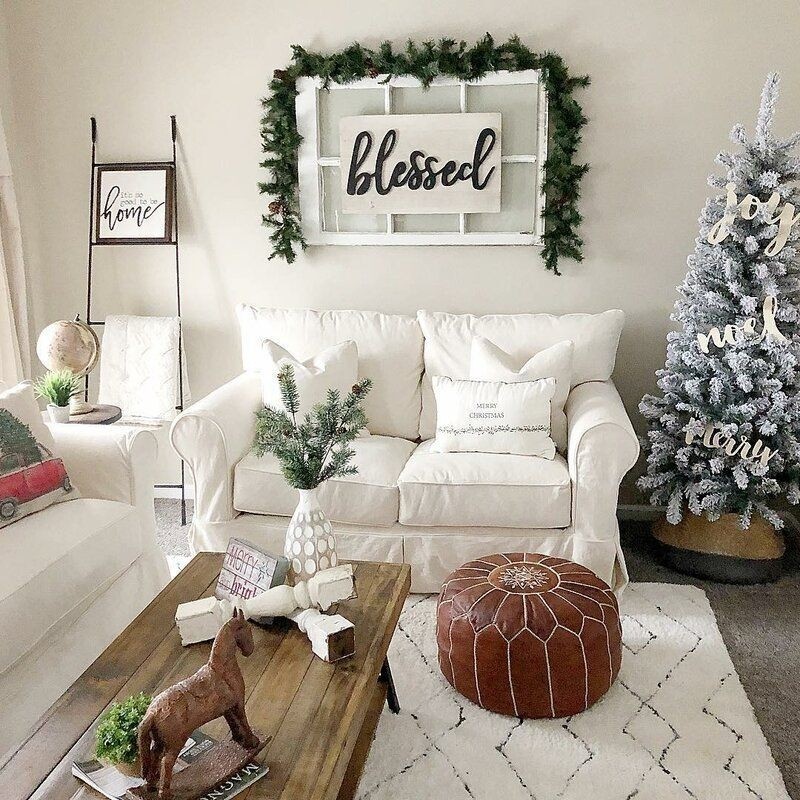 Do you live for the Christmas sparkle? Then make your tree décor all about it!
This minimalist style can work in any house, but it looks particularly magical in rooms with neutral palettes: that way, the focus will definitely be on the warm lights;

To achieve it, choose a large green Christmas tree and, instead of opting for rows and rows of ornaments, use only strings of lights (lots of them, though!);

They don't necessarily need to be yellow: if you'd rather have another accent color (like red or blue), you can just look for strings of lights in that hue and keep them consistent in the rest of the room;

If you have a fireplace or a shelf nearby, you could also emphasize this style by adding some evergreen branches with even more sparkly lights.
A berry traditional Christmas tree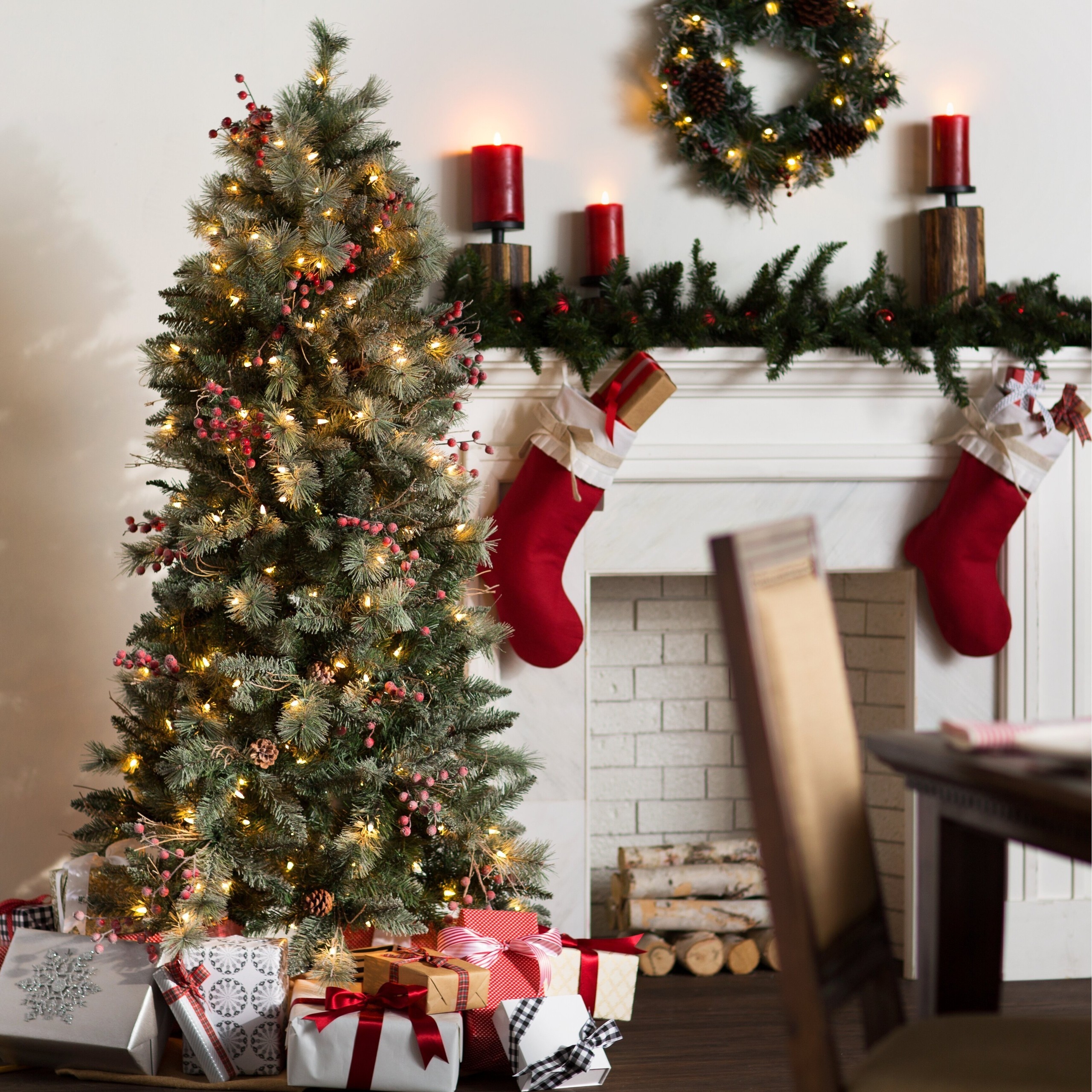 A stunning, rustic way of creating the Christmas magic is to combine festive and natural vibes:
For this look, choose a classic tree and only decorate it with pinecones, red berries and other natural elements;

A tip? If you want to get your whole family involved, you could even make some of these decorations yourself, for example by drying orange slices;

To create a consistent look, amplify this combination in the rest of the room. For instance, you could add natural-looking wreaths and stockings that match the accent color that you've picked for your tree decorations.
White Alpine magic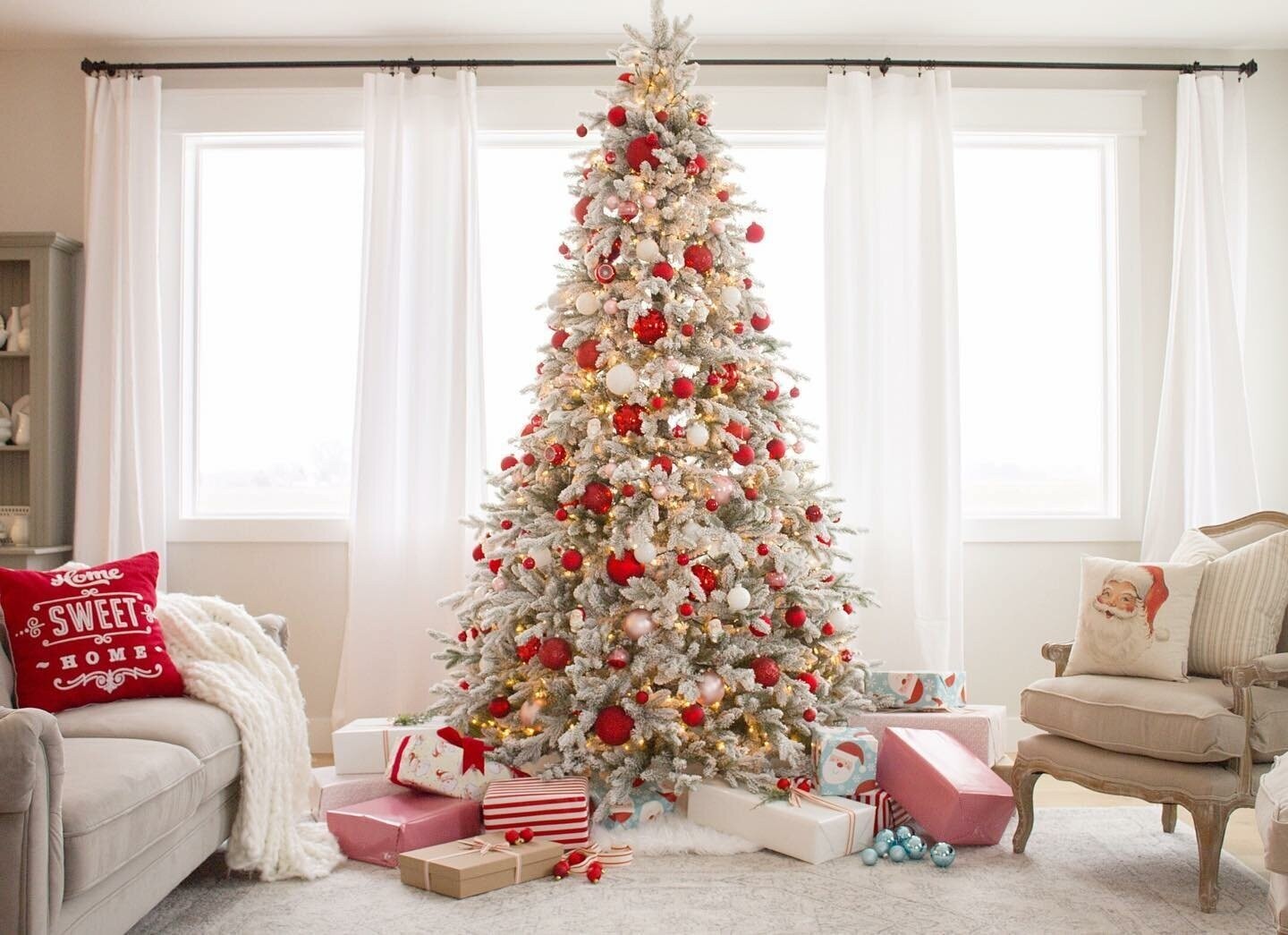 Who says that all Christmas trees must automatically be bright green? For some white and Alpine vibes, try this minimalist Christmas tree look:
Opt for a snowy-looking tree and reinforce this vibe by choosing white for the first half of your two-color palette;

The other half? You can't go wrong with a festive red hue, but you can always pick the accent color of your living room if you want to maintain a consistent element;

Finally, complete this Alpine look by adding bright strings of fairy lights.
Minimalist tree but… presents first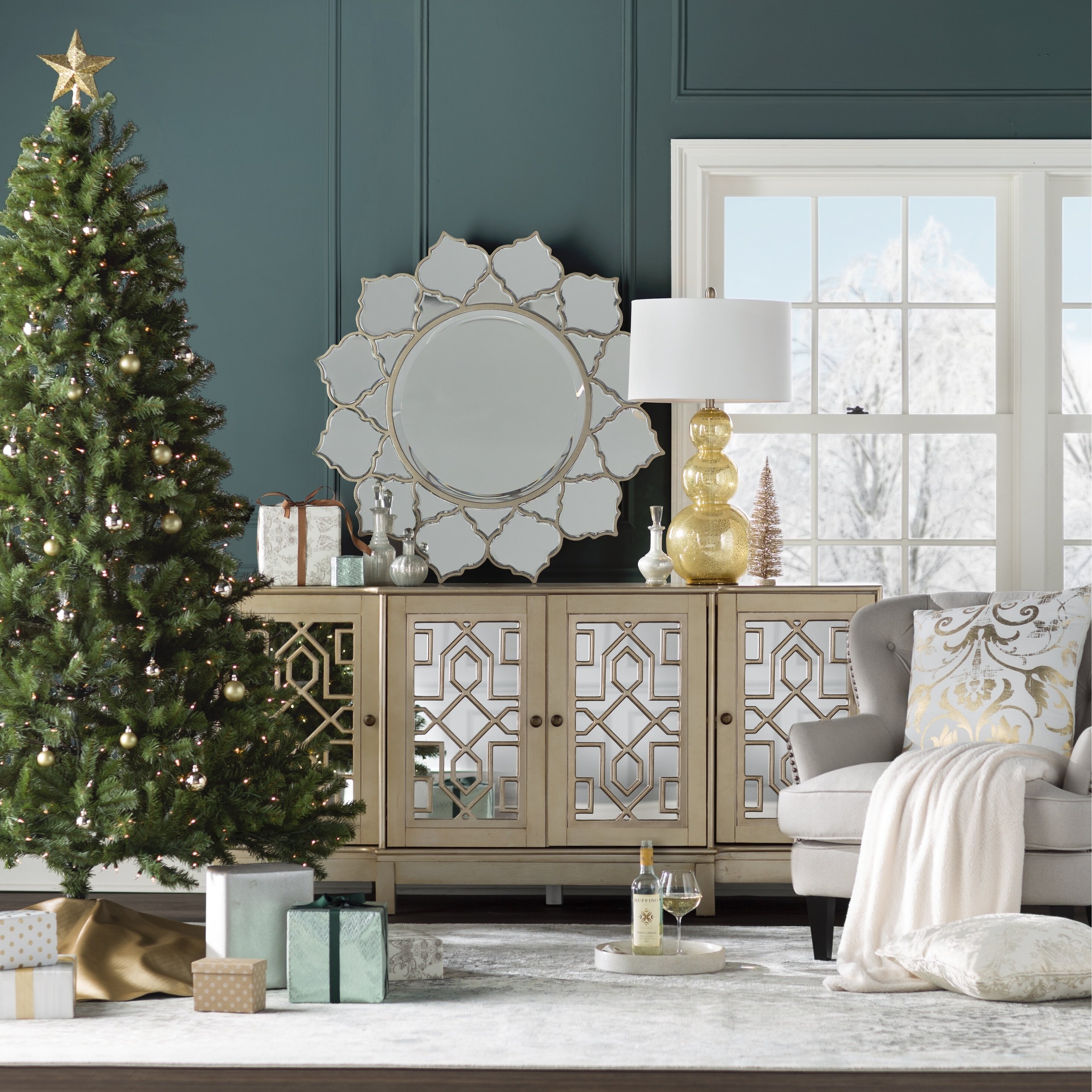 Another idea to achieve a minimalist Christmas tree and display is to use your presents to decorate it:
For this style, you don't need a huge tree: a medium or even a small one will do. That's why this minimalist solution is perfect for modern flats with fairly narrow living rooms;

Decorate it with a couple of different types of ornaments in neutral colors like grey or beige and add some sparkly lights;

To keep the focus on the presents and create a consistent display, wrap them all in the same paper and add elegant ribbons, perhaps in the same color as your tree decorations.
White snowy atmosphere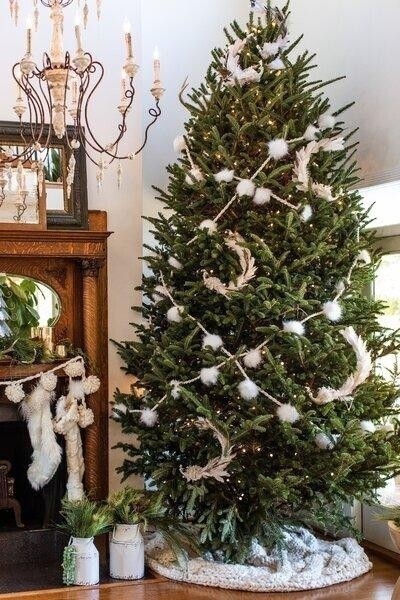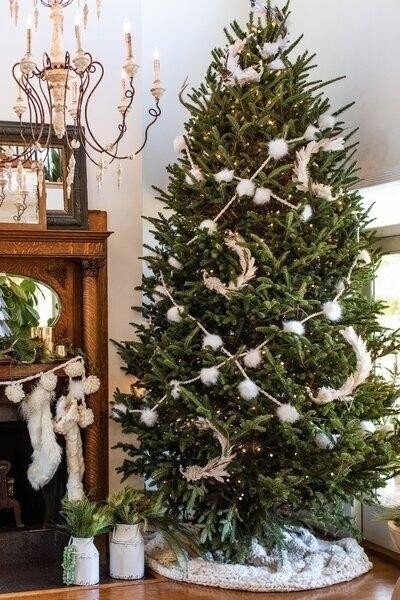 Why not enjoy a snowy atmosphere from the comfort and warmth of your home?
To do so, pick a tall, bright green tree and make white your accent color;

Choose simple decorations that reinforce this snowy style, like soft pompoms. Don't forget to add some lights!

To maintain this look around your tree, experiment with strings of similar decorations and, why not, even some stockings in the same color;

Another idea to achieve a similar effect is to opt for a snowy tree: this will result in a dreamy white overload that, thanks to the simple palette and limited number of ornaments, will still feel quite minimalistic;

If you want to outdo yourself, you could even add some fake snow to your fireplace, shelves, and other surfaces around your Christmas tree!