Pre Lit Flocked Christmas Tree
Oh, the weather outside is frightful… but a pre-lit flocked Christmas tree is SO delightful.
Think about it! The flocked finish means that you'll get to bring the snowy landscape inside your home without freezing or, if you leave in a part of the country where snow isn't even a thing, to actually enjoy some white magic.
As for the pre-lit option, you won't have to worry about all those tangles of light strings.
At the same time, there are still lots of different options to choose from.
The most important part is to be realistic when it comes to size. Most of these Christmas trees are 7.5', but you can easily find shorter and taller models, so don't forget to measure both the height and width that you have available for them.
Now, to the fun part!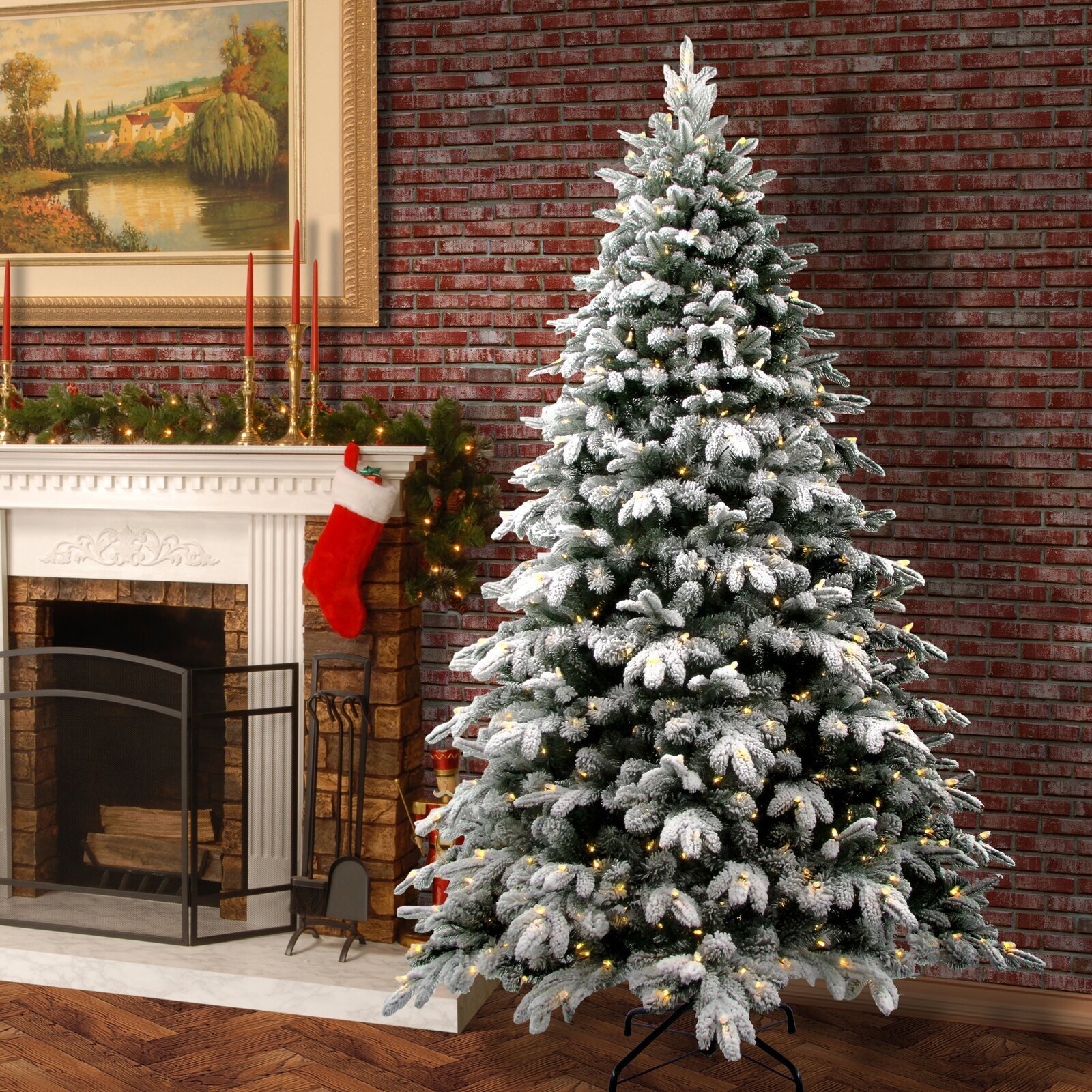 A pre lit flocked Christmas tree with the most natural look

While some lower-quality flocked models can end up feeling a bit tacky, you can find several artificial Christmas trees that actually look just like the real thing.
The only element that will give it away is the pedestal, but you know what to do right? (Psst. The answer is to hide it behind all the presents.)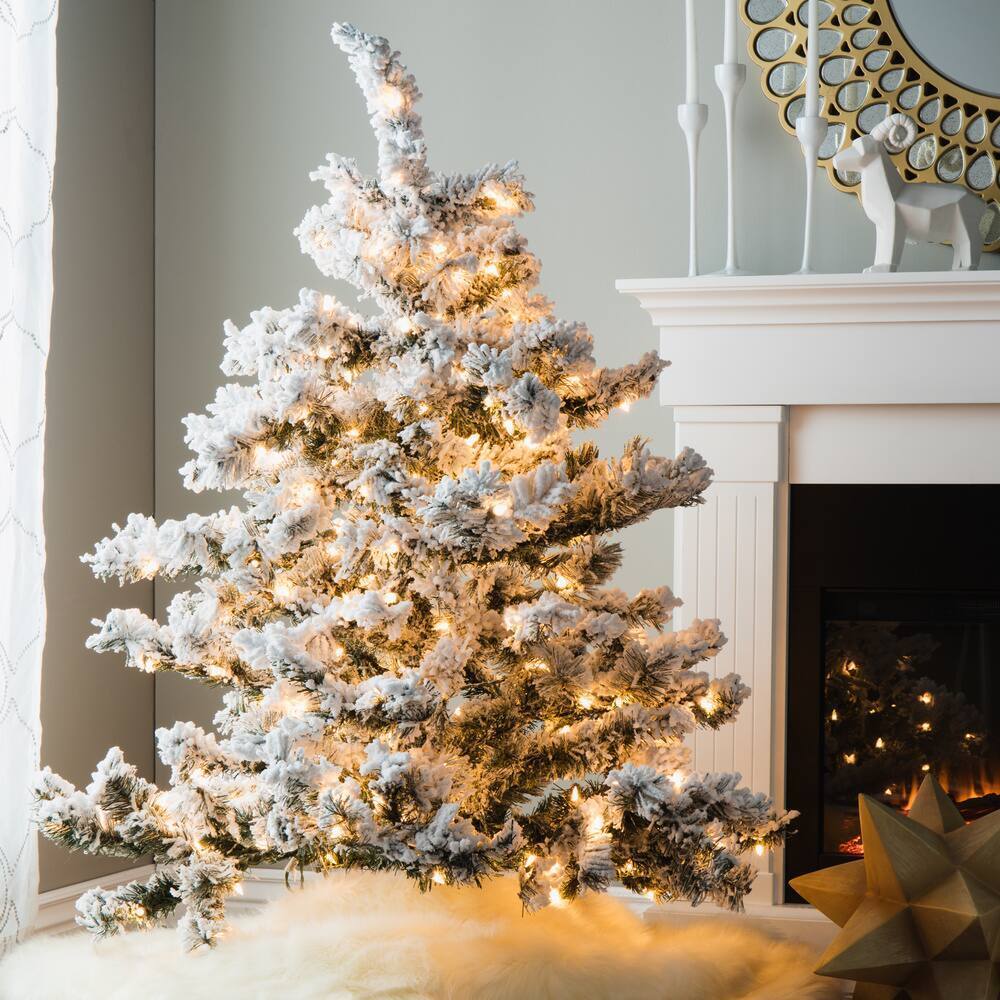 Alaskan style Christmas tree

Do you prefer fuller-looking trees? Then we recommend scouting for a pre-lit flocked Christmas tree inspired by the most majestic Alaskan forests.
The best part about these designs? The usual snowy effect will look even more natural on their thick branches.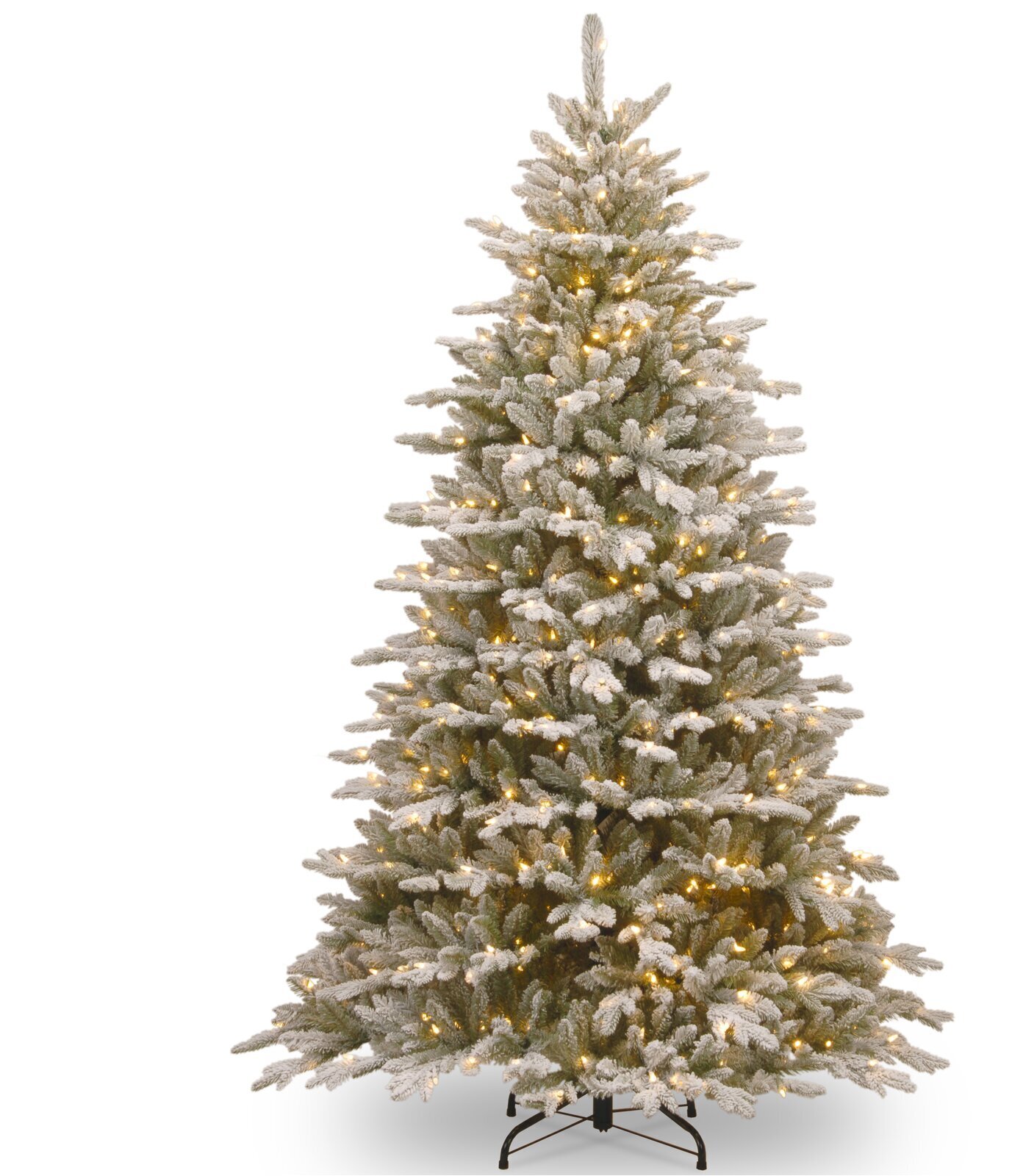 Pre lit flocked Christmas tree in a warmer palette

Most pre-lit flocked Christmas trees come in a saturated green that reinforces a colder palette. However, if you prefer something closer to the warmth that Christmas inspires in you, you can actually find a model that adds to it.
The trick? Look for yellow lights: they'll result in a slightly paler and warmer-looking green.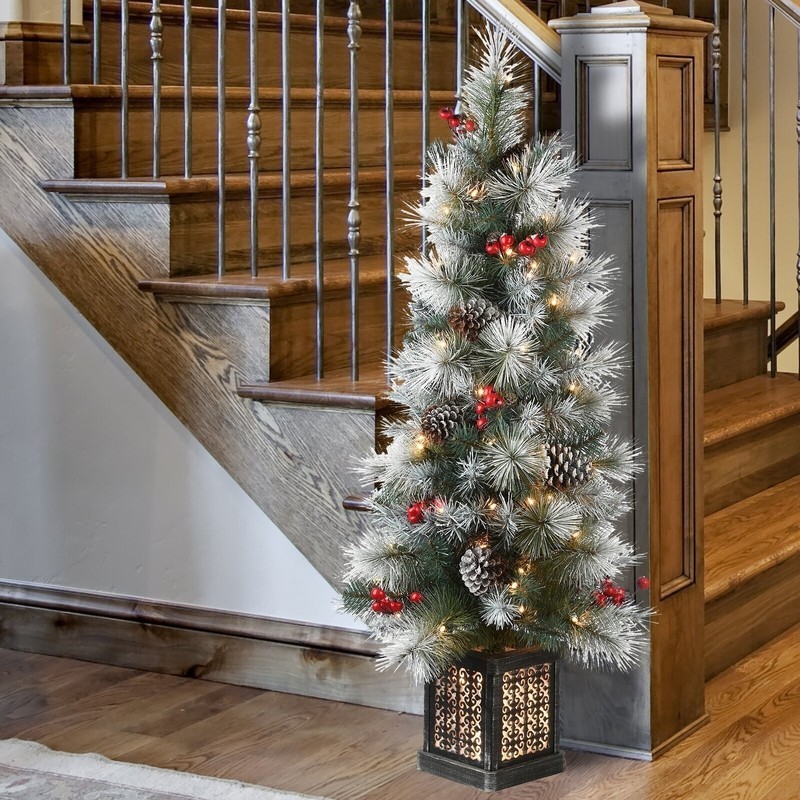 A Christmas tree with a unique base

The top branches get all the attention and, with so many different pre-lit flocked Christmas tree options, we can kinda see why. Still, don't forget about the pedestal!
While this matters less if you're definitely planning on covering it with a blanket or surrounding it with presents, you can actively use it to make a stronger statement. So, why not look at Christmas trees with a charming base, too?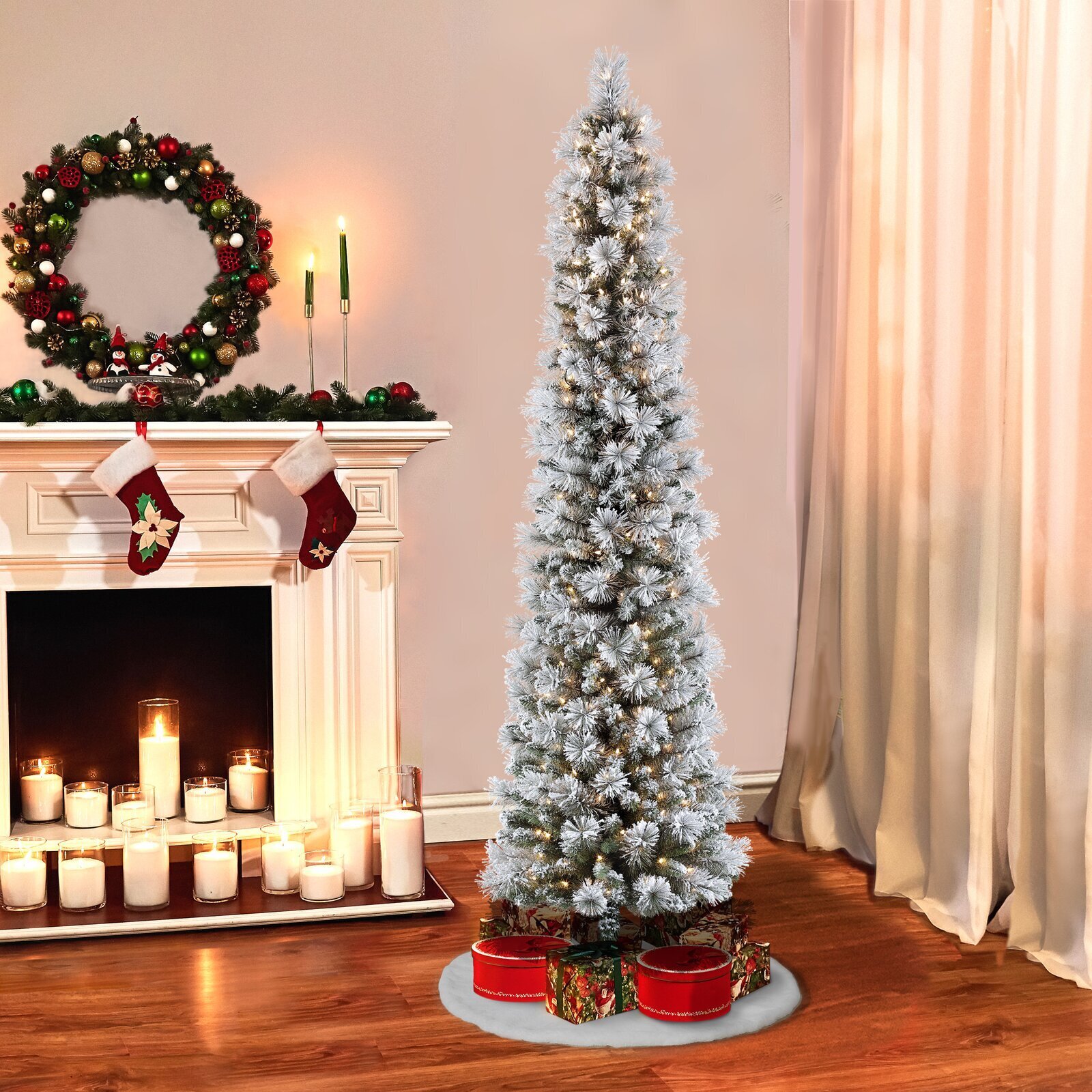 The right pre lit Christmas tree for small corners

We know how tempting it is to go for the tallest and widest pre-lit flocked Christmas tree… but, if your living room isn't big enough, it'll just make it feel even more cramped.
Instead, choose a thinner tree that won't look out of place. We promise the final result will be just as magical, if not more.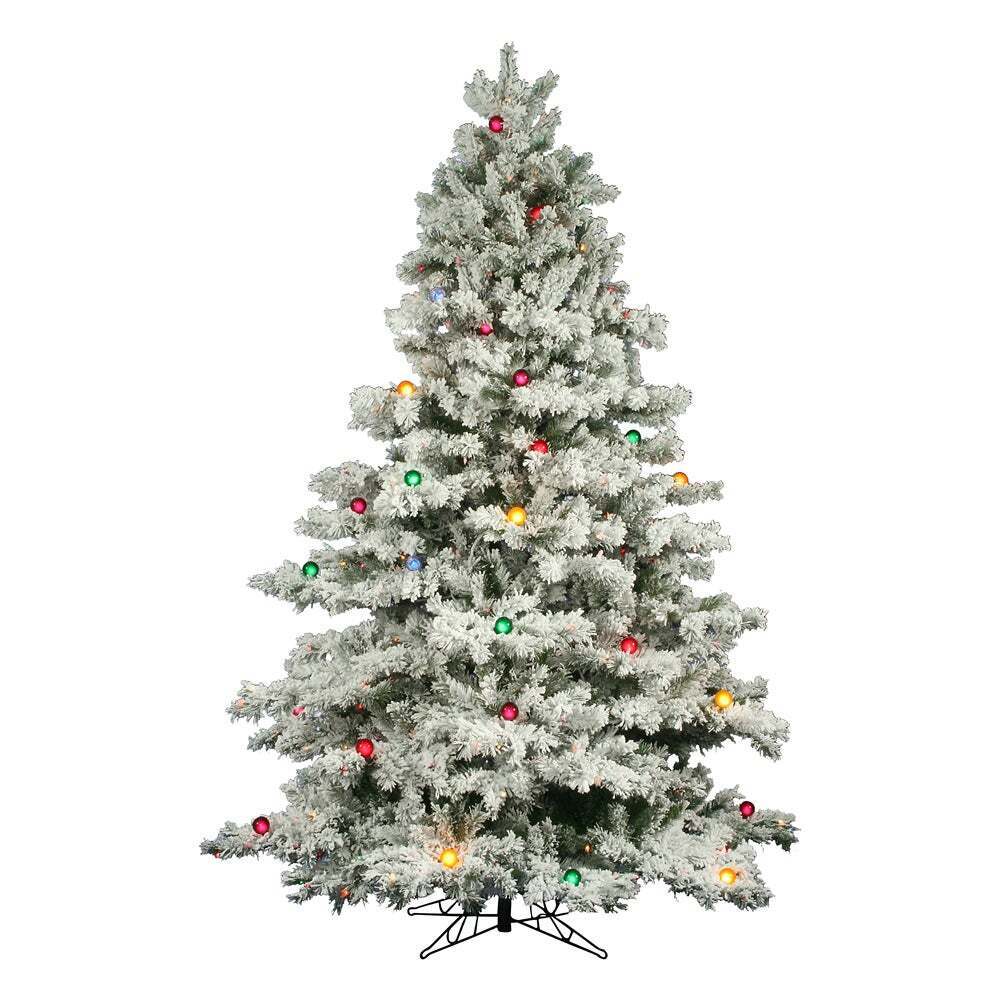 If you can, go big…

At the same time, you could actually have the opposite problem. For example, if you have a particularly tall ceiling, a traditional 7.5' pre-lit flocked Christmas tree might end up looking tiny.
A 9' model? Now, that's more like it!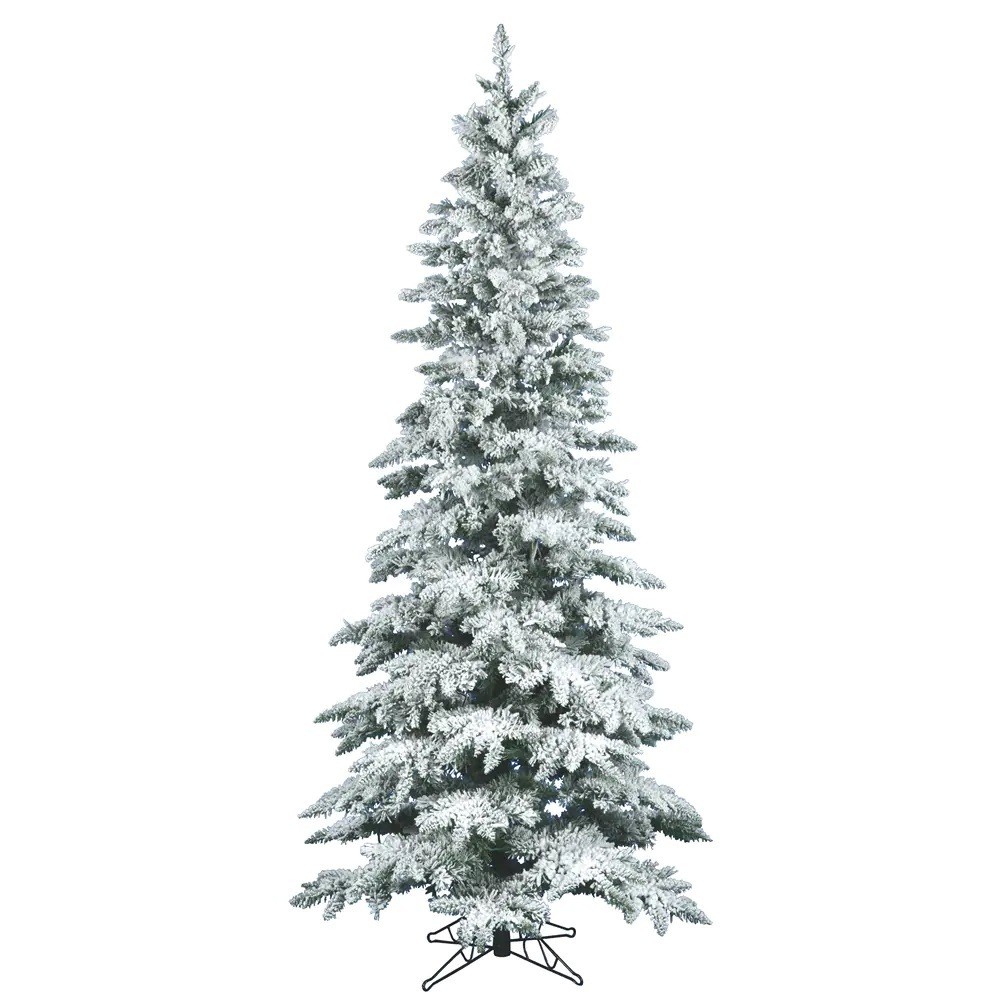 … or even bigger

Did you know that some pre-lit flocked Christmas trees can be as tall as 10 whole feet?
We especially recommend this option if you have a spacious room with a tall (like… really tall) ceiling and are striving for the most dramatic effect.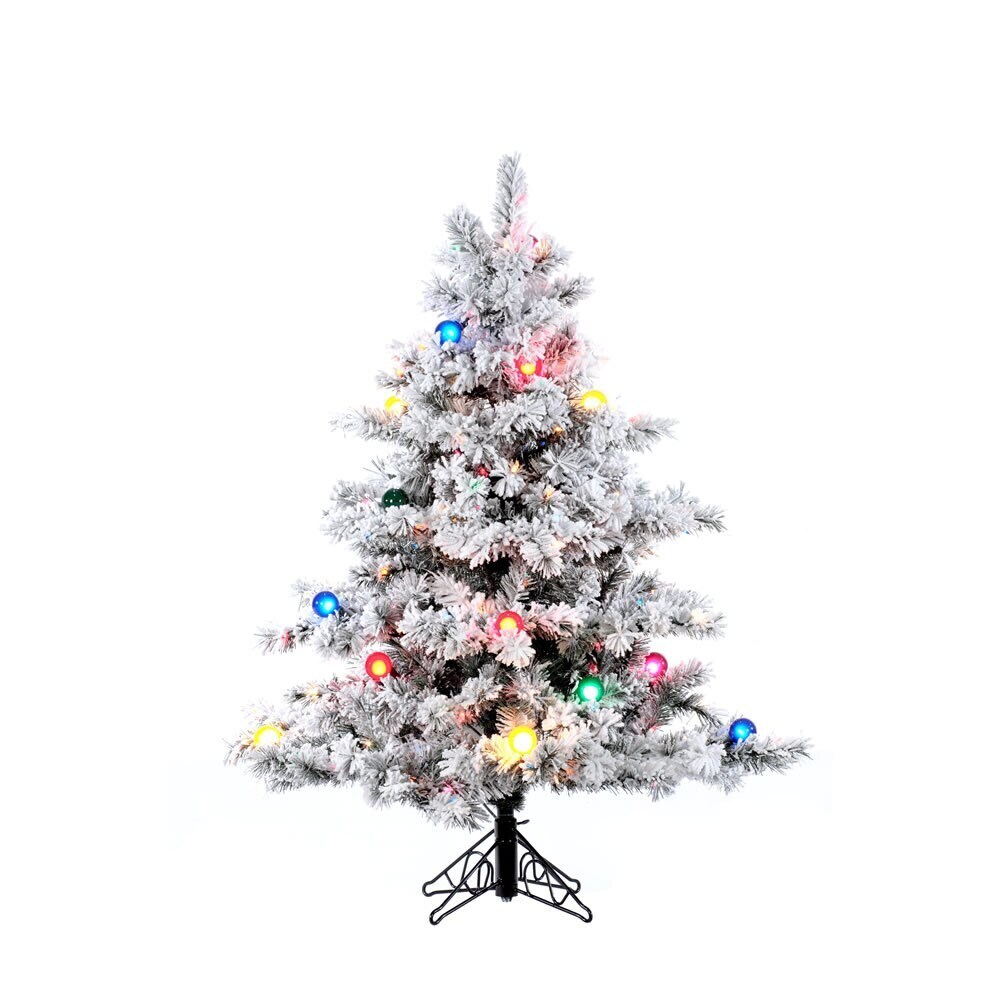 Consider small pre lit flocked Christmas trees

Worried that a pre-lit flocked Christmas tree won't fit in your little flat? Not all Christmas trees must be a huge freestanding option!
A handy compromise is to choose a smaller design that you can place in an unused corner, on a table, or another existing piece of furniture.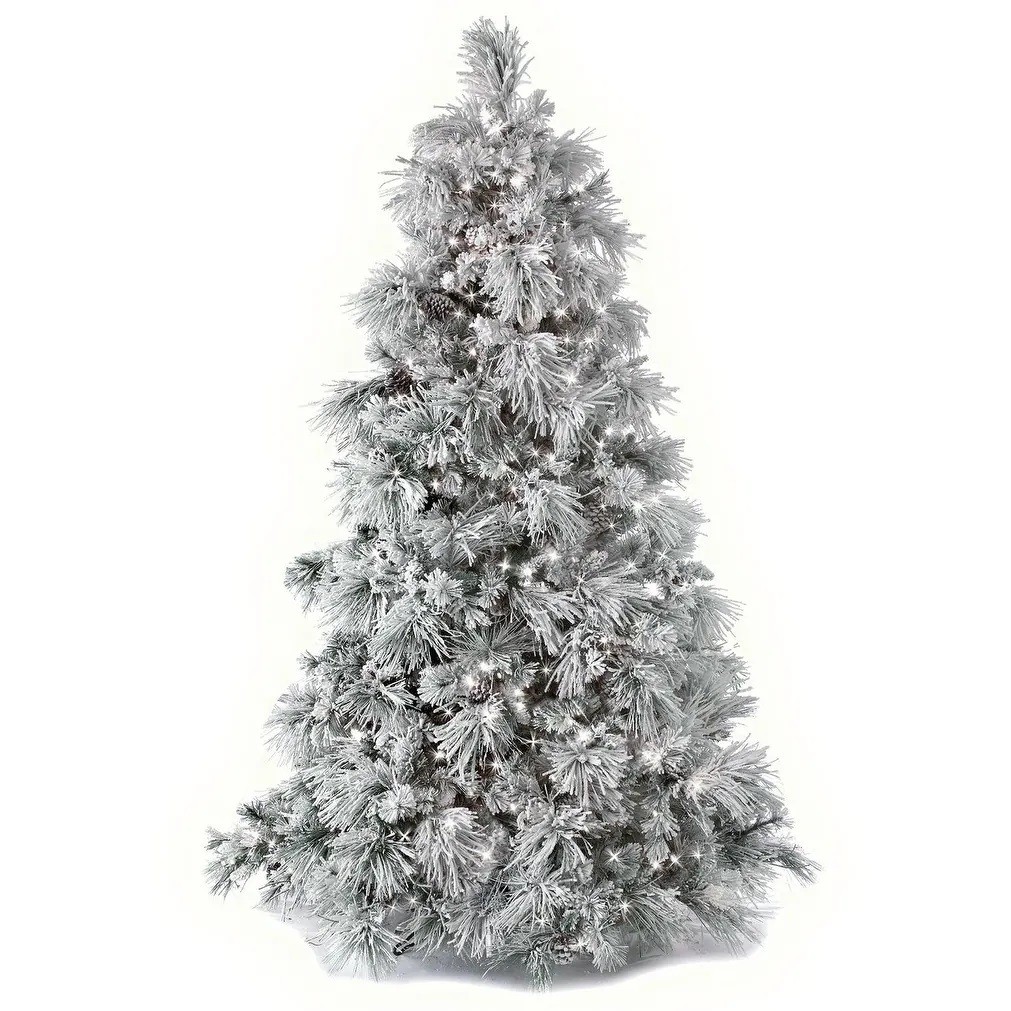 Monochrome pre lit flocked Christmas tree

Not a fan of the most colorful Christmas decorations? Perhaps you prefer sticking to a simpler palette even during the most wonderful time of the year? Easy: look for a pre-lit flocked Christmas tree with lights in the same hue as its snowy finish.
You'll still get to enjoy some Christmas sparkles without straying away from your decorative preferences.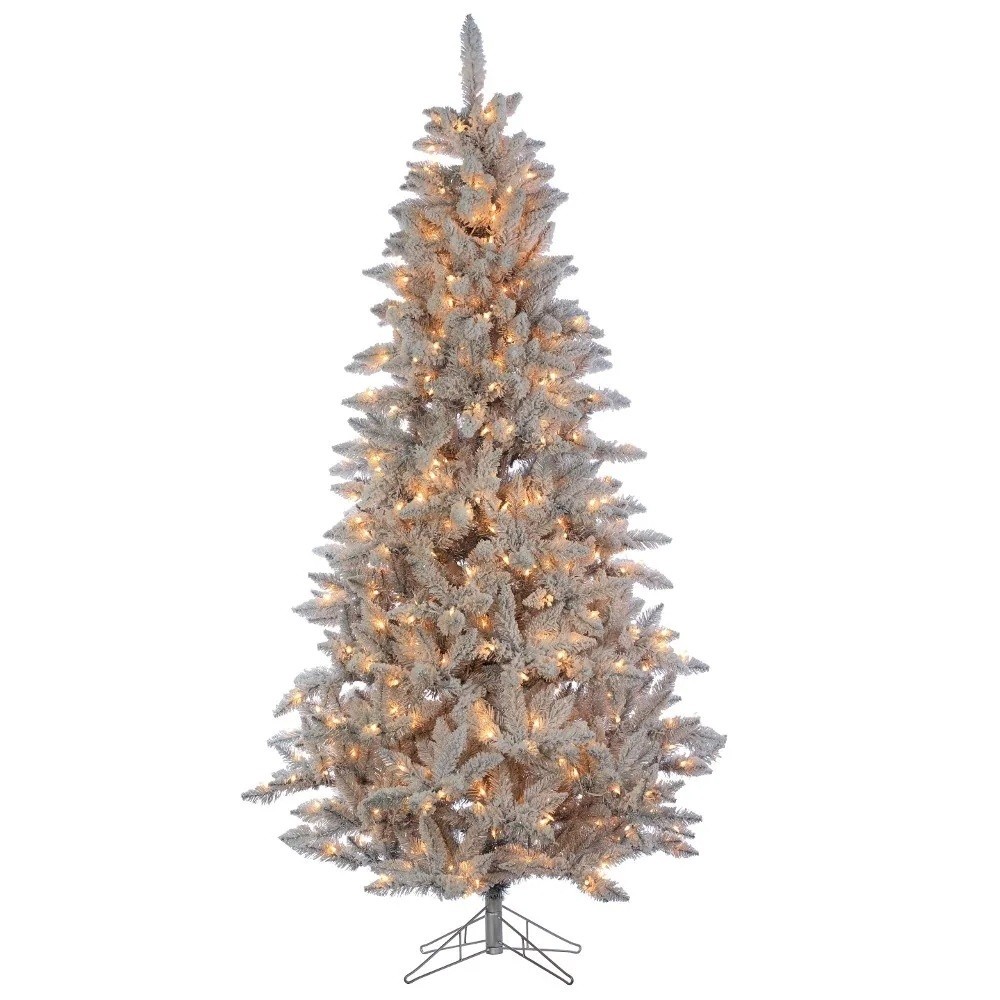 Make it cozy!

From lights in a warmer color to a fuller design, you can also concentrate on looking for a pre-lit flocked Christmas tree that helps your living room feel even more festive and cozy. Your own winter wonderland, in other words.
While pre-lit flocked Christmas trees are absolutely perfect on their own, a few decorations can obviously help you achieve a more traditional effect. And don't forget to add a magical tree topper!