The TV is the center of nearly every household and the place where friends and family congregate to kick back and relax after a hard day. As TV sets get bigger, people are searching for more innovative ways to display their TV set that is safe, functional and stylish.
While an entertainment unit provides ample space for storage, many small homes cannot fit a large unit in their living space without compromising on comfort. On the other hand, a TV mount frees up space in your home by placing the TV on the wall, but leaves you without any storage space.
A TV stand with mount solves both these issues by providing you with a secure attachment for your TV screen with ample storage underneath.
1.

Free up floor space

Wall mounted TVs have become a popular feature in many modern homes for their space saving capacity and minimalist style. However, a problem arises with a lack of storage space for electronics and multimedia items that often accompany your TV.

A TV stand with a mount allows you to securely raise your TV and provides an additional surface for storing living room clutter to free up more floor space. This keeps your living area looking tidy and inviting.

TV stands with a built-in mount are designed with a cantilever action to provide a counterbalance to the weight of the TV which means you can still buy a compact stand with a small footprint to create more space in your room while being assured the unit won't topple.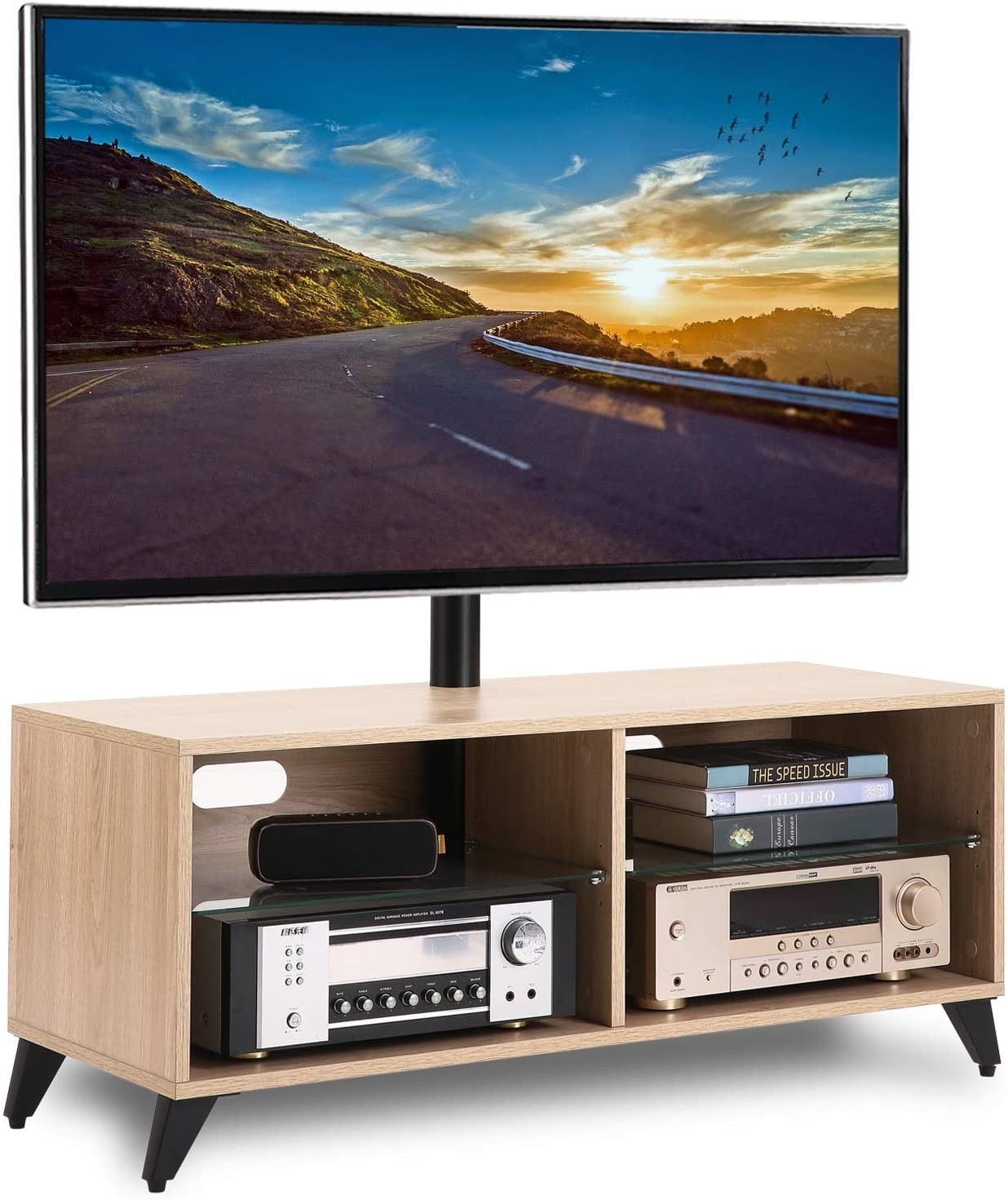 2.

Watch from a more comfortable position

Your viewing position not only impacts your enjoyment of the TV show but can also cause back and neck problems due to poor posture. A TV stand with mount enables you to adjust the height and viewing angle of the screen to suit the layout of your living space.

Some models offer a height adjustable feature that allows you to manipulate the height of the screen after the TV has been mounted. This can be a useful feature for family homes with occupants who have different height ranges. Move the screen down for the optimal viewing distance for a kids sleepover, and raise its time to kick back with your favorite movie.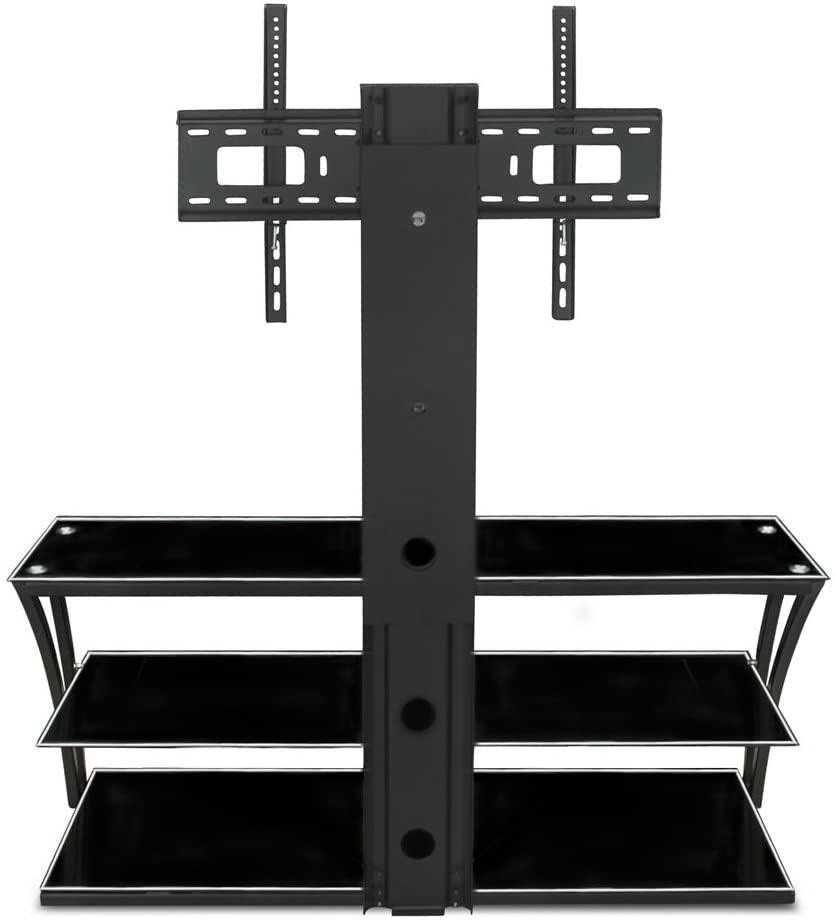 3.

Increased safety

According to the Consumer Product Safety Commision, a child is fatally injured by falling furniture or TVs every two weeks. With their tall, slender structure, flat screen TVs are extremely prone to tipping and can fall with thousands of pounds of force. Mounting the TV anchors, it to the wall, but many homeowners are reluctant to damage walls with hardware, or there may be an unsuitable stud in the location of your TV for a wall mount.

A TV stand with mount solves this issue by attaching the mount to the solid foundation of the entertainment unit. This provides a counterbalance for the TV to reduce the risk of tipping, and many models can also be attached to the wall with an anti-tipping device for added security.
4.

Stylish

The TV is often the focal point of your living area, so you need a storage and organization solution that coordinates with the rest of your furniture and makes a big style statement.

You can find TV stands in a wide range of styles, shapes, and sizes to suit your needs. A metal frame and tempered glass shelves blend in seamlessly with a contemporary style home and give the illusion of even more space due to the reflective nature of the materials.

If you have a traditional home, opt for a TV stand with a mount made from wooden materials with antique metallic hardware. Glass fronted cabinets let you store your devices and media items in style, and a cable management channel in the mount keeps your space clutter-free.

Ensure you buy a TV stand that can accommodate the width of your TV set. A general rule to follow is to buy a stand that is 2-3" wider than the base of the TV on either side. However, if you are limited for space, a stand that is the same width as your TV can still provide stability. As TV set measurements are measured diagonally rather than across the base, a 65-inch TV stand can accommodate TVs between 65"- 75".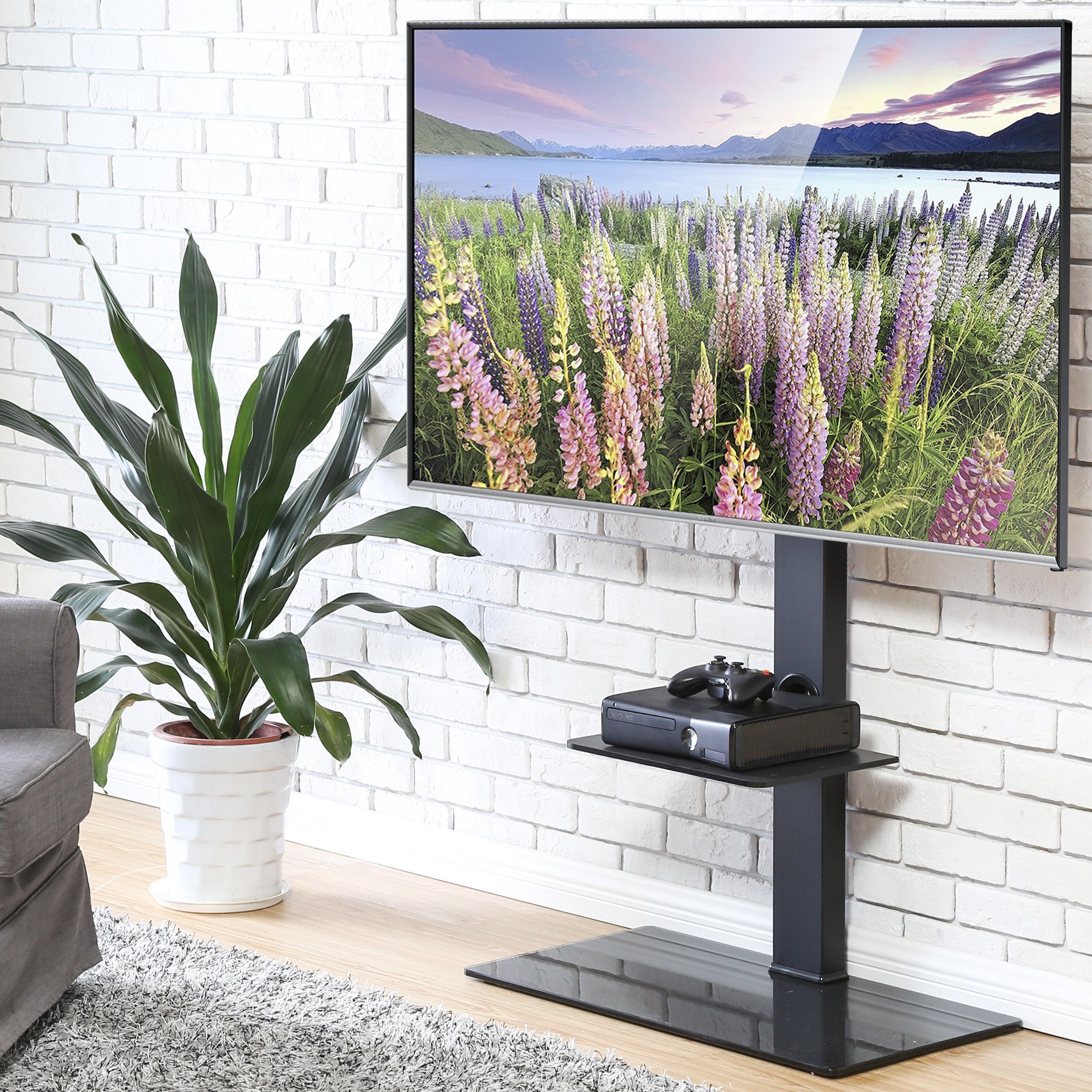 5.

Better home organization

A TV stand with mount offers the streamlined functionality of a wall mount and the storage capacity of an entertainment unit.

Most models come with cubbies, drawers or cabinets for storing multimedia items and digital devices, while the top surface is the perfect location for displaying keepsakes and photos.

Look for a TV stand with mount that features adjustable shelves to accommodate any sized item, open compartments with cut outs for cables and wires, and doors or drawers to keep your gadgets, remote controls and DVD collection dust-free.

For even better home organization, you can find models that have slots for your CD, DVD and video games, and you can add baskets and boxes to cubbies for small items.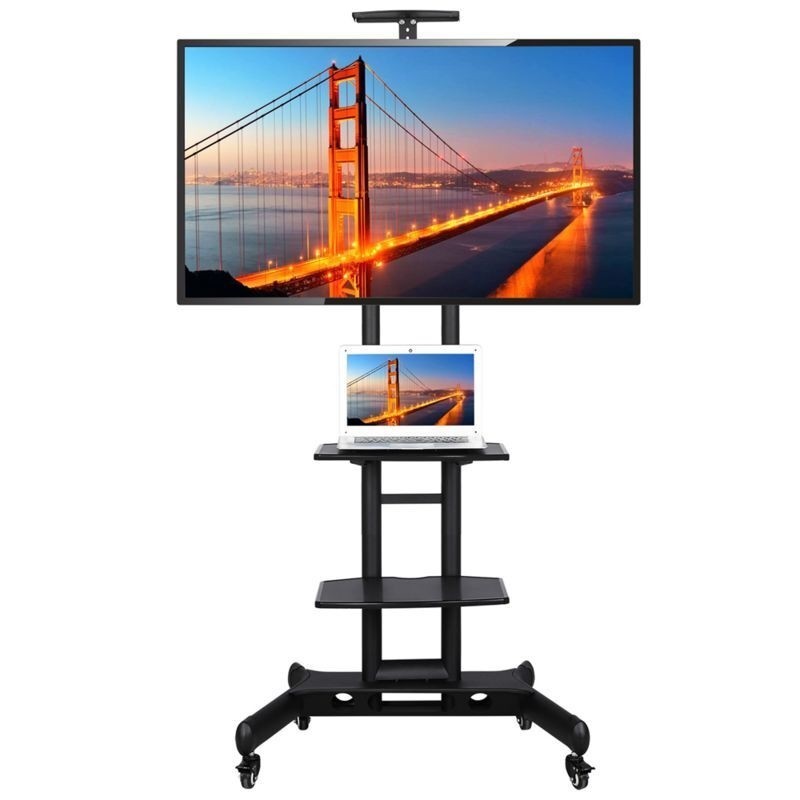 6.

Portability

Whether you need it for the classroom, the boardroom or the bedroom, a portable TV stand is a versatile piece of furniture that enables you to adjust your viewing angle and transport your TV screen between rooms easily.

If portability is a priority for your home or office, look for a TV stand with rolling casters that can operate on any type of flooring. Make sure they are lockable to prevent the unit from rolling away while you are watching.

Use a portable TV stand with mount to take your TV outside to watch the game with family and friends. Or organize a family movie night in the backyard and set up lawn chairs around your TV stand for a fun summer evening activity.
Final Thoughts
A TV stand with a mount is not only a stylish addition to your entertainment area, but it can also free up floor space and improve your home organization by providing additional surfaces and storage compartments for multimedia items.
Choose a TV stand with a mount that complements your current décor scheme as the TV is often the focal point of the living area and you need to maintain a cohesive look to achieve a well-styled room.