Folding chairs are an excellent item for anyone who loves hosting dinner parties but doesn't have enough seats around the dining table. Often, people who live in apartments find themselves limiting the guest list because of a lack of seating. Keeping spare dining chairs in a small space is also impractical for apartment dwellers and other homes with minimal storage space.
Instead of buying more kitchen chairs or having to split your party up between the dining room and living room, invest in a set of chic folding dining chairs. They're easily storable, comfortable, and come in multiple styles and colors.
The only problem with folding chairs is the sheer number of options available. How can you choose the best style for your dining room? Here are a few guidelines that can help you narrow down the field and pick the best folding dining chairs for your next dinner party.
Determine Your Style
Before you can find the best folding chairs for your dining room, you'll need to look at your current setup. Is all your furniture rustic and wooden? Or do you have a more modern, sleek design? Are you all about minimalism, or is your dining room full of color?
Once you've established your dining room's design, you can decide on a few basic characteristics for your ideal folding chairs based on that.
Formal
If you've designed your dining room in the formal style, you'll want to choose folding dining chairs that reflect your traditional aesthetic. Consider looking for wooden folding chairs in the same finish as your dining table. If your current chairs are upholstered, look for folding chairs that match the color and pattern.
You may also want to look at tall-backed chairs with an elegant curve. Dark leather chairs also suit the formal dining room style well, particularly if your table has a dark finish.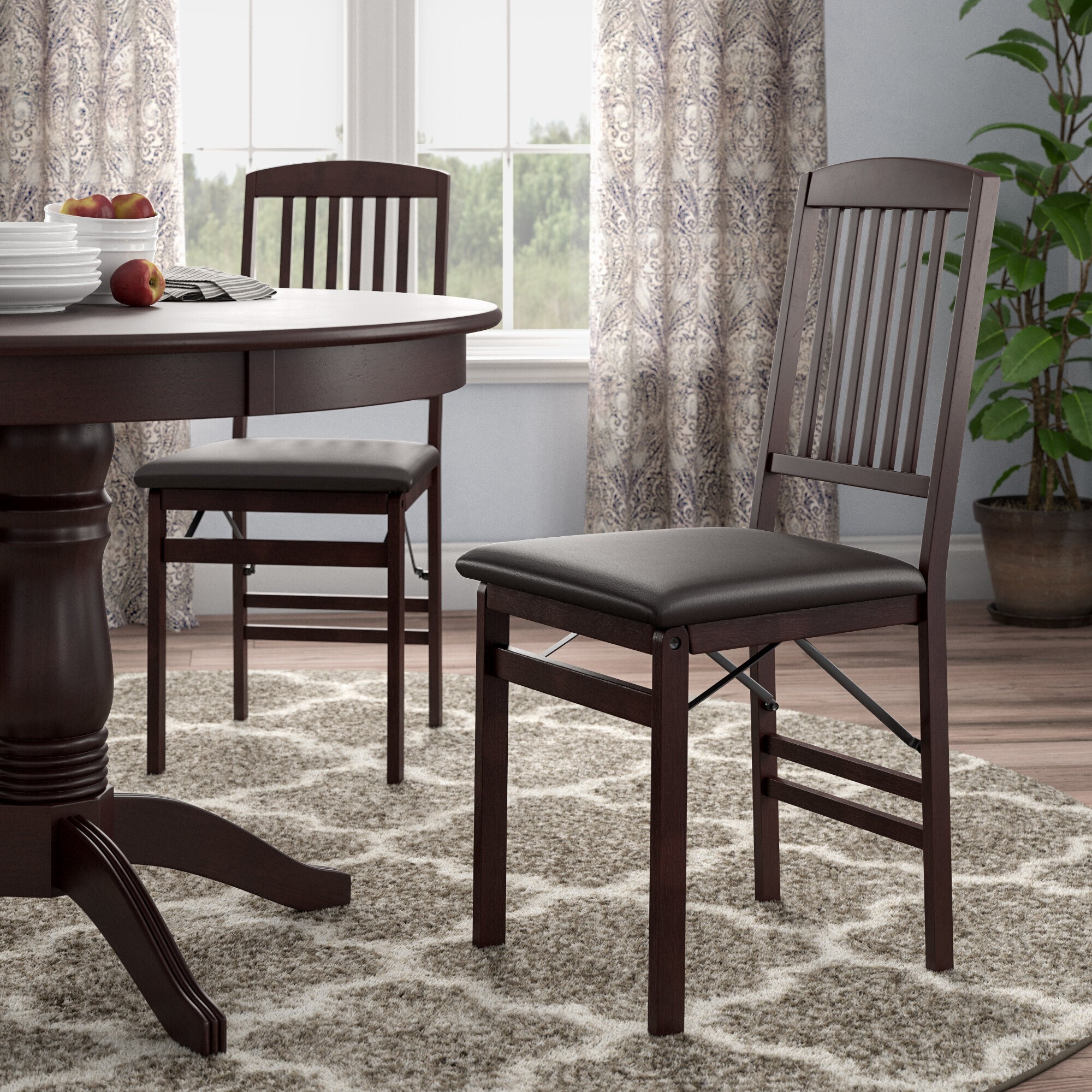 Coastal
For a breezy, coastal-themed dining space, look at light-colored wood chairs. Many rooms achieve the beach style by using natural, weathered wood. A classic A-frame style folding chair in a distressed oak finish is ideal for evoking the look of driftwood. Or, keep the look neat and streamlined with a matte white painted finish.
Instead of looking at leather or large cushions, search for chairs with linen upholstery in nautical or nature patterns. Linen will remind your guests of summer parties on the beach and create a soothing atmosphere. For the ultimate beach feel, mix up your patterns and use a combination of light browns and yellows with small accents of bright primary colors like blue and red.