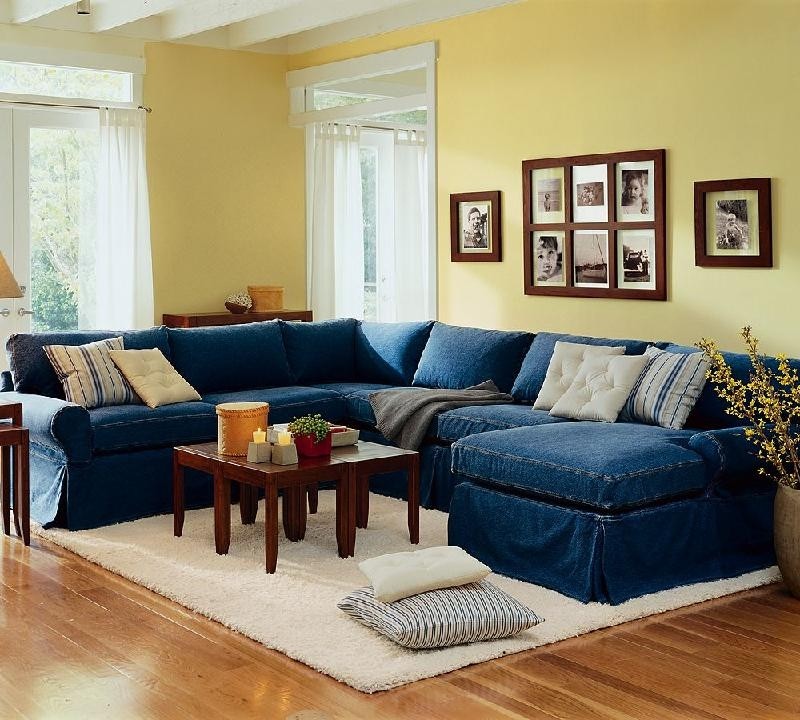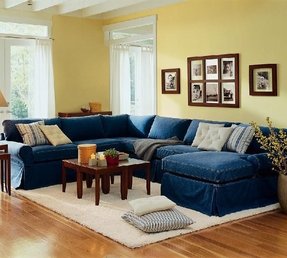 Pb Basic 4 Piece Chaise Sectional
Sectional sofa for the living room and others interiors according to taste and need. Frame is made of wood. It is upholstered with thick denim fabric. Traditional form and contemporary design for each home.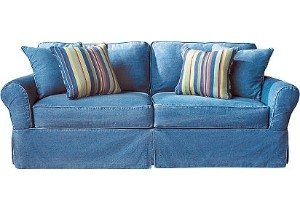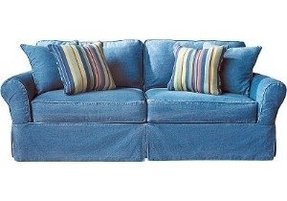 If you love denim material or you just hate to have your beautiful sofa covered with cream leather always dirty - this is a solution. Even if it will fray a little bit after the longer usage - the stone-washed denim is still up-to-date! :)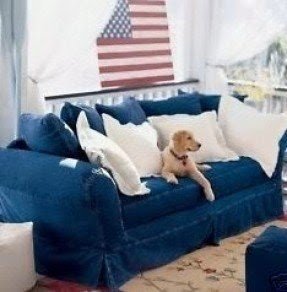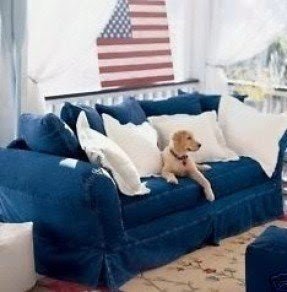 All denim sofa embodies the trend-right look, but functionality is also worthy: thick blue jeans is particularly resistant to tearing. Therefore, this wide three-people denim couch is a welcome addition to a front room.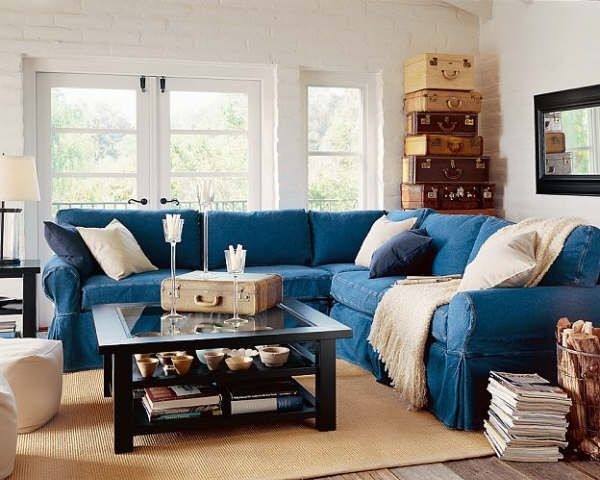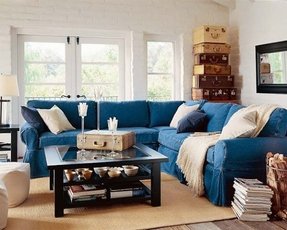 Sectional sofa in classic form. It is upholstered with pleasant to the touch material and finished with solid seams. It has 5 seating capacity. Stylish accent for each living room as needed.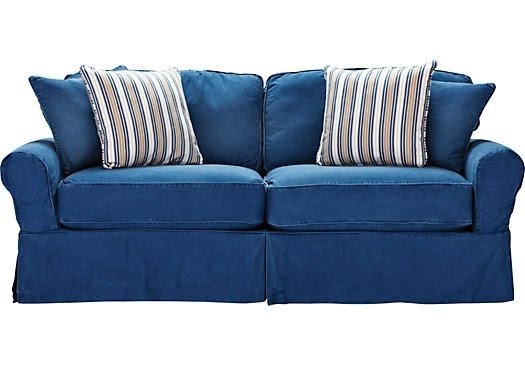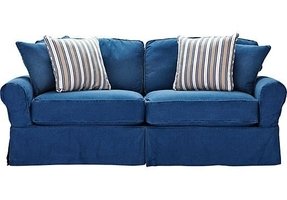 A great choice for bachelor pads, teenagers' rooms, and living rooms with a contemporary flare. Sofa is great for various activities, upholstered in a blue fabric, equipped with soft seat cushions and slightly rolled arms, and decorated with a cute skirt and a couple of throw pillows.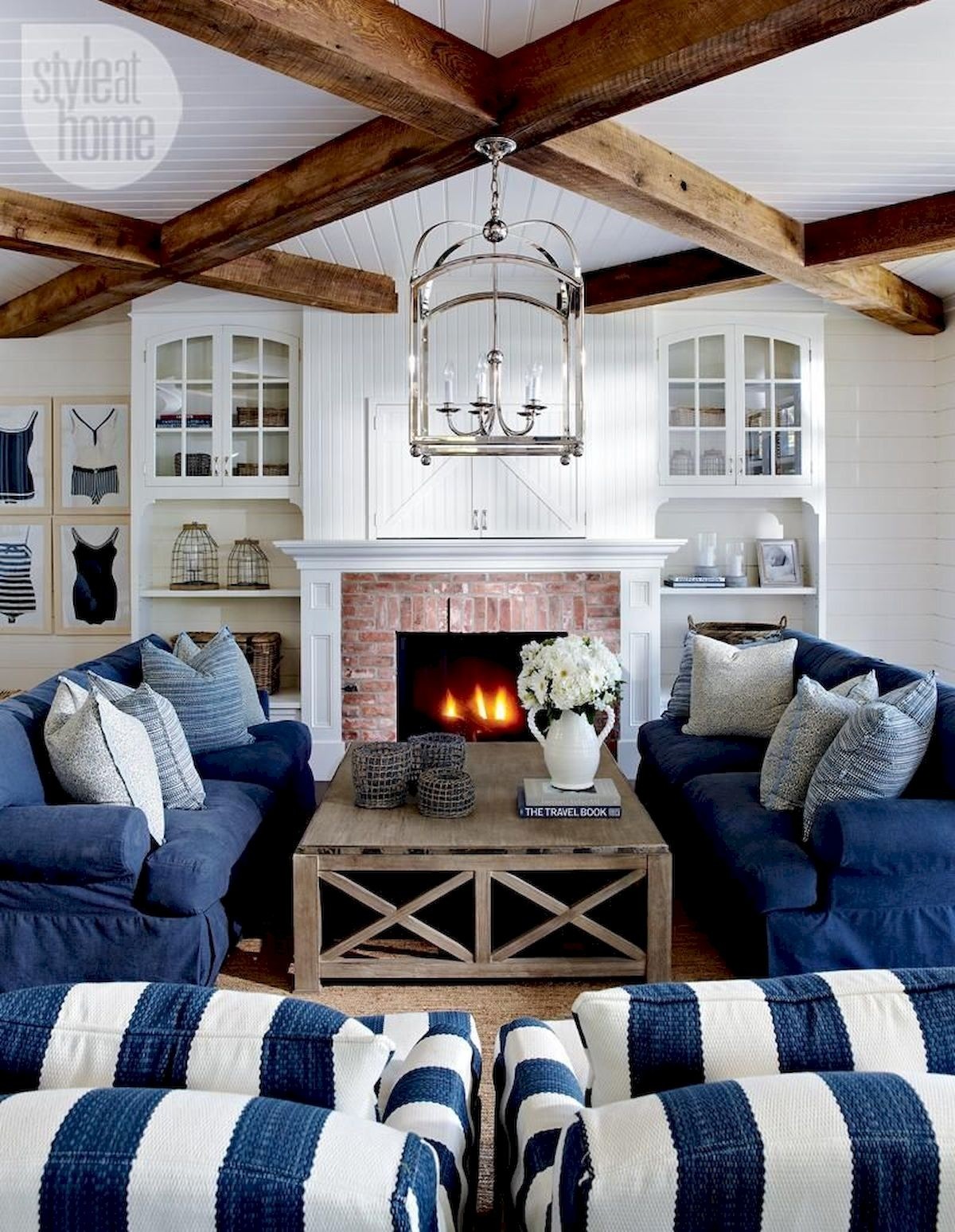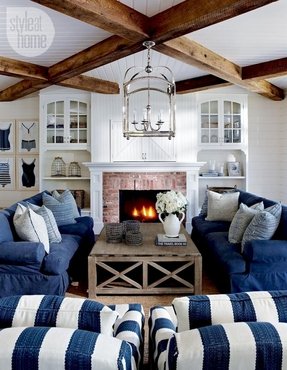 Living room in Scandinavian style. Soft sofas and armchairs are complemented by coffee table in industrial style. Sophisticated decorations adds freshness and modernity.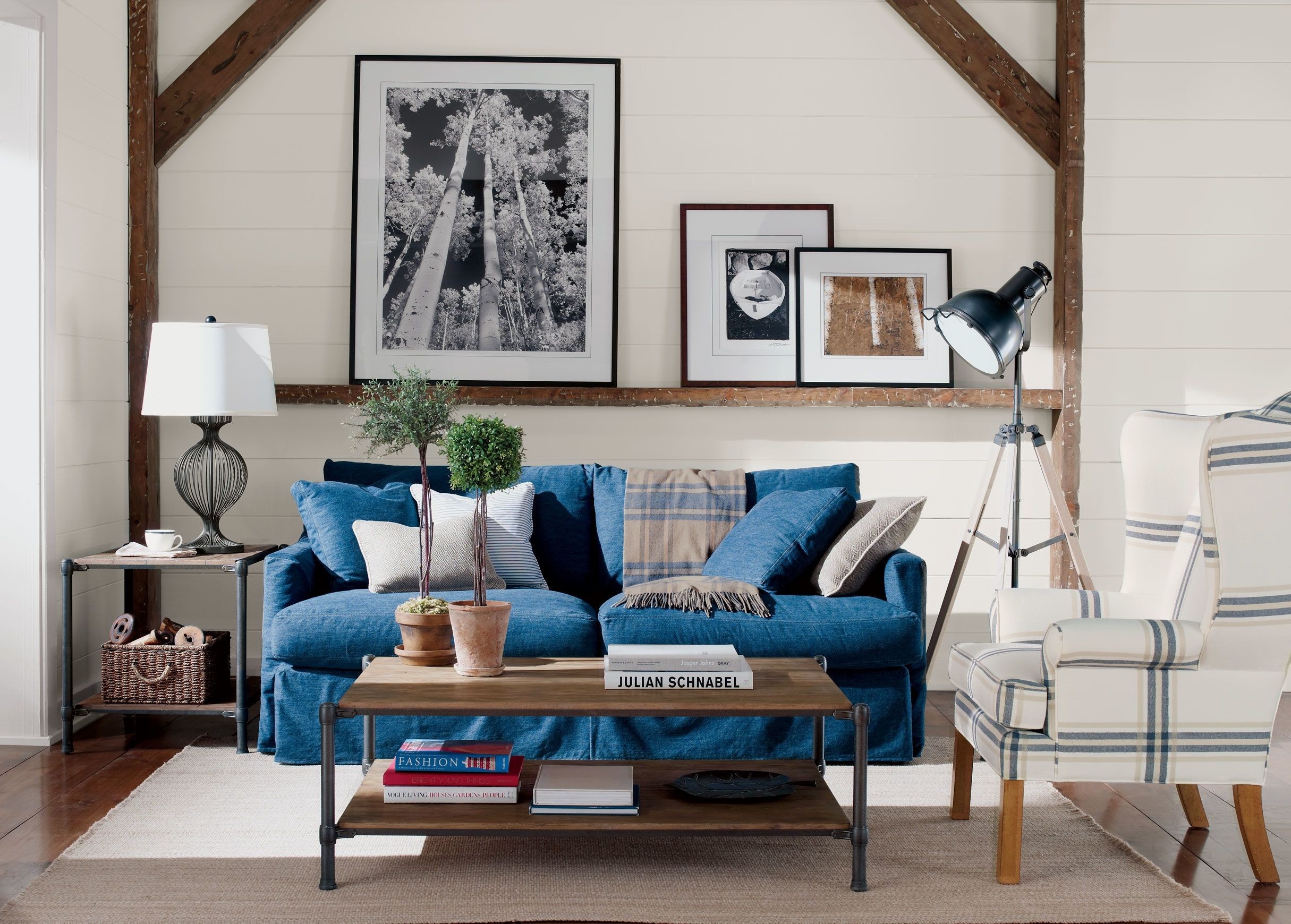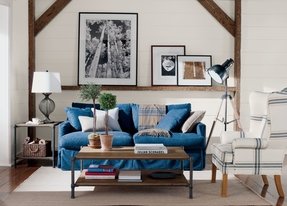 A country style living room featuring white walls and natural woody ribbing. A sofa with thick seats and back pillows is covered in blue denim. A coffee table has a frame of black plumbing fitting. A top and a shelf of wood in browns are rectangular.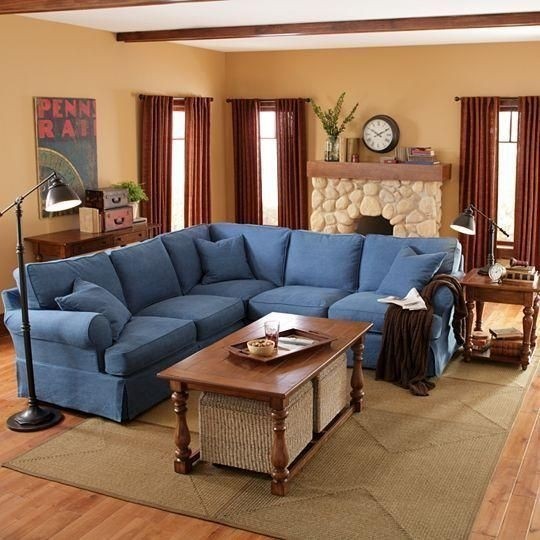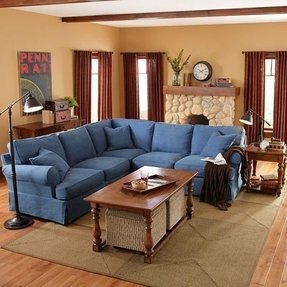 Linden sofa in blue, JC Penney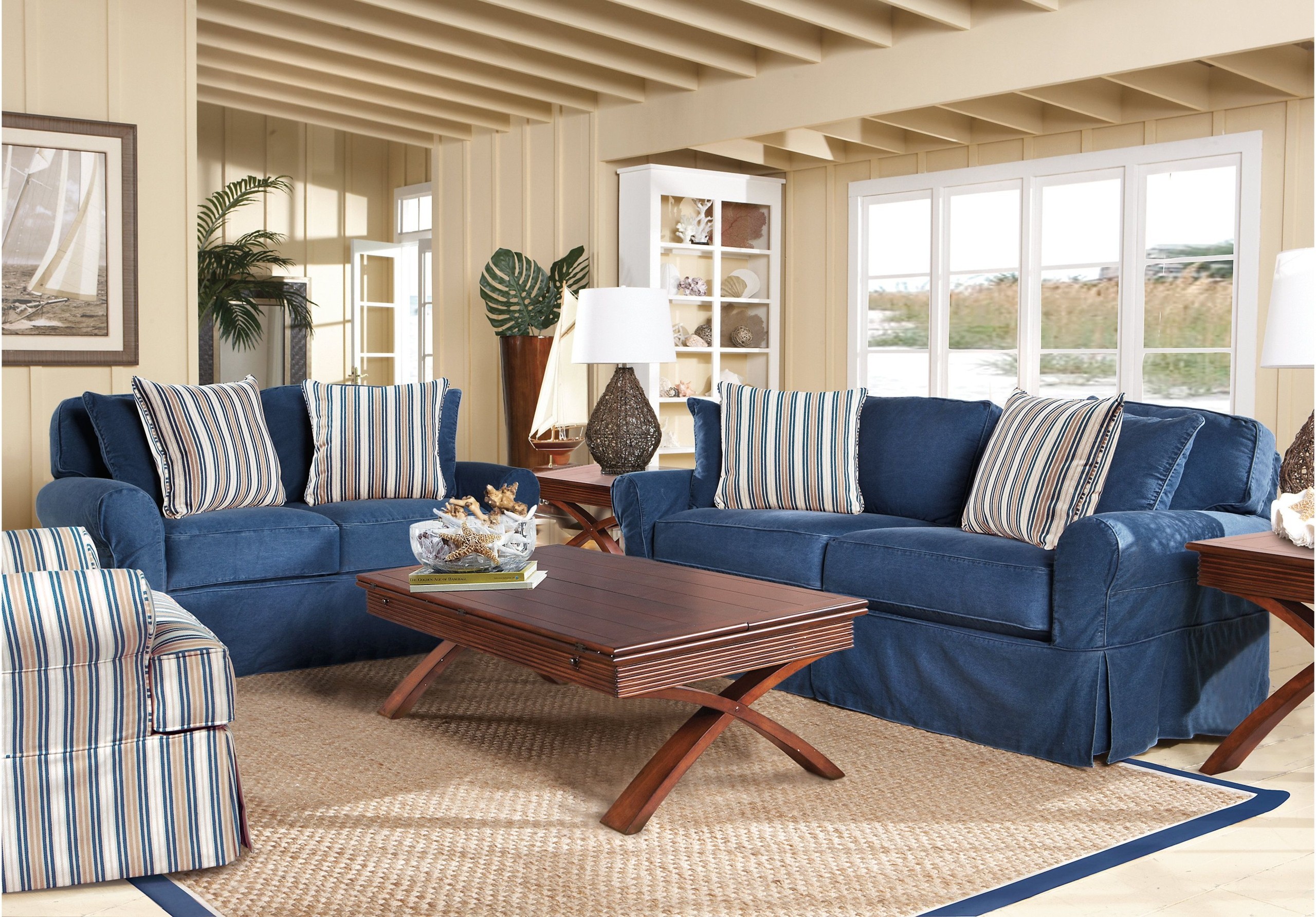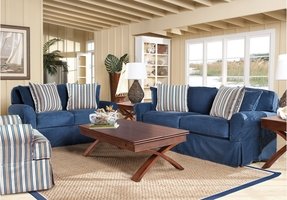 Living room set with a sofa, loveseat and amrchair. These pieces of furniture are finished in blue color and they include elements with multi-color stripes. They also feature soft seat and backrest cushions.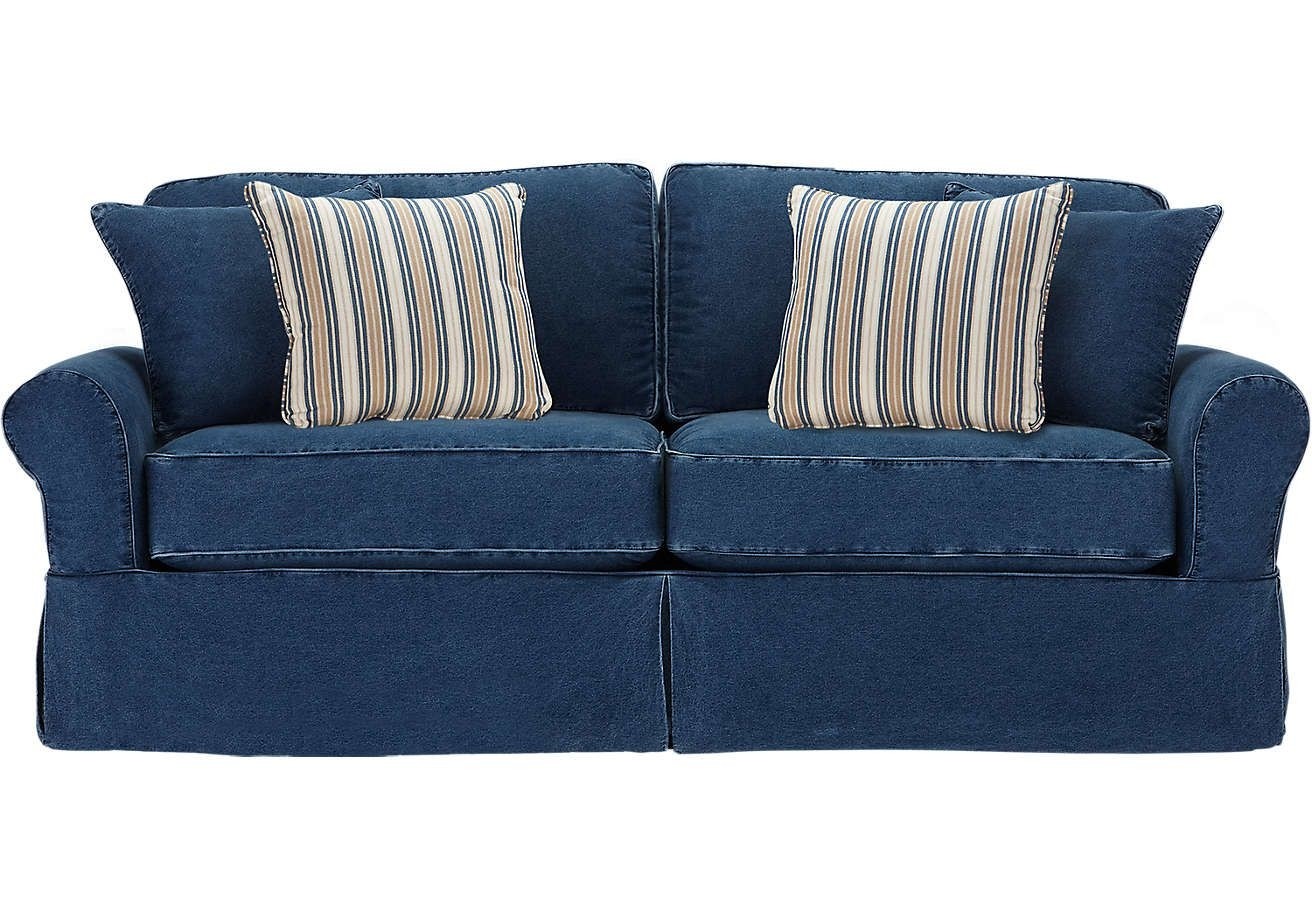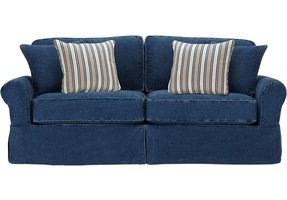 A comfy casual sofa with a wooden frame. It has a quite high backrest, a bit rolled out arms, reversible seats. Its skirted slipcover, seat and back pillows covers are of blue denim fabric but 2 pillows in grey, white and blue vertical stripes.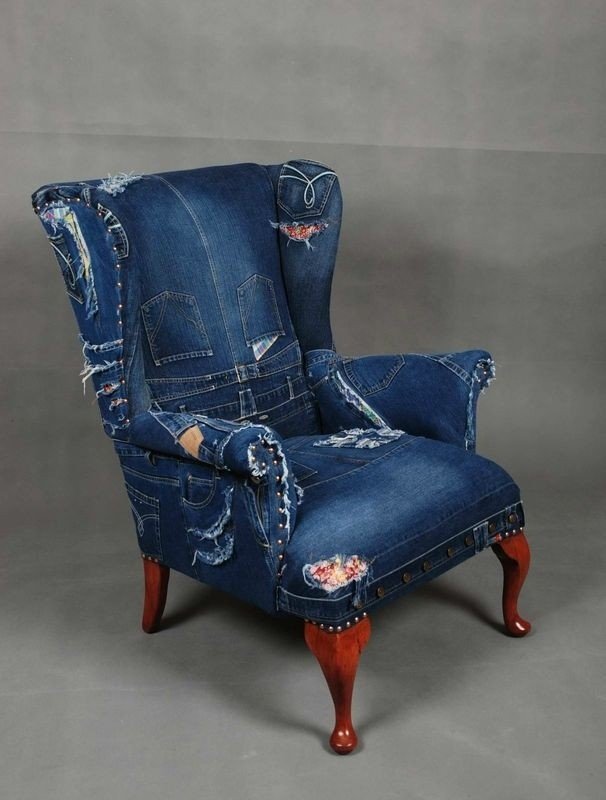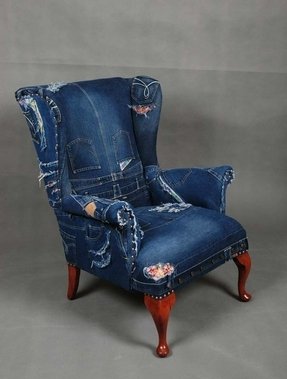 Found on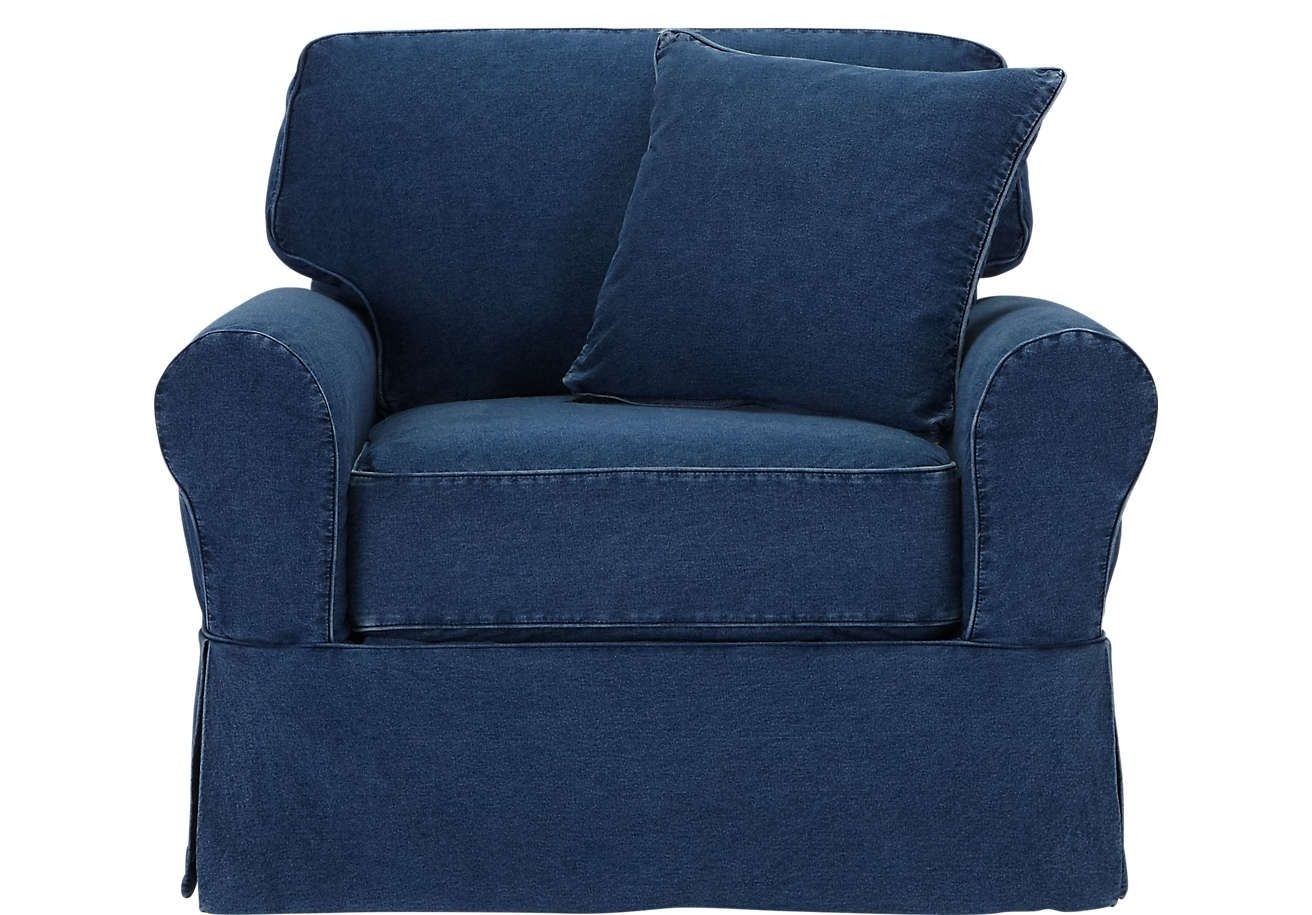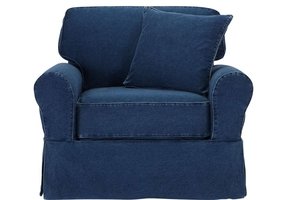 ... of Cindy Crawford Home Beachside Denim Chair from Chairs Furniture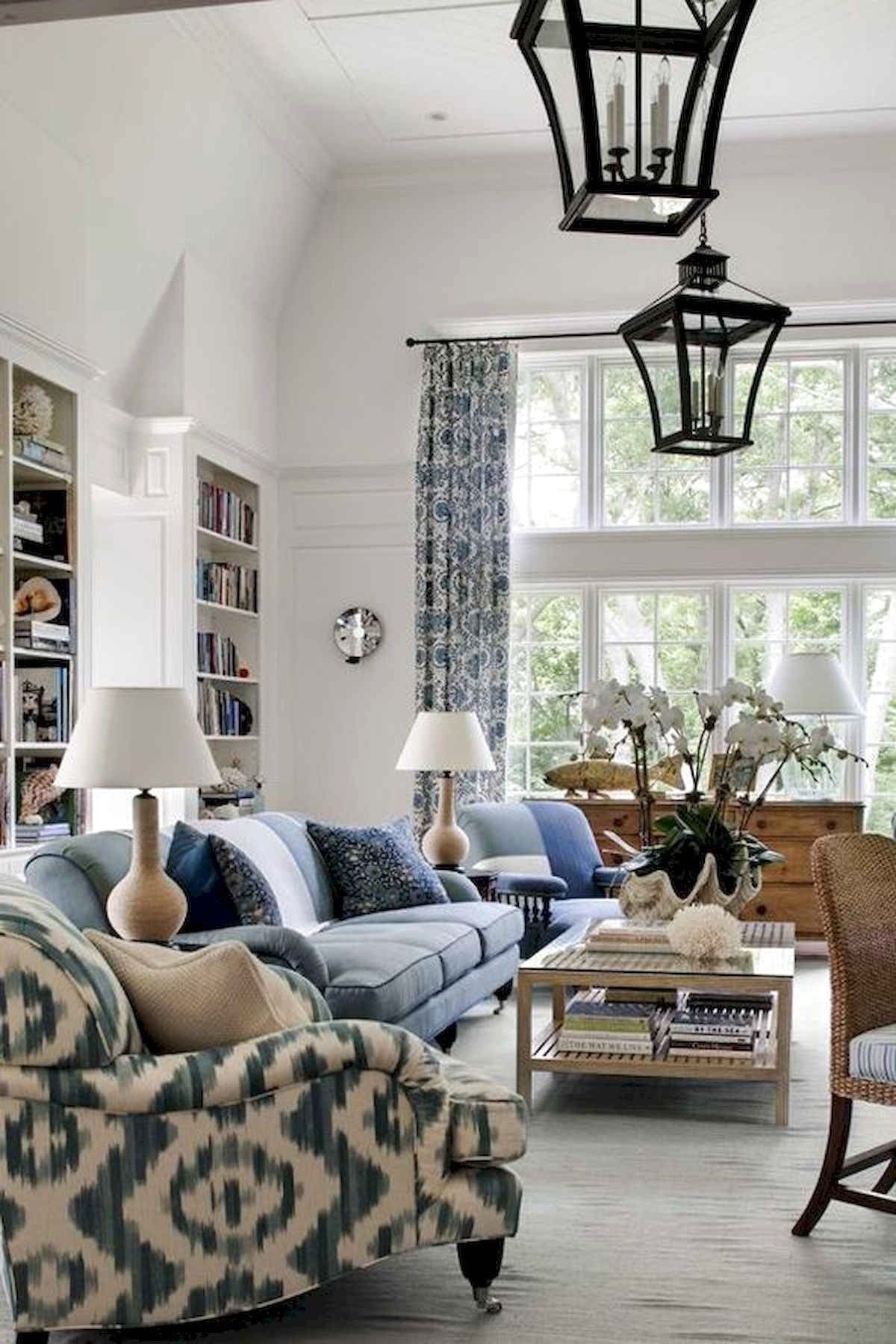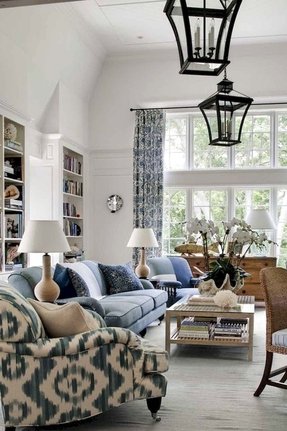 Smart living room. Great light! Again, another reason to (possibly) consider white... or a lovely warm grey. Love the denim sofa.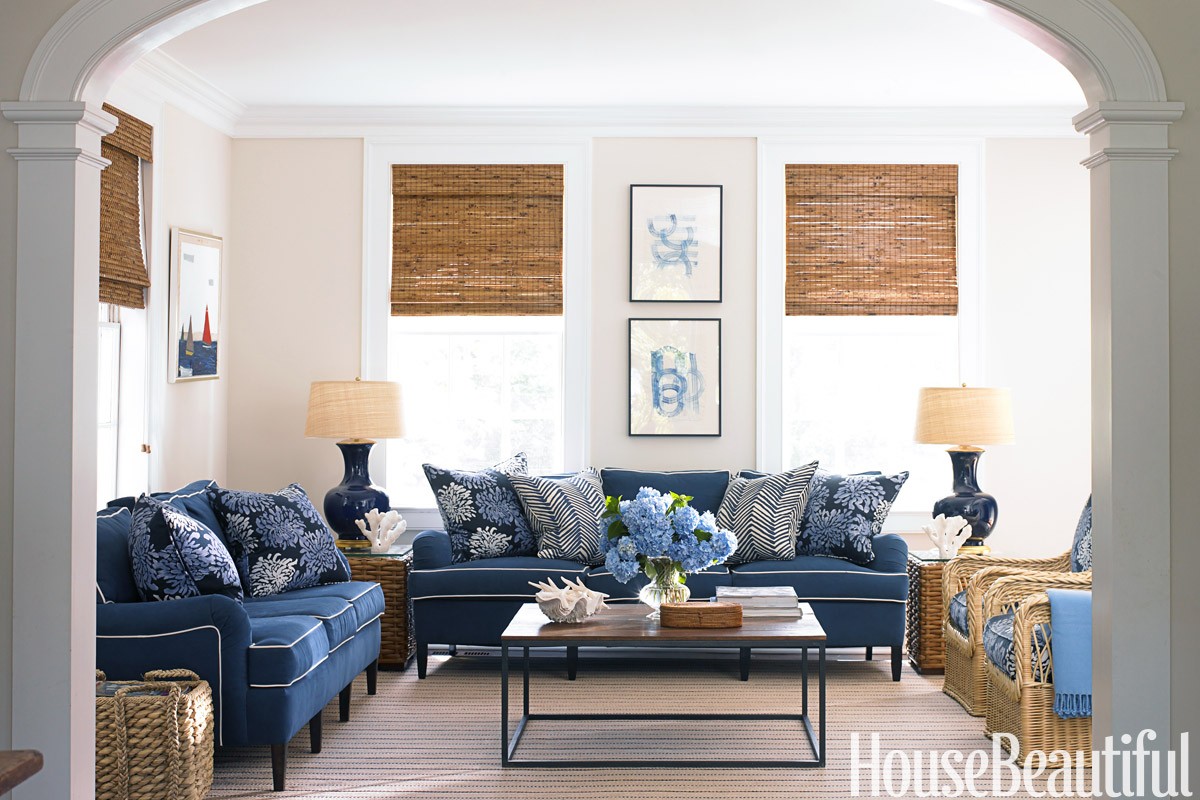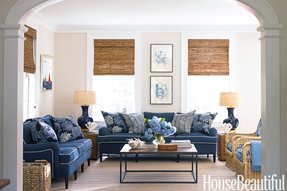 WSH <3 the deep blues mixed in with the natural fiber. Via House Beautiful.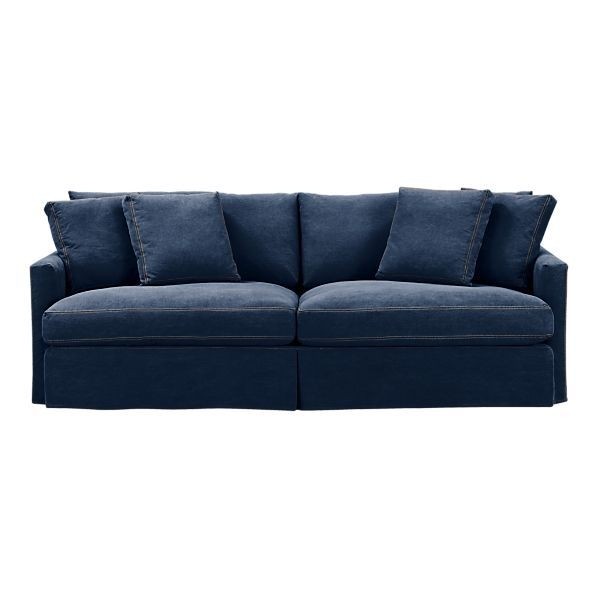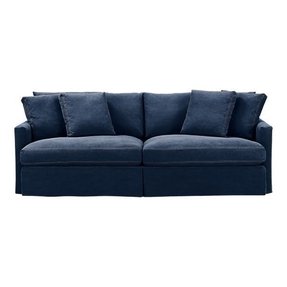 ve always loved denim couches... CB has them now!! (Lounge 93 ...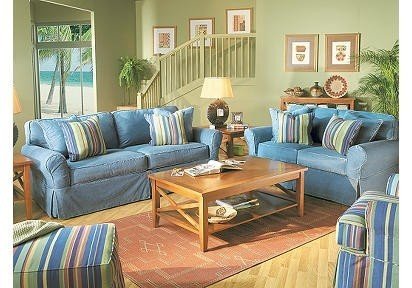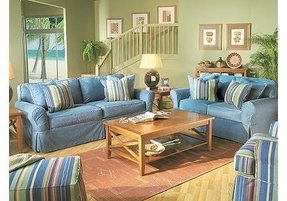 ... denim 7 pc livingroom Cindy Crawford Home Beachside Denim 7 Pc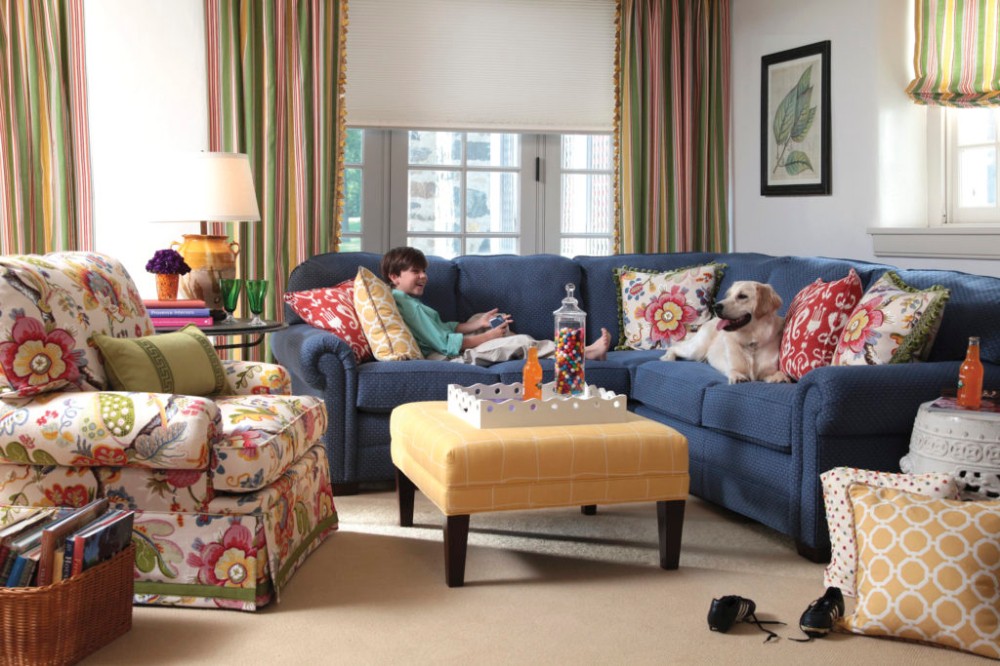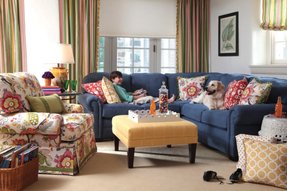 Dress your interior in natural delicate fabrics with denim living room furniture set - in the form of even floral upholstery romantic armchairs, combined with a dark blue couch. The company adds an upholstered ottoman on wooden legs in a light yellow color.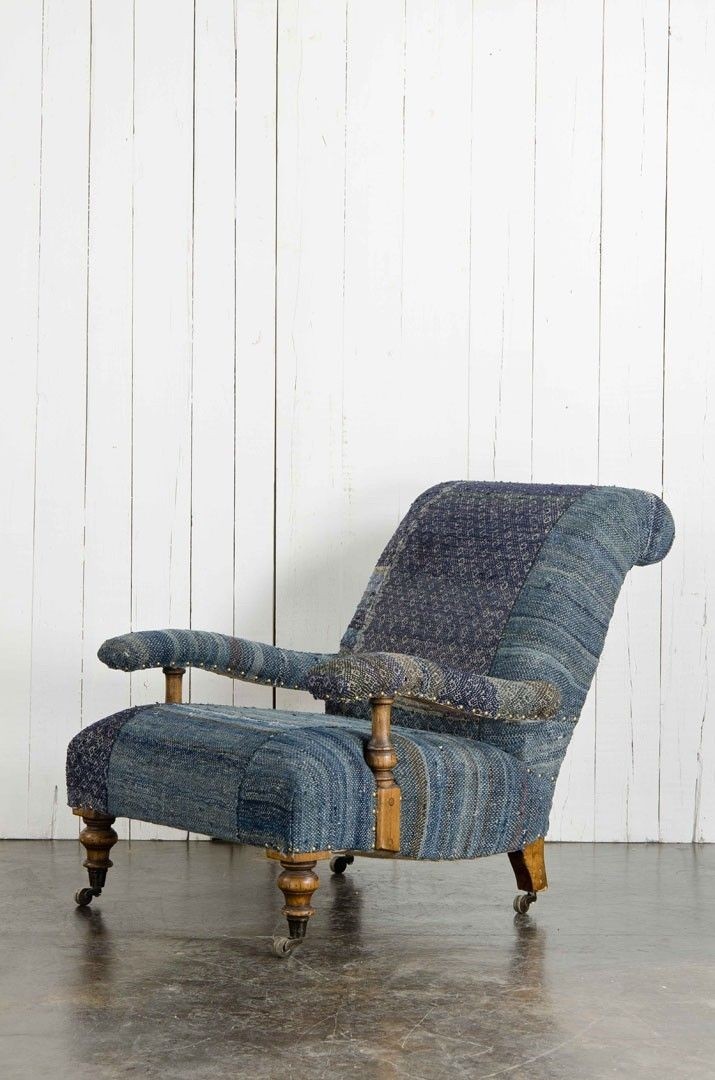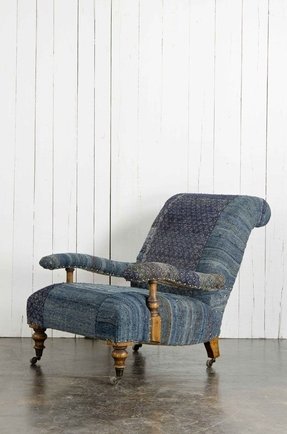 Lounging Chair - Furniture - RLH Collection - Ralph Lauren Home - - Ridiculously expensive but very pretty!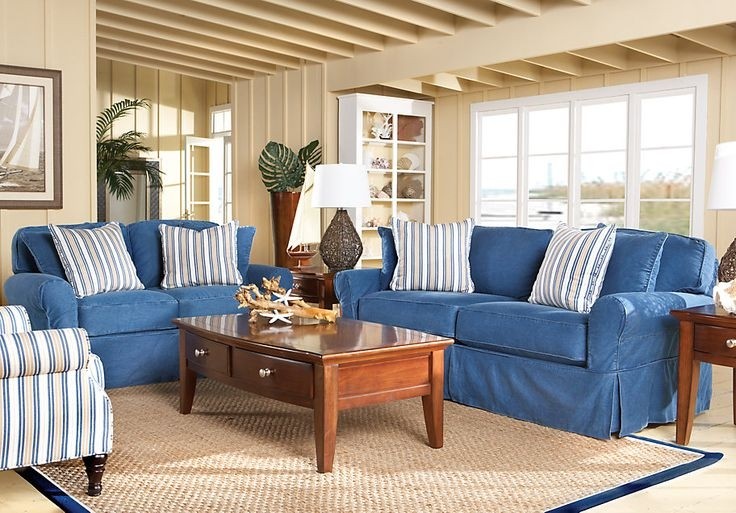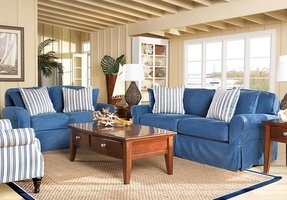 Denim Blue Living Room Furniture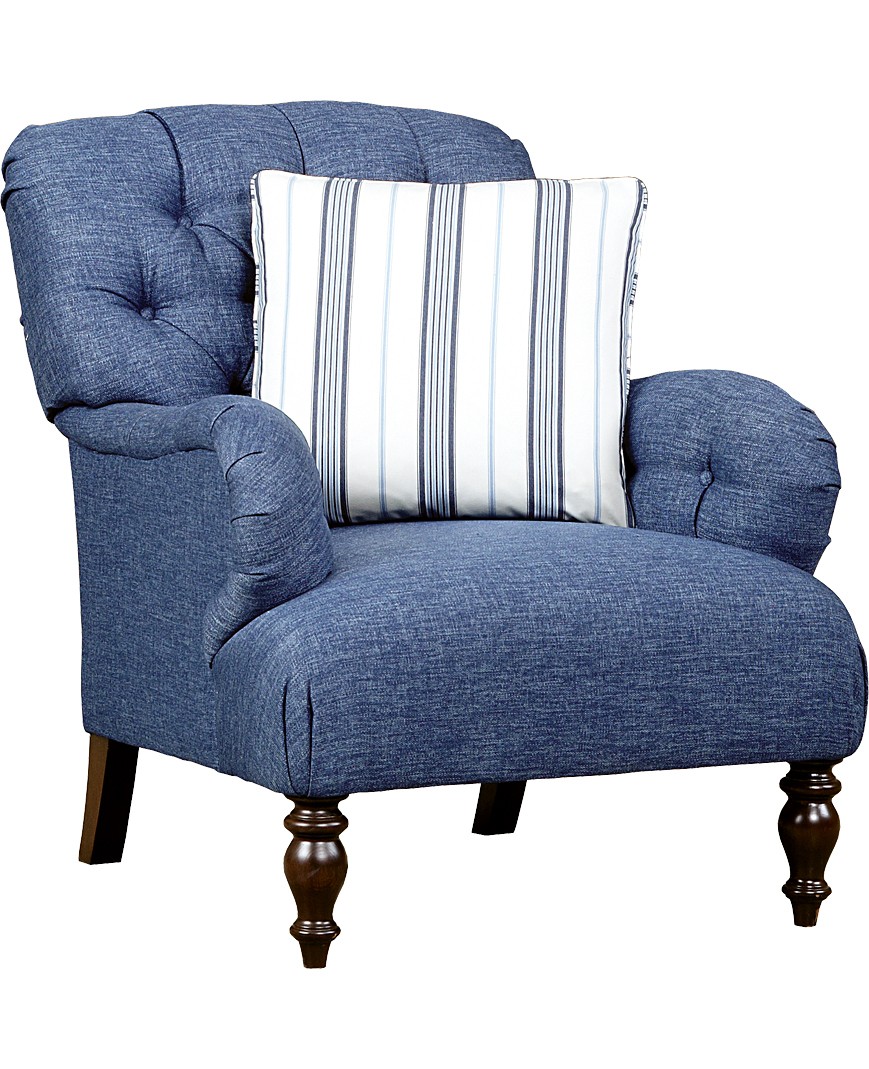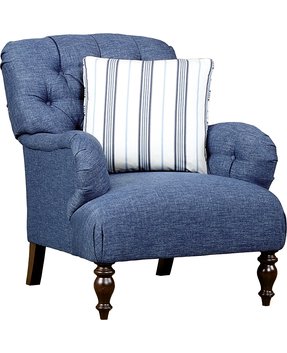 Snuggling in this armchair, you won't have to worry about the lack of comfort. It's upholstered in blueish fabric, along with a button tufted back, well-padded sides, and a generous seat cushion. All rests on wooden legs - flared at the rear and turned in the front.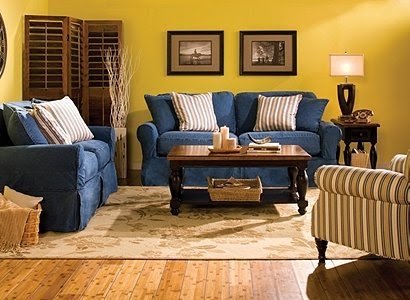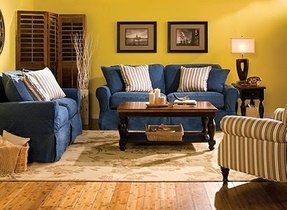 This Denim Living room set of furniture combines casual and elegant, bringing in a great sense of colour and liveliness to the space. A good tip is to break the main scheme a bit and allow yourself a bit of variation.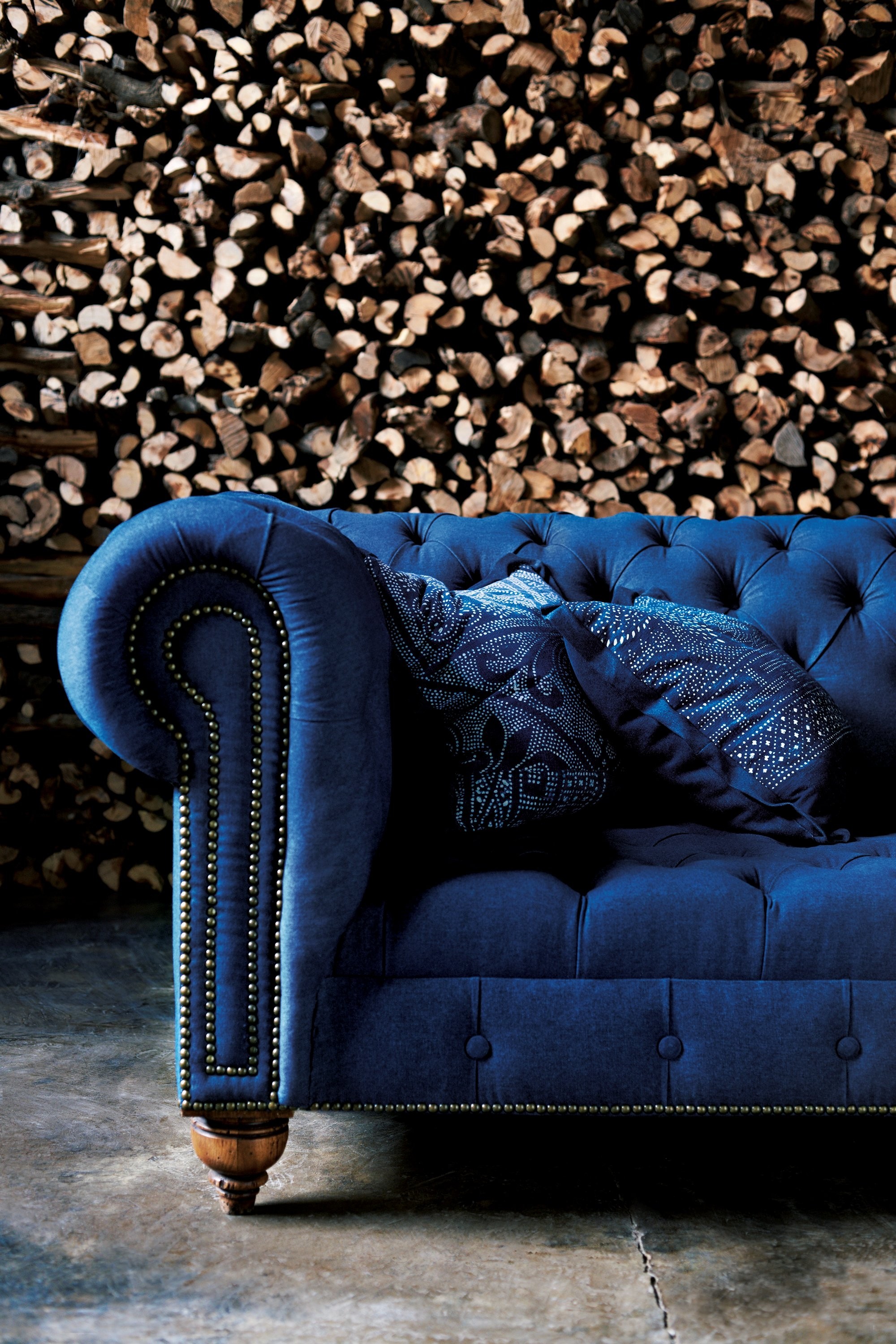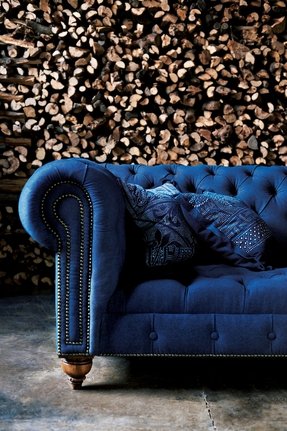 I don't know what's going on with that wall, but the couch is fabulous!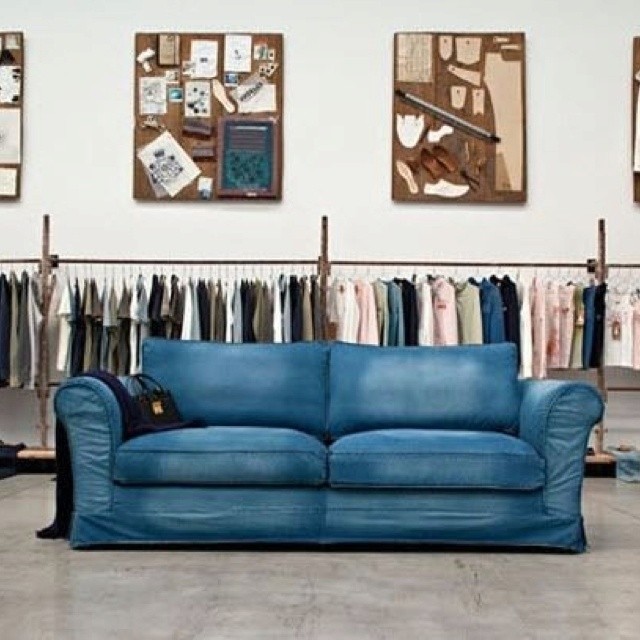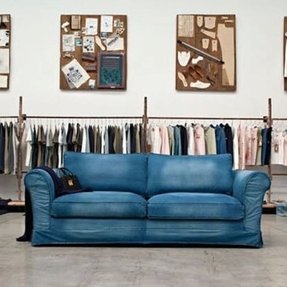 This denim living room set constitutes will be an eclectic accent, wherever appearing. Fitting well into both traditional and modern interiors, blue denim will be an eye-catching accent, distinguishing your space from the others.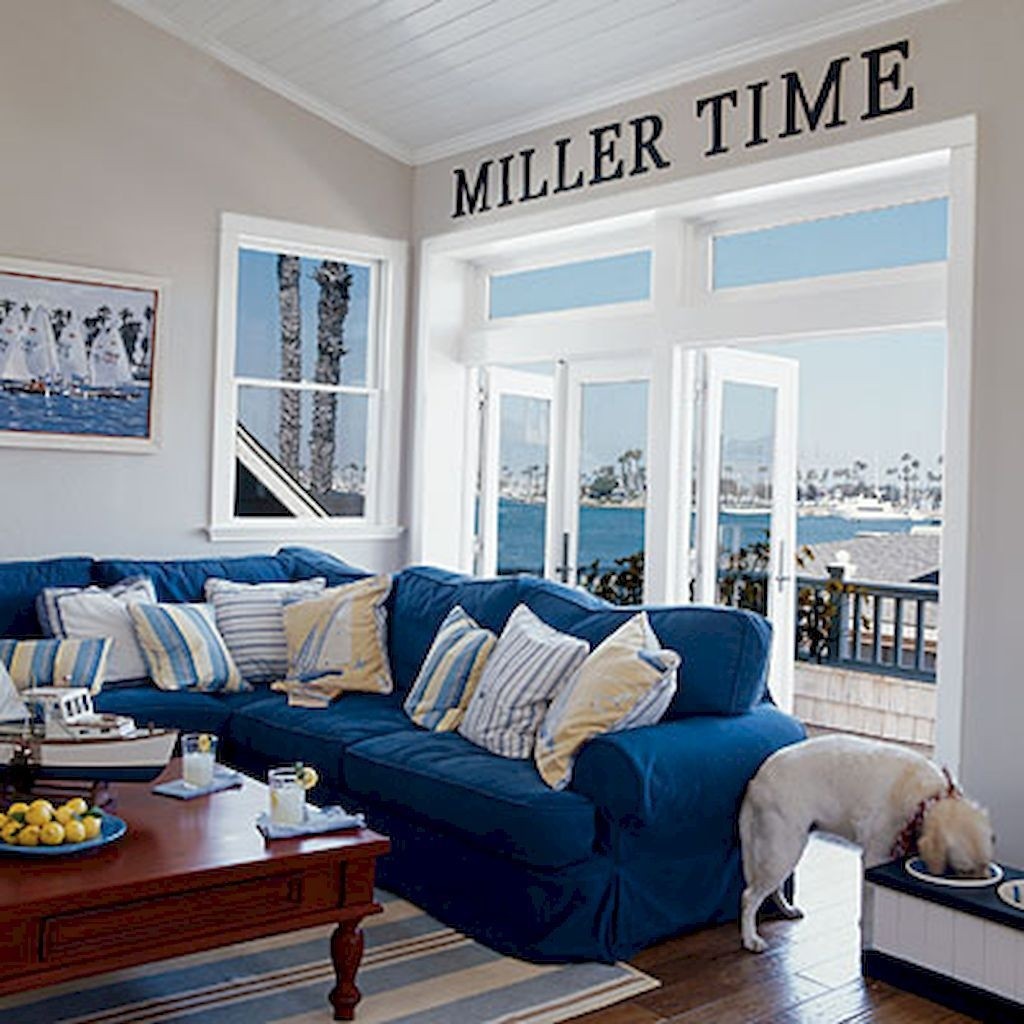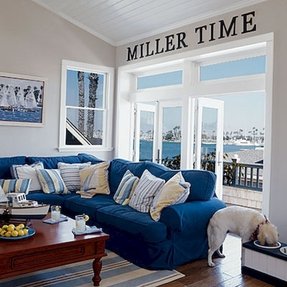 Durable Living Room - 20 Beautiful Beach Cottages - Coastal Living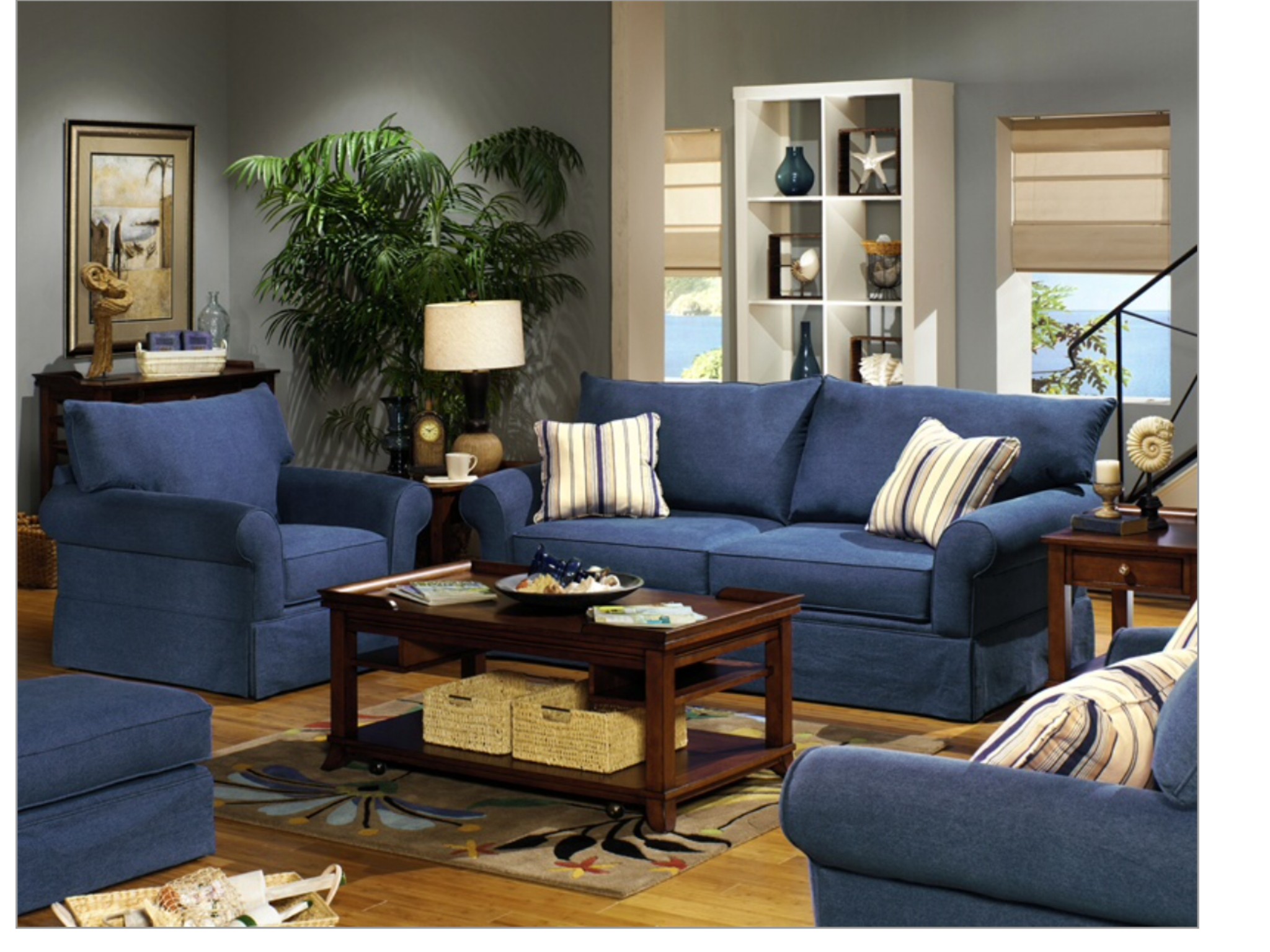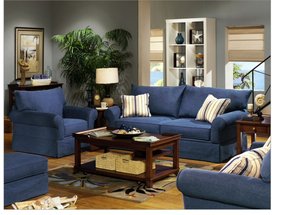 Upholstered seating denim living room furniture set will transform your living room into an oasis of peace and relaxation. A comfortable blue lounge suite consists of three parts, a three-person sofa, a double sofa and a chair.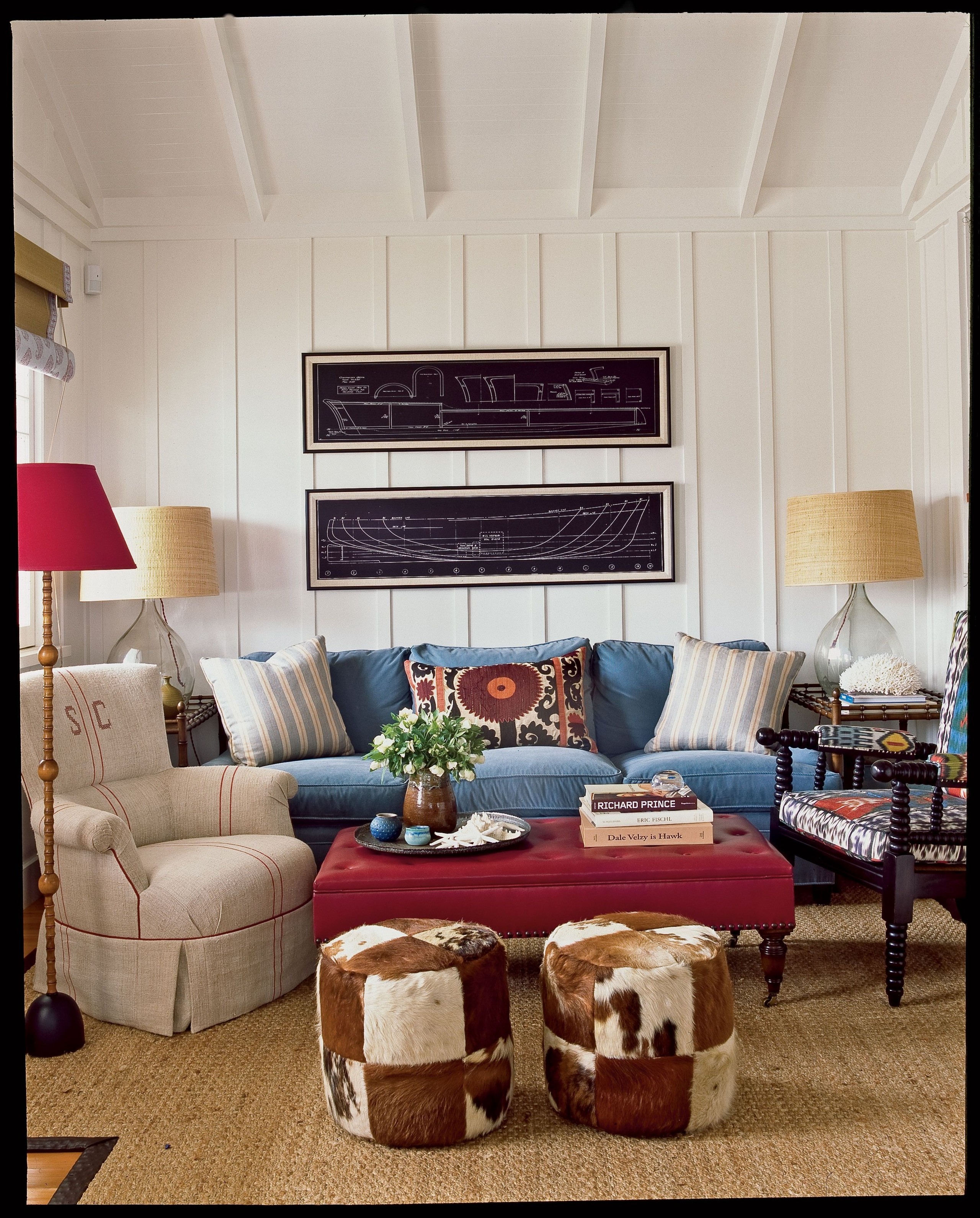 You can easily elevate your room's appearance, with those two fashionable ottomans wrapped in cowhide-like covers. Their compact size and eye-catchy design make the whole room much more appealing.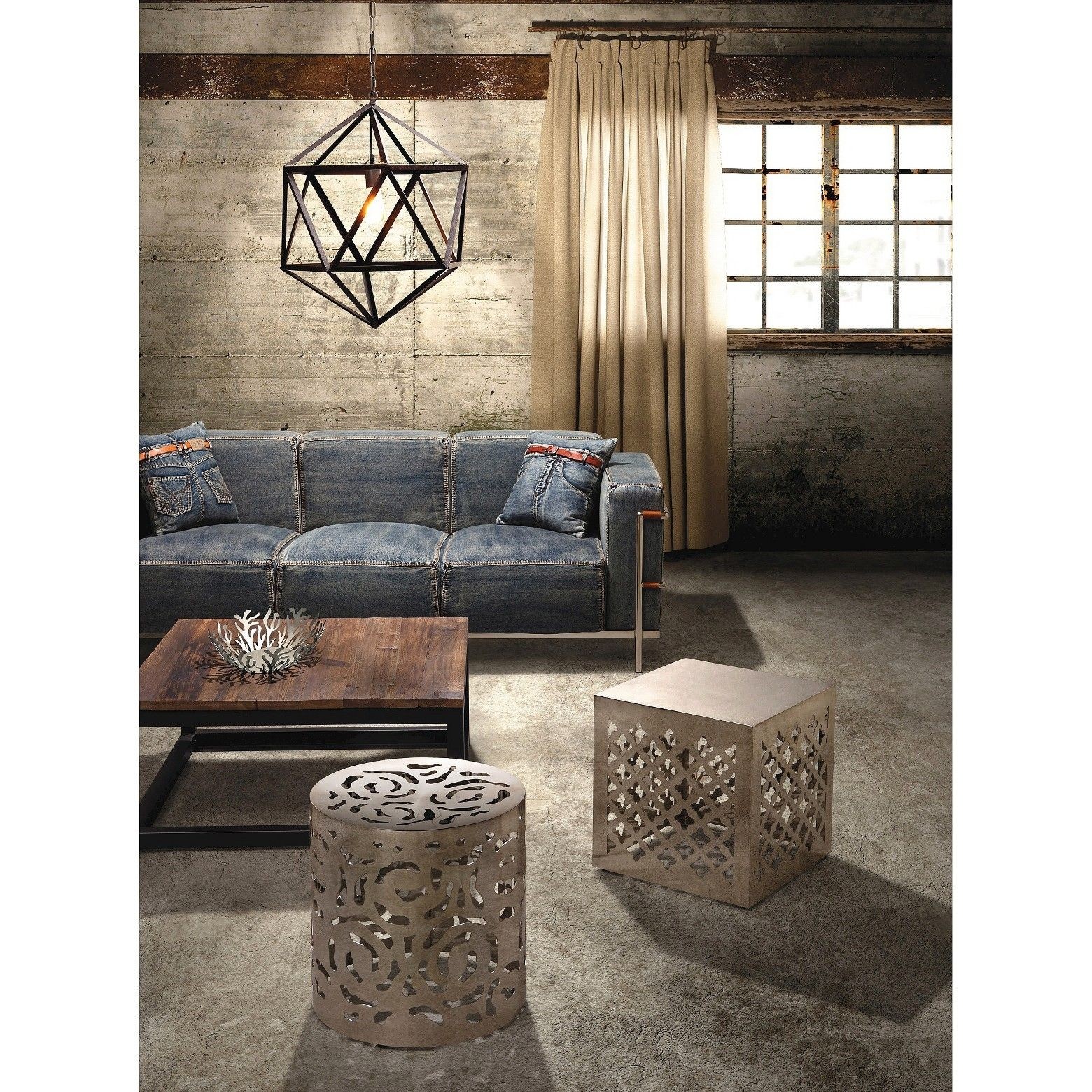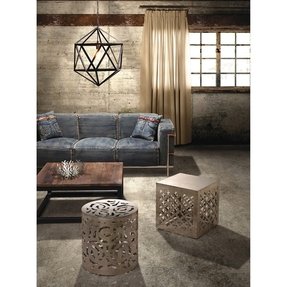 This square coffee table is a great option to have your vintage-inspired décor complete. It has natural distressed finish, and its sides feature lattice design. When the room is full of light, it can shine through.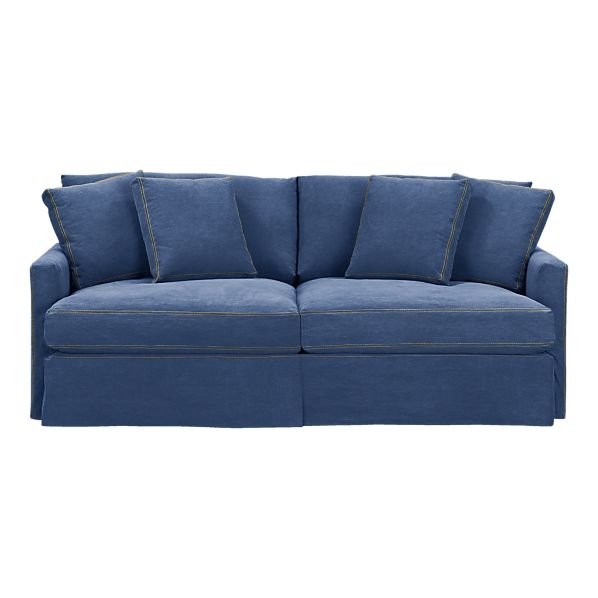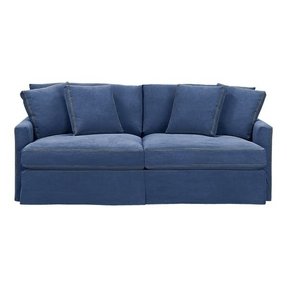 This cute denim sofa is an original detail for the interior design. The sofas and cover of the couch are exceptionally tasteful, and the solid construction ensures a comfortable rest. Pleasant contrasting stitching adds to the charm.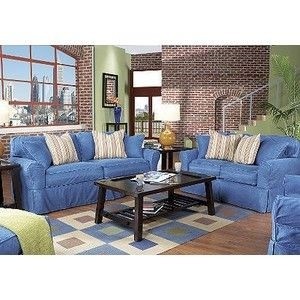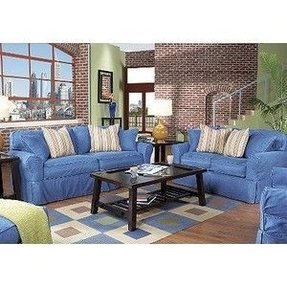 ... Beachside Denim 8 Pc Livingroom :: Rooms To Go - Livingroom furniture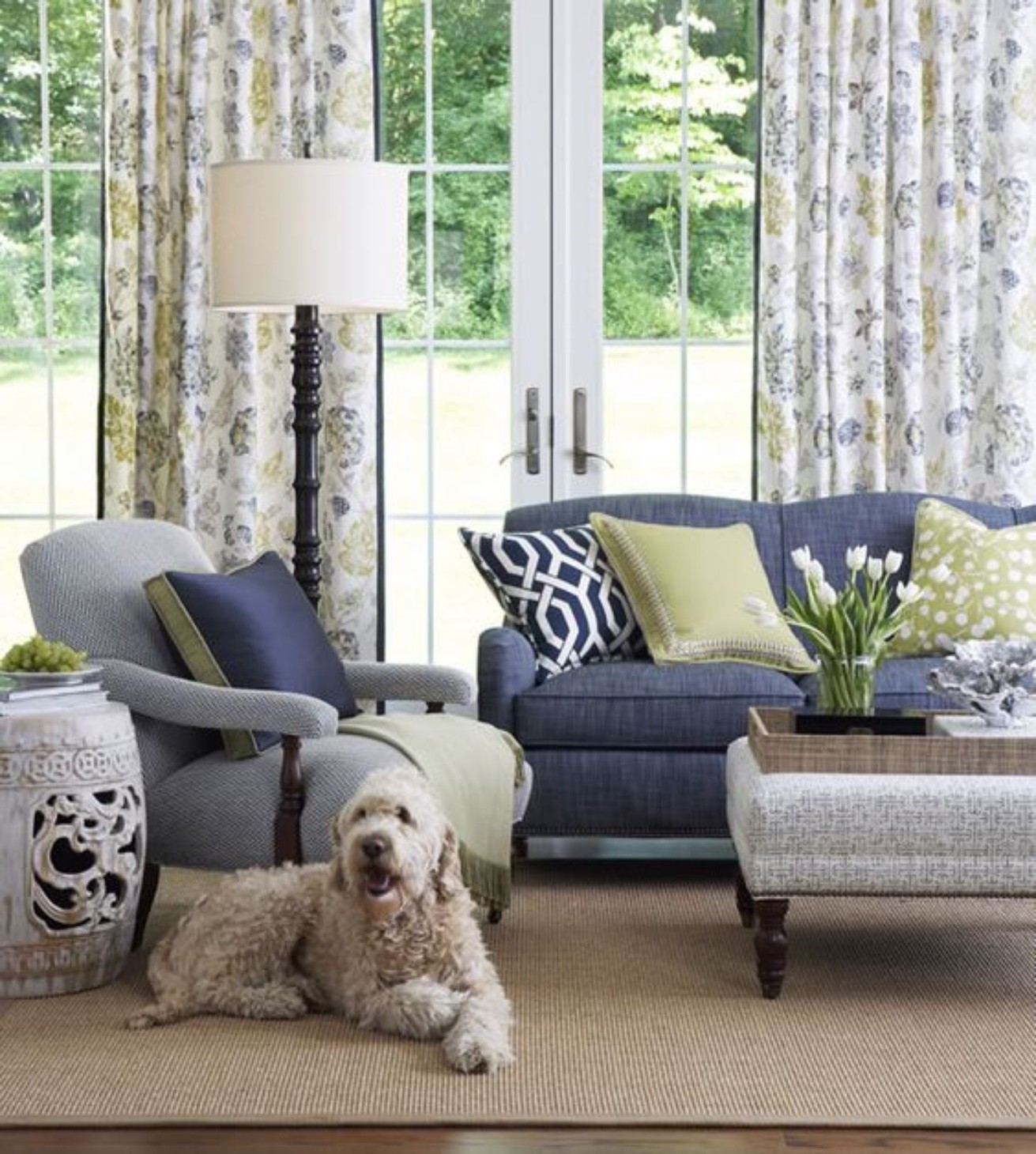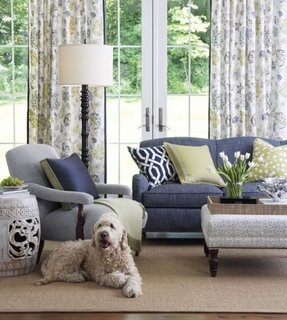 Indigocitron Room - LandingPage - Calico Corners -thanks Nickie, I'll take the dog too.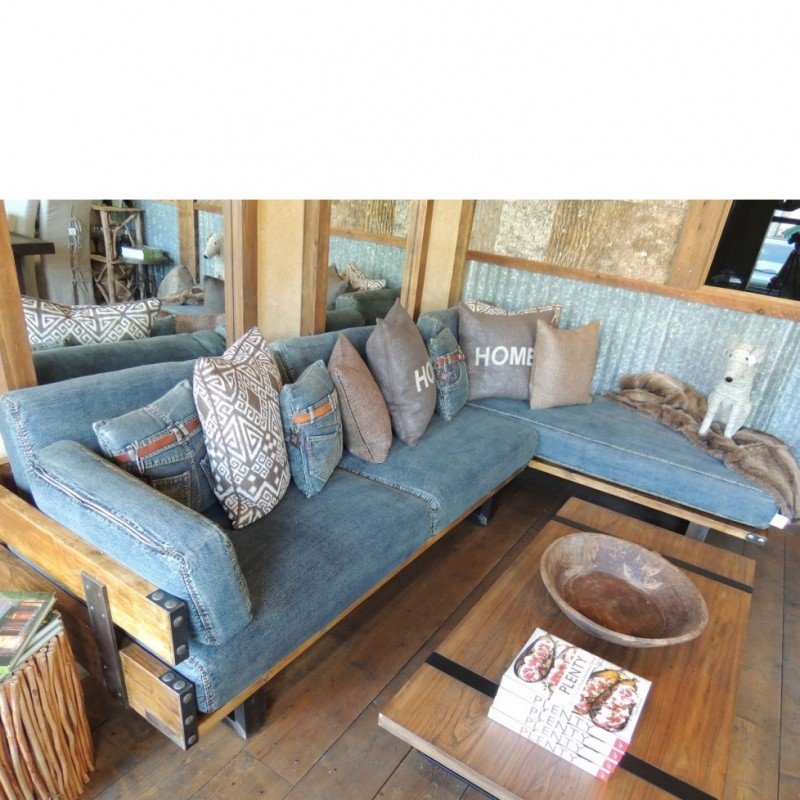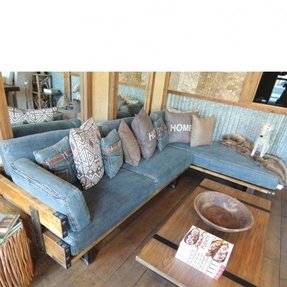 Denim Corner Sectional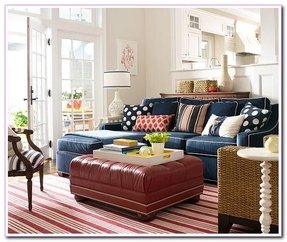 We're painting the paneling in the den a light color (most likely light gray), and I like this denim couch and the ottomans, as well as the one wicker chair I see in the corner. That French door which leads to their patio would lead instead to our sun roo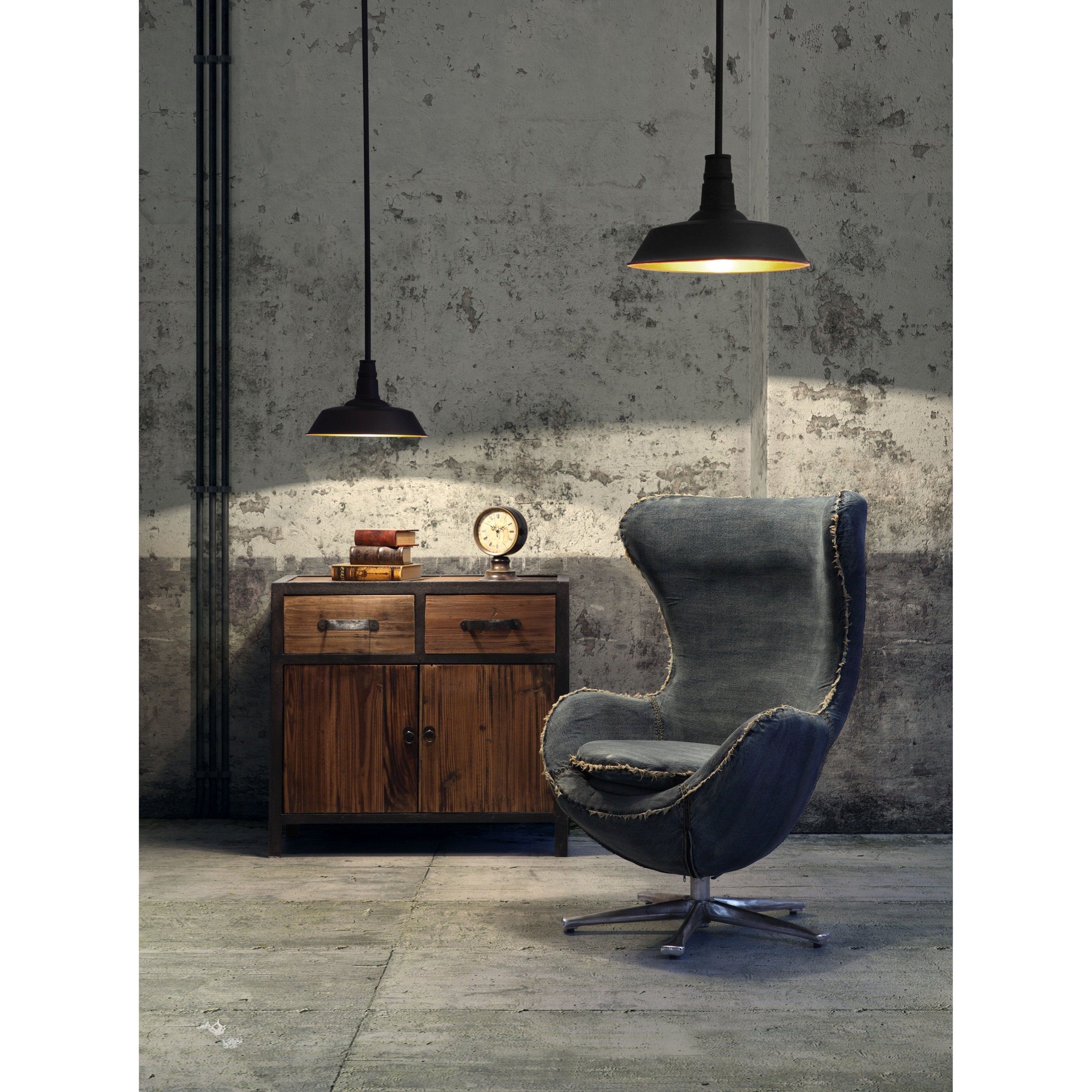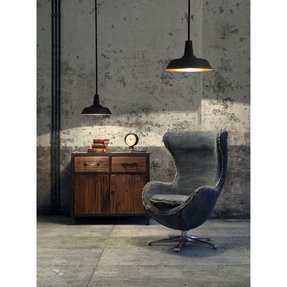 It is an arm chair that has got a grade blue denim fiber upholstery and vintage design. Everyone will be impressed how amazing and comfortable this arm chair is. You need to have it.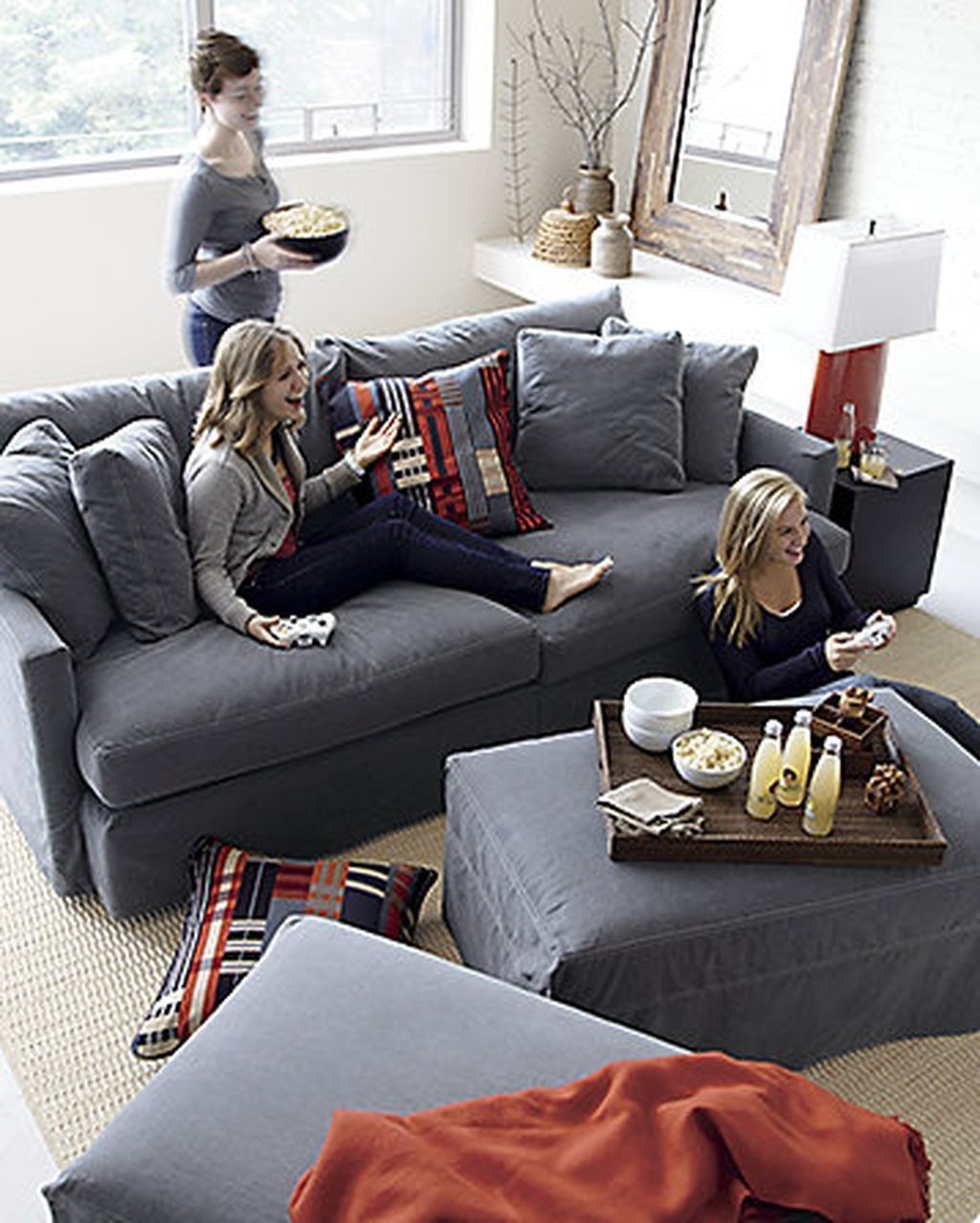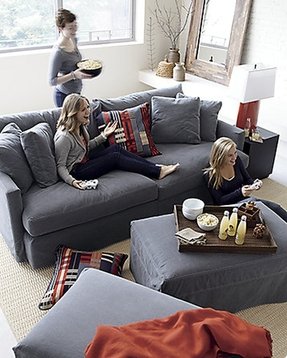 This comfortable sofa with gray upholstery and sturdy frame, can be a nice way to upgrade your contemporary home. it has soft seat cushions, fabric-covered armrests, and few throw pillows for better appearance and comfort.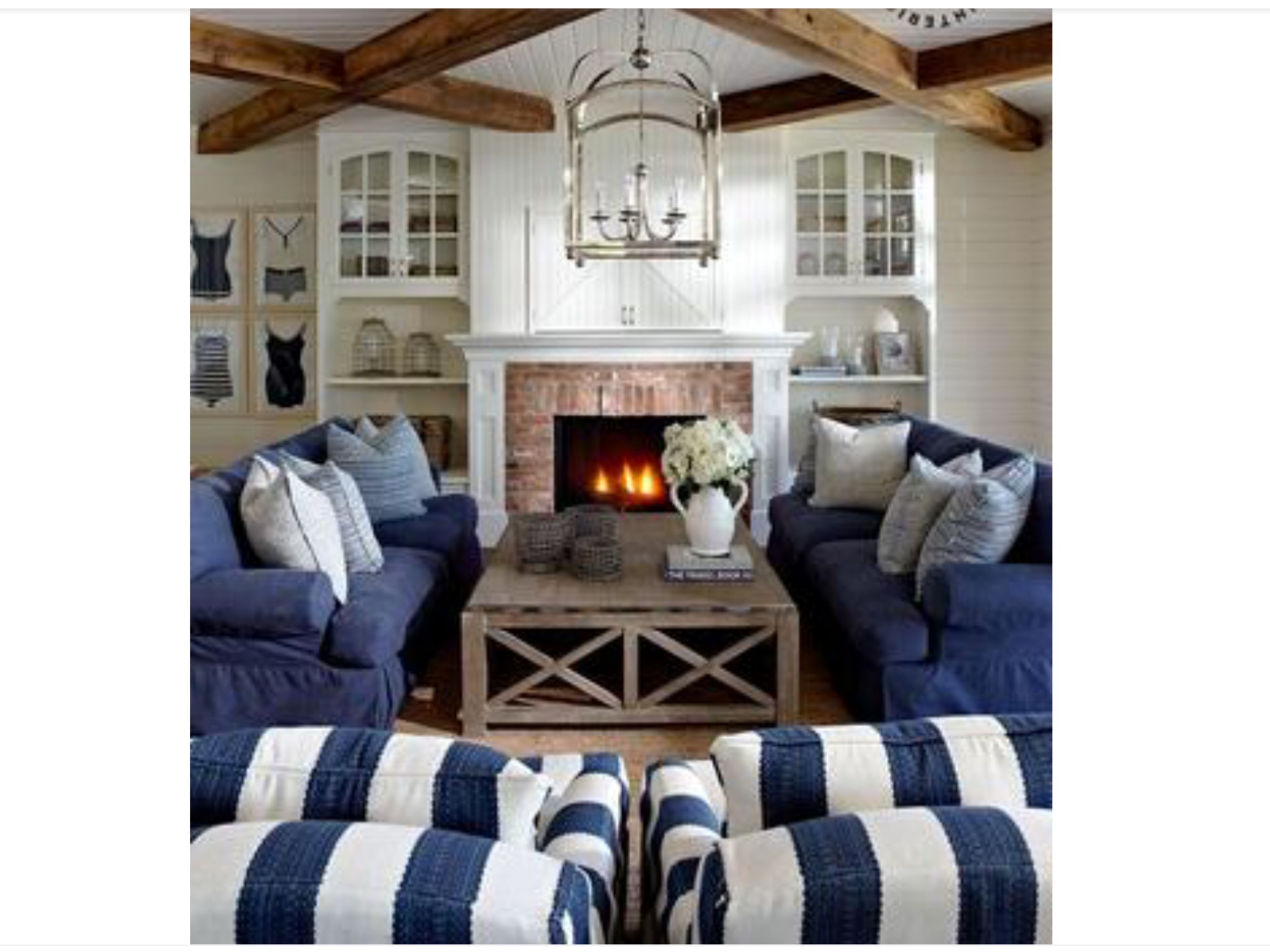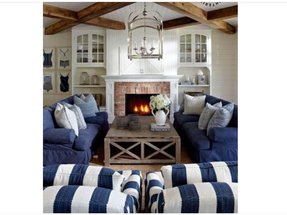 This amazing interior impresses with its uniquely decorated ceilings, the combination of blue, white and shades of wood and functionality. The impressive chandelier and eye-catching fireplace complete the whole.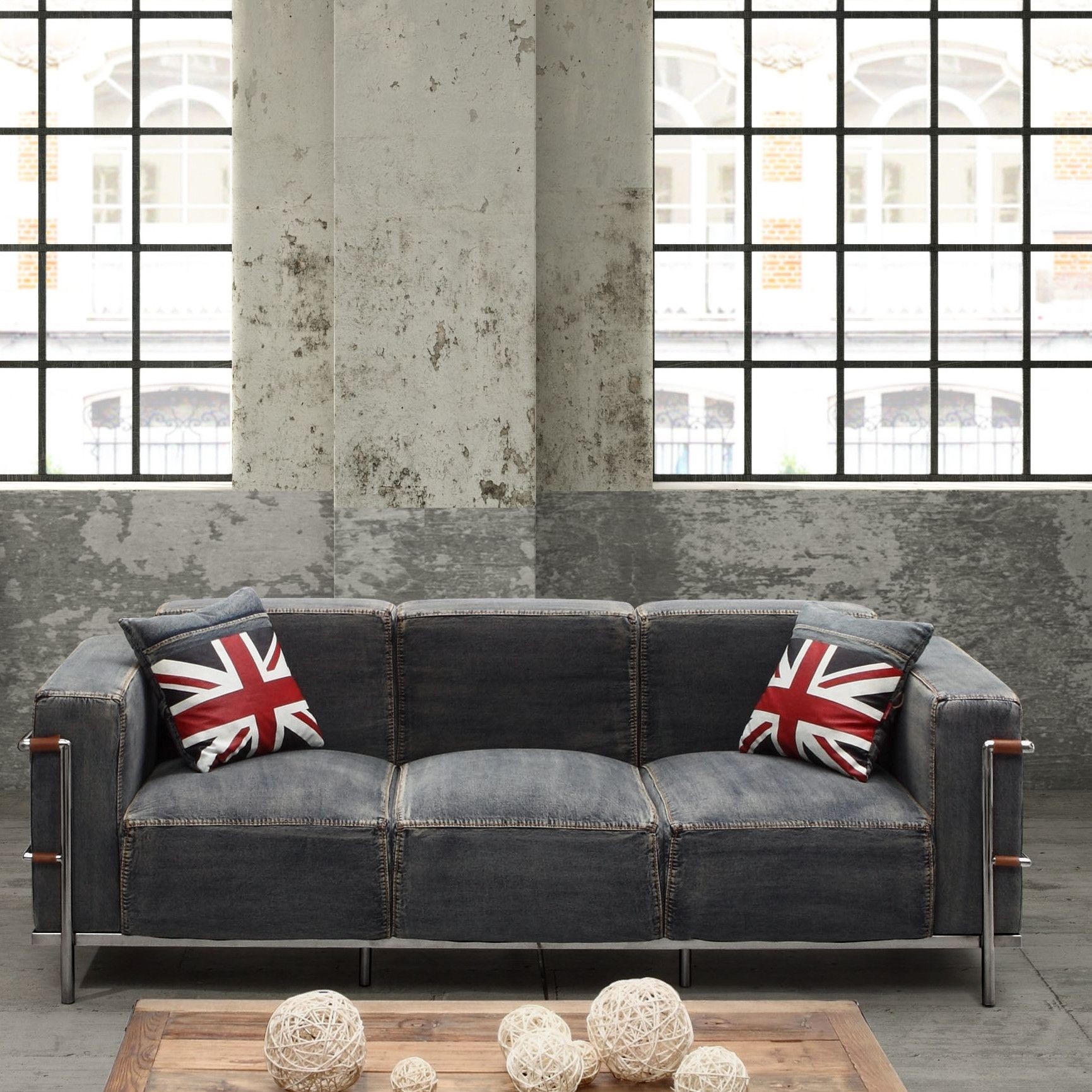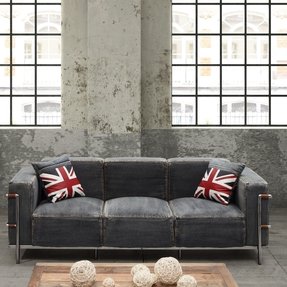 Zuo Era Lasso Denim Sofa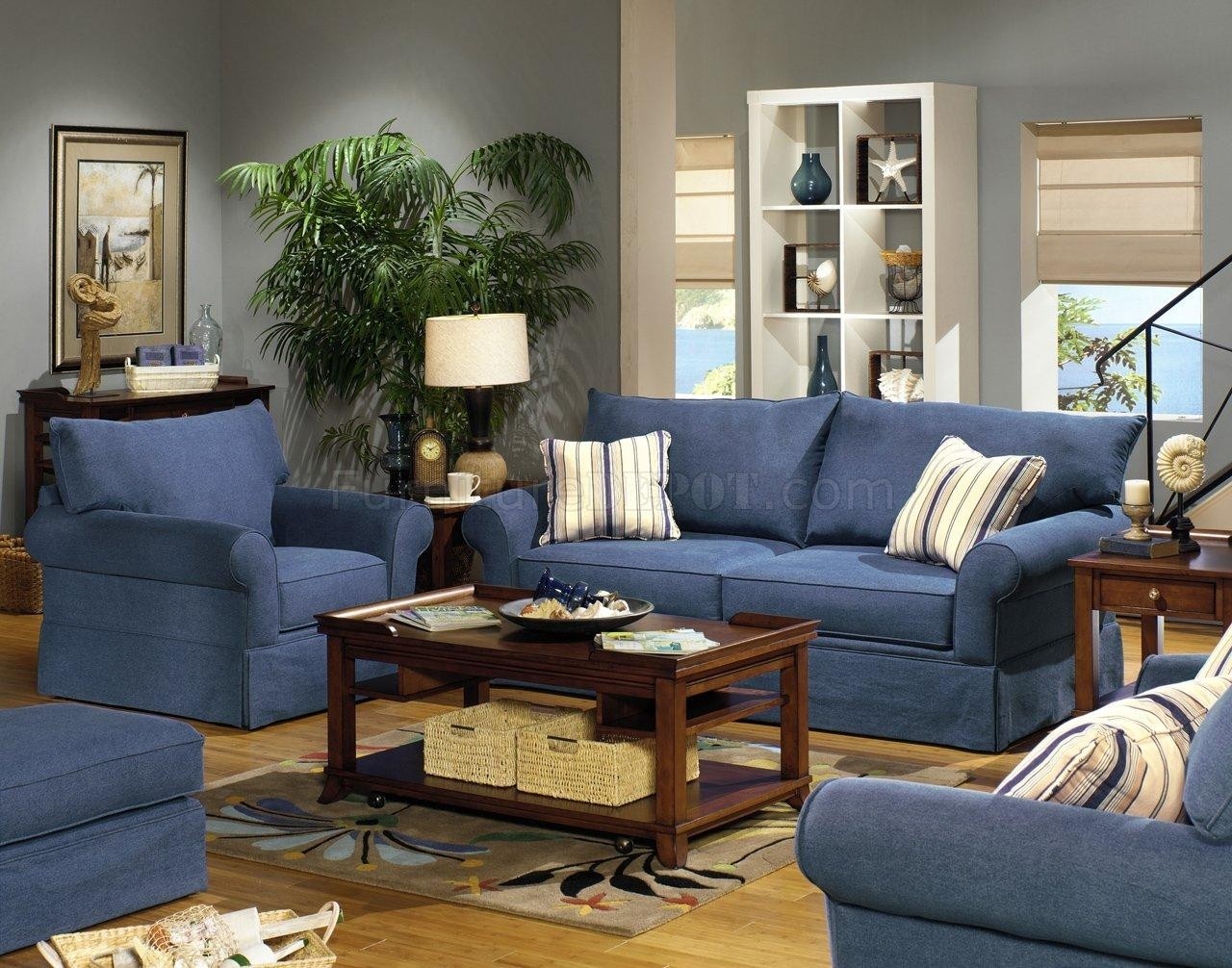 Blue is not only the color of royal blood - but also the sky and many wonderful elements of our universe. It is associated with the truth, so it will check the slain in the form of the upholstery of denim living room furniture set.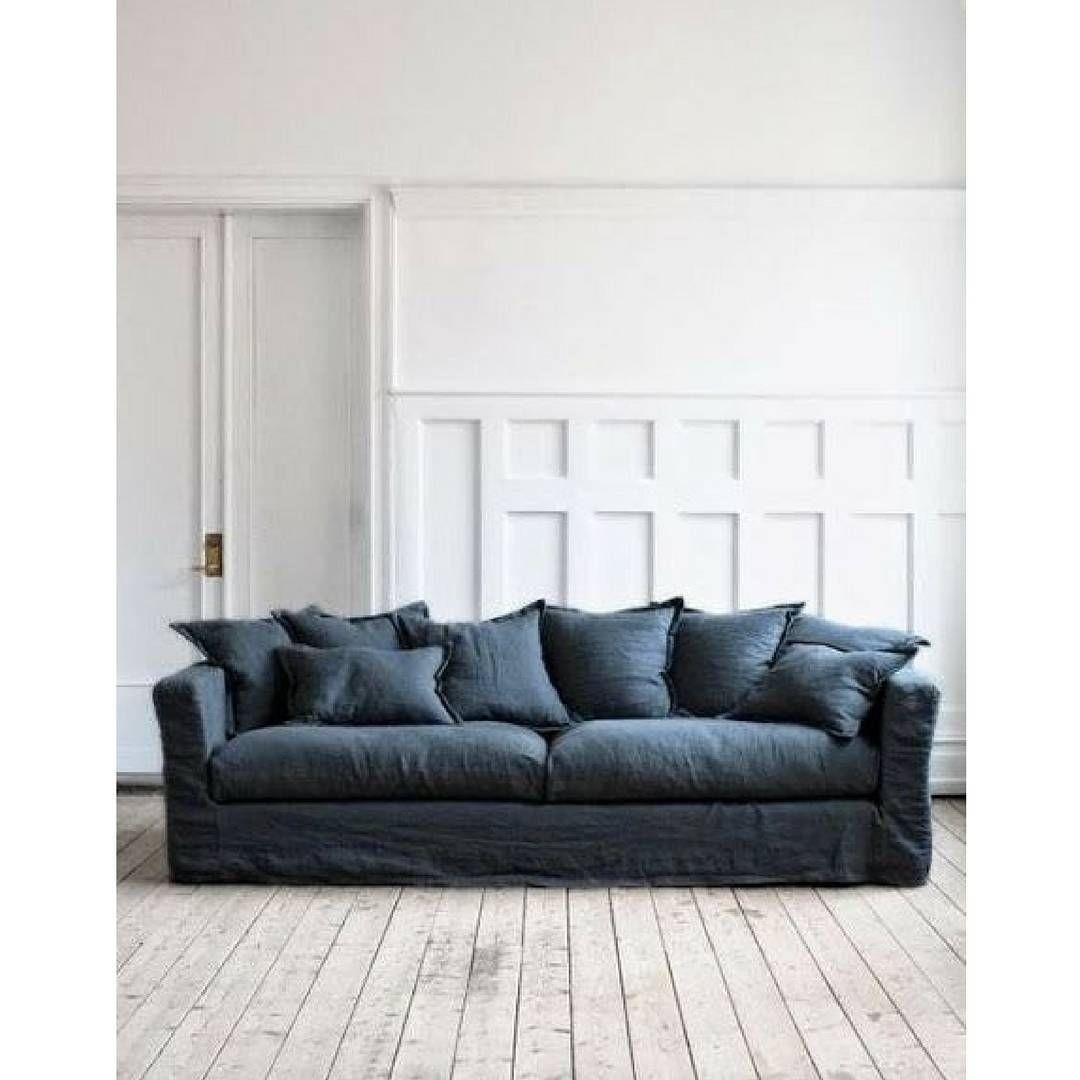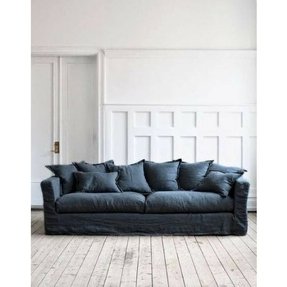 Long and comfortable design for a sofa couch upholstered with a cotton material in a deep blue color, which provides a smooth and nice-to-touch texture with a tough hardwood frame underneath to make it stable.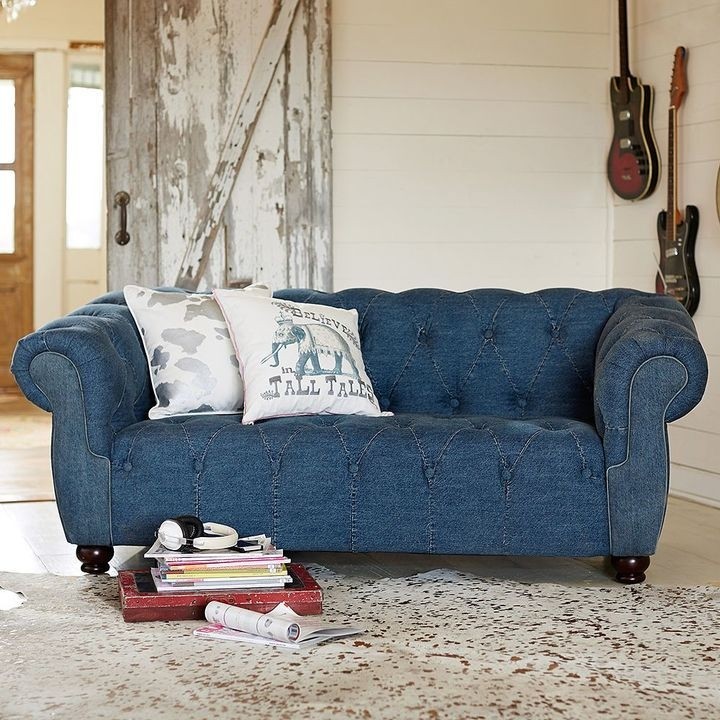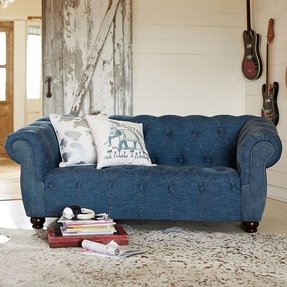 A comfy classic sofa with a hardwood frame and low brown turned bun feet. A wavy backrest and showy rolled out arms have the same height. It's thickly padded and upholstered in washed blue denim with button tufting and a diamond stitching pattern.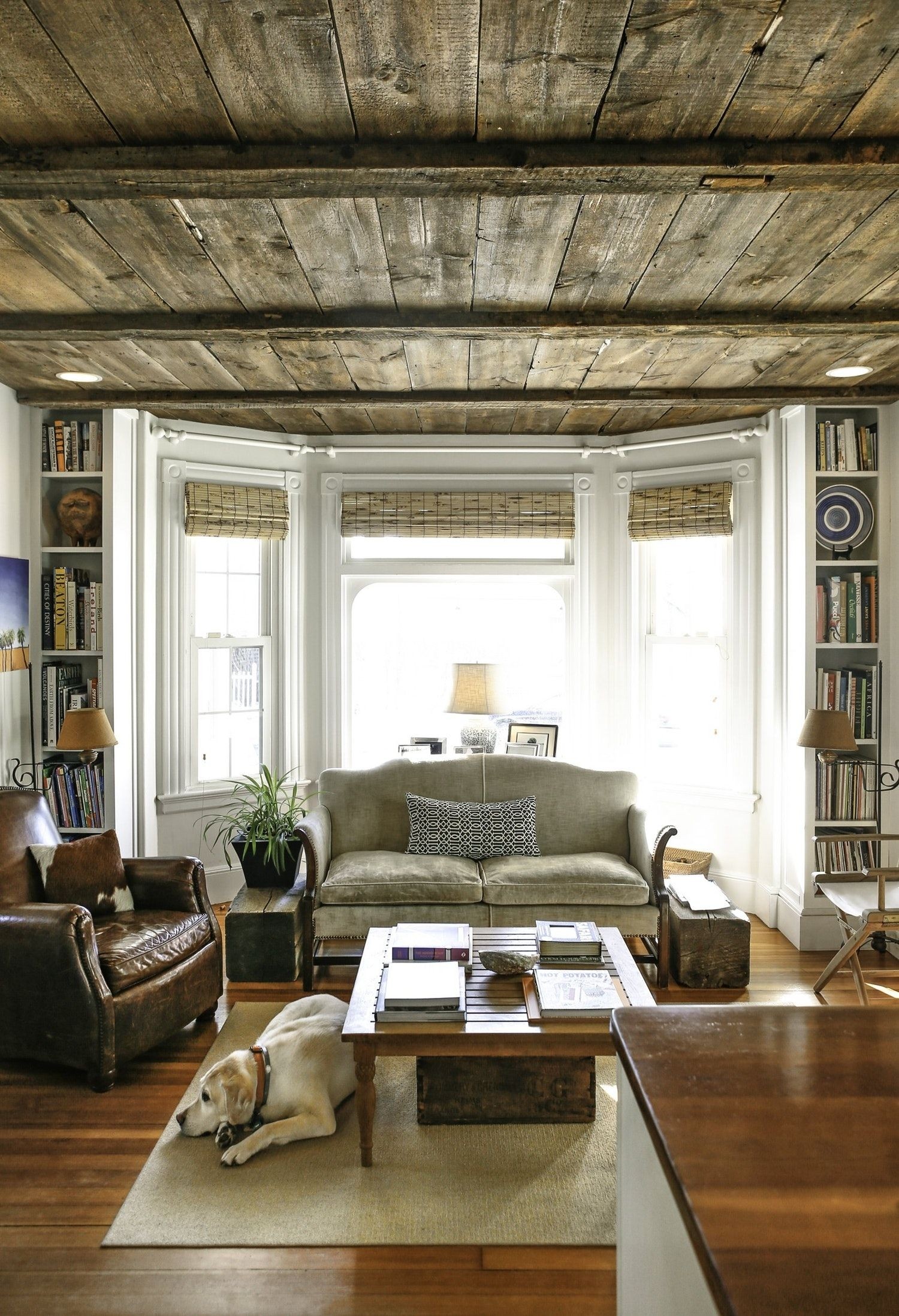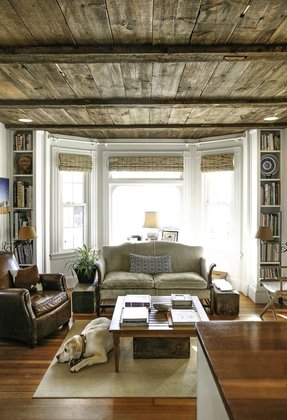 Beautiful design for a contemporary, coastal living room with a spacious appearance. The three large windows provide a plenty of light during the day, making the room seem brighter and giving it a fresh look.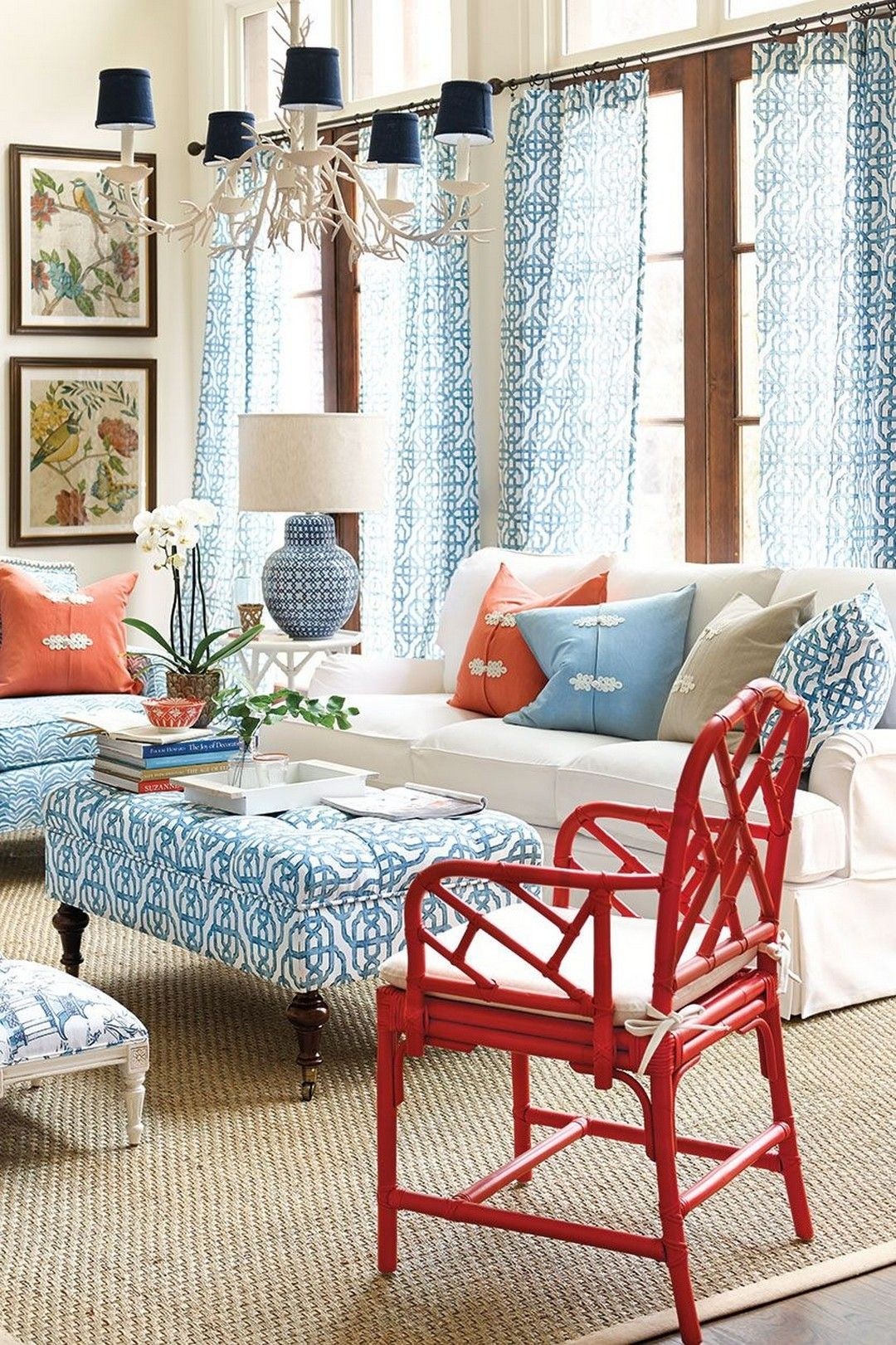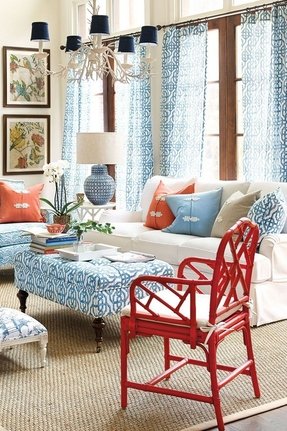 Oriental, exotic setup for a bright and colorful living room with bamboo furniture and a contemporary appearance. The red, seated chair provides a nice complement to the long, white ottoman which matches the throw pillows and curtains.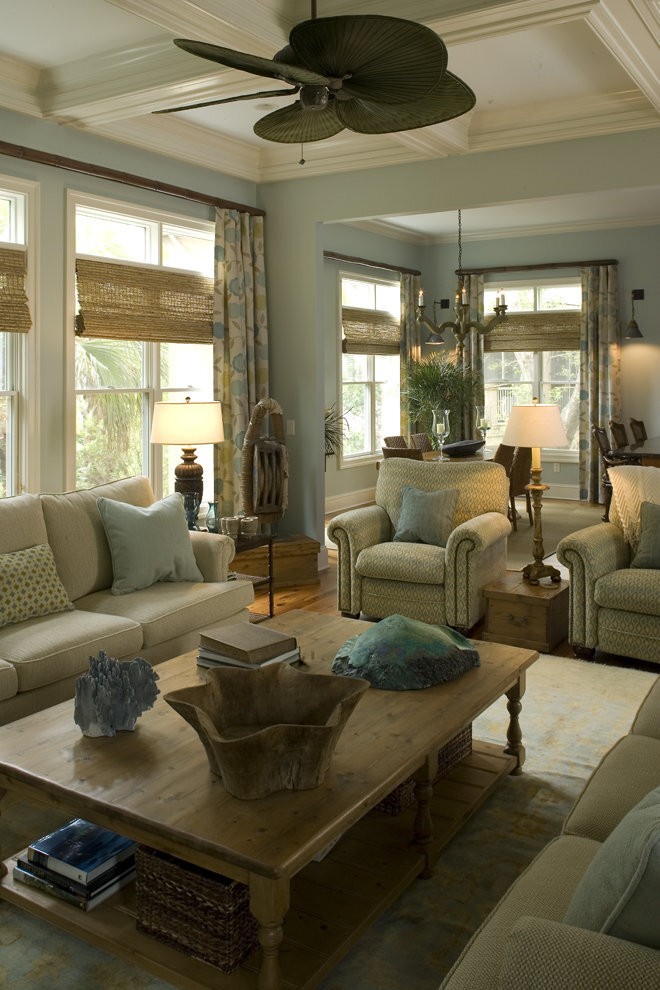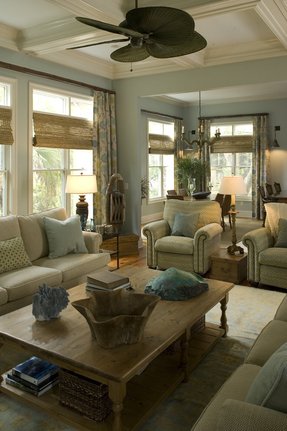 Play with natural light with the use of these bamboo shades. It adds a layer of texture, smoothly blocking the outdoor light, yet allowing some beams to enlighten the rooms. Natural bamboo finishing will appeal to boho or eco-design fans.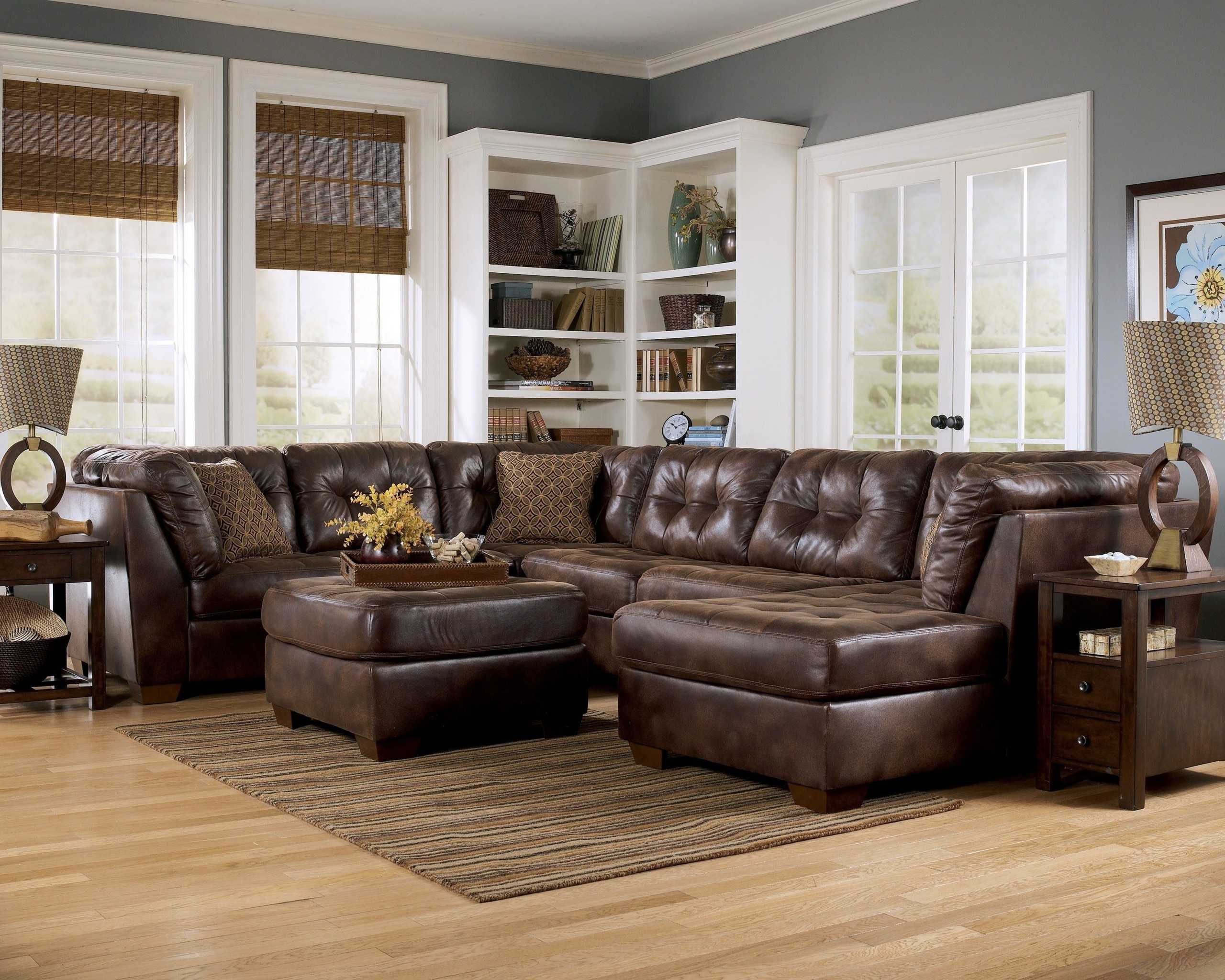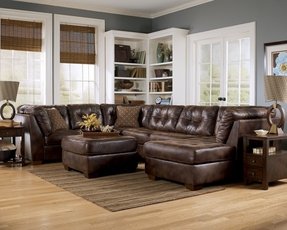 If you want to create a distinguished interior, that will enchant with its charming elegance, this faux leather sectional may be an ideal choice for you. Refined brown tufted button upholstery covers a considerable space to sit, ideal for up to 8 people.