A retractable fence can stop your adventurous toddlers from falling down the stairs or your older kids from rushing into the street to retrieve the football that they've just thrown.
A synonym for peace of mind, basically.
However, we'll be honest: that's only if you've bought a reliable model and ensured its safety. If you're planning on saving money by opting for a lower-quality gate that isn't as baby-proof as you'd think, you could potentially bring an additional hazard into your home.
Let's avoid unpleasant accidents by showing you exactly what to look for and what to avoid when it comes to retractable fences so that you can actually relax every time you close them!
1.

Choose the right type of retractable fence for your needs

Consider where you're planning on placing your new retractable fence and, most importantly, how and by whom it will be used:
If you need one outside to stop your kids from going into the road when playing, you should opt for a mesh model: that way, they definitely won't hurt themselves should they run into it by mistake;

As for indoor uses, you can find both mesh and wooden or metal designs. They can be helpful to keep your kids or dogs in one room or stop them from accessing the stairs;

In the second case, however, you must always check that the specific model you're looking at was approved for stair use.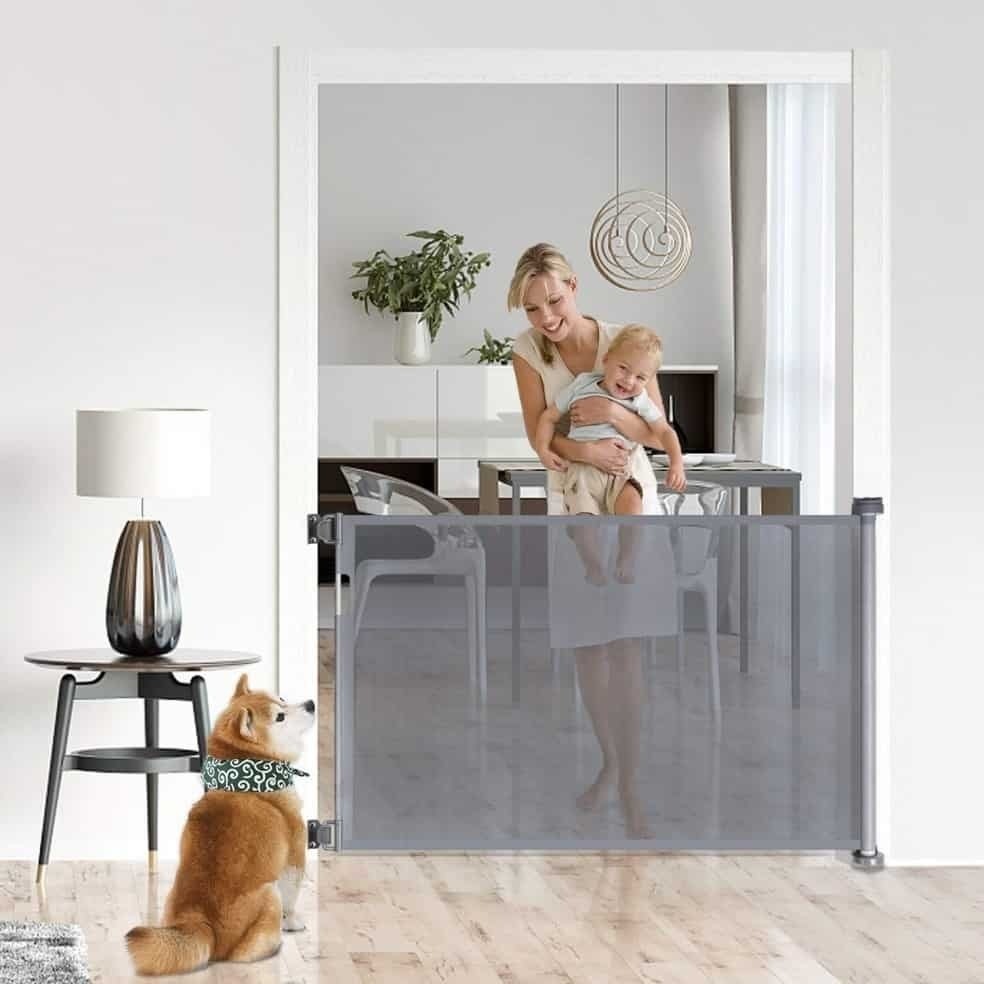 2.

Make sure that your kids retractable fence meets relevant safety standards

Not all kids retractable fences are created equal! For the safest purchase, here's what to look for:
The height of your retractable fence should be around three-quarters of your kid's and, in any case, at least 22 inches;

The distance between the floor and the bottom of the retractable fence shouldn't be more than 3 inches; this is to stop your kids from trying to crawl underneath them and avoid head entrapments;

Check that the mesh is fine enough to prevent your kids' fingers and toes from getting stuck into its holes or, if you're opting for wooden or metal slats, that there are less than 3 inches between them for the same reason as in the previous point;

If opting for slatted models, it's important to look for a sturdy construction with an even finish rather than cheaper but flimsy designs that can easily be pushed open. If you choose a wooden fence, its surface must also be smooth and splinter-free;

If you find all this too overwhelming and are worried you won't remember all the numbers, we've got another solution! Just look for a model that was approved by competent bodies like the Juvenile Products Manufacturers Association. This will mean that they have already done the hard work for you and that the models with this logo definitely meet all these safety standards. Phew.
3.

Test it immediately after installing it

Make sure you follow the instructions meticulously in order to install it safely. Once it's all set up and the fence is closed, try and give it a few pushes to see if it stays in place.

If it helps, just pretend to be an annoyed toddler trying everything in their power to break free from it, as that will definitely happen as soon as they realize that there's a new obstacle in their way!


4.

Teach your older kids how to behave around it

Obviously, this doesn't apply to retractable fences that you're planning on using as a stair gate or to keep toddlers at bay.
However, if you're buying a mesh gate to use outside when your older kids are playing, we recommend telling them not to (purposefully) run into it;

Sure, mesh fences are very durable and can usually withstand a 100- or 200-pounds push force depending on the model. However, if you want them to last you for many years and be just as safe, that doesn't mean that your kids should feel free to run into them at full speed or use them as a football goal.
5.

Check your kids retractable fence regularly to ensure that it's still safe

Just because it was safe when you first installed it, it doesn't mean that it's automatically good for life. Wear and tear can have a toll on its mechanism!

We always recommend checking your kids retractable fence periodically by moving it and pushing it like you did when you first installed it. Don't forget to check the parts that are attached to the wall and, if it applies, the fence's lock.