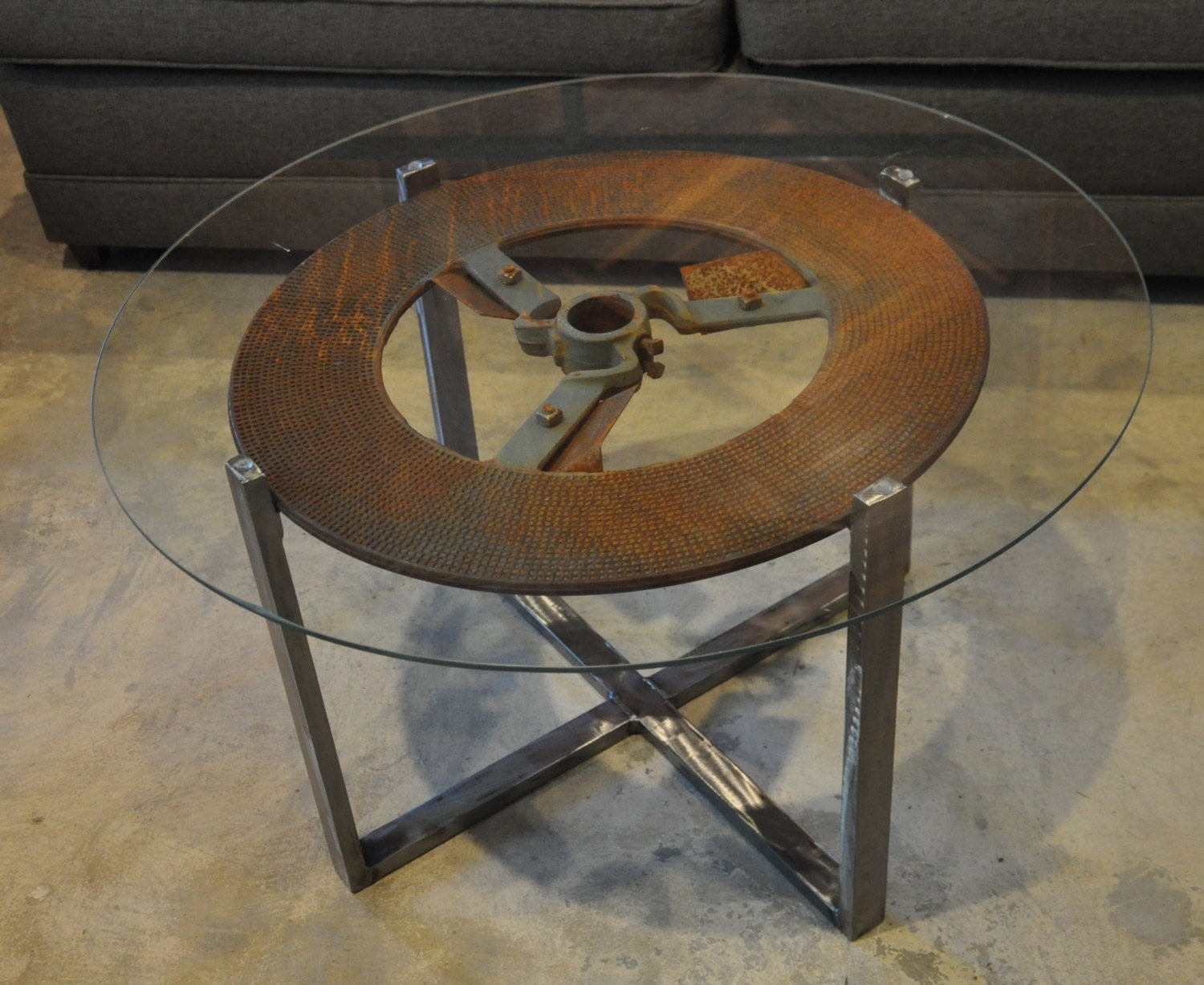 Round industrial coffee table with glass
Outright industrial style could be accomplished within this striking coffee table, as it's been partly built with upcycled machine parts. The final effect is reeeaaally dramatic. Metal base supports round glass top. I go for it!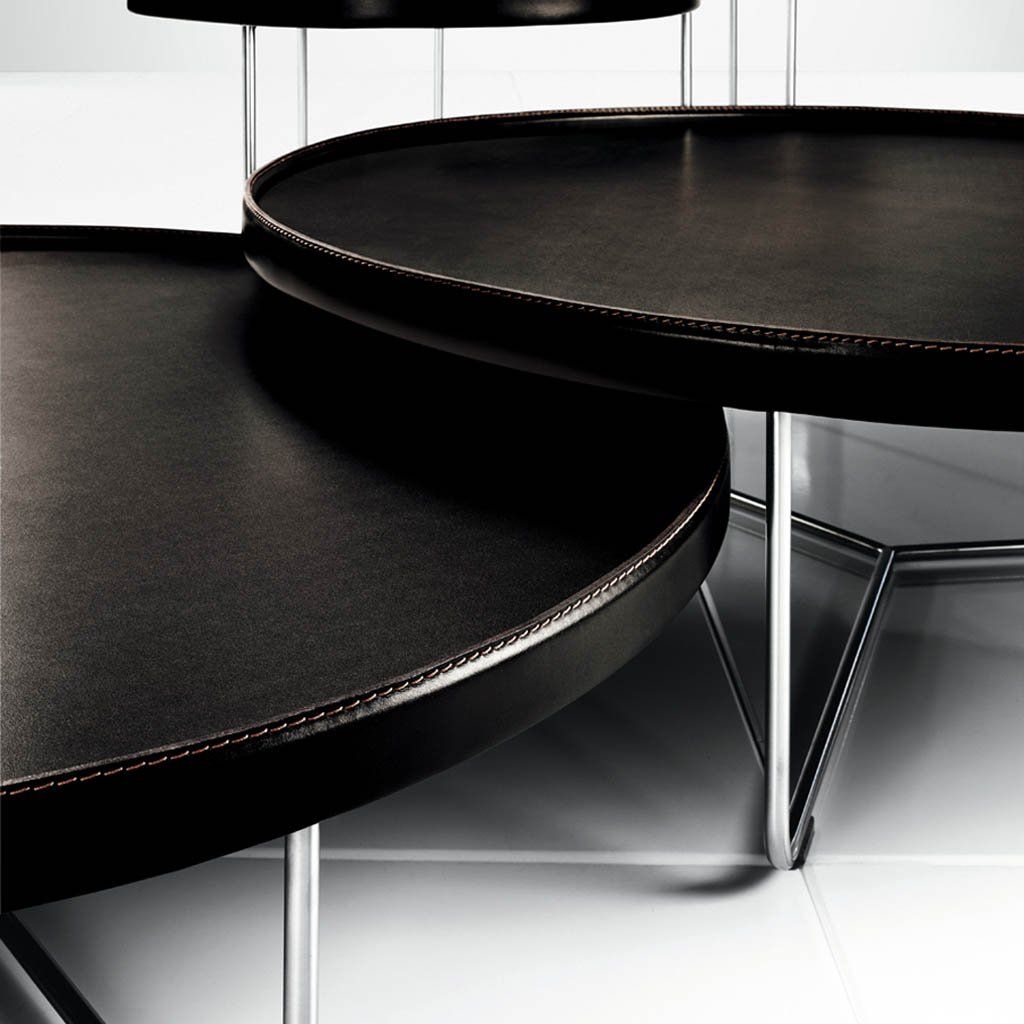 Adelphi Low Coffee Table
Looking at this Adelphi low coffee table, it is hard to resist the impression that we are dealing with a contemporary masterpiece. Its minimalistic form conceals amazing quality, ensured by reconstituted leather tops supported by a carbon steel frame.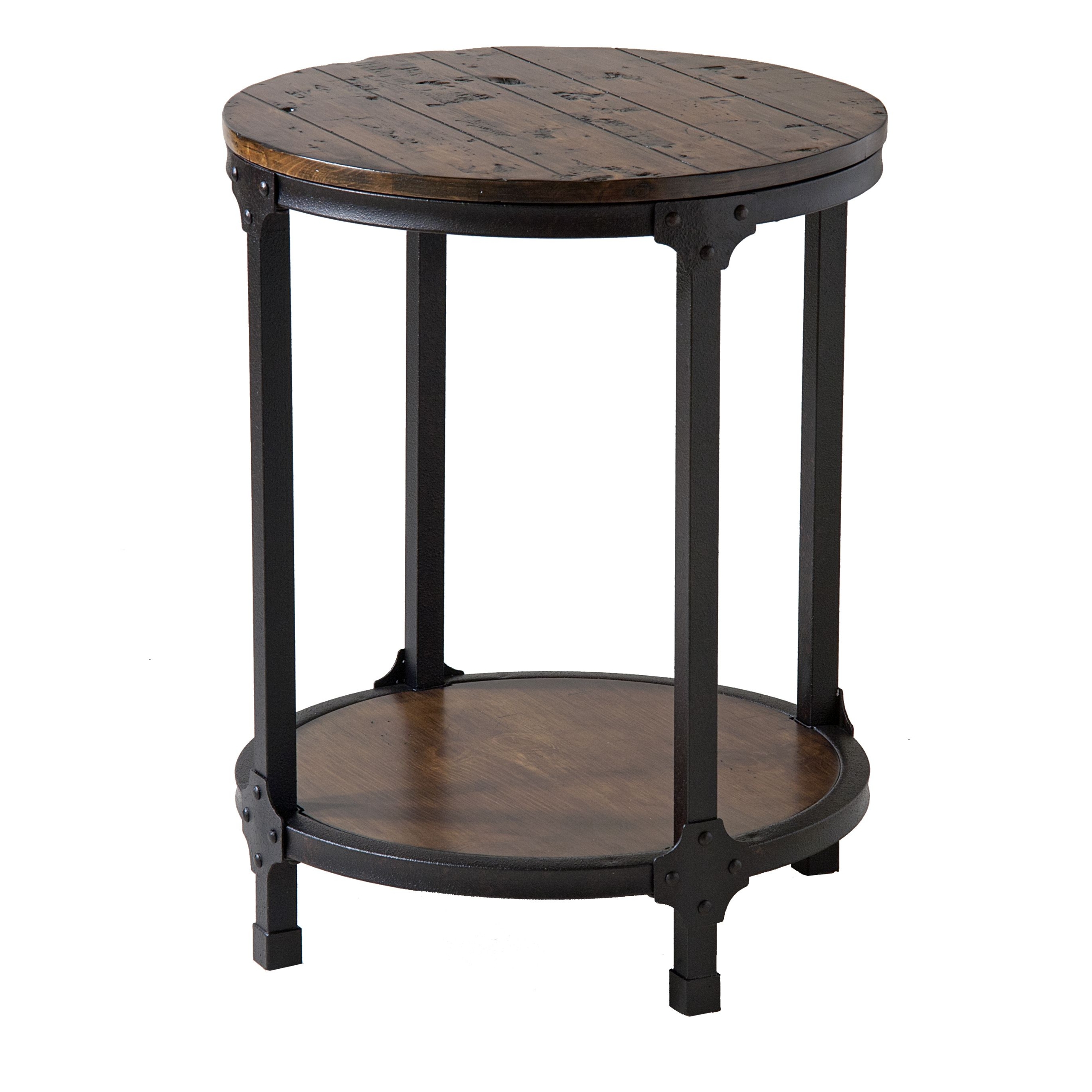 Kirstin industrial style round end table
This table brings the industrial style to the interior design. The shelf and the top area are made of wood supported on a solid metal frame. The whole construction is stable, solid and looks very attractive.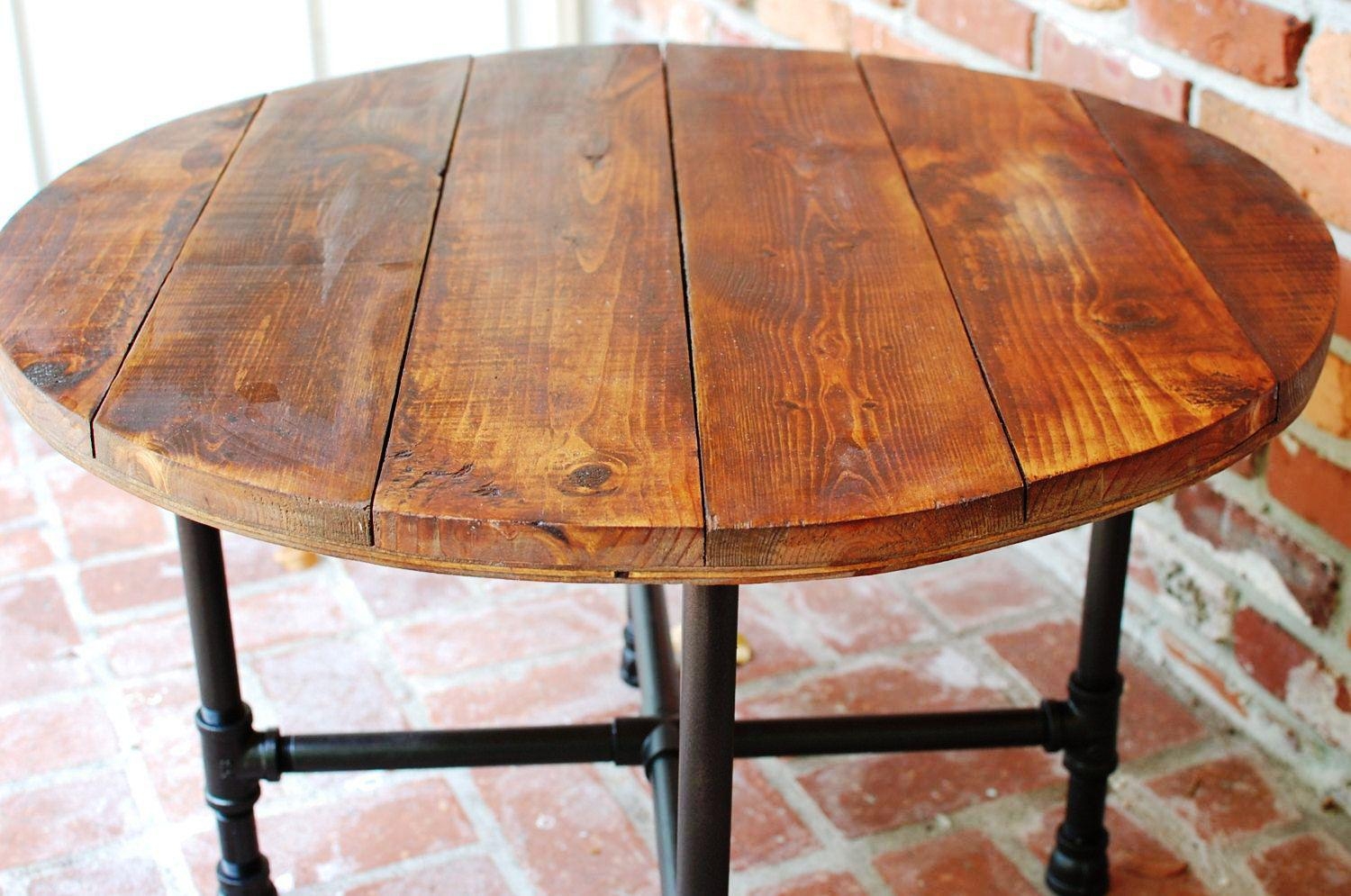 The top of this round industrial coffee table is made of oak wood, impregnated with oil and has a round shape, arranged from wide boards. It is based on metal pipes finished in a dark color, powdered with varnish.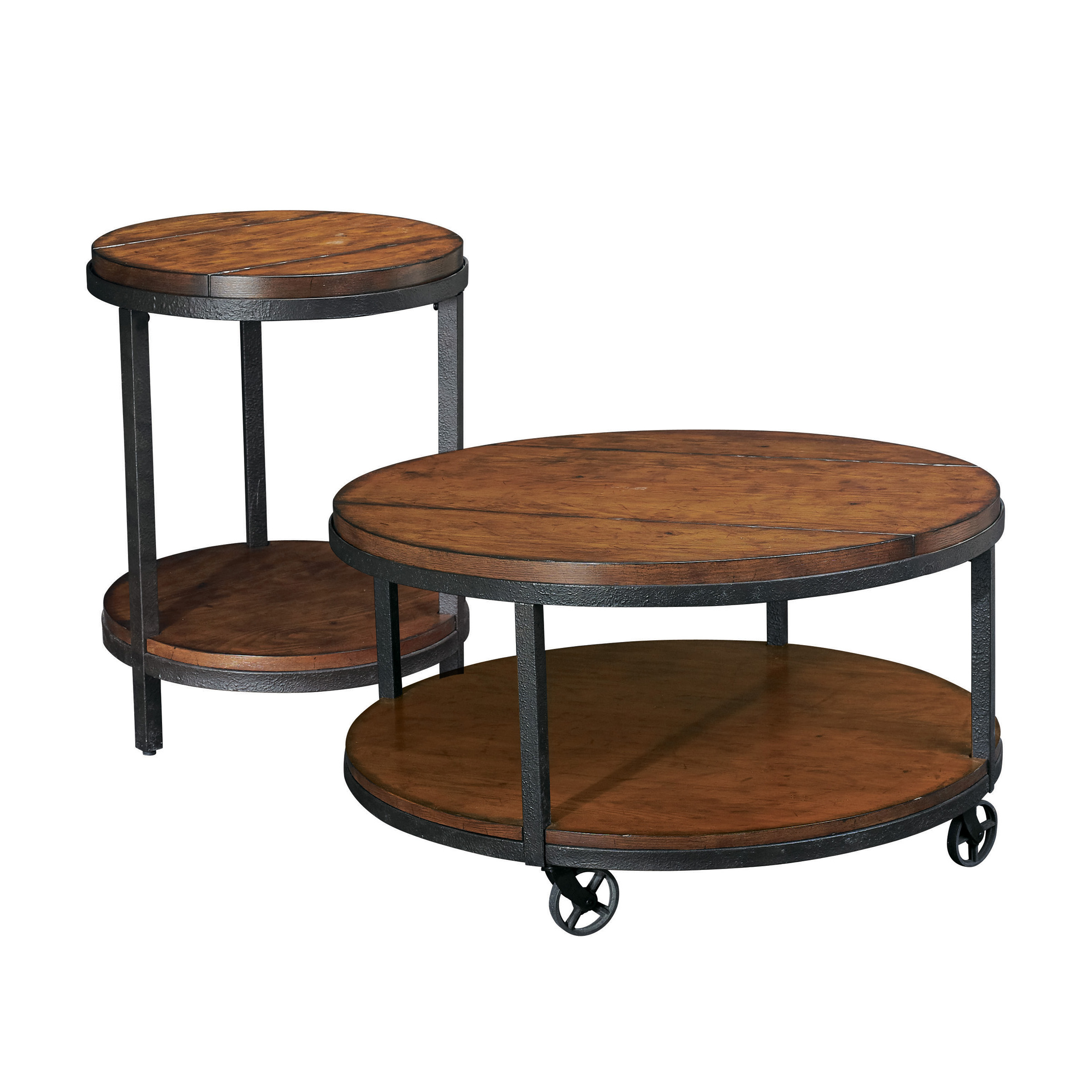 Stark coffee tables in the industrial style. Their sturdy frames are of black-finished iron. A taller but narrower table has 3 straight legs while a lesser but wider one - 4 wheels. Each table has a round top and a lower shelf of wood in brown hues.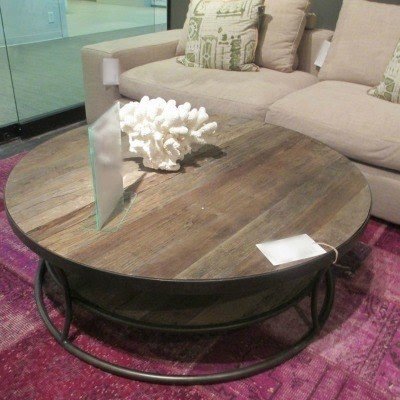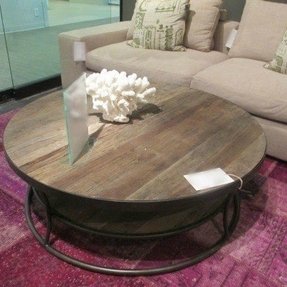 A fashionable addition for contemporary living rooms that opt for a bit of vintage accents. The coffee table is characterized by a sturdy wood top and matching bottom shelf, all embedded in a tubular iron frame.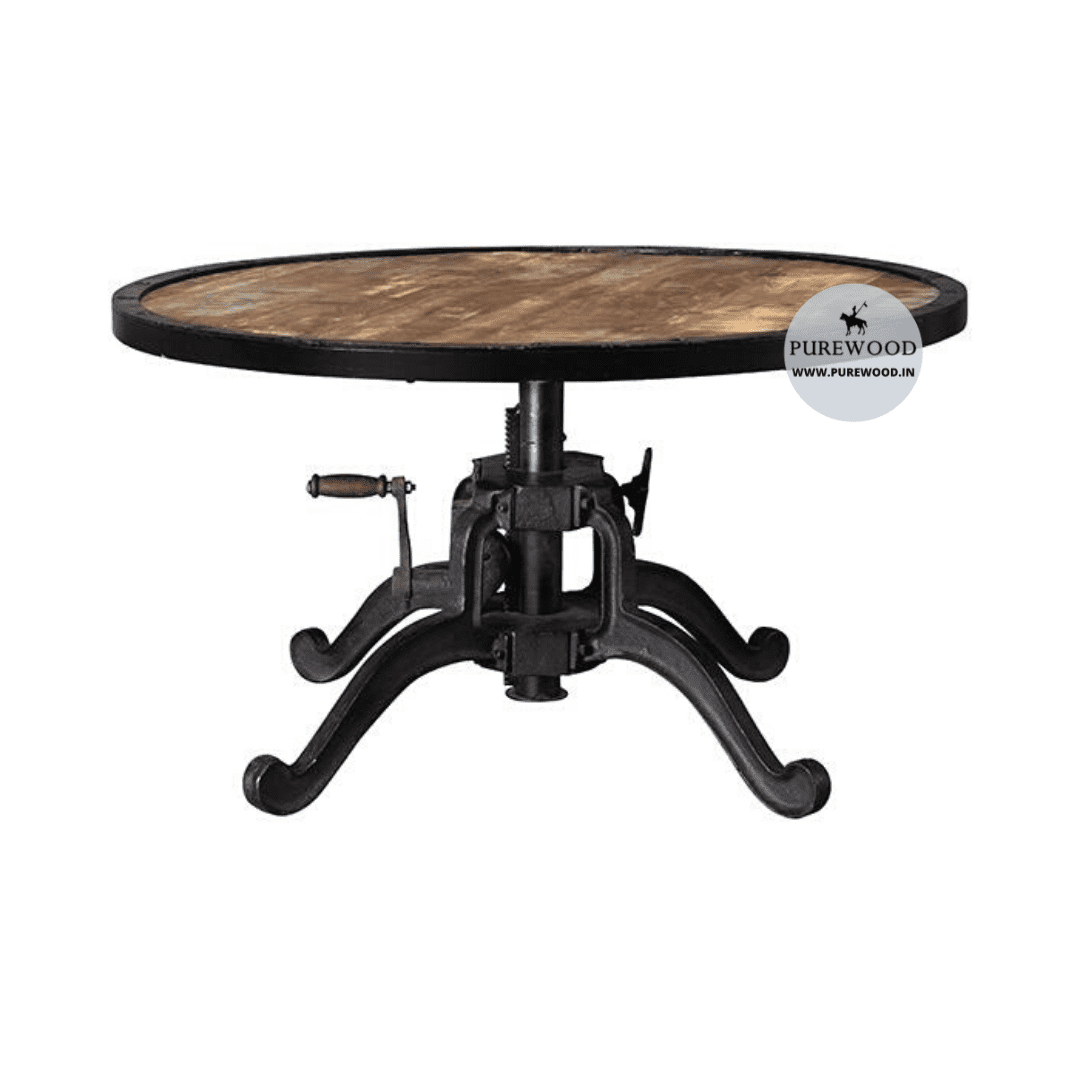 Industrial Adjustable-Height Coffee Table - Coffee Tables - Living Room - Furniture | 19"-23"H x 36" diameter $499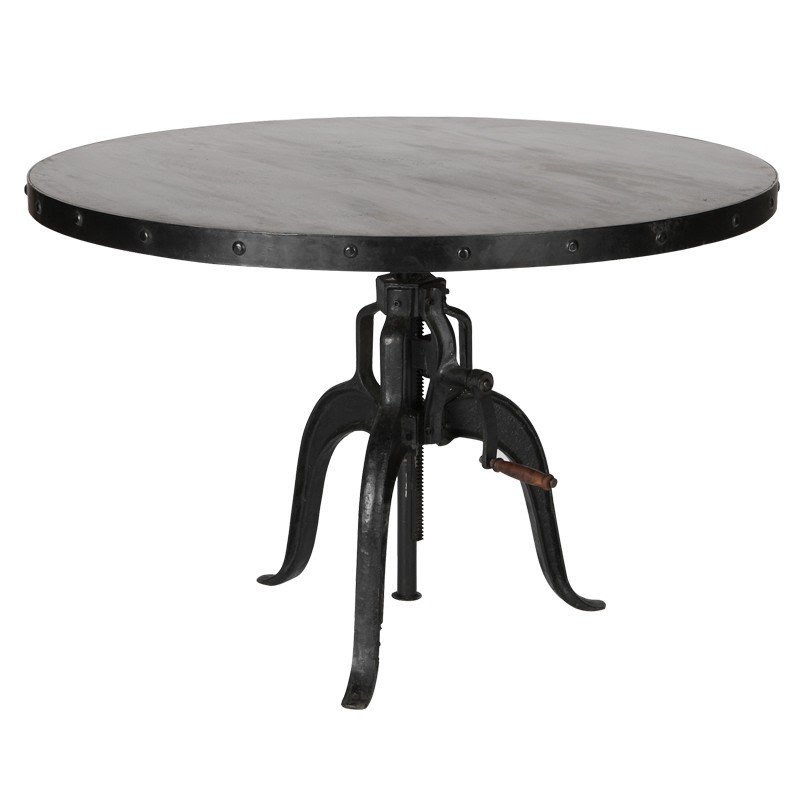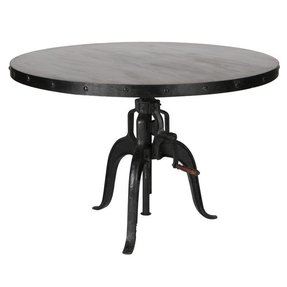 The beautiful design of this high round table bar is a perfect combination of industrial design and beautiful workmanship. The whole is very impressive introducing a unique atmosphere to the decor.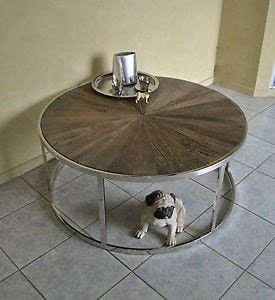 about ROUND RUSTIC INDUSTRIAL RECYCLED ELM STAINLESS STEEL BASE COFFEE ...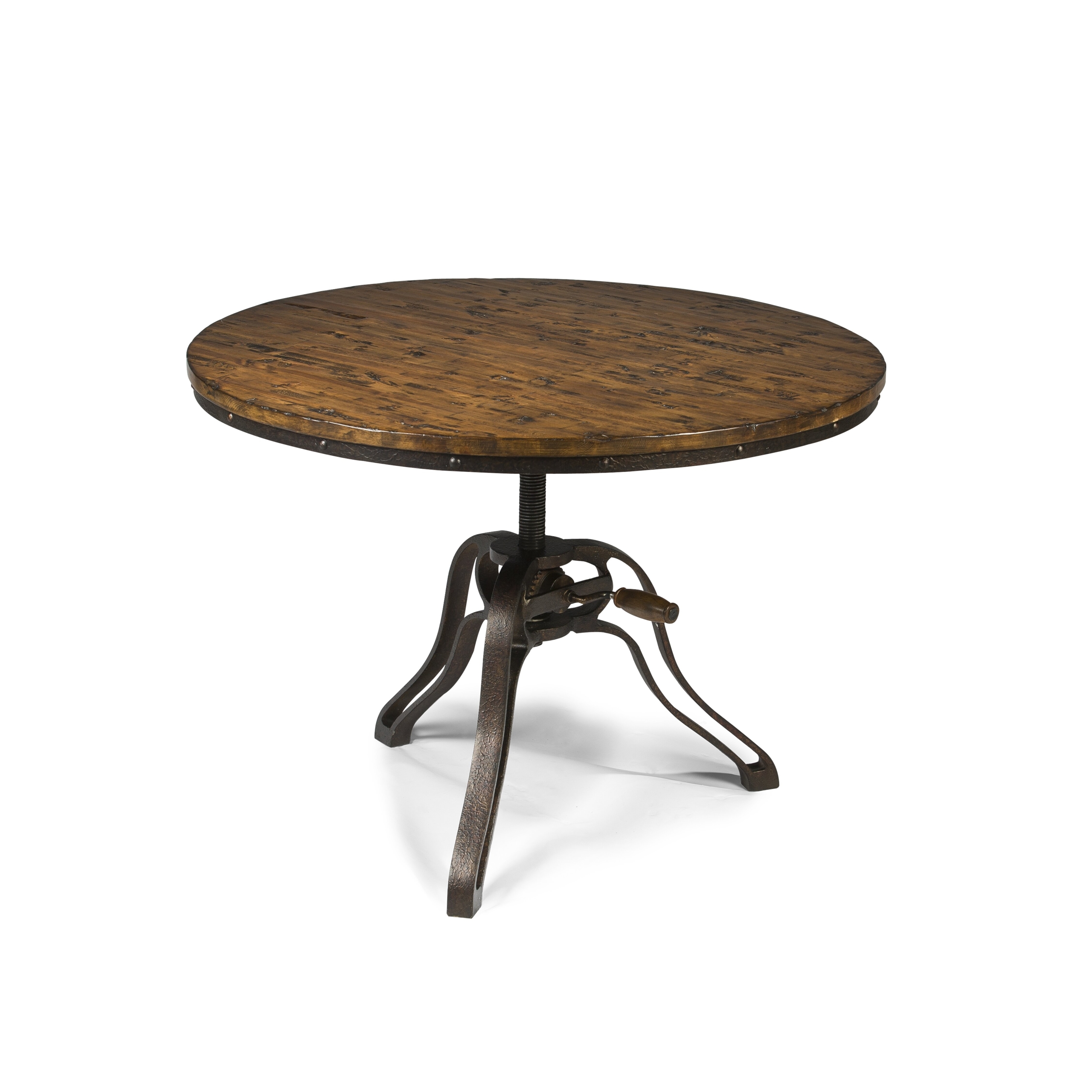 This cocktail table has got a round top, natural aged pine finish, casual design and adjustable height, for enhanced comfort of use. It fits perfectly to any style and décor in your living room.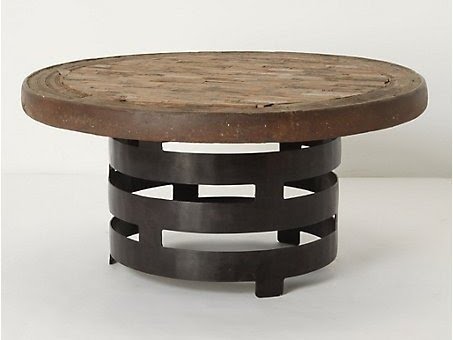 Rotunda Coffee... A good way to introduce industrial modern touches to your space is in just a piece of furniture or... more » $598.00 | Anthropologie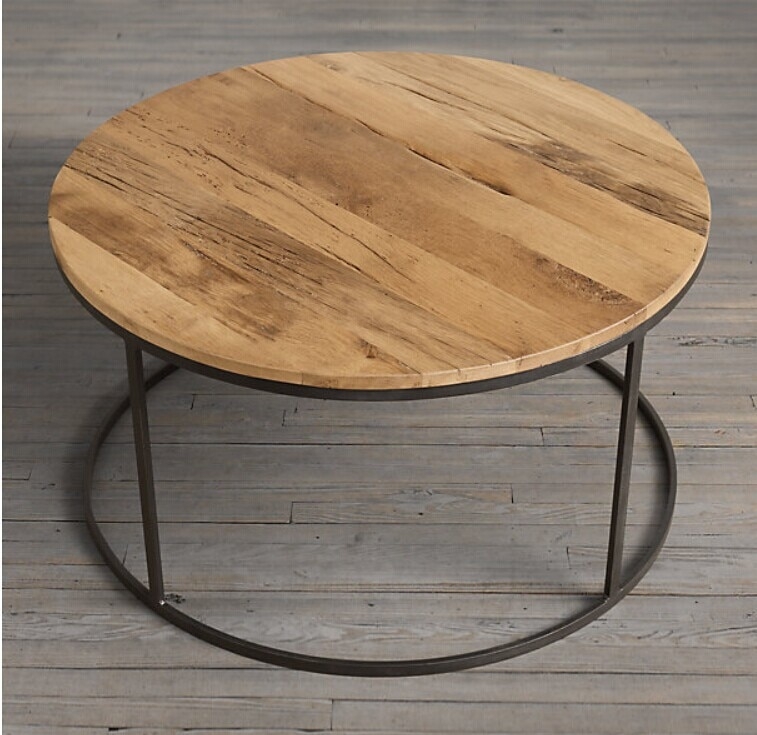 industrial round coffee table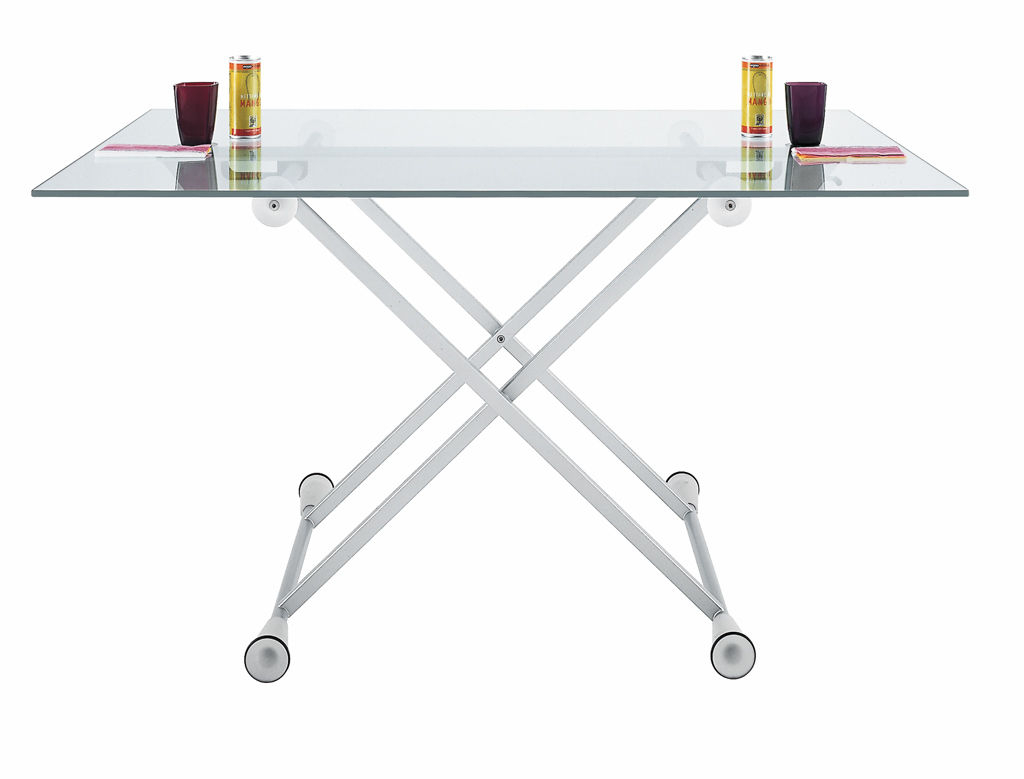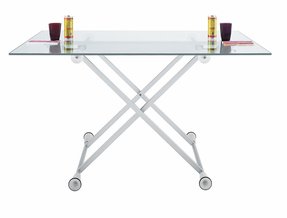 Emanating with vintage charm and durable design, this large cocktail table is perfect for a quality time with your family. It rests on a durable iron frame, supporting a round top made of sturdy hardwood. The table is height adjustable.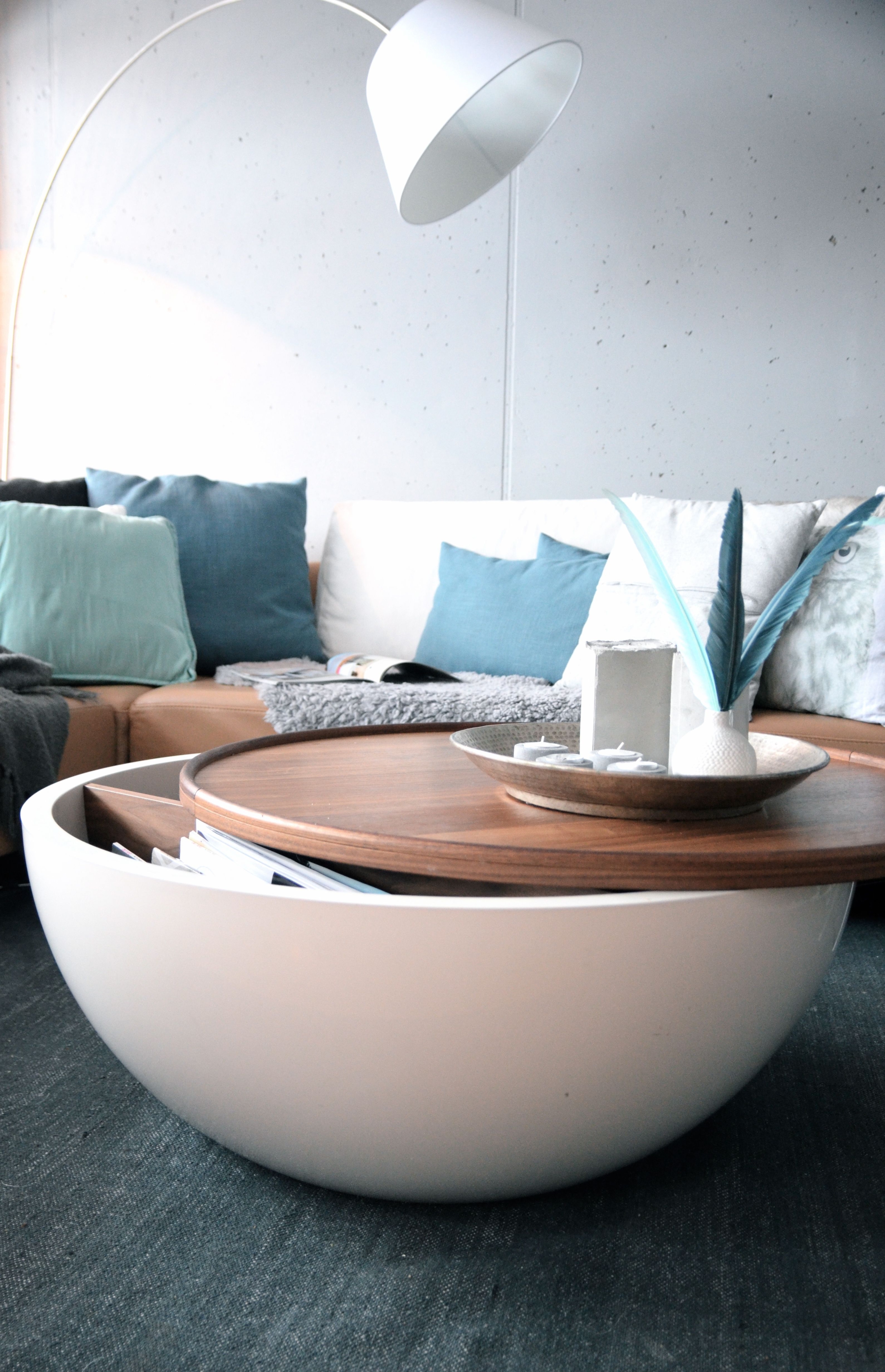 You can now accommodate modern interiors with this fantabulous cocktail table in shape of a large bowl with round lid. The top can be removed from the base to get easy access to the large storage compartment with few partings for storing all kinds of stuff.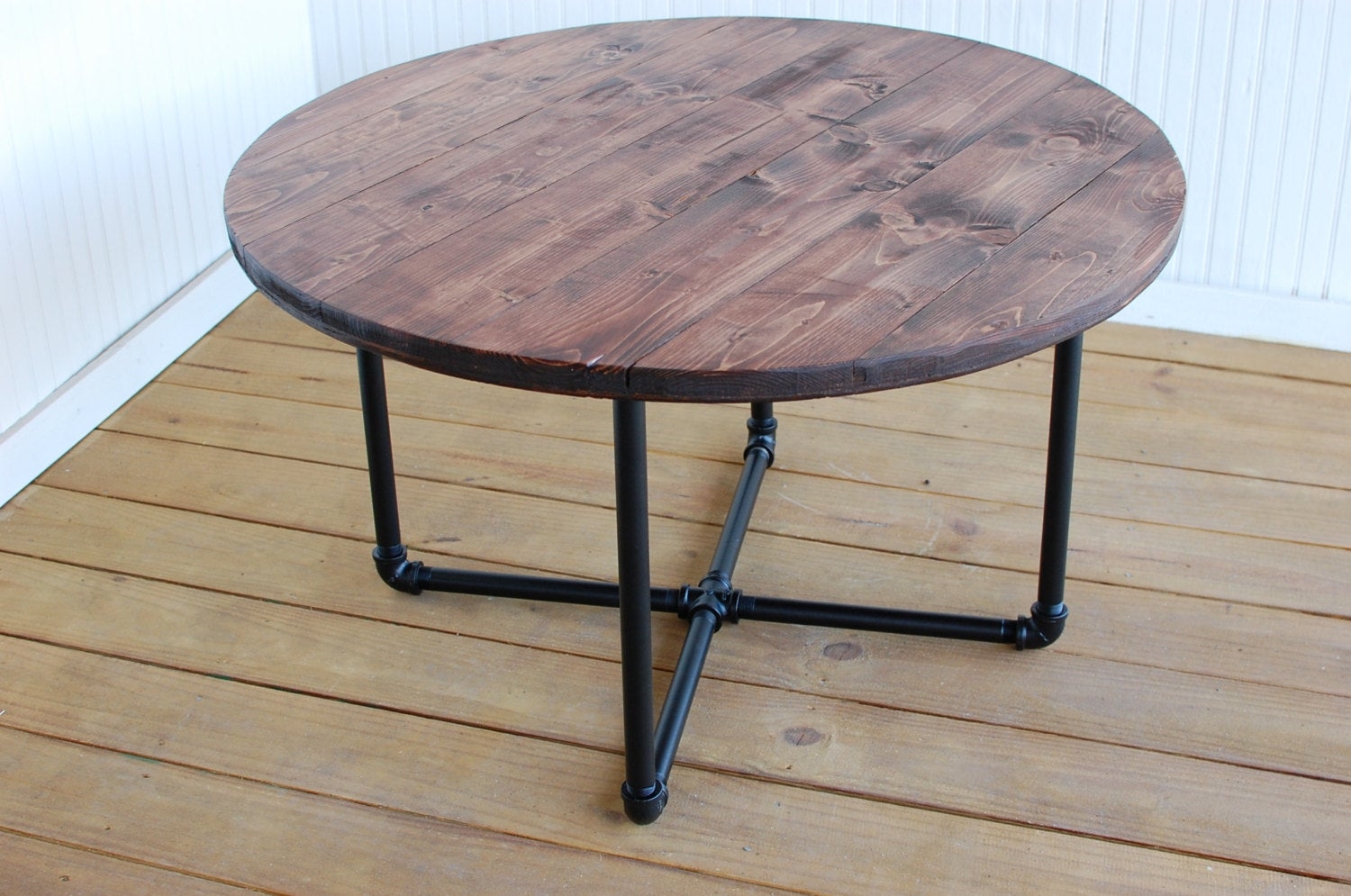 Round Industrial Coffee Table Reclaimed by sumsouthernsunshine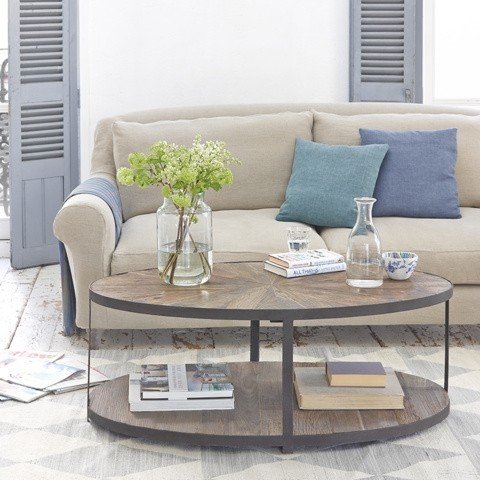 Oval+Coffee+Table+|+Sunshine+|+Loaf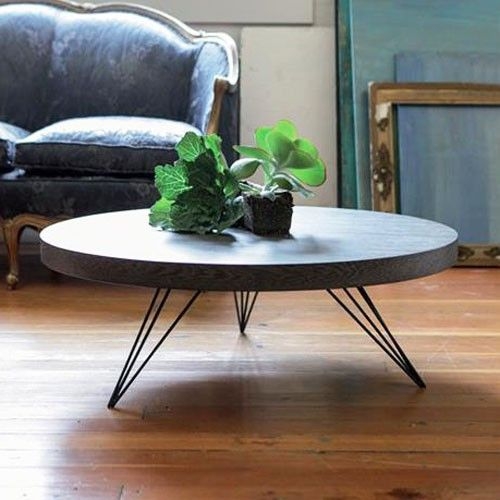 The attractive design of this impressive oval coffee table makes the interior design gaining an unusual style. Indistinctive styling on the steel legs of the table top makes the decor takes on the character.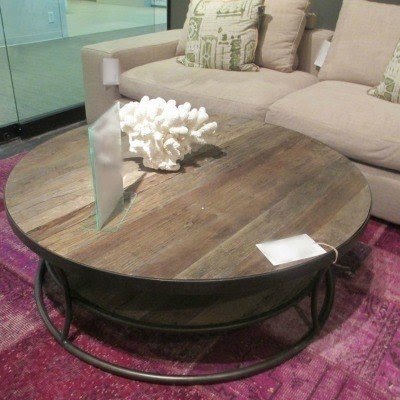 Translating into a Soho industrial decor or the vintage style of a French interior, the Paris Round Occasional Table combines rustic materials with an urban edge.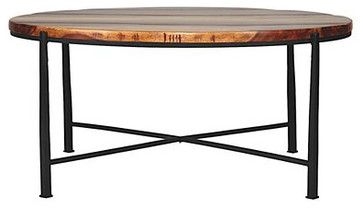 Copy Cat Chic: Suki Coffee Table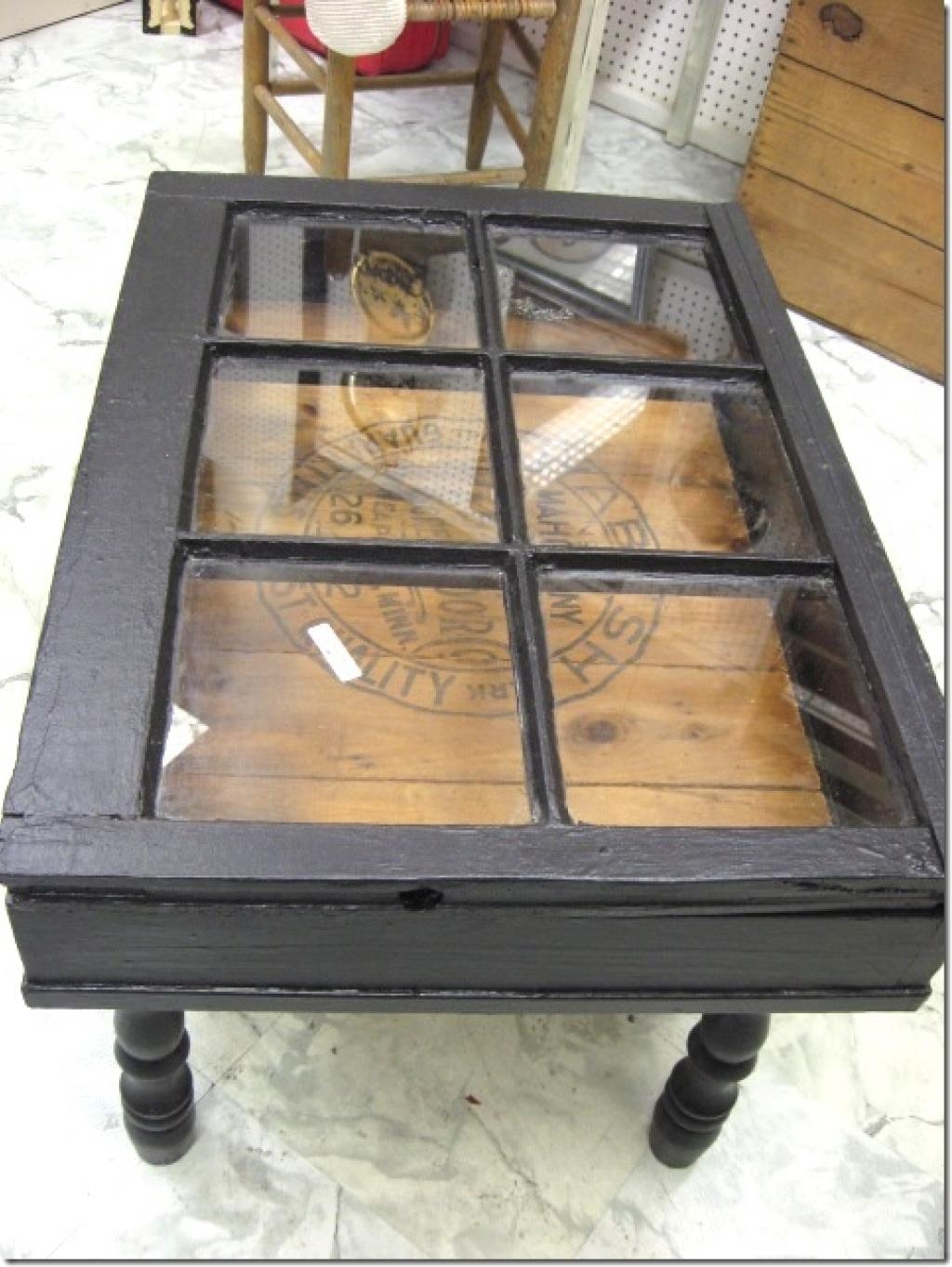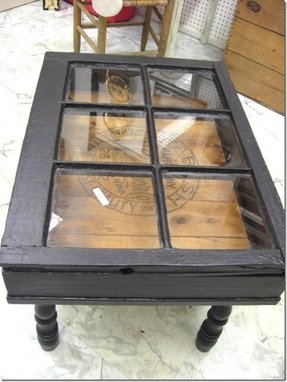 This coffee table combines two important functional - the aesthetic one with its charming looks and the functional one, since it sports the storage option underneath. It offers the traditional metal drawer pulls and top hinges.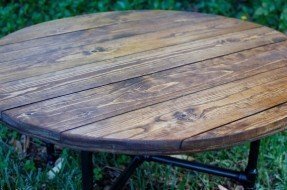 Round Industrial Coffee Table Reclaimed by sumsouthernsunshine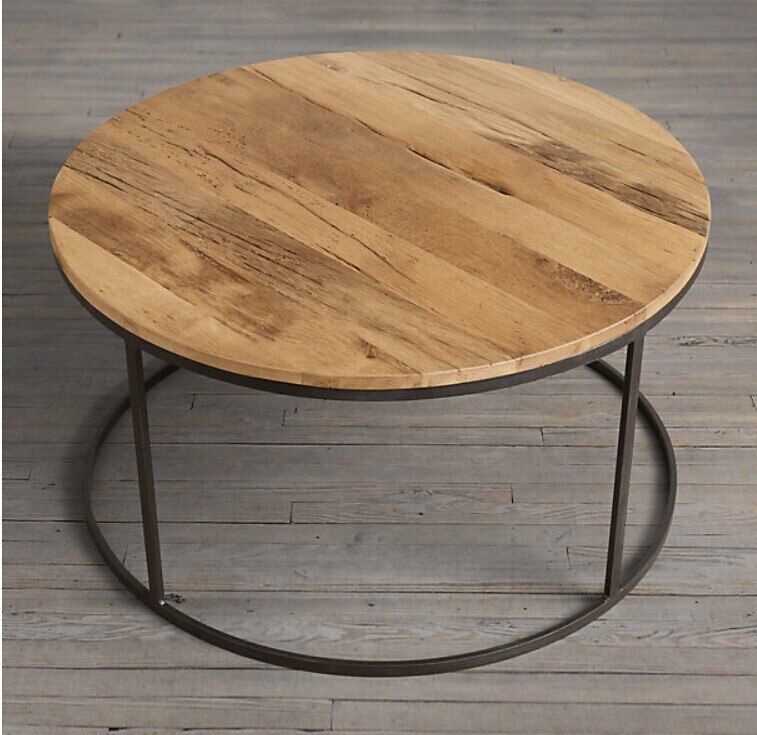 A fashionable coffee table that emanates with rustic accents and timeless elegance. It features a flat ring base designed of premium metal, holding a round top hand crafted of solid oak timbers in a natural finish.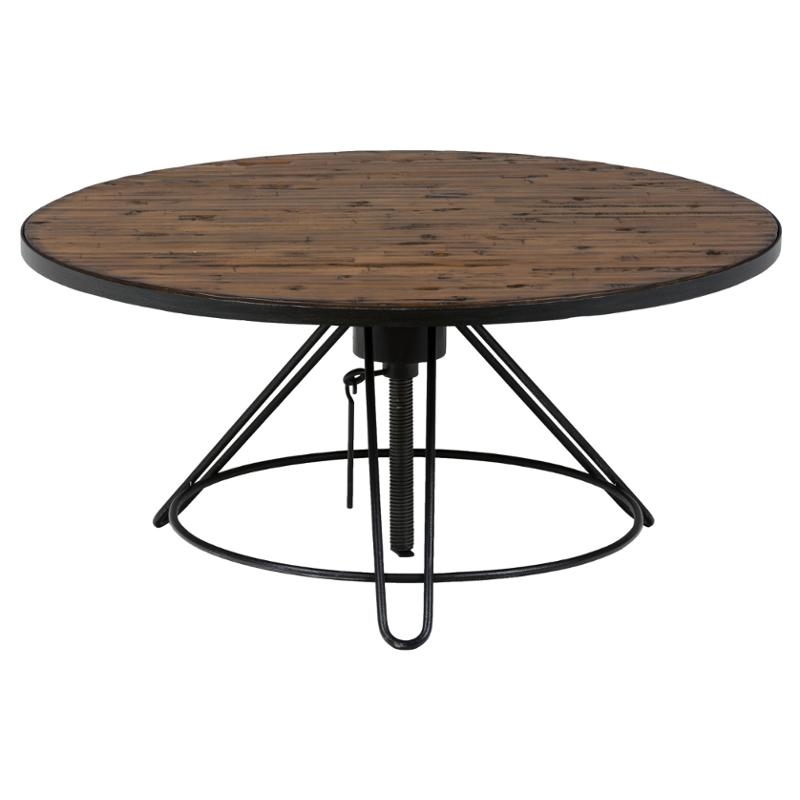 Round coffee table in industrial style. Metal base has height adjustment function. Top is made of wood. Application in all kinds of interiors according to taste and need. Classic form and functional design.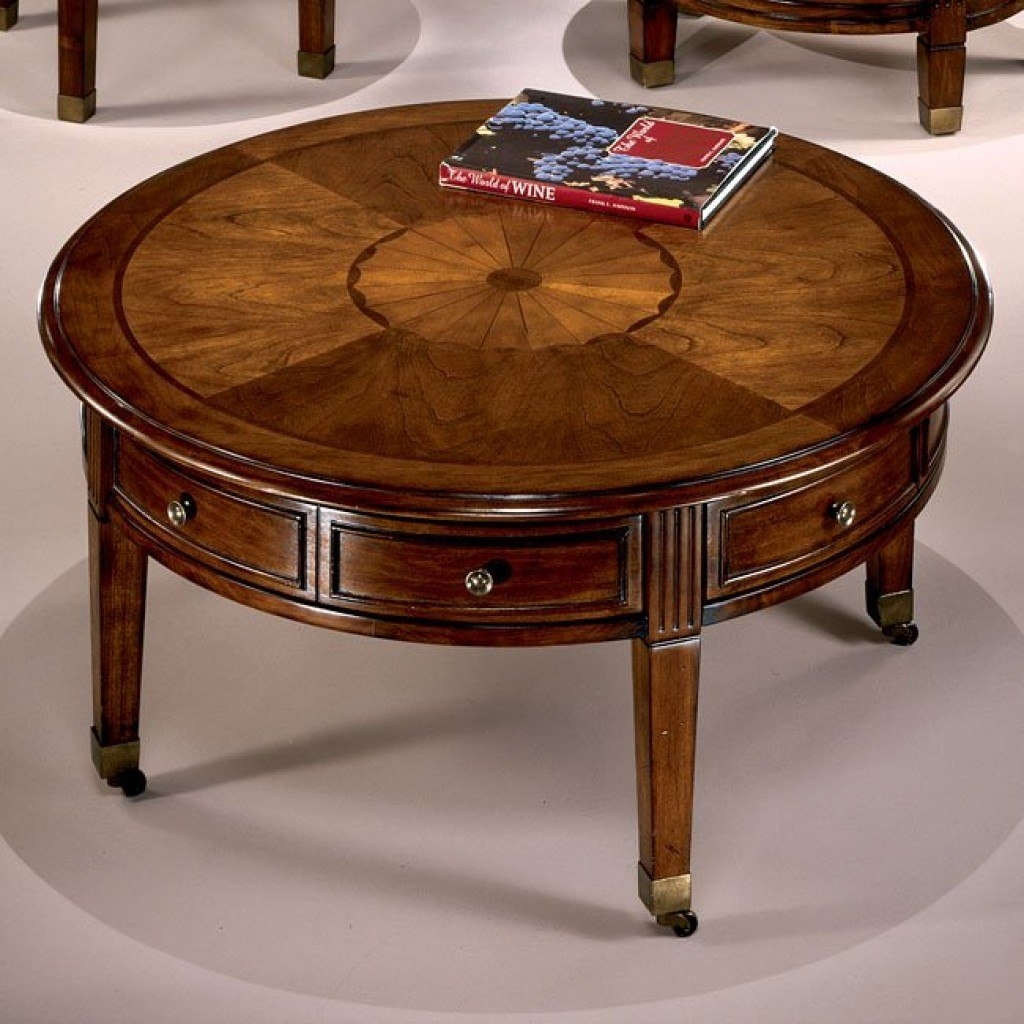 Combine industrial edge with shabby chic. Mobility of this white storage coffee table - thanks to wheels - is its another asset. The round base is just ideal to store books. Inspired by French findings!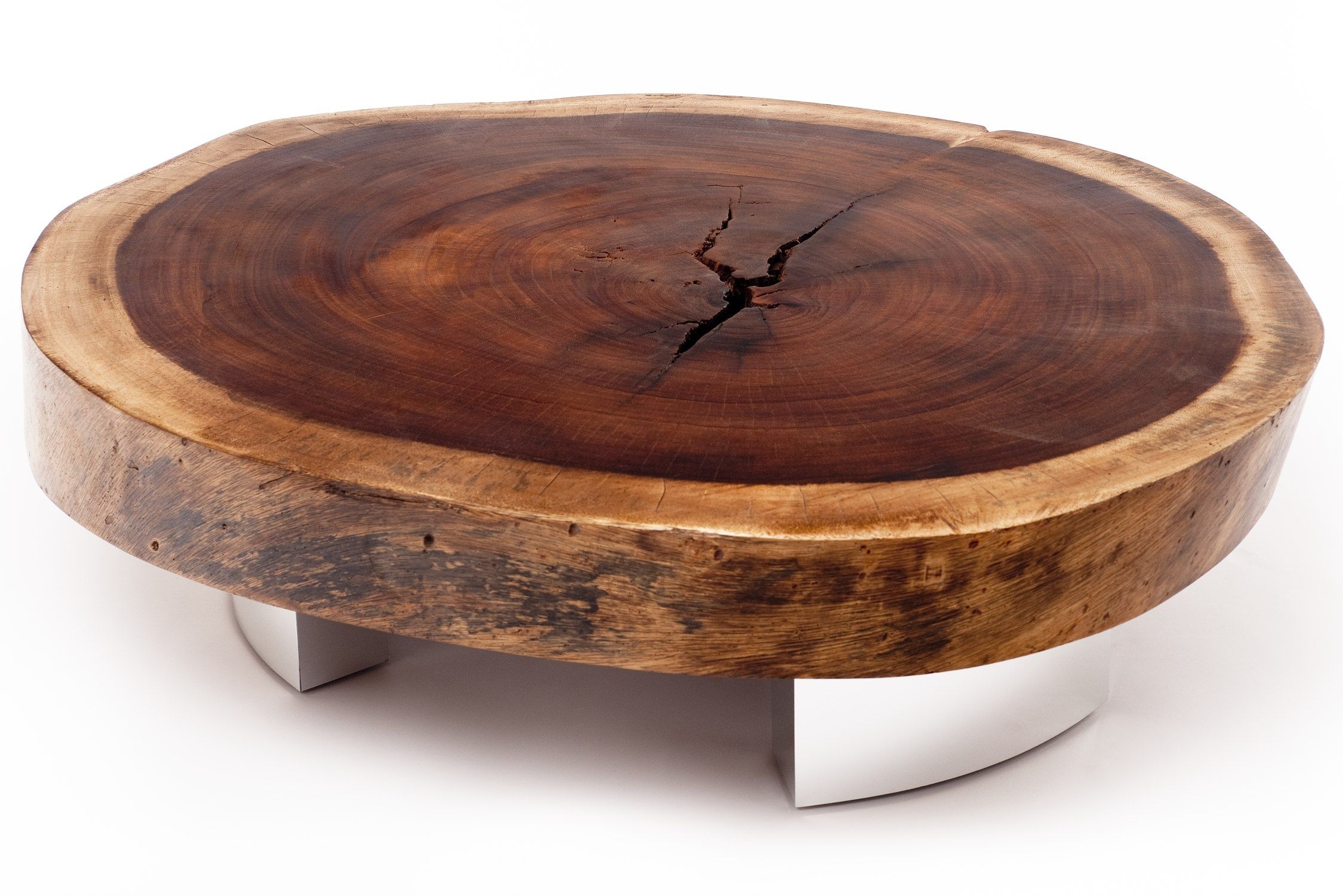 This round coffee table is made of a crosscut of reclaimed Tamburiuva wood on natural finish, with its contemporary metal base made of hand polished aluminum. WOW!!!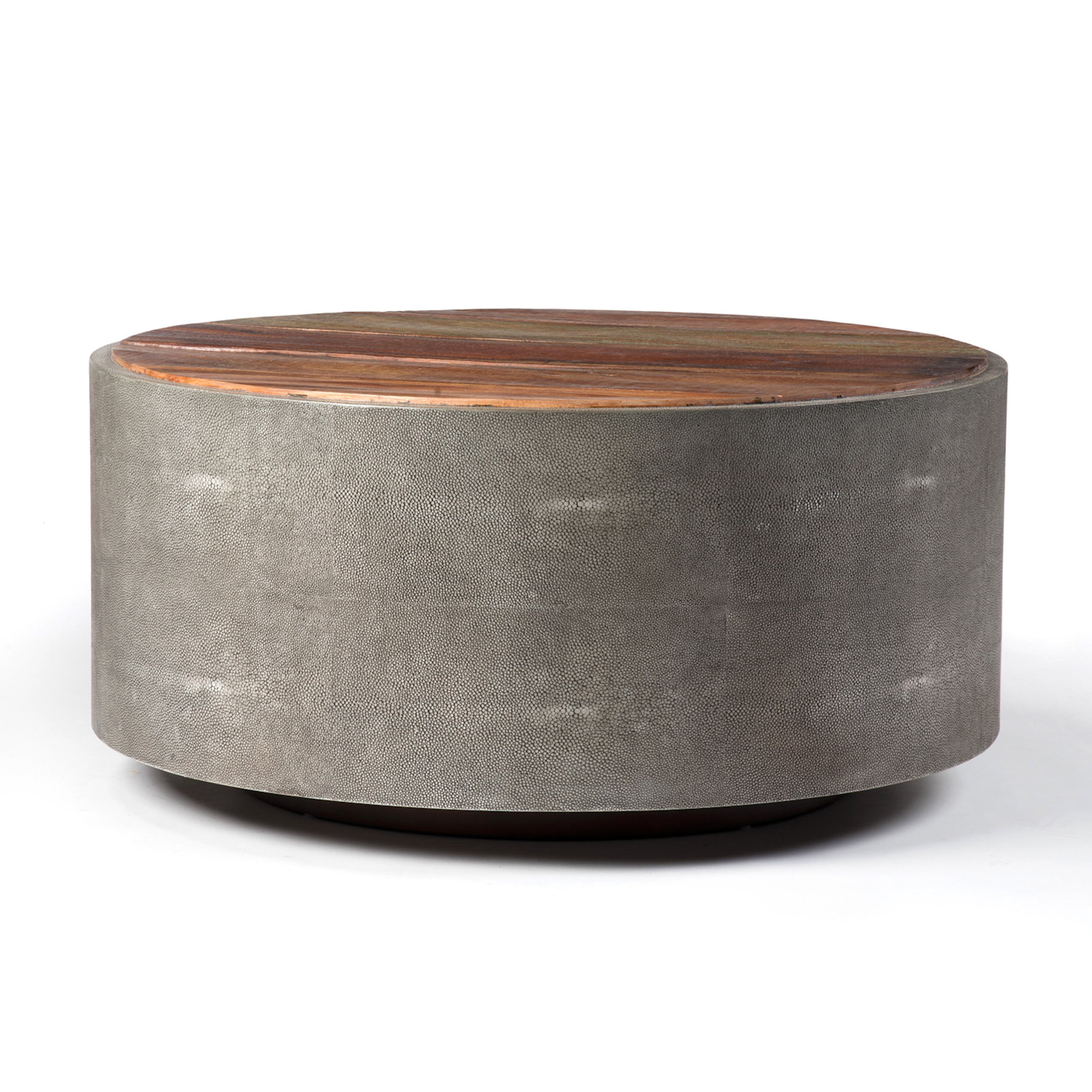 The contemporary round coffee table for the living room. The countertop was made of the wonderfully colouring plank of walnut. The backs, covered with the fake leather in grey color, looks like made of concrete.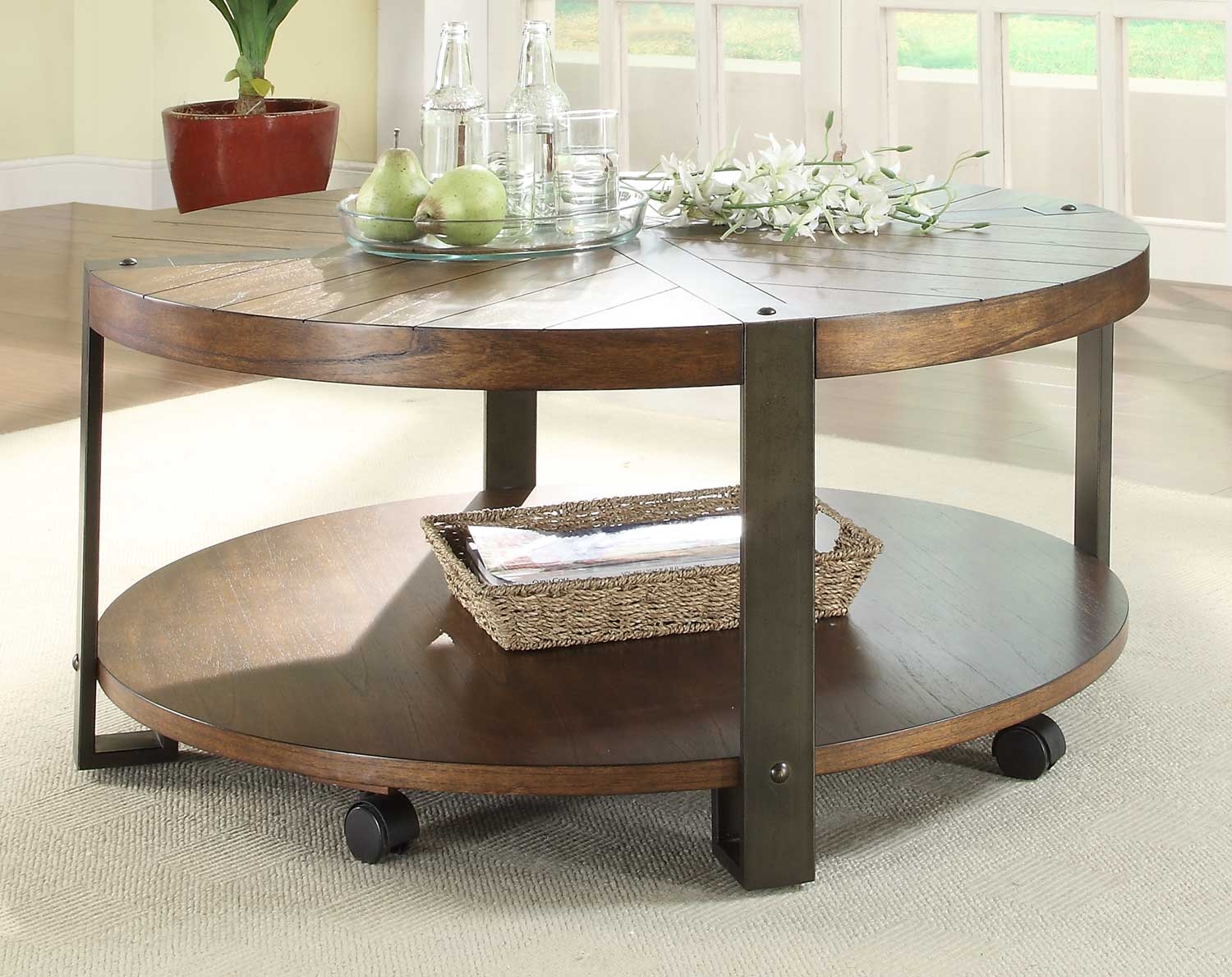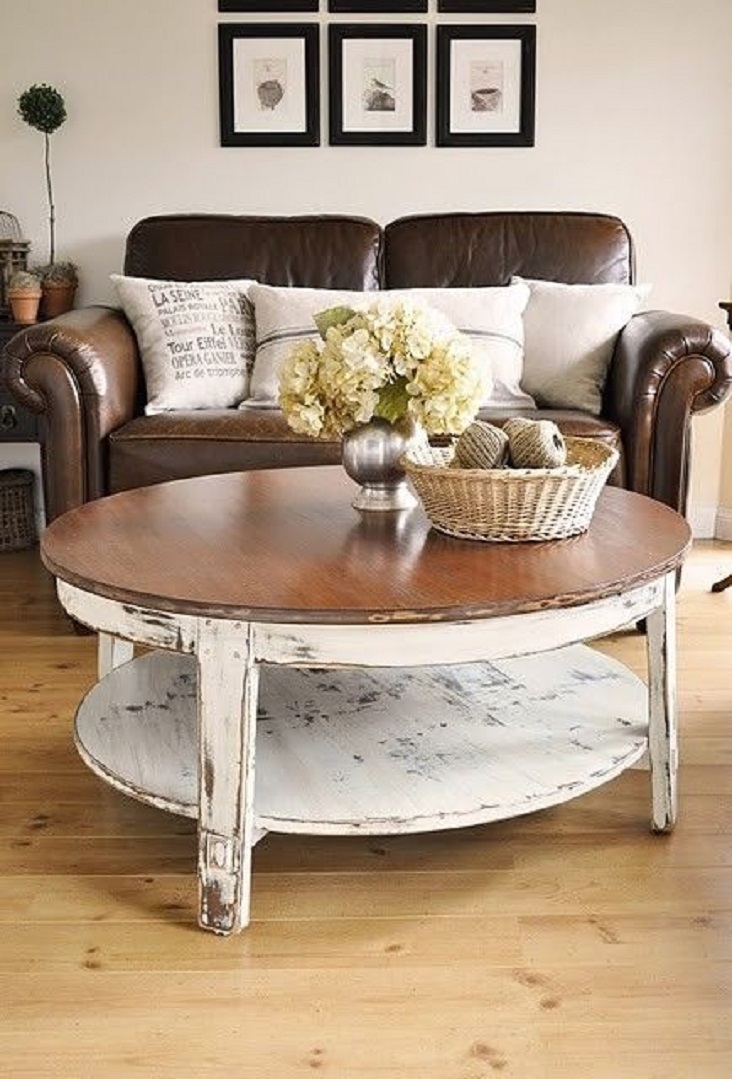 painted coffee table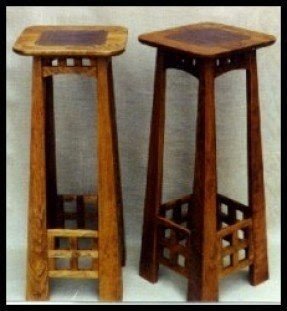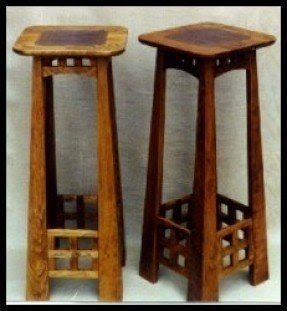 This is a true piece representing the authentic craftsmanship with its mission style design. These dining chairs will work like a charm in even the smallest settings thanks to their little frames that are still immensely comfortable.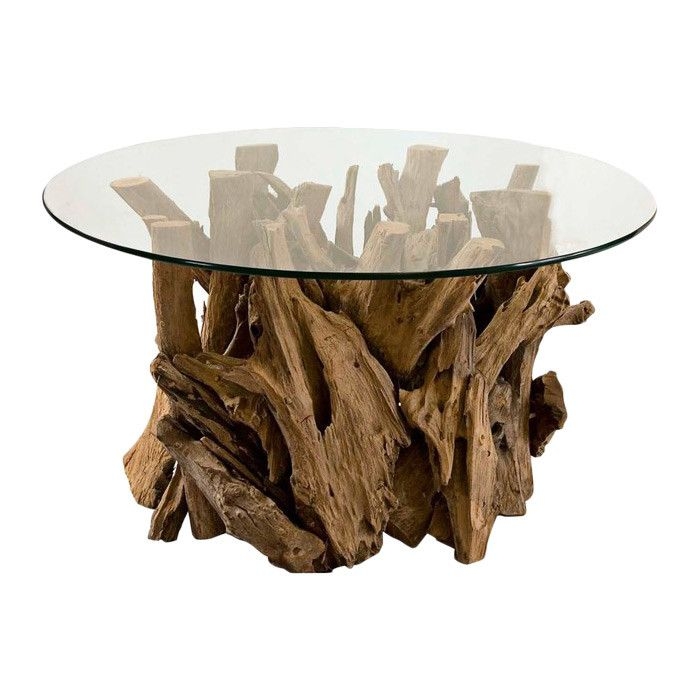 Driftwood Coffee Table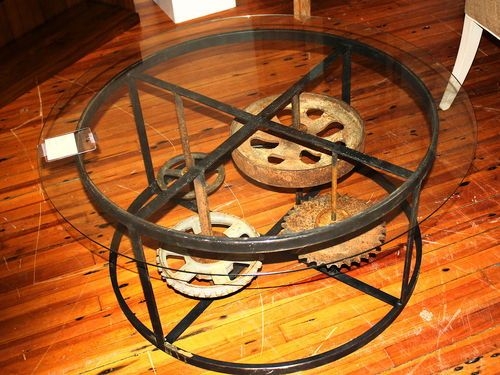 Round Industrial Coffee Table with Glass Top | eBay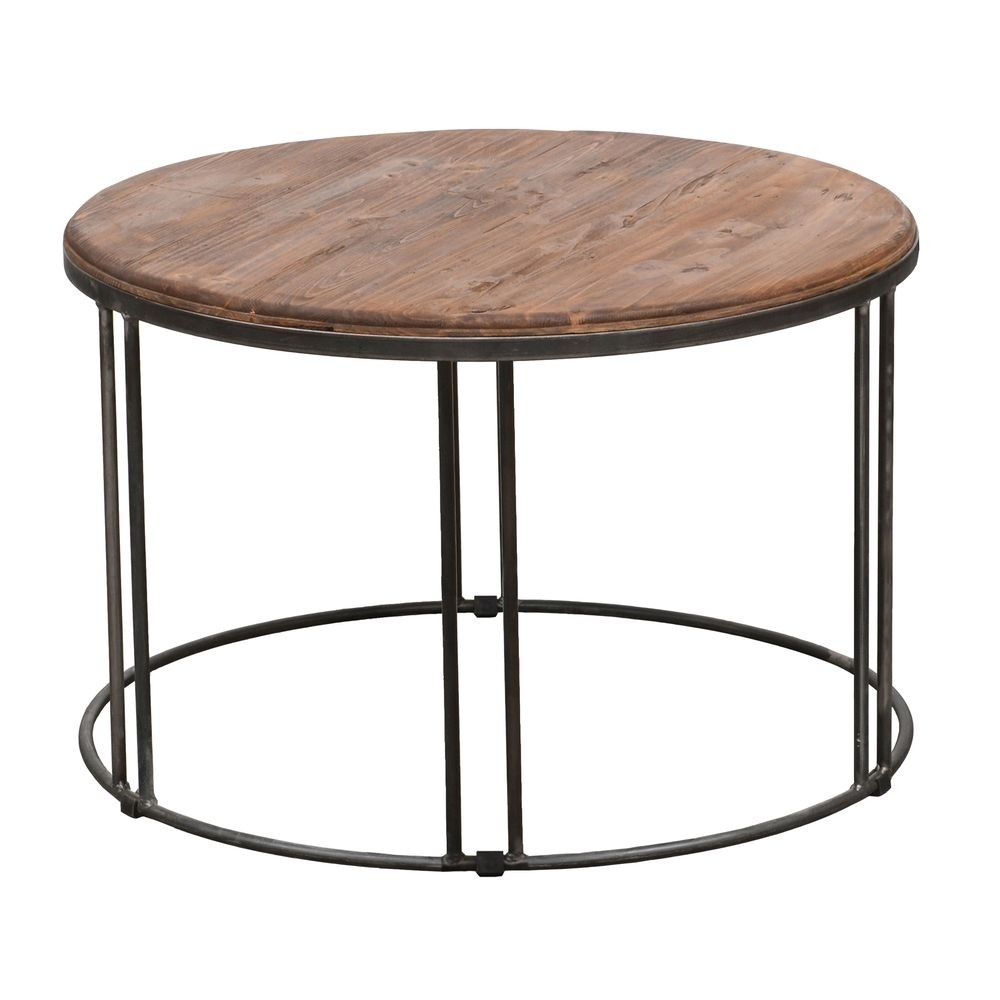 This is a high quality coffee table designed for use in the living or guest room. It stands on a high quality iron frame and its top is made of reclaimed pine wood. It is a stylish product that makes the living room more classic-styled.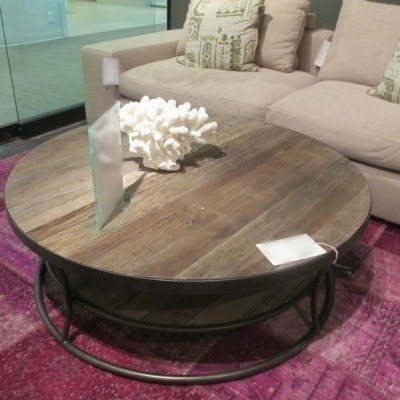 Wood Tables Embedded with Glass Rivers by Greg Klassen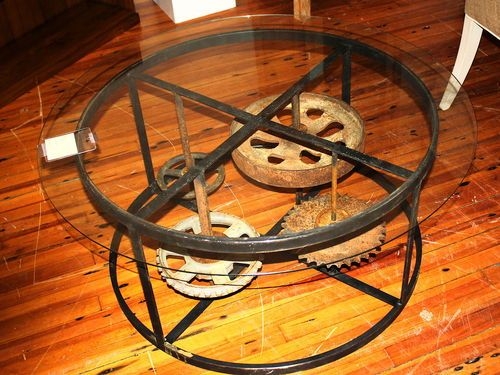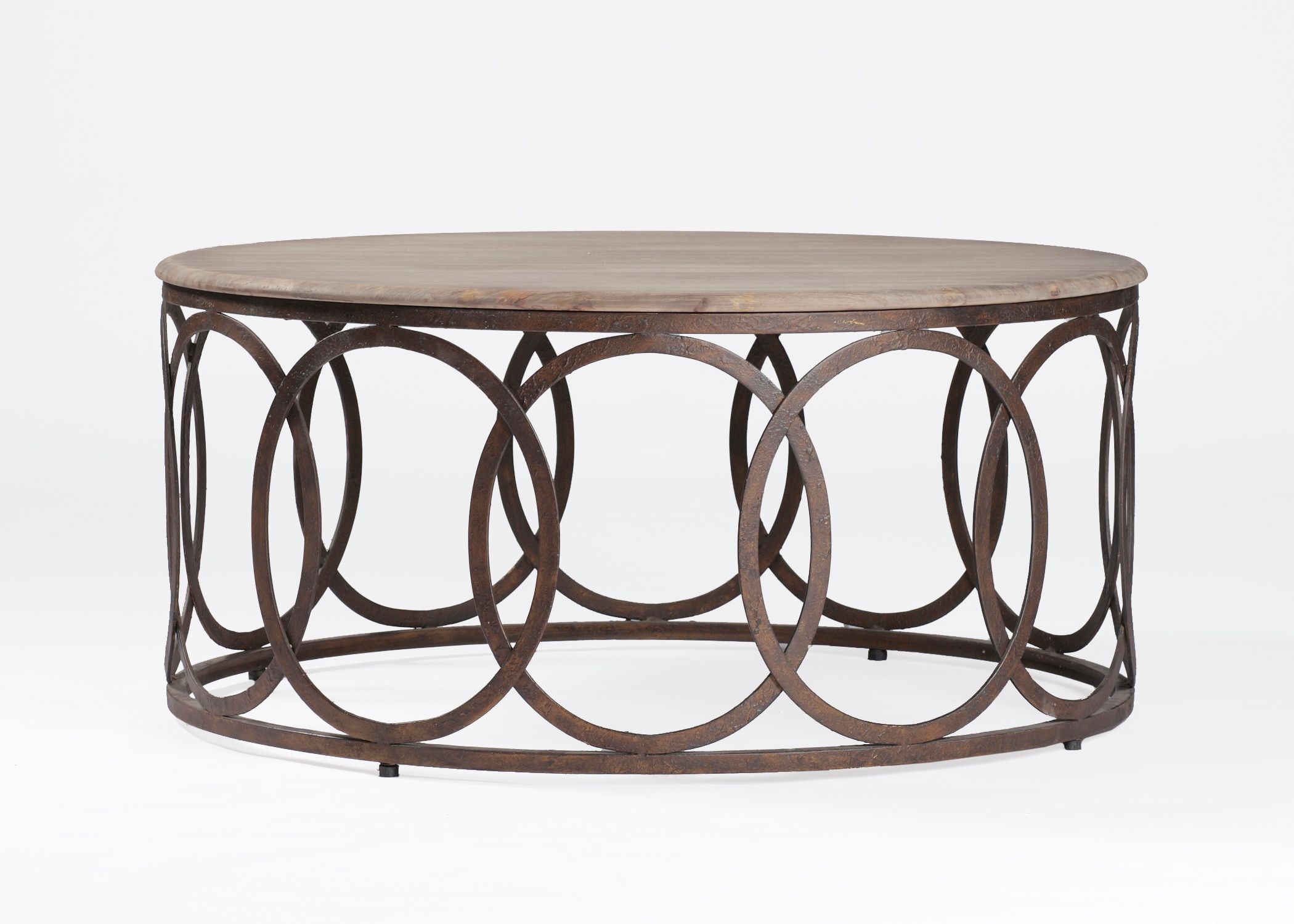 A table like this one shows a classic mix of simplistic design and dramatic appearance. It has a round top crafted of aged oak veneers, and an iron frame with interlocking circles and an earthy russet finish.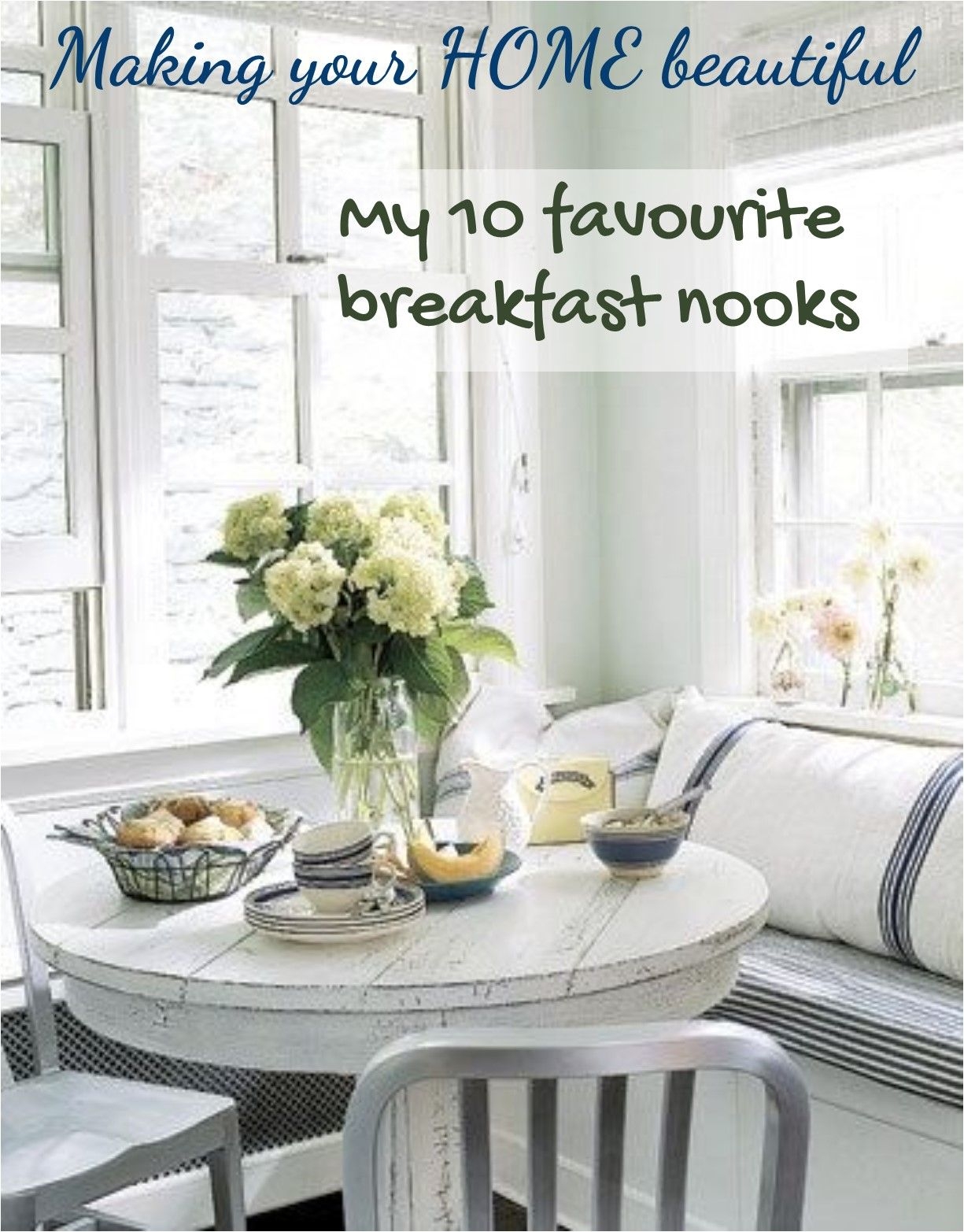 Banquette. I like the seating and the table. Would like to make a coffee table similar to that.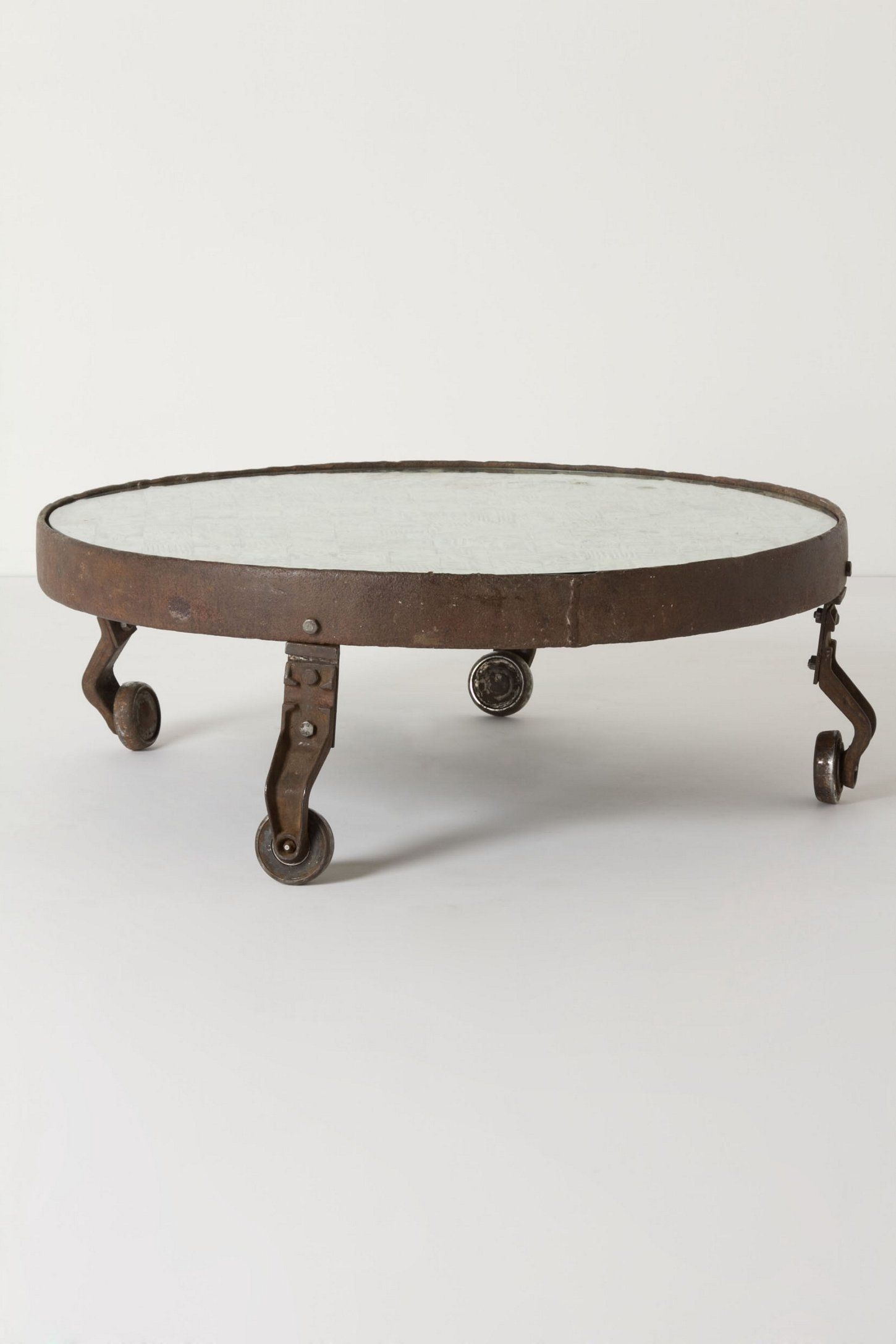 Blocktop Coffee Table #anthropologie In search of a round coffee table. Love this but the dimensions are too wide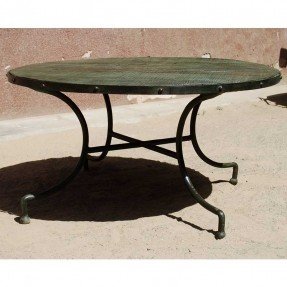 Industrial Rustic Round Reclaimed Wood Iron Coffee Table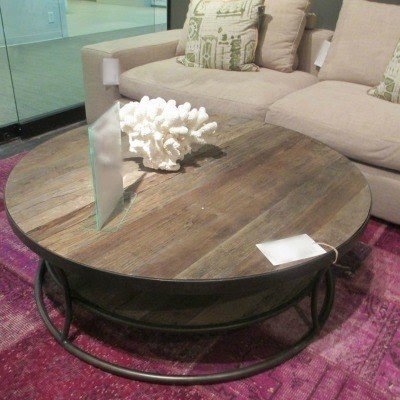 The 50 Most Beautiful Coffee Tables Ever via Brit + Co.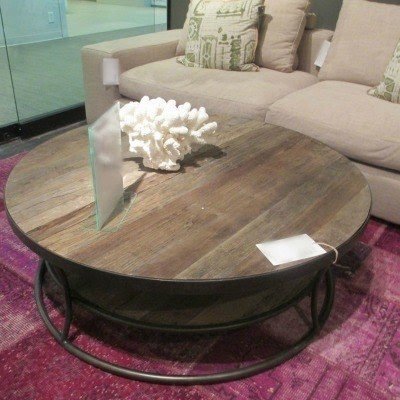 Spectrum Round Wood & Steel Coffee Table (Coffee table)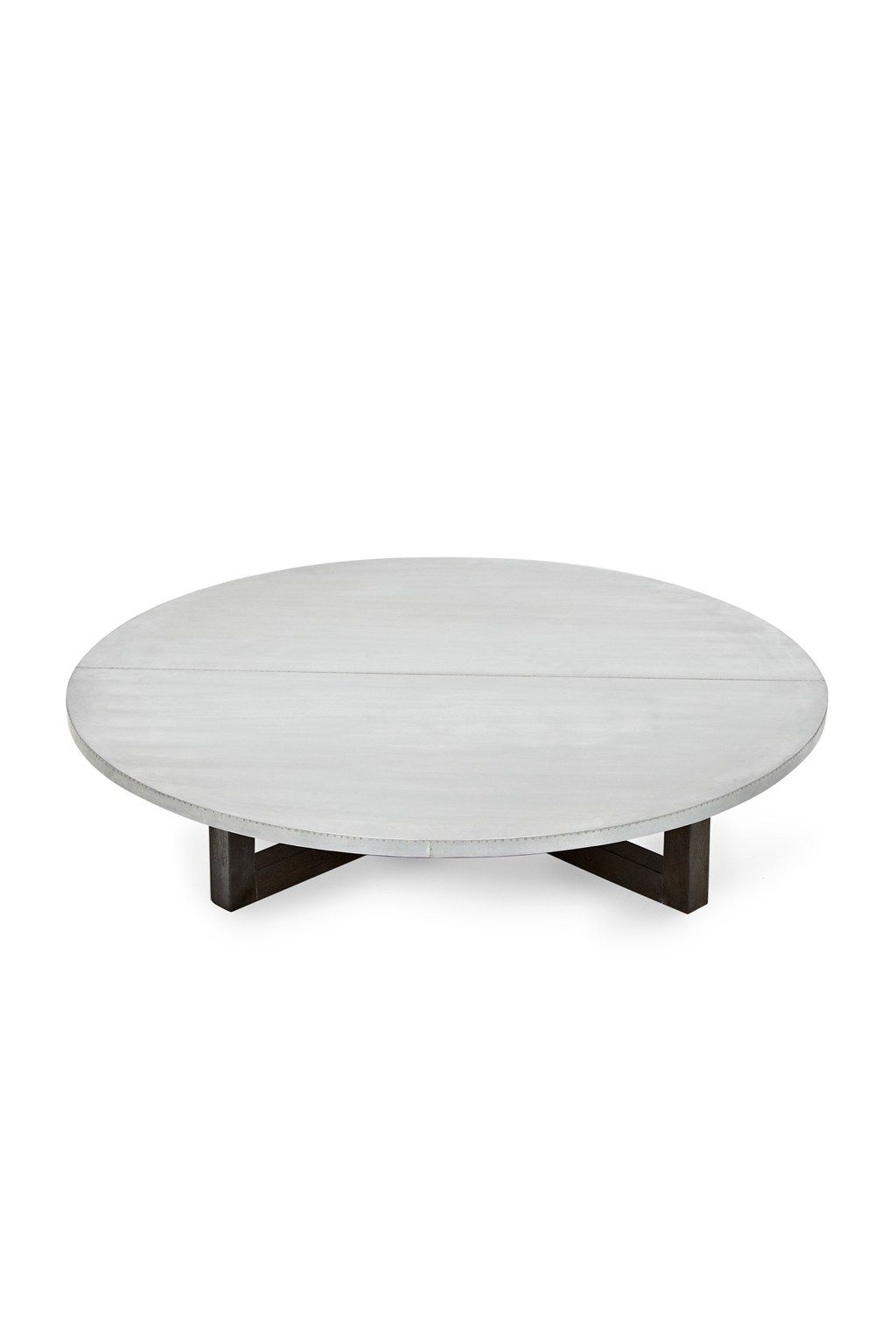 Zinc Round Coffee Table