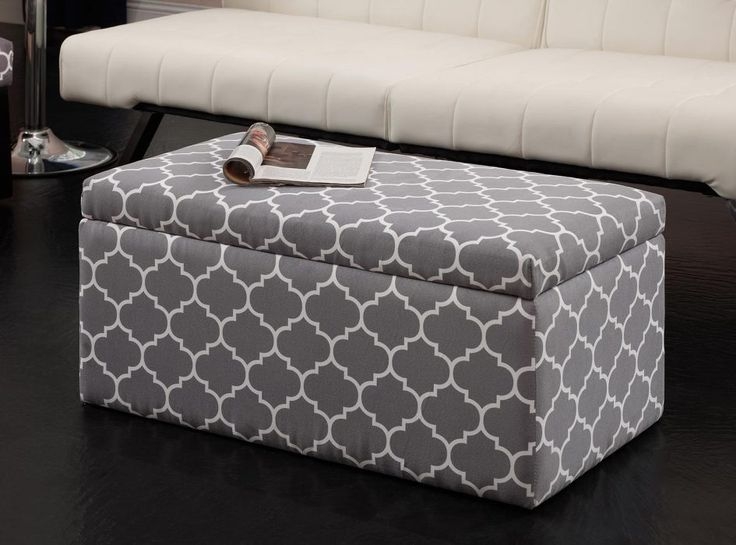 Emily rectangular storage ottoman gray trellis
This grey piece of house equipment is a high quality product can play the role of a table, bench or an ottoman. It has also got a storage compartment under the seat so it allows for storage of different items.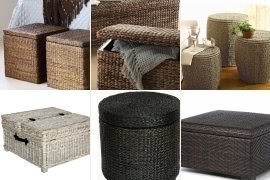 A pair of fashionable ottomans, perfect for living rooms, berooms, guest rooms and offices. Entirely made of beautifully-woven wicker in a mocha finish, each ottoman includes a movable lid that reveals a hidden storage compartment.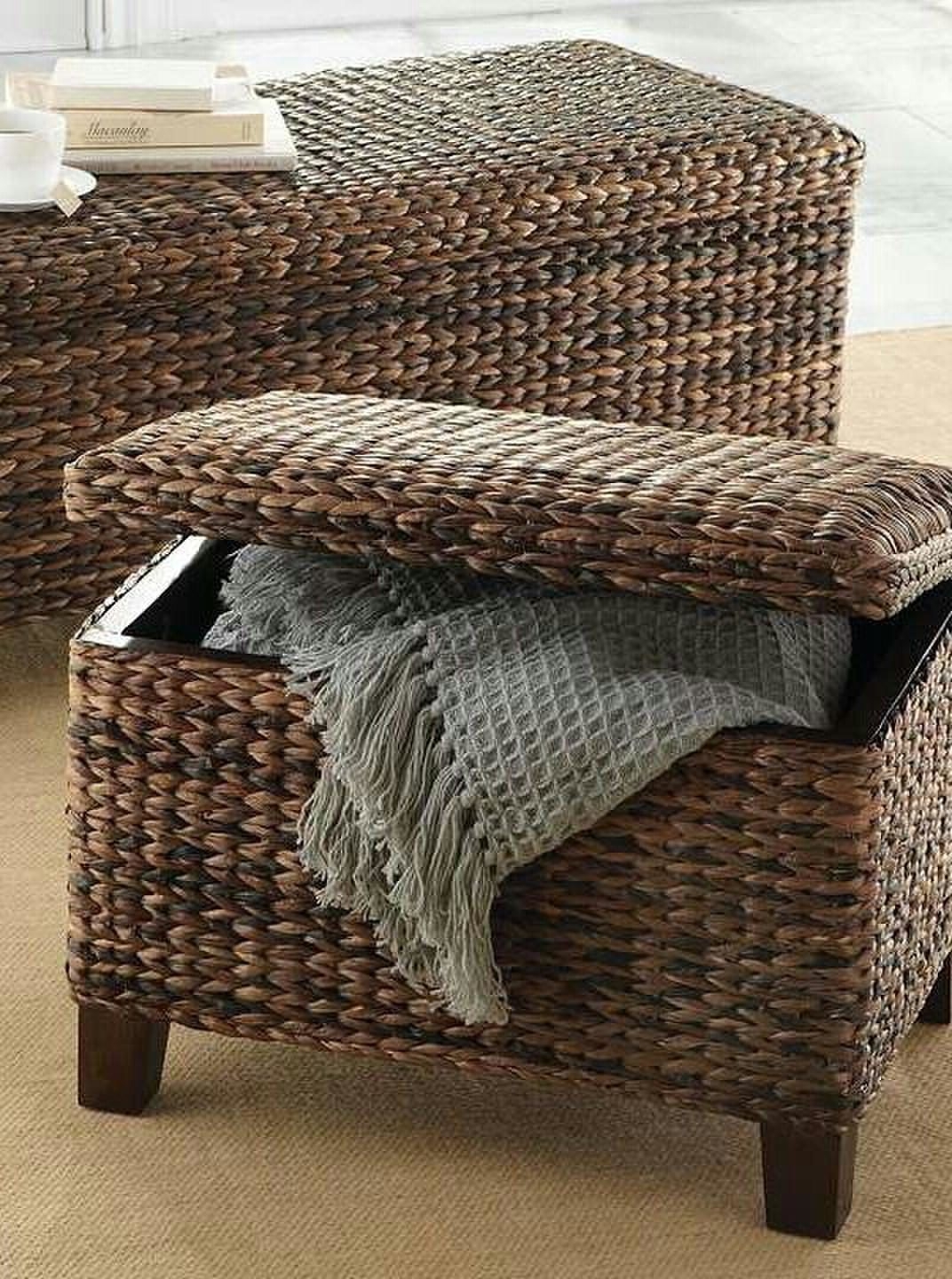 This beautifully woven basket with ottoman is a beautiful piece of furniture. It can be a nice stool, footrest or place for trinkets. Ideally executed is stable and durable. Beautifully presented in every decor.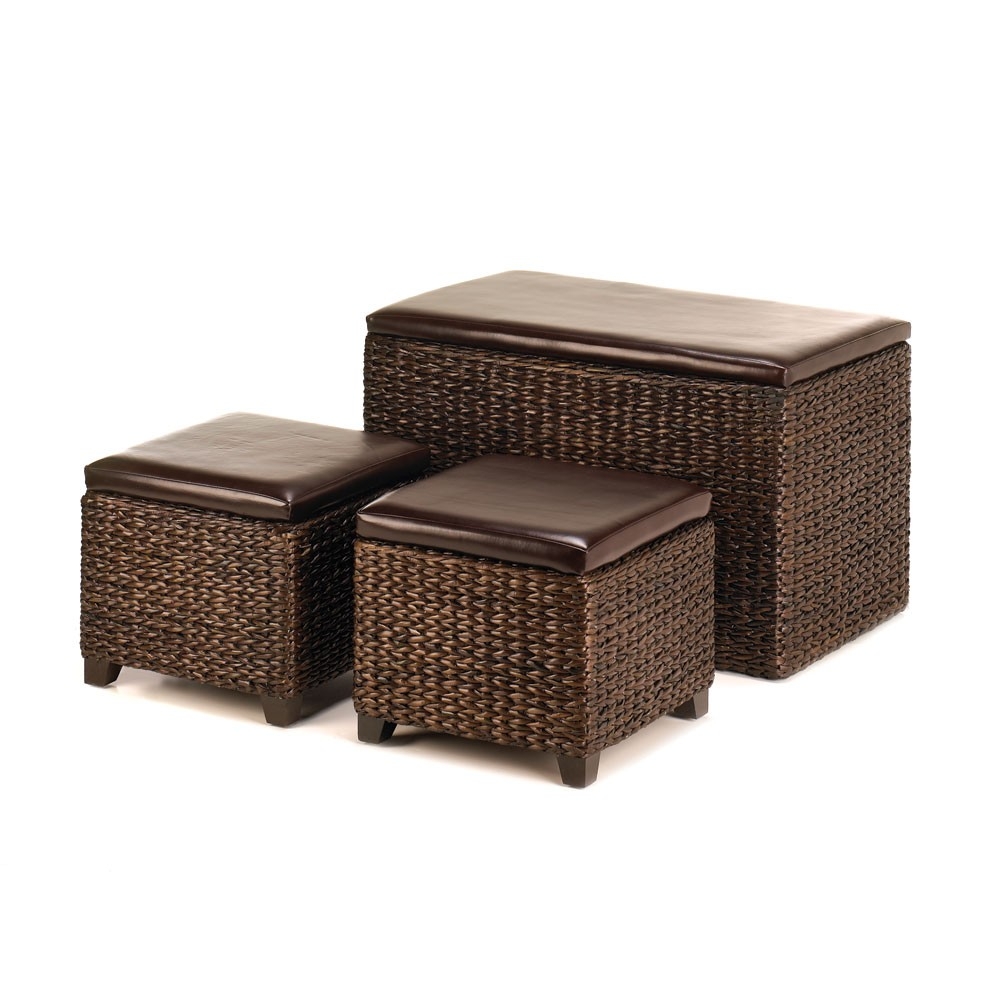 Rush Trunk & Ottomans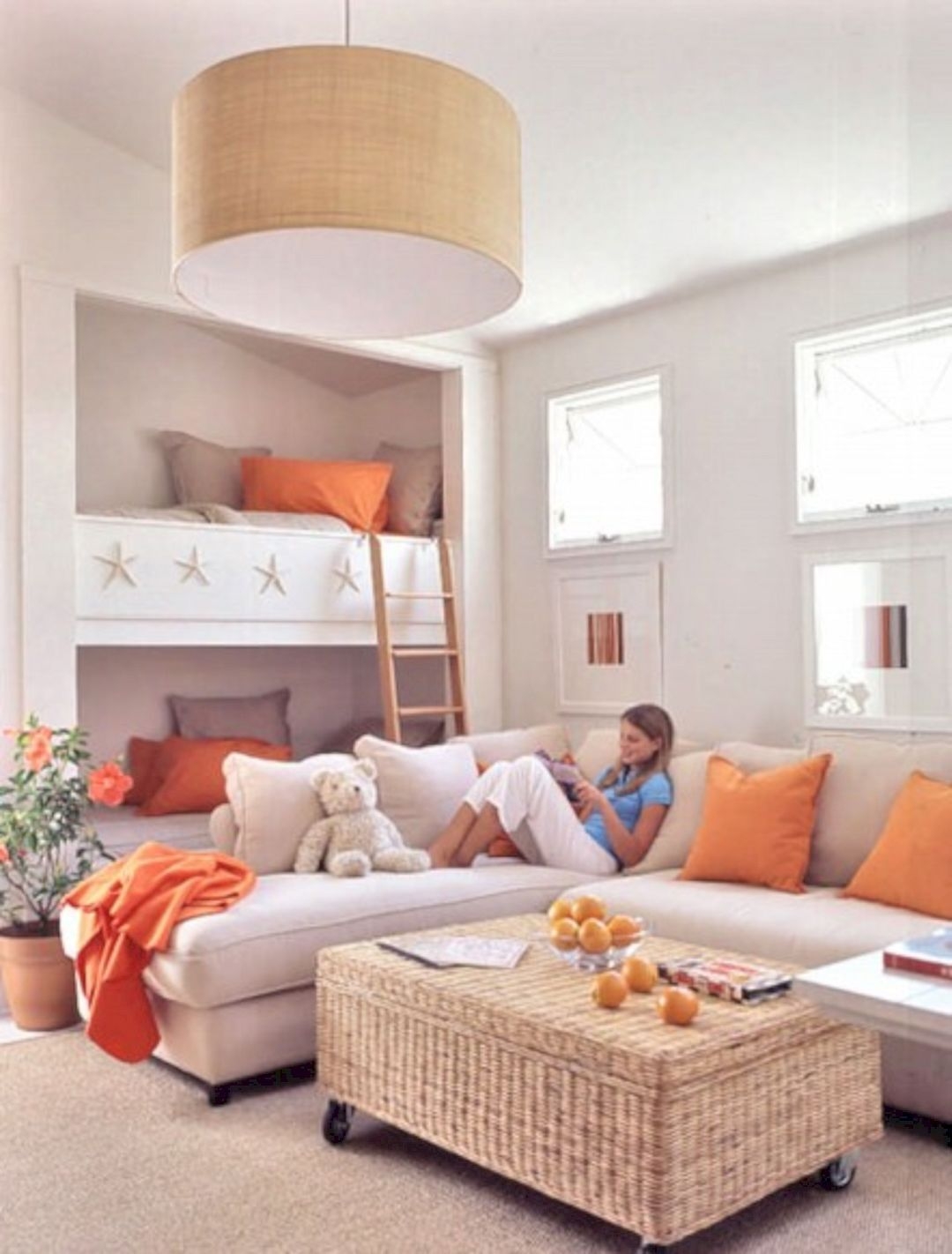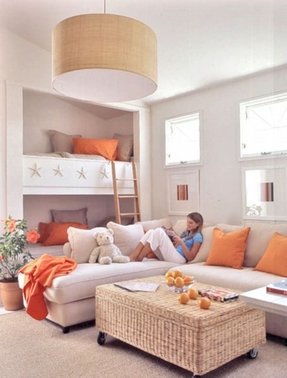 A stylish ottoman can bring as many visual benefits as practicality. Created of durable and perfectly woven wicker, the ottoman moves on caster wheels and has a movable lid that conceals a spacious compartment for storage.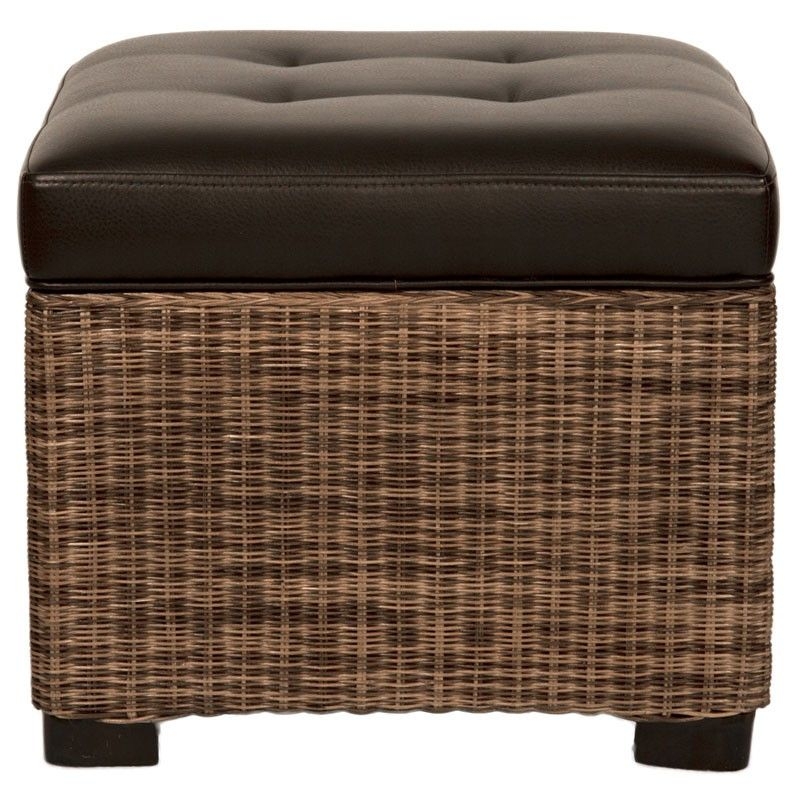 For centuries, rattan has been used for the production of furniture. Its thicker stems are also used to make sticks used in Asian martial arts. Today, we can see a ratan in the form of a braided underside of a wicker storage ottoman with a dark brown color.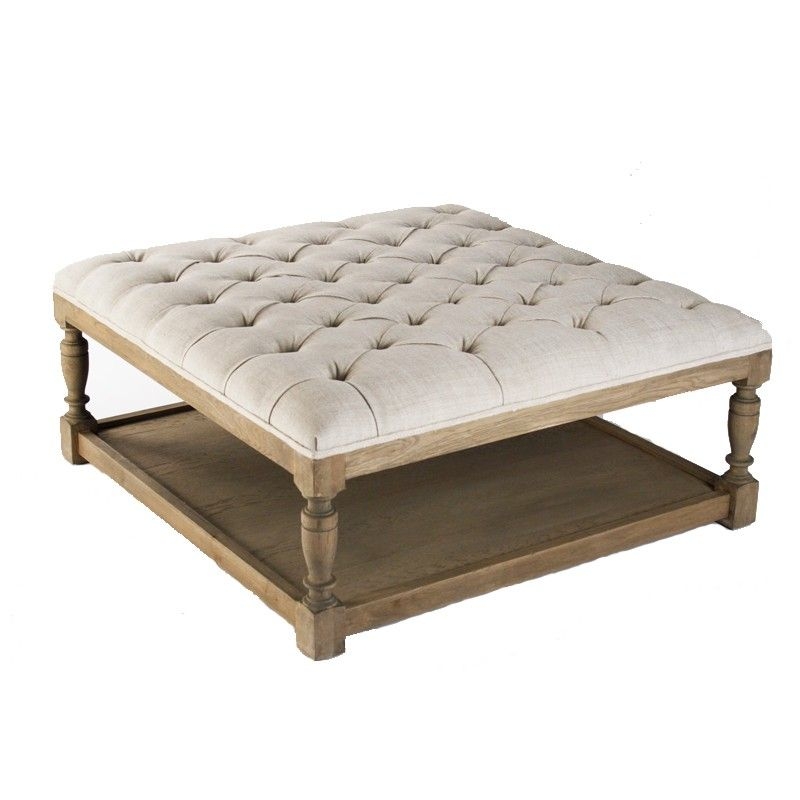 These modern storage benches are beautifully crafted with three complementary spacious storage baskets which would look ideal in any home whether traditional or modern one. Large storage ottoman table which complements the interior is made of natural wicker.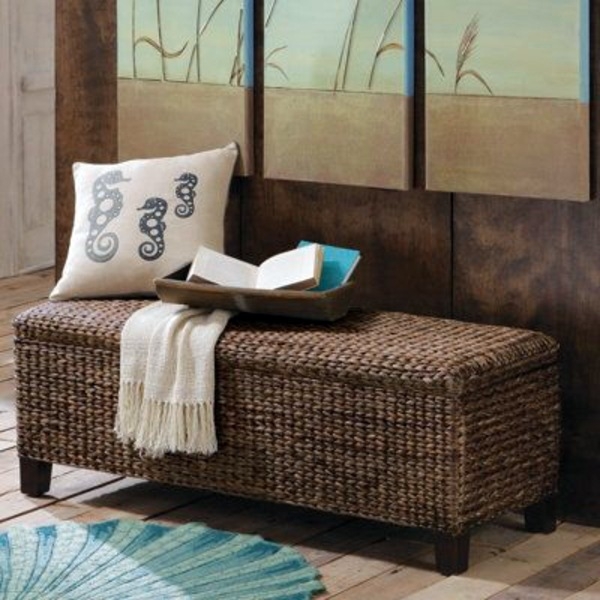 A phenomenal, multi-functional piece of furniture that may serve as an extra bench to sit on or a fancy coffee table. It's fully made of wicker, which gives it a cool, rustic look. It's also lightweight so you can often change its location.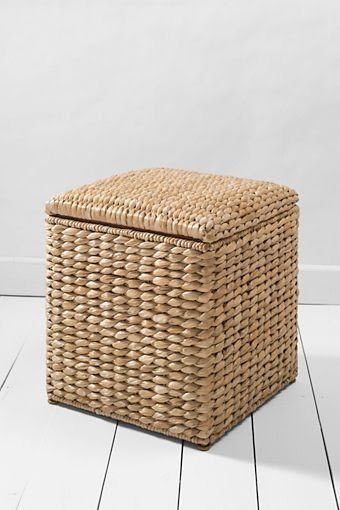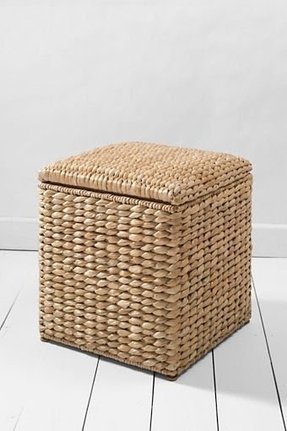 Seagrass storage cube--fits beneath a window sill and artfully hides bed linens. Also gives guests a place to sit a bag in a guest room.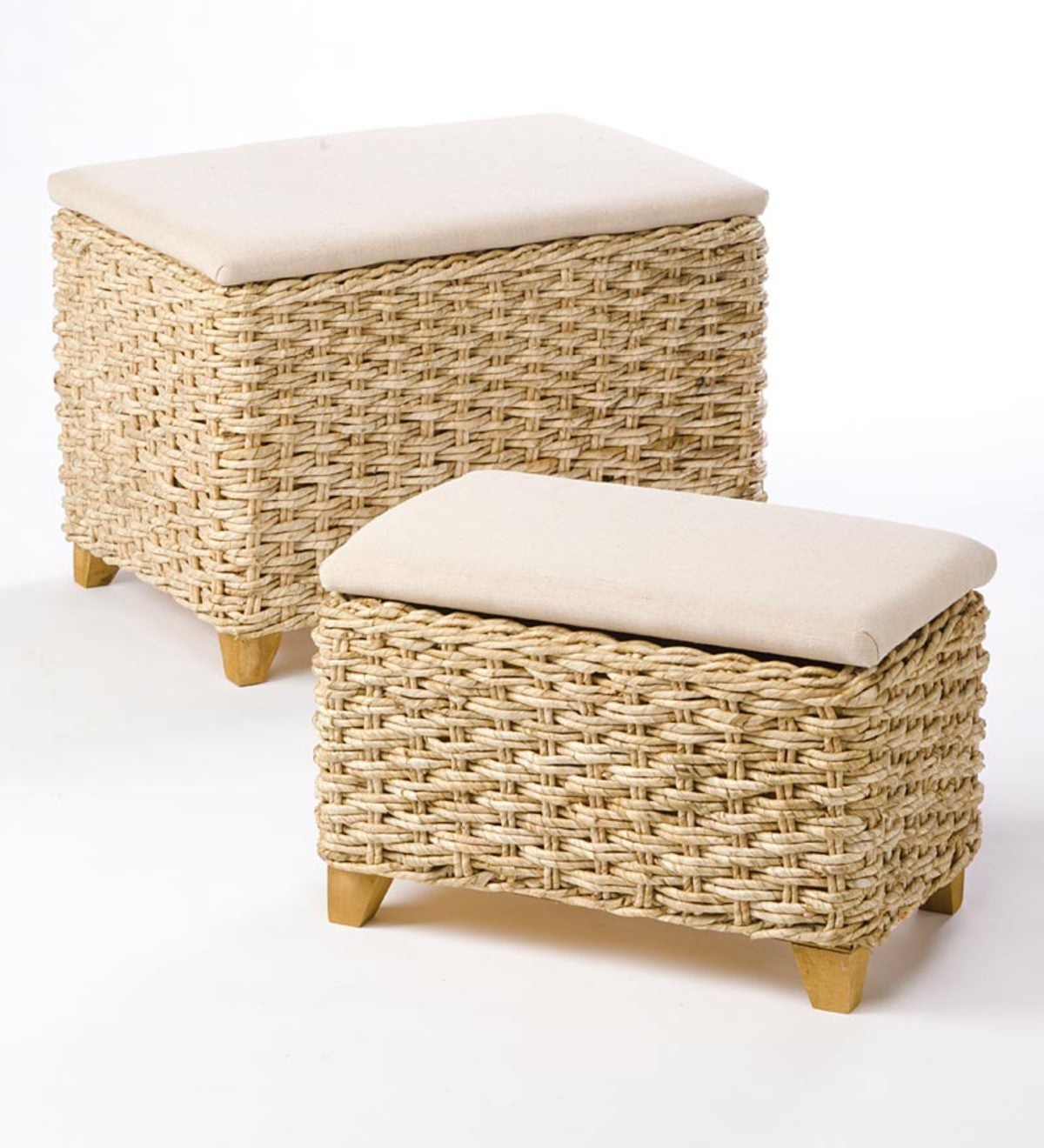 Set of 2 Maize Weave Nesting Storage Ottomans With Padded Lids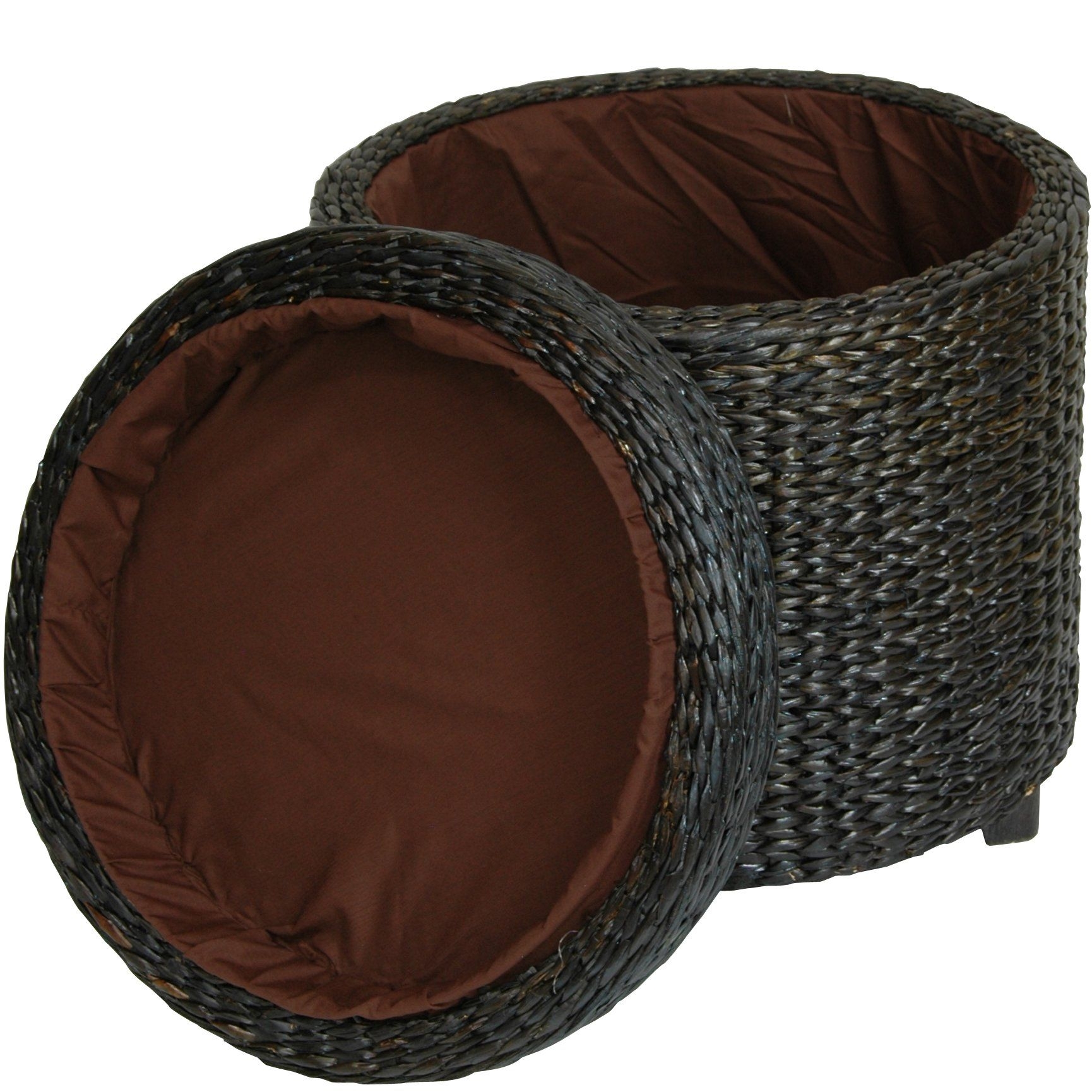 - Oriental Furniture Best Deal Price Bargain Design End Table, 17-Inch Woven Water Hyacinth Rattan Style Round Lidded Foot Stool Basket, Natural - Wicker Storage Ottoman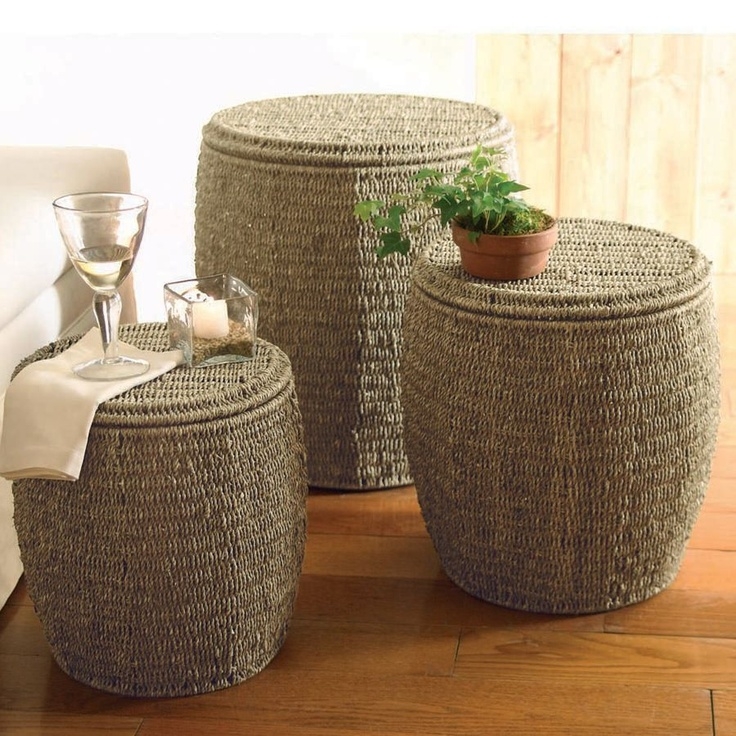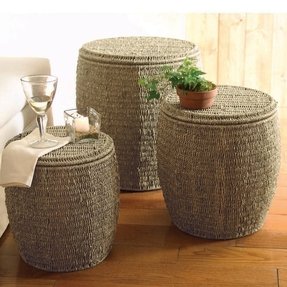 This set of 3 fantabulous ottomans brings as much beauty to contemporary decor as it brings functionality. Each ottoman features a metal frame wrapped in lovely hand-woven seagrass that is renewable, versatile and long lasting.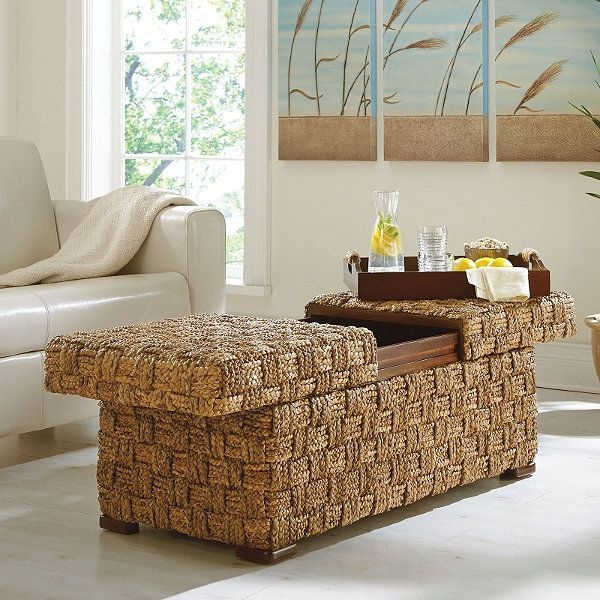 The woven herringbone exterior of this ottoman brings an earthy, coastal feel to any room.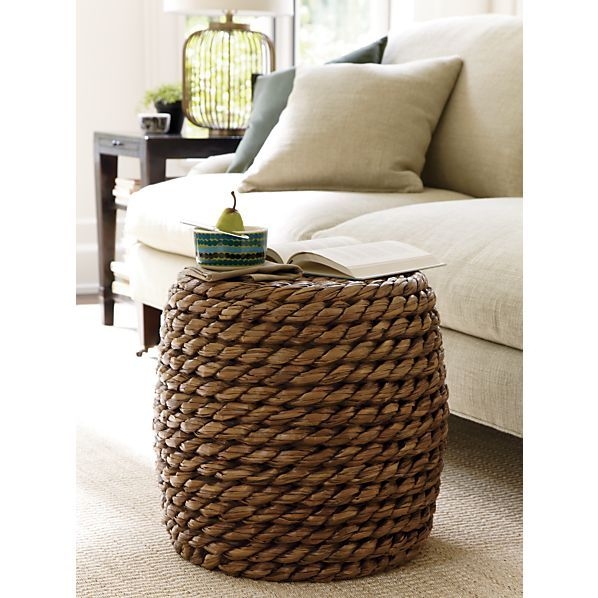 You can't go home again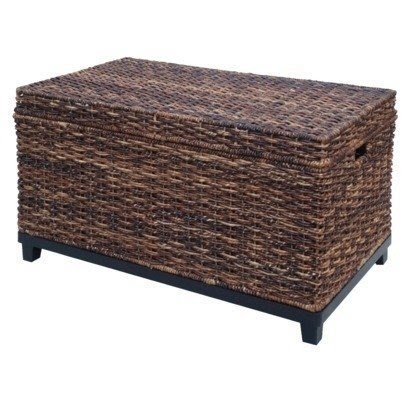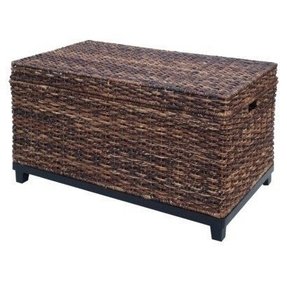 This product joins decorative and storage function in one piece of furniture. The ottoman is made of natural materials that look very attractive. The storage space is quite large and allows for storing many different items.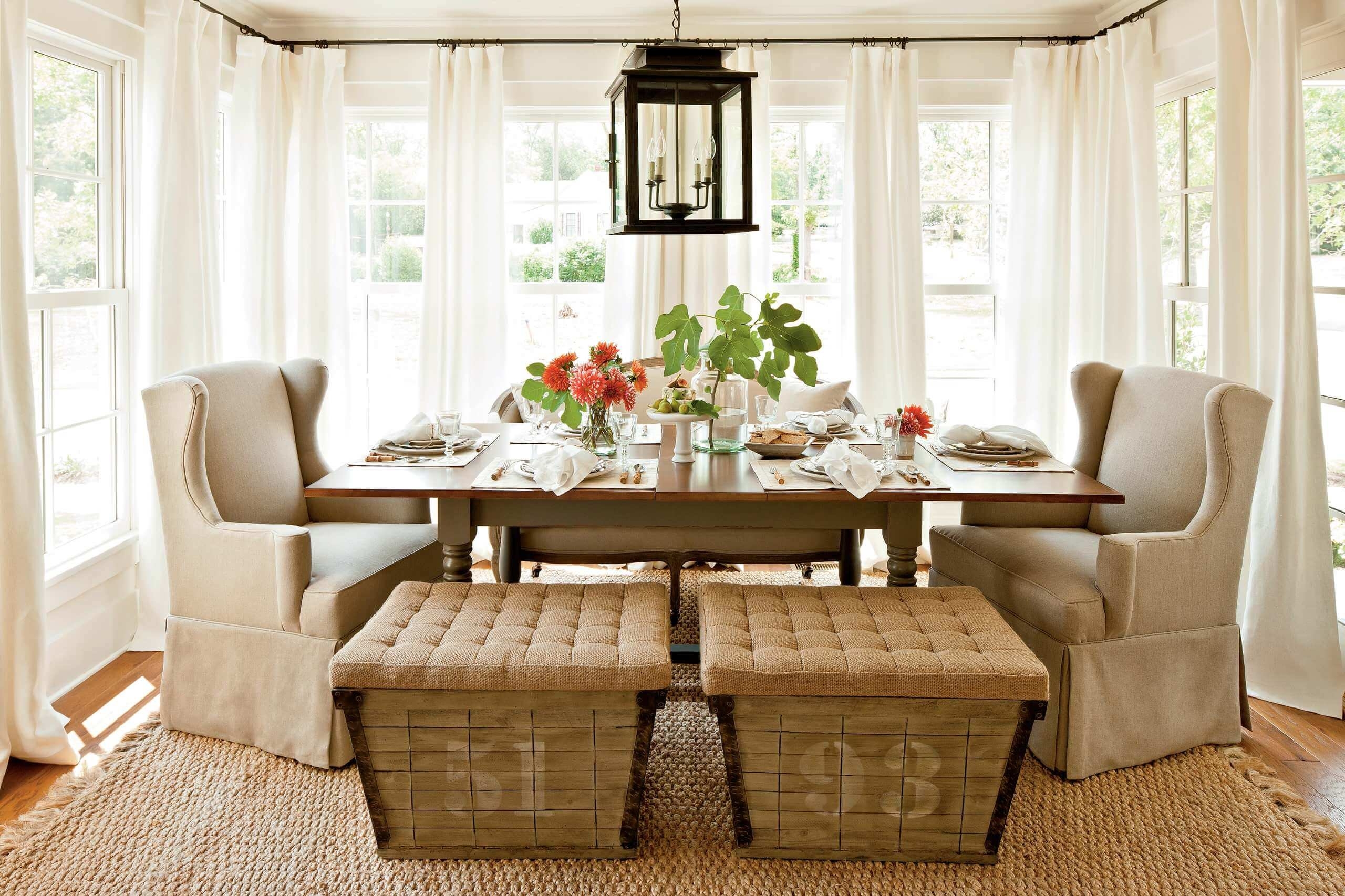 As we know wing chair with bright upholstery is the classic piece of furniture for every interior. Here mixed with wicker storage ottomans, rural style with a number on the basis, and quilted honey cushions. Everything attached to the 2 person kitchen table.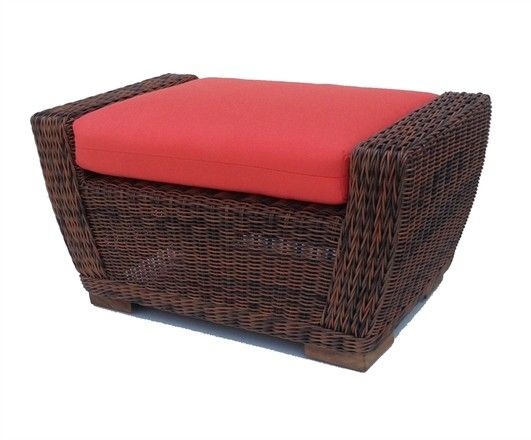 Wicker works great with a human being and thanks to that it can be entwined in the form of wicker storage ottomans - that will look great with their dark brown color both at home and on the patio. Raspberry cushion was added.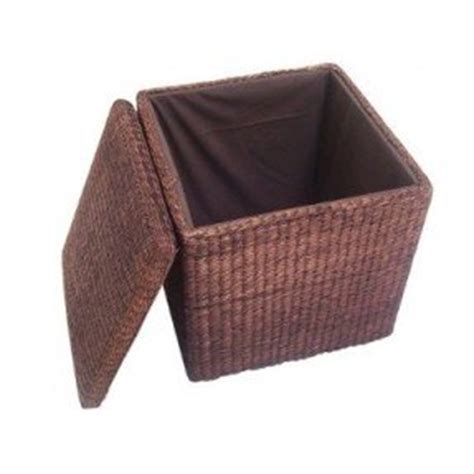 Target, $34, wicker storage ottoman (not a fan of the color)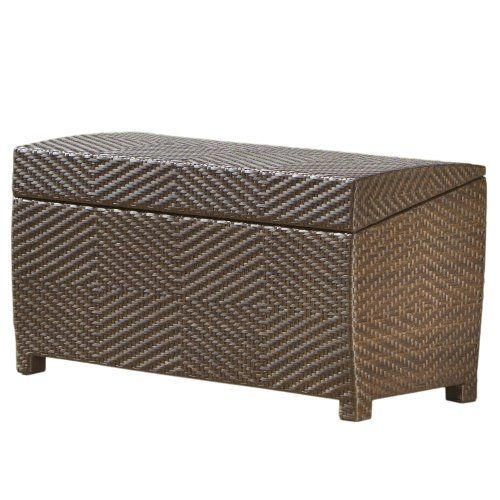 A very solid, comfortable and functional piece of furniture. It is an ottoman that assures sitting space for two people. This element has got a functional and useful storage space. Its frame is very durable.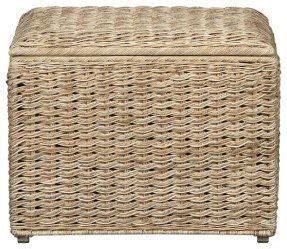 ... Natural Storage Cube | Crate&Barrel eclectic-ottomans-and-cubes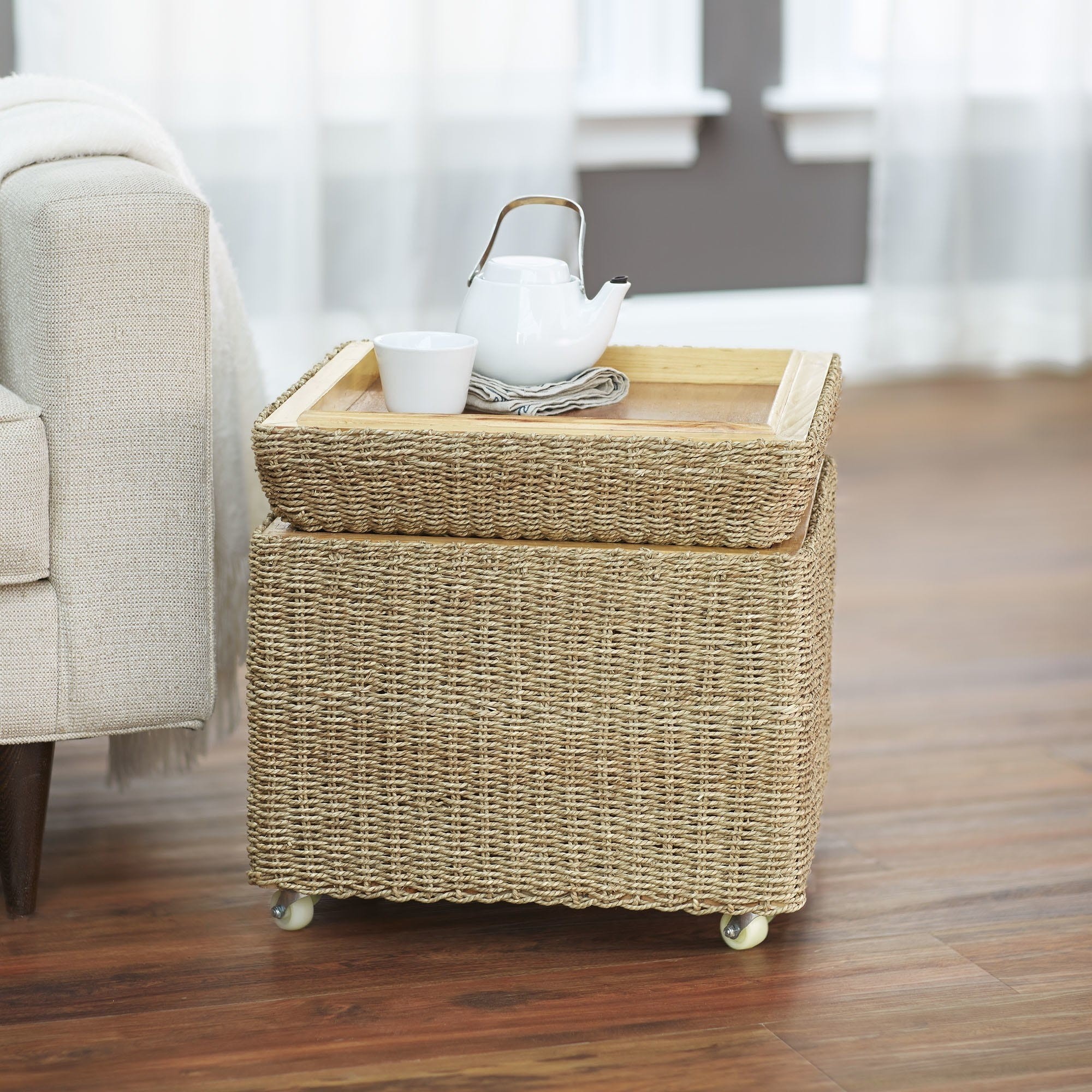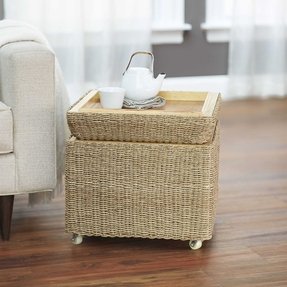 A multi-functional and space saving wicker ottoman with a seagrass stylization. This natural looking element provides comfort of sitting and assures a small storage space. Its removable top can also serve as a serving tray.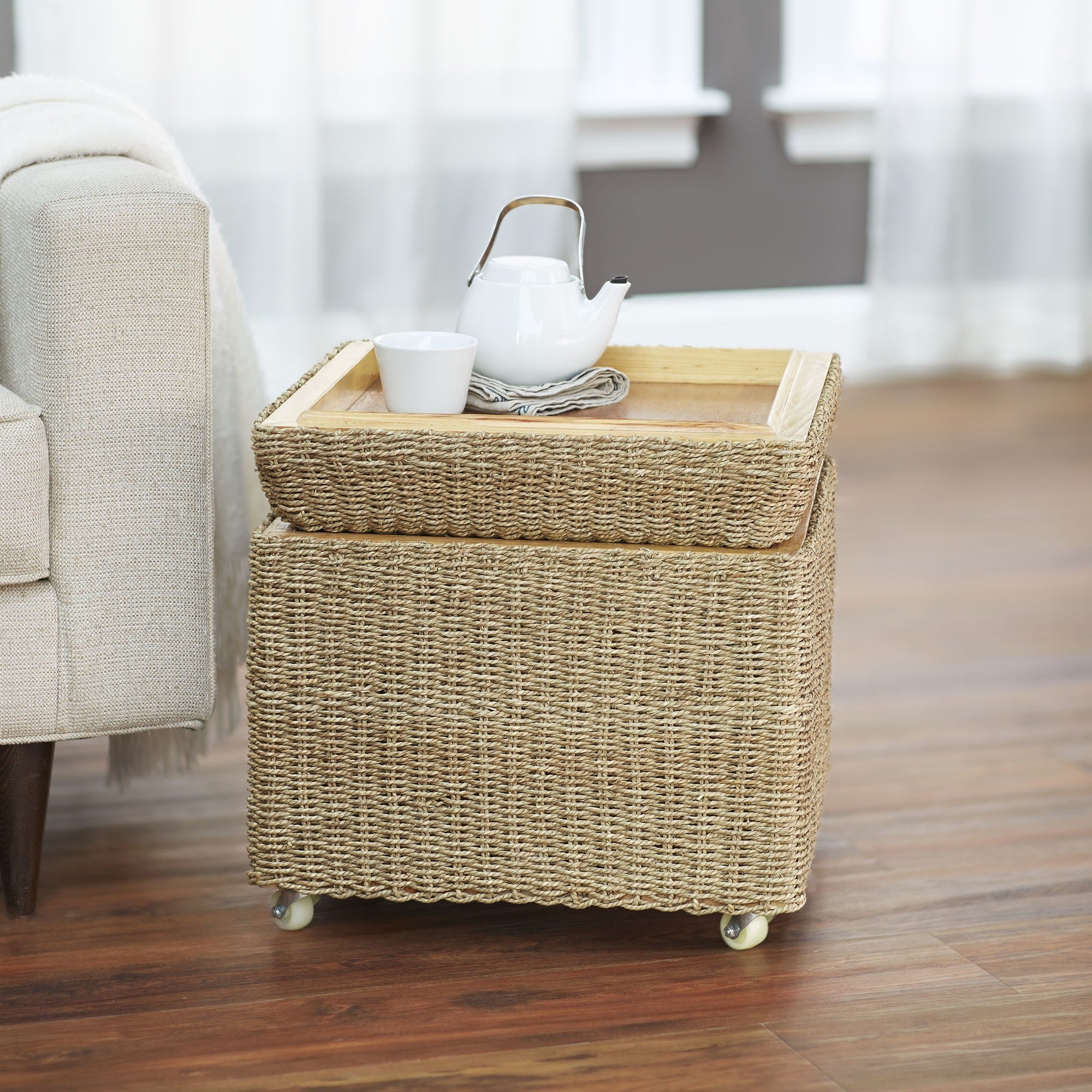 These large wicker baskets fit nicely under the console table in your interior and will make for a perfect solution for when you want to combine functional storage space with the stunning and visible boost of style.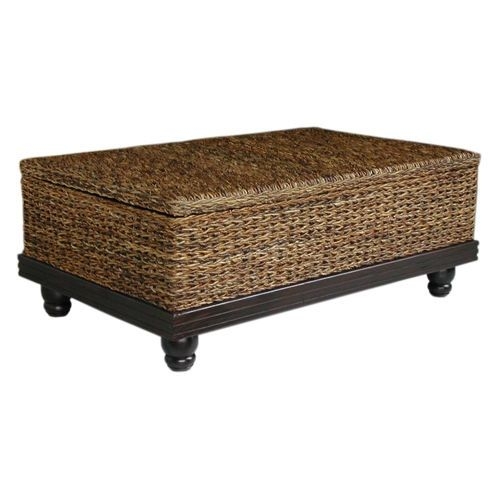 A very interesting, solid and functional coffee table. It is made of durable materials that have got a natural look. It stands on a durable base with stable, decorative legs. This table includes a storage compartment under the top.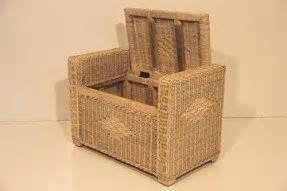 Add comfort, style, elegance and beauty into your home with this trunk organizer, which can be used as a chest, storage trunk, ottoman, seat and more. It features the handmade rattan wicker construction and white wash finish.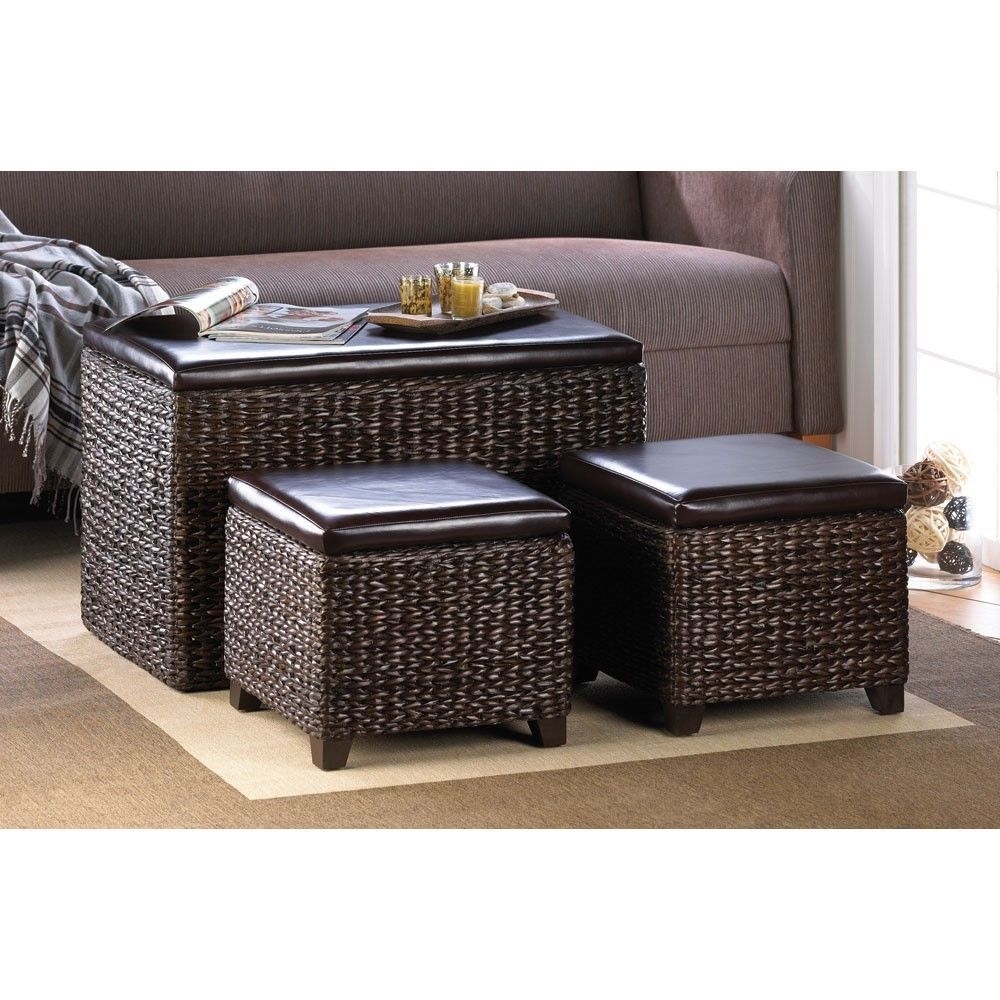 Rush Dark Brown Wicker Storage Ottoman Trunk Seats Set Of 3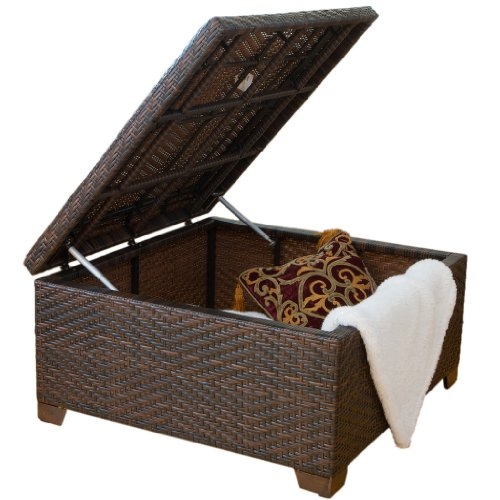 It is a storage ottoman that is perfect for indoor and outdoor use. It has got a wicker construction and diamond pattern. You will be impressed how amazing this ottoman is.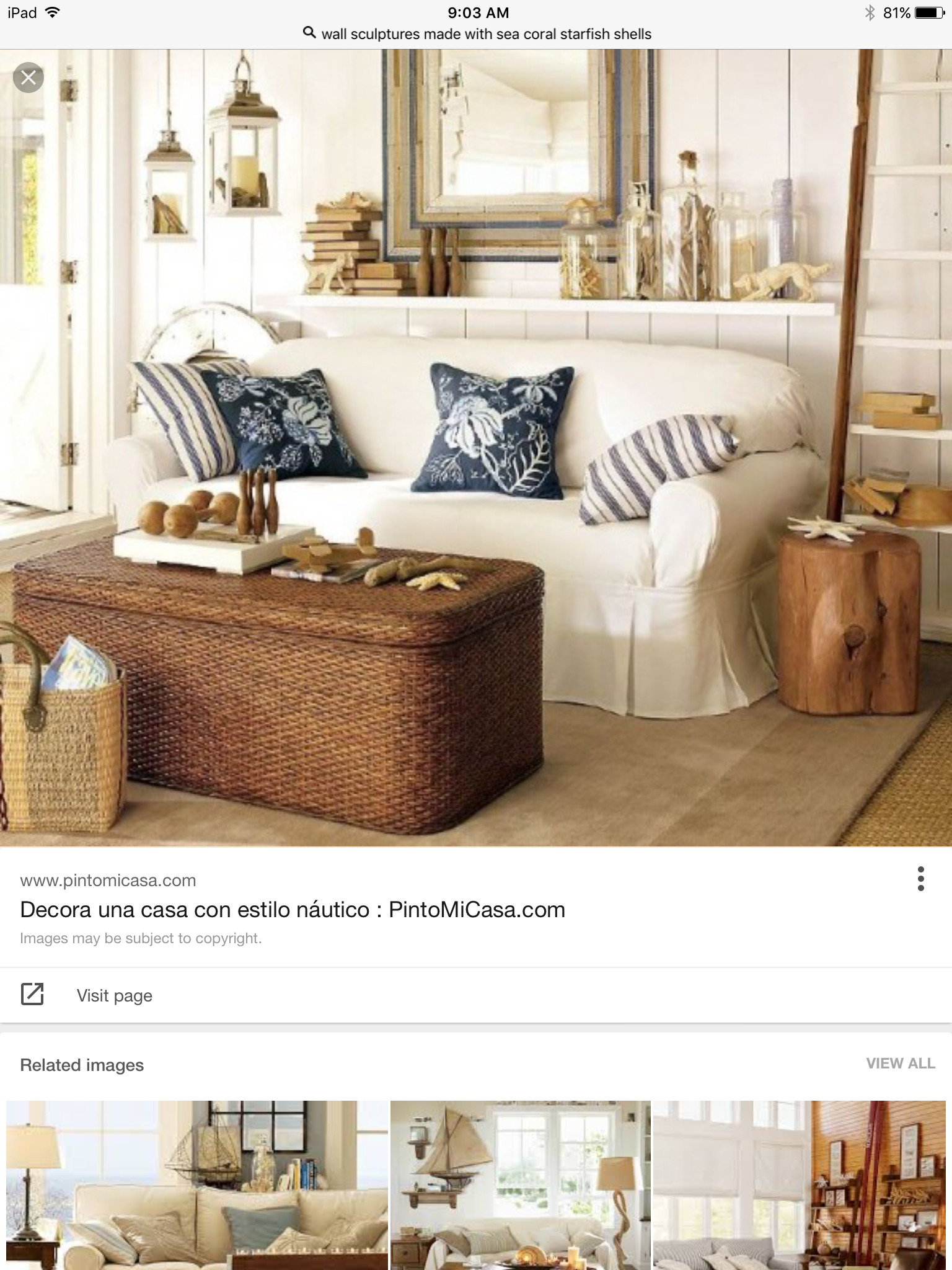 10-creative-coffee-table-alternatives-10-basket for sunroom. Funny, they didn't use an ottoman with a serving tray on top.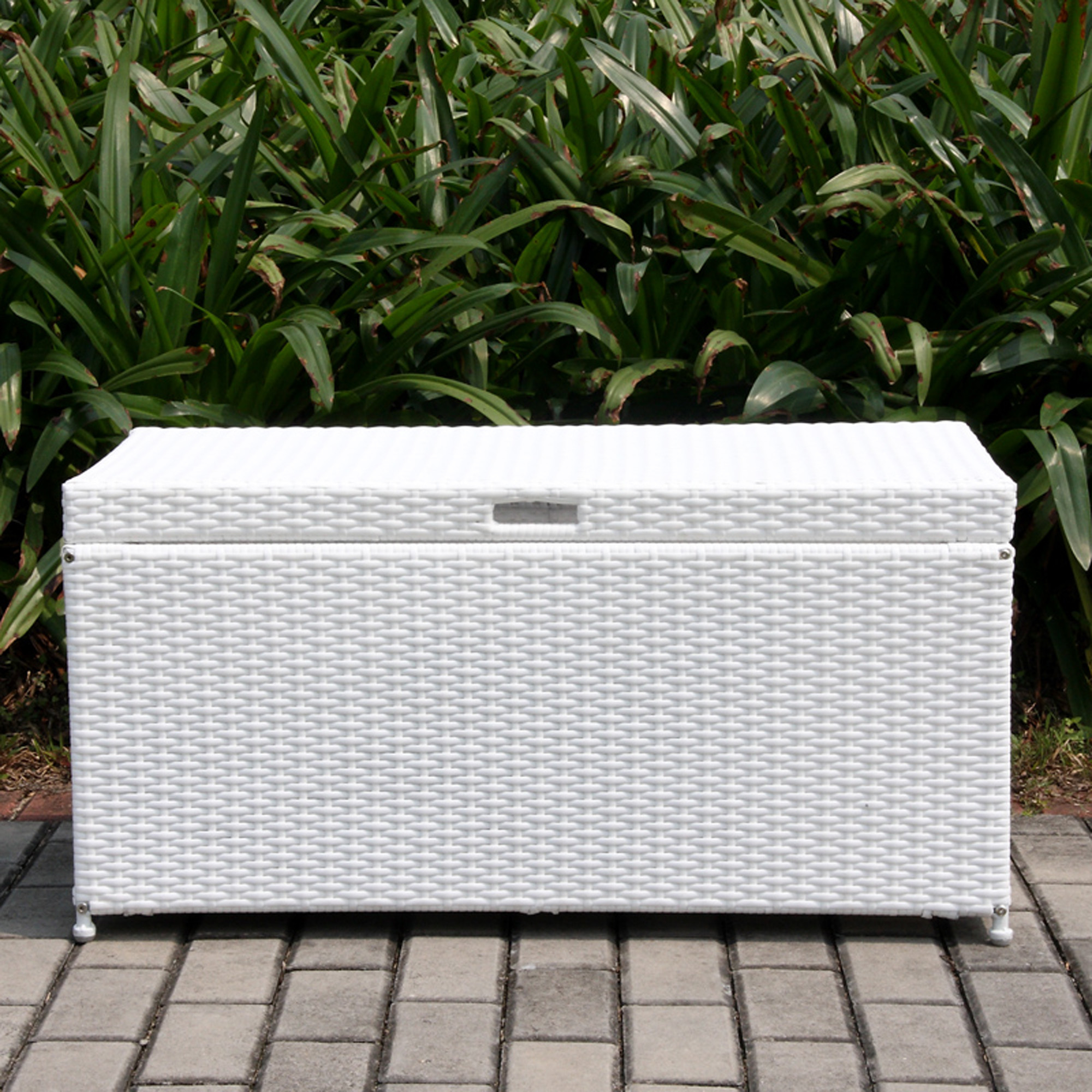 Details about White Resin Wicker Storage Ottoman Deck Box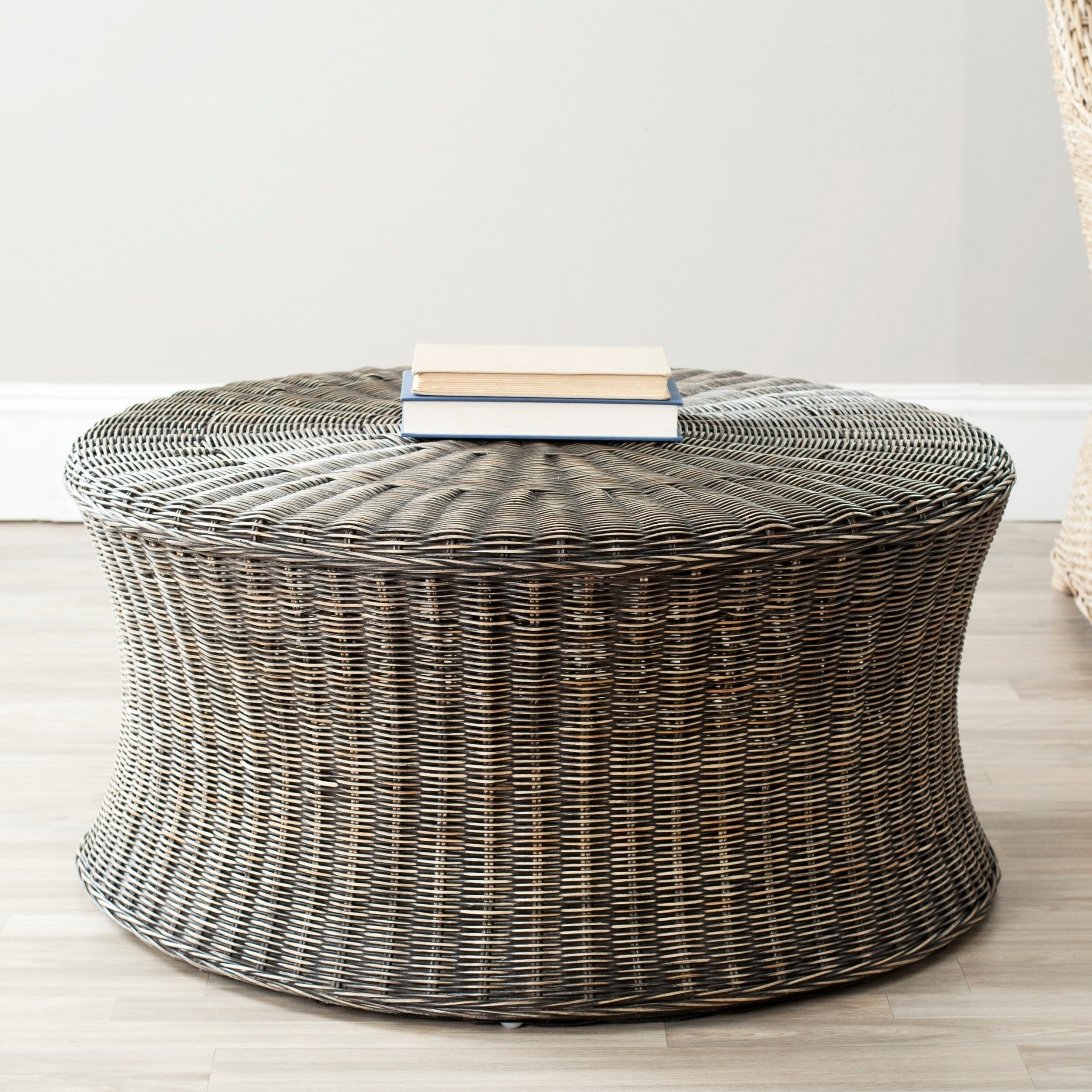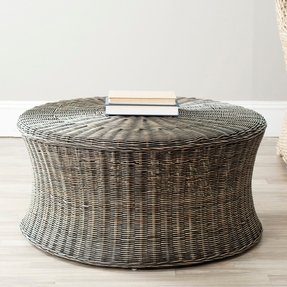 This piece of furniture is a very attractive and solid ottoman that has got a durable frame covered with wicker in a dark brown color. The product provides a seat, but it can also serve as a coffee table.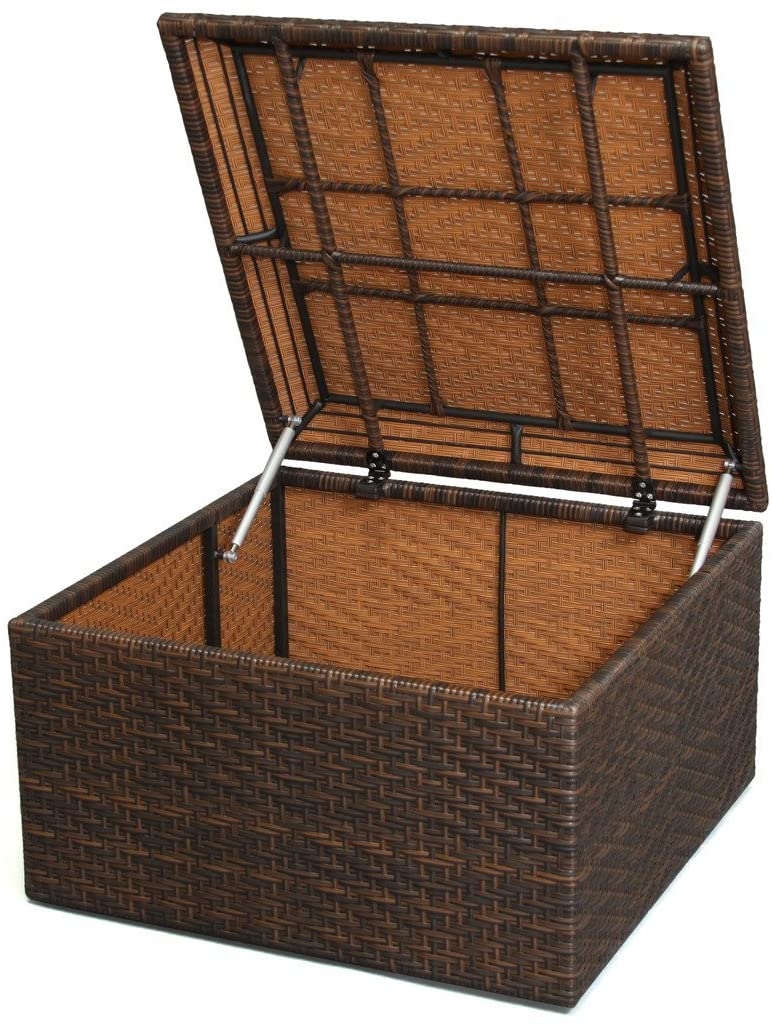 Designed for both indoor and outdoor use, this storage ottoman features a durable aluminum frame wrapped in multi-brown wicker. The lid is hinged, and opens smoothly, revealing a spacious compartment for storage.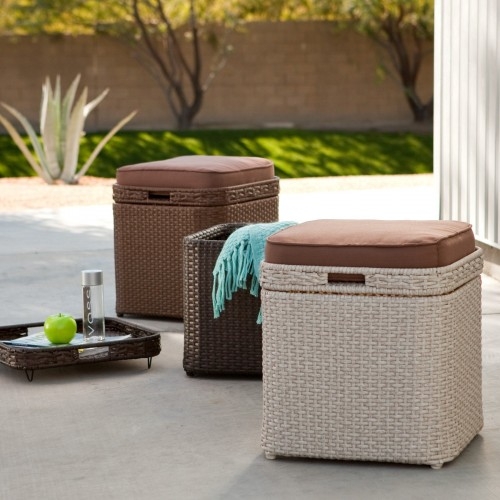 The wicker storage ottoman with the tray/table function. It had been designed by someone, who was really on the ball. Just take off the pillow to have a little coffee table. You can also take the lid off and reach the storage place easily.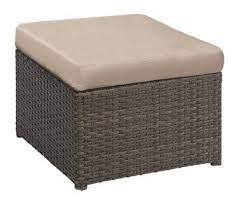 Simple square ottoman with antique beige cushion (can be cleaned with water and soap) on top. Tear-resistant resin weave wrapped over heavy duty commercial grade aluminum frame guarantees logenvity and the ease of maintenance.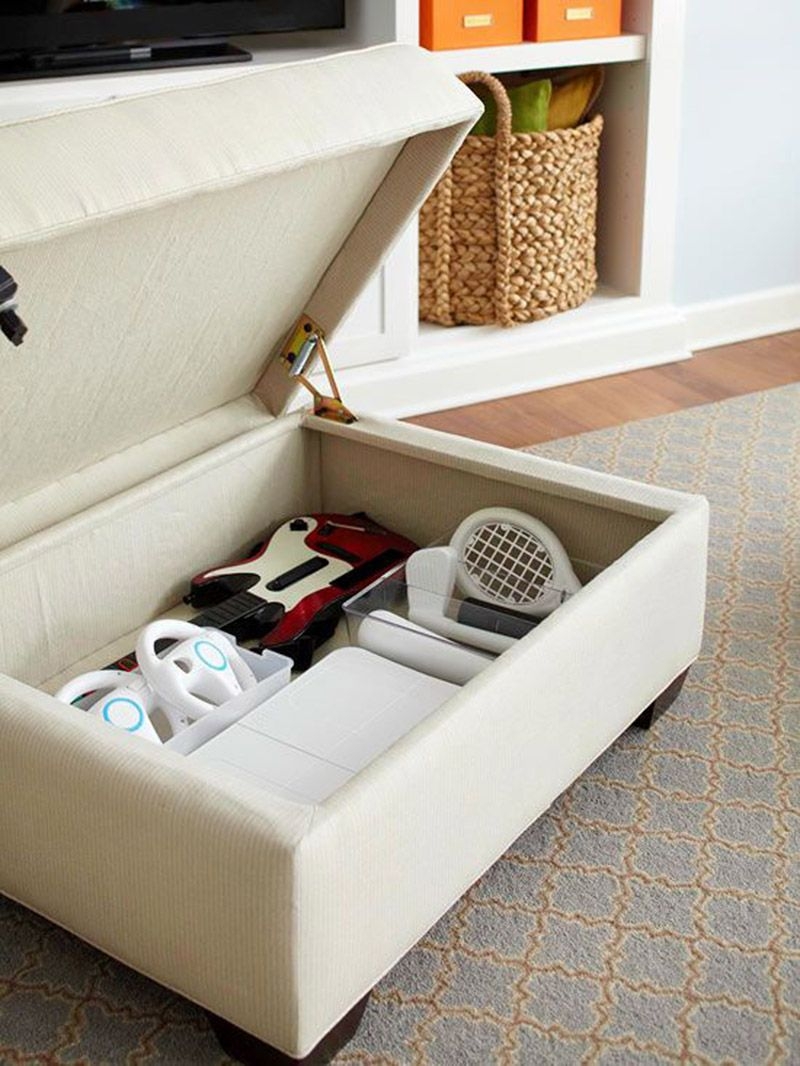 If you're into video games and consoles, you probably have a lot of stuff hanging around, like bulky controllers, guitars, steering wheels, drums etc. Look at this handy solution for that problem; just store these things in an ottoman!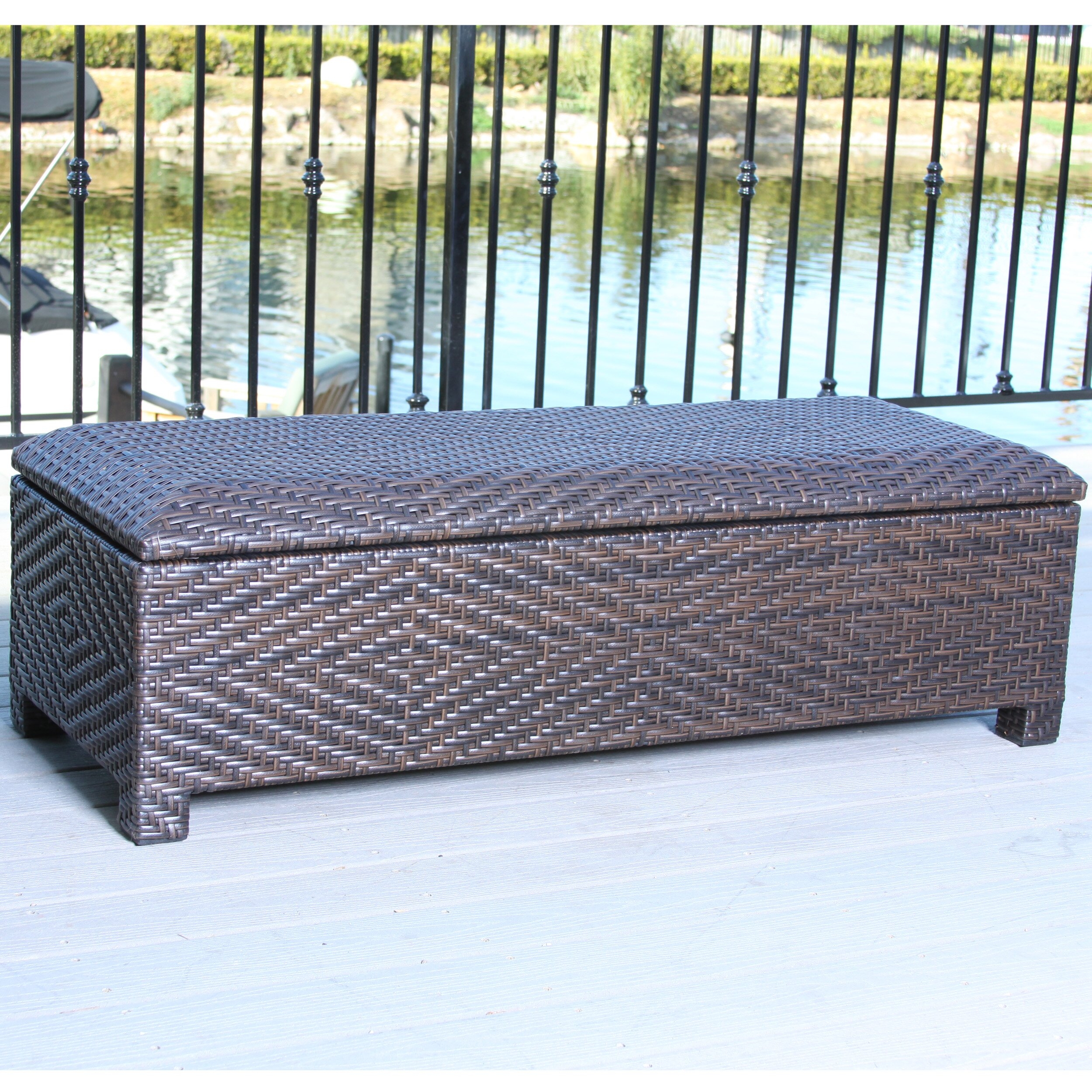 A very interesting piece of furniture that is made of durable materials resistant to damage and excessive wear. This is an ottoman made of wicker. It serves as an outdoor coffee table, a bench and as a storage element.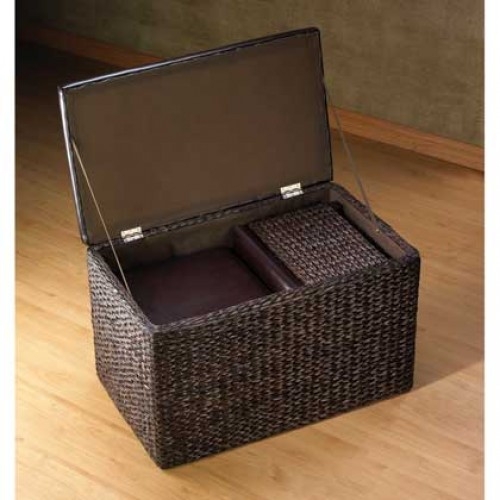 This set include large trunk and two ottomans, which can be storage inside trunk. Solid construction of trunk and ottomans are made of wood and rush grass. Padded tops are covered with leather and all set is in warm, dark brown finish.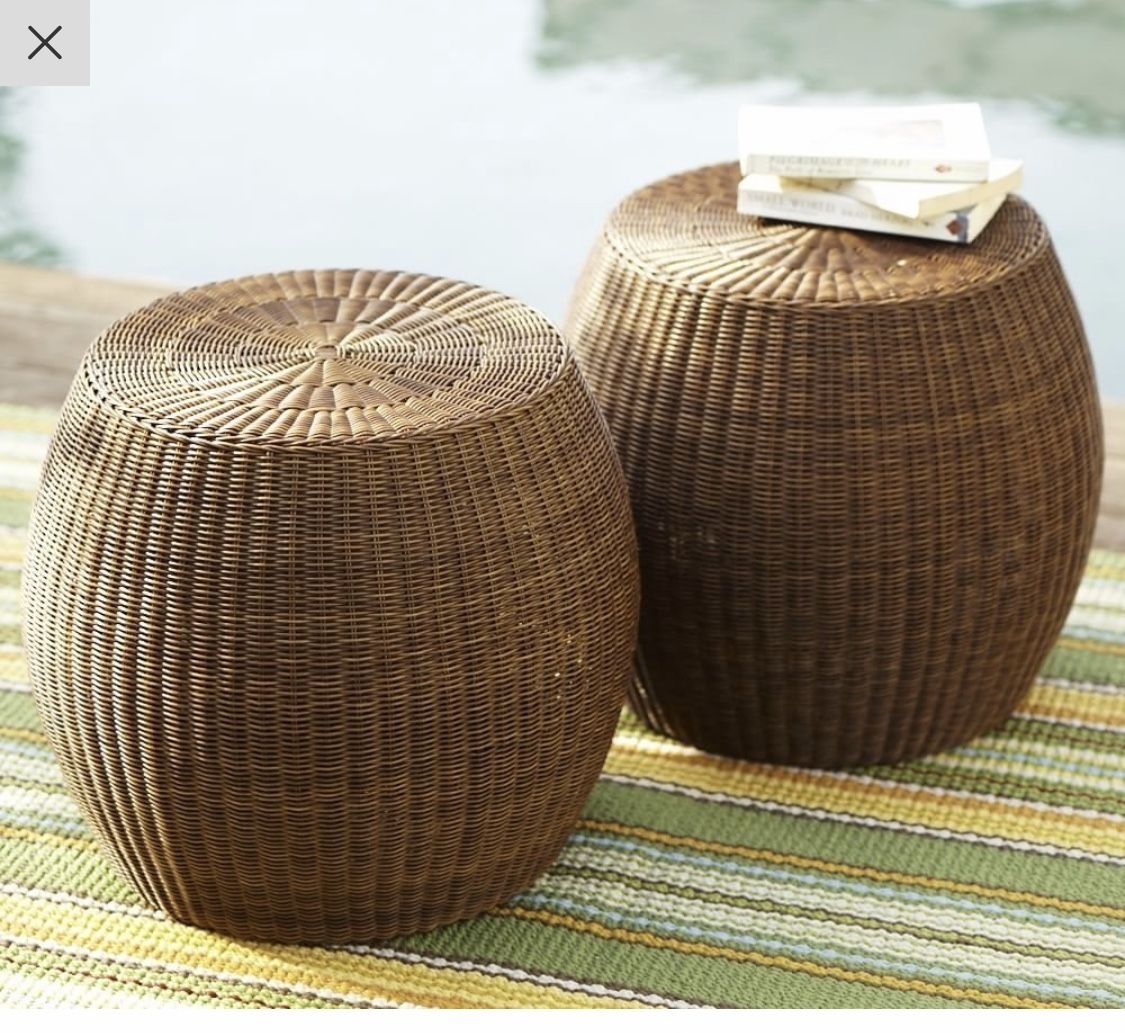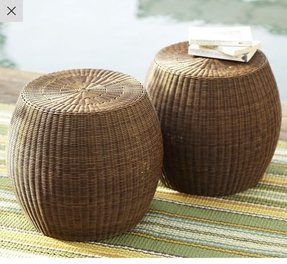 Rattan Bedroom Furniture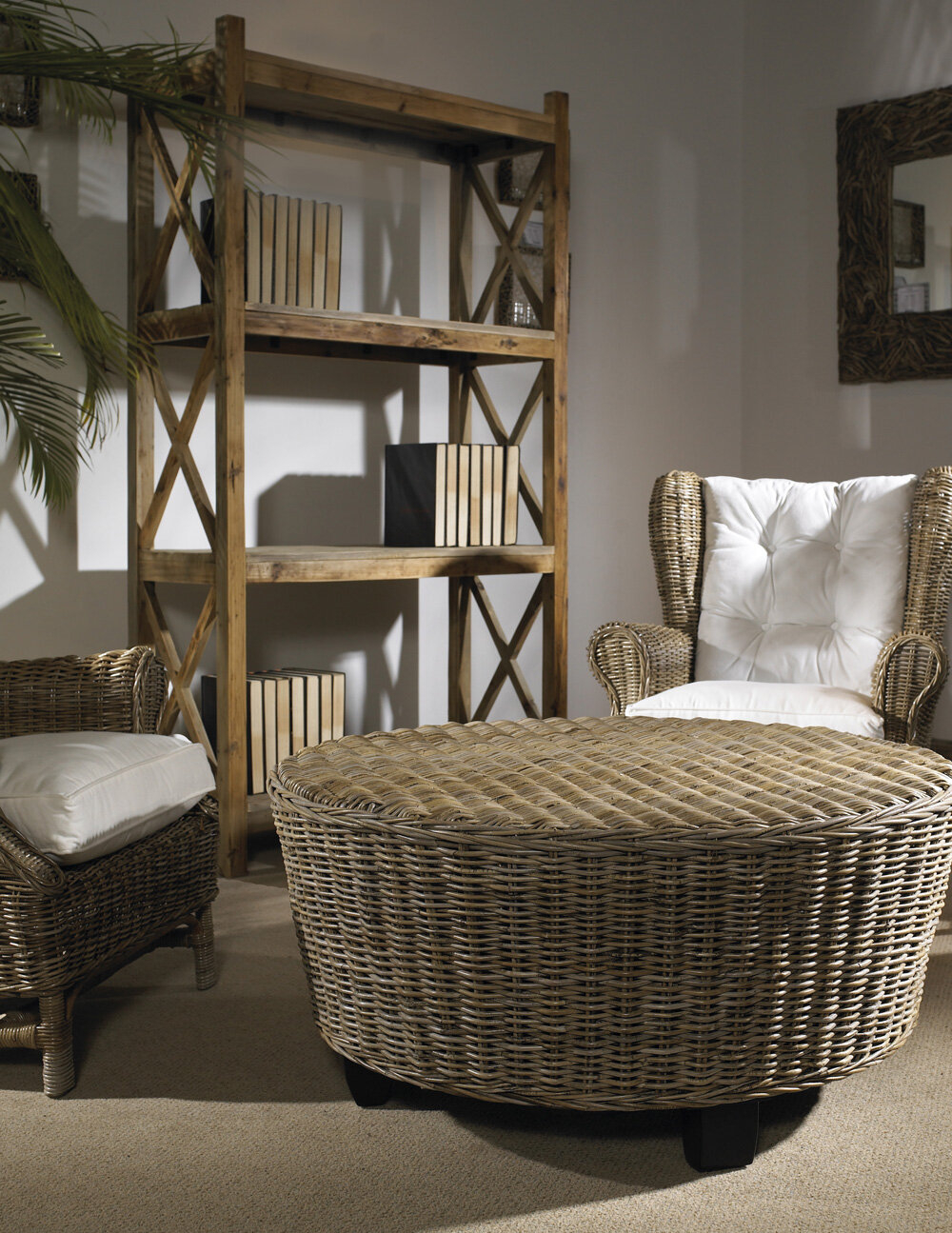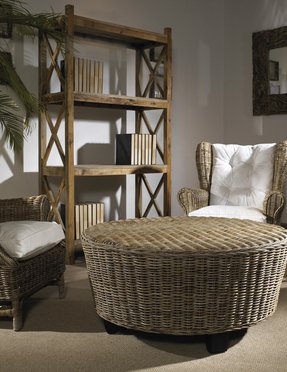 This type of product is an ottoman that has got a very attractive, natural appearance. It is a hand-made element, so its quality is very high and it has also got a high decorative value. The ottoman size is 42 x 42 x 19 inches.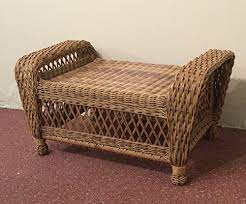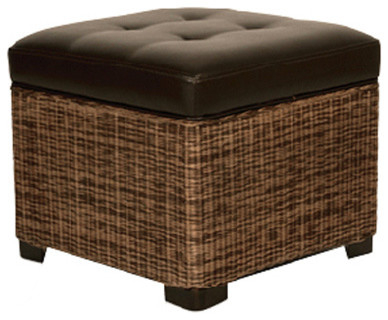 Jessica's Wicker Ottoman ottomans and cubes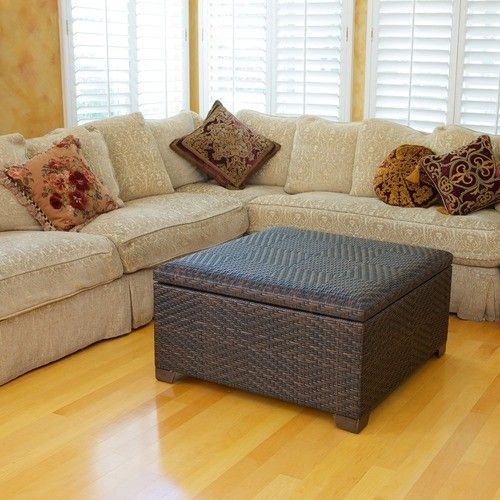 It is a storage ottoman that is made of wicker and has got a small size and brown color. It is perfect for indoor and outdoor use. You will be impressed how fantastic and high quality this product is.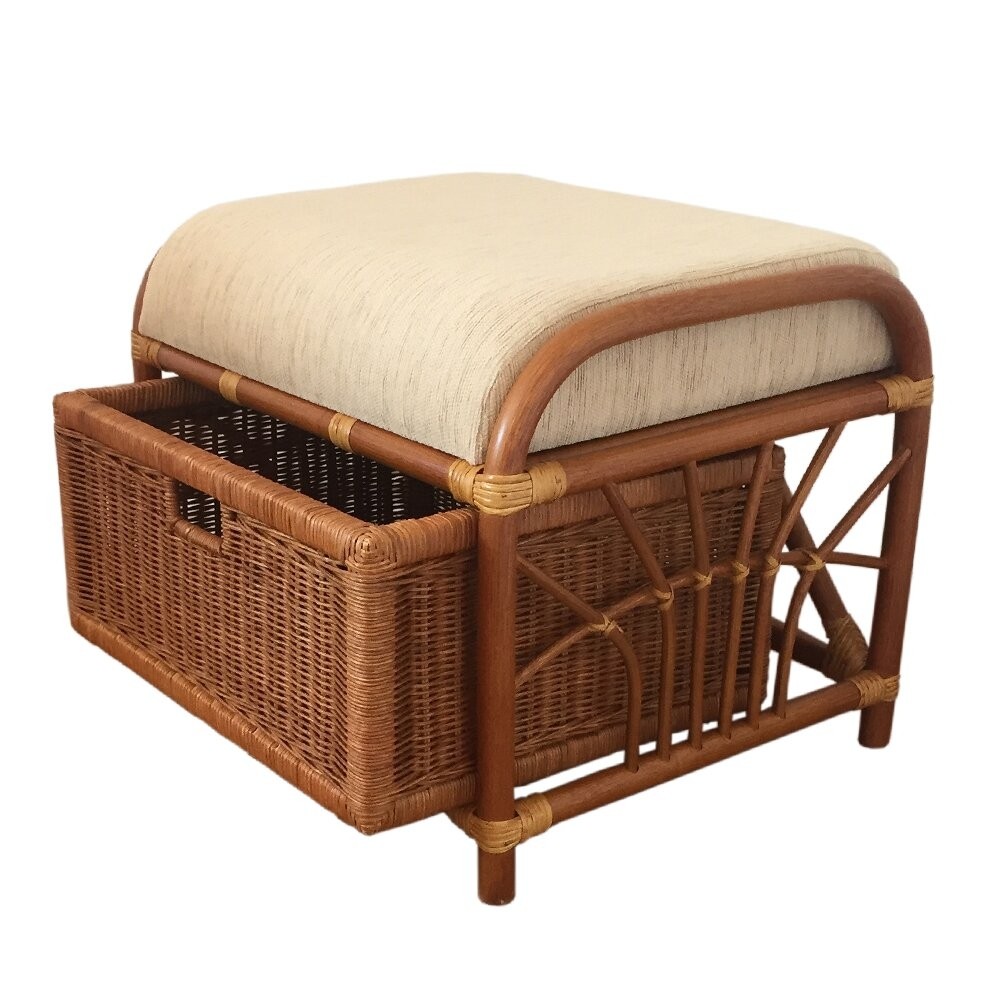 RattanWickerHomeFurniture Jerry Rattan Wicker Storage ...