Vegan Leather Couch
Couches are surely a comfortable and nice thing to have at home. If you have been searching for something like the models that are shown down here, you will feel yourself at home on this site since it includes a very wide range of vegan leather couches. Why don't you try to find the best one for yourself?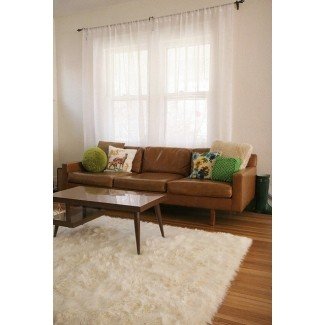 We are introducing you a leather vegan couch. Its curious, modern design and simple form make every interior beautiful and functional. No wool, leather or fur was used, but still it has incredible touch of elegance and great caffe latte shades.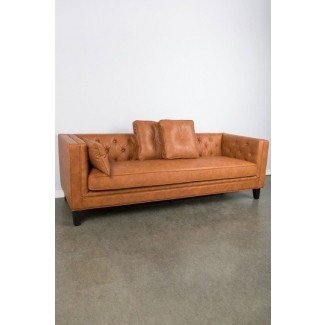 Tufted sofa with caramel brown vegan leather upholstery and wood construction. It provides plenty of space, accommodating three people at once, and it comes along with nice transitional style and high quality.
A modern and urban design of a living room with a beautiful sofa characterized by leather, tufted upholstery in a cool, brown color. It's accompanied by a rug in an exotic pattern in vivid colors and a fancy chandelier.
Dcor Design Radford Sofa
If you like traditional designs and old-school furniture, take a look at this beautiful leather couch. Great for a classy and elegant living room, bound to spice up your living room with its distinct look. Comes in a nice, dark colour.
Lavish and one-of-a-kind, this leather sofa sports the stunning green finish of the leather upholstery and comes with the charming button tufts and nailhead trim, while the piece itself is perfect for seating up to three people comfortably.
This stylish leather couch distinguishes itself with its unique, one and only turquoise blue colour. Its metal legs constitute a solid, firm base for the whole construction. Created to last for many years.
Simple sectional couch with chaise lounge. It has metal kickstands. Couch and cushions are covered of bright leather and it is very comfortable. Due to miniature table to coffee it will be ideal to watching TV in living room.
Our advice Buying Guide
What is vegan leather?
A vegan leather couch is made of materials that didn't inflict any harm to animals. Vegan leather may sound like a material that's odd, but it's actually just synthetic leather that's also used in making handbags, jackets, and everything in between.
When shopping for a vegan leather couch, buy the unit that's made from PU or polyurethane. The alternative, which is PVC or polyvinyl chloride, is less friendly to the environment. PU is also more biodegradable compared to PVC.
How to measure for a leather couch?
Make sure you are certain of the dimensions that can fit inside your home. Check the doors and stairways your sofa will pass through during the delivery as well. The placement of the sofa may have limited access. If so, then opt for a unit with a low-back style. There are also vegan leather couches that have removable legs or modular designs, which can be taken into their positions in sections.
How to make sure the vegan leather couch is durable?
Invest in a couch with a good frame as it can see you through years of lounging. Of course, you should take note of your chosen couch's guarantee before you make a commitment as there are manufacturers that are so confident regarding the quality of their framework that they give buyers a lifetime guarantee. Solid hardwood framing is a good choice, but be careful of choosing a metal or particleboard construction as both can be flimsy.
How to select a comfortable leather couch?
You would have to check the seat depth of a sofa. You need it to be at least 60 cm to give you room to maneuver while sitting or lounging in it. Seat depths of sofas vary, so make sure you get the one that gives you ample back support.
As for the height of the seat, most units are 45 to 50 cm high. There is no wrong height but it should at least suit the entire family.
Lastly, check the width of the armrests. You'd want one that will let you stretch out while sitting.
How to style with a vegan leather sofa?
For an inviting and eye-catching sofa, select the one that is a contrast to the look and feel of the other furniture pieces in the room. If you mix textures and colors in a room, you will be able to add interest to the space. Before you make your final decision, think of how the pieces of the room can work with the new addition, your vegan leather sofa. Include the side tables, artwork, and coffee table.
PRODUCTS & IDEAS Best Ideas