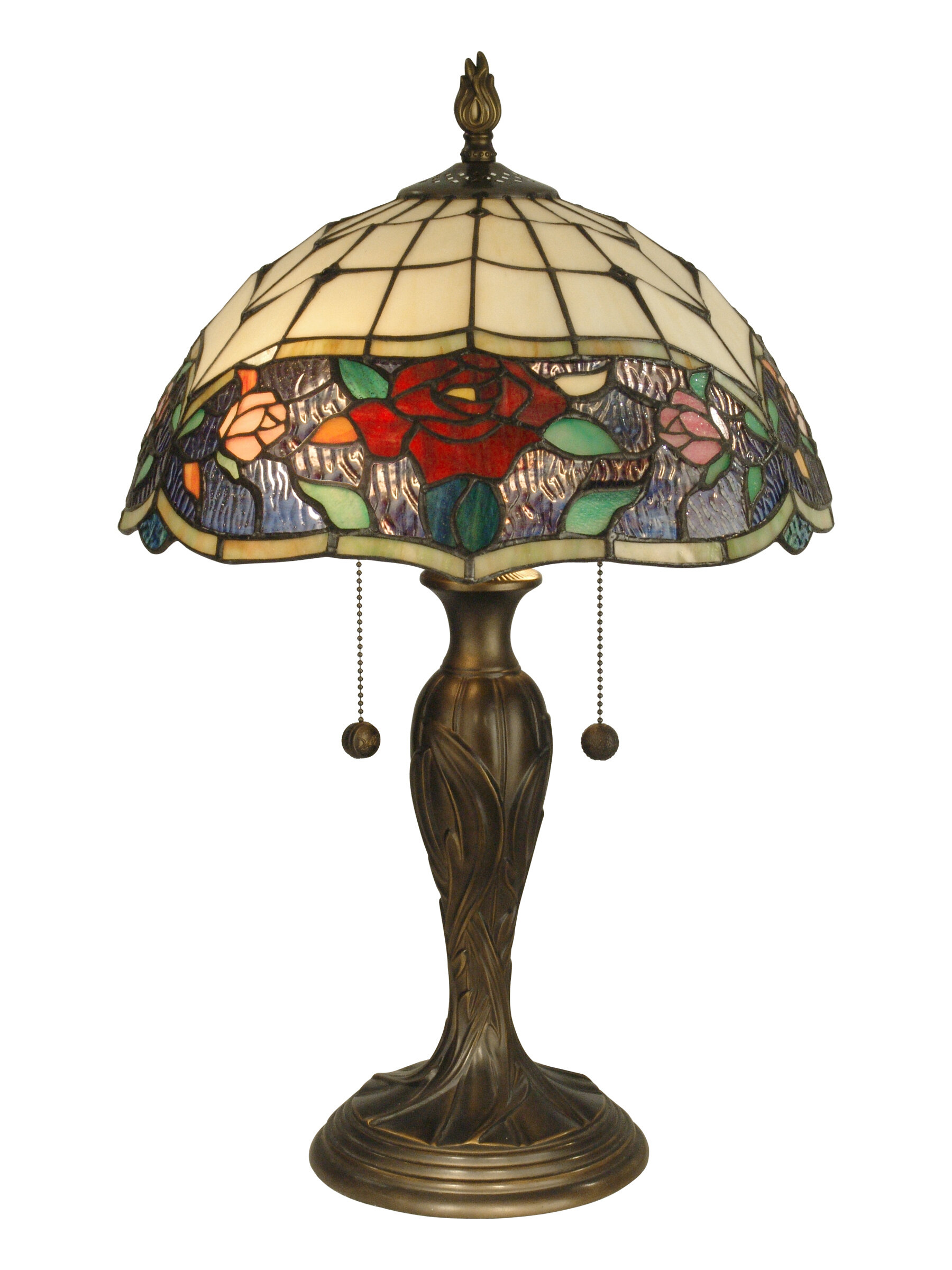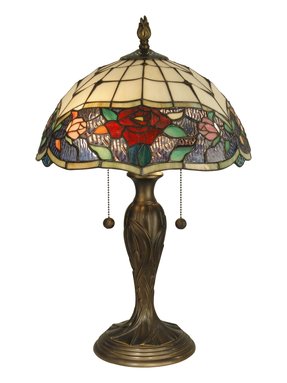 Malta Tiffany 21.75" H Table Lamp with Bowl Shade
This wonderful handmade glass shade on a solid metal structure is unusual and stylish addition to the practical and decorative interior. The whole gives the salon or bedroom a remarkable climate.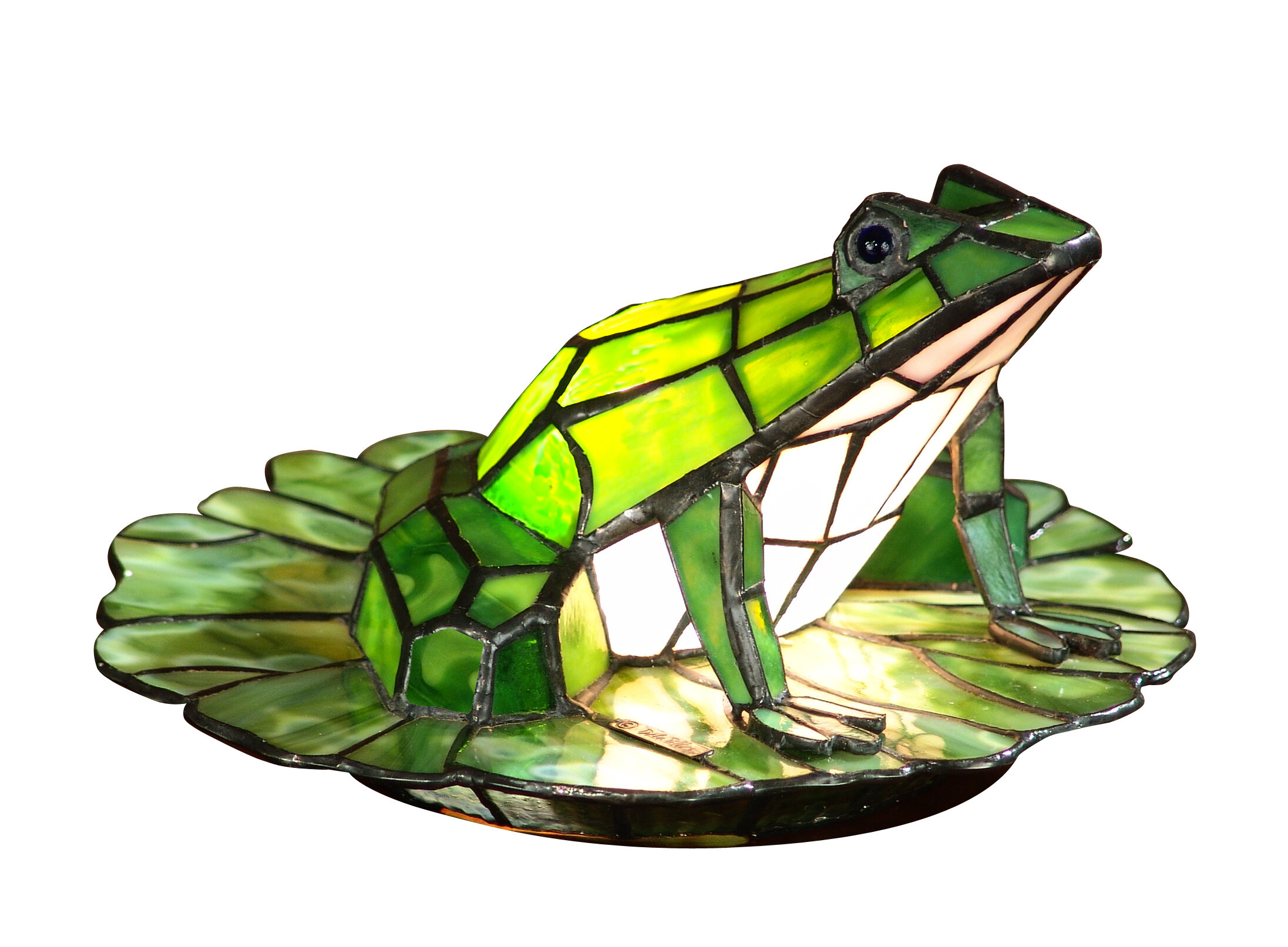 Tiffany Frog Lily Pad 7.5" H Table Lamp with Novelty Shade
If you appreciate unique items for interior decoration, the amazing stained-glass table lamp in a style reminiscent of a frog is an extraordinary thing. Beautifully made will give a unique atmosphere to the entire interior, really impresses.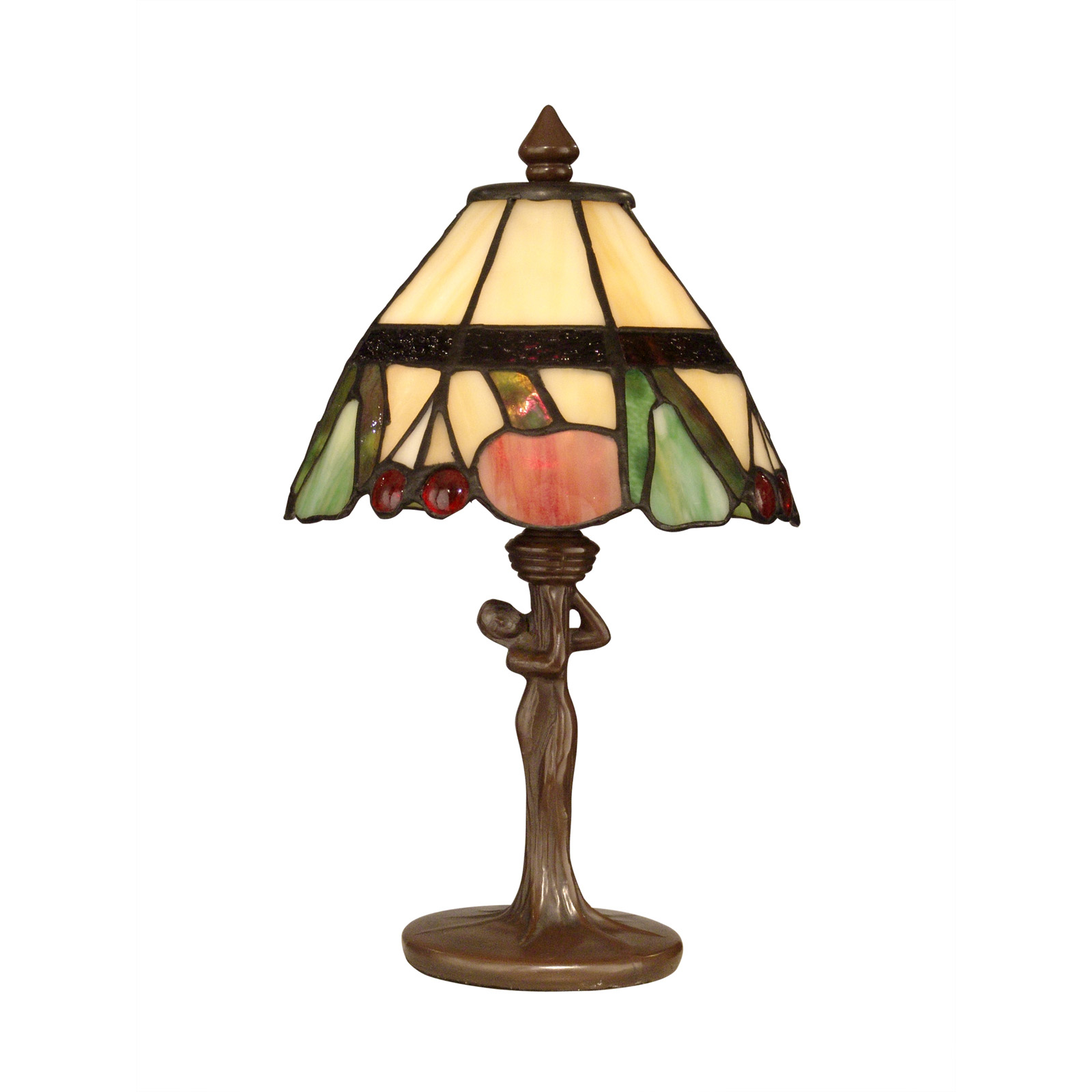 Tiffany Fruit 14" H Table Lamp with Empire Shade
If you're a fan of intriguing and elegant design, you're gonna fall in love with this amazing table lamp! Check it out and enjoy an amazing design and extraordinary functionality in your living room or bedroom.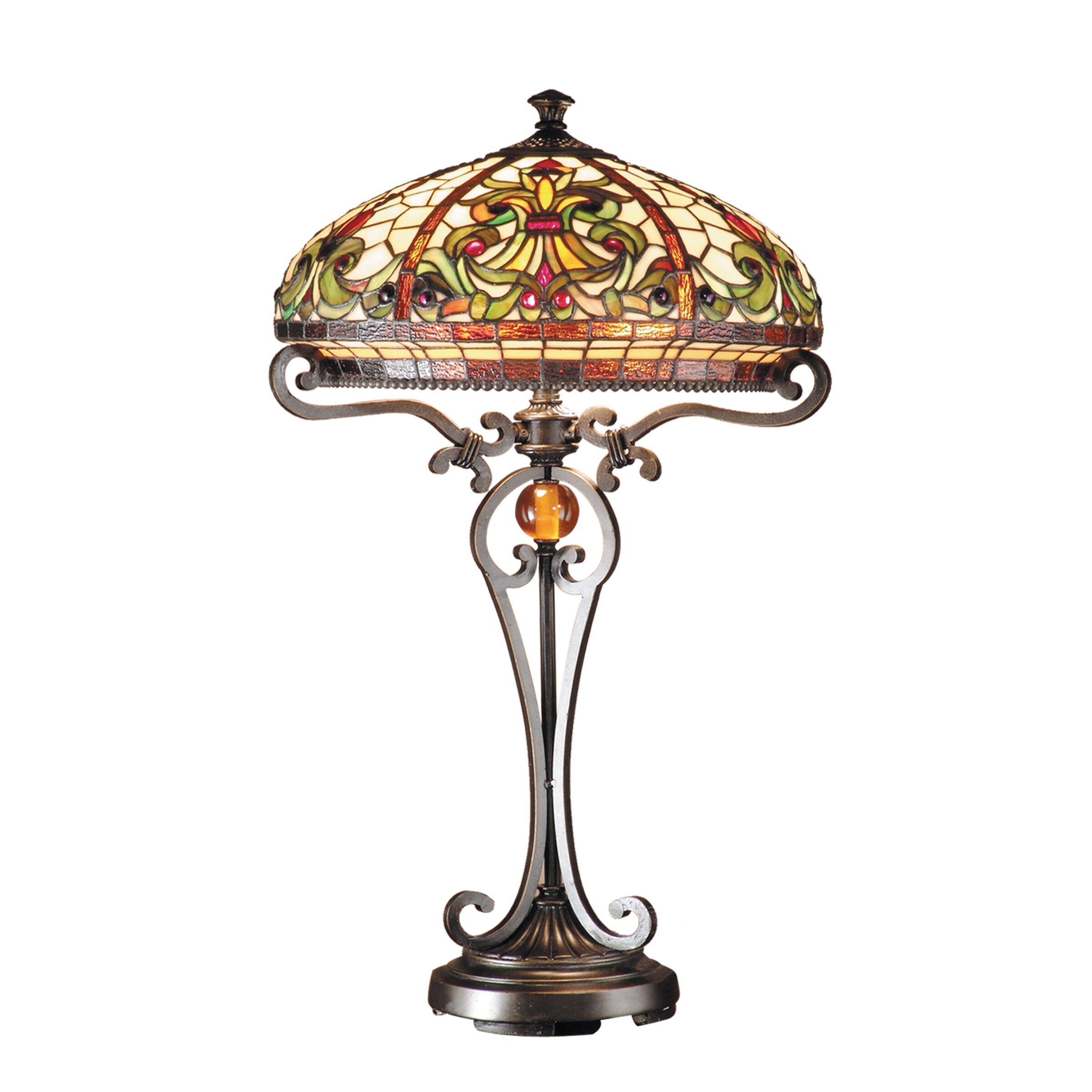 Boehme 28" H Table Lamp with Bowl Shade
Are you looking for some extraordinary and intriguing solutions for your house? Then, check out this amazing and stylish table lamp! It's gonna bring you not only an amazing look, but also the best functionality.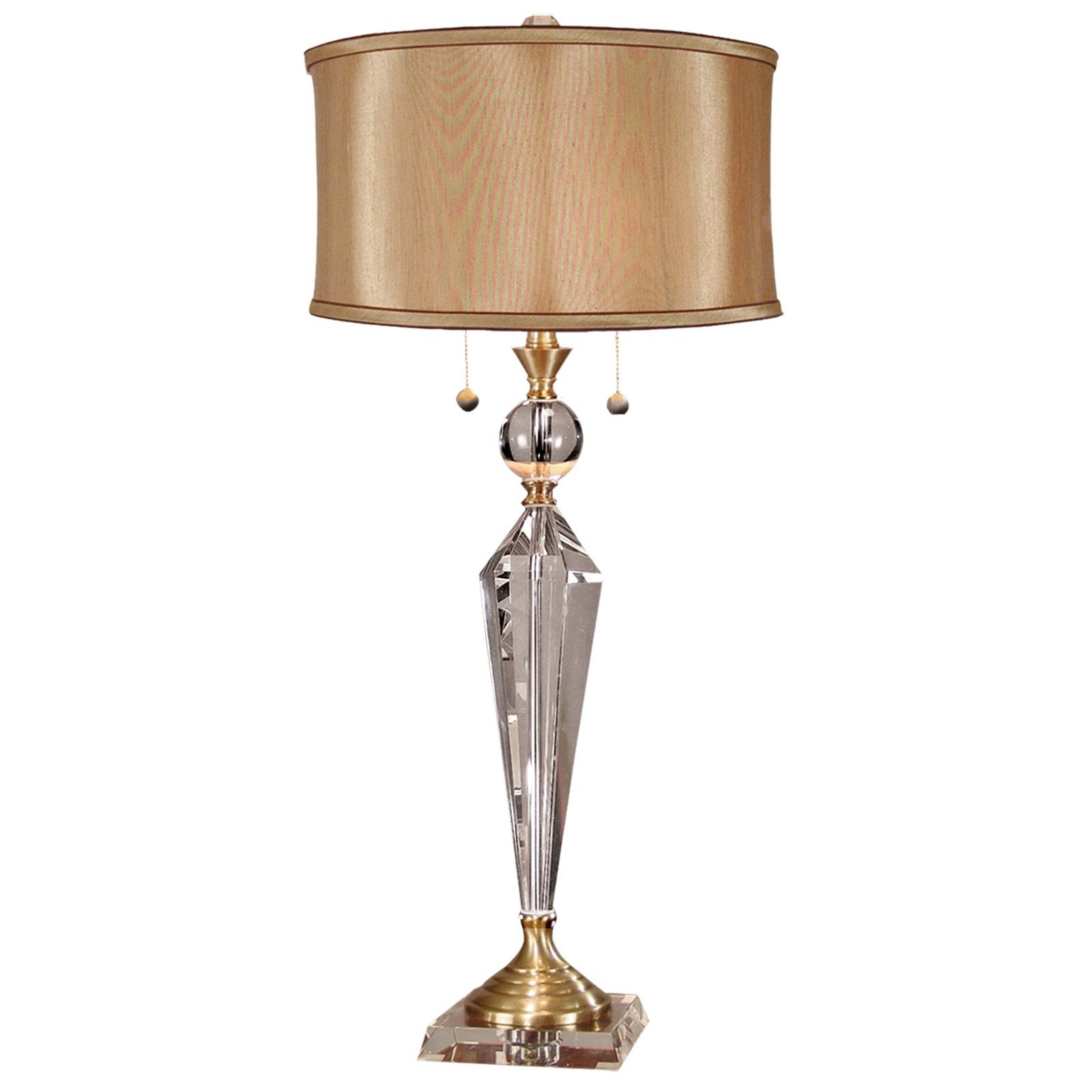 Strada Crystal 32.75" H Table Lamp with Drum Shade
Add this breathtaking table lamp to your decor and enjoy the look of pure awe on your guests' faces. The construction is durable and stable, while the finish provides a glossy and chic look with the slight gold accents.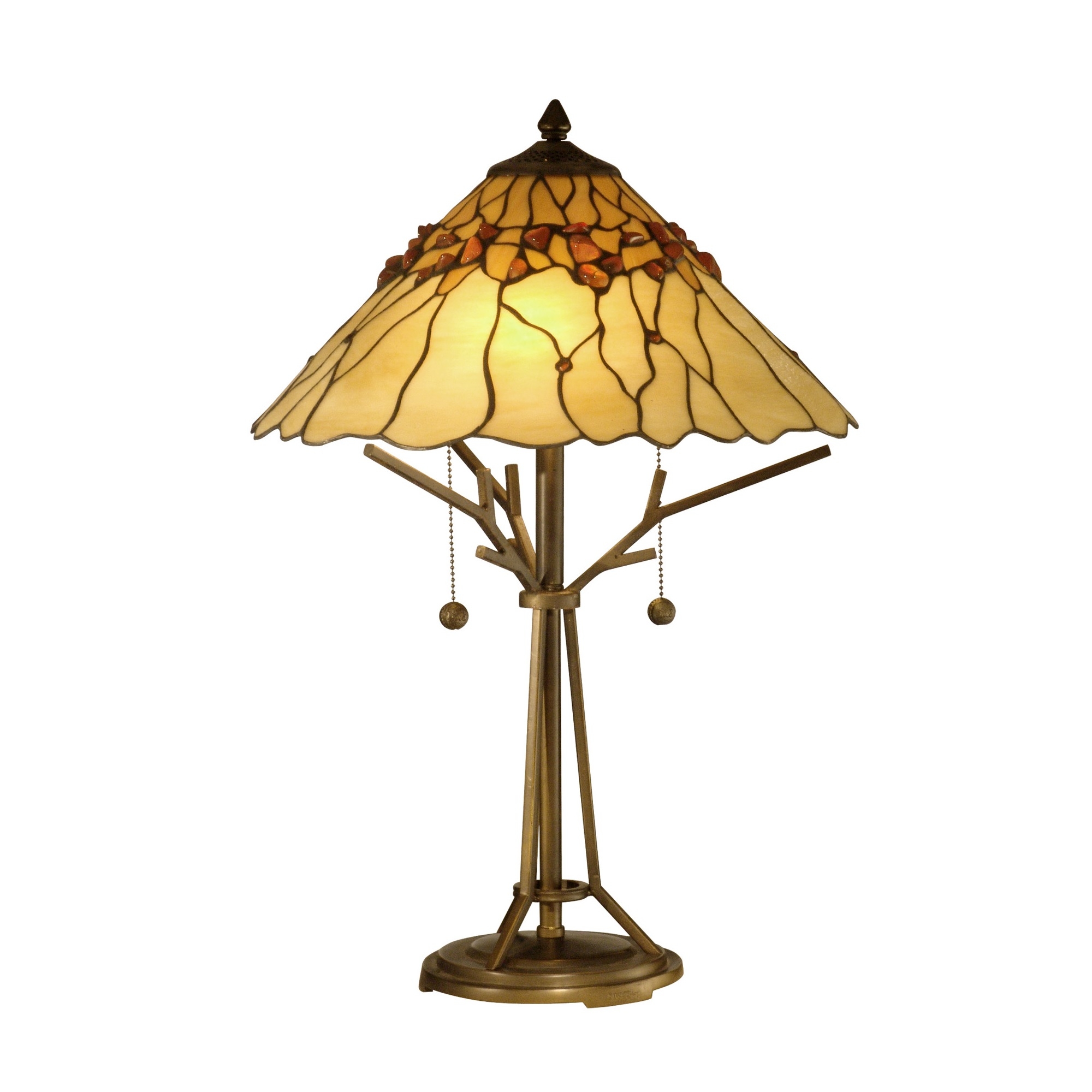 Branch Base Tiffany 23" H Table Lamp with Cone Shade
The metal base and a lovely glass lamp shade makes this striking table lamp is extraordinary decorative element for your interior. Pull chain switch makes it easy to operate.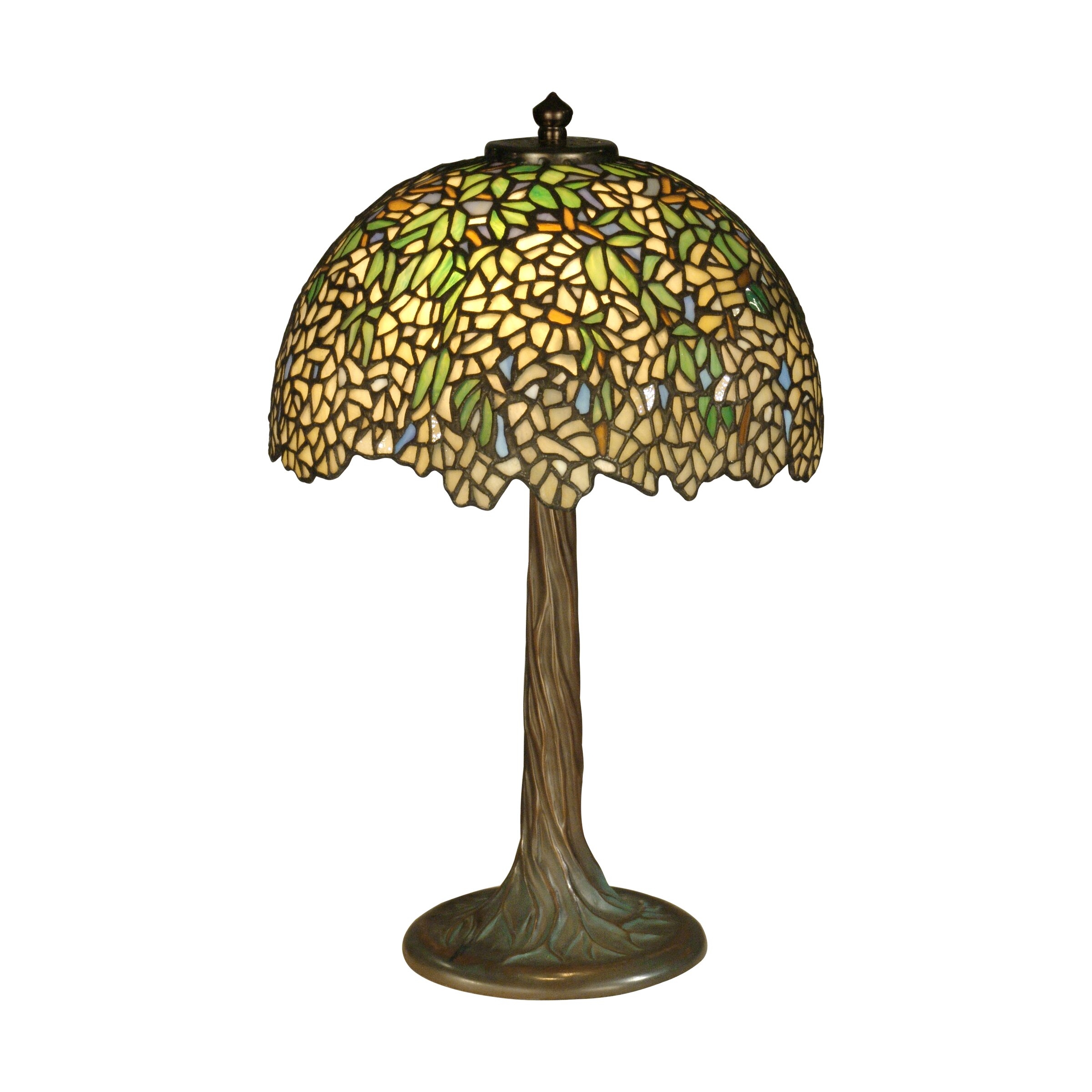 Wisteria Tiffany 17" H Table Lamp with Bowl Shade
This cute table lamp with handmade glass stained-glass lampshade in the whole set like stylish tree. There is a remarkable decorative detail for each room in your home.It lends a unique atmosphere and pleases the eye.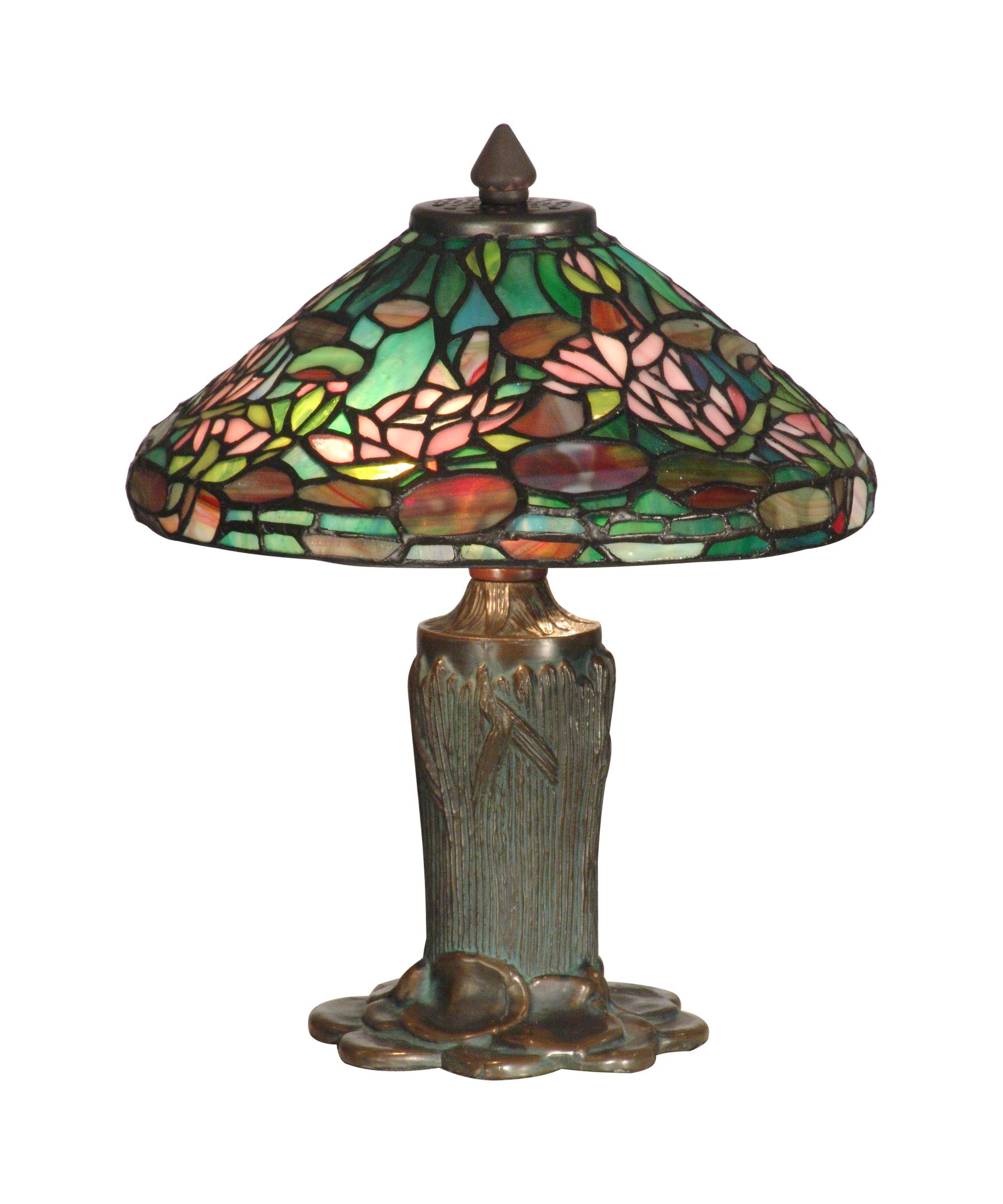 Floral Leaf Tiffany 12" H Table Lamp with Empire Shade
If you're a fan of intriguing and original design, you're gonna fall in love with this amazing, decorative table lamp. It's gonna bring you not only an awesome look, but also an extraordinary functionality.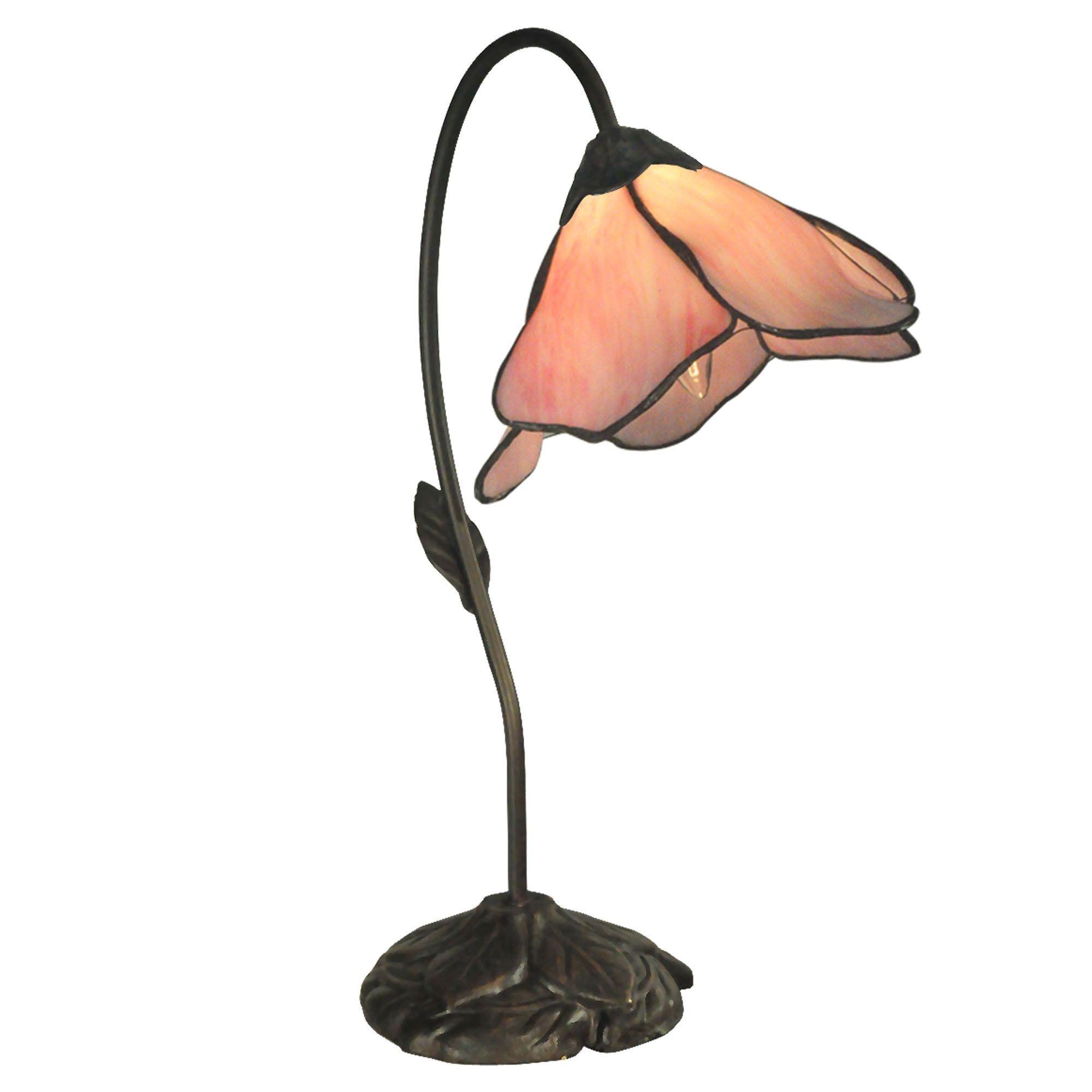 Poelking 21" H Table Lamp with Novelty Shade
Very delicate and extremely decorative lamp. It is styled on a delicate flower. Check in the living room, but much better to look in the bedroom, where a gentle way will dissipate the darkness. Soft and stylish. It has a lot of class.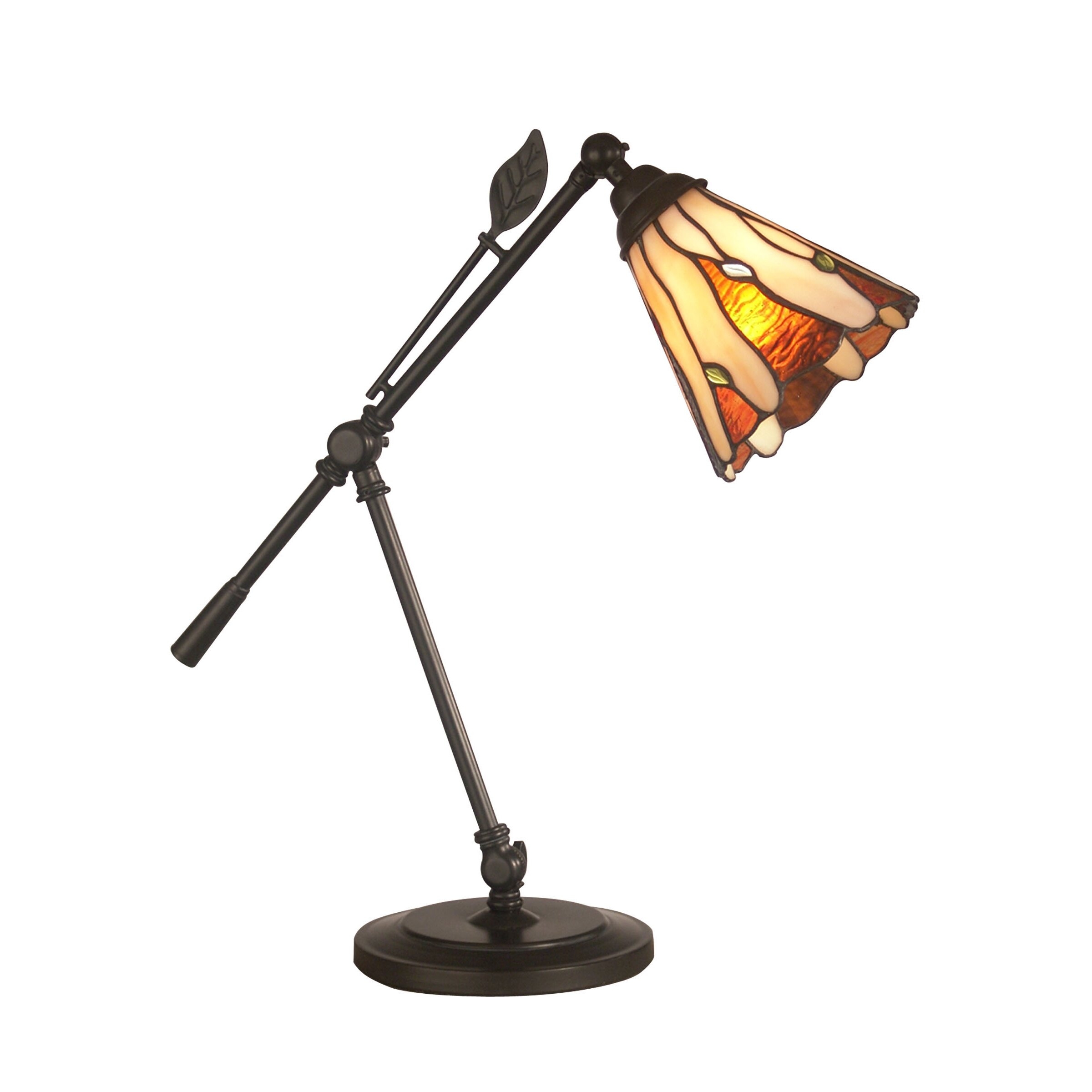 Tiffany Leaf 18.5" H Table Lamp with Empire Shade
This unique and stylish table lamp would be a perfect choice for every fan of original and oriental solutions. It's gonna bring you not only an intriguing design, but also an extraordinary functionality!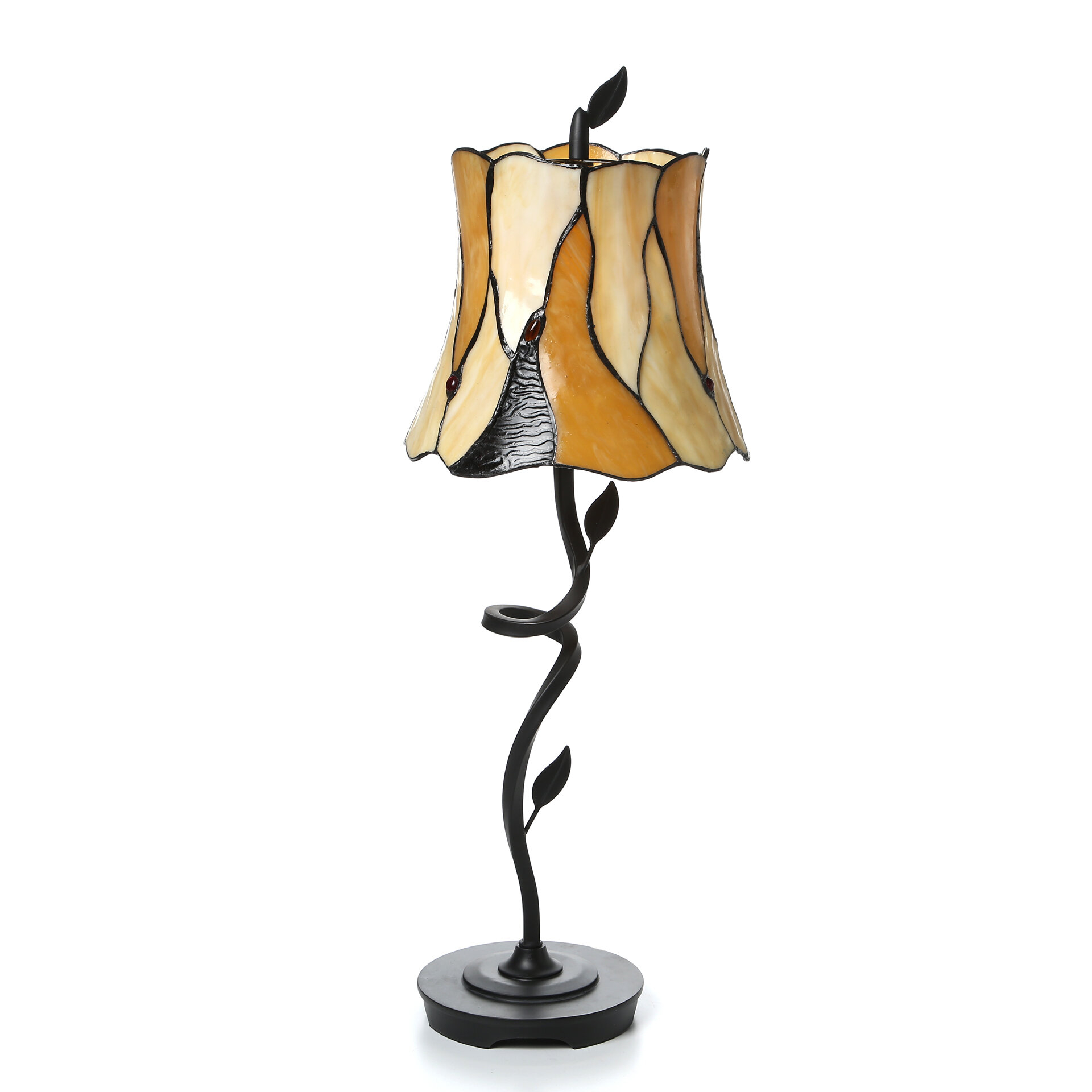 Buffet Twisted Leaf Tiffany 25.5" H Table Lamp with Bell Shade
It is very attractive and interesting table lamp. The whole, in its composition refers to the flower. Its leg reminiscent of the winding stem, which is surrounded by leaves. On the other hand, lampshade is the flower. Nice and impressive.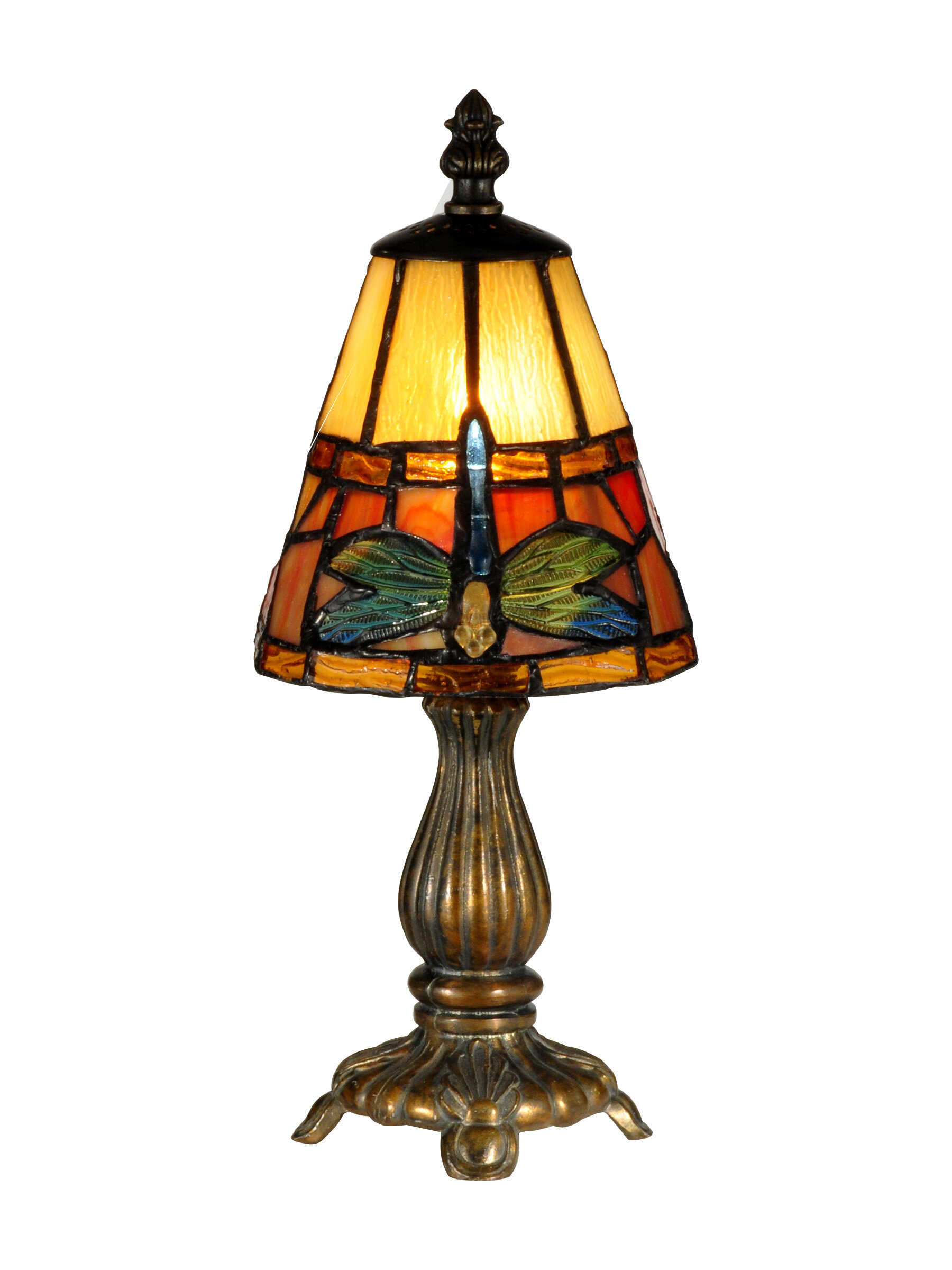 Cavan Tiffany Accent 12.75" H Table Lamp with Empire Shade
It is a table lamp with empire shade that has got a dragonfly accent. It is amazing for office space, library and bedroom. Everyone will be impressed how beautiful this lamp is. It is a perfect choice.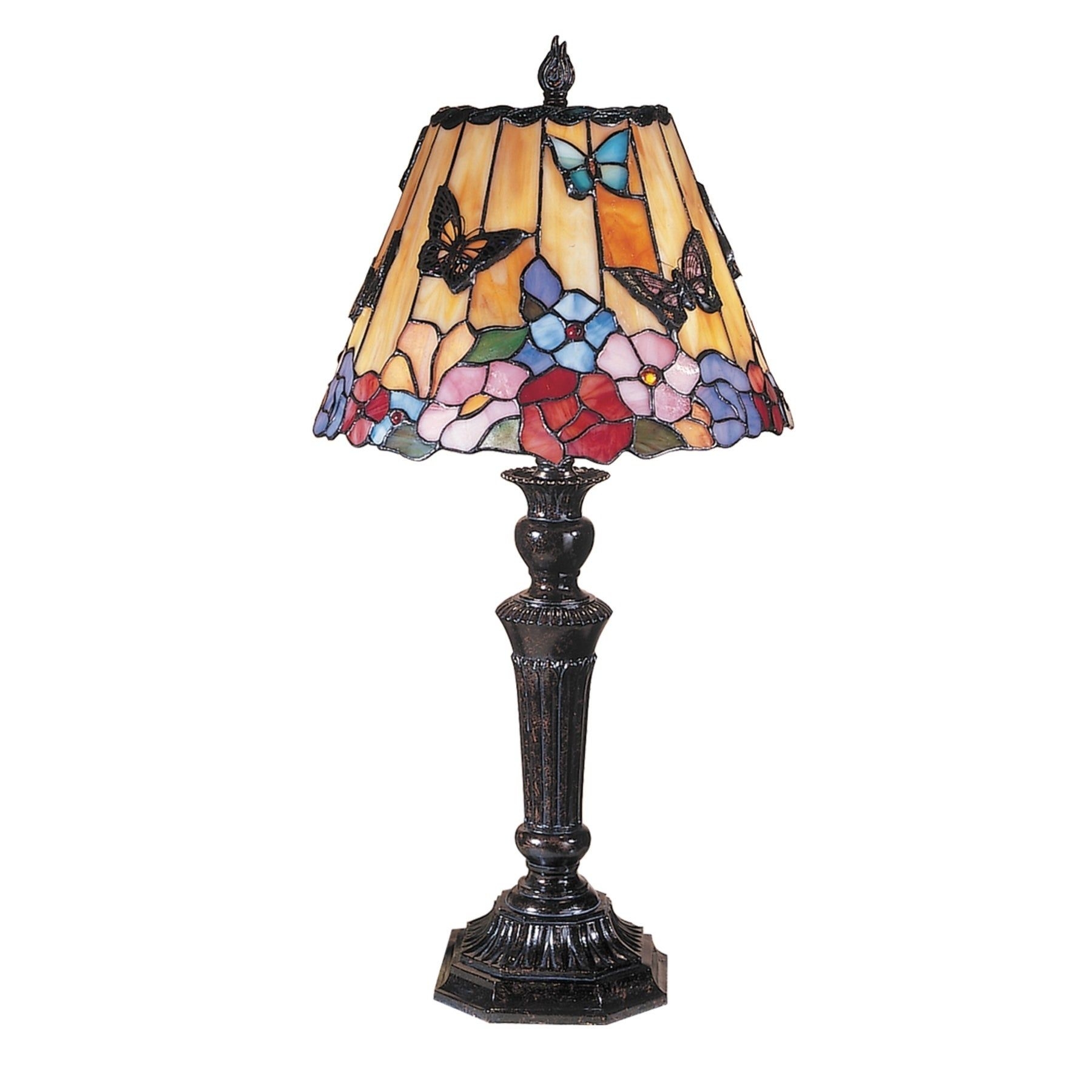 Butterfly / Peony Tiffany 24" H Table Lamp with Empire Shade
This original table lamp has a unique design and is a bit old-style. Its base is decorative carved, made of metal with antiqued finish. Shade is an essence of this lamp - classic empire shape yet made stylized on a stained glass with floral theme.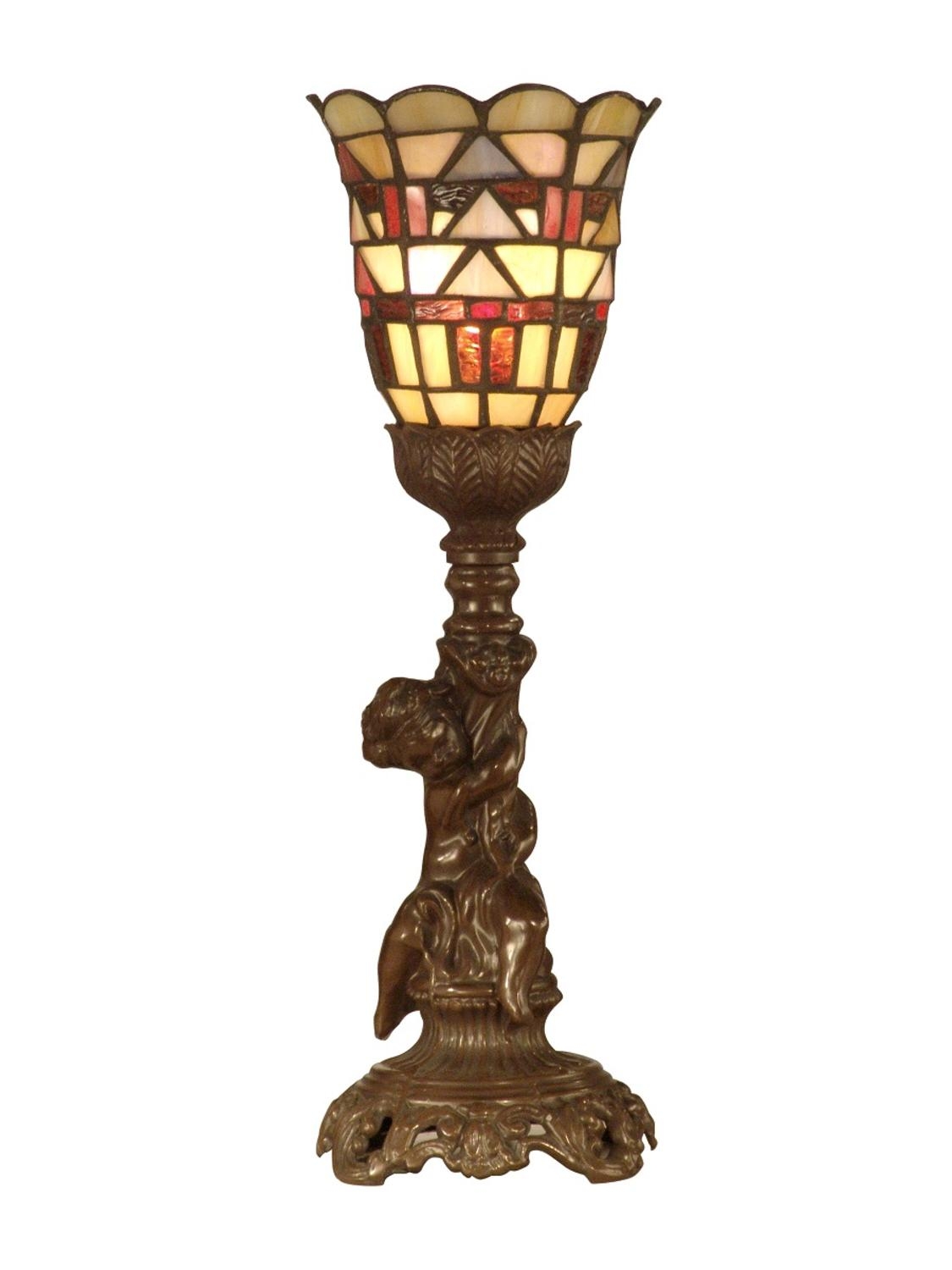 Tiffany Mission 15.5" H Table Lamp with Bell Shade
Gorgeous table lamp in Tiffany style. Metal construction in antique bronze finish, beautifully sculpted. Artisan glass, multi-colored shade, bell-shaped. Thanks to the stained glass shade it gives soft light, really beautiful.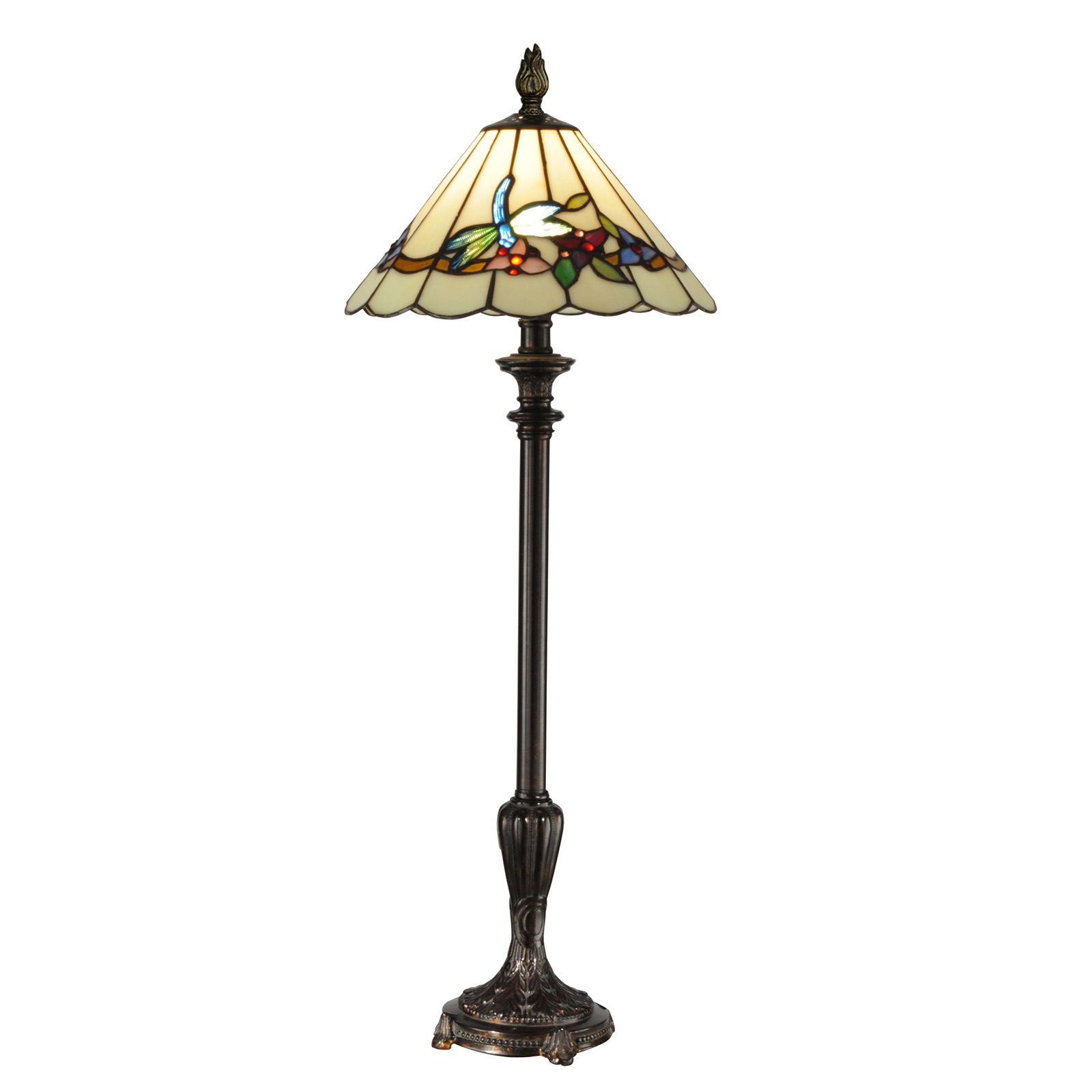 Lyndon Tiffany 32.5" Buffet Lamp with Empire Shade
Glamorous buffet lamp with single light, stained glass empire shade and eye-catching detailing. Antiquate base with classical design and dark brown finish adds a finishing touch to overall looks, being well-balanced and sturdy.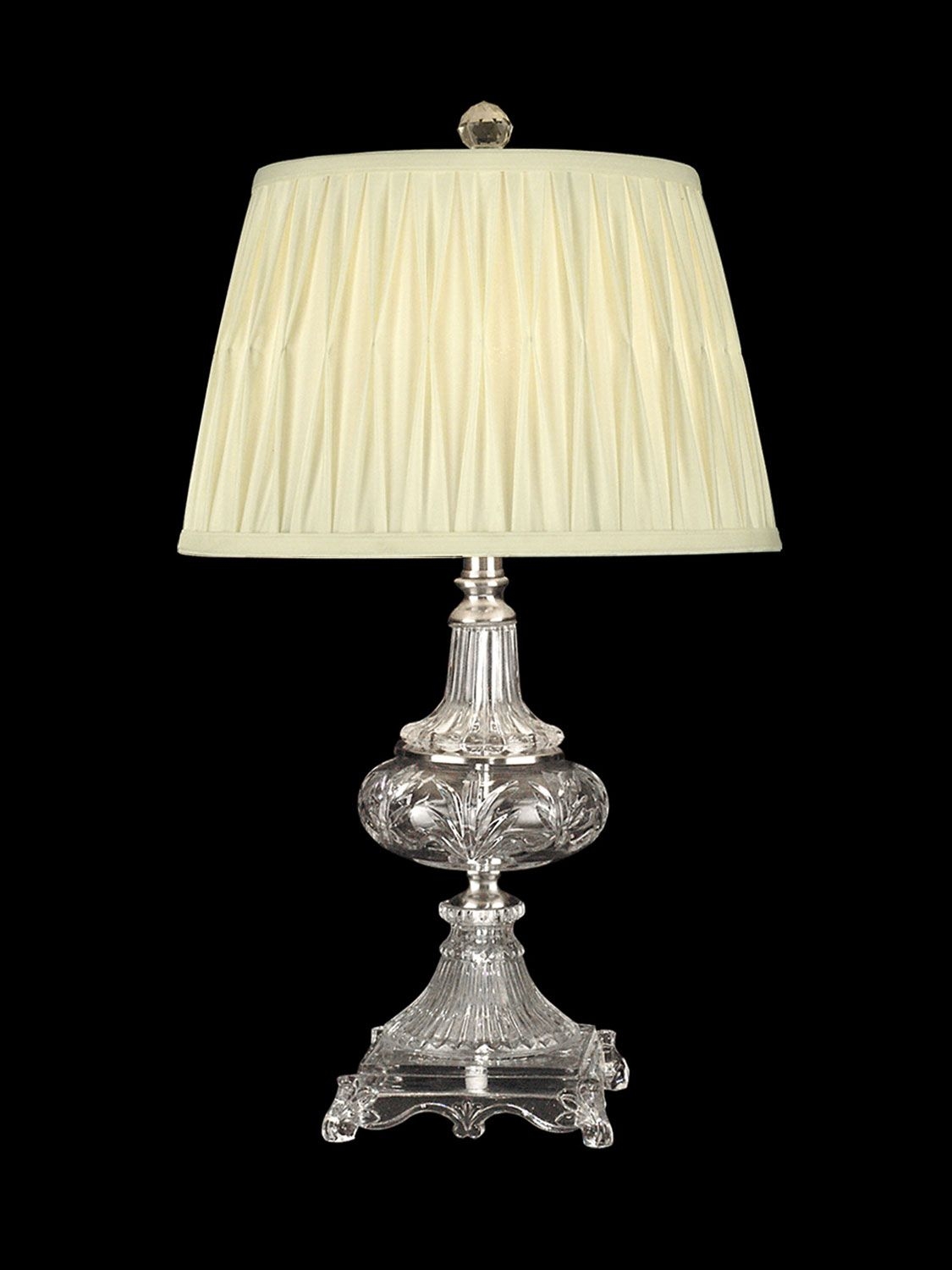 1 Light Crystal 26" H Table Lamp with Empire Shade
This astonishing table lamp has a very decorative base, made of carved crystal. Its large shade is made of soft beige, high quality fabric and has a empire shape. It will bring a touch of luxury to any interior.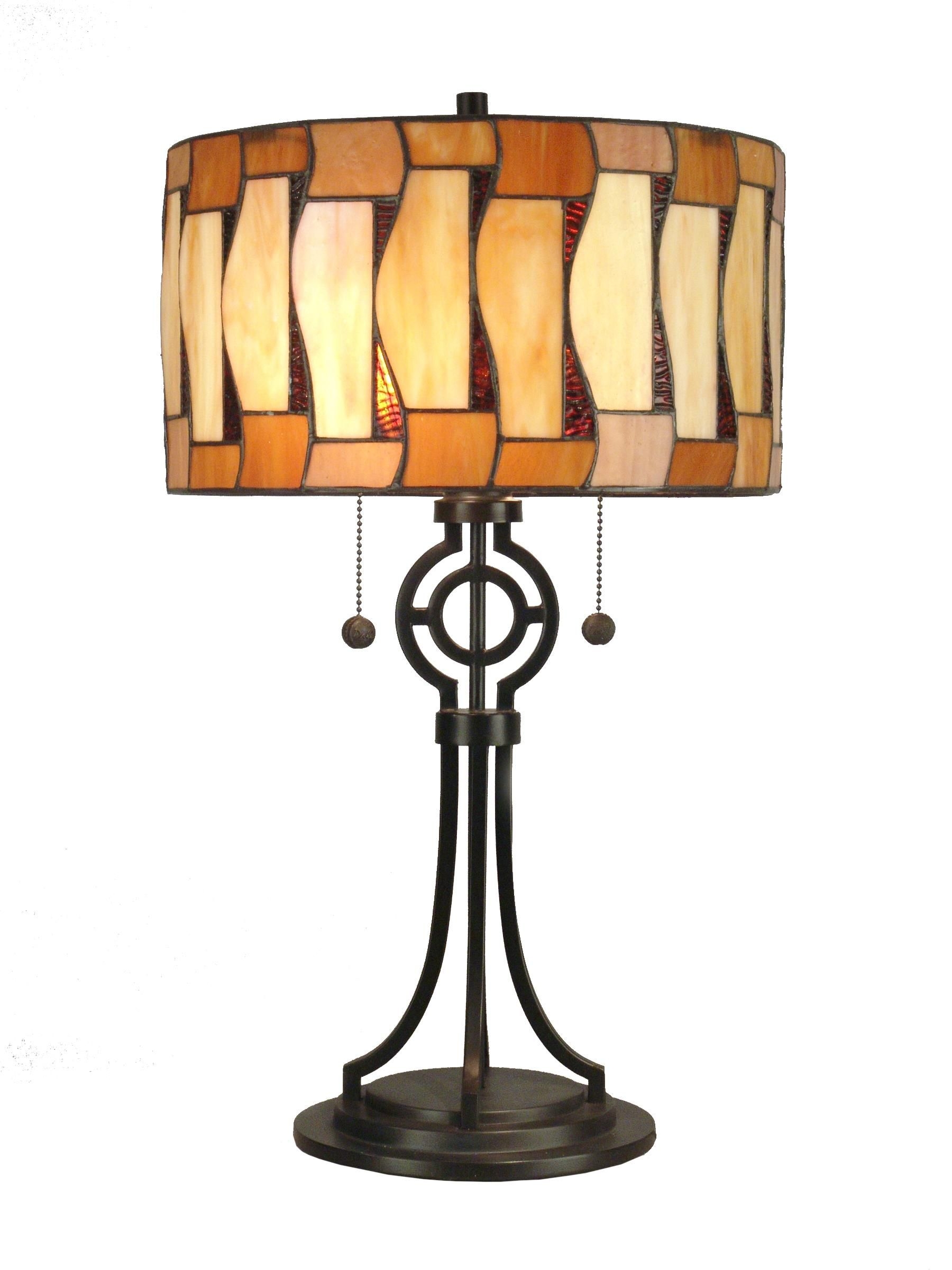 Addison Tiffany 24" H Table Lamp with Drum Shade
Table lamp for any living room, bedroom, office and other interior according to need. Drum shade has stained glass windows made of glass for a warm tone of light.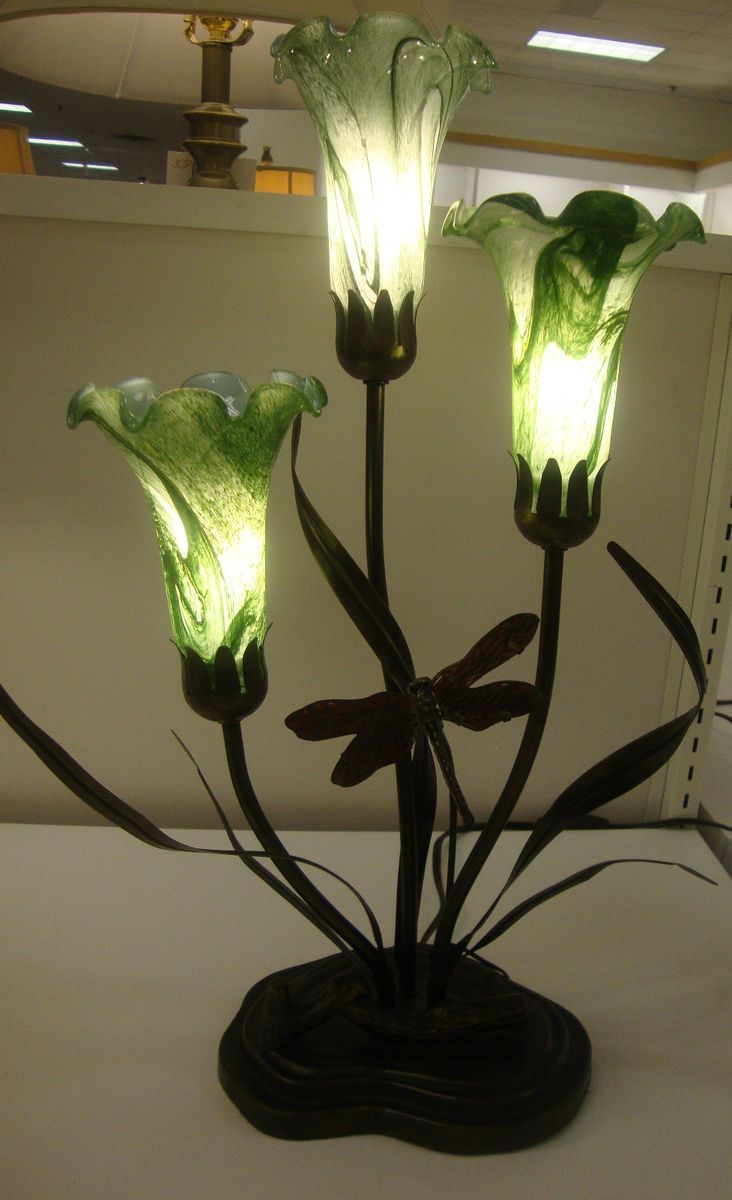 Beautiful and functional table lamp with a durable frame in a dragonfly stylization. It features three green glass shades. The whole stylization looks like a plant, so it brings an attractive natural pattern into the house.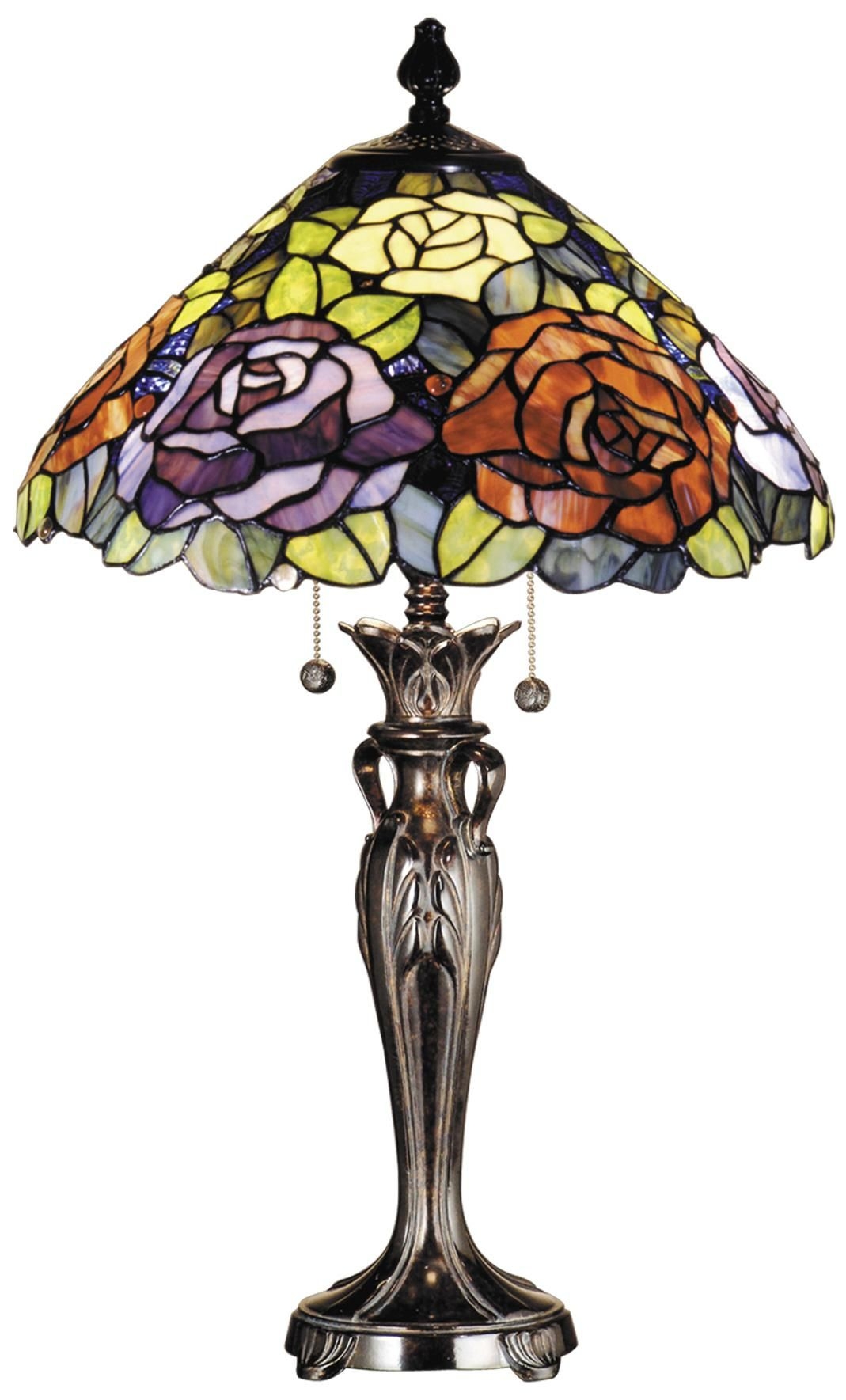 Embodying the style and chic of Tiffany style, this floral table lamp will enchant anyone entering the space. Depicting various roses, this solid stained glass construction will provide a romantic glow, serving this role for many years.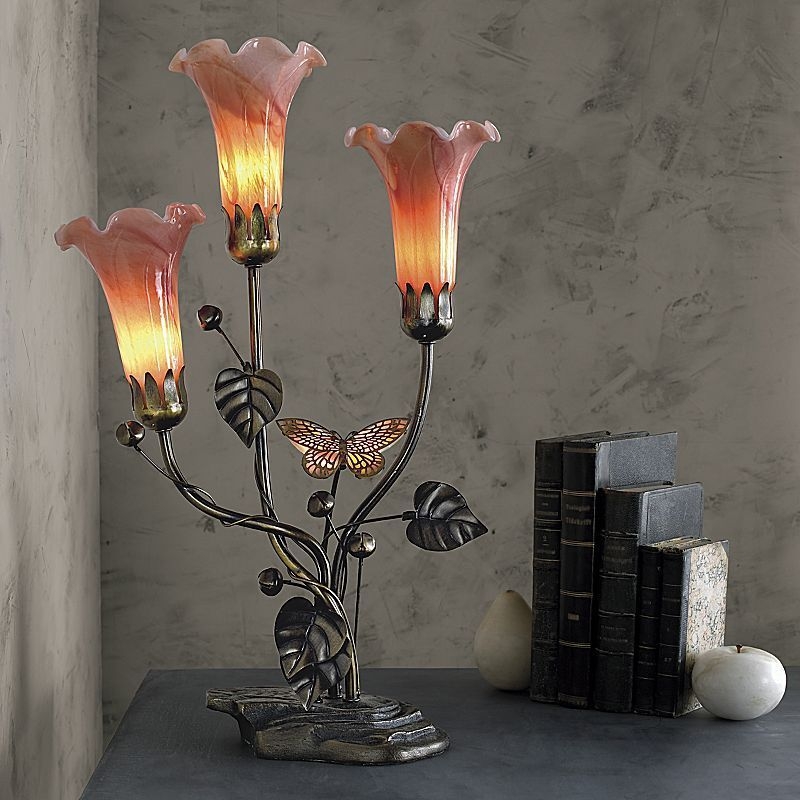 Vintage table lamp inspired of Tiffany style. It has beautiful kickstand in a shape stalk with leaves made of bronze. There are three lampshades which simulate bellflower. Lamp is decorate of stained glass butterfly.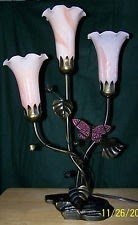 ... DALE TIFFANY TRIPLE PINK GlassTULIPS BRONZE BASE BUTTERFLY LAMP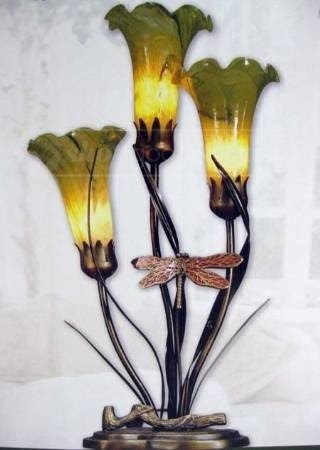 Artistic cast glass - the most important material of this dale tiffany lamp with three diffusers in the form of beautiful lilies. The lamp base is made of cast metal with an antique brass finish. Characteristic bonus is a dragonfly on the stalks.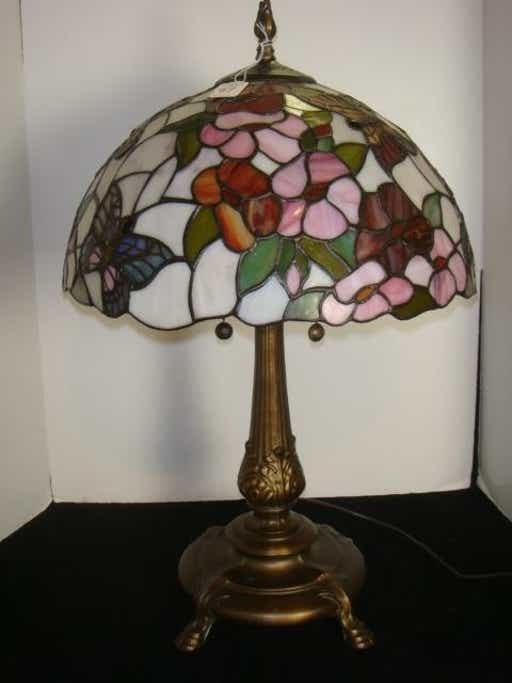 Table lamp with a solid metal base in gold finish. This base features attractive carvings. The shade is made of glass in many different colors. Lamp of this type not only provides light, but it also increases interior aesthetics.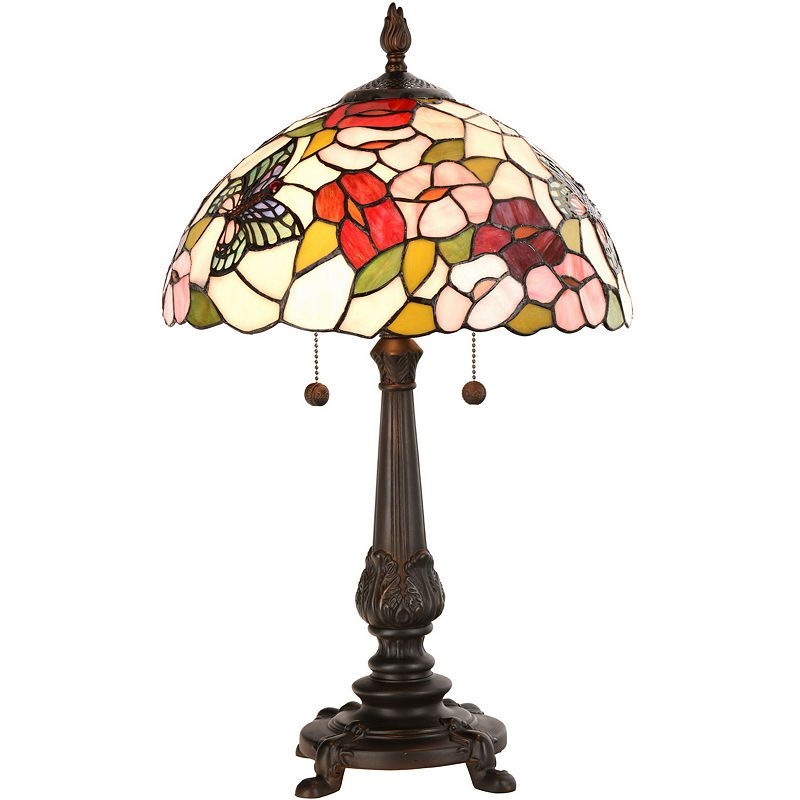 A truly beautiful piece - this Tiffany styled table lamp offers more than needed light and style for your interior and the pattern of the glass on the shade makes it utterly breathtaking and perfect to accent your traditionally styled home.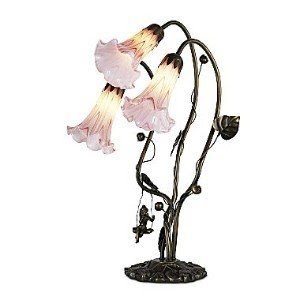 dale tiffany swinging lady lily new dale tiffany lily table lamp 3 ...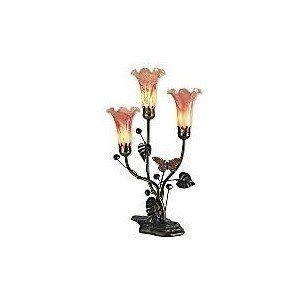 A charming stylish table lamp modelled on 3 lily flowers with stems and leaves. It has a base of metal with an aged brass finish. Three tall uplight flower-like lampshades are of mouth-blown glass in creams and pinks. They require up to 15W bulbs.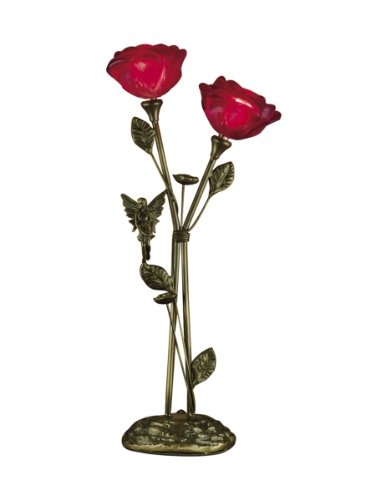 A cute stylish table lamp modelled on ... 2 rose flowers (with stems and leaves) on an ovalish foot. A base is of metal in brass with greenish accents. Two roses-lampshades of vivid red glass house up to 5W halogen bulbs. It has an on-cord switch.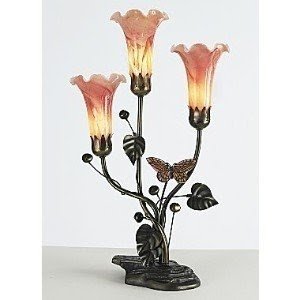 Dale Tiffany® 3-Light Lily/Butterfly Accent Lamp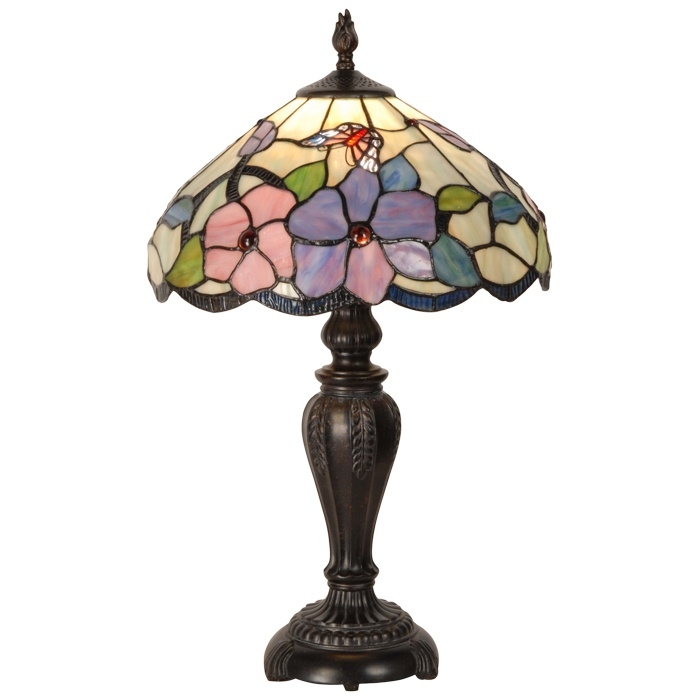 Dale Tiffany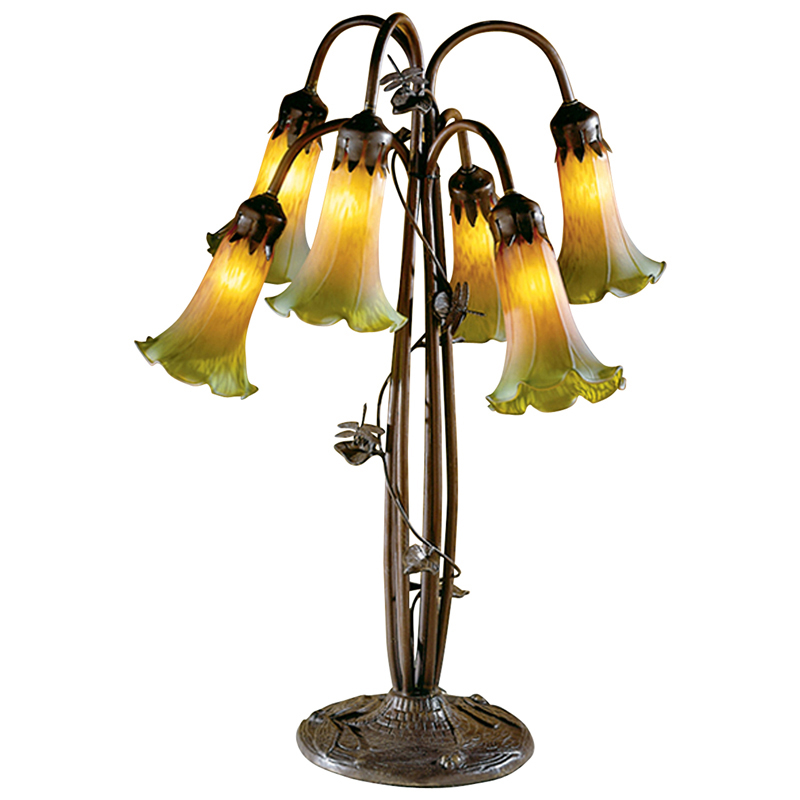 Table lamp with metal construction in bronze finish. The frame includes a round, stable base and a nice dragonfly pattern. Upper part includes six lamp shades in the form of yellow flowers, so this lamp plays the role of natural looking decoration.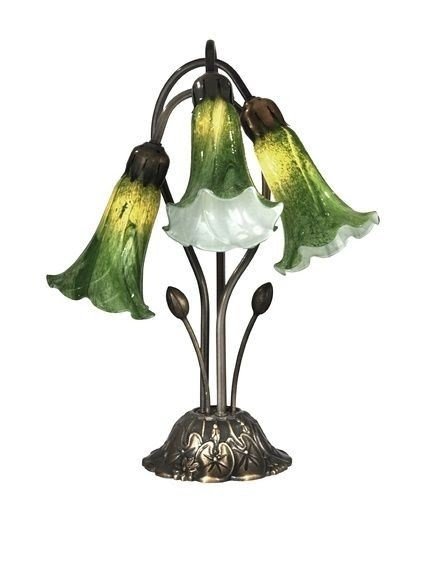 Dale Tiffany 3-Light Lily Table Lamp at MYHABIT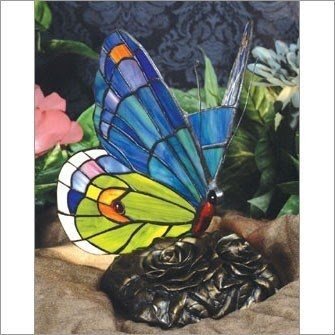 ... light around while the entire lamps bring the tiffany style in your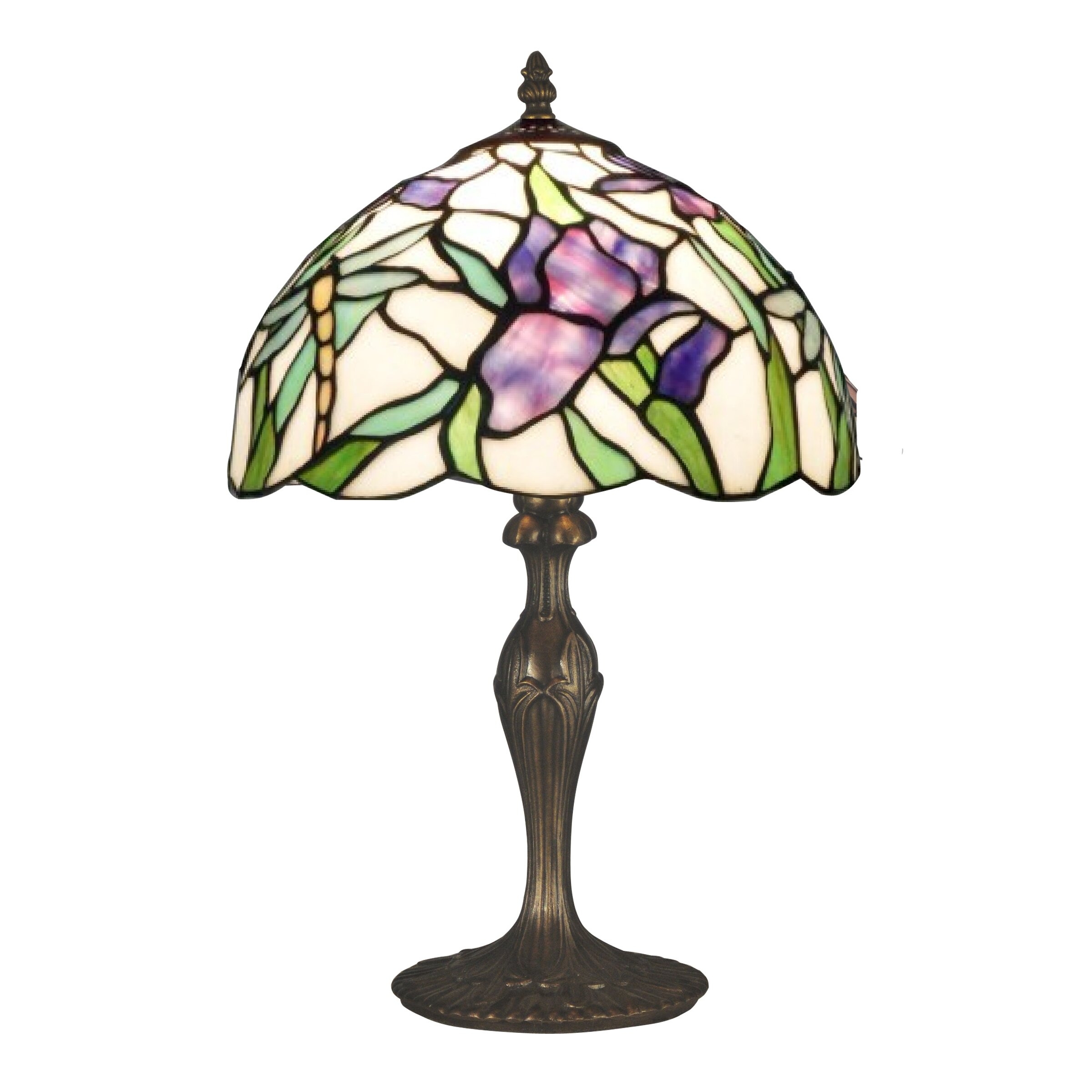 Tiffany - Dale Tiffany TT12338 Prosa Traditional Tiffany Table Lamp ...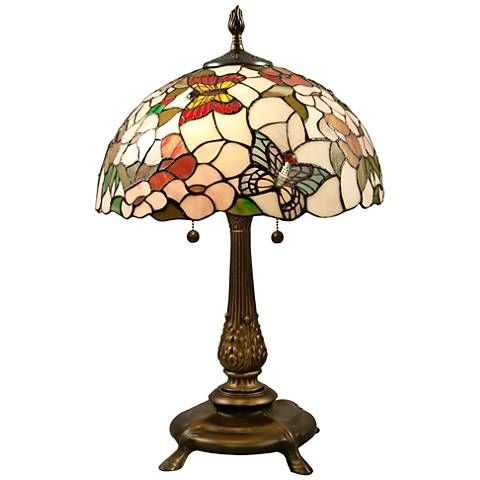 Table lamp that provides small illumination suitable for small areas, tables, desks, etc. Its durable, metal frame includes strong and stable legs. Its post features some decorative carvings. Glass shade offers a multi-color butterfly theme.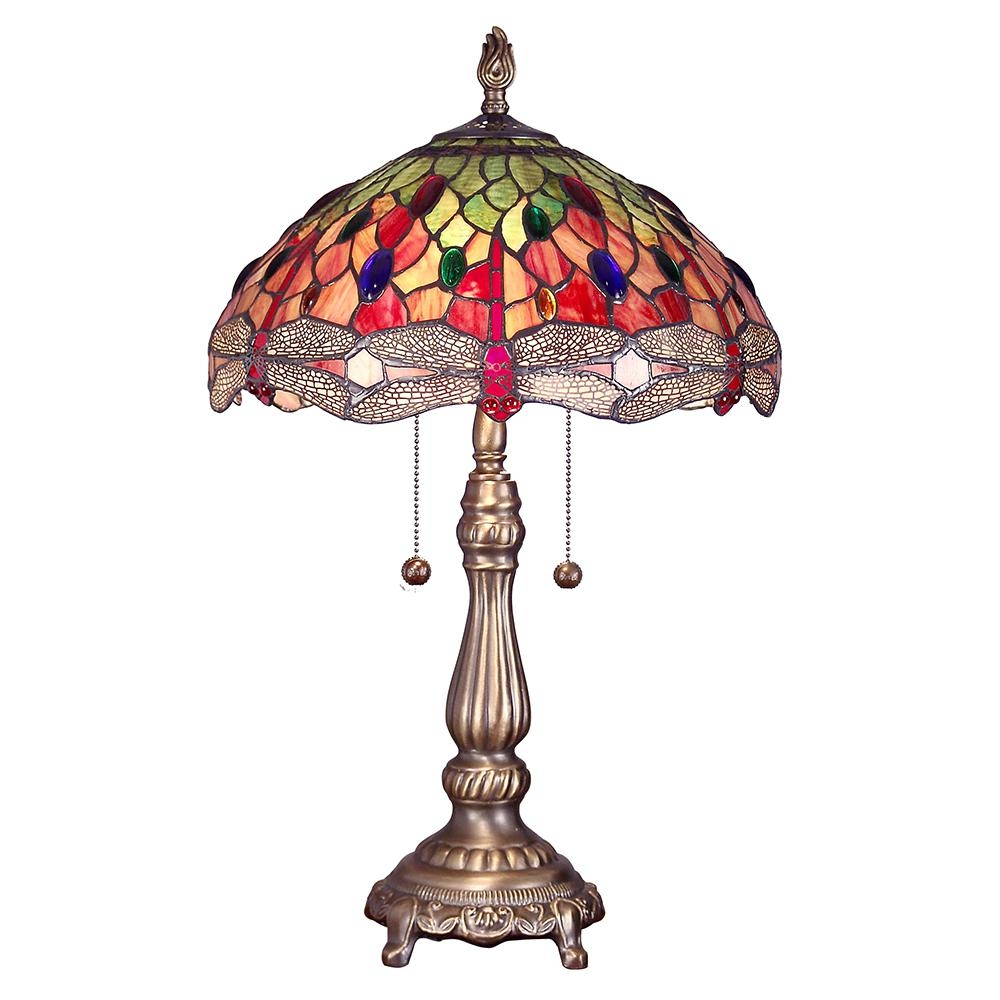 A magnificent table lamp in a Tiffany style. It features an elegant, decorative base with a metallic finish and a beautiful shade made of stained glass in a vivid combination of colors, which create a pattern of a dragonfly.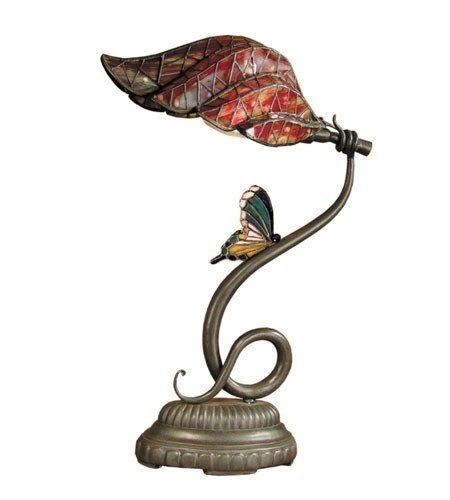 Dale Tiffany Butterfly 1 Light Lamp in Antique Bronze TT101130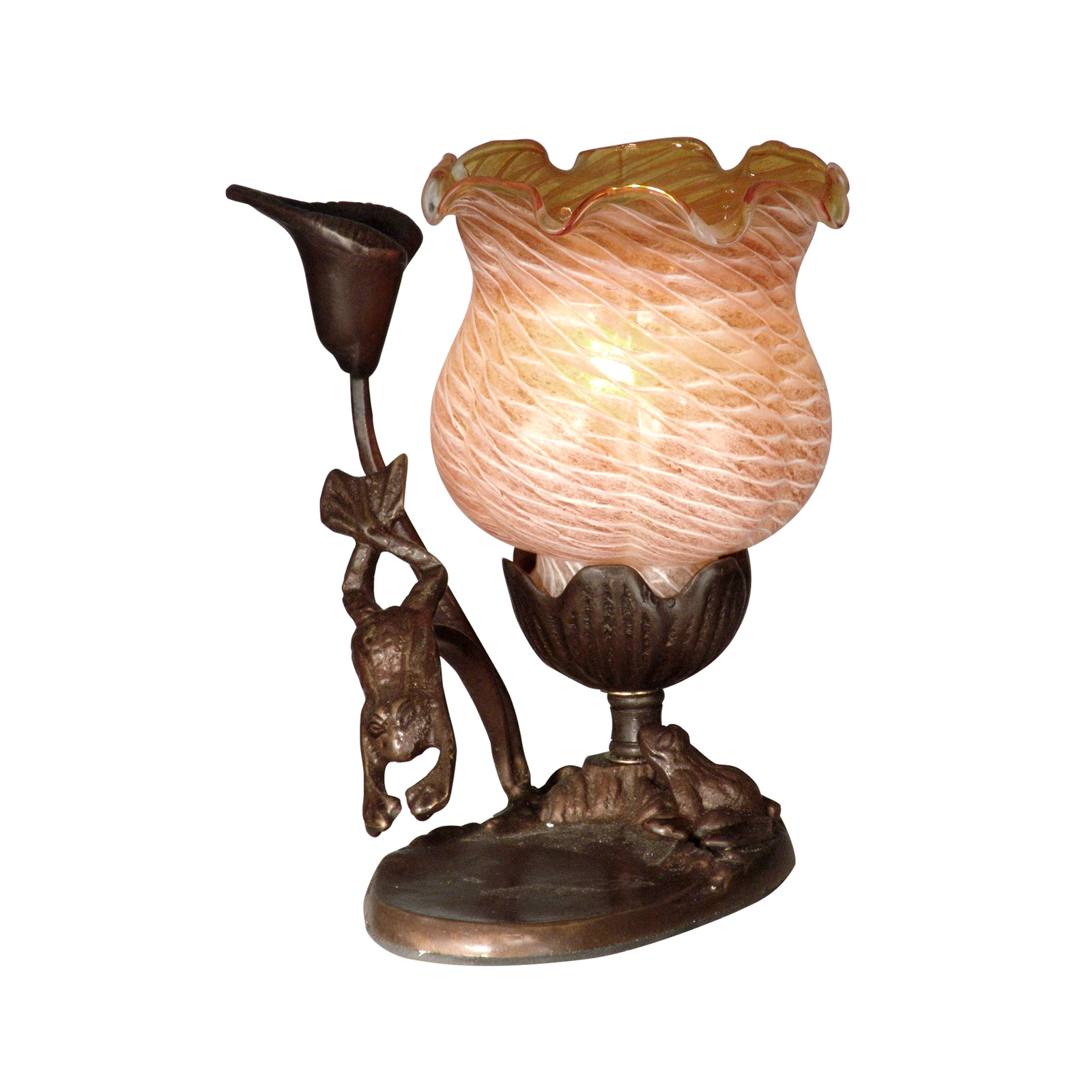 Tiffany Tulip 1 Light 7" H Table Lamp with Bell Shade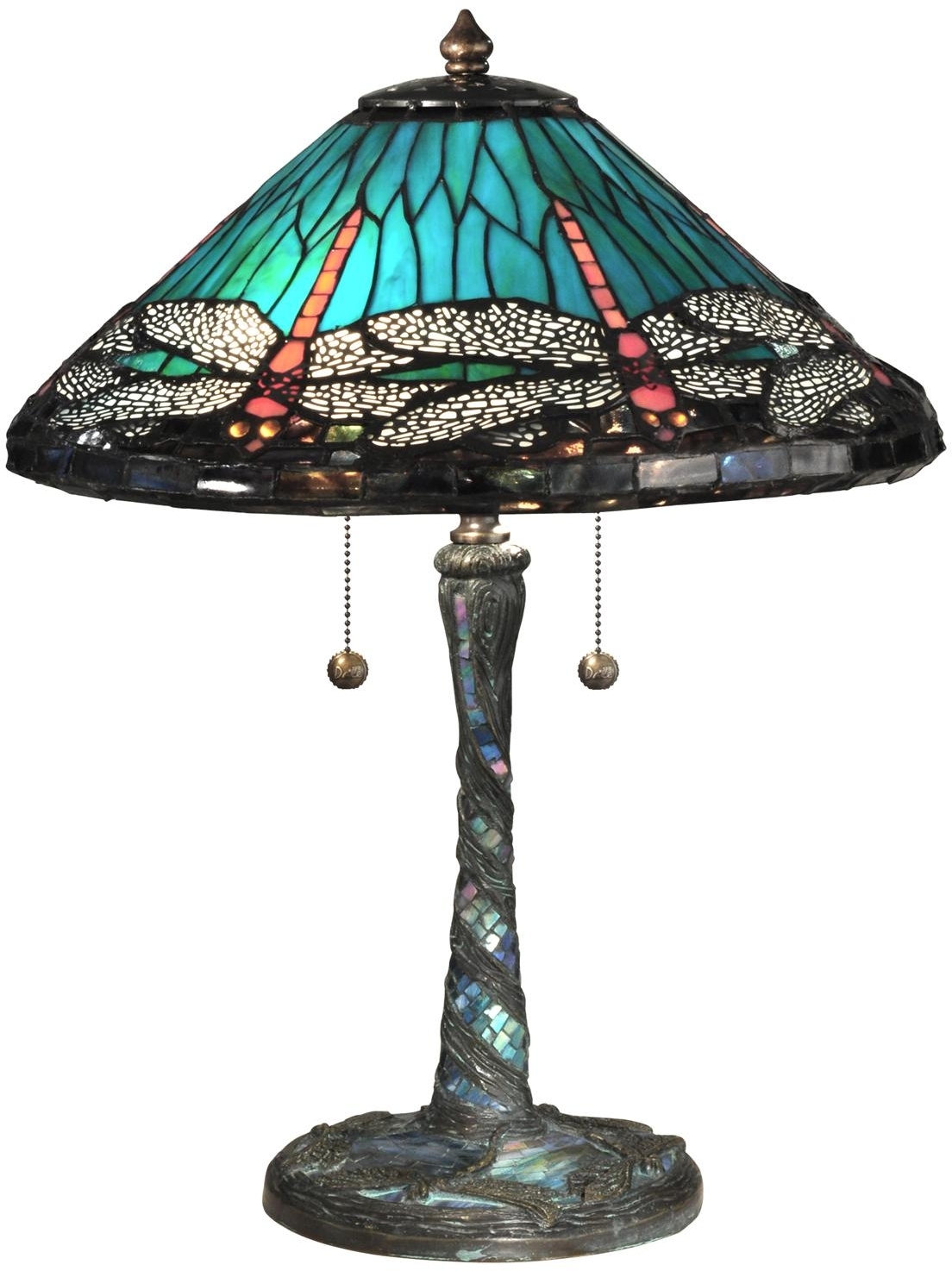 Truly amazing piece of furniture, actually more like a piece of art itself! A wonderful design for a little table lamp with a unique, colourful shade made out of stained glass with a dragonfly pattern on it.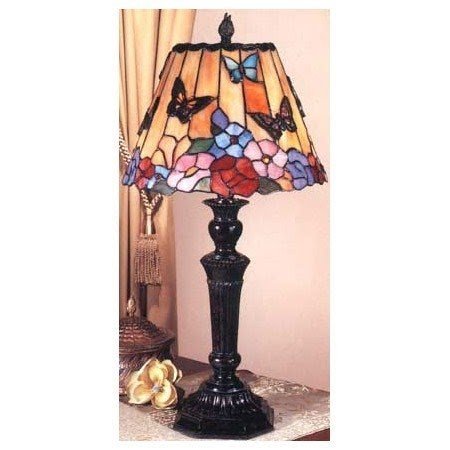 Home > Lamps > Table Lamps > Standard Table Lamps > Dale Tiffany ...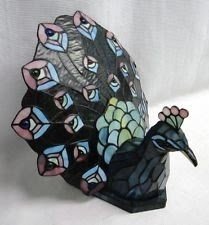 ... Glass Tiffany Dog Wolf Figurine Accent Electric Table Lamp Home Decor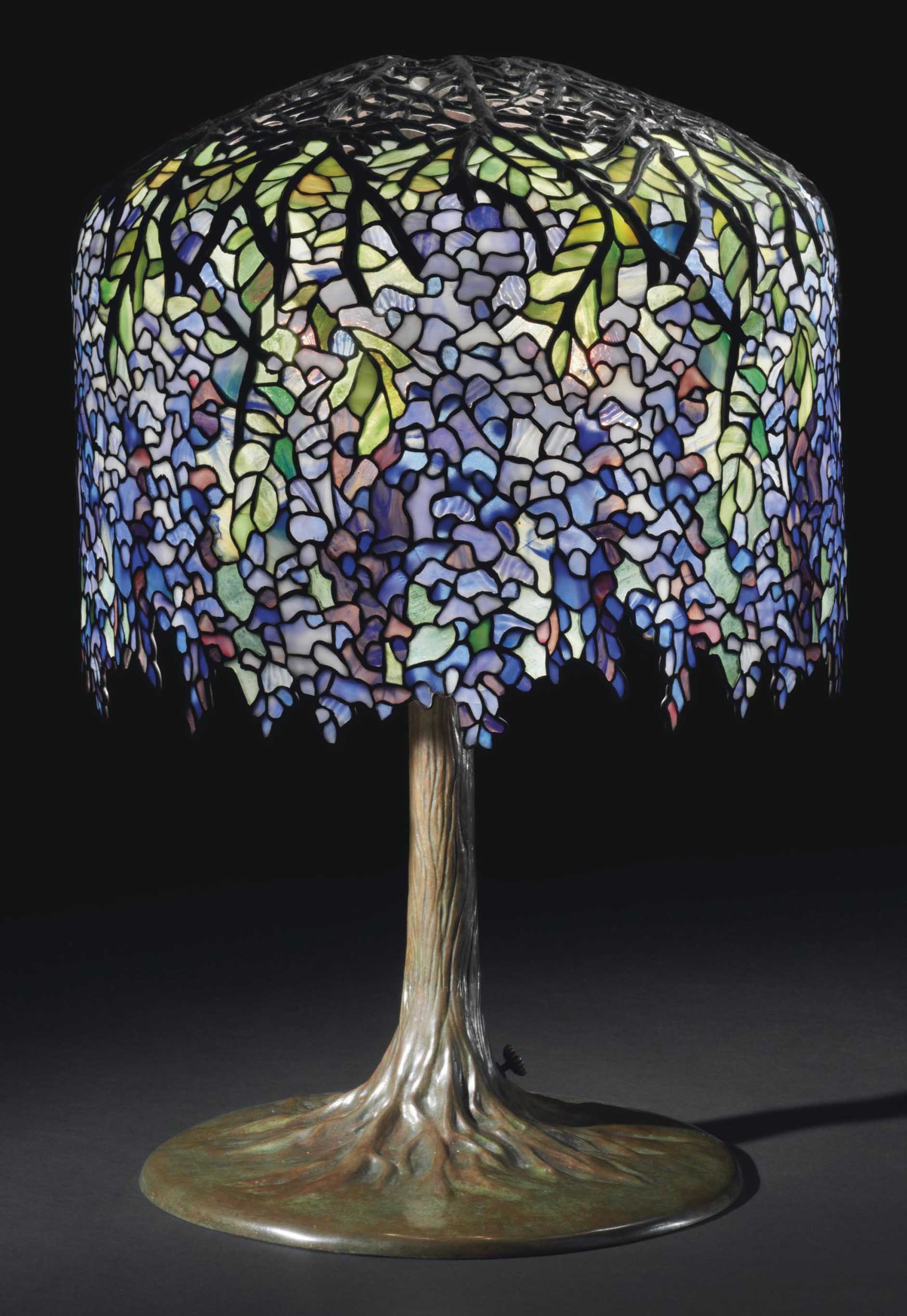 Tiffany Studios Wisteria table lamp, Christie's lot #67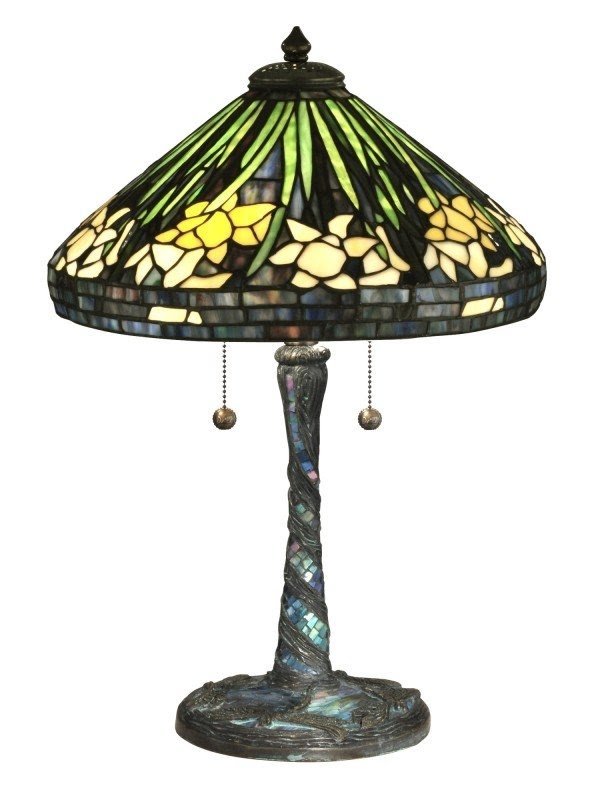 Daffodil 23" H Table Lamp with Empire Shade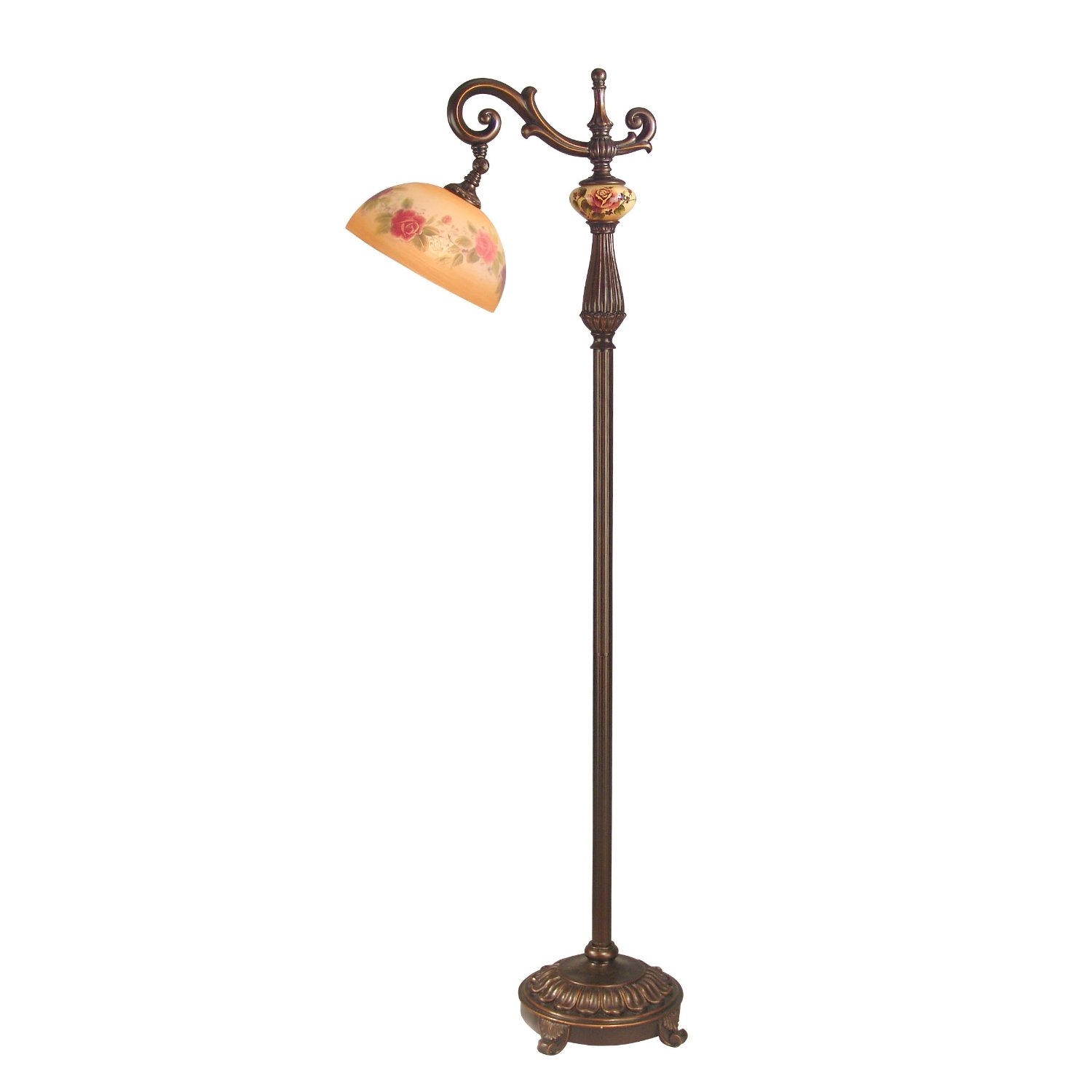 Antique styled floor lamp with a very attractive stylization. It includes a round base and straight post. Original lamp shade provides illumination and aesthetic appearance thanks to its beautiful frame.