Stained Glass Window Ideas
Replace a few window panels with some of these lovely stained glass window panels and enjoy watching the light play off the surfaces within their gaze. Ornate panels available in many different options will allow you to customize your home in a clever and attractive way that might have never been considered in the past. See collection for options.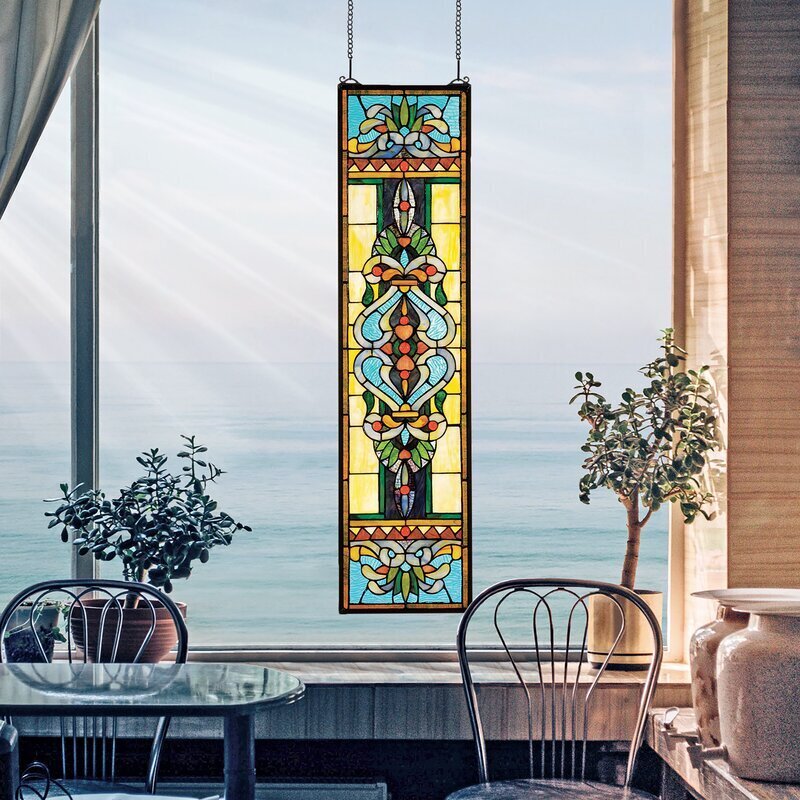 Slim Stained Glass Window Design
$193.95 $226.86
Slim Stained Glass Window Design
Design Toscano
$193.95 $226.86
Perfect For: Rectangular windows
What We Like: Bright and bold
Not So Good For: Large windows
This glass window panel features a main color scheme of gold and cobalt blue. It's ideal for narrow windows due to its slim rectangular shape. This panel is wholly unique due to the many different colors used. Each piece of glass is copper foiled for a luminescent effect. Both hooks and a hanging chain are included.
Designer Advice:
Full of elegance, this panel would look beautiful in an entryway space, especially if you have a door with window panels on either side. The gold, blue, and green color scheme is jewel-inspired, so we recommend placing this panel near a forest green accent wall to accentuate the jewel tones further.
What Users Say:
Put this in my bathroom window. Looks wonderful with the light shining through. Great price and very well made.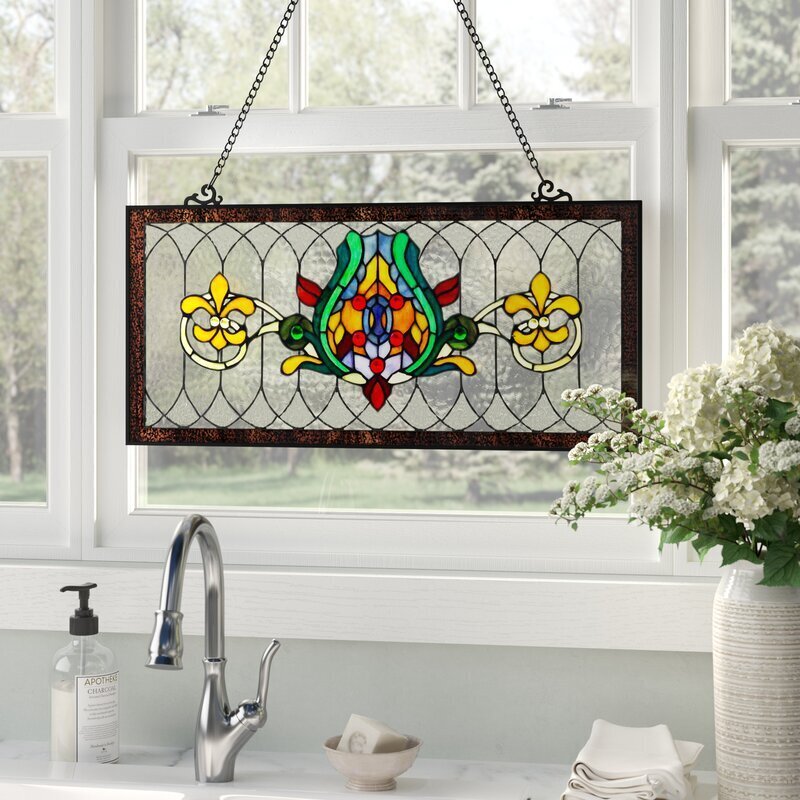 Abstract Simple Stained Glass Window
$137.99 $199.99
Abstract Simple Stained Glass Window
Astoria Grand
$137.99 $199.99
Perfect For: Small rooms
What We Like: Will let lots of light through
Featuring a stunning geometric design, this stained glass panel won't overwhelm a space because of the clear glass that surrounds the colorful areas. It's an excellent choice for a darker room, as it won't block out light. Inspired by Tiffany designs, it has a green and yellow color scheme with hints of green, blue, and red. A hanging chain is included, though no hooks or brackets.
Designer Advice:
This panel is the perfect choice for a kitchen or bathroom. It will give you that little bit of extra privacy but won't infringe on natural light. Plus, it will go with most colors thanks to the understated design.
What Users Say:
This has made my kitchen window a joy to behold! It absolutely has made my mediocre kitchen look like a lovely cozy room now. Love it!
Stained Glass Window Ideas
Stained Glass Window Ideas