Our Choice
Tiffany Glass Window Panel
Nine colorful birds brighten your day in this unique and beautiful stained-glass window panel. Vibrant nuthatches, cardinals, bluebirds, and finches perch together on a branch. At 13" high and 21.5" wide, this work of art hangs elegantly from a chain in an east-facing kitchen window or sunroom. This exquisite and eye-catching flock of stained-glass birds makes a wonderful gift for birdwatchers.
Stained Glass Window Panel
Inspired by art nouveau motifs, this rectangular window panel explodes with brilliant blues, soft yellows, rich greens, and hints of purple. It's 36" tall and 9.5" wide and hangs from a chain, making it evocative of cathedral decorative panels. Suitable for kitchen, bedroom, living room, or bathroom windows, this breathtaking and versatile piece brings class and color to any environment.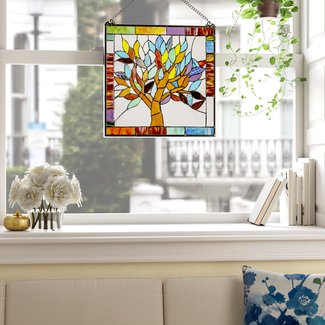 Mystical World Tree Tiffany Style Stained Glass Window Panel
A tree of life stands tall and proud in this 18" by 18" glass panel. Perfect above a window seat or favorite reading spot, the browns, greens, purples, oranges, reds, yellows, blues, and whites of this stained-glass panel illuminate your space with color. This awe-inspiring panel features 131 pieces of ripple, and striated glass for unique textural variations and light patterns cast a beautiful light in any room in your home.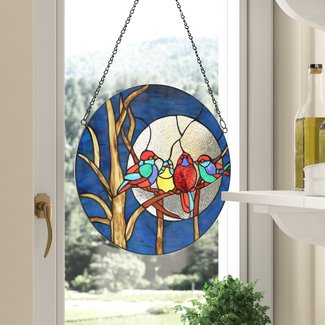 Birds in the Night Sky Round Stained Glass Window Panel
Four brightly-colored birds perch atop a tree branch in front of a full moon in this 16" diameter round glass panel. Evoking a magical night sky, this piece is dominated by a night-sky blue, the yellow white of the full moon, the brown of a bare tree, and the vibrant plumes of the birds. It comes with a sturdy chain to support its weight and large dimensions. Showcase this artistically designed panel in your kitchen window or patio door to reflect the sunlight.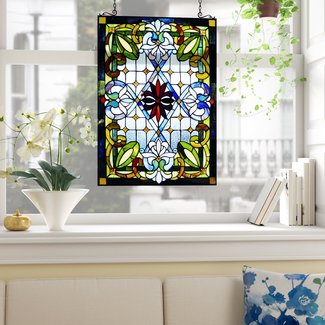 Zara Window Panel
Crafted from 480 pieces of hand-cut glass and suspended from a chain, this traditionally inspired stained-glass panel features floral and geometric designs that will flood your abode with color. Blues, purples, reds, greens, and golds evoke antique color palettes. Suspend this piece in a large, sunny window for maximal enjoyment; it will take center stage a bedroom or living room window.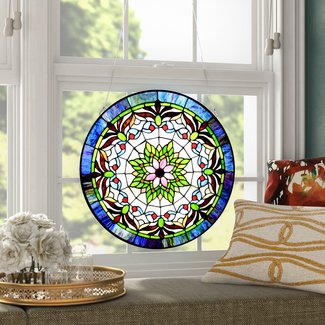 Beley Edwardian Man Window Panel
Tiffany-inspired botanical design meets copper foiled glass construction to make a round glass panel. The copper-foiled construction resists rust and fading. This gorgeous work of art features 361 stunning pieces of glass in blues, greens, purples, reds, and yellows that spiral together to create a delicate design that invokes the beauty of the natural world. The 22" diameter circular panel comes equipped with a chain, making it the perfect accent for a dining room or office window.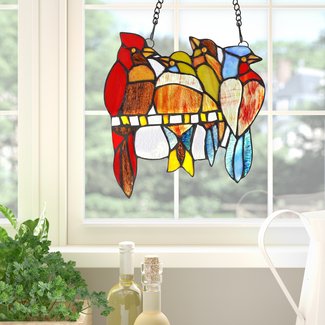 Tiffany Window Panel
A bright red cardinal, a brilliant blue jay, and two multi-colored finches perch together in this charming, chain-suspended stained glass panel. At only 9.3" tall and 8.9" wide, this small stained glass panel will fit and look great in any well-lit window and is still large enough to make a statement. Crafted from over 100 pieces of ripple, striated, and hand-cut glass, the natural textural variations are eye-catching.
Window Panel
Art deco-inspired lines and an art nouveau-inspired central motif adorn this 14" tall and 30" wide rectangular panel. A central floral design comprised of reds, greens, blues, oranges, and yellows sits against a background of opaque white. Ideal for casting bright, dappled shades in a large window, this panel is perfect for a living room display and fits effortlessly with a more traditional décor style.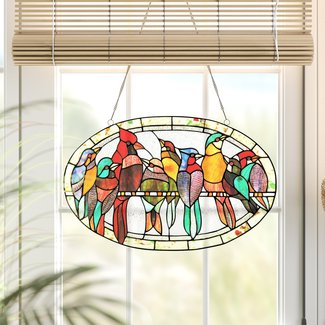 Tiffany Glass Oval Window Panel
Nine cabochons and 186 pieces of cut-glass work together to create a beautiful festival of colorful birds in this stunning oval glass panel. Finches, grosbeaks, cardinals, and jays assemble on a branch and are framed by pale gold, oval trim. 15" tall and 23⅜" across, this piece is perfect for a reading nook, child's room, or a Florida room. Golds, opaque whites, oranges, reds, browns, turquoise, greens, and blues catch the morning or afternoon sun.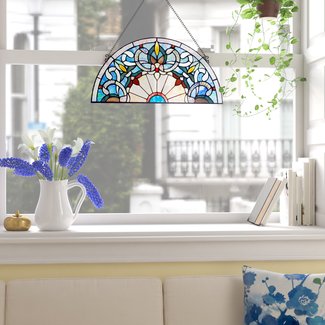 Corista Half-Moon Stained Glass Window Panel
This half-moon of art nouveau-inspired stained glass features swirling floral patterns balanced with geometrical motifs. Crafted from real cabochons and hand-cut glass, blues dominate the design and are amplified by reds, yellows, whites, greens, oranges, and purples. Reversible and equipped with a chain, this panel is ready to hang from the moment it arrives at your door. It's ideal for a living room or dining room window and blends seamlessly with a shabby chic, bohemian, or more traditional aesthetic.