In years past, secretary desks were used by estate managers or secretaries as a place to pay bills, sort mail, and handle the general affairs of a larger household. Today, they're used for various tasks in areas where anyone needs a bit of organization.
Secretary desks are characterized by a hinged piece of wood that lays flat when opened to provide a customizable workspace. When the desk is closed, it hides the workspace to create a tidy look that conceals your belongings. The inner box of a small secretary desk usually holds small shelves and drawers with plenty of nooks and cubbies.
Secretary desks are a fantastic centralized spot to keep pens, notebooks, keys, and cell phone chargers, so you always know where to find them. Small secretary desks can also be used as workspaces for students who need to focus on their studies. These incredible furniture pieces' diverse styles and versatility make them useful in just about any room of your home.
When you're looking for a new secretary desk, there are some essential things to know so you can be confident you're purchasing the right one for your needs.
What to Consider When Purchasing a Secretary Desk
Factors such as style, size, color, and functionality are things you should consider before buying your secretary desk. When purchasing a secretary desk, it's vital to understand how you'll use it to know which style to choose.
Will you primarily be using it for storage? If so, select a model packed with drawers, cubbies, shelves, and cabinets to maximize your storage options. If you plan to use the desk as a work area, find one that allows for plenty of legroom so you can sit comfortably and concentrate on your work.
You should also think about the room you're planning to keep your secretary desk. These versatile pieces of furniture can easily fit in a corner or be the focal point in a room.
If you're limited on space in a bedroom, use a small secretary desk to help organize books, desk accessories, and even your TV. Most modern secretary desks contain cut-outs for running wires for your laptop or television. These great desks can be used as a writing table or as a bookcase. Place a computer monitor on top of the cubbies and hide a keyboard and mouse in the enclosed box. Use one of the roll-out drawers to store USB sticks, your keyboard, and mouse.
Some smaller vintage secretary desks add a romantic charm to your bedroom as a vanity table. The cubbies are perfect for storing makeup essentials, and the tabletop can showcase your favorite keepsakes and photographs. Pair with a tufted pouf or vanity stool in your favorite fabric and color to complete the ensemble.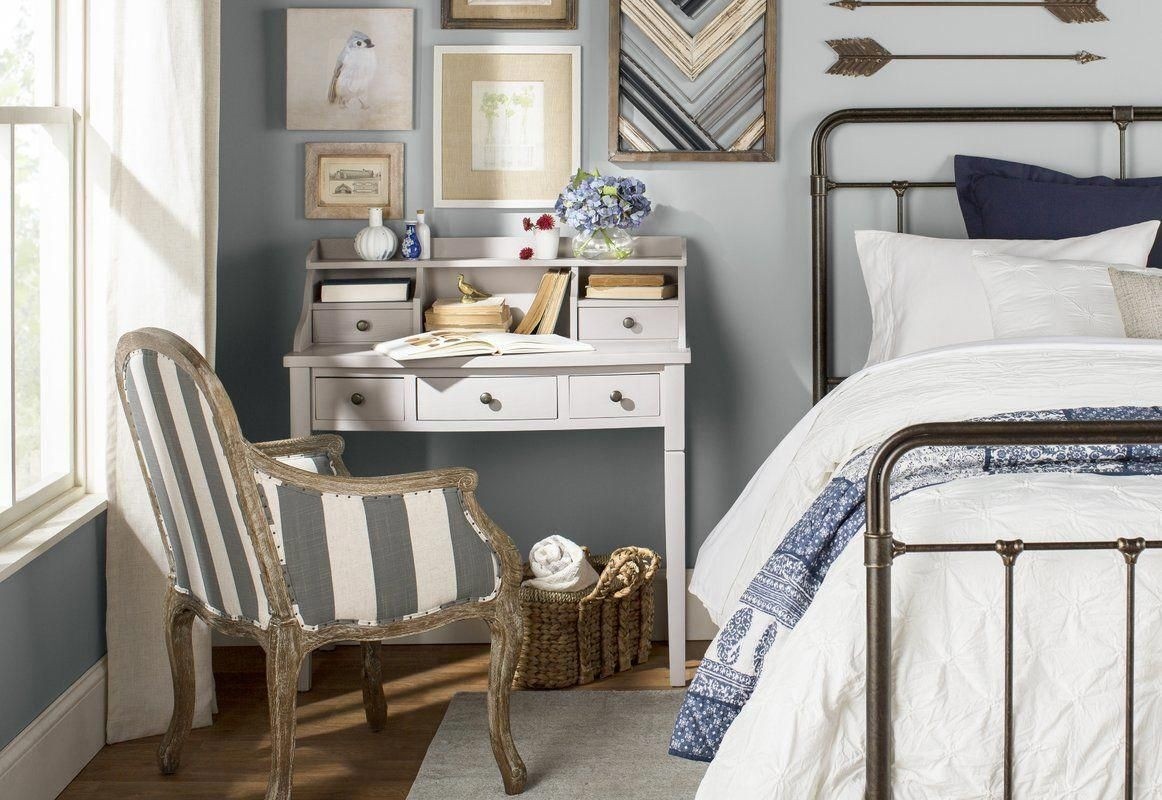 Entryways and mudrooms serve as catch-alls when someone walks in after a long day at school or work. Use a small secretary desk to store mail, keys, and loose change. You can put your purse or wallet on it as you walk in the door.
Store shoes on lower shelves after kicking them off. Keep pens and notepads in cubbies. Best of all, you will never lose your sunglasses, lighters, or wallets because they'll be safely stored away in a drawer until you need them again.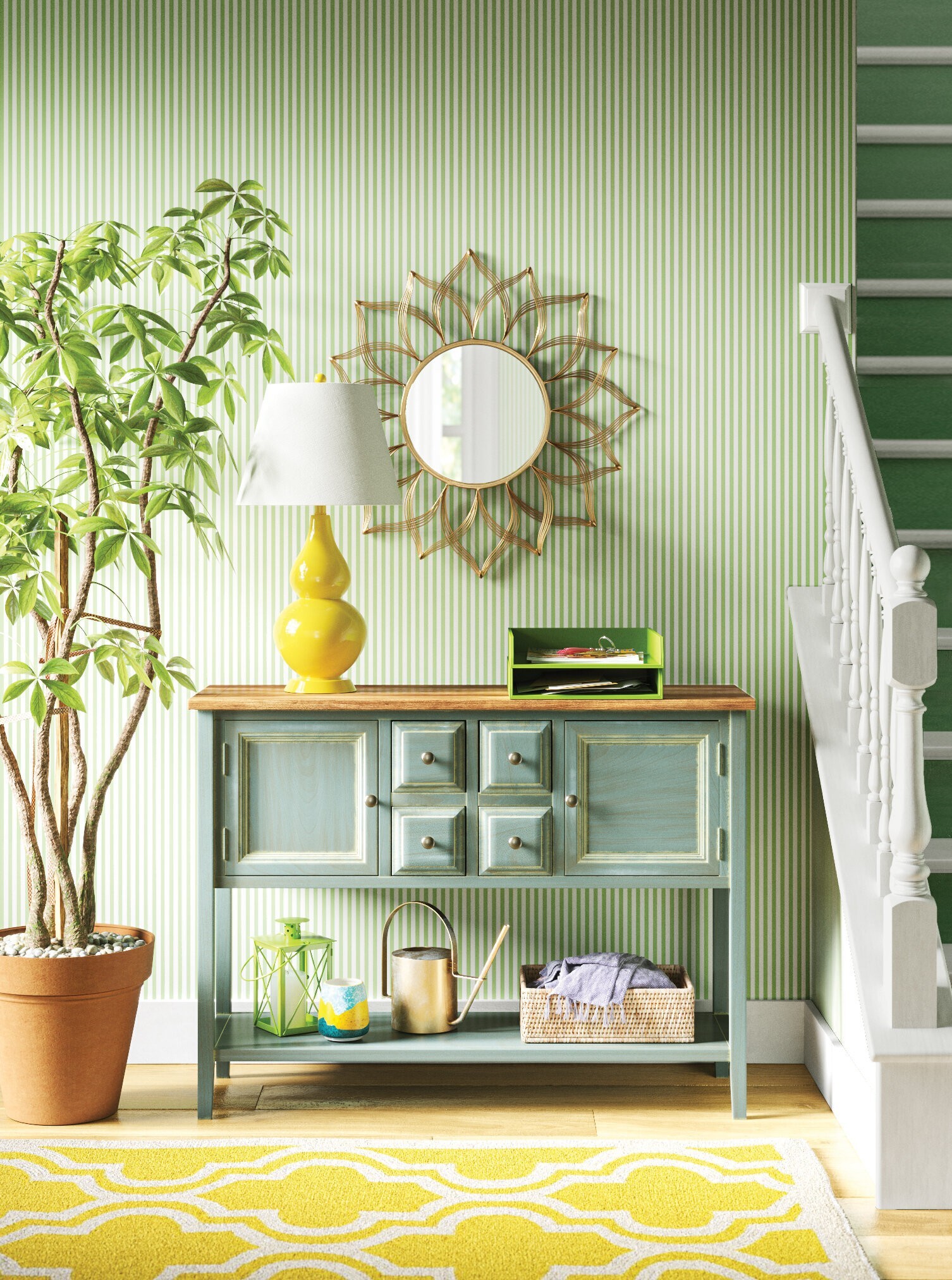 When your living room serves as your home's central communal space, you may use the area for a variety of purposes, from late-night chats with friends to school crafting to a quiet place to sit and write thank-you notes. What better way to help your living room fill your entire family's needs than by purchasing a secretary desk to define a workspace?
If additional workspace isn't what you need in your living room, let these functional organizers store your favorite plants, souvenirs, photographs, or collectibles. If you entertain guests often, turn your secretary desk into a small bar. Keep your favorite Scotch or gin handy with small bar glasses for a quick drink or martini. Place an ice bucket on top when you fix your pre-dinner cocktail.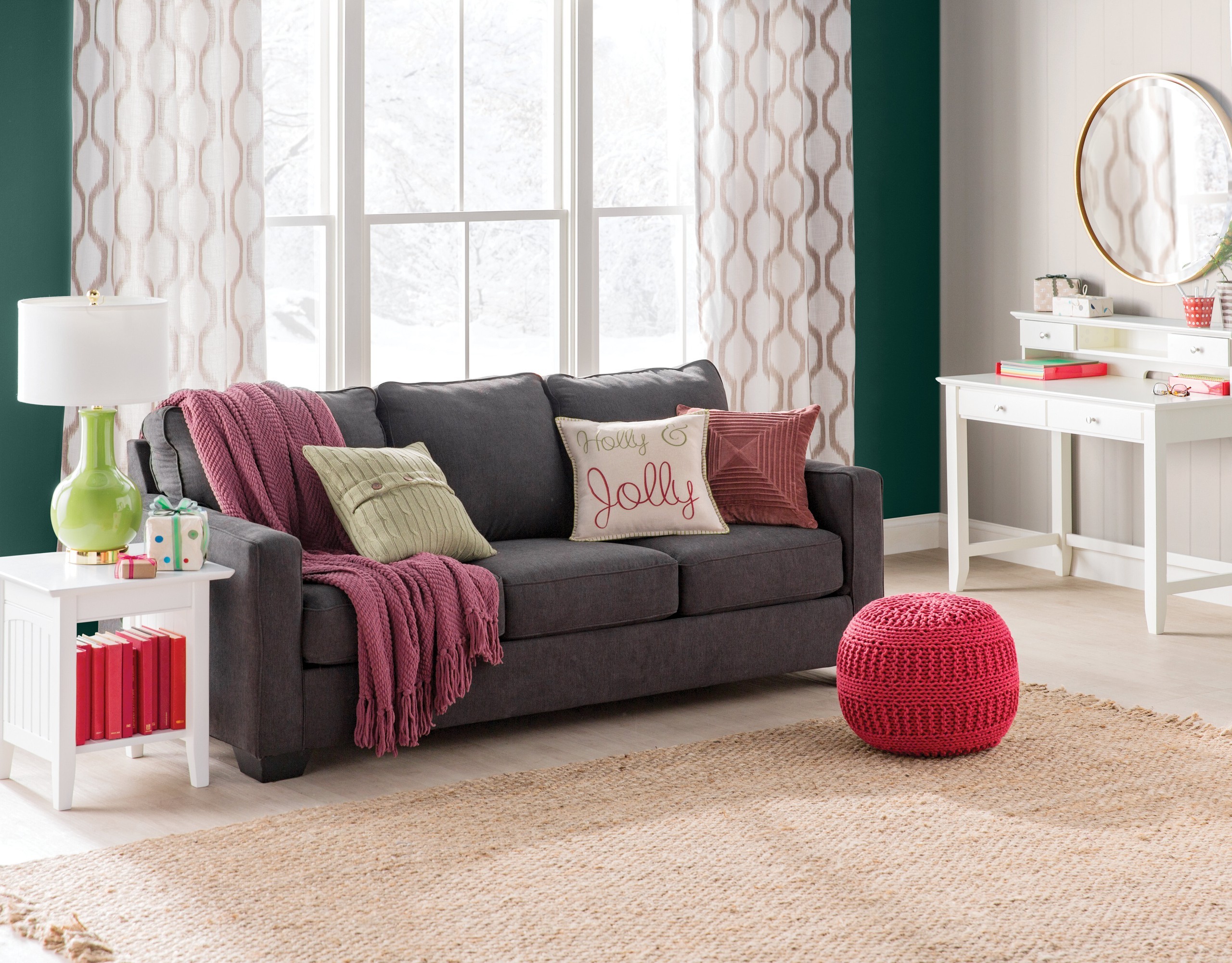 You can easily place a secretary desk in the corner of a den or recreation room to hold CDs, DVDs, BluRay, and video games. Many models make excellent storage for gaming consoles and collectibles. Some desks are big enough to accommodate several gaming consoles or your classic vinyl record collection.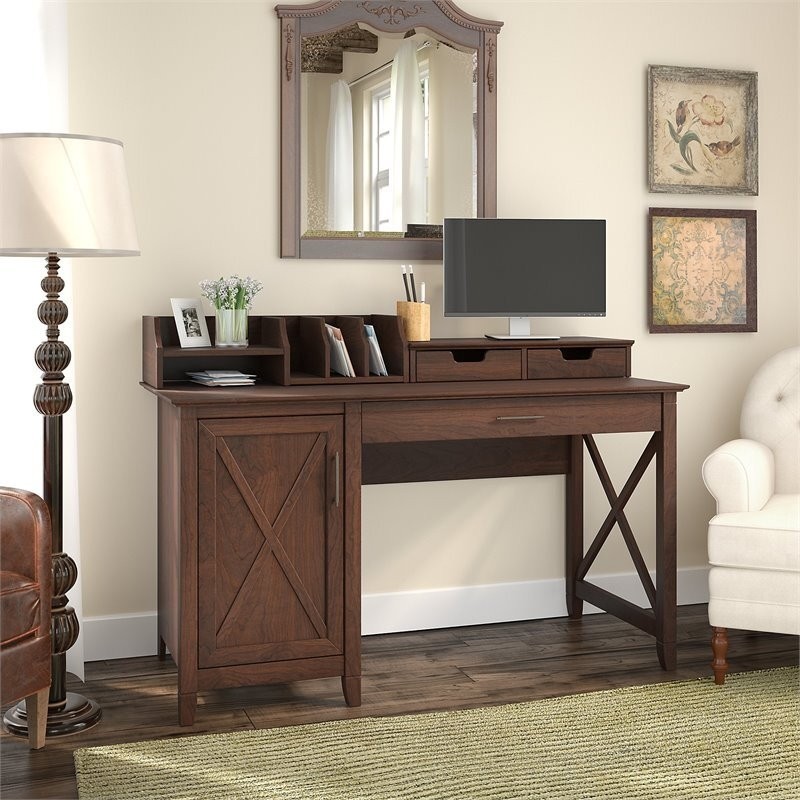 Storing glassware, china, stemware, holiday dishes, and other decorations has never been as easy as it is with a secretary desk. Leave the front of the desk open to reveal the dynamic patterns of your fine china and stemware.
It is also an excellent place to store your linen napkins, special occasion silverware, and top it with a cake plate for holiday desserts. If your dining room doubles as a workspace for large school projects, use your secretary desk to store tape, glue, construction paper, and scissors.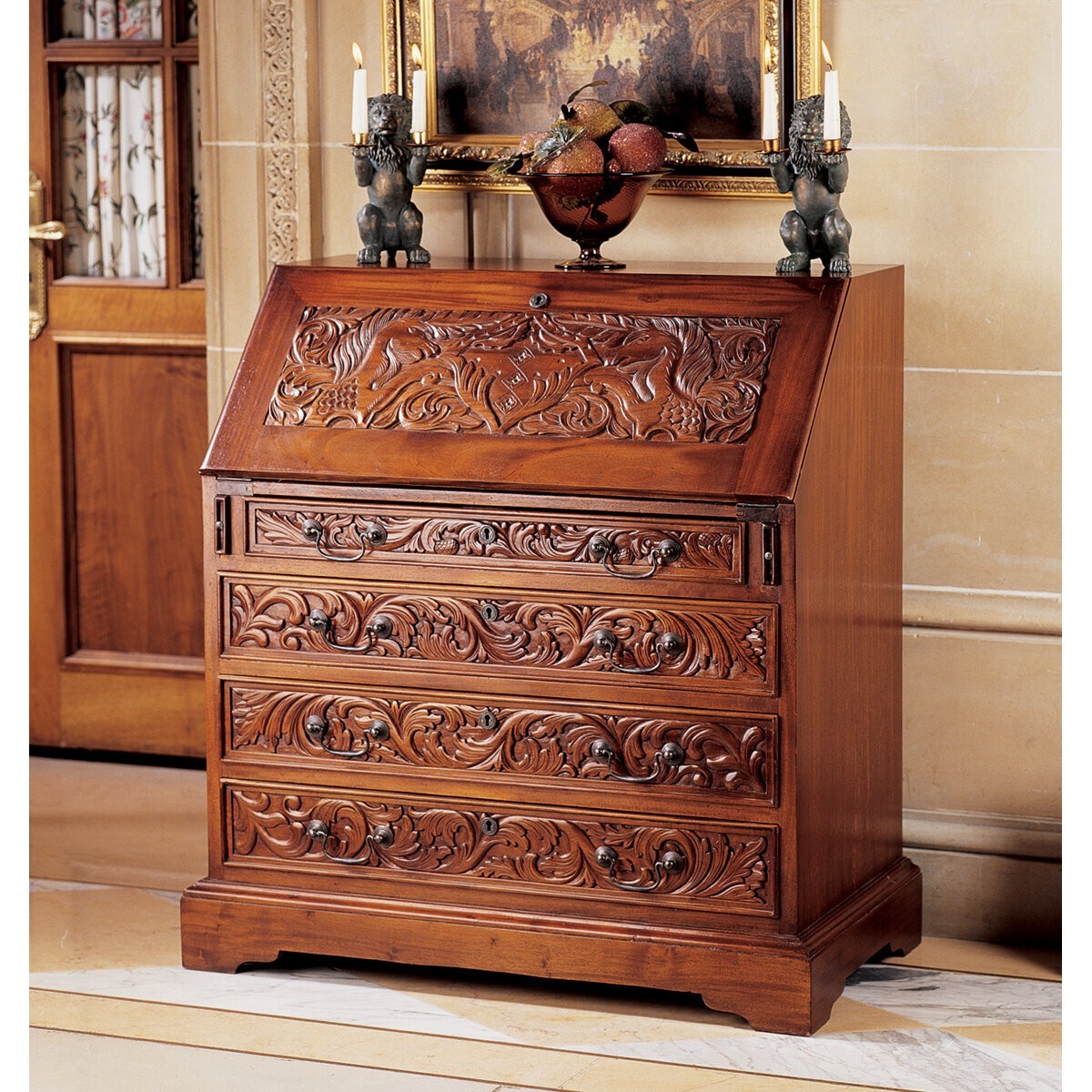 These fantastic desks make a statement as a coffee bar in your kitchen. Hide flavored non-dairy creamers and various sweeteners such as agave or honey in the cubbies while your favorite brew methods are displayed on the upper shelves. Your French Press and pour-over equipment can look stylish and chic on top of a secretary desk.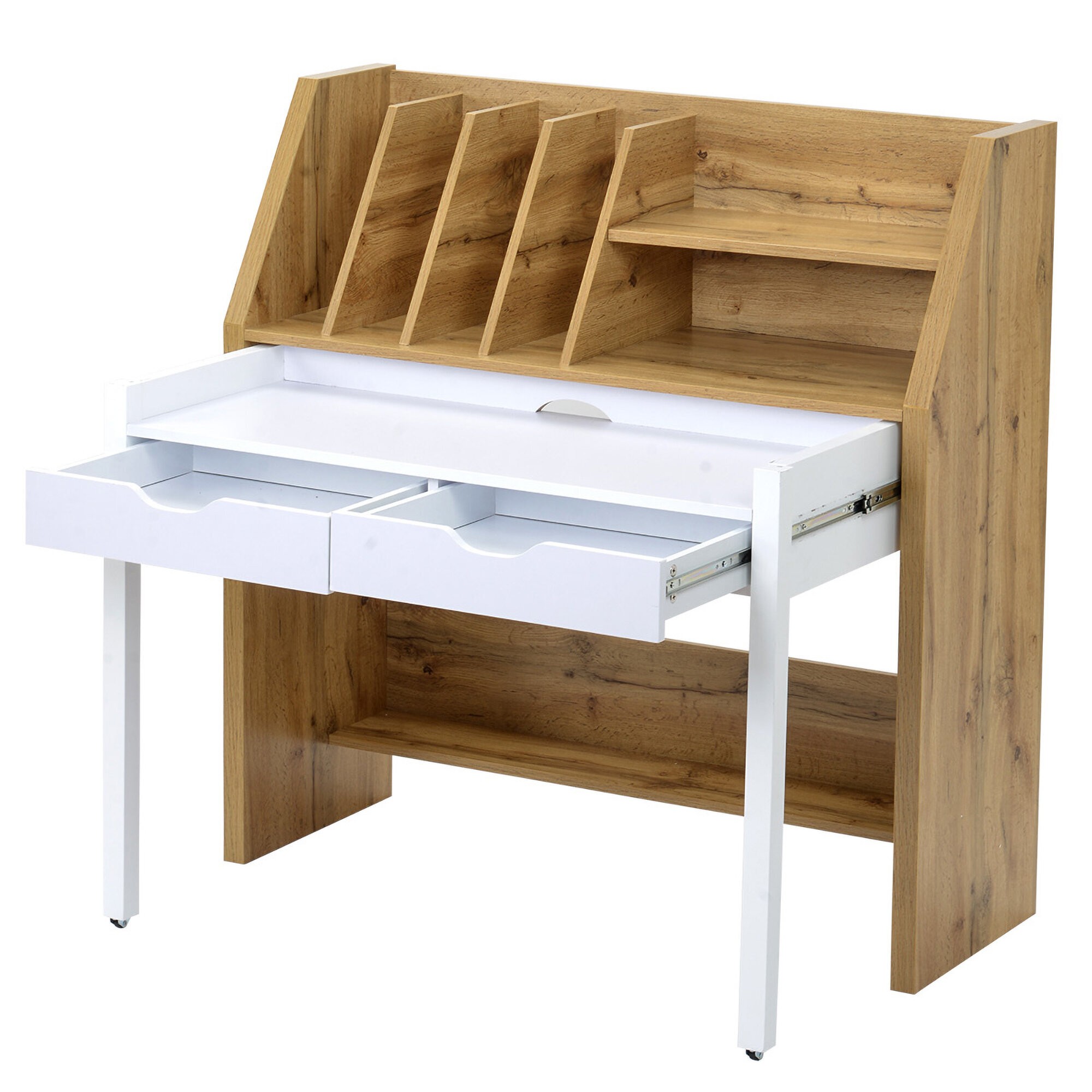 Using a secretary desk as a vanity in larger bathrooms is a great way to add a classic-looking aesthetic to the space. They're terrific for storing everything from rolled towels on lower shelves to toothbrushes and mouthwash in their drawers and cubbies. Set up a mirror on top, and the desk transforms into a great place to put on your makeup every day.
Keep personal items, cosmetics, your favorite hand creams, and sanitizers in the desk and reach for them when you need them. You'll never find yourself looking around for contact solution or glasses because everything will have its special place, keeping you neat and organized.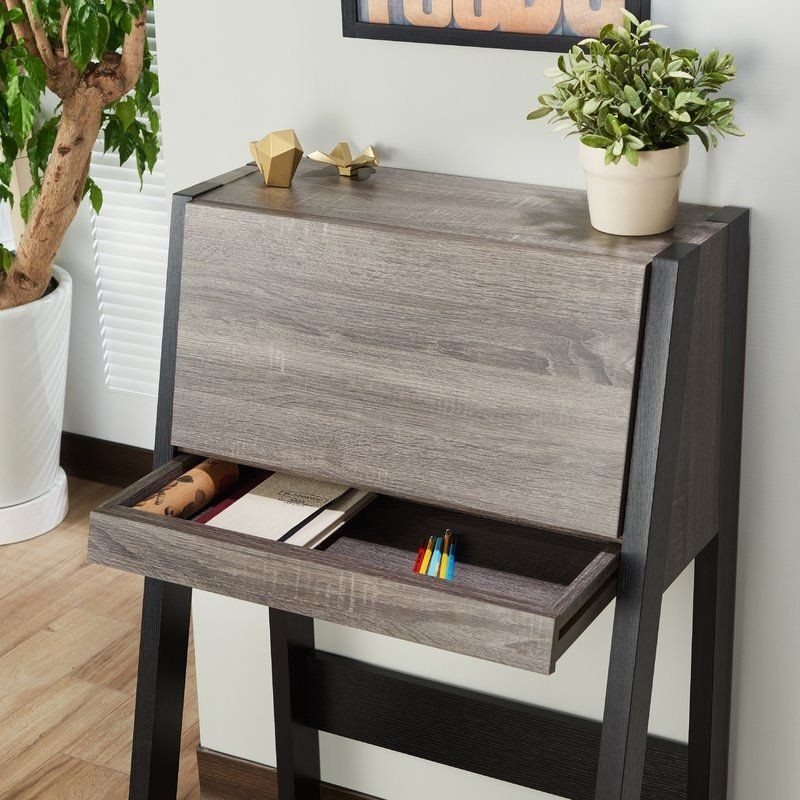 Wrap Up
The storage options provided by large and small secretary desks are unlimited. No matter what your current décor scheme, you can easily find one of these diverse pieces of furniture to help spruce up your home and keep your items organized.