Gold Bar Stools
Gold bar stools are an exquisite accompaniment to your breakfast bar, home bar or any high table. Gold is not only timeless, but embellishes both modern and traditional design. Gold also brings a delicate finish, adding charm and sophistication. To add this luxury to your home, a gold bar stool is undoubtedly the best choice.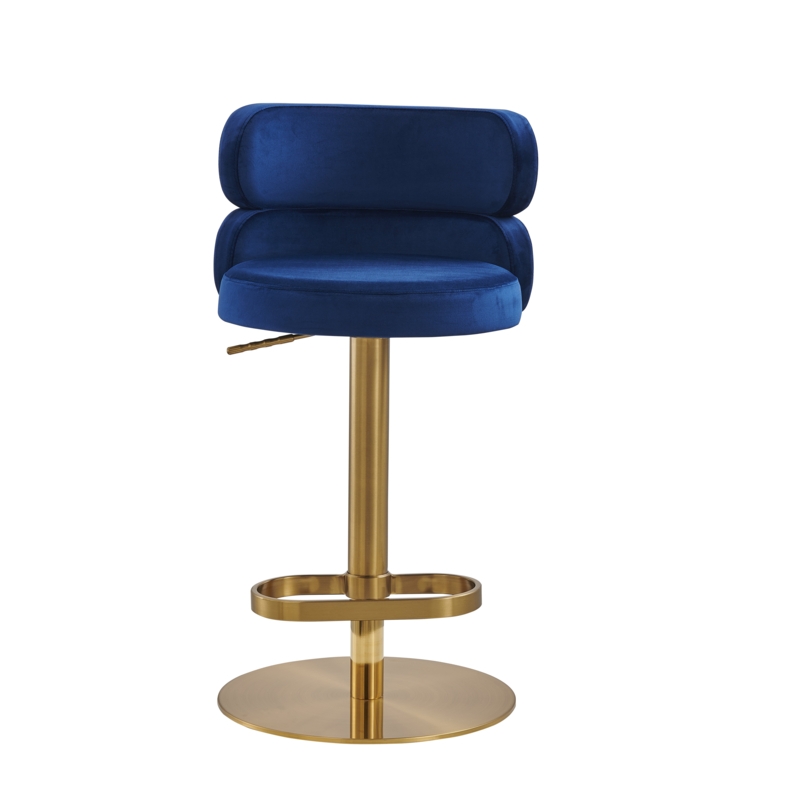 Lifting Bar Chair with High Backrest
$299.99 $379.99
Lifting Bar Chair with High Backrest
Everly Quinn
$299.99 $379.99
Perfect For: Enhancing comfort and style in a modern kitchen or bar
What We Like: Adjustable height and 360° rotation
This high-quality lifting bar chair provides ultimate comfort and functionality with its adjustable height range of 18.9" to 28.7", 360° rotation capability, and a 14" ergonomic high backrest. Built to last, it features an internationally certified air lifting rod and a sturdy chrome steel base with a maximum carrying capacity of 300lbs. The chair's thick sponge foam cushioning ensures a cozy and stable sitting experience, while its easy assembly and low-maintenance design make it a practical choice for any home.
Designer Advice:
Pair it with a sleek, minimalist bar table and a variety of colorful bar chair cushions for a personalized and stylish seating arrangement in your kitchen or entertainment area.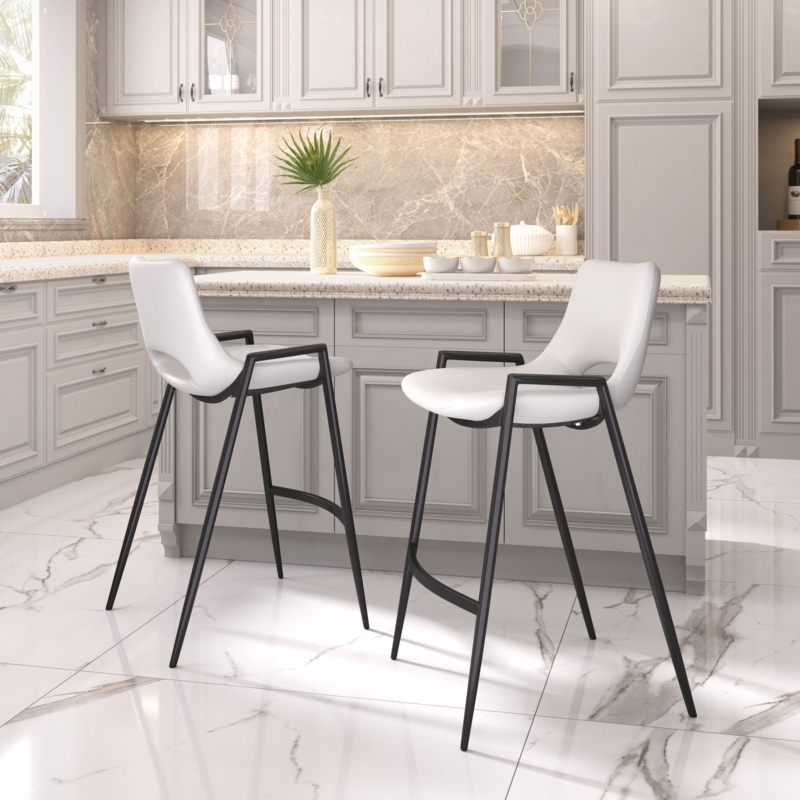 Mid Century Modern Bar Chair
$205 $870
Mid Century Modern Bar Chair
Wade Logan®
$205 $870
Perfect For: Enhancing any home kitchen, dining area, or bar
What We Like: Combination of comfortable features and stylish design
This bar chair exudes mid century modern urban lines, adding a touch of style to any space. Featuring a plush and durable faux leather fabric, it's designed for comfort with armrest support and a built-in footrest. The sturdy steel frame is powder coated for a sleek look and extra durability, while the walnut veneer-coated legs ensure it blends seamlessly with various home décors. Rubber feet protect your floors from potential scratches, making it the ideal addition to your dining or bar area.
Designer Advice:
Consider pairing this bar chair with a high-quality wooden bar or counter to harmonize the walnut veneer finish, and maintain the chair with warm water, mild soap, and a soft towel for long-lasting use.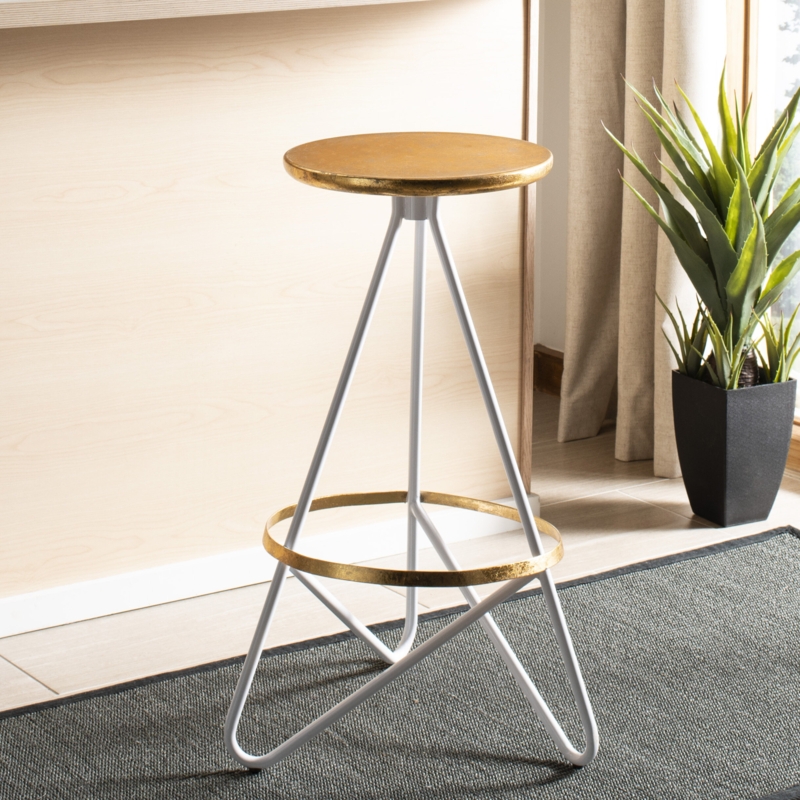 Adjustable Moon Floor Lamp
$154.99 $189.99
Adjustable Moon Floor Lamp
Brayden Studio®
$154.99 $189.99
Perfect For: Creating a cozy and relaxing atmosphere in any room
What We Like: The adjustable brightness and color temperature settings
This adjustable moon floor lamp adds a magical touch to your space while offering the perfect balance of soft and bright lighting. With an elegant and modern design, this lamp features a 3D-printed moon design mounted on a sleek tripod stand, making it an eye-catching addition to your home. The lamp offers customizable brightness and color temperature settings, allowing you to set the mood and create the perfect ambience for any occasion. It's an excellent choice for adding an artistic touch to your living room, bedroom, or office space.
Designer Advice:
Place the moon floor lamp in a corner or next to a comfortable seating area, and pair it with plush cushions and cozy throws to create a warm and inviting space for reading or unwinding after a long day.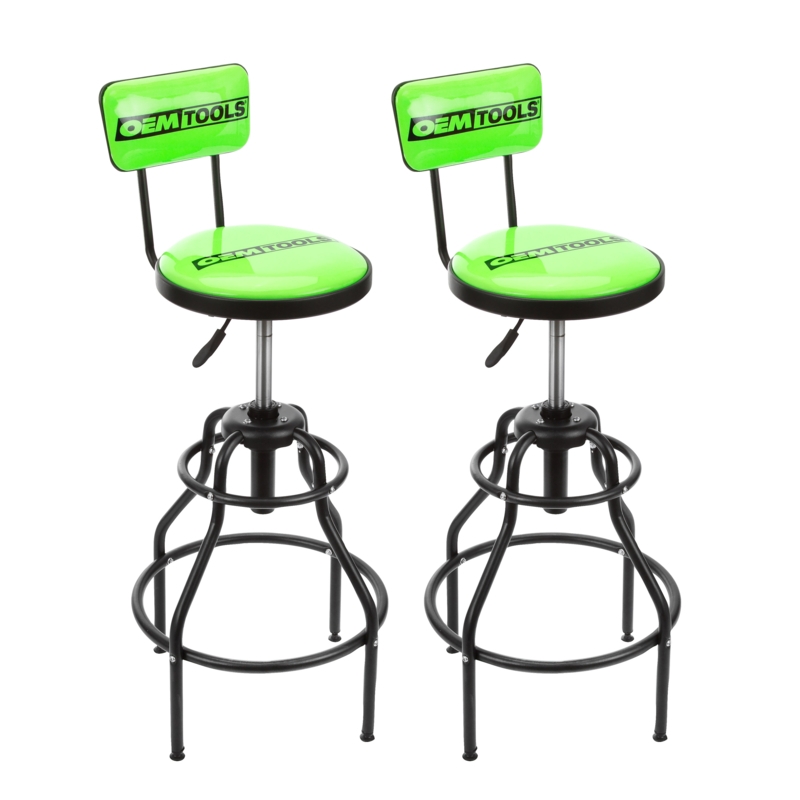 Chic Corner Desk with Shelves
Chic Corner Desk with Shelves
Red Barrel Studio®
Perfect For: Optimizing small office spaces or cozy home studies
What We Like: Its functional design with built-in shelving
This chic corner desk is perfect for making the most of small spaces, offering ample desktop space for your computer or writing materials, while the integrated shelving provides extra storage for books, office supplies, and decor items. The desk's stylish design, available in various colors, allows it to blend seamlessly into any modern or contemporary interior. The L-shaped construction slots easily into corners, making it an ideal addition to home offices or cozy study nooks.
Designer Advice:
Pair this desk with a comfortable ergonomic chair and add some colorful decorative accents to make the space welcoming and inspiring. Consider a desk lamp for added lighting in your workspace.