While daybeds with pop-up trundles are quite the investment, they really are worth it knowing that they can last for a very long time. However, each trundle daybed varies in quality, so you'll have to make sure you pick a durable one to be able to keep it for the next years to come.
Since these multipurpose pieces of furniture come in all sorts of designs, materials, functionalities, and prices, choosing the right one can feel a bit intimidating. But don't you worry.
Here, you'll find all the important key features you should pay attention to when buying a daybed with pop-up trundle so that it'll last you forever.
The material
Wooden daybeds are without a doubt sturdier than other materials, have a traditional charm, come with secure joinery, and are easy to maintain. If you want a wooden frame, be sure to choose one constructed from sturdy wood. Maple wood and teakwood are examples of robust wood that would most likely never fall apart.
Sturdier woods are much more expensive but will accommodate you and your guests for years.
Metal frame constructions are lighter and more modern in appearance compared to wooden frames. These come in a multitude of styles, colors, and designs. Nonetheless, avoid thin metals at all costs and opt for something much sturdier such as heavy-duty steel to keep your trundle daybed stable for the next years to come.
You can also choose to get a mixed frame, meaning your trundle daybed will be made from both wood and metal. These offer the best of both worlds in terms of longevity, support, and design since you'll be getting a sturdy wooden base with the modish look of metal.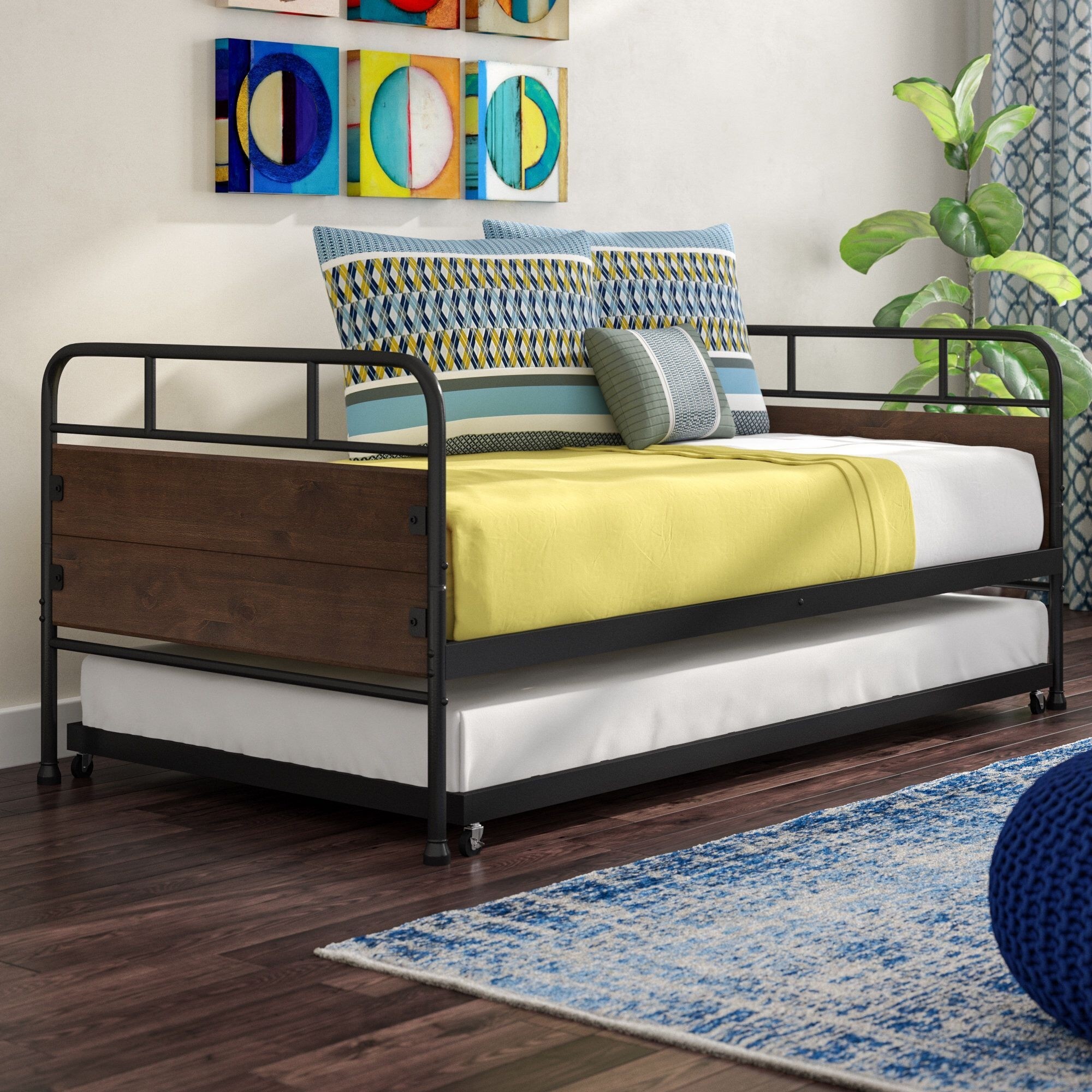 The quality and construction
Everyone knows that a flimsy frame with little weight capacity will only last for a couple of weeks. Yet, some people still choose to purchase one since it looks "good" or perfectly matches their decor. If you want your daybed with pop-up trundle to last for a long time, the first key feature you should consider is the material used.
The material will greatly impact its sturdiness, stability, and quality in the long run. Although wood and metal are known for being long-lasting and strong, not all daybeds made of these materials can withstand frequent use. Do not hesitate to ask the salesperson for guidance when identifying the material's quality to ensure you're making the right purchase.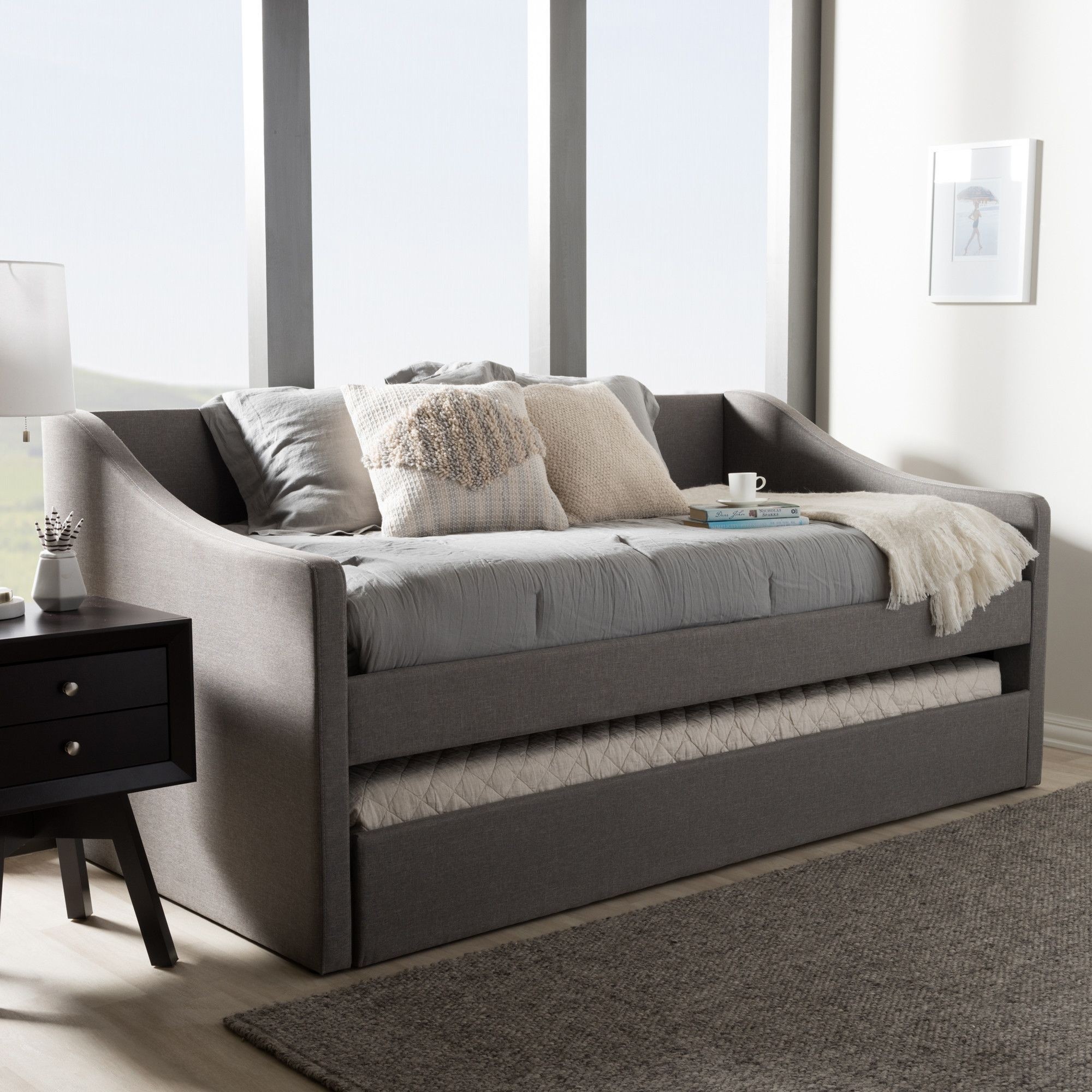 The mattress
It would be such as waste if you had a pop-up trundle daybed with an uncomfortable mattress in the wrong size. For this reason, picking the right mattress to go with your trundle is vital. Any type of mattresses such as polyfoam, innerspring, and latex can be used for the main bed whereas a thinner mattress is preferred for the lower bed as it will be tucked away when not in use. 6 to 8-inch twin-size memory foam mattresses are well-favored for trundle beds since they offer maximum comfort and support, and fit well in the frame.
You should also pay attention to the mattress's firmness and support since different people will be sleeping on it. Pick one of high-quality for a longer lifespan despite heavy use. Foam mattresses have a longer lifespan but may not fit in everyone's budget. On the other hand, spring mattresses are softer and cheaper but can't withstand heavy use, especially when bounced on by children.
In terms of bed bases, wood slats often come with wooden daybeds while link springs come with metal daybeds. Your mattress's support system should be sturdy enough to hold your mattress and multiple people even when jumped on.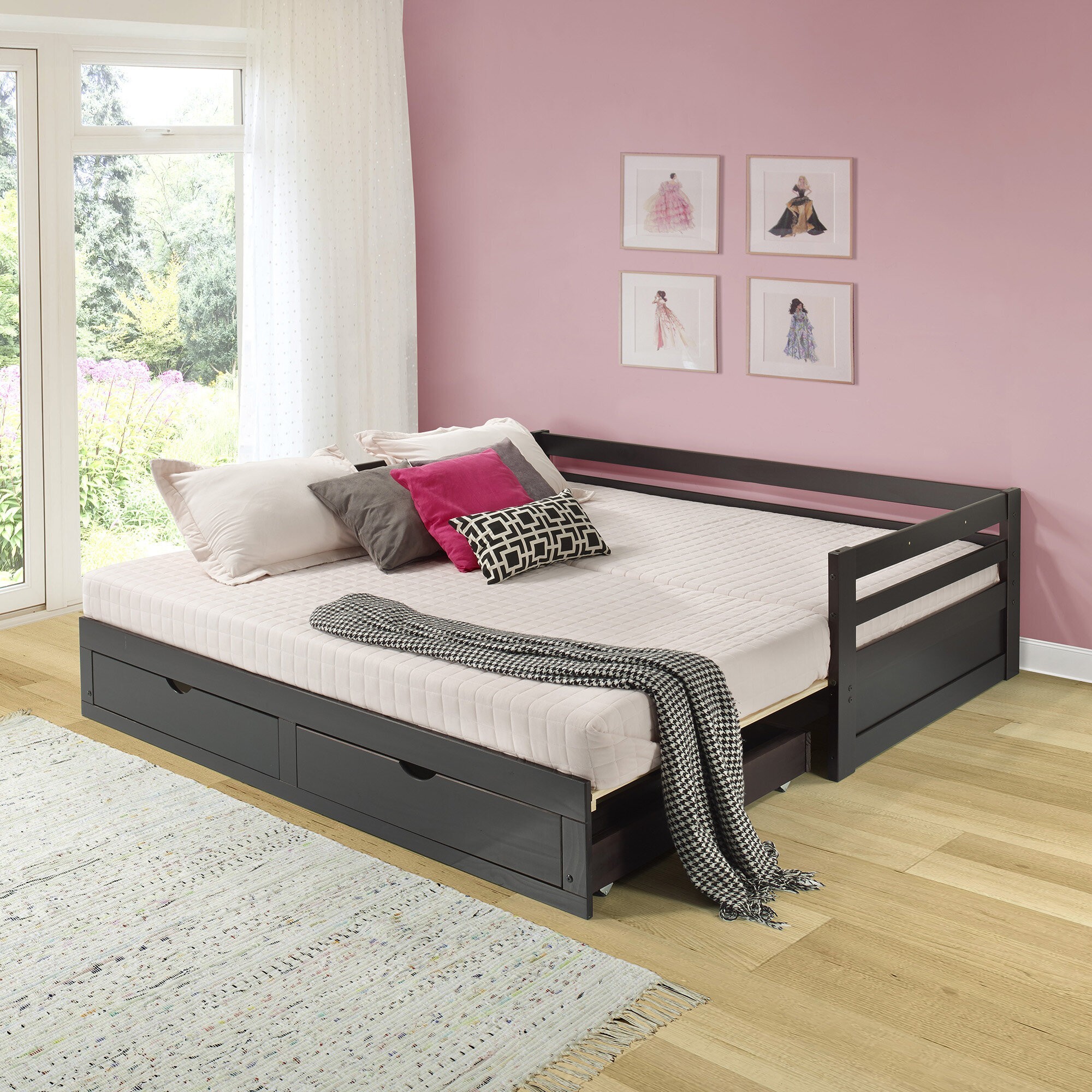 The design and style
If you intend on having your daybed with pop-up trundle for a long time, you should select a versatile and universal design that goes well with all kinds of home styles.
For instance, a white or black finish can effortlessly blend with all color palettes while having a green upholstered trundle daybed might not always complement your interior if you decide to redecorate your home in the future. There are countless trundle daybed designs and styles, but remember to think long-term when choosing a model. It may match your home's aesthetics now, but will it still fit the setting as your style evolves? People's styles change all the time, so pick a daybed with pop-up trundle that's easy to match with any interior to keep it forever.