Our Choice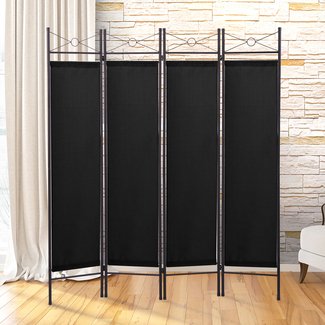 Nordberg 4 Panel Room Divider
Create a private space in your studio apartment with this 4-panel divider crafted from high-quality polyester fabric encapsulating a steel frame. The panels are extremely easy to assemble, and the hinged mechanism allows set-up flexibility. The fabric screens attach with ease with built-in velcro straps. The materials are durable and weather-resistant, so it's safe to use it outdoor when you want to enjoy a neighbor-free tanning session on your terrace.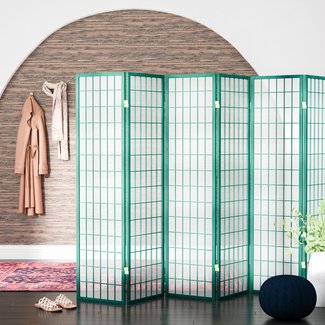 Trevor Shoji 6 Panel Room Divider
This Asian-inspired temporary wall will enrich rooms sporting modern, contemporary or oriental decor. It's available in 9 neutral colors for easy matching to your existing furniture, wooden floors, and wall colors. The 6-panel construction offers a spacious vertical surface ideal for separating the sleeping area from the rest of the room. It neatly folds down into a compact 1-panel piece for convenient storage.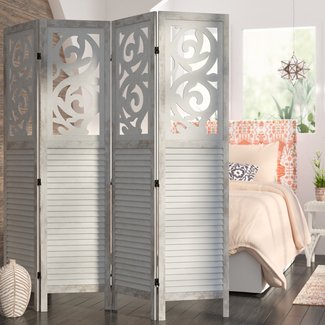 Mota 4 Panel Room Divider
If you're looking for a genuine wood solution to divide your open space living, this charming divider can be yours with one click. You can enjoy its decorative beauty upon arrival as it comes fully assembled. The cut-out floral boards and the louvered lower sections are designed for the light to pass through. This will create a stunning illumination effect in your room filled in with vintage or countryside decor, wooden floors and rustic metal accessories.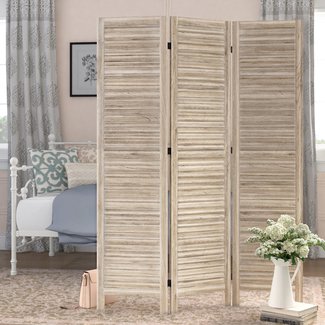 Bowersville 3 Panel Room Divider
This mini divider made out of pine wood is light-weight yet sturdy, and it doesn't require much folding to stand. The hinged 17'' panels unfold and collapse with ease, so you can enjoy frequent remodeling or setting up short-term separations in your living space. Ideal for creating a cosy student workspace or remote work office in your bedsit flat. It comes with a 90-day warranty against manufacturer defects.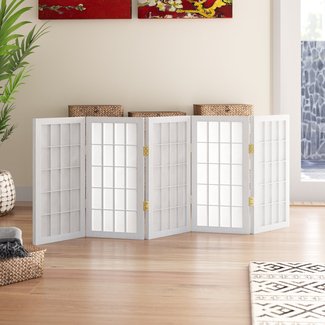 Noan Shoji Room Divider
Choose from 3 to 8 panels to achieve a fully personalised partition in your room. It's crafted from durable, lightweight wood using Asian-style mortise. The pressed pulp rice fiber-reinforced shades are strong and provide complete privacy while letting a delicate stream of diffused light pass through. Place it near a low bed, rope ceiling lamps, Japanese murals, and full-wall mirrors for a mysterious oriental effect.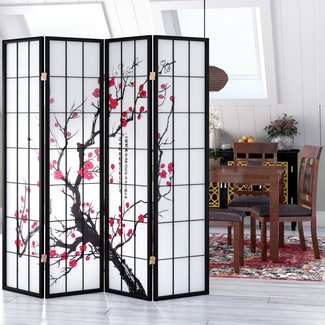 Sakina 4 Panel Room Divider
This 4-panel room divider is beautifully embellished with a cherry blossoms graphic that spreads across all panels. This vivid black/red tree motive looks captivating against the white paper background and enclosed in a black frame. It's an ideal accent divider for a massage parlour or a natural healing/alternative medicine venue. It will look amazing surrounded by black&white furnishings and red flickering candles.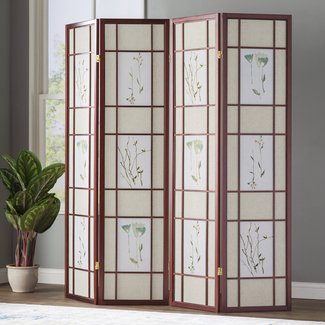 Pothier Gia 4 Panel Room Divider
Create a secluded Zen area with this chic divider decorated with delicate Chinese flowers. It features folding solid wood construction and classic rice paper design which ensures full privacy—only blurred silhouettes can be seen through the screens. Try adding this divider to your open space room to section off a small area, then add a soft beige or ivory shag rug, a comfy armchair, and a swing-arm lamp for an original and cosy reading nook.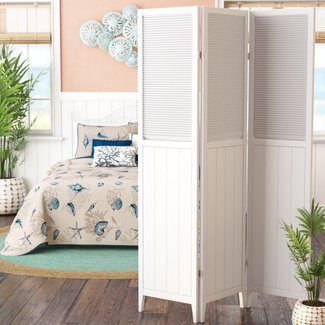 Brigitte 3 Panel Room Divider
Morph your country-cottage or modern farmhouse living room into a multi-function space with this 3-panel room divider. Constructed from solid wood, it ensures years of use without quality degradation. It's designed with the consumer and the environment in mind—it does not contain any formaldehyde or paint/glue that emits gas. It arrives fully assembled so you can immediately enjoy its benefits upon arrival.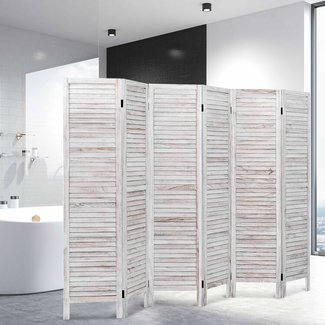 Goku 6 Panel Room Divider
This genuine paulownia wood temporary wall will assist your spatial organisation and conceal unsightly areas. The louvered panels featuring an oriental rustic finish provide extended privacy while allowing the light and air to pass through for extra illumination and breeze. The double-sided design ensures a high-end all-around presence so you can enjoy the natural wood variations from any location.
Charlayne 3 Panel Room Divider
Showcase your artistic taste with this unique wooden divider ideal for open floor plans. It amazes with an intricate geometric cutout design that will complement modern room ensembles. Whether you want to add a statement piece to your living room or a decorative backdrop in your bedroom, this stark black divider will creatively elevate your decor with its peculiar appearance.