Our Choice
Dunlap Console Table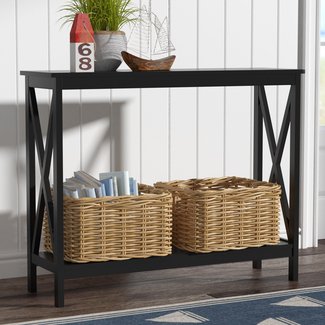 Stoneford 39.5 Console Table
A classic design with an updated modern addition makes this console table suitable for many styles. Crisscross side arms create an extended beauty to a contemporary piece. Available in 11 striking colors, everything from cozy cottage to farm chic, urban industrial to modern minimalism is covered with this simple table.  A bottom shelf is wide enough to hold designer baskets or tall enough for growing plants. Just the right height for placing behind a sofa or in an entryway, you will quickly add a new look to your home. Made from solid wood and MDF, there is a manufacturer's 1-year warranty on any defects. 
Elvira Console Table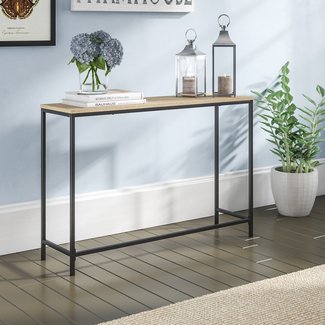 Ermont 42" Console Table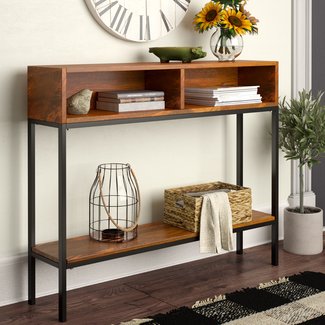 Ashton 42" Solid Wood Console Table
Solid mango wood shelves against a black brushed steel frame makes this dynamite console table as natural as they come. Recently, mango trees have become hot. Not due to their exotic nature or their golden brown hue, but for lending a hand to the timber industry. Mango trees are of little use once the fruit bearing years have passed. Instead of cutting down and burning the trunks, furniture makers have discovered that this hardwood has many quality characteristics. This simple console table that features 2 cubbies and one base shelf is a prime example of how mango wood can create a solid and beautiful addition to your home. With a warm chestnut hue, this simple table will be one of your finest treasures.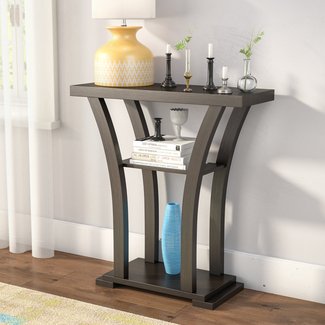 Astrid 31.5" Console Table
There is something intriguing about bowed wood. It almost has a natural feeling regardless of the unnatural curved position. The art of sweeping a piece of wood into a graceful curve is seen in this eye-catching console table. Made from solid wood and MDF, the base of the table appears to open up to a larger opening that presents itself on the top shelf. Perfect for an entry way of contemporary or modern style, a third shelf compliments the table 3/4 of the way from the bottom. This piece makes for a great introduction to your home's interior or a place to drop off keys and mail. Available in gray or dark brown, the height is 33.8".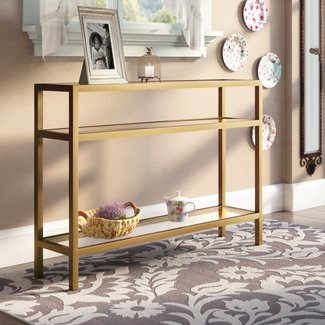 Pinehurst Console Table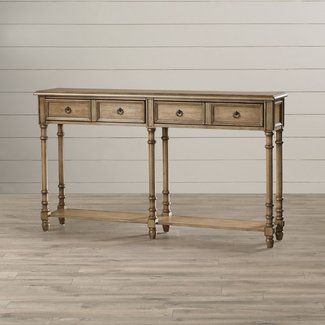 Preusser 58" Solid Wood Console Table
The length of this solid wood console table requires a special place. A long hallway, a large entrance way or behind a 6' long couch are options where this solid wood weathered beauty will receive the attention it deserves. 6 Straight legs with wood-lathed spindles support the lengthy top panel. 4 inlaid panel drawers add character along with dangling brass pulls. A low bottom shelf leaves plenty of room for wicker baskets, statues or flower arrangements. A top shelf with 2 lamps displayed on each end bring warmth on dark nights. Wormholes and scratches deliver an antique look and will make your contemporary/country home feel at peace.
Itzayana Console Table
Rustic decor calls for stubby unfinished wood. Nothing fits the bill more than this 28'' H x 36'' W x 10'' D distressed console table. Rustic represents comfort and planks of wood as flat surfaces and scored white paint says this quite well. Decorate with galvanized metal memorabilia and hand-made items to feel right at home in your comfortable sanctuary. This type of table also brings warmth to country chic, Southwestern and mountain lodges. Reclaimed wood is used in the construction and the rough edges are deliberate.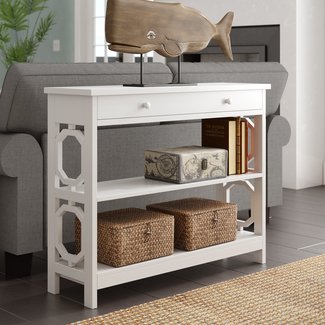 Buffavento Console Table
With all the charm of contemporary style, this console table will dress up your collectables with class. Open-ended, but with soothing geometric sides, it makes a great backdrop for your favorite things. Two evenly spaced shelves will hold baskets or seasonal trinkets up to 12" tall. Use the top shelf for decorative flowers, statues or framed portraits. Choose from white, driftwood, espresso, gray or white to match any decor. The 39.5" length gives you options on placement. A long drawer allows storage for keys, tape, pens and pencils.