As people begin to spend more time at home, they may be noticing clutter and organizational issues occuring in high traffic areas that didn't exist before.
If your family room, bedroom, or game room are piled high with books or video games, it may be time to find a functional storage solution that fits into your décor scheme. An easy way to do this is with a TV stand.
There are many TV stand models available, and it is easy to get overwhelmed by all the choices, but by narrowing down your selection by size, type, and style the buying process goes more smoothly. Once you understand how you'd like to use your TV stand to store your items, you'll be on your way to a more organized living room.
Get home decorating solutions that are affordable and functional with the large selection of TV stands available at Foter.com.
What Size TV Stand Should I Buy?
If you live in a compact space, you may think that a small TV stand is the only option. However, if you buy a stand that's too small, your TV won't fit on it and you won't have enough storage to clean up the clutter around your home. When you're purchasing a TV stand, it's important to accurately measure your TV first.
Use a tape measure to get the diagonal dimension of your screen; TV screens are measured diagonally but TV stands are often sized using a width measurement. That means if your TV stand is narrow, your TV will be wider than the stand it's sitting on which can impact stability and aesthetics. For example, if your TV measures about 56 inches across, you should opt for a 65 inch TV stand.
For stability, make sure your TV stand is at least as wide as the TV. For TV screens over 65 inches, there is a wide variety of TV stand models available which gives you storage on either side of the TV. You can use the space to place decorative items such as potted plants or family photos.
If you have a large TV, there are TV stands with mounts available which allow you to raise your TV off the surface of the stand and store it securely to minimize the risk of toppling. It also gives you even more space to organize your keepsakes on the top surface of the unit.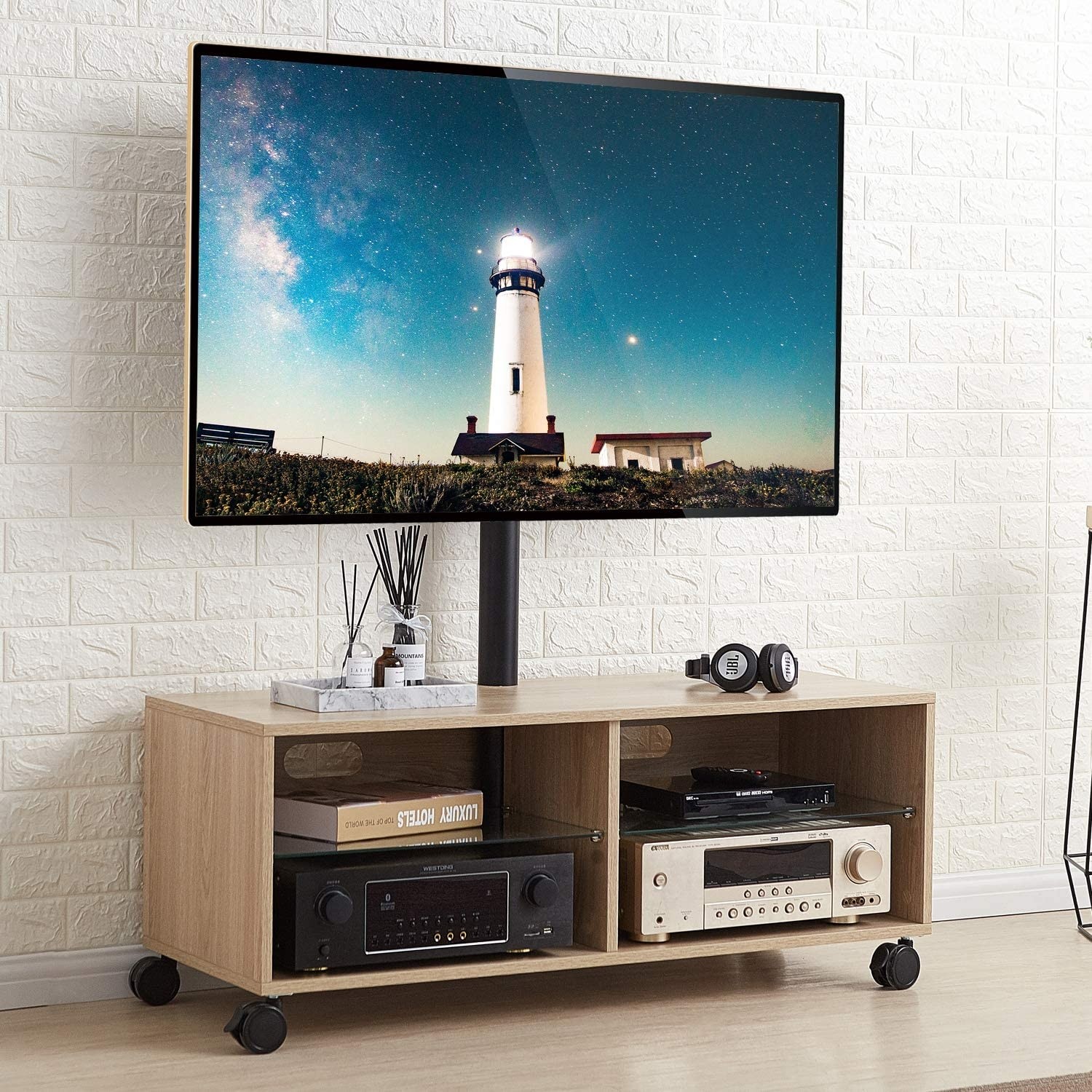 Which Types of TV Stands are Available?
With so much going on in home entertainment, it's important that you choose a multifunctional TV stand that isn't just for your TV. It should have plenty of storage for items like gaming consoles, DVD players, Blu-ray players, surround sound equipment, and cable boxes.
Each TV stand should have a cable management system for a decluttered space that is safe for pets and children. Look for units with holes cut out in the back panels or enclosed channels running down from the mount. You should be able to easily access all the electrical cables and connecting cords from the rear of the stand.
A TV stand with a mount is a great option for every TV but they're ideal for use with larger TVs to free up floor space and provide a safer living area. The mount should be attached to the base unit to provide a counterweight to the TV and offer adjustable features to enable you to change the height and angle of the TV.
Corner TV stands are triangular in shape to help you take advantage of unused tight corners. These units are suitable for small homes with limited space and can be the perfect addition to your bedroom.
There are also hutch models available that feature doors or shutters to close over your TV when it's not being used. These large pieces of furniture are designed to take focus away from your TV set.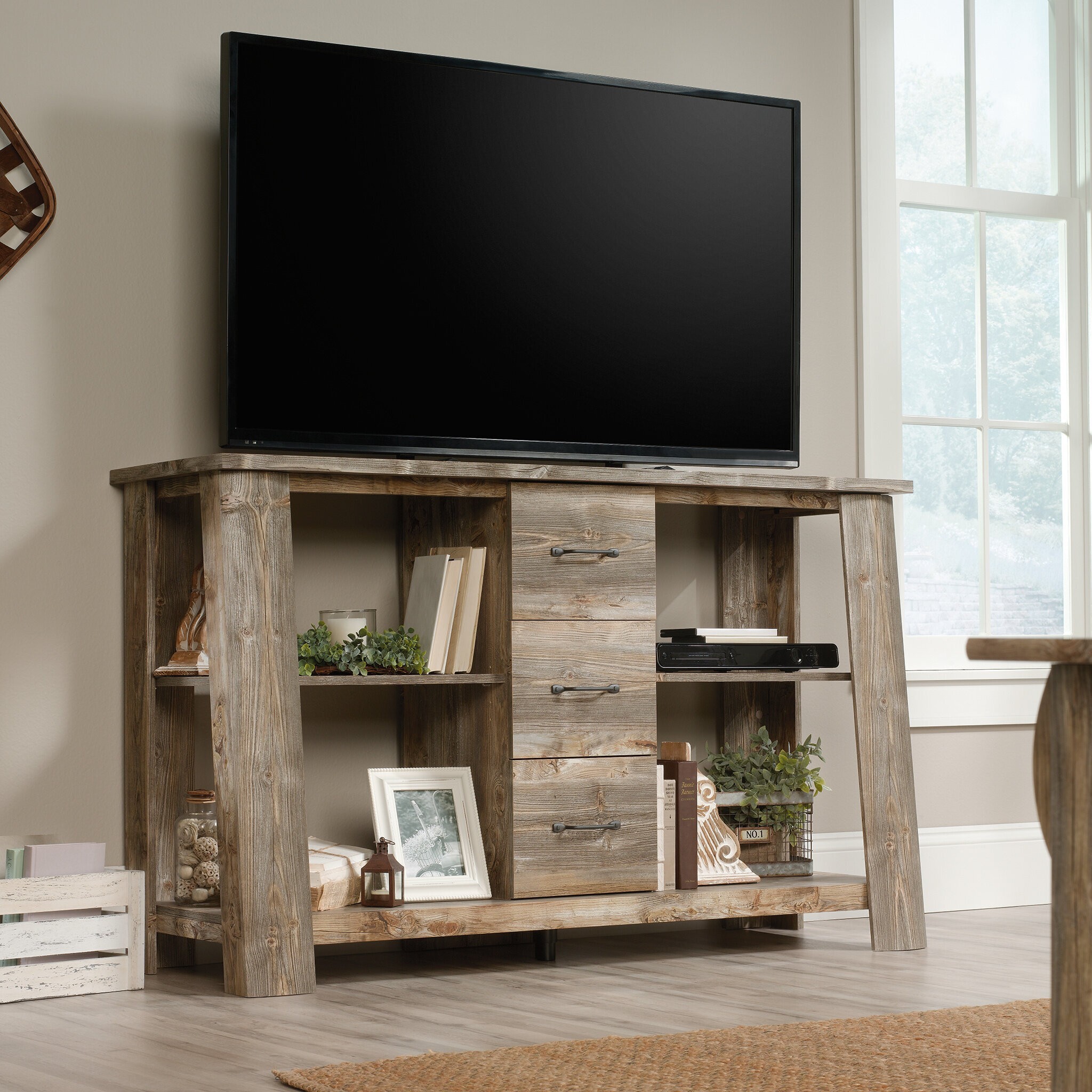 Which Style of TV Stand Suits My Décor?
From farmhouse living rooms to shabby-chic bedrooms, a well-styled TV stand has a terrific way of pulling the entire room together. The materials used to build your tv stand contribute to the way it blends with your other furniture and how you style the piece.
For farmhouse décor, look for wire mesh and distressed wood. These materials reflect a relaxed, country feel that incorporates nicely into your existing interior design scheme.
For something with a more modern twist, look for long lines in sleek steel or other metal finished with matte black paint and brushed metal hardware. Tempered safety glass is a great option for modern or contemporary homes, and it is also suitable for small living areas as it can make the space appear larger.
For a more conventional or traditional look, a TV stand made of durable hardwood with a deep mahogany finish can be a beautiful statement piece that also offers ample storage.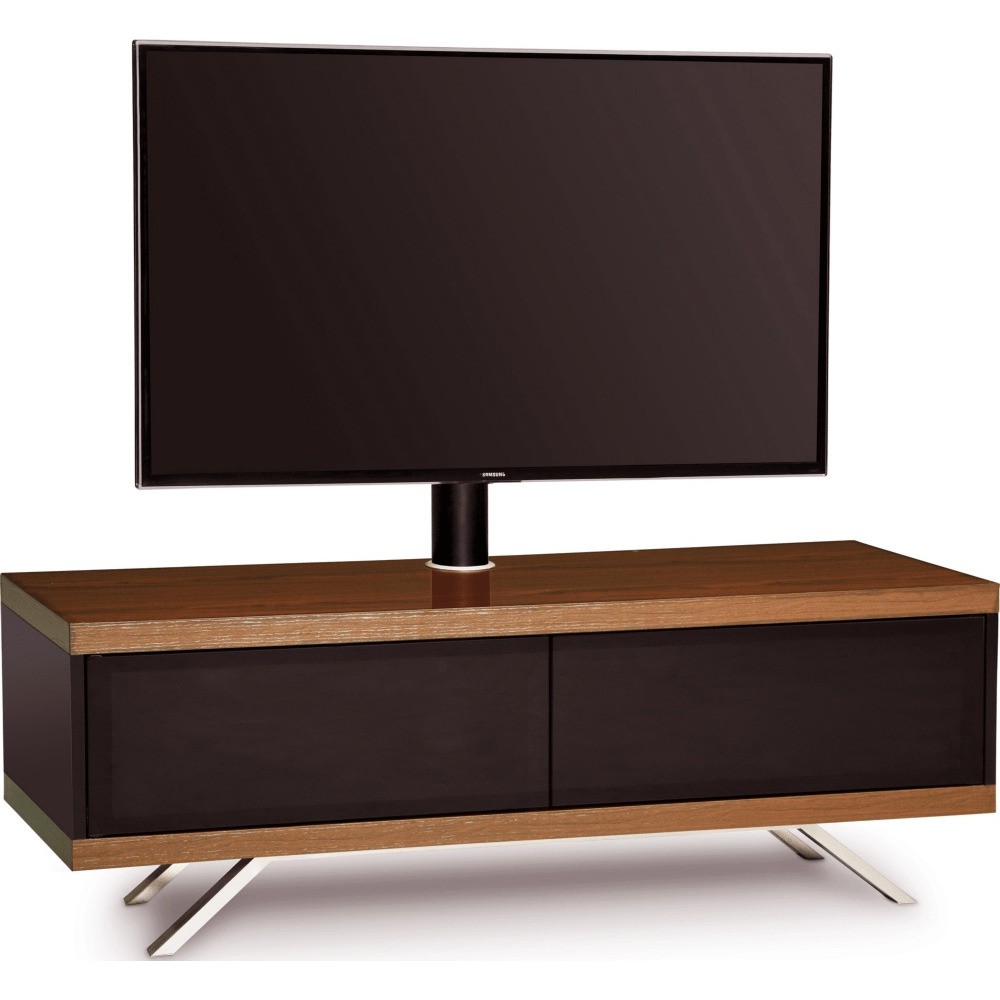 What is the Best Color for My TV Stand?
Because TV stands and TV stands with mounts are so often constructed using wood, the most common color available is brown. Brown is a neutral color that matches well with almost any kind of design scheme available. From light beige to deep walnut finishes, a brown finish coordinates with your current furniture and living room textiles without drawing focus from the rest of the style elements in the space.
If you're looking for something more contemporary, black is a good choice. High gloss finishes tend to look dated but can add an interesting textural element to a room with a retro-mod style.
Shabby-chic looks work in almost any color but the most popular shade is white so it can easily be accented with fun pops of color. Look for a distressed finish for another eye-catching design feature.
If you're shopping for a whole new décor scheme or are planning to add to your living room set in the future, a great idea is to find furniture in neutral colors to bring the entire room together. Shades such as gray, ivory, black, and natural wood finishes coordinate well with almost every style allowing you to change your design scheme without purchasing new furniture.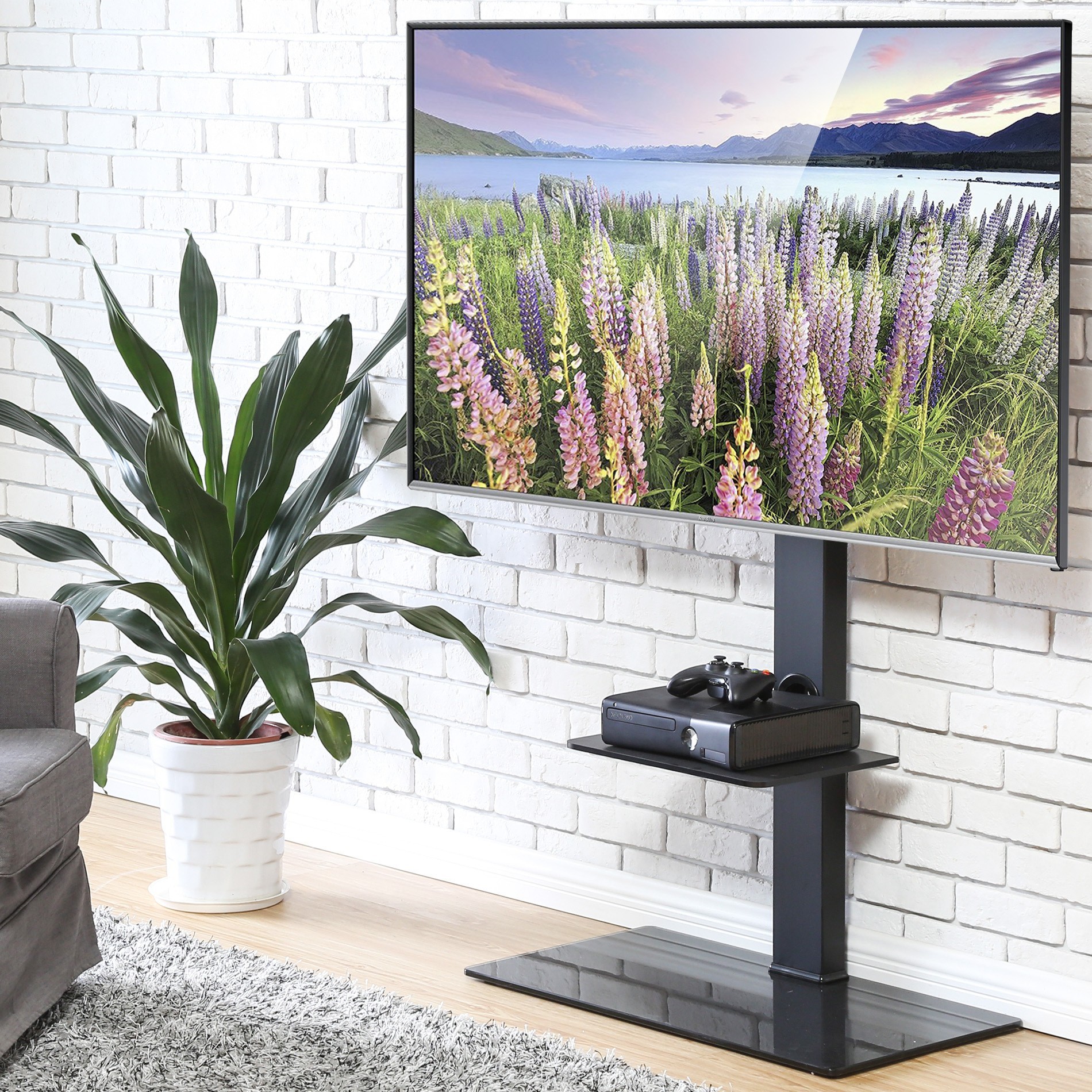 In Conclusion
When you're shopping for a fun new piece of furniture to help you get organized, don't just stop at the functionality. Furniture shopping can be a lot of fun when you approach it with designs and accents in mind.
But it's also important to consider what you need to store on the TV stand shelving and the dimensions of your TV to ensure a safe and practical living space. When these two aspects intersect, you know you'll have a great piece of furniture that will last for years.