Dollhouses
Playrooms for kids, especially those designed for little girls, are never complete without dollhouses. The little innovatively designed dollhouses make the best toys for girls and little boys too. They provide the perfect setting for a child to place his or her favorite dolls or characters and other little play items. There are different types of dollhouses including those with open backs and complete 360-degree real home designs. They all have a solid style and illusion of a real mansion or multi-storied house. Check out the huge collection of dollhouses available in different sizes to match your child's needs and your personal budget.
Our choice Best Dollhouses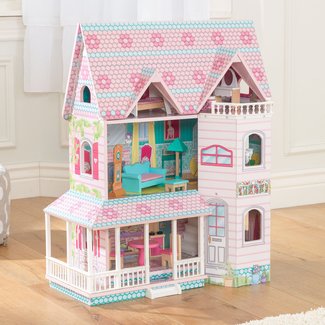 Abbey Manor Dollhouse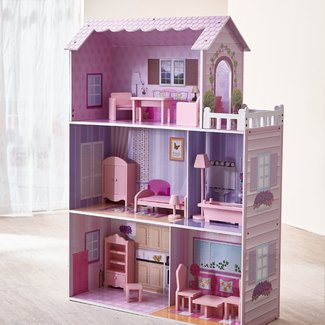 Fancy Mansion Doll House
Fairfield Dollhouse
Pacific Bungalow Dollhouse
Vineyard Cottage Dollhouse
Monster Mansion Doll House
Baby Nursery Doll House
An extra playful element means this dollhouse will ensure your children get to thoroughly enjoy caring for their baby dolls. Its large size and pink, white and blue accents make it the ideal centerpiece for any playroom. Its storage compartments and high chair also add to the authenticity provided by its changing table, pink drawers and mobile. It is an excellent option for keeping your children entertained as they learn all about taking care of babies.
Arthur Dollhouse
All Season House
A quaint, open-house design instantly sets this spacious, six-story dollhouse apart from the rest. Each room in this fully furnished unit possesses its own unique seasonal allure due to the delicately colored fittings and walls it comes with. The dollhouse also comes with movable furniture and staircases, providing an added dimension of flexibility. Take advantage of its suitability as a fun teaching tool to introduce little ones to the changing seasons of the year.
Willow Dollhouse