Our Choice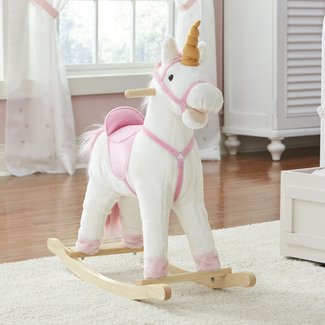 Felicita Unicorn Rocking Horse
With its sunny disposition, this unicorn rocking horse will charm your child in an instant. Crafted by hand with a sturdy wooden interior and soft plush exterior and stable rockers, your young one will love playing with their magical friend for hours. With a weight capacity of 80 pounds, this toy is the perfect companion for toddlers to kindergarteners. Some assembly is required before adding this adorable rocker to your child's bedroom or playroom.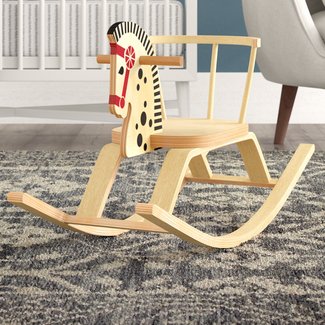 Alycia Chevalier Rocker
This wooden wonder is modeled after classic early 17th-century hobby horses and is made from lightweight birch plywood. This charming rocking horse also has back support for young equestrian enthusiasts and a lovely painted face that complements any nursery décor. The vintage look and neutral colors make it perfect for a boy or a girl making it an ideal gift for any occasion.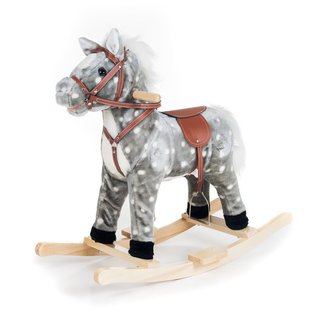 Plush Rocking Horse
This sweet gray and-white rocking horse is sure to charm your tiny cowboy or cowgirl. The full bridle and saddle set-up will entrance your little one, but the horse also includes handles and wooden foot pads if your child can't quite manage stirrups yet. Sturdy rockers and a durable wooden interior are excellent for your child's safety, and this horse's sunny demeanor and cute polka-dot plush make it a wonderful baby shower gift or a fantastic addition to a nursery.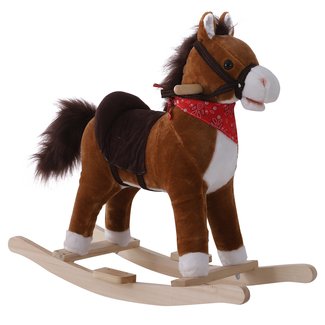 Kids Plush Toy Rocking Horse
Giddy up! This plush rocking horse has a traditional brown and white exterior and a jaunty red bandana around its neck. A soft saddle mimics a real riding outfit but handles and wooden foot pads will help your child stay on safely. When you press one of its ears, the horse utters realistic neighing and whinnying, to your child's delight. This toy, with its sturdy rockers and stable wooden frame, is a hit with parents too.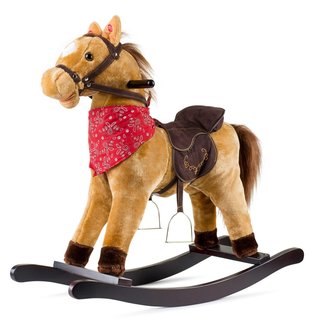 Joon Cowboy Pony Rocking Horse
This rocking horse sports a jolly red bandana around its neck to set off its classic brown plush hide. The toy is outfitted with a saddle, bridle, and stirrups, yet includes wooden handles and convenient foot pads to help your child get on and off. When your child squeezes its ear, the horse makes real-life horse sounds for stimulating your child's imagination. A sturdy steel frame ensures your child's safety as they ride away the hours.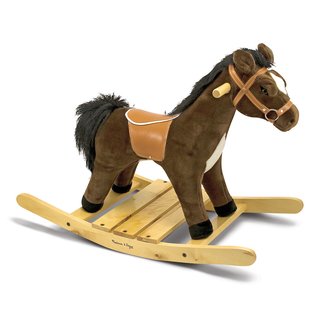 Plush Rocking Horse
With realistic eyes, a saddle, and galloping sounds, this rocking horse will be a hit with all young cowgirls and cowboys. A plush, huggable exterior and firm wooden rockers make this a sturdy and loveable toy. Reviewers mark the toy's durability and the ease of cleaning this rocking horse. Weighing in at 15.5 lbs. and standing 15.5" from the floor to the saddle, this rocking horse is sure to take the top prize in any nursery!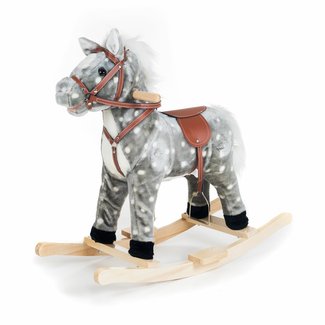 Haley Horse Rocker
This handsome gray-and-white polka-dotted steed it sure to ride its way into your child's heart while helping develop their motor skills and firing up their imagination. Its lightweight yet sturdy design makes it a great addition to a nursery, and the ease of assembly will please any parent. With a seat height of 17" and a huggable plush exterior, this rocking horse transforms a playroom into a range.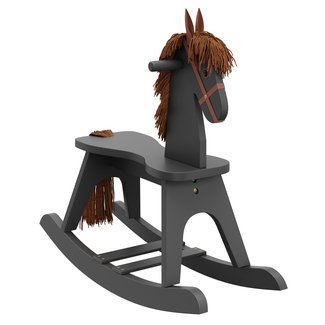 Wooden Rocking Horse
This vintage-inspired rocking horse adds charm to your child's nursery while helping them develop their motor skills. Made of sustainably sourced hardwood, this sturdy steed meets and exceeds all federal safety standards to ensure a safe ride. Its simple wooden construction and mop of a mane make it your child's favorite toy. Put together with ease; this solid wood rocking horse is sure to become a new family heirloom.
Felix The Fox Rocker
This cute toy takes on a traditional form and puts a modern spin on it. Instead of a rocking horse, this rocking fox is sure to become your child's new favorite toy while helping hone their developing motor skills. This rocker features handles to support your child's balance and a sturdy wooden frame atop solid rockers. It also has an adorable, huggable, plush exterior. Give your child the gift of imagination.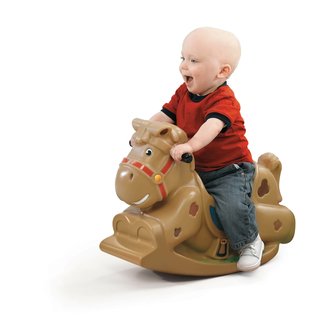 Patches The Rocking Horse
This adorable rocking pony is sure to make your toddler's day. Made for children aged 12-24 months, this toy has an easy-to-clean molded plastic exterior and a cheerful expression. Its sturdy construction makes it difficult to tip over, and plastic handles by the ears help your child's balance. With an excellent price point and simple design, your child will go wild over this rocking pony.