Our Choice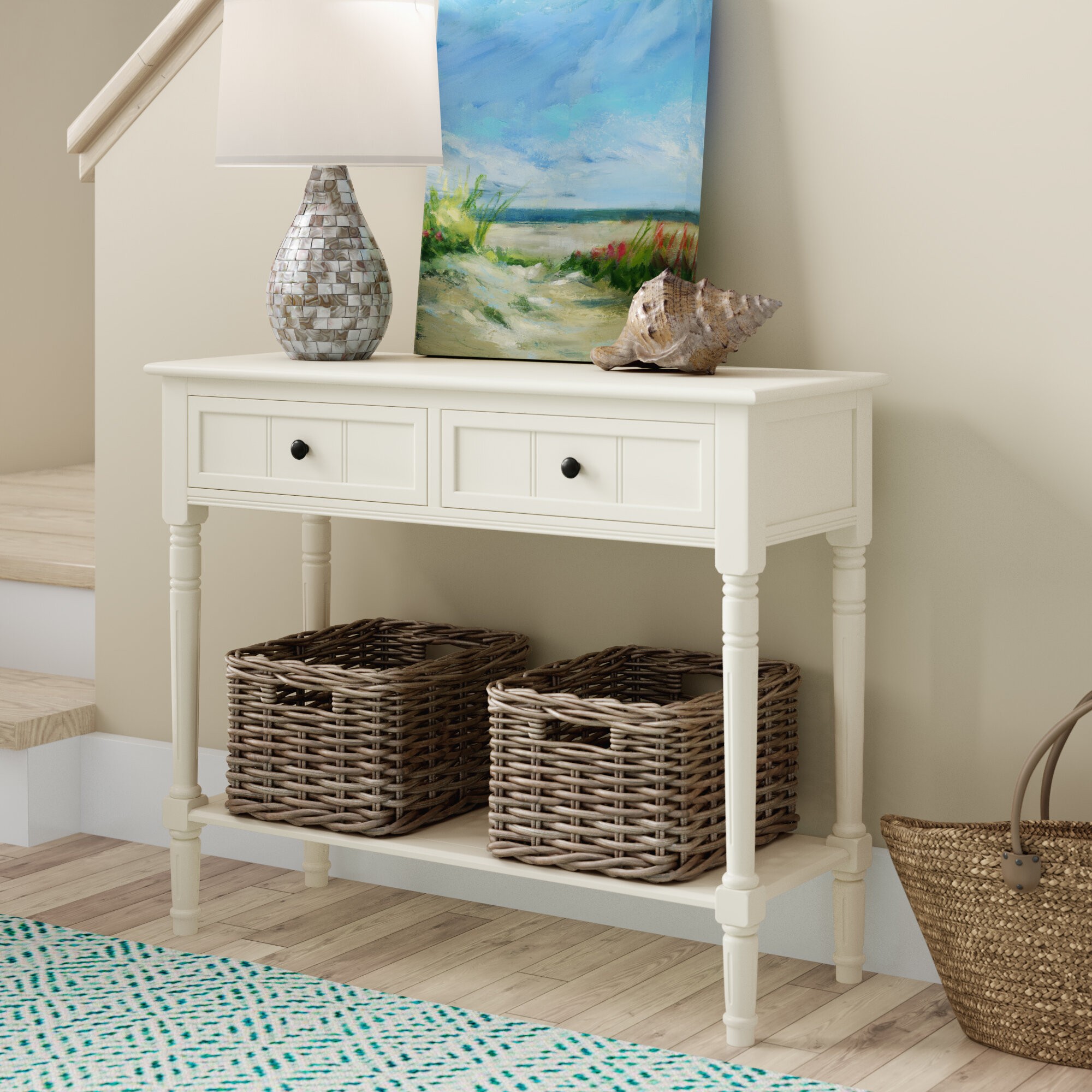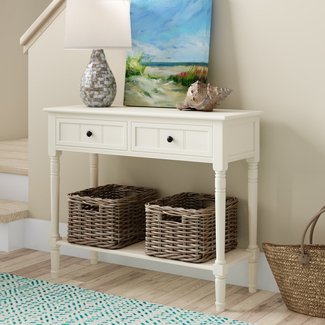 Manning 35.5" Solid Wood Console Table
This solid pine wood console is a functional and fashionable addition to your traditionally decorated home. It comes in an array of natural hues of cool beige, white, cherry, chocolate and black to match your existing colours. It features multiple storing surfaces including 2 drawers. Ideal for living room, bedroom or entryway where you can display a decorative sculpture or vase on the top shelf, wicker storage boxes on the bottom shelf, and hide away your keepsakes in the drawers.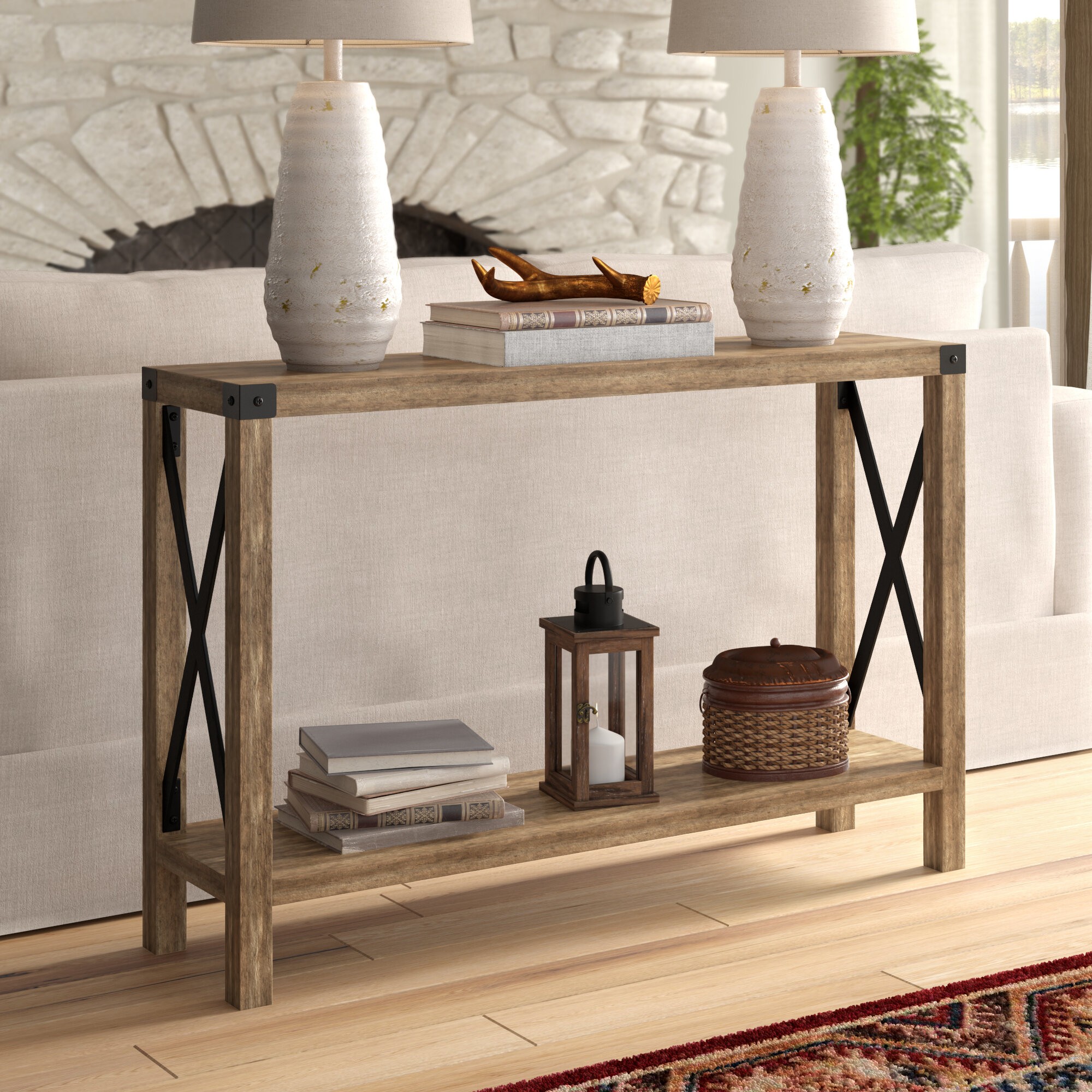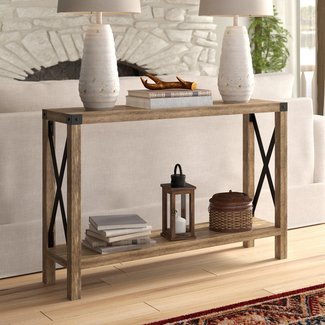 Arsenault Urban 46' Console Table
Connect with nature and raw style with this clean-lined design featuring manufactured wood and black metal elements. Its rustic look will look amazing against a white, grey or red brick wall or a solid pop of colour like sand yellow or cool blue. Decorating it with hand-made ceramics and vintage books will highlight your taste for urban industrial and farmhouse design style.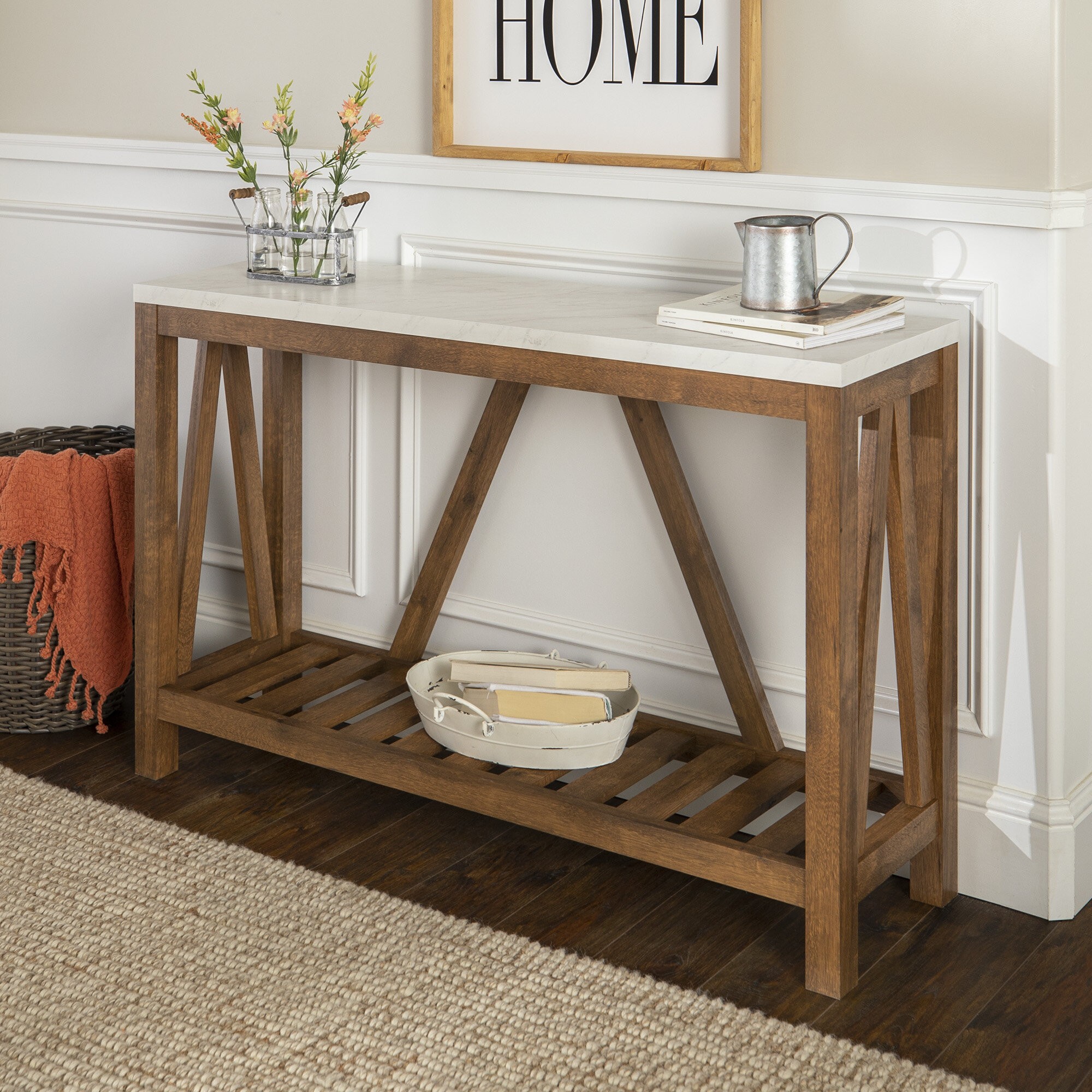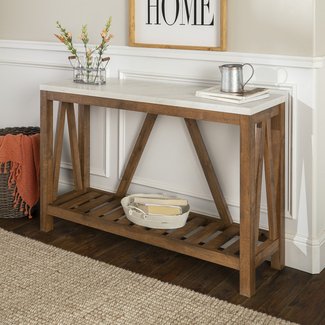 Offerman Console Table
This entryway simple console is produced with durable manufactured wood covered with a high-grade medium-density fiberboard MDF laminate to ensure sturdiness and resistance to scratches, dents, and fading. It can easily hold up to 50lbs, so you can carelessly store shoes, books, and electronics, or display a heavier sculpture without stressing about compromising its condition.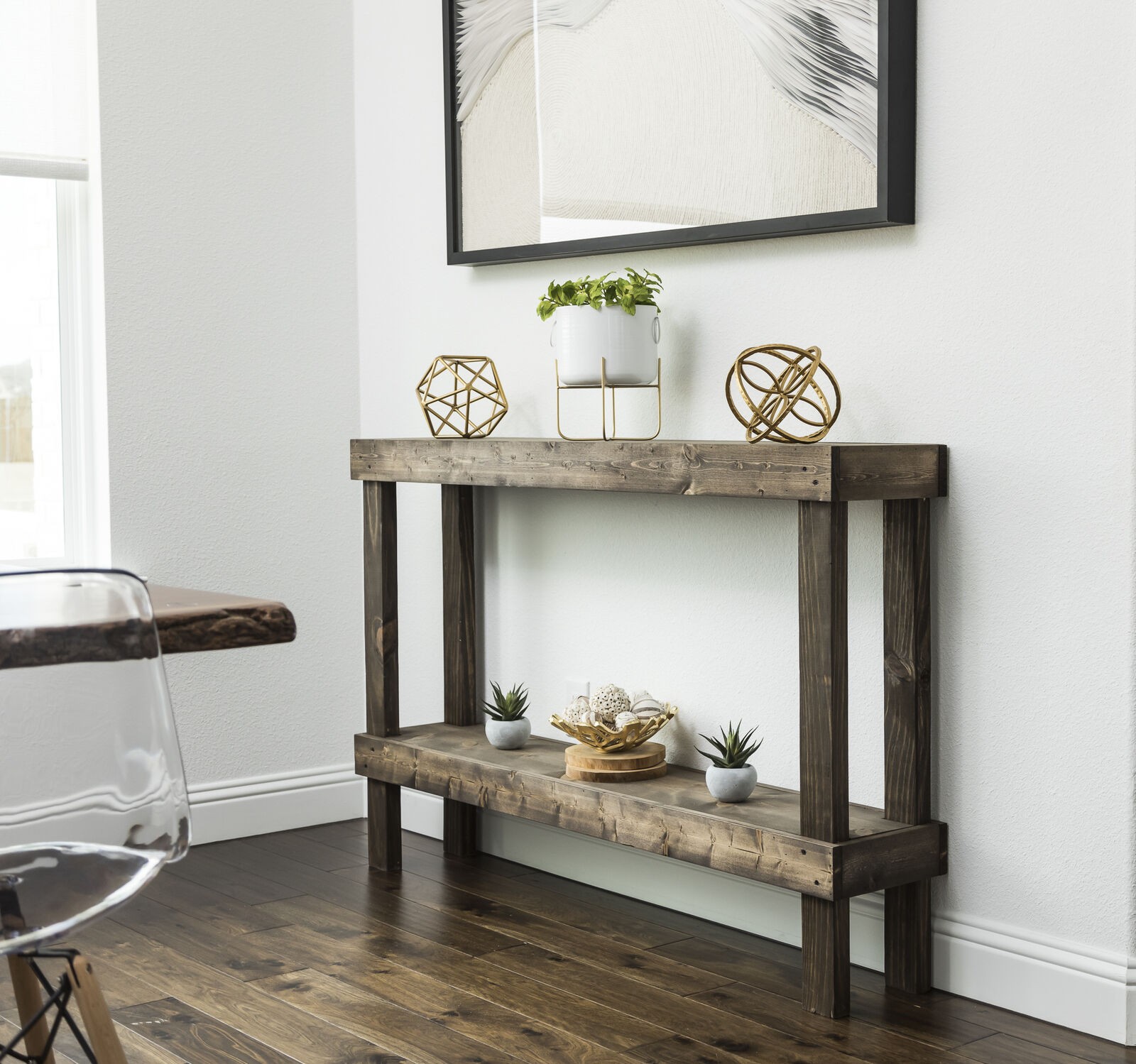 Dunlap Console Table
This rustic practical console table brings in the rough natural elements commonly found in rural parts. Dark walnut, gray or white will fit into your color scheme quite well and 2 different sizes allow you more choices on where to use. A 37.25" width is made for smaller spaces and entry way use. The 58.5" width works well with a large screen TV. Both are made from solid pine with a rough surface and a scattering of natural wood knots. A base shelf gives you double the space for flowers, books, or favorite statues.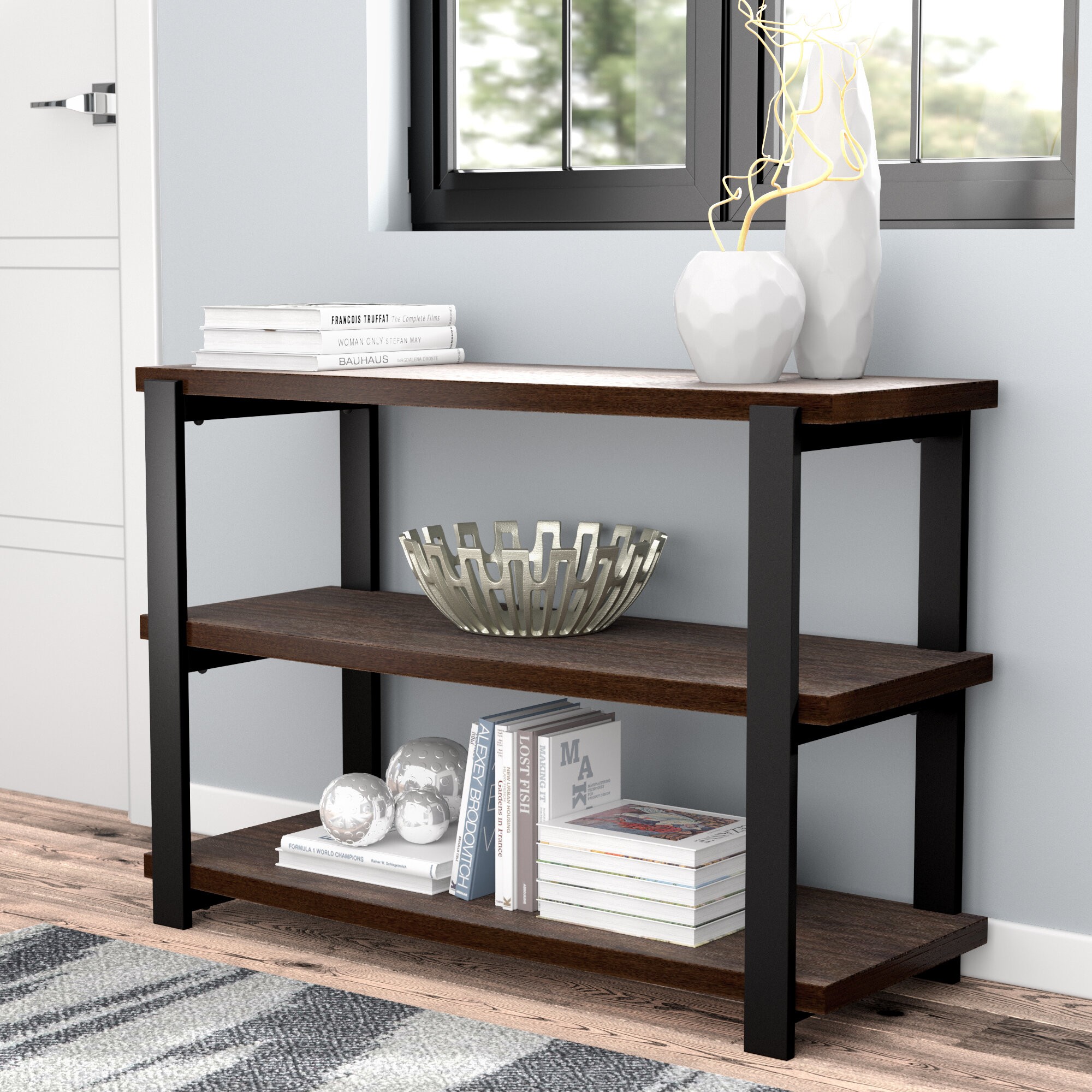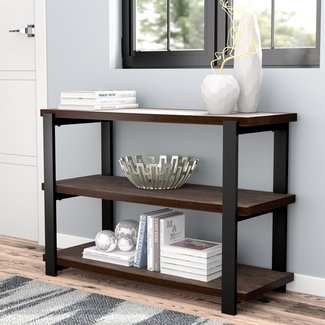 Elroy Console Table
This multifunctional table will look great in a hallway, next to your living room sofa, in your office or as a TV console. The powder-coated steel frame combined with wooden slabs creates a sturdy shelve construction. The weight capacity of the top shelf is 80lbs, and 60lbs for the two remaining shelves, so you can use it to display book collections or as a base for your home cinema or office electronics.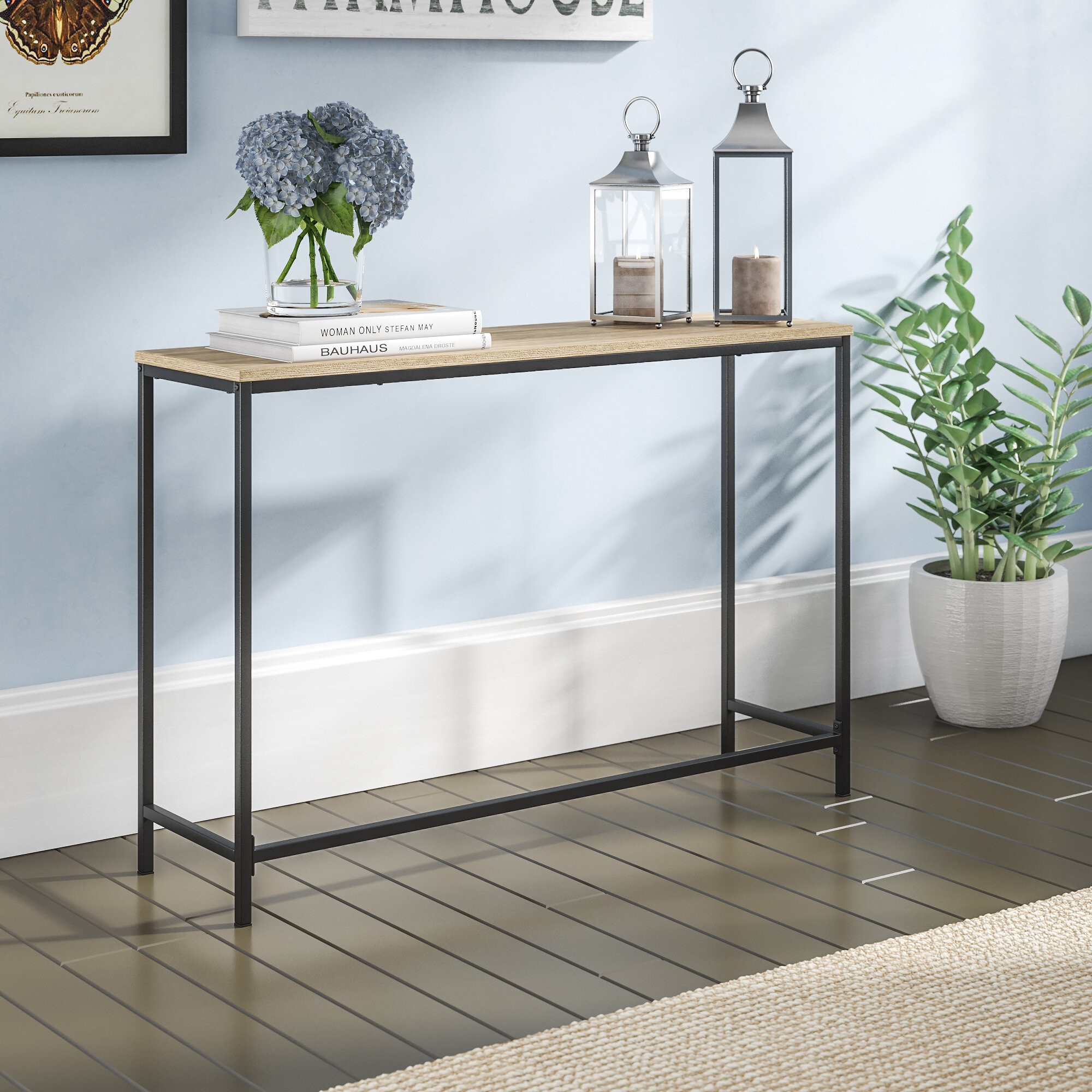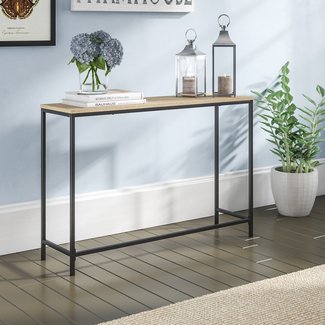 Ermont 42" Console Table
Your urban Industrial loft will finally have the finishing touches when this console table with a faux concrete top is delivered. There is no open shelf on the base but plenty of room to add canvas baskets or an iron sculpture. Metal legs support a top that is available in Charter Oak, Smoked Oak, or Faux Concrete. The oak is attractive for modern or minimalist decors where straight and sleek are major characteristics. Scandinavian decors also use no frill features. Add pops of bright color and natural trimmings for a Danish flair.  Measuring 28'' H x 41.5'' W, there are countless ways to add your own personality or to transition into a second style.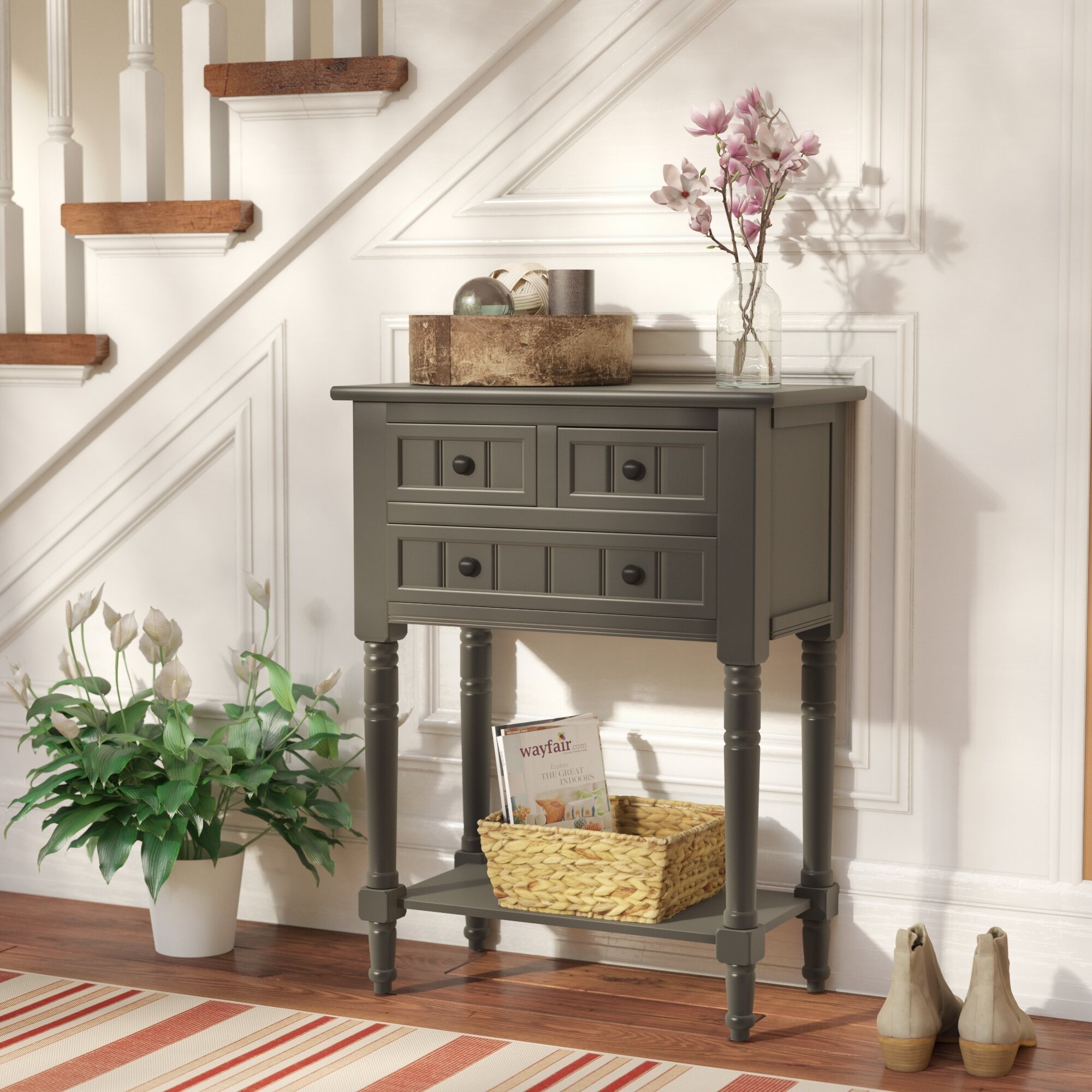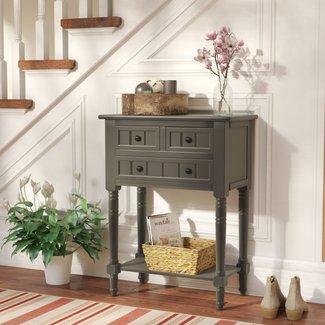 Wedgewood Console Table
If you're looking for a small traditional accent table, this one will not disappoint you. It features a narrow/tall design meant to accommodate even the most compact living spaces. The 3 spacious drawers can store all your smaller accessories like keys, sunglasses, mail or home office essentials, and the top and bottom shelves can be used for extra storage and displaying a vase with flowers, lamp or a live plant.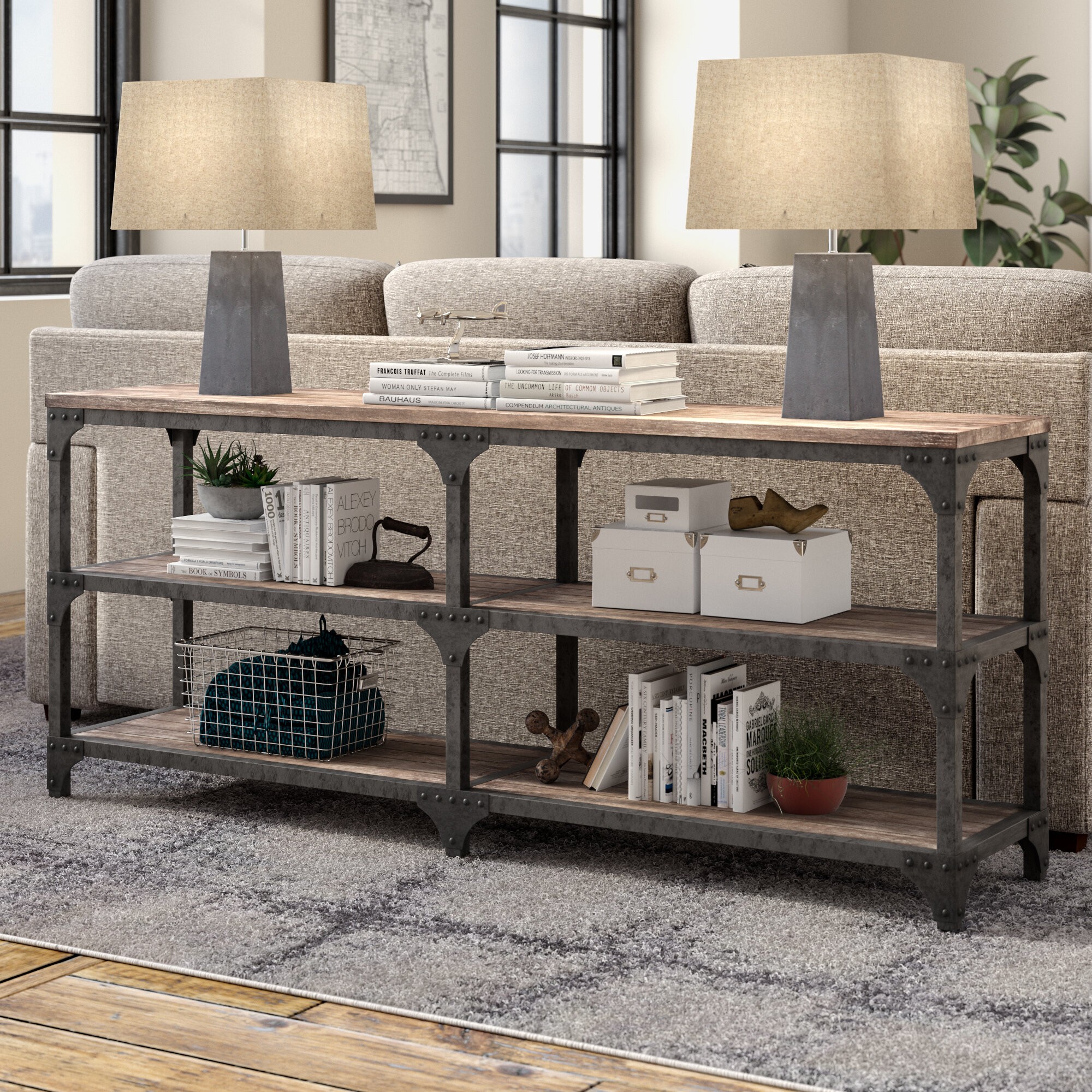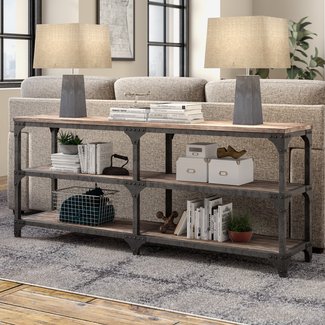 Neligh Console Table
This unique console table has space for everything you need to organize or display. It measures 72 inches across and features a long top plus two shelves. The top looks like weathered oak which offers it warmth but the metal accents give it an edgier, industrial look. This table doubles as a media stand that can hold up to a 60-inch television set.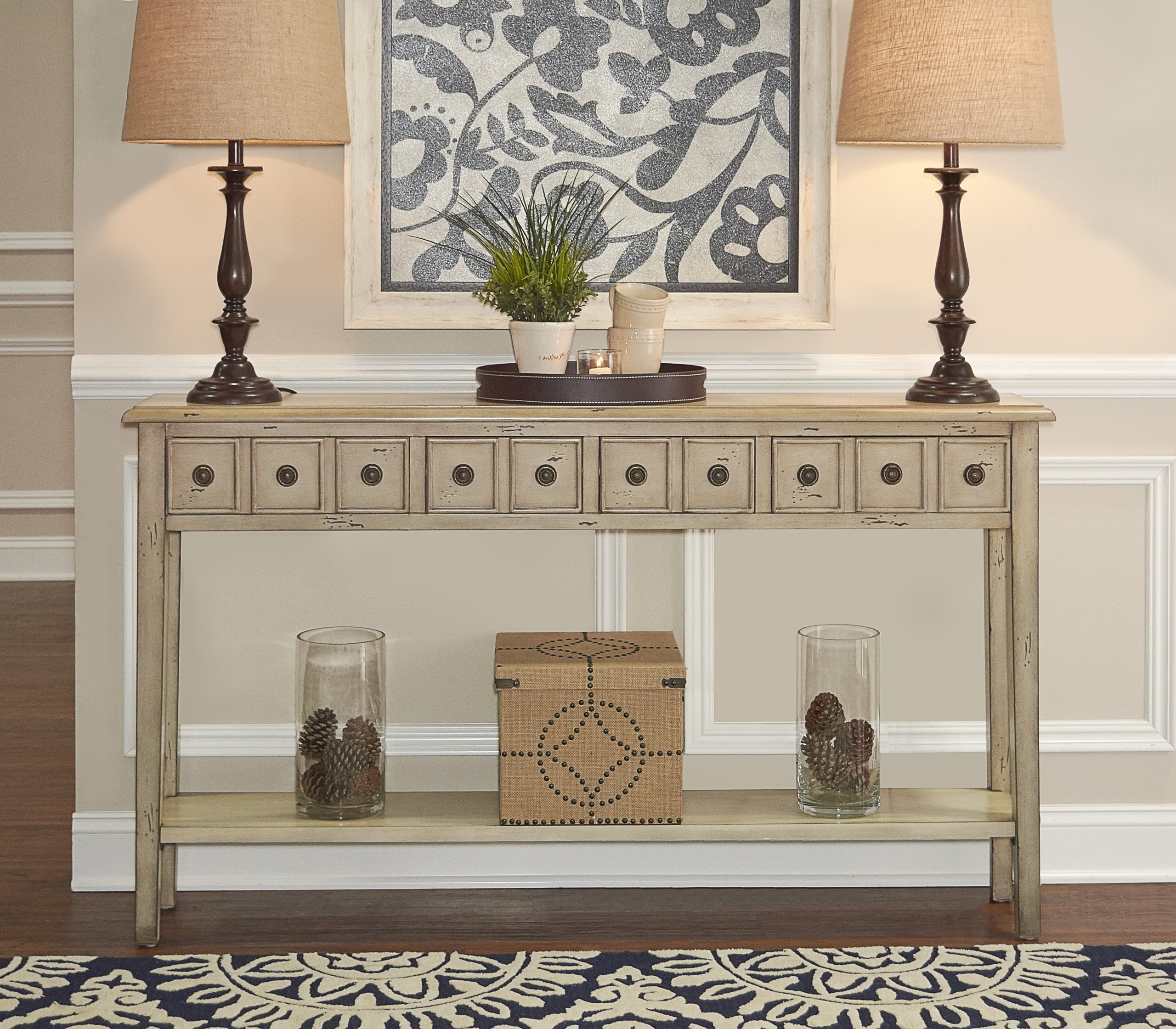 Elvira Console Table
Long and elegant, this table measures 35'' H x 60'' W x 10'' D. The French country design will give a sophisticated taste to any room. Whether you choose the weathered look in cream or teal, it will soften an entryway with class. Urban country will stand out with natural dried lavender herbs in low glass bowls and wicker baskets on the bottom shelf. Use a soft tapestry on the wall to accent the top shelf adorner with a lamp and old photos. Directly below the top shelf lies a row of little square drawers with 10 metallic pull handles. 4 drawers give you 2 small storage spaces and 2 larger ones for keeping extra candles, office supplies or additional scents.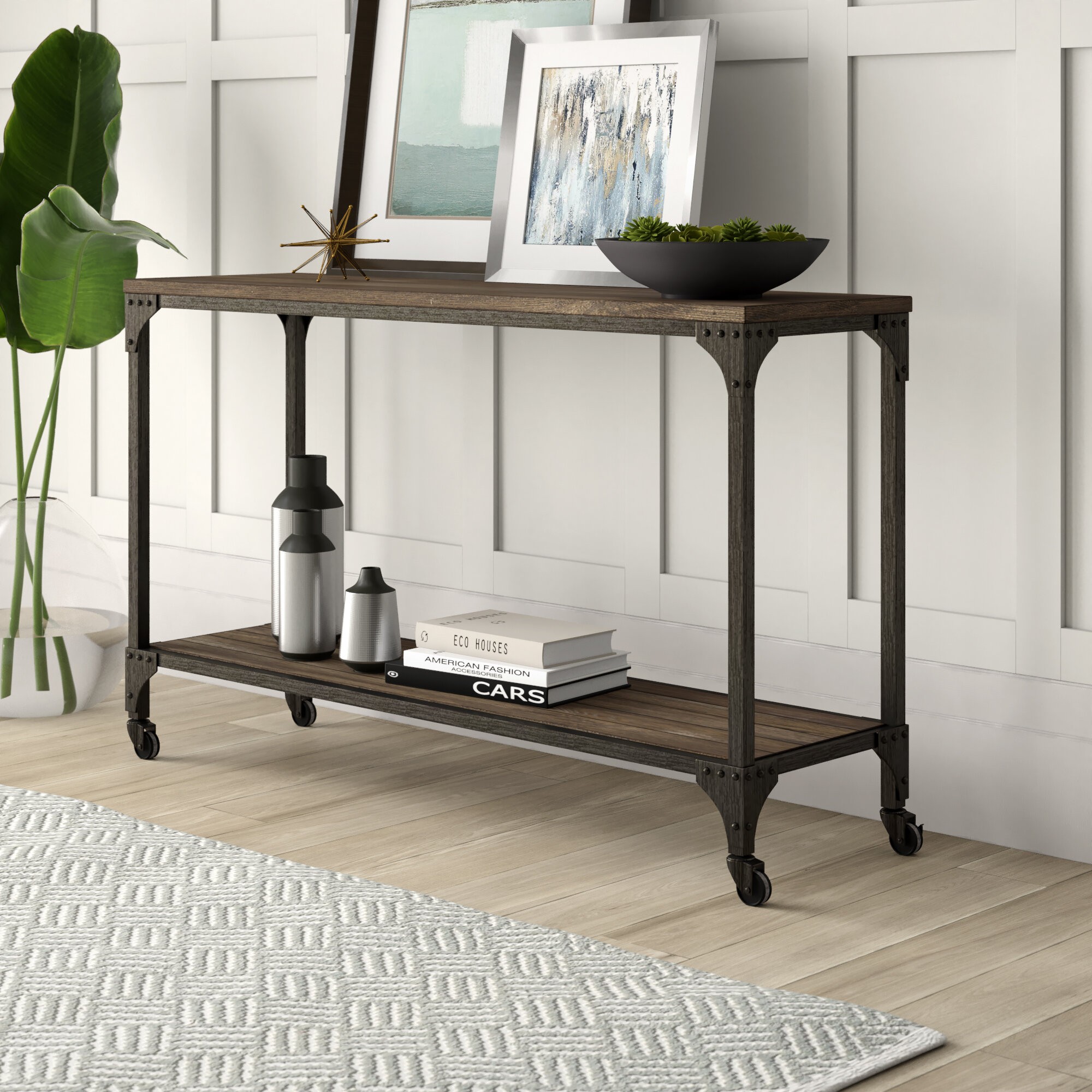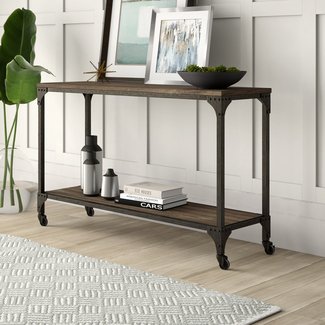 Mcgill Console Table
This is an ideal choice for frequent redecorators—it's designed with caster wheels that allow effortless repositioning in your home. You can lock the wheels to keep it in place and avoid hazards around your kids or pets. This water-resistant console is made of particle board with pine veneer and rustic steel legs. Decorate it with live plants without worrying about accidental water spills. It's extremely easy to put together with the included tools.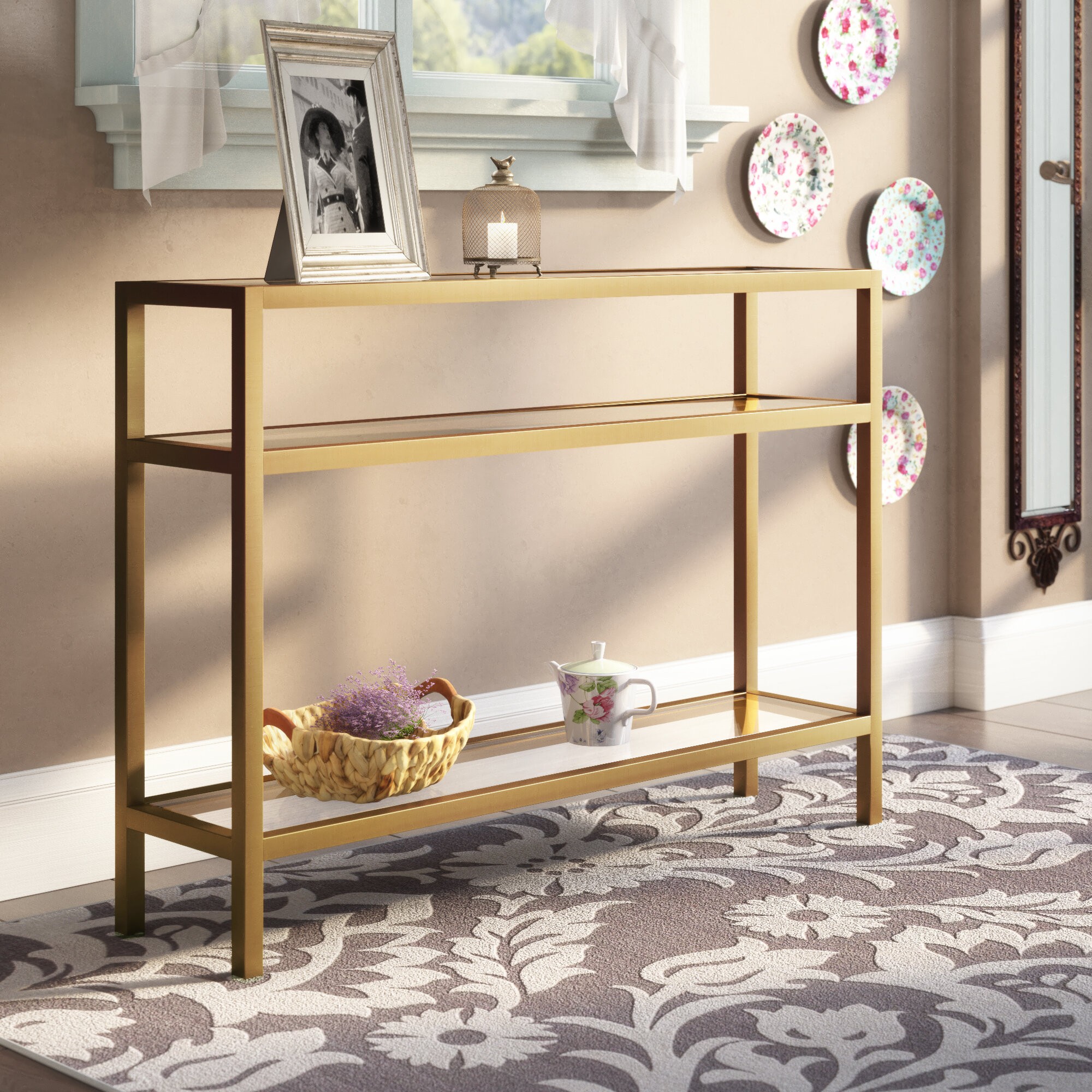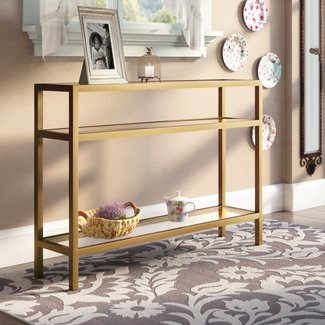 Pinehurst Console Table
Gold finished metal is the outline for this 3-shelf console table. The middle shelf has been added about a quarter of the way down from the top shelf, presenting a slight change from the even spacing normally seen. However, this is perfect in displaying the glass shelves with a modern flair. You have the opportunity to show off smaller items and larger items while keeping the top shelf for a creative focal point. The Pinehurst Console Table is also available in bronze and satin nickel and measures 30" H x 42" W x 10" D.  Make a statement by placing this elegant table behind a couch, highlighting the entrance to a room.