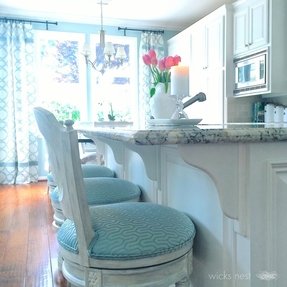 Why not opt for a bit of color with these amazing bar stools that offer the charming, turquoise finish and the lavish, thickly padded seats as well as the distressed finish of the frame. The wide back provides support to your back as well.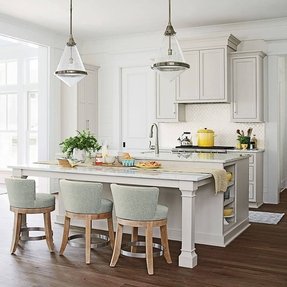 An unusual set of stools, which thanks to their short construction deflect from being typical bar stools. Their swivel construction is a smooth mechanism here, allowing to keep the conversation flowing between the kitchen and the adjoining living room.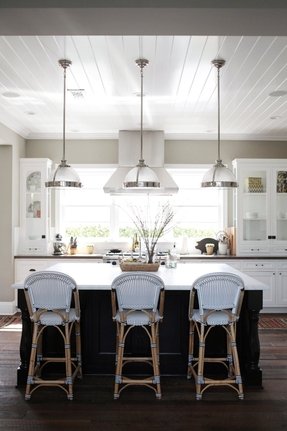 Pretty traditional barstools of round wooden rods and flat slats. A stool has sleek straight legs, flat footrests, curved stretchers, a semi-oval seat and a squarish back with a bowed frame. Covers and frame bindings are of blue and white fabric.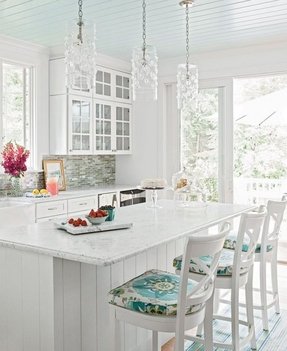 The cheerful, bright white kitchen is the perfect solution to create a seaside style. The combination of green and blue creates a unique place in the house. Bar stools in white with colorful cushions create a unique atmosphere.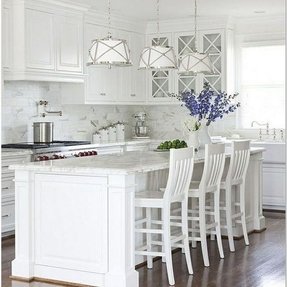 Elegant traditional barstools with tall white-finished wooden frames. A stool has straight sleek angular front legs, gently curved back ones, simple stretchers in 2 tiers, a square seat. A quite tall backrest features an upright slatted design.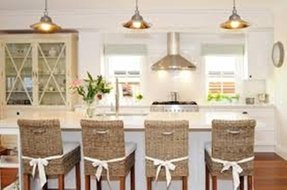 CHIC COASTAL LIVING: Chic Bloggers and Their Coastal Kitchen
A set of gorgeous barstools for indoor use, excellent for enhancing contemporary kitchen counters, and bar areas. Barstools feature natural-finished wood frame with tapered legs and square foot rests, with a seat and back covered with a quality turquoise fabris.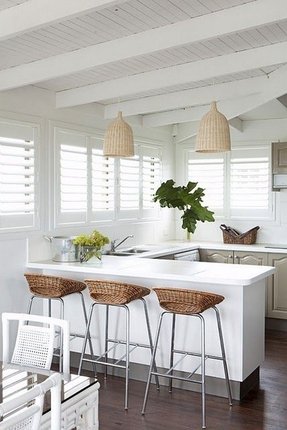 In the past, the plaiting craft has become an art, and the most-known creators have been lavishly rewarded. It is not surprising that the unique shape and appearance of wicker round seats of these modern coastal bar stools.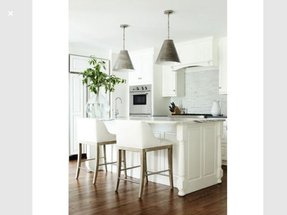 This kitchen by ML Interior Design shows how to combine clean, yet solid elements to create an inviting room. Love the lights!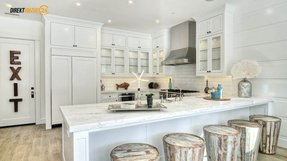 coastal kitchen | Blackband Design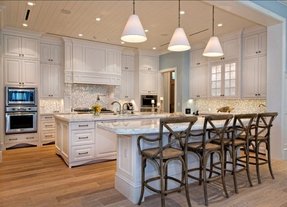 Kitchen. Coastal Kitchen. Kitchen Ideas. White coastal kitchen with marble.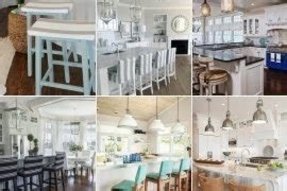 The coastal interior design introduces a wonderful ambiance to the decor, so this beautifully made table/stool with a cord piece and impressive form captivates. The whole is perfect in the living room or kitchen.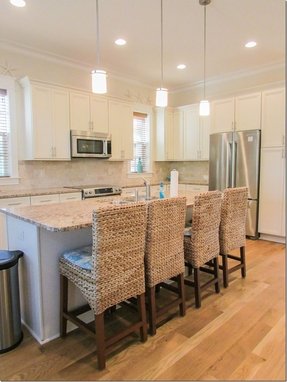 This kitchen decor is interesting and based on solid and neutral-colored elements. A kitchen island features a solid marble top. It looks great in set with four armless stools with solid backs and durable wooden frames.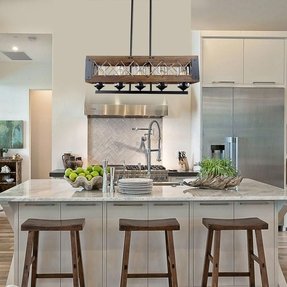 Modern Farmhouse Bar Stools Design Ideas, Pictures, Remodel, and Decor - page 7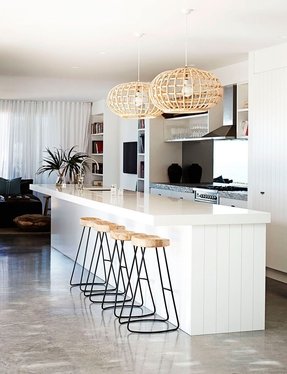 architect eduardo villa | photographed by sharyn cairns for real living au | kitchen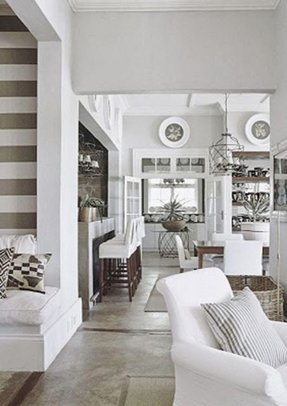 Classic bar stool upholstered with nice touch fabric. It is mounted on wooden base and reinforced with solid supports. Suitable for residential and commercial premises.
Non-profiled coastal bar stools are known to everyone interested. Made of strong metal, with very delicately cut details in a modern style. They have a pearl color in this case, which fits fantastically with the bright surroundings of the kitchen.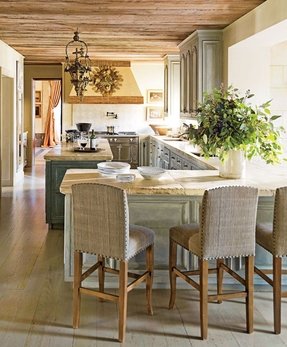 Intentionally aged Provence style Kitchen - French chateau in Houston, Texas :: completed in 1933 for J. Robert Neal, who made his fortune in Maxwell House coffee.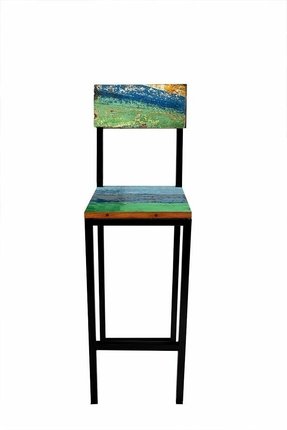 Fin and Tonic Reclaimed Wood 30" Bar Chair
High bar stool set on a solid metal construction. The seat and back are made of wood and covered in an abstract pattern. Suitable for home, bar and more.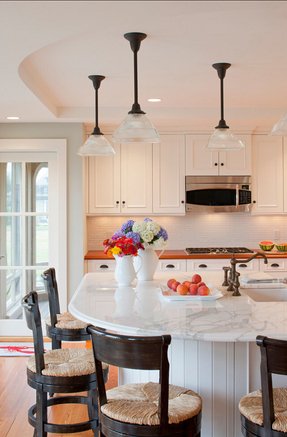 Now you can easily improve your kitchen counter with those coastal barstools. The frame is made of espresso-finished wood, including a supportive back, tapered legs, and ring foot rest. The round seat is made of beautifully woven rattan.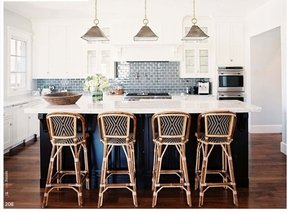 and this Sorrento Bed by WSHome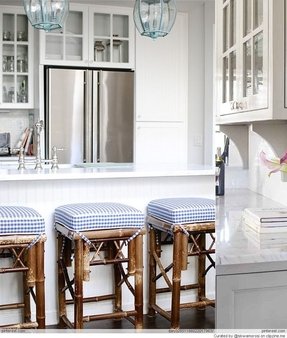 I love the unexpected pop of the teal lanterns and the rattan stools in this simple cottage kitchen. Grace Happens Blog - nicely done!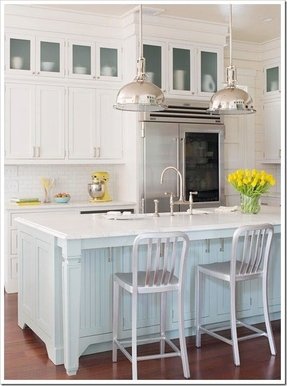 Resembling a coastal or cottage style, this lovely set of bar stools will ooze a charming, warm atmosphere around the space. Counter height sized, they feature convenient footrests.
I absolutely love this kitchen! I can definitely see this in my future dream home.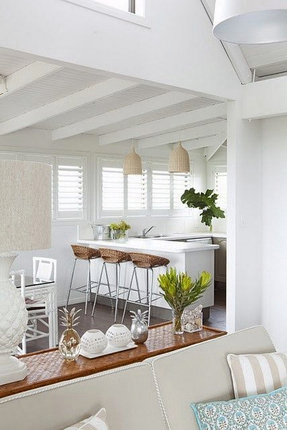 Remodelaholic » Blog Archive Beautiful Beach House Kitchen Makeover » Remodelaholic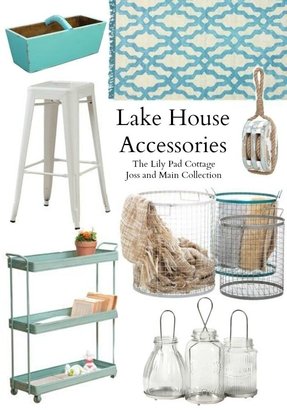 Lake House Living Inspiration - The Lilypad Cottage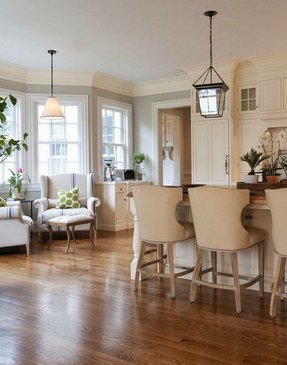 Spotted from the crow's nest: Beach House Tour- Coastal Connecticut harbor house