The fact that you've decided to buy a chess table tells us that this is more than a game for you: it's a sincere passion and a lifestyle! As such, it deserves a special place in your home.
Chess tables are available in a wide variety of styles, sizes and materials, so it won't be difficult to find the right one for your needs and room.
However, it's important to figure out exactly what you should look for before you start browsing. Just like there is no reason to spend more money on features that you wouldn't make the most of, you really don't want to kick yourself for overlooking something important.
Unlike the queen, you shouldn't go in any direction, but rather towards the right one.
Let's help you get there!
1.

Should you opt for a chess table with a built-in board or one that lets you use your different sets?

One of the benefits of a chess table benefits of chess table is that it brings the board on the same level as your main surface, making it so much easier and more comfortable to play (especially when the game gets long):
---
● That's why most chess tables rely on a built-in board that's either printed or carved into the surface of its main material or slotted inside it. Because these chess tables usually come with pieces too, they can be a better choice if you were looking to upgrade your current setup or start afresh with a more permanent solution;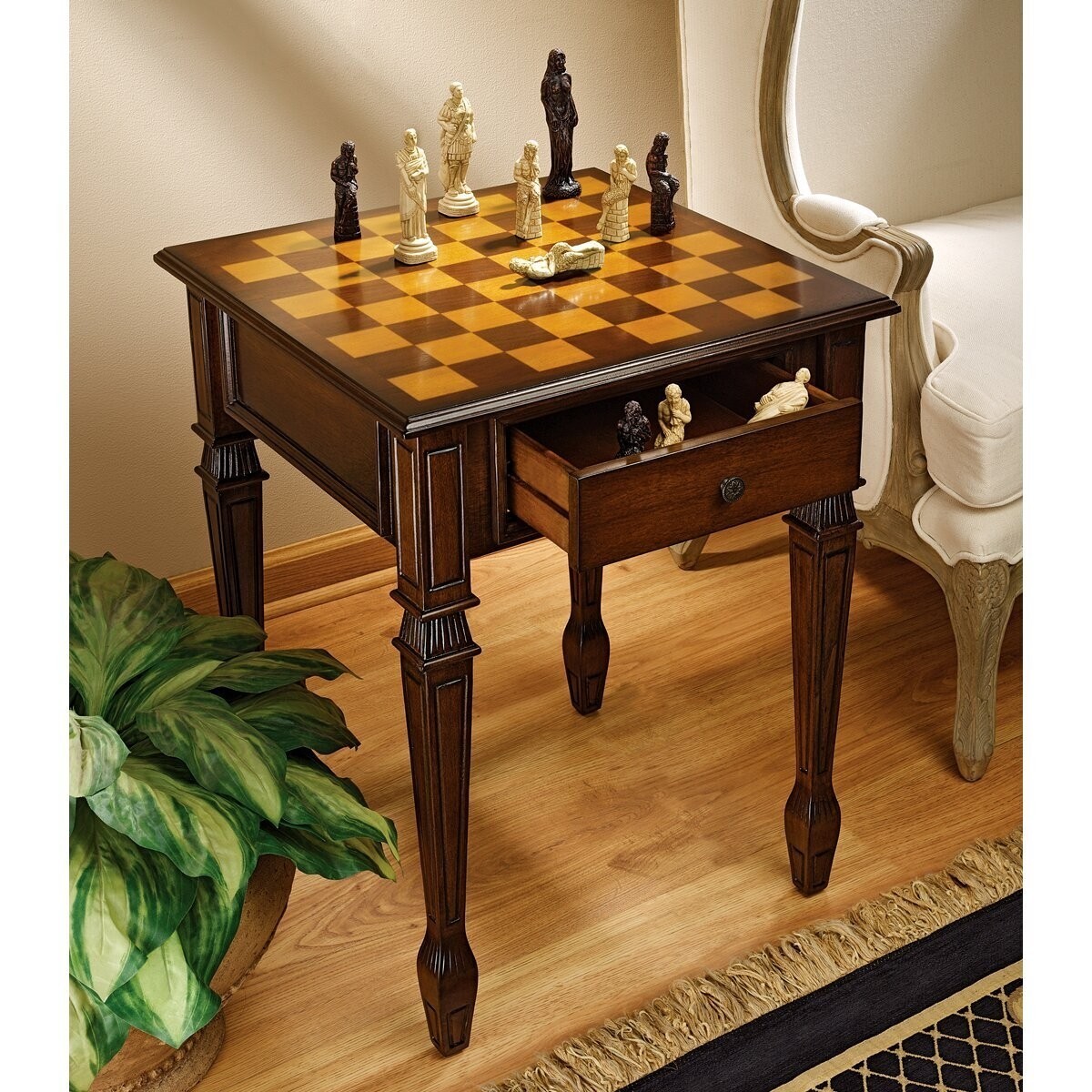 ● However, if you already have a board that you want to use or perhaps a couple of different ones that you like to alternate, you can always look for a chess table with an interchangeable slot. The most versatile size is 24x24", which can fit most chess boards.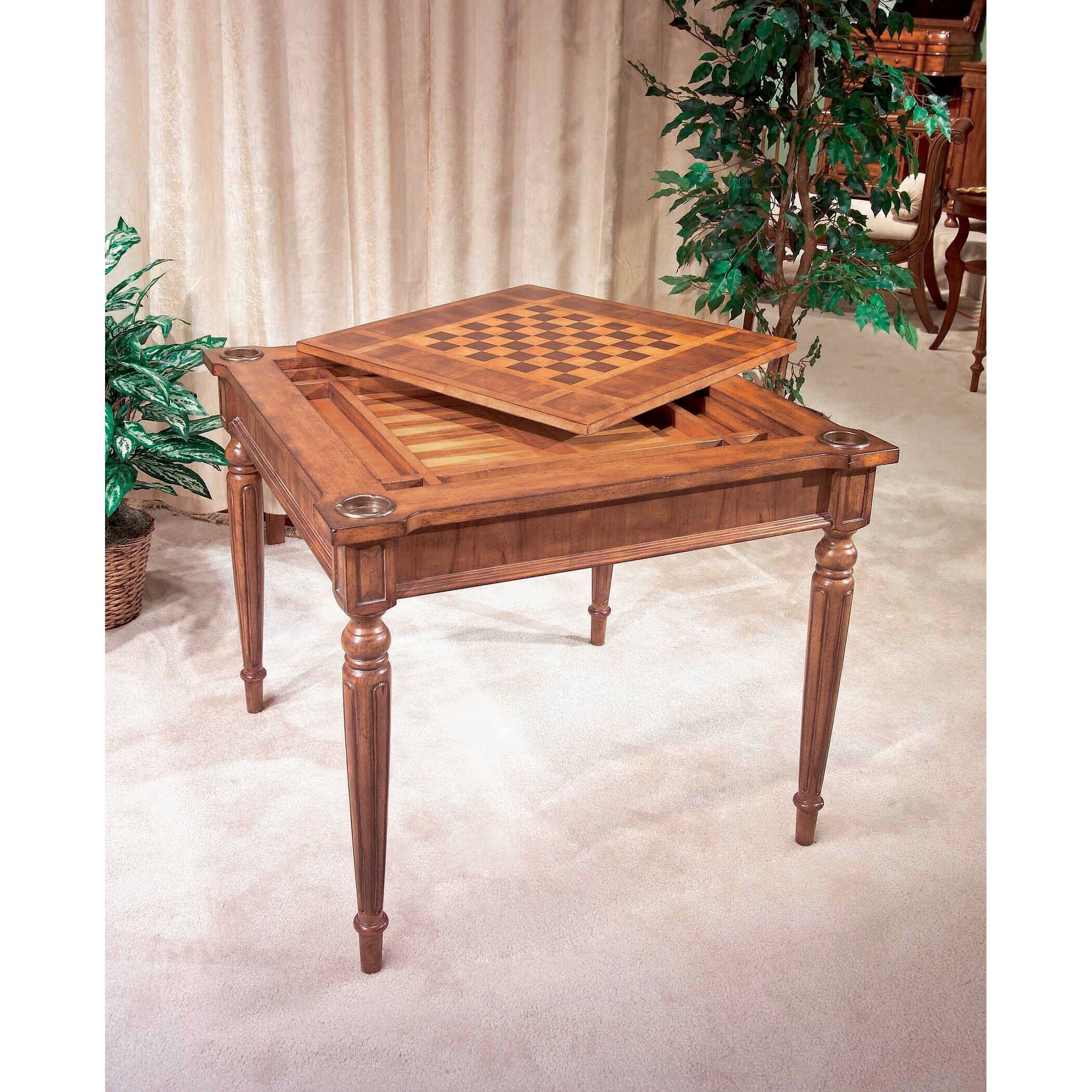 2.

Consider the size of your chess table and chairs
It's tempting to immediately opt for the most majestic design, but you must remember that the bigger the board… the larger the chess table and its designated area will be!
● Measure your future chess spot to know exactly how much room you've got to play with (pun intended);
● If it feels a bit cramped, the most space-optimizing seating solution consists of backless stools that can be pushed underneath the table whenever you're not using them;
● Alternatively, if you've got quite a lot of room, you can opt for more traditional chairs or small armchair-like seats which will also allow you to rest your back in a more comfortable way;
● Either way, you must allow enough space for the stools or chairs to be pulled back and for you to sit on them comfortably. Use 35" as a starting point.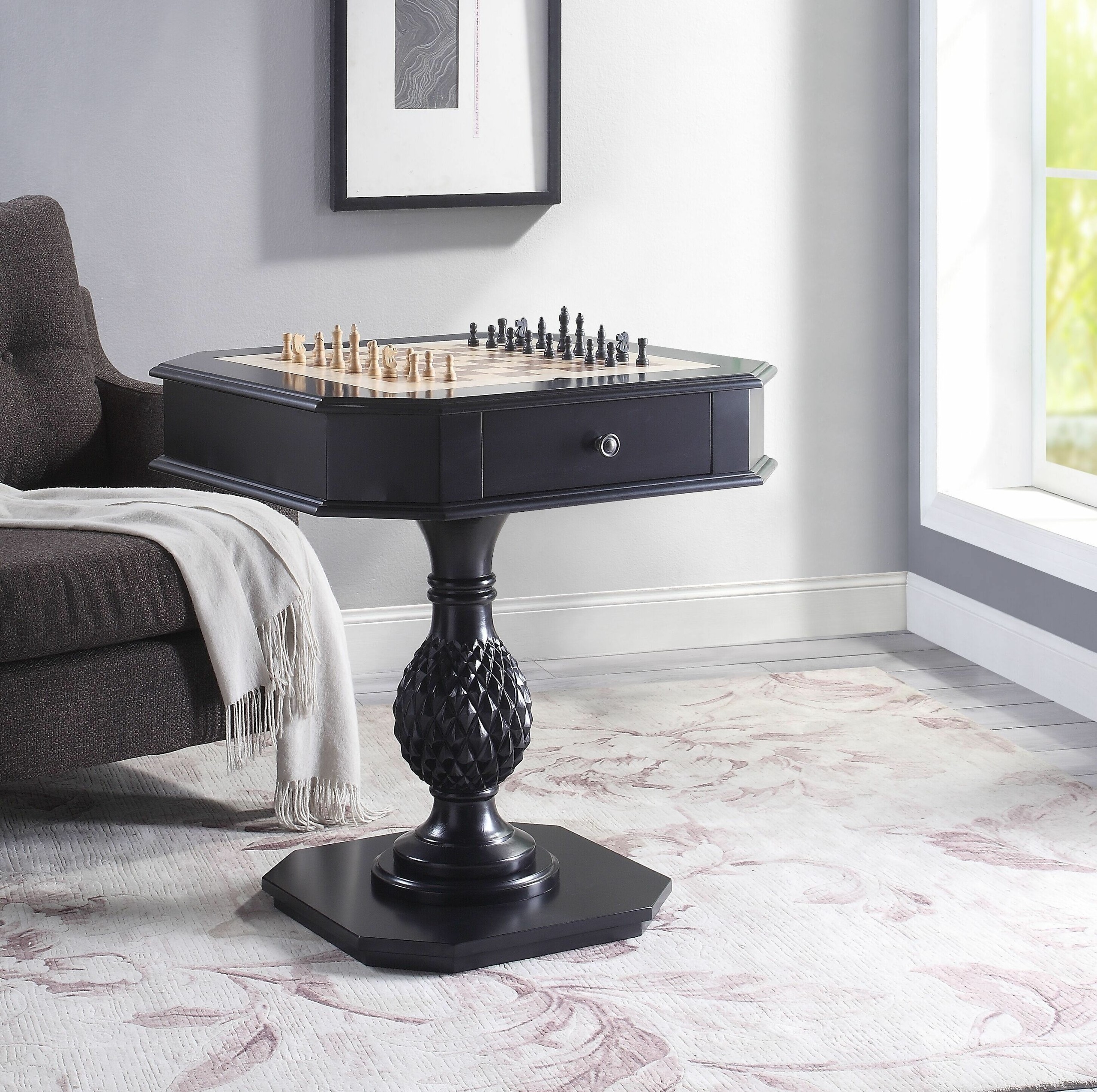 3.

Are you going to use that table for anything else?
If you have plenty of space left in that room, you might already have a separate coffee table or another small seating solution.
However, if you're torn between adding a chess table and a different one because you're low on space, here's a handy compromise:
● Some chess tables are available as a multipurpose model that can be turned into a normal table whenever you're not using it to play;
● For example, you can use them as a serving table to entertain your guests or as a surface to play other board games;
● Depending on what you're planning on using it for, you can scout for practical features such as serving trays and cup holders.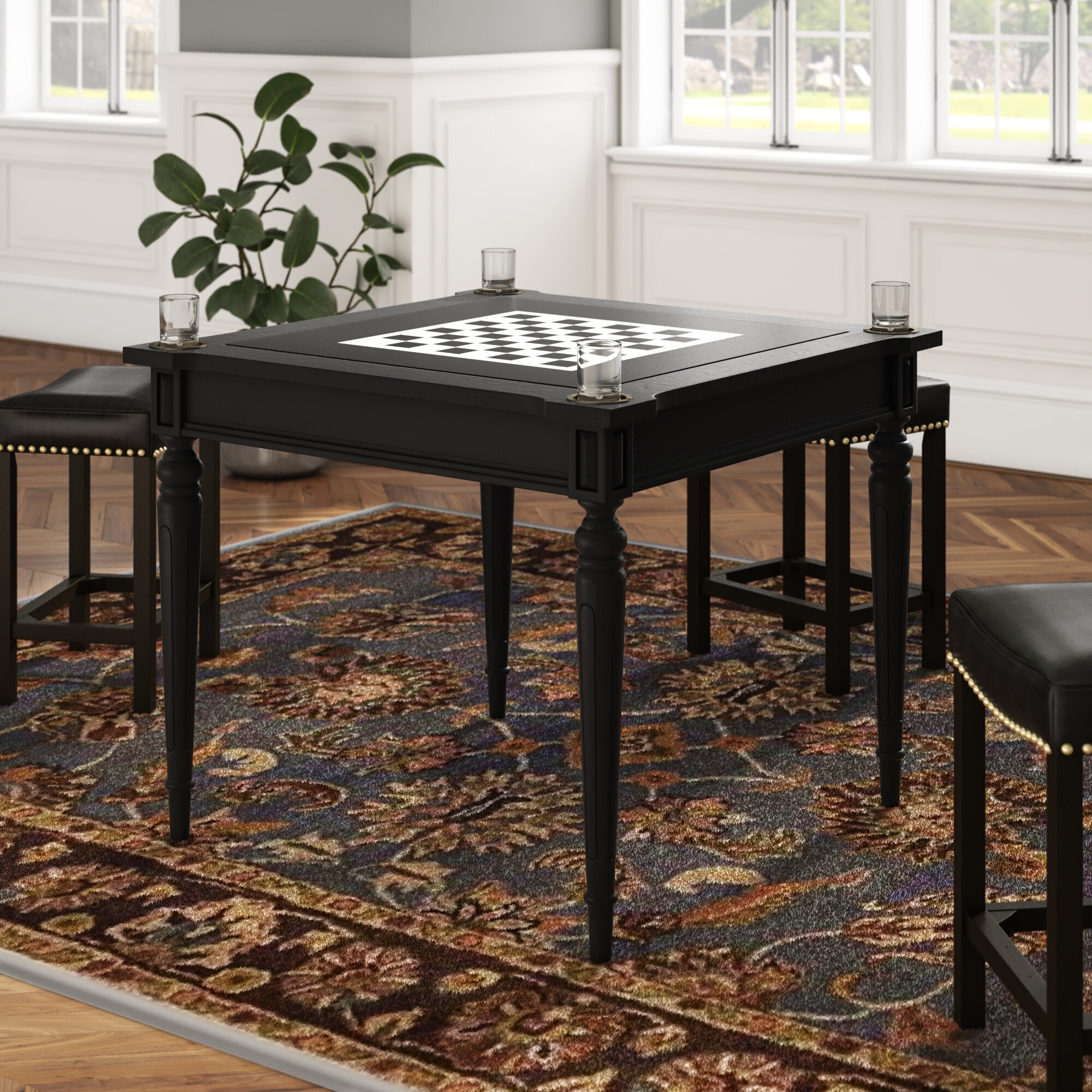 4.

Figure out the right shape for your chess table
Chess tables are available in different shapes, but the right one for you can go beyond personal preference:
● Look at the other elements in your room: you could complement it by choosing a symmetrical shape or break your existing symmetry to ensure a balanced result;
● Square and rectangular tables are better suited for larger areas;
● A round table can make a smaller room feel airier and, thanks to the absence of sharp and pointy corners, it's a safer choice if you have young kids running around;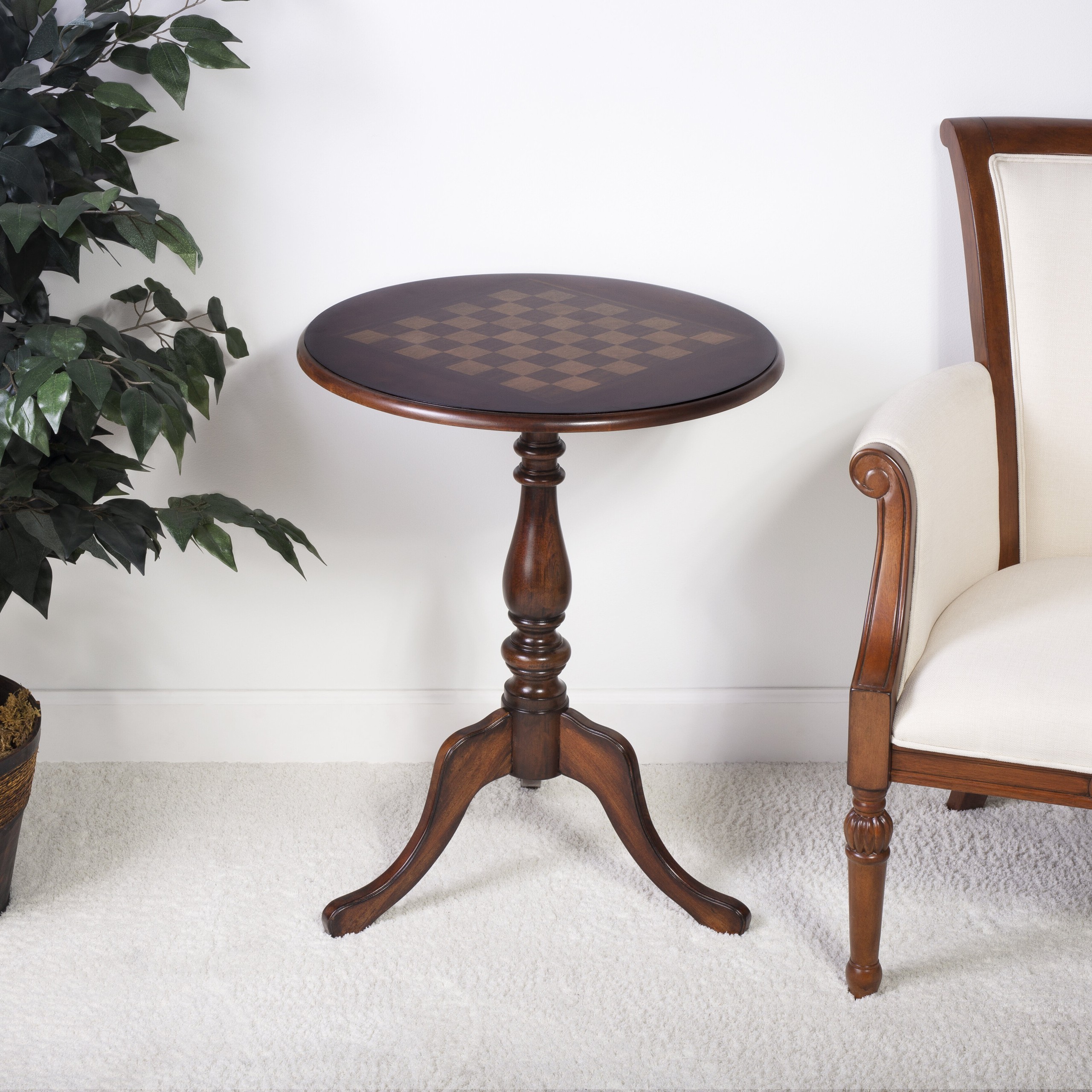 5.

The right material for your chess table…

The fact that chess tables are available in a large variety of styles is true for materials, too:

● Wood is the most popular option: it's durable, versatile, and, depending on the design of the table, it can work with lots of different interior styles;

● If budget is a major concern, less glamorous but practical alternatives like plastic or veneer could be a wise choice;

● You can also combine a metal or wooden base (either as legs or a central pedestal) and a glass top that makes the room look less cluttered;

● If you were thinking of placing your new chess table in your garden or patio, then we recommend looking for durable and weather-resistant materials like granite, marble or terrazzo.
6.

… and for your chairs

There are several options for chairs, too:

● If you want to achieve a consistent look, try and keep the same materials that you already have in your room and new chess table (or, at least, elements of them). For example, you could have wooden stools with a wooden table or more traditional upholstered chairs with a wooden base;

● If you already have some upholstered furniture in the same room, you could look for chairs in the same color. Psst: upholstered chairs and stools are also the comfiest options;

● Depending on what upholstered materials you've already used to decorate that room, you can choose among traditional fabrics or leather.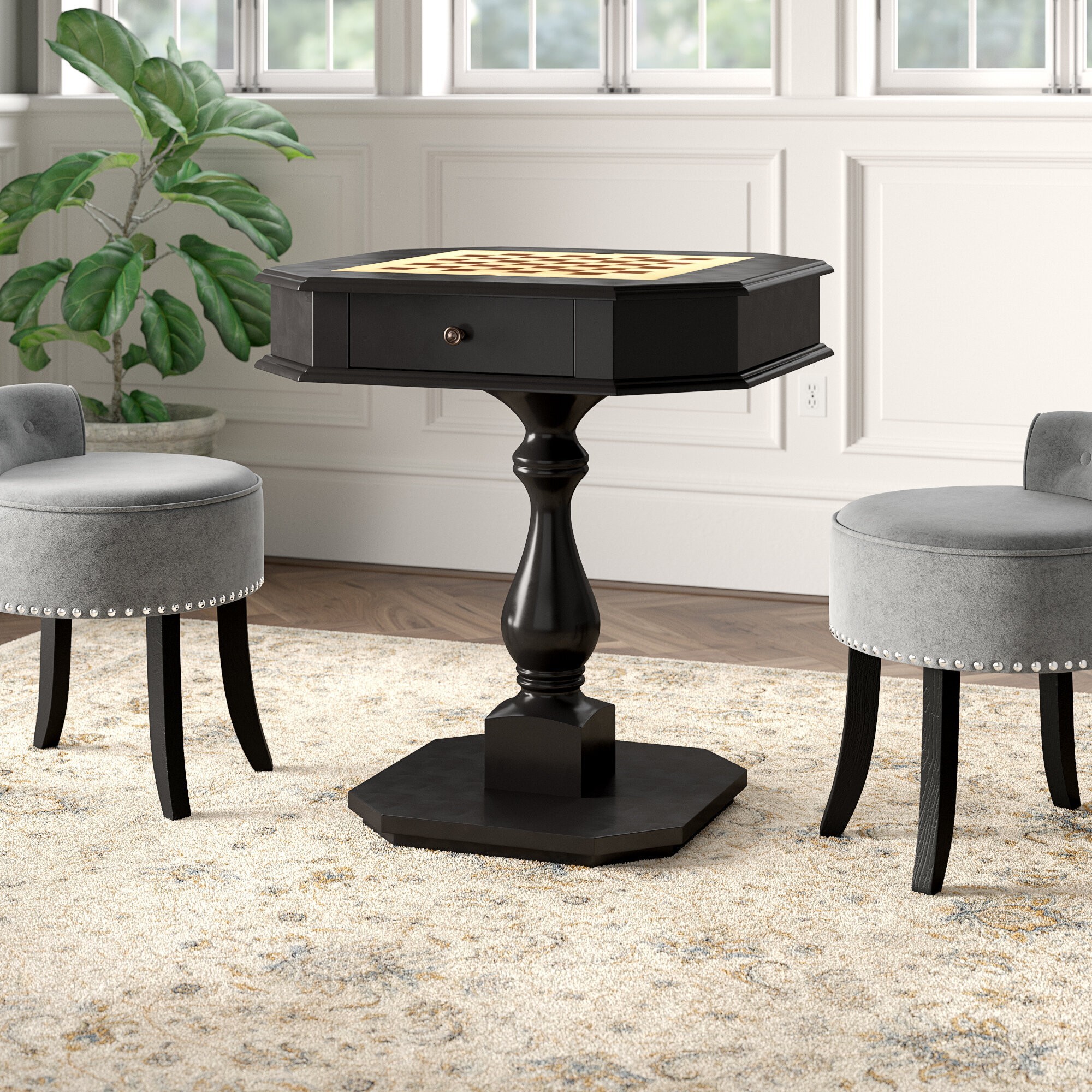 7.

What style of chess table do you prefer?

Your chess table can either be your chance to complement your existing interior style or to add an attention-grabbing period piece:

● If you have a small room or a contemporary style, stick to lighter woods or glass tops and streamlined pedestals;

● Darker wood works better in larger rooms or more traditional and retro interiors;

● If your room relies on a more decorative style, look for tables and chairs with particularly ornate elementsand curved lines;

● Alternatively, your chess table can stand out as a handcrafted piece that draws inspiration from older styles, like a colonial table.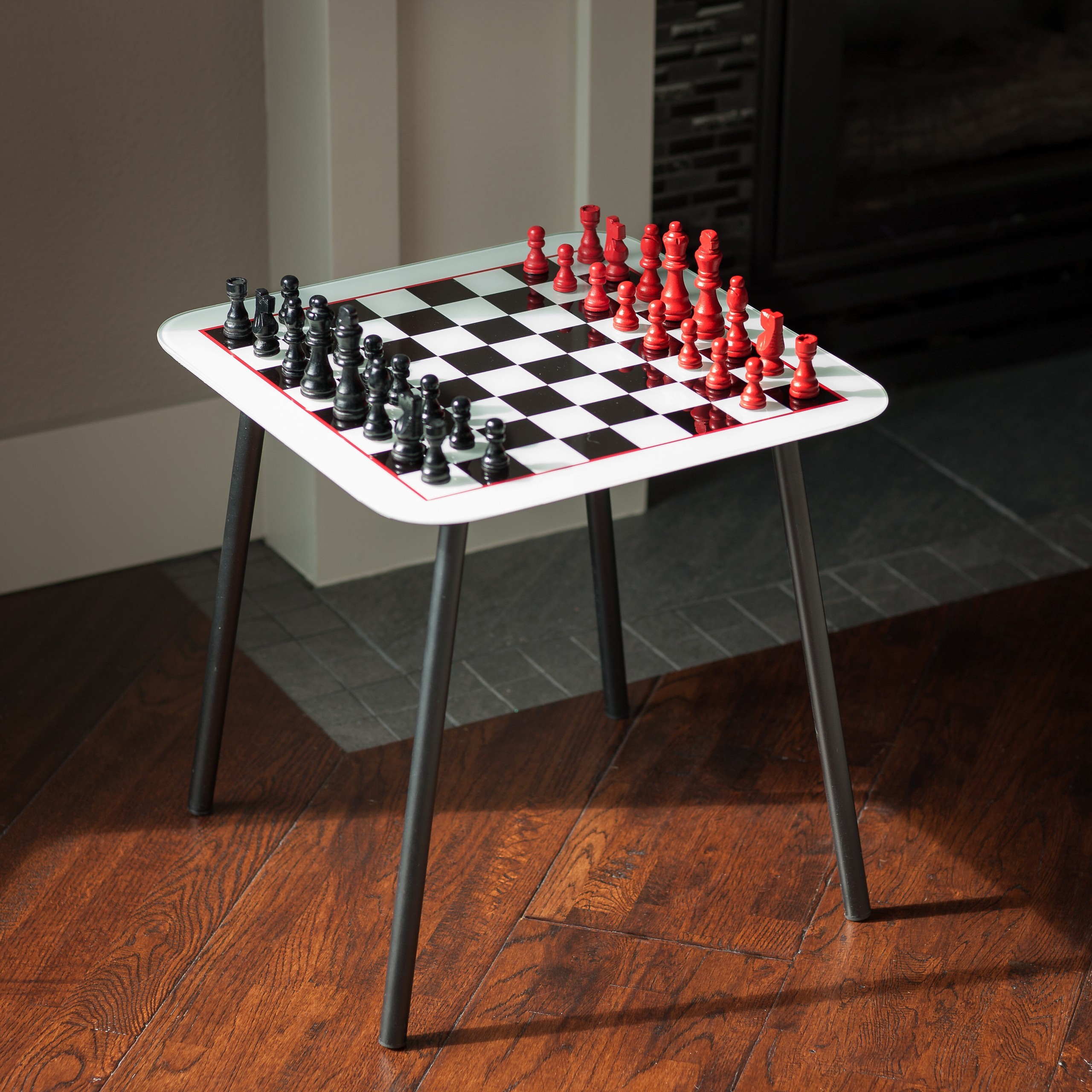 8.

Do you need any extra storage?

Some chess tables come with drawers to store your pieces, but it's not a given (for example, think of a thick marble set):

● If you want to keep all of your chess equipment in one place, look for a table with this feature;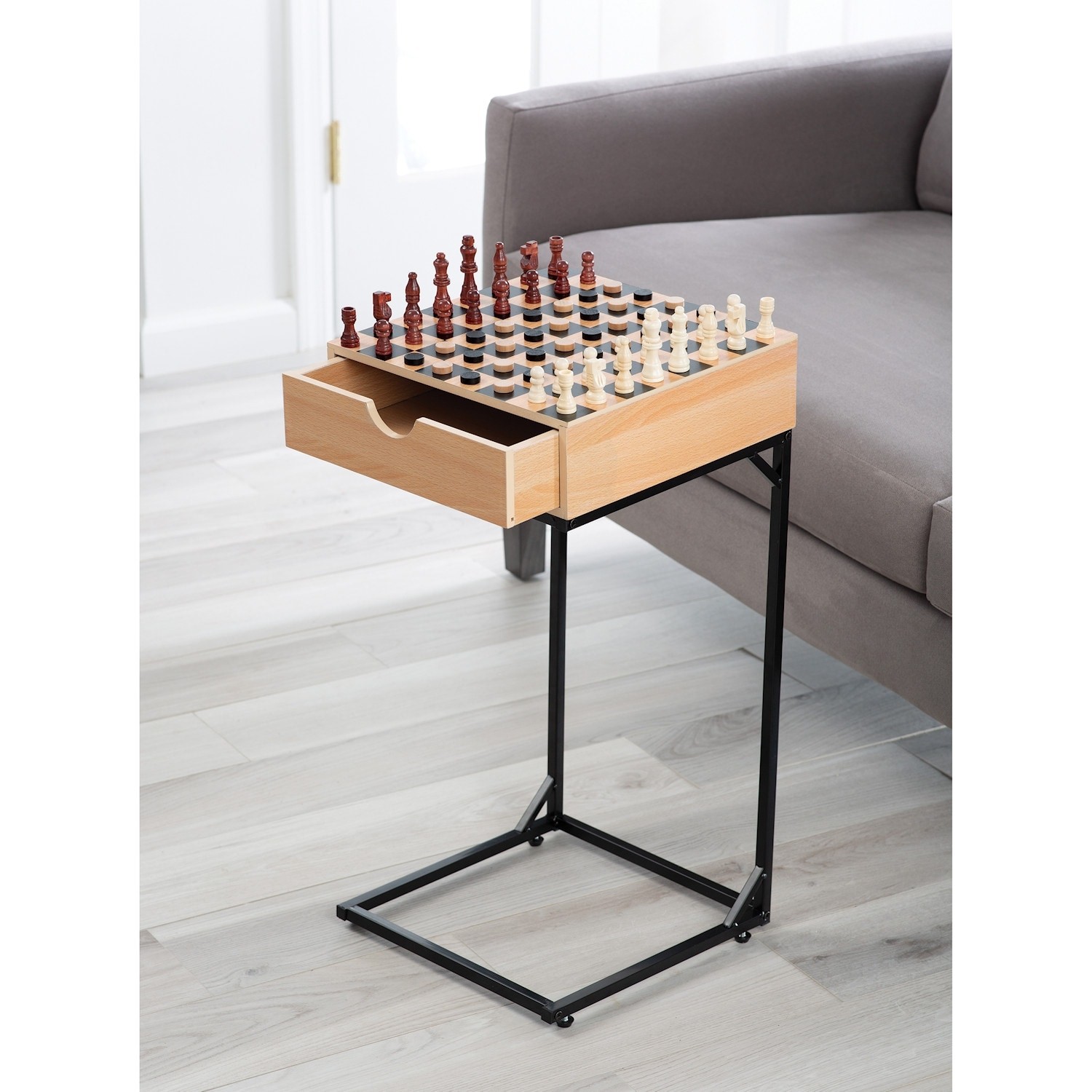 ● Alternatively, if you already have a designated spot for them or perhaps you prefer more streamlined silhouettes, there's no reason to worry about it;
● A good compromise? A model with a removable top that adds a storage element without affecting your chess table design.