Our Choice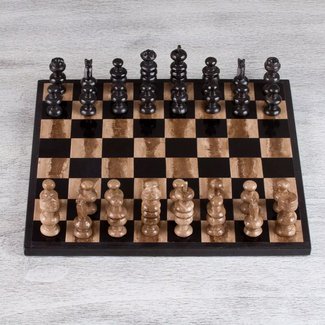 Beige Chess Board Game
Test your strategic thinking with elegance and class thanks to this beautiful chessboard. Made from marble stone, the board is not only durable but also has an understated stylish appeal that will transform all your game nights. You will also get chess pieces as part of the package. The board is perfect for people 13 years old and above. It is the perfect way to bring entertainment and a little bit of style into your home.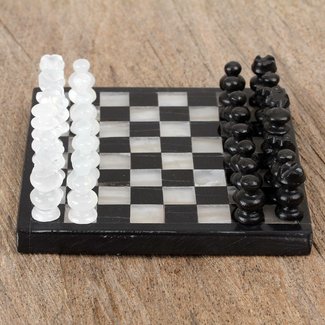 Handmade Black Chess Board Game
This beautiful handmade chess board is constructed in Mexico by passionate artisans. It features beautiful hand carvings that will blow you away. The board is finished up with incredibly beautiful natural hues of black and ivory. It's relatively petite in size too, making it a great addition to smaller spaces. The board also comes with all the chess pieces so that you can start enjoying it right out of the box.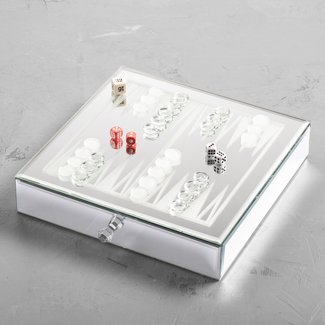 White Backgammon Board Game
Entertain your family and friends during game night with this versatile and multiuse board game. The board, first of all, comes neatly wrapped in an elegant white casing. The casing features incredible artwork and craftsmanship at the top. The board, on the other hand, can be used for both chess and checkers. The only downside to an otherwise great product is the fact that the pieces needed for both chess and checkers are not included in the package.
Chess Board Game
There is no better strategy game in the world than chess and this hand-polished high-quality chessboard will allow you to enjoy its thrilling experience at home. The unit comes with a beautiful black and ivory finish. You also get all the pieces, each hand curved for outstanding detailing. The board is also super light and relatively compact, something that may come handy when moving it or finding a place to store it.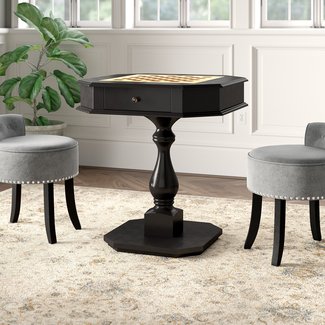 28" Kase Chess & Backgammon Table
If you are looking for a gaming table that offers excellent versatility when it comes to functionality, then this would be the perfect option. Made from sturdy wood, the table comes with incredible base support and a relatively large tabletop. The piece can be used for both chess and backgammon but if you are not in the mood for either of these games, you can just tuck them into the drawer on the sides and convert it into a traditional table.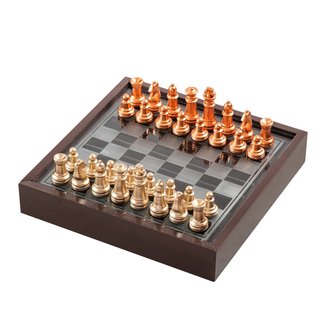 Brown Chess Board Game
Make your game nights classier and royal with this breathtaking chessboard. The unit features unique ivory and black finishing. The board is also enclosed into a sturdy wooden frame. The frame is designed to provide more stability while playing and is slightly higher than the board too. This creates some sort of enclosure where the pieces can be stored when not playing. The board is a perfectly functional and well-designed product that you will enjoy using.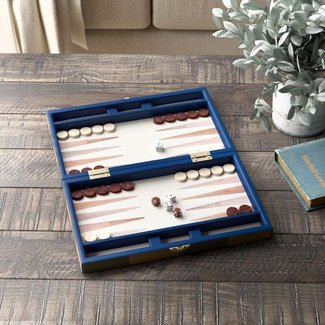 Checkered Brown Backgammon Board Game
Are you a fan of backgammon? This ancient game is believed to be hundreds of years old and it's a popular pick for game nights in many households. You can make the experience even more enthralling thanks to this uniquely designed board. Made from sturdy wood, the board comes with a foldable design that allows it to be collapsed and put away in storage when not in use. All the dices and playing chips needed for the game are also included.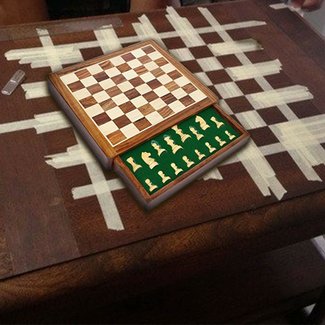 Handmade Brown Chess Board Game
This high-quality wooden chase board is innovatively designed to achieve two important goals. First, it comes with a brown and ivory finished surface, perfectly suited for any heart-stopping chase game with friends and family. Secondly, the unit features a retractable drawer just underneath the board where you can keep all the pieces after each game. The board has that classic look to it and its breathtaking craftsmanship is clear to see.
Gray Chess Board Game
With a unique rustic design and a breathtaking timeless appeal, this high-quality chessboard will bring incredible authentic value into your home. The board comes with rustic-inspired pieces as well. Each piece has its unique finishing. The pieces and the board are all finely handcrafted to deliver a unique experience for every player. The board also sits atop an elevated platform for easy access to the pieces.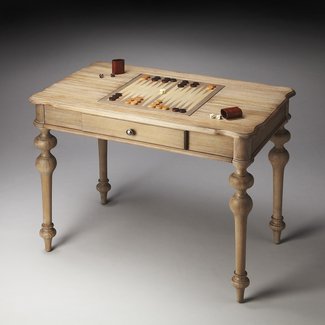 Handmade Gray Chess Board Game
This handcrafted chess set features a combination of an incredibly stylish board and all the pieces. The entire unit is made from a highly durable marble right. The board also comes with an understated grey and black finish, the same color combination used in the pieces as well. The artistry in the design is breathtaking and will go a long way in adding elegance and class to your game nights.