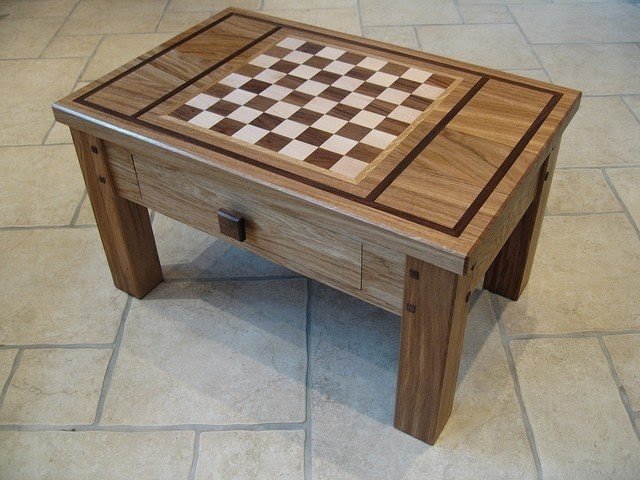 Chess Coffee Table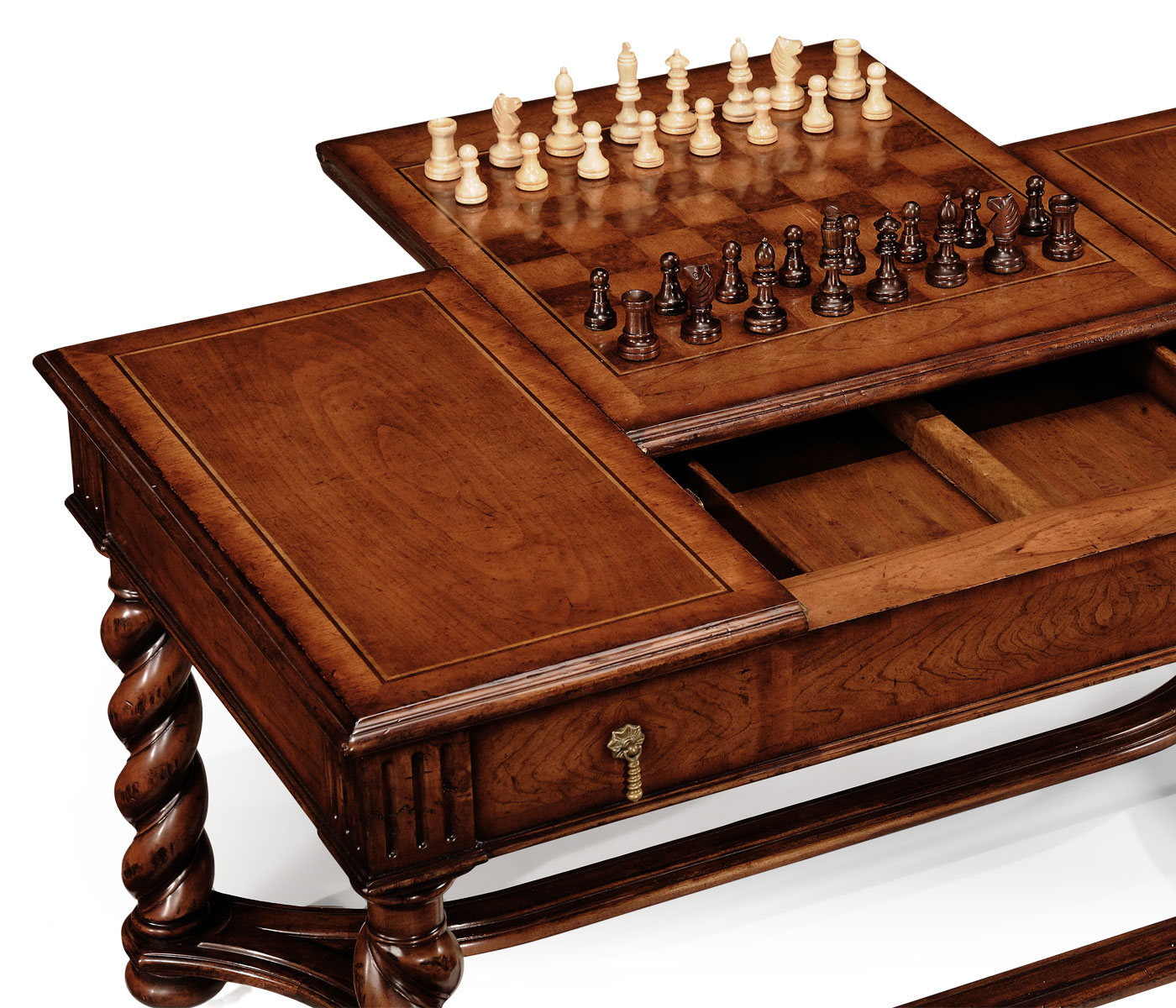 An elegant coffee table that will be appreciated by all the fans of chess as the table top is also a chess board with figureheads included. The table is made of solid wood in a beautiful, deep cherry color.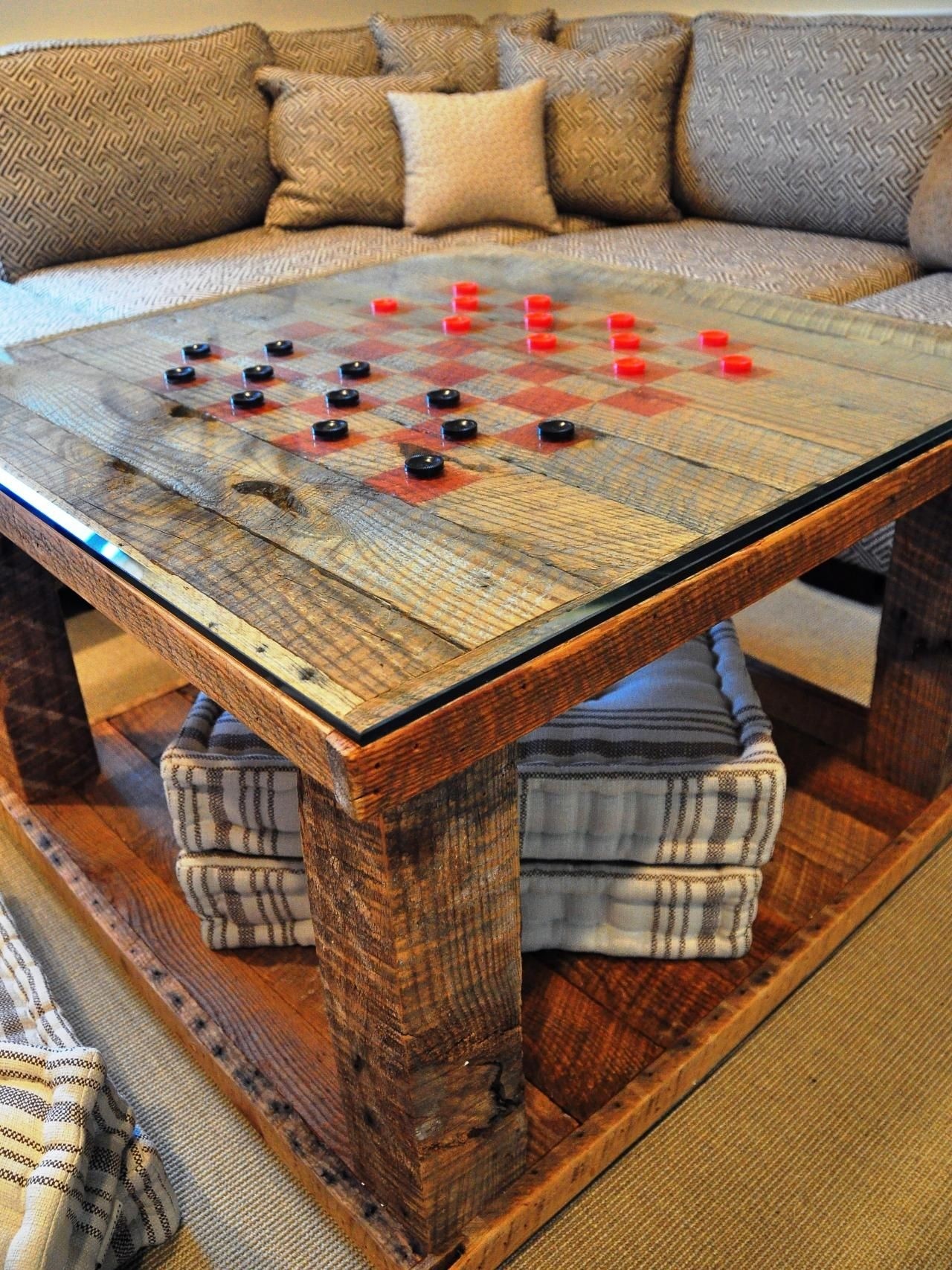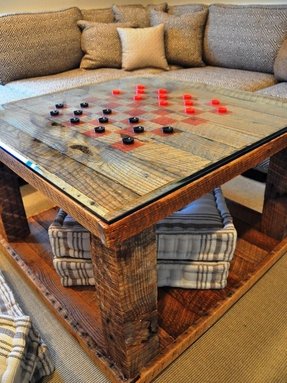 The Beautiful and very stylish combination of coffee table and chess area makes this fabulous table captivates. The square top with beautiful finishes will be an excellent design element for your living room or office.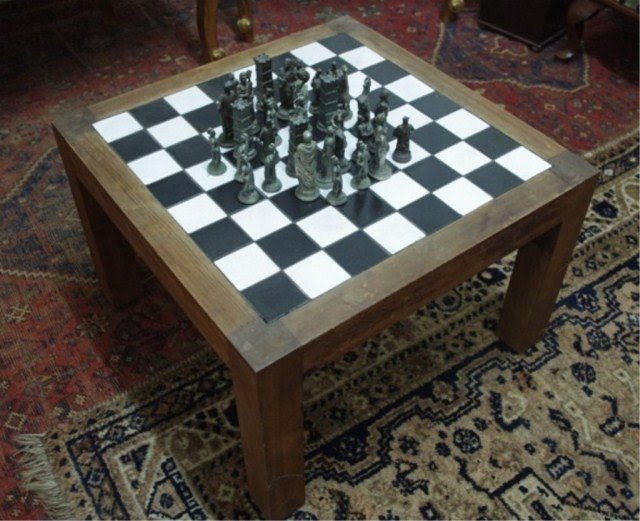 Tiled coffee table chess board,…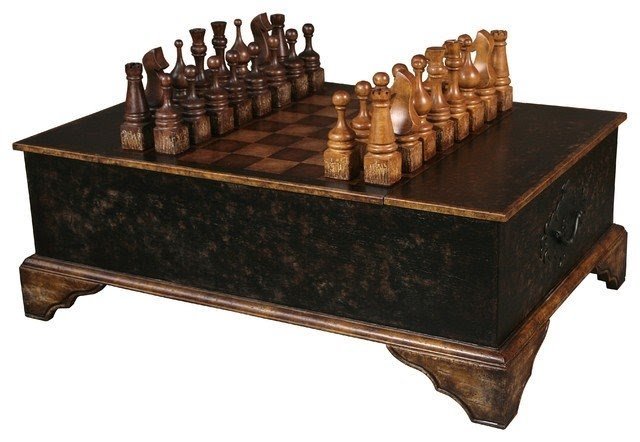 Vera Chess Coffee Table traditional-coffee-tables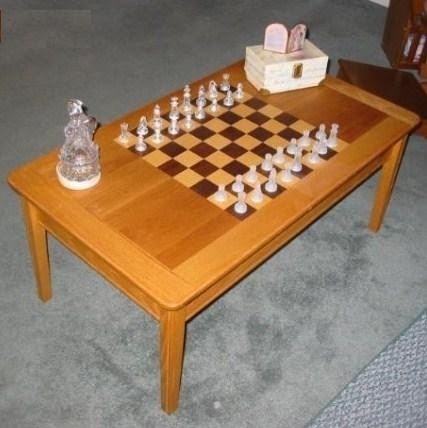 Click on a picture to see a larger image.)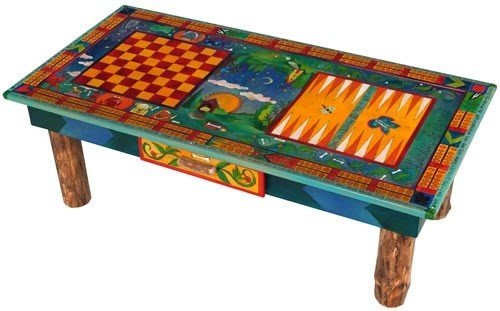 gaming coffee table from love painted furniture.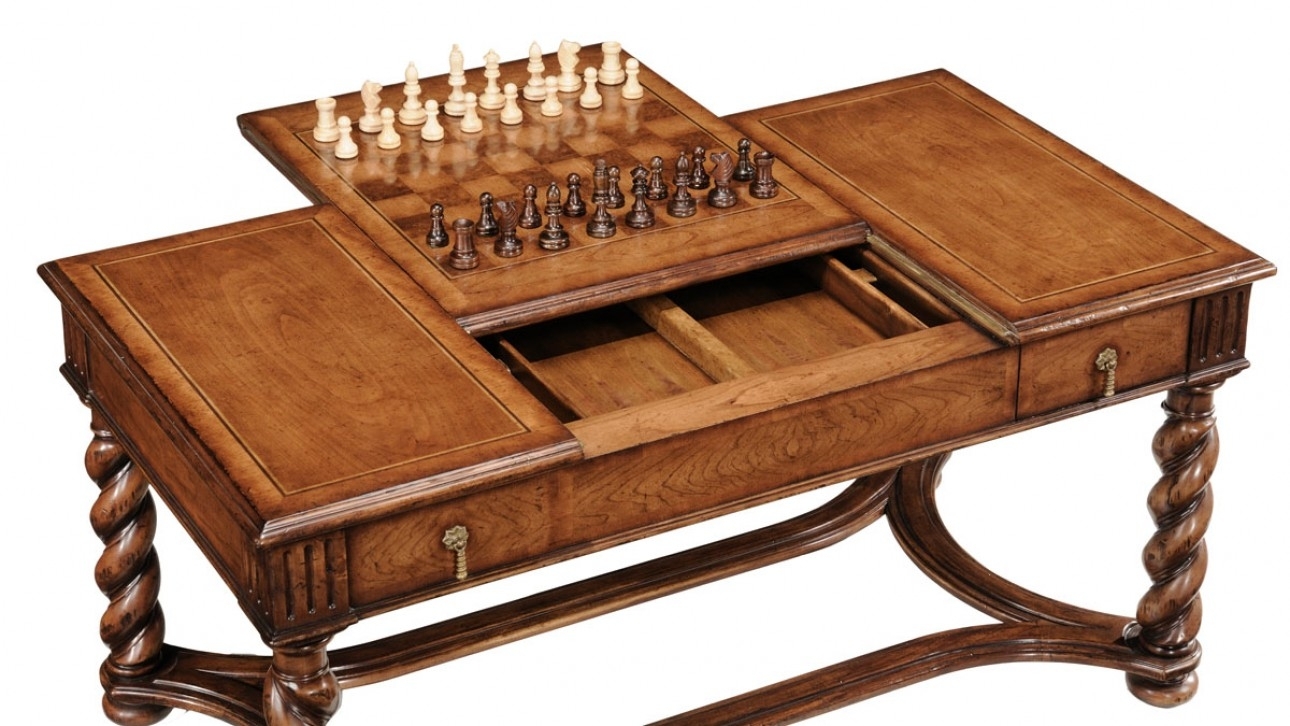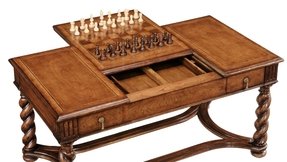 High end furniture, game coffee table. You can play chess and backgammon - all pieces included. Made from solid walntu wood. We love the way the legs of this beauty was crafted and created. Inside - tiny storage space.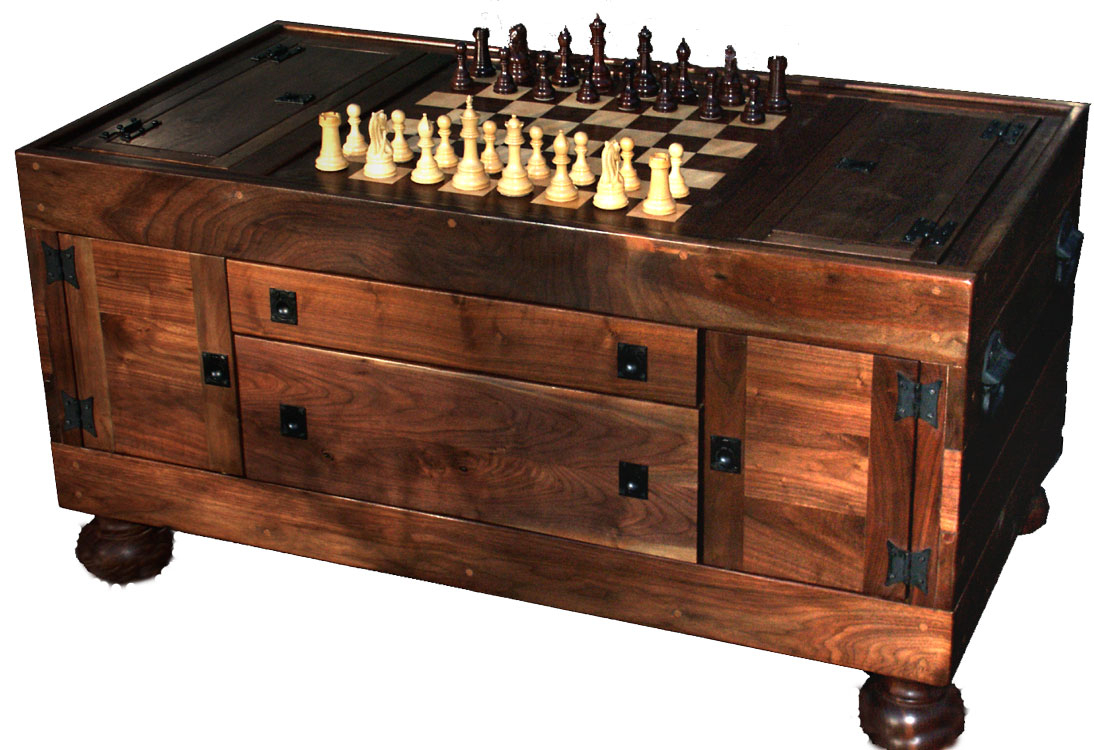 A cool vintage coffee table featuring an on top built chess board. Its rectilinear wooden body has a pretty aged finish in warm brown shades. It's equipped with drawers and compartments for chess pieces. It has bun feet and black metal fittings.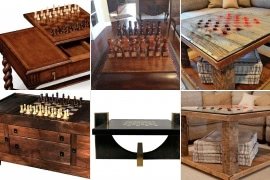 Coffee Table with Chess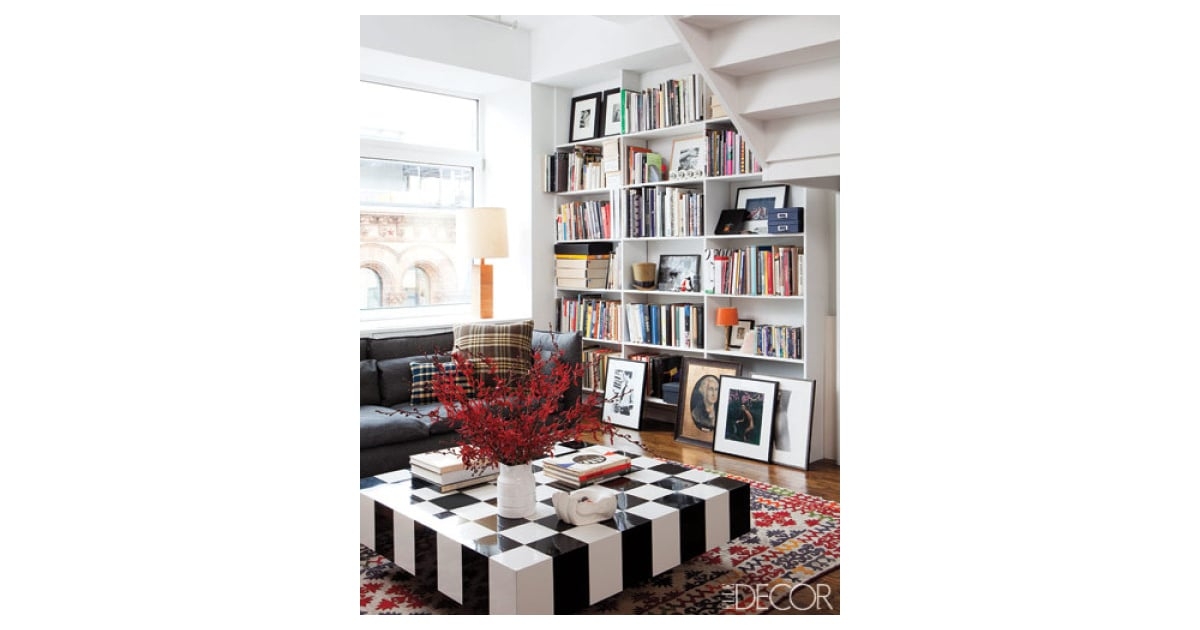 Nice chess coffee table. Cool modern style idea ofhow to make your room look more excentric and fresh. Everything looks cool here - a big old book shelf, cool patchworked carpet and nice painting frames.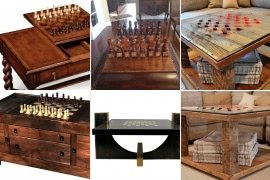 I like the idea of a chess table. Although looking at this design I wouldn't be able to incorporate the drawer and the curved top I can still use the features such as the thin tapered legs and the rails and also a chess board as the surface.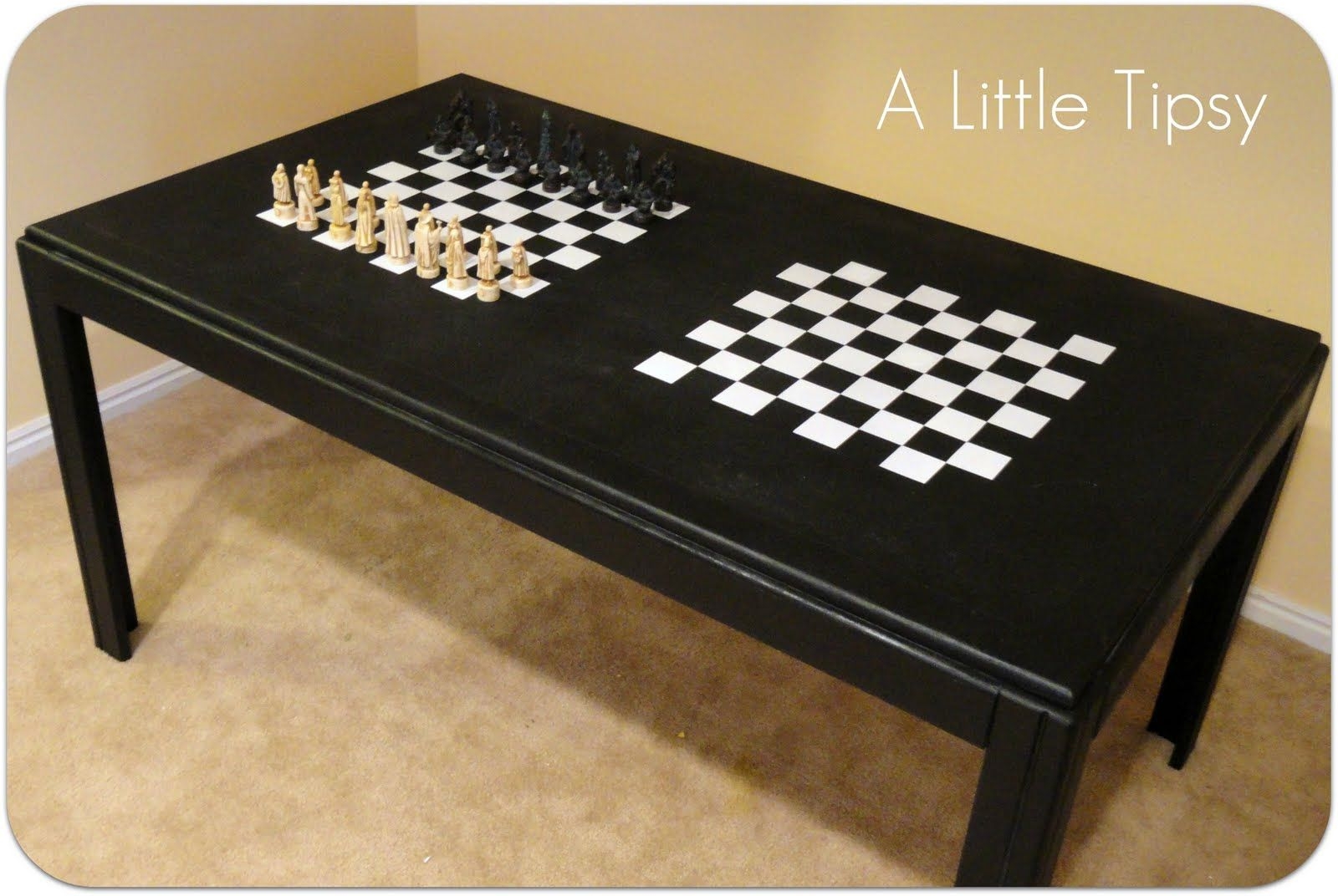 A clever coffee table with two chess boards on the top, perfect for a game or entertainment room. The table has a simple structure and a standard, deep black color. The chest boards make a nice contrast with a black background.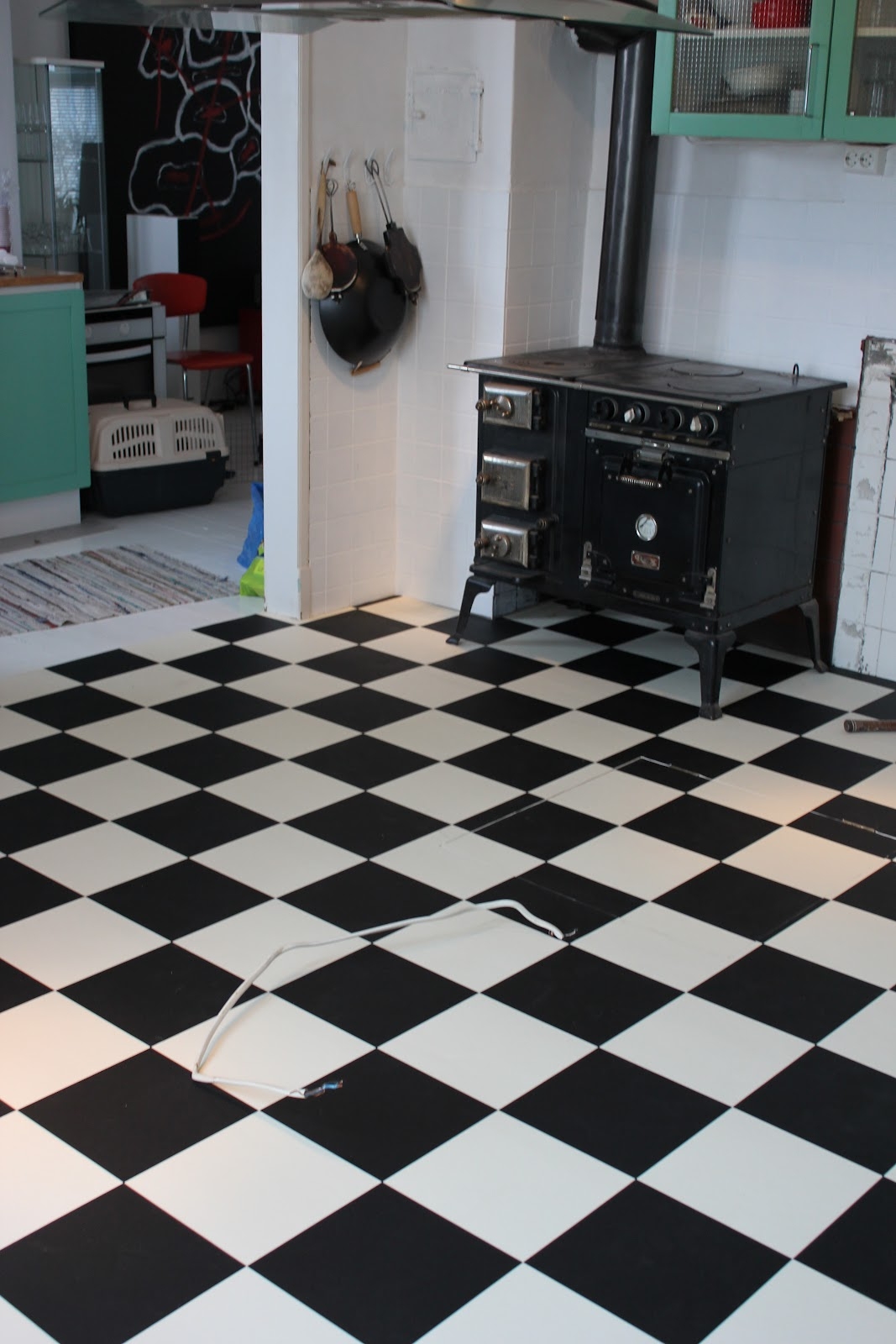 Chess Coffee Table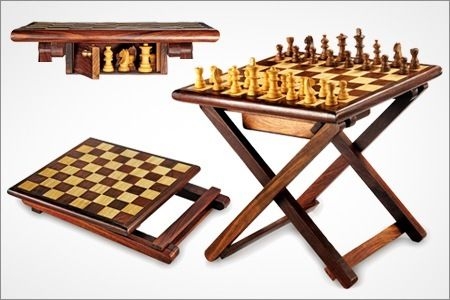 Groupon Chess + Coffee Table Shopping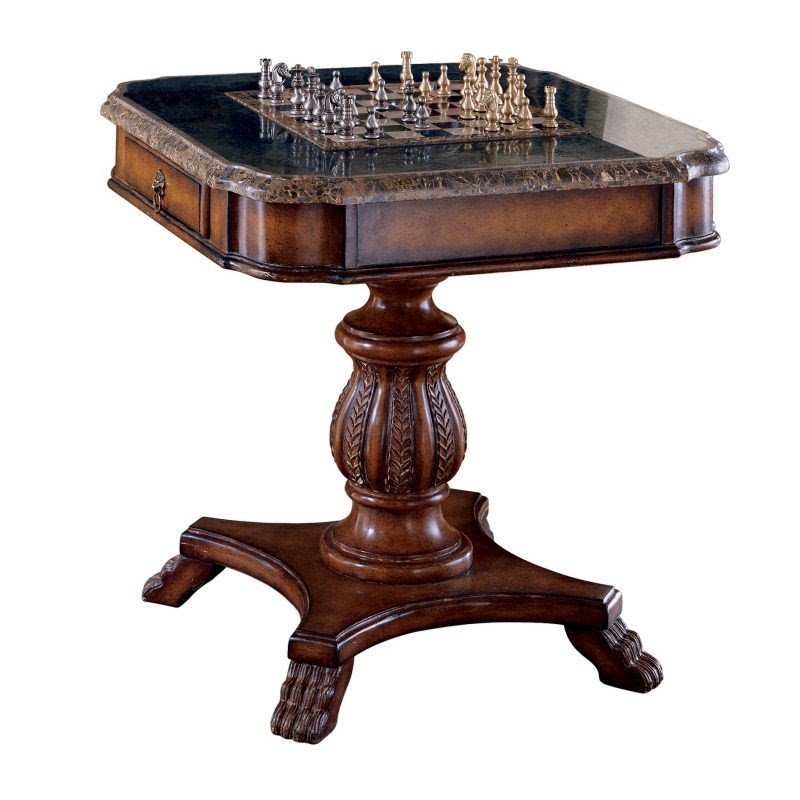 Heritage Antique Pedestal Game Table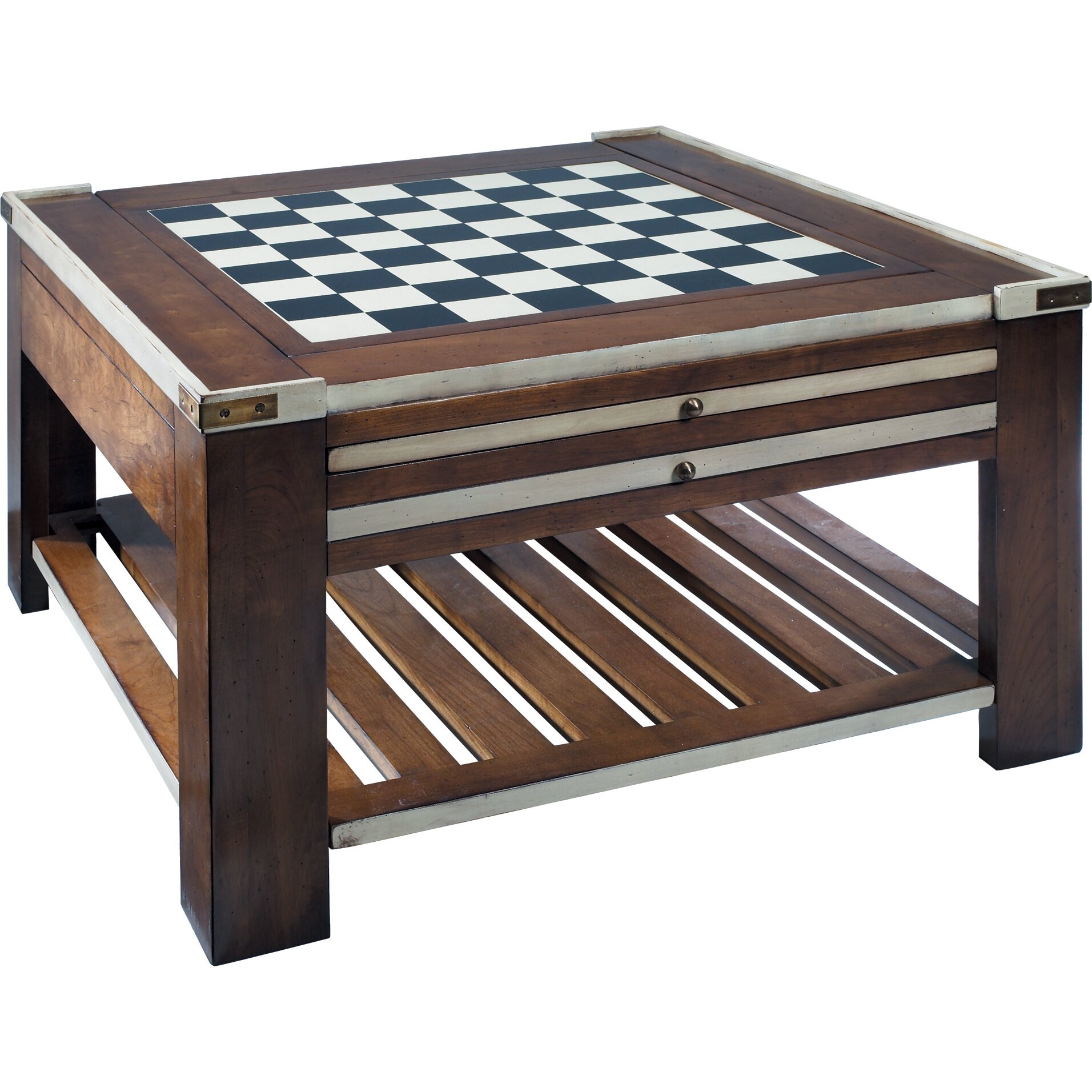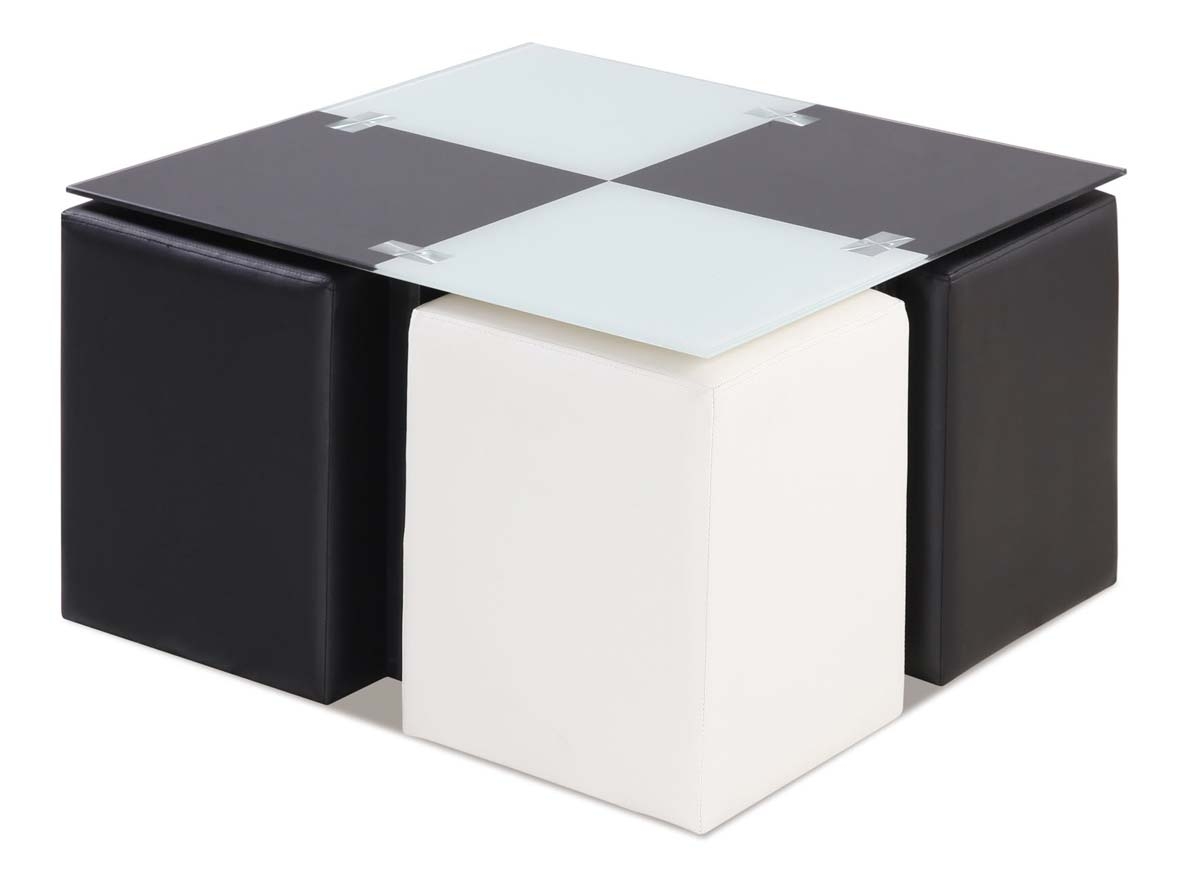 Chess Coffee Table in Black and White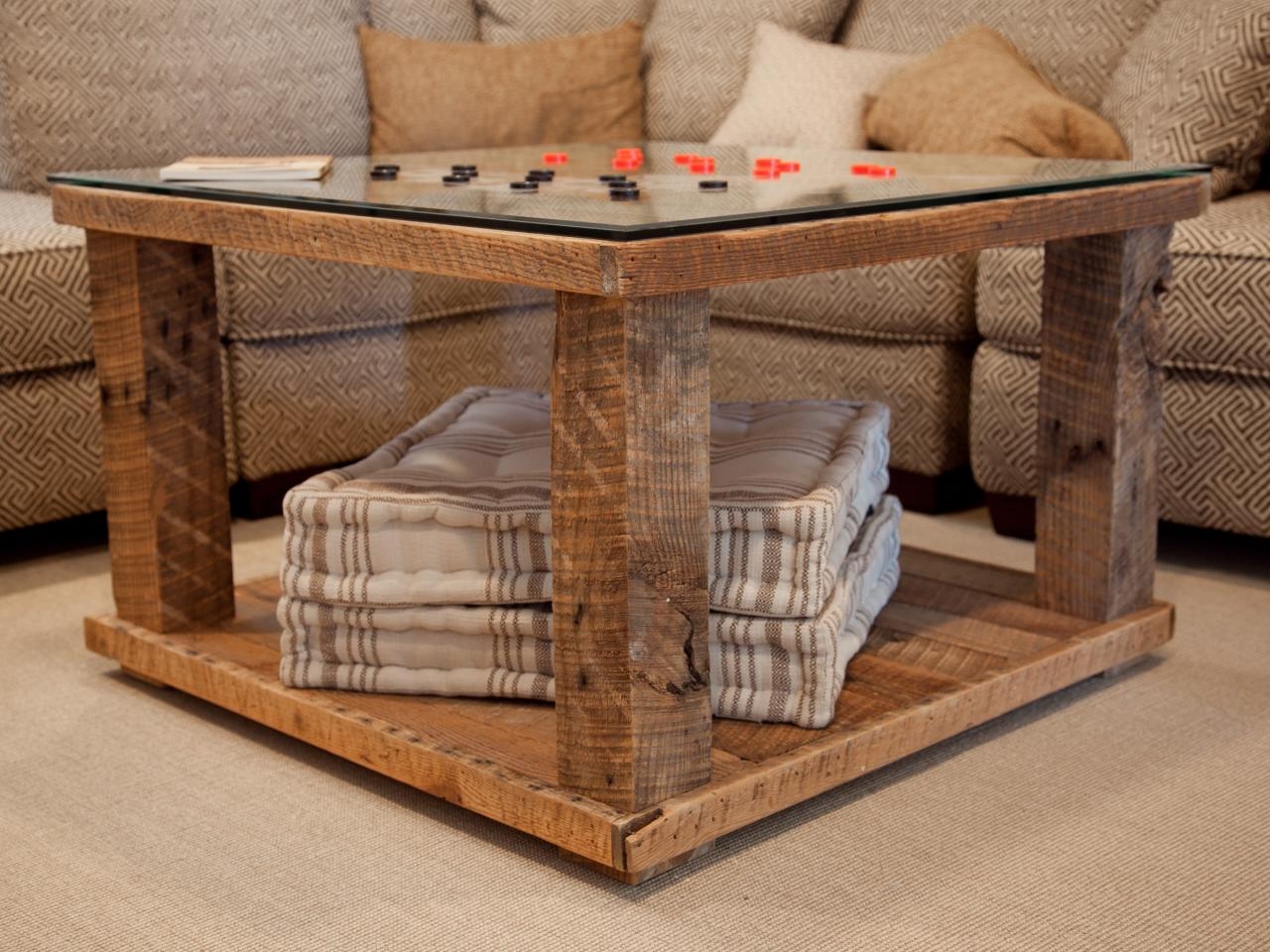 A coffee/checkerboard table becomes a room focal point. The furnishing, crafted from the home's original reclaimed wall studs, provides under counter storage for floor cushions and a stenciled playing surface, protected under a piece of beveled glass.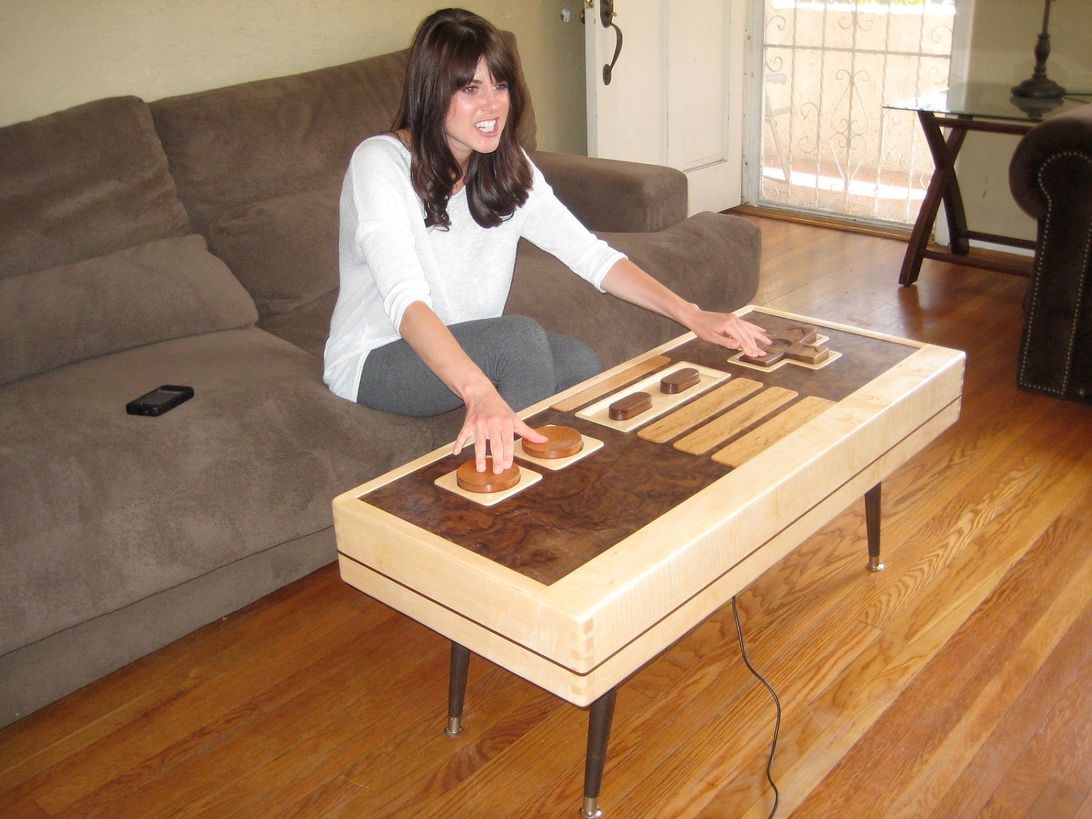 Huge joystick - even in his name is the word "joy". It is a pity that there is no word "design" there. Made in wood - huge in size, it is also a coffee table. And it is not only for boyes game room. Several different types of wood - in brighter, darker shades.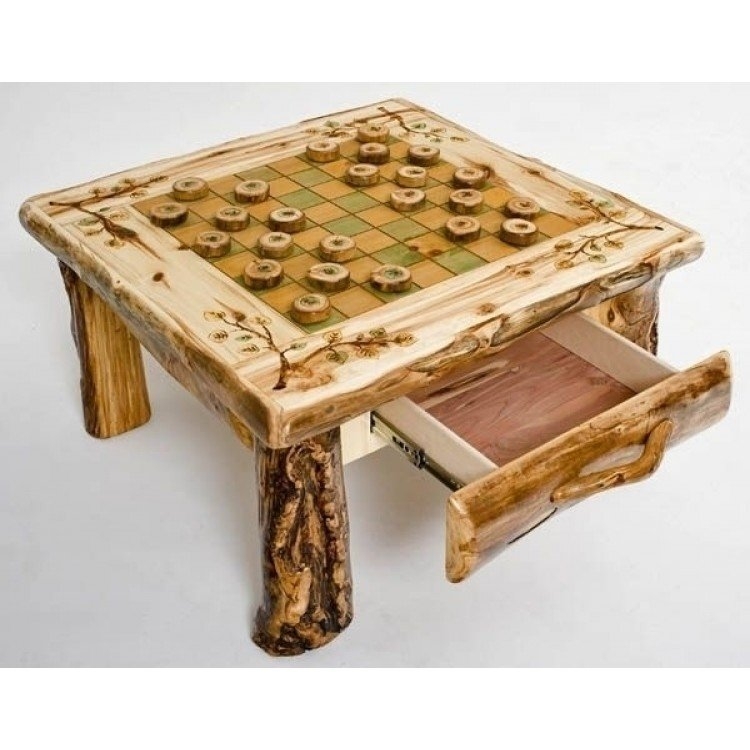 A charming, handmade coffee table perfect for all the lovers of boardgames. Crafted from wood with great precision, it features subtle, etched decorations at the edges and on the legs. The top also serves as a checkers board.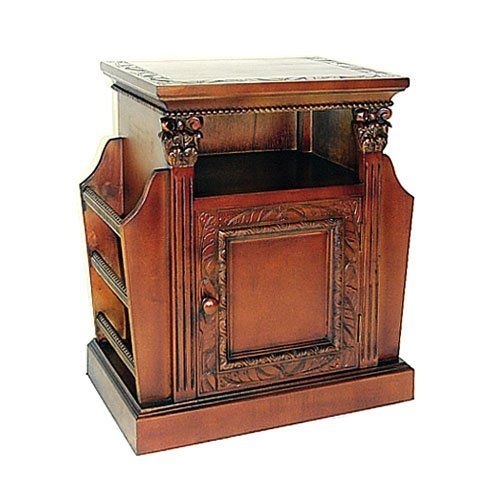 An antique and extraordinary chess coffee table. It's a beautiful, wooden construction with subtle, curved decorations. The top is also a chess board and there are racks for magazines on the sides so it's a perfect choice for an entertainment room.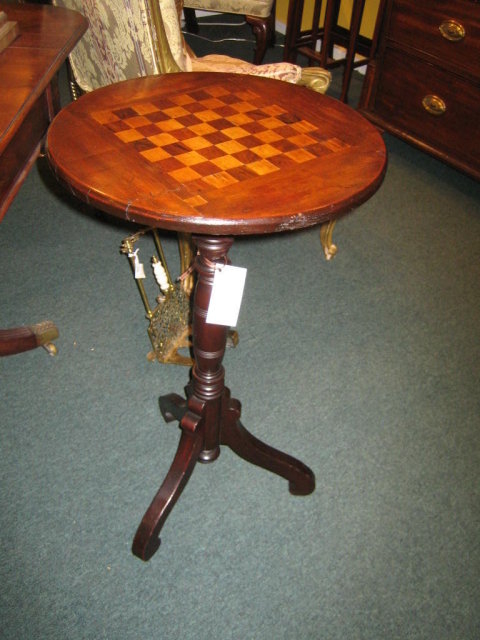 A fantastic idea for a gift for a fan of chess. It's actually an elegant, ceramic teapot with a chess board as a top. It features a subtle, golden ornament at the edges and chess figures handmade with great precision.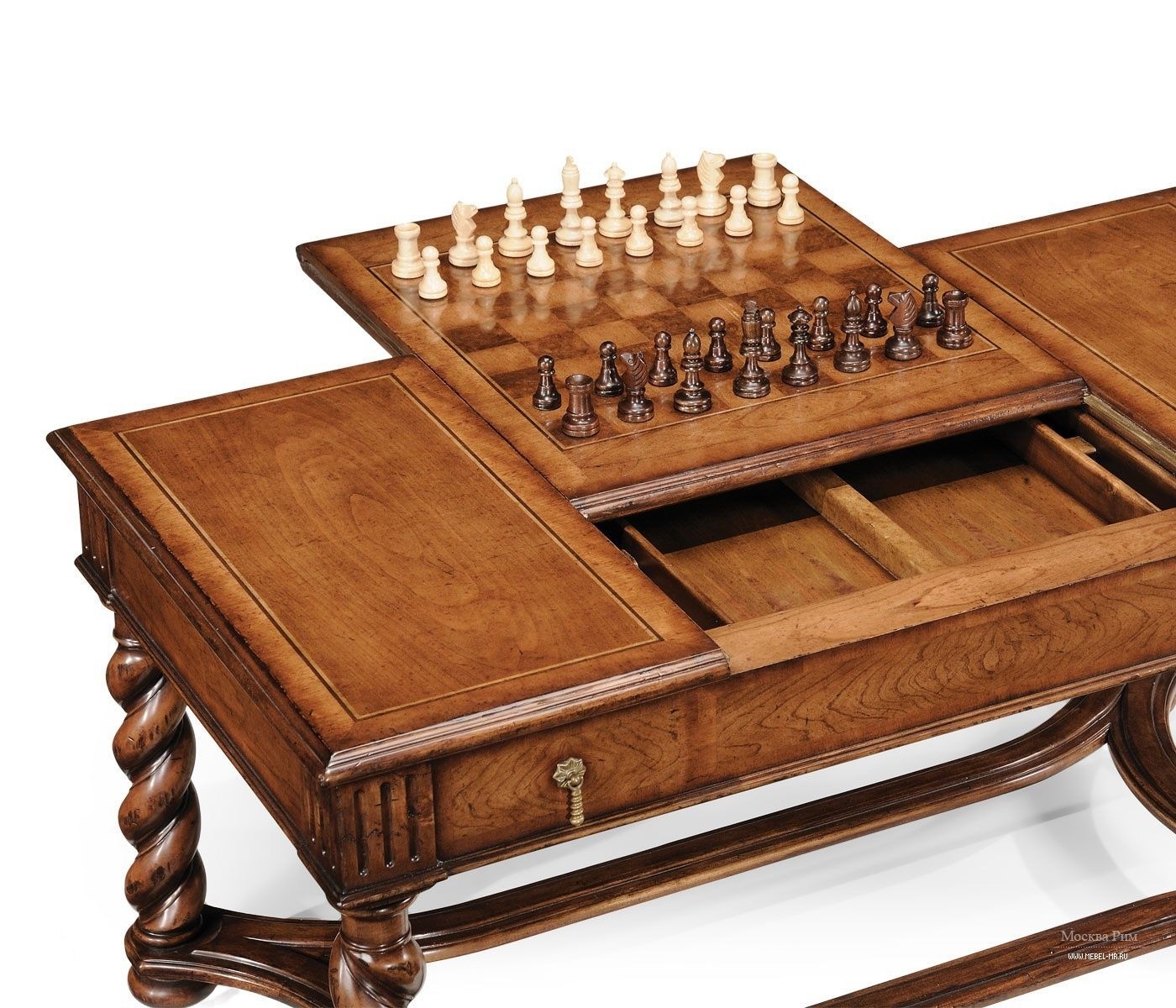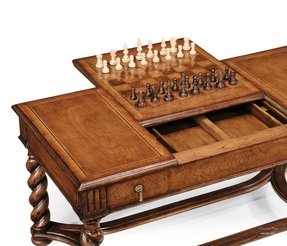 ... coffee table chess board qty description walnut parquetry coffee table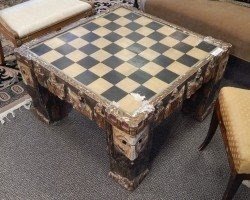 Carved Chess Coffee Table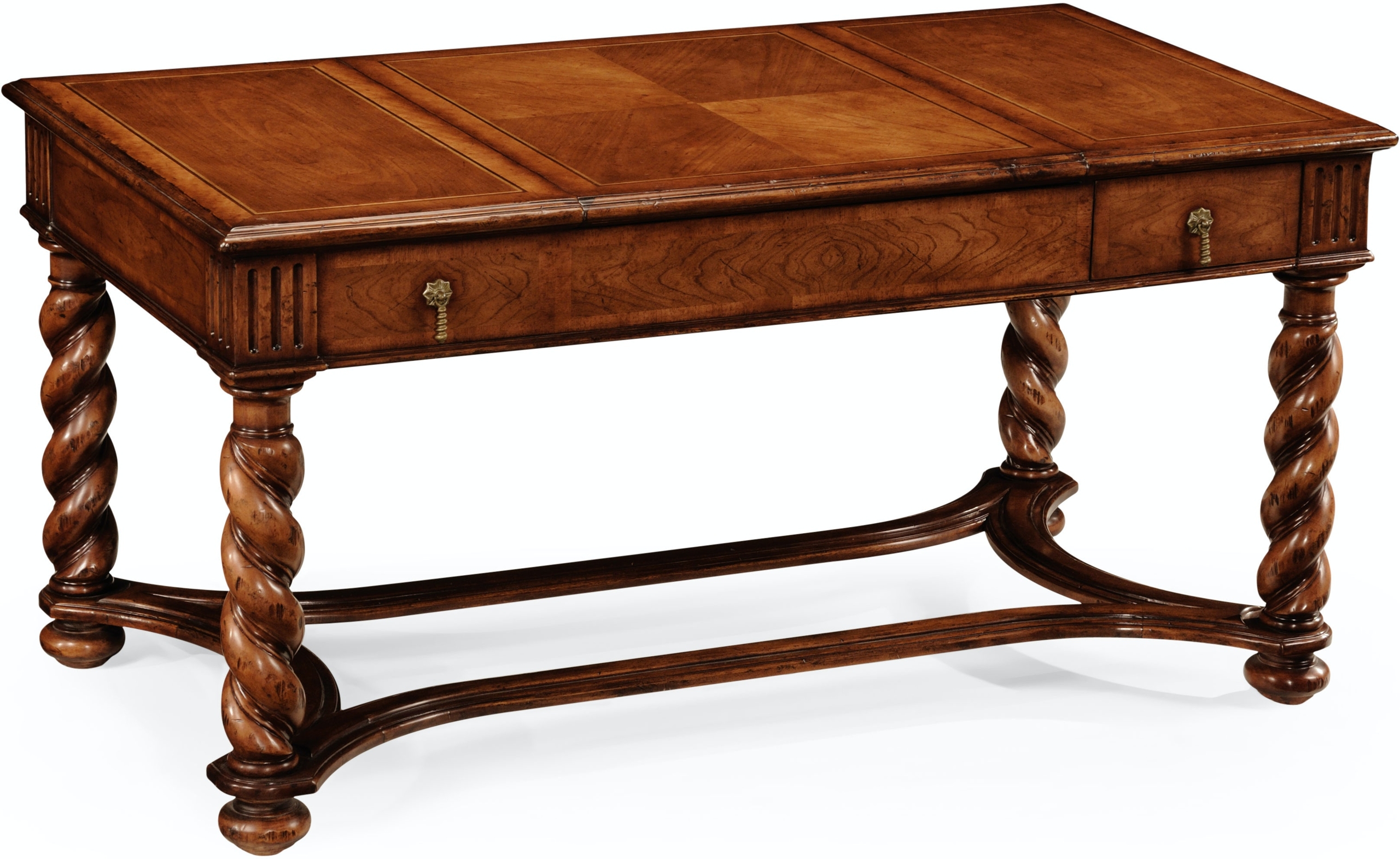 Luxury Furniture, High End Home Furnishings and Custom Cabinetry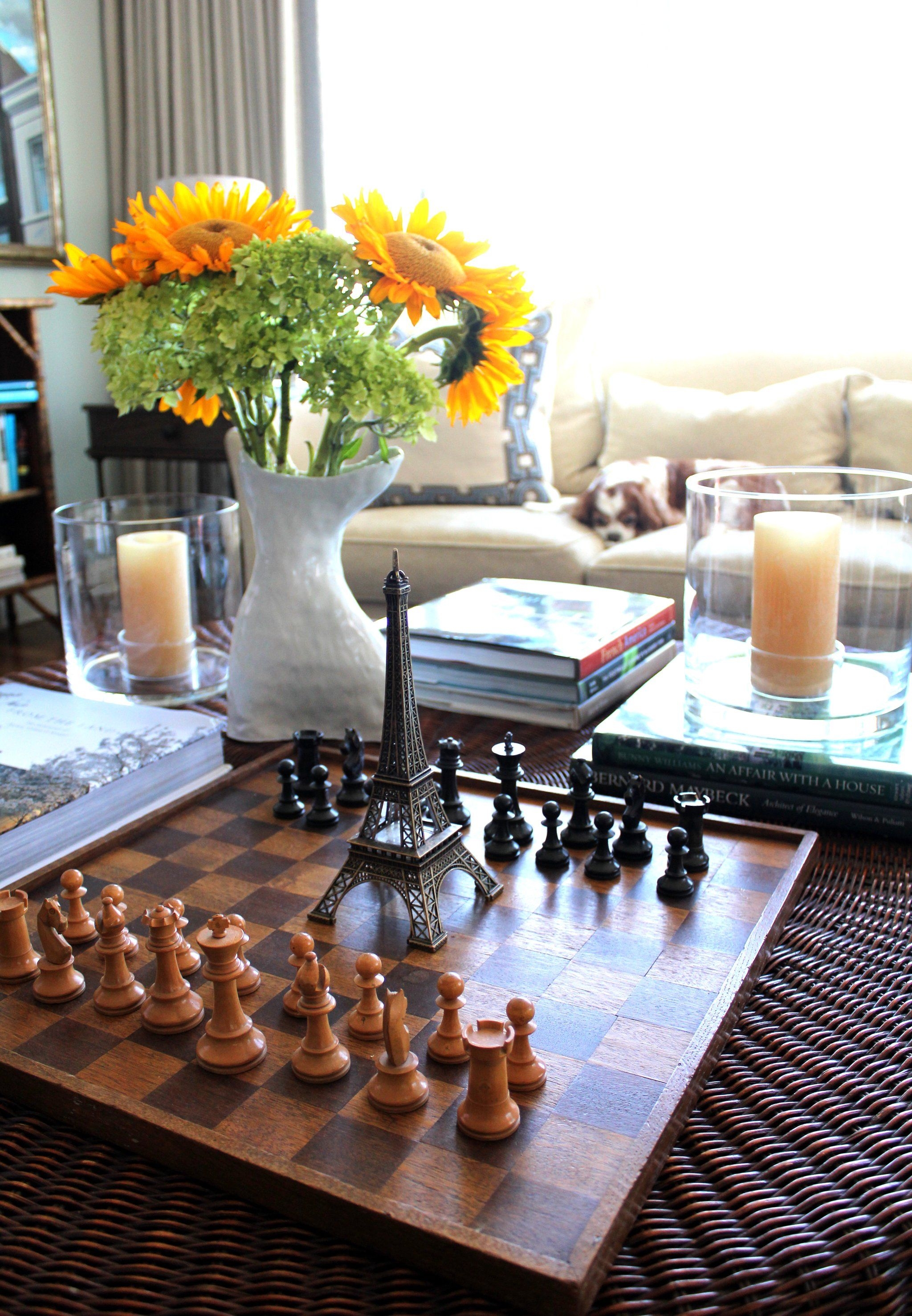 Now here's proof that a good coffee table is all about layering and getting guests talking. Who wouldn't want to sit down in front of sunflowers, a classic chess board (from a flea market in Amsterdam), and an Eiffel Tower statue?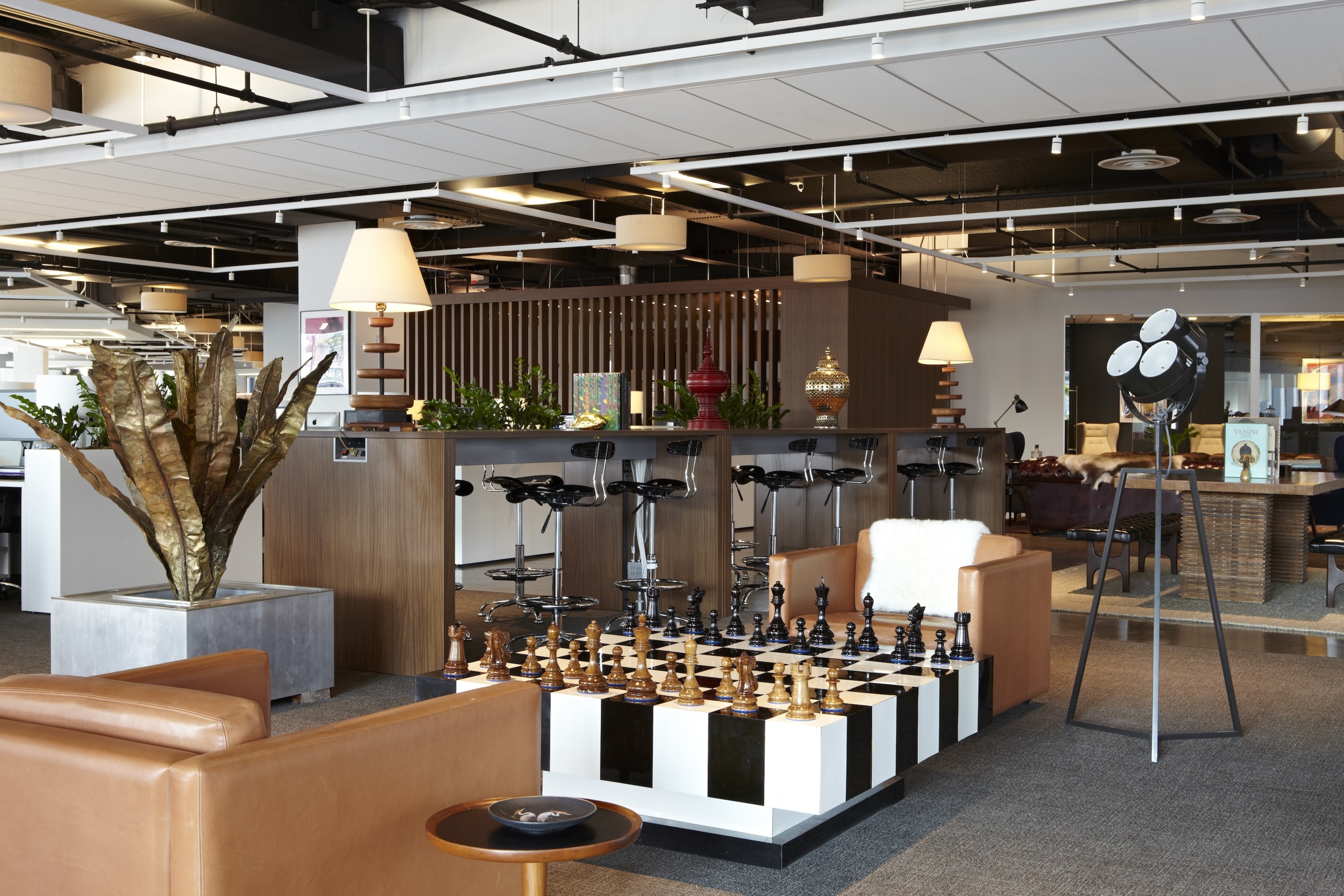 1st dibs office design black and white chess coffee table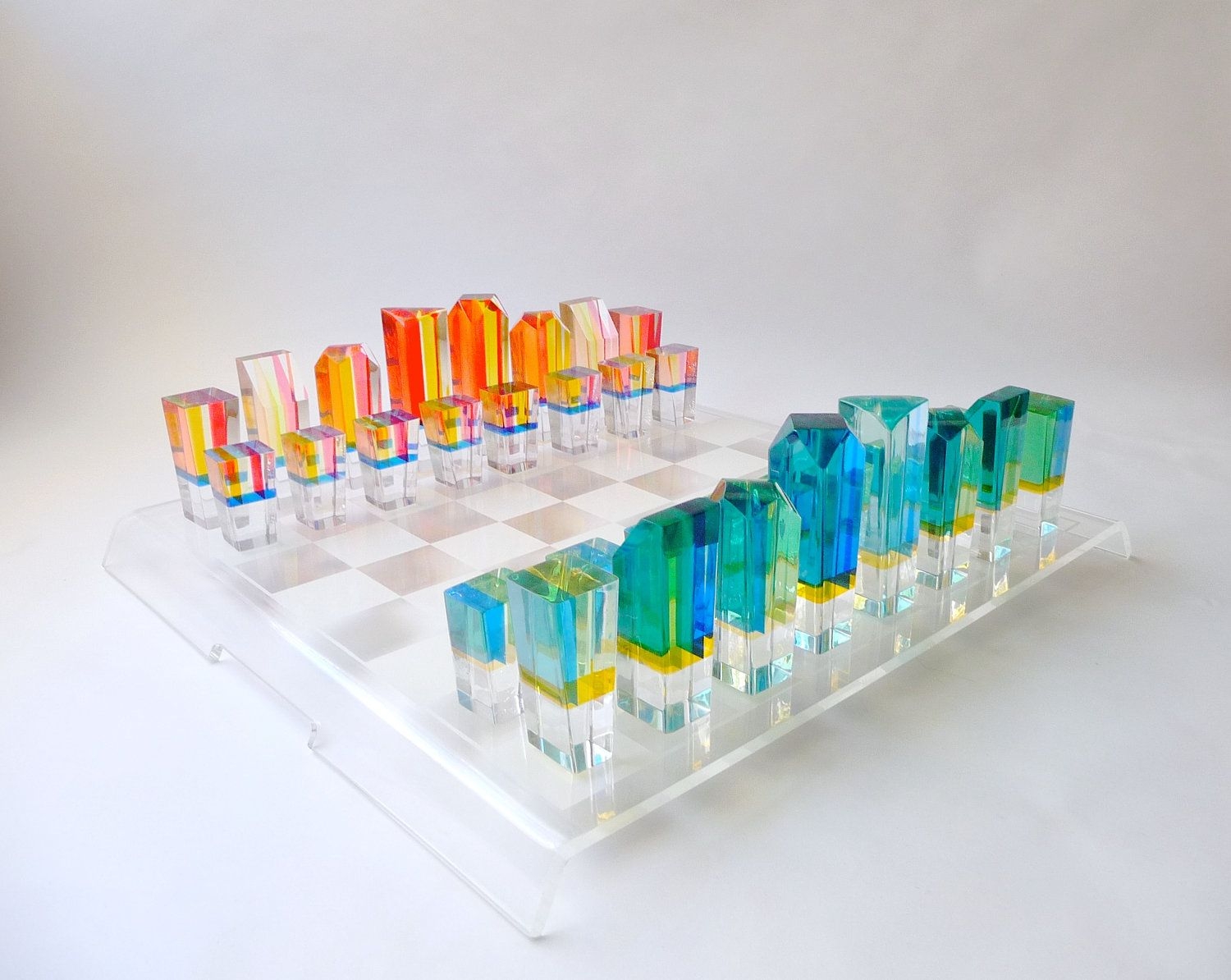 Very modern chess set and would look great on the coffee table!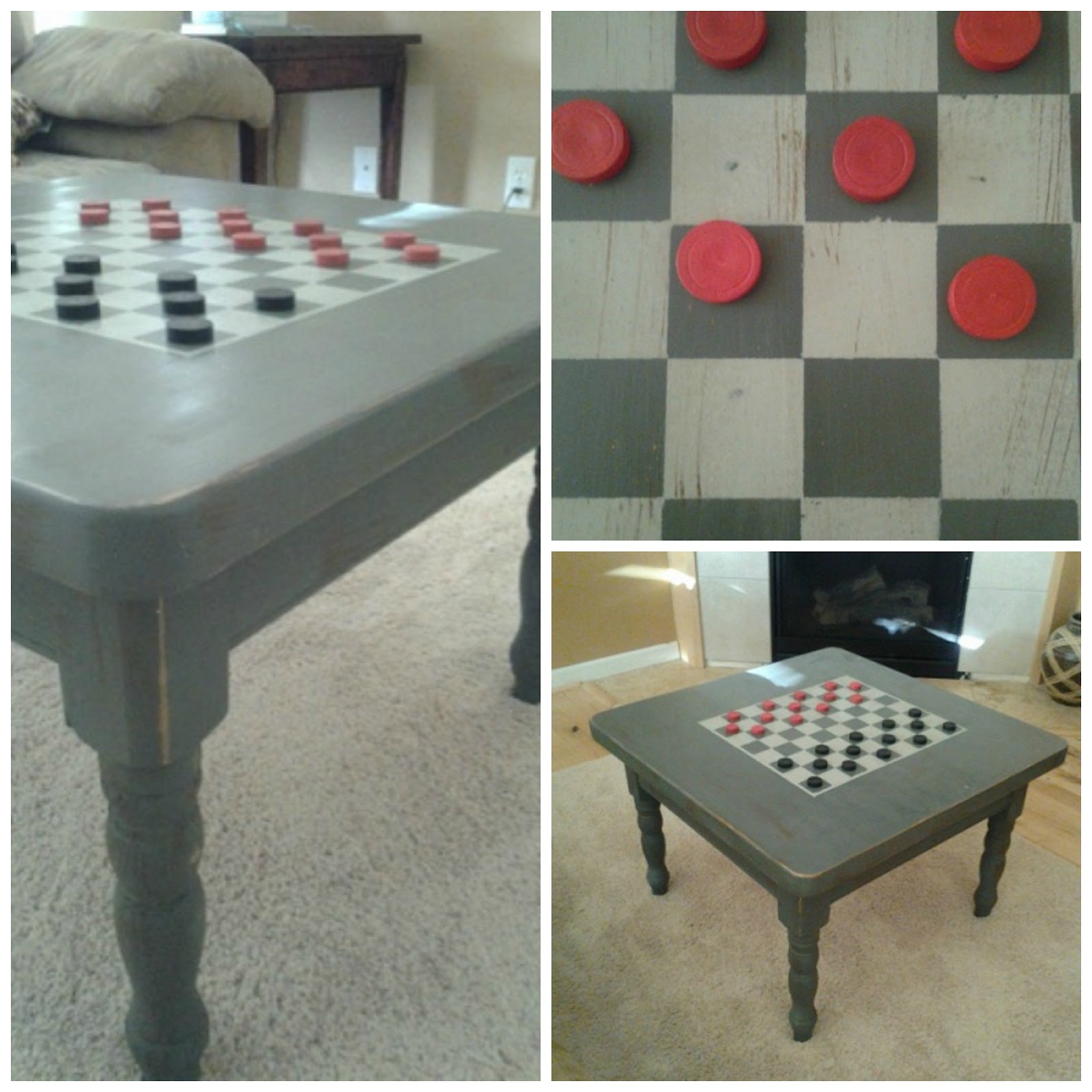 This checkerboard coffee table constitutes an ingenuine piece of DIY furniture. If will for sure grab the attention of the visitors, creating a new focal point for you and your family or friends.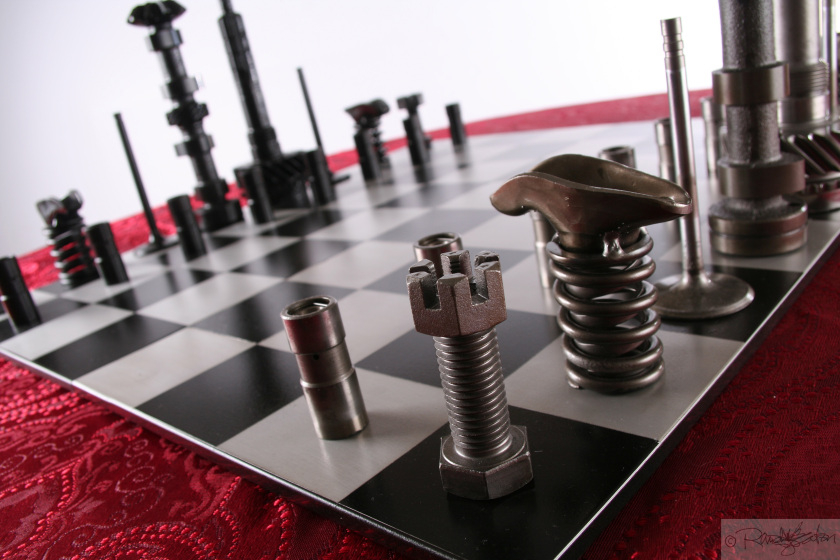 Car Parts Chess Set with all pieces! Awesome!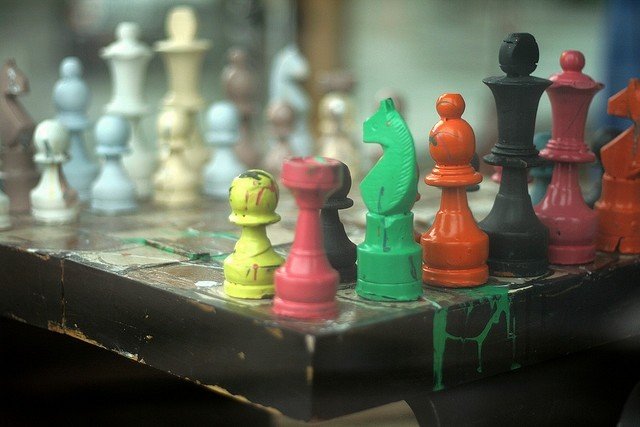 this would be so easy to do and look so cool on a coffee table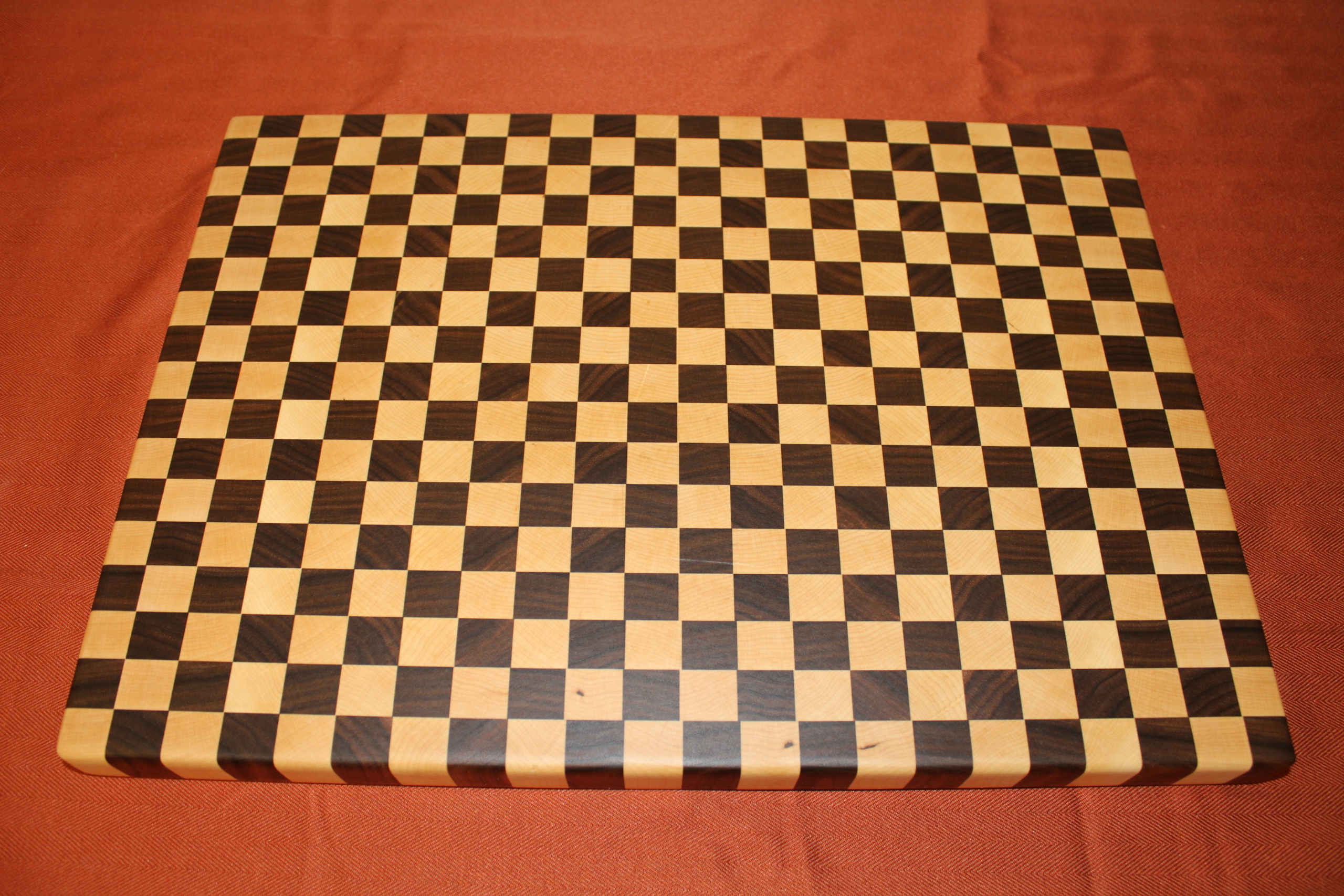 Coffee chess table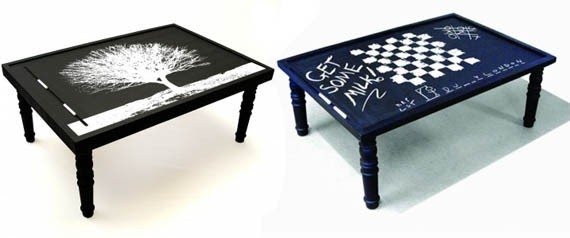 Chalkboard Coffee Table: Bet I could make one cheaper! Cute for the gameroom!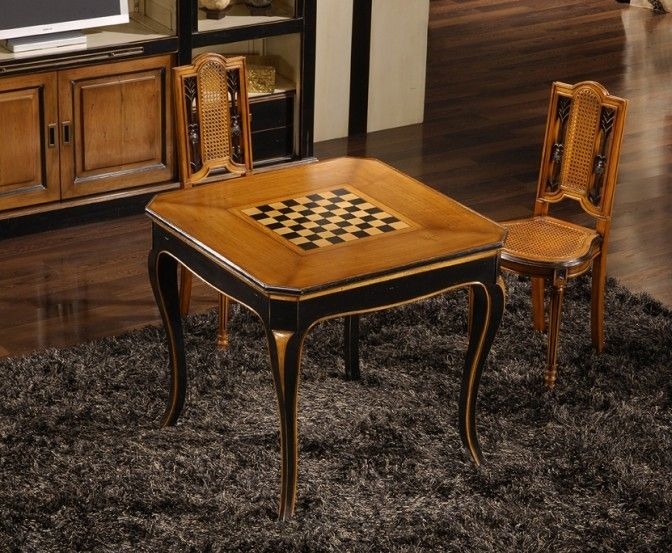 chess coffee table uk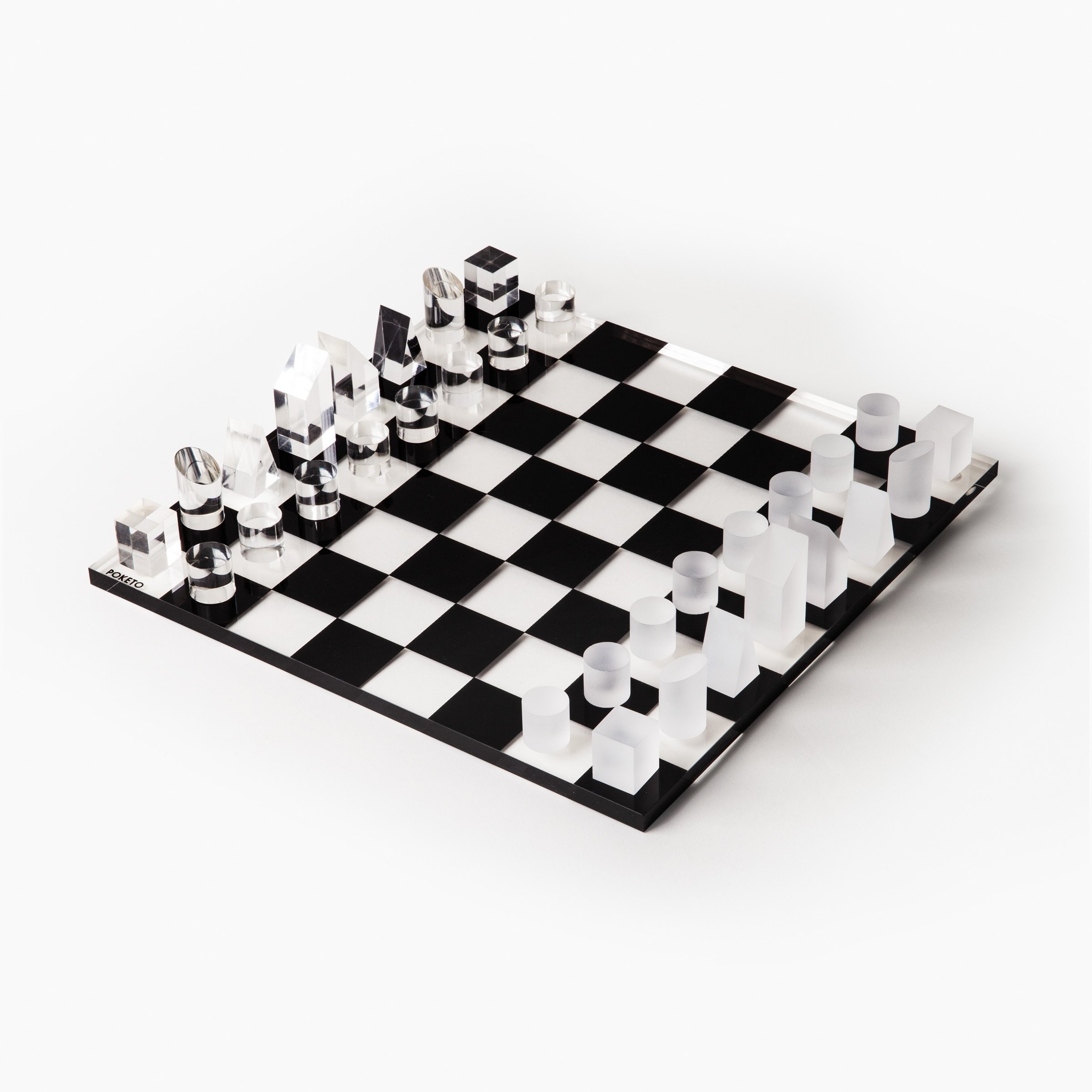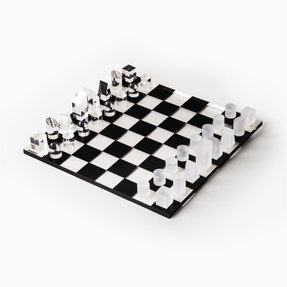 Photo of Art Deco Games Table Side Coffee Table Chess Board Furniture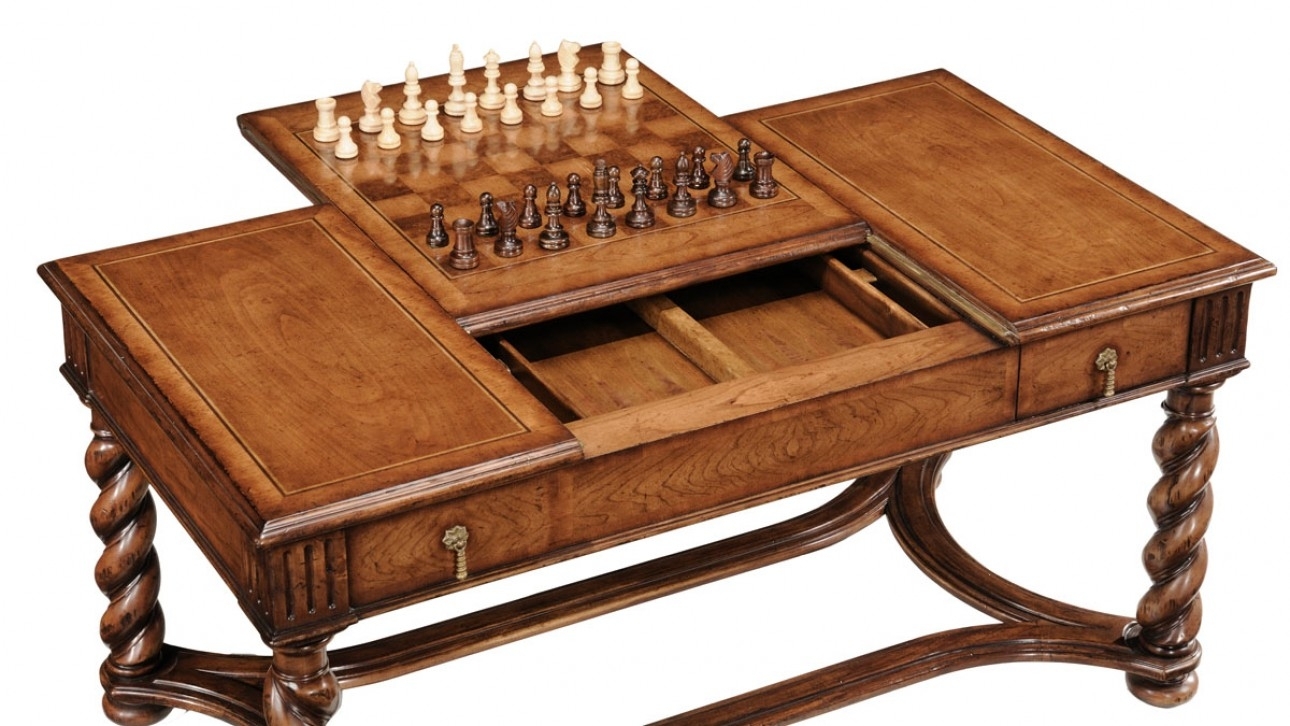 high end furniture game coffee table Chess and backgammon pieces ...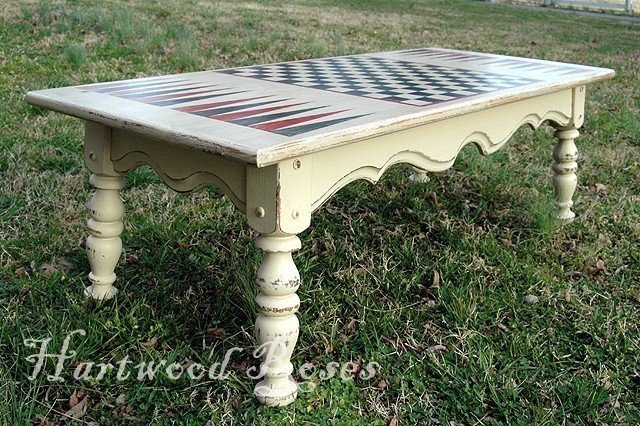 An old finish and old-fashioned chic was left on this table. However it has been restored, painted. White, slightly dirty color, in the style of shabby - topped with raquet and checkers graphics. This is ideal wooden chess coffee table.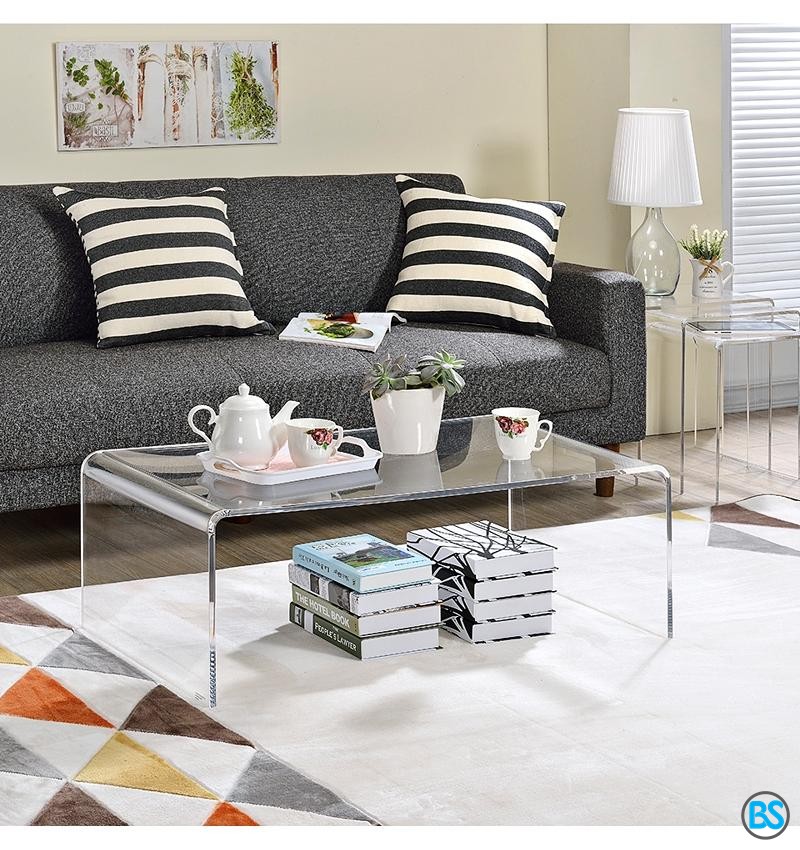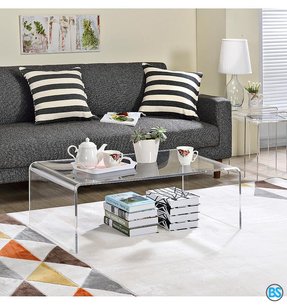 Blaine Coffee Table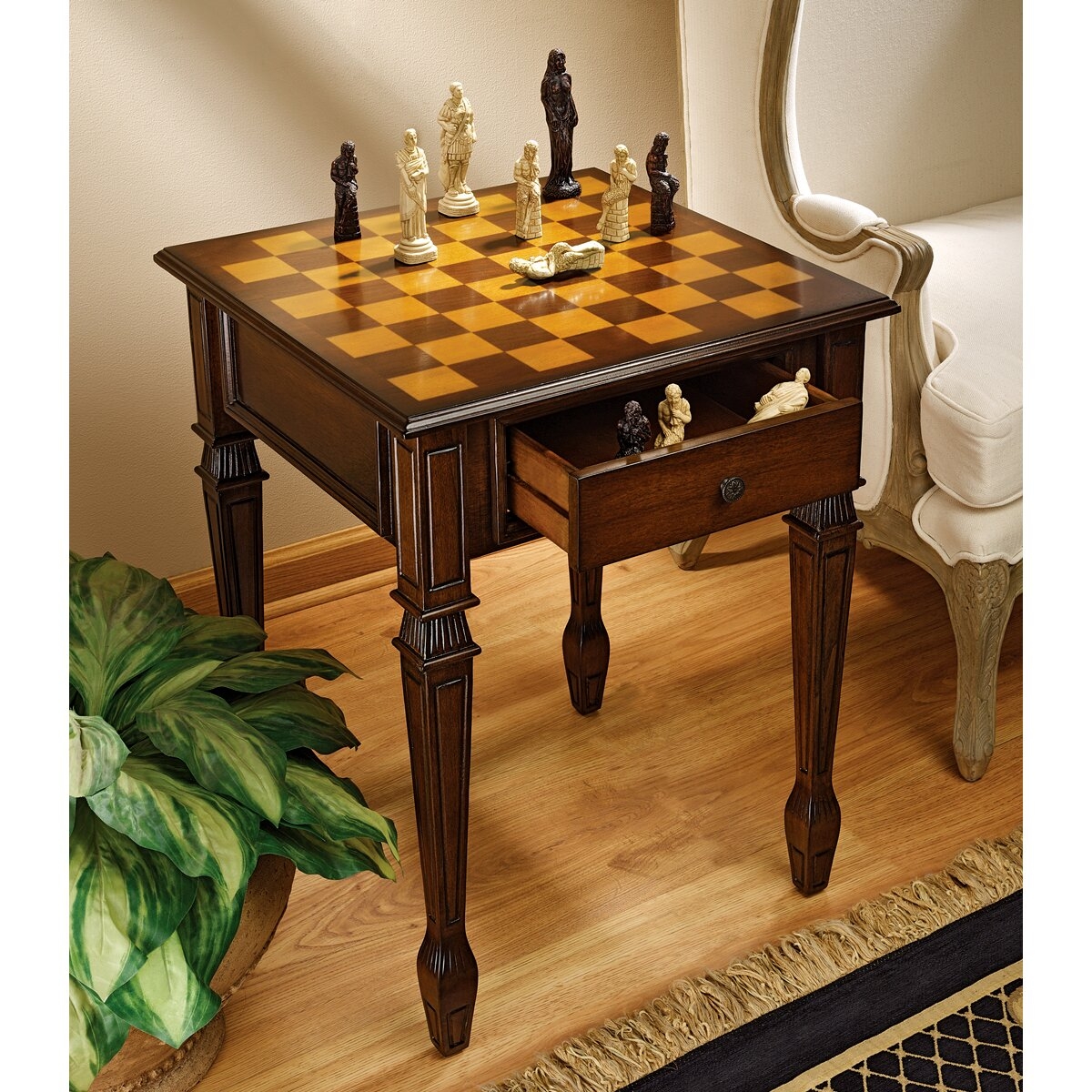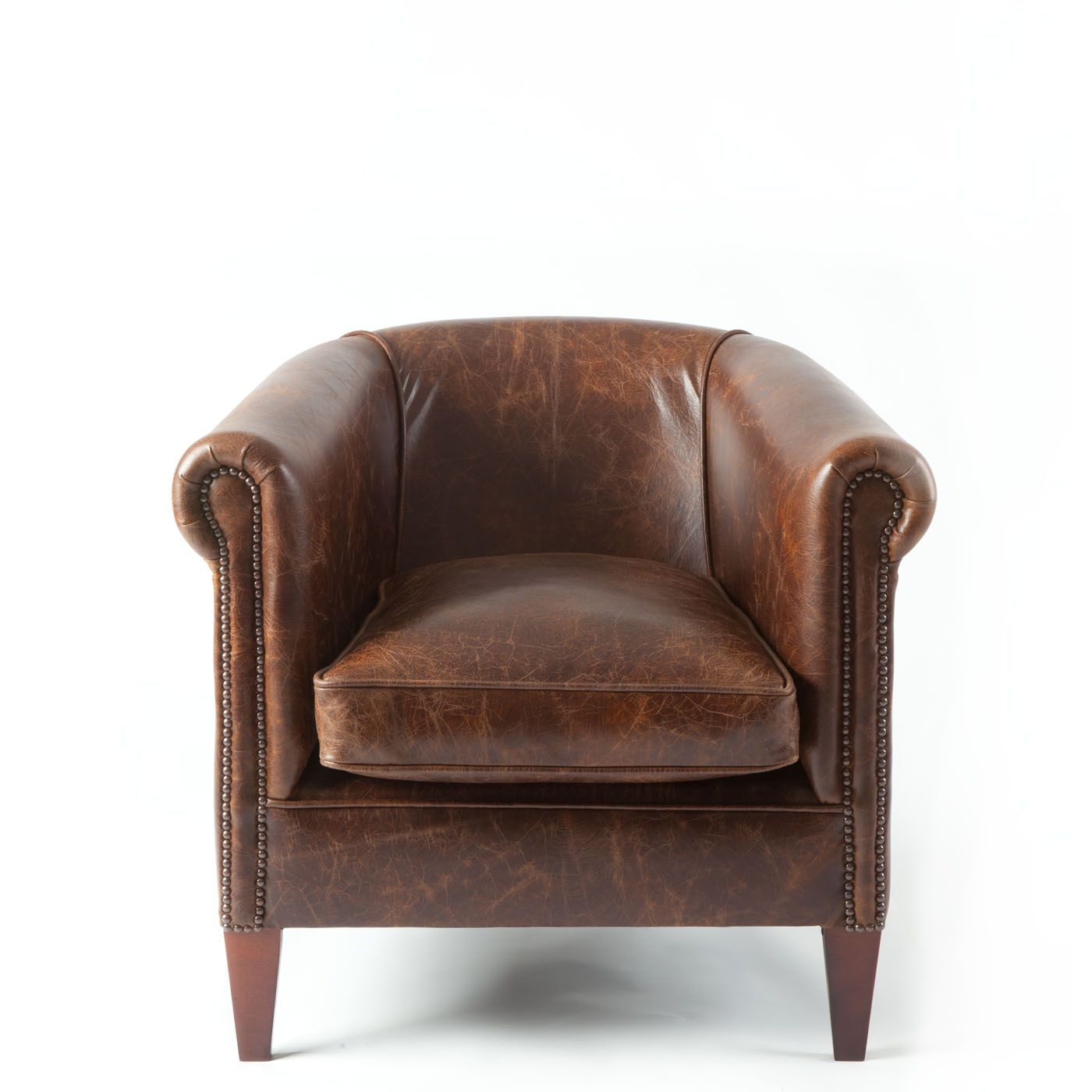 The leather armchair for the classical living room. This piece of furniture is ideal to drink there a morning coffee, read the newspaper or have a chess game. The leather upholstery presents luxurious and is also very comfortable.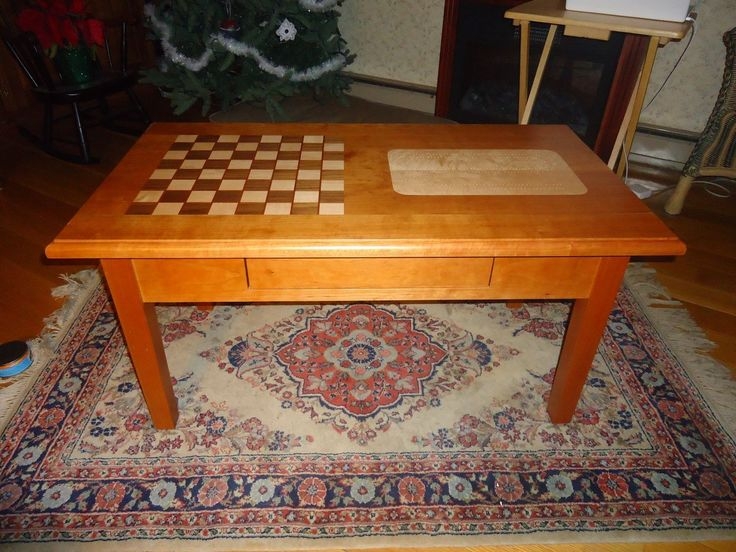 Custom Made Chess/Cribbage Coffee Table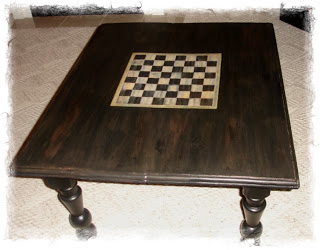 Found on