Even though wooden baker's racks have been useful pieces of furniture for hundreds of years, it seems as though they're often confined to just the kitchen. However, many interior decorators are discovering that this versatile piece of furniture fits in more than just a country kitchen that needs a bit of extra storage or counter space.
These handy storage solutions come in all shapes, sizes, and colors to accommodate your current décor. Some of them are elaborately built making them perfect for use as the main focal point of a room. Consider organizing your clutter by placing a baker's rack in your house wherever you need a bit more mess management.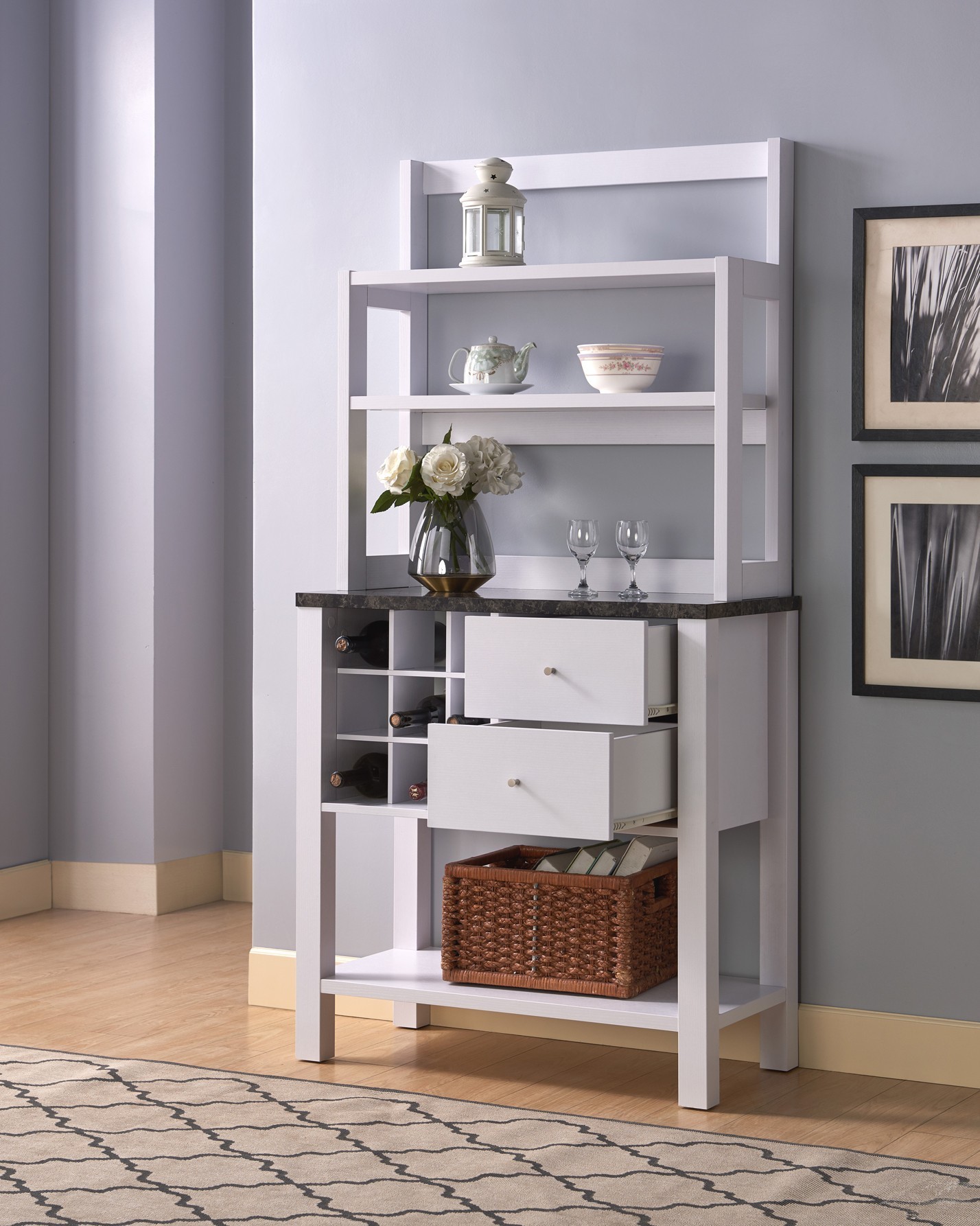 While trying to figure out ways to tidy up your bedroom, living room, child's playroom, or even garden, explore the wonderful variety of baker's racks listed at Foter.com. Get inspired and use your new piece of furniture in ways that 17th-century bakers never dreamed.
Ways to Use Your Baker's Rack
The style possibilities are endless with a good baker's rack. While these beauties got their start in the kitchens of busy bakers in the 17th century, there's no reason why they need to stay there to be limited to cooling off freshly baked loaves of bread and cookies. Crafters, book lovers, and wine drinkers will love the multifaceted ways you can use your baker's rack outside the kitchen.
Bathroom storage
Your primary bathroom may not be the first place you'd think to keep a baker's rack. However, this placement is ideal for displaying everything from toiletries to towels where they're readily available instead of behind a closed cupboard door.
Body washes, soaps, facial cleansers, and tissues look great on the wooden shelving in any home style. You can roll up towels to keep in baskets on the lower shelves or hang used ones on hooks to dry from the side.
Many models come with drawers to stow away toothbrushes and toothpaste or other smaller personal items without losing them.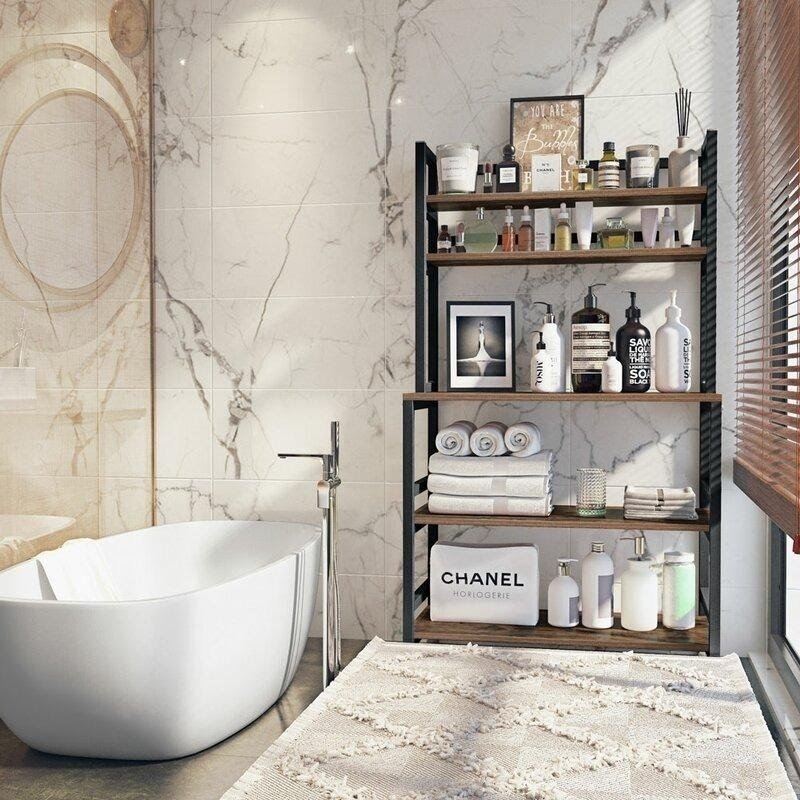 Organize your swimwear
Another out of the box solution to declutter small spaces is to place a baker's rack in your pool house. As in a bathroom, it's a great spot to keep clean, rolled-up towels that are ready for a fun day ahead in the sun.
You can hang swimwear to dry on any side hooks that may come with the rack while storing sunscreen, after-sun lotions, or goggles in drawers.
TV stands
In small bedrooms, every square foot of space count, and with the right corner baker's rack, you'll find that saving space was never so simple. A corner wooden baker's rack is a great item to use as a TV stand, bookcase, and keepsake display case in one great piece of furniture.
Corner racks ensure you can still have room for a desk for homework or to play video games and free up floor space for easy movement around your room.
Hide toys
Living in small homes with children requires a lot of creativity when it comes to their toys. Any parent will tell you that they've had to go out of their way to figure out storage solutions for everything from puzzles to building blocks for their youngest kiddos.
Baker's racks with wicker rattan baskets or cloth drawers fit this purpose perfectly. Many units are manufactured out of sturdy materials like wood and iron. With tough components, you'll never have to worry about your furniture in high traffic areas.
If your kids have their own play space, consider finding a plastic or resin rack to anchor to a wall. Pinning the shelf to the wall makes it safer to use in a playroom where kids might like to climb, lean, or play rough on the furniture.
Gardening
The very nature of a baker's rack makes it a terrific option to use to protect delicate herbs as they grow. The materials used to make these racks are typically suitable in any kind of weather, so you can keep your beloved plants in a sunroom on a rack with casters, or you can move them outside to a deck or patio.
These racks are particularly useful for plants like roses and ivy that like to cling and climb on surfaces while they grow as the tall backs of the racks can serve as a trellis.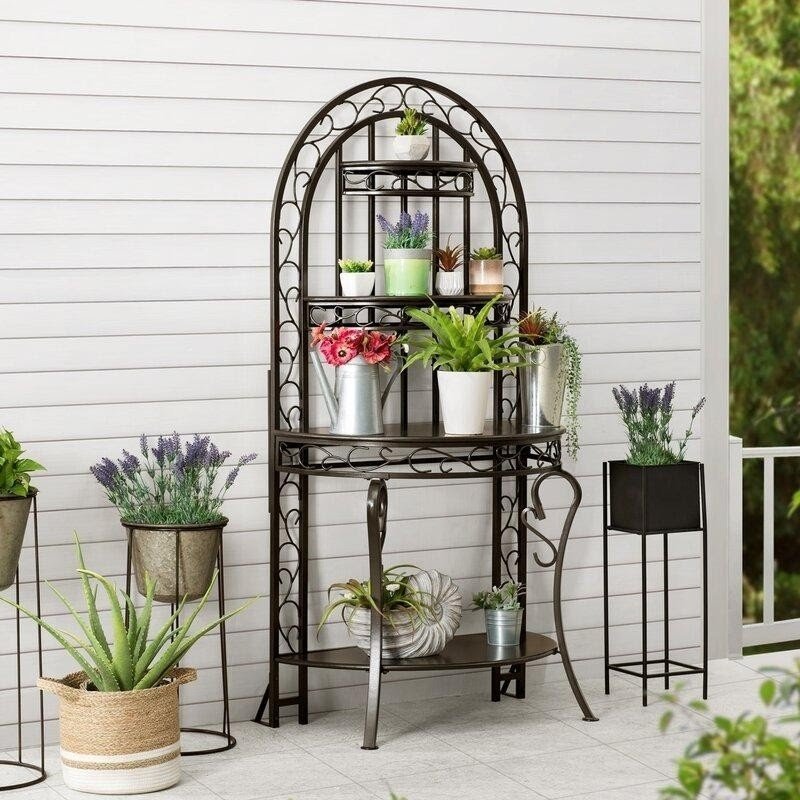 Build a bar
This option is terrific for any place in your home where you might find yourself entertaining friends and family. While a baker's rack is perfect for both the living room and dining room, you could also move it outside to a patio or gazebo.
Many models feature built-in wine racks, stemware hangers, and drawers for bar accessories like corkscrews. Baker's racks come in a wide range of styles from glamorous gold-framed units for a retro art deco entertaining area, to matte black metal with antique hardware if you prefer an industrial style bar.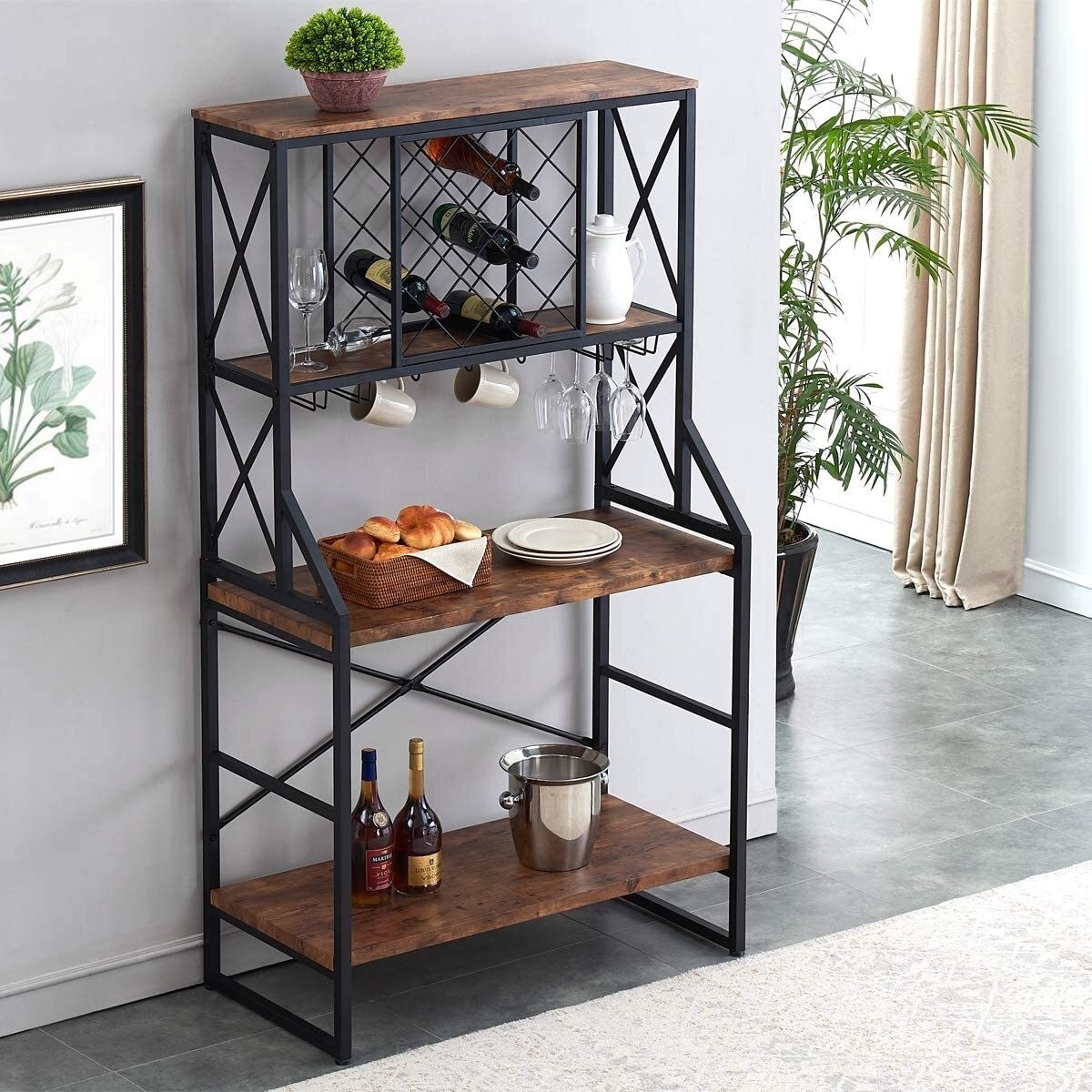 Coffee bar
Coffee bars are an underlooked resource in a modern kitchen or office break room, but a wooden baker's rack lends itself perfectly. Not only do all of your brew methods and beans have their own storage space, but the frame itself also creates a special place to congregate around while you brew your perfect cup of coffee.
You can hang cups and mugs from any hooks that may come with the model you choose, while the open-air backing that is featured on many units provides thoughtful cable management.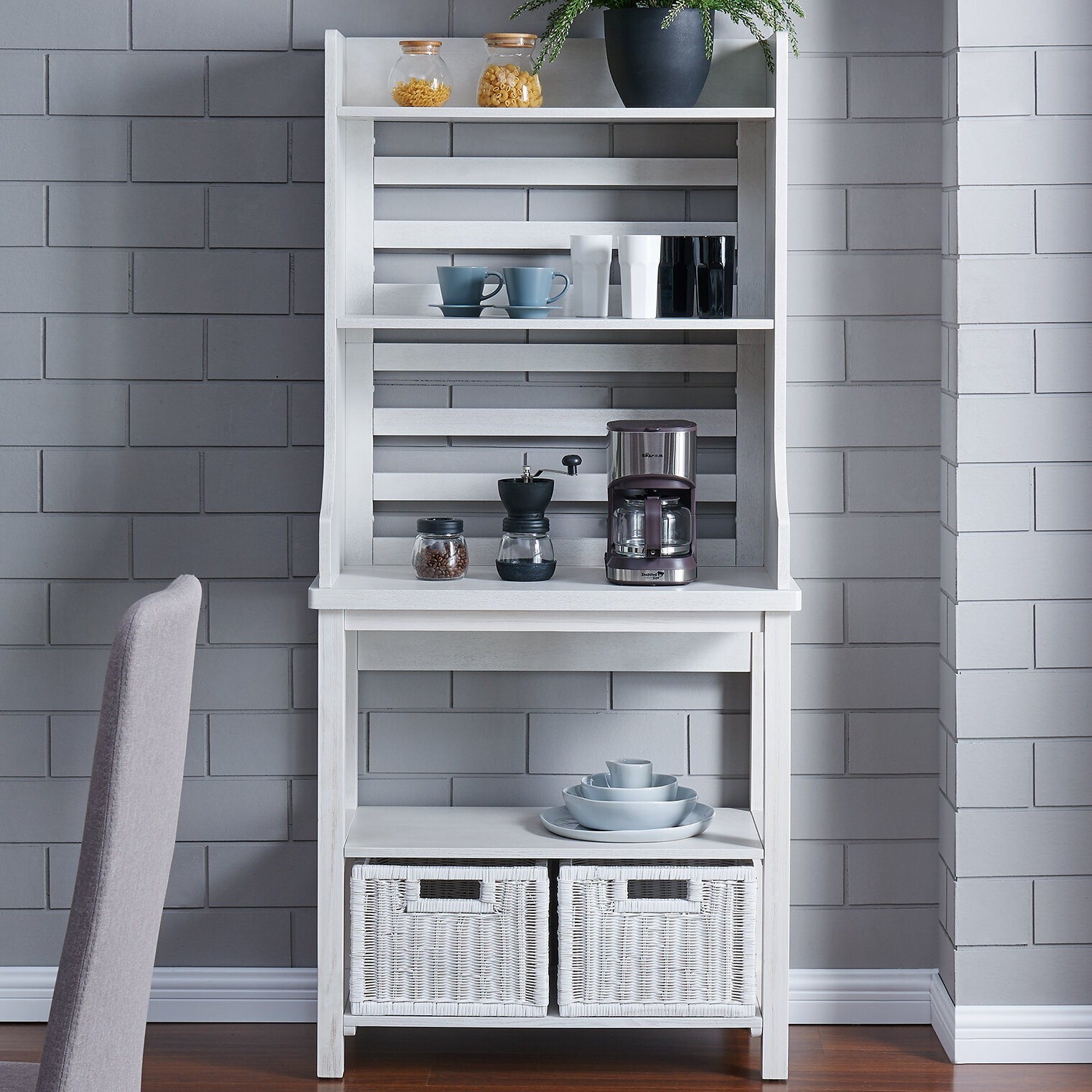 Mudroom drop off
Mud rooms and entryways are magnets for clutter. A baker's rack provides a unique space to collect and organize your grab-and-go essentials.
You can hang keys and handbags from the hooks, keep small items in drawers, place a mirror on the upper shelf, and keep wire baskets on the bottom shelf for storing shoes.
Wrap Up
Baker's racks have always been an excellent storage solution, but people are gradually starting to appreciate the versatility of this piece for use in any room of your home.
While kitchens can benefit from the extra storage options that a baker's rack provides, so can your living room, dining room, office, and gazebo. No matter where you need a bit more organization, check out baker's racks to declutter your home quickly and in style.