Our Choice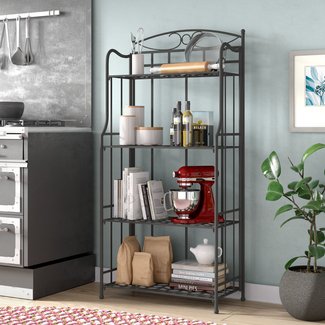 Schilling Steel Baker's Rack
Elegant steel baker's rack has airy flat steel shelving with square cutouts and graceful decorative steel scrollwork back. Suitable for cooling or storing baked goods, but also stable and strong for other types of uses. It measures 58 inches in height, is twenty-eight inches wide, and fourteen inches deep, making it a nice size for added kitchen storage for canisters or similar items. The powder coat finish makes the unit serviceable for patio or outdoor use.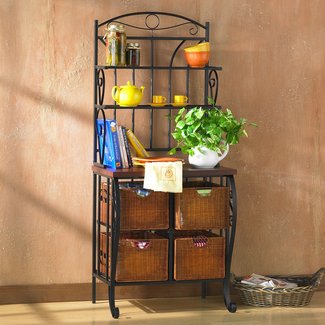 Lillianna Steel Baker's Rack
Beautiful hutch-style steel-framed bakers rack includes breathable rattan storage drawers in the lower half. The woven drawers "breath" making them a good place to store goods that don't do well in airless locations, or to install a filing rack for keeping drop-in recipe sheets. The drawers are also suitable for kitchen towels or napkins. The upper half includes a tabletop counter surface and two shelves. These are flanked with simple scrollwork and backed with metal slats.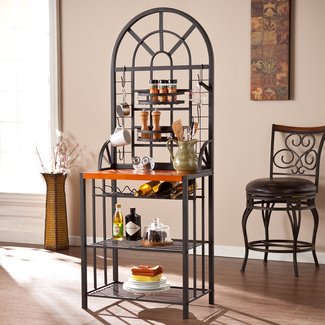 Berkshire Steel Baker's Rack
This is a baker's rack that will make any chef say, "Tres magnifique!" The metal frame has a cathedral window arched top supported by a solid tabletop over two wire rack shelves. Attached to the top backing is a pair of spice shelves flanked by rows of three metal hooks on each side for hanging those illusive measuring tools. Need to store the burgundy or the cooking sherry? Beneath the tabletop is a wine rack with space for five bottles.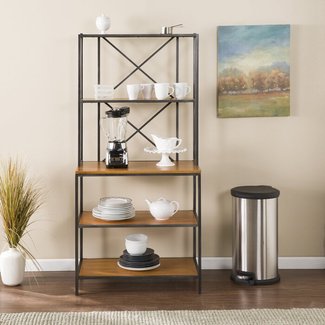 Briese Iron Baker's Rack
Elegant, simple and functional, this baker's rack has three wide shelves topped by two narrow ones. The whole is held together with a black, metal frame, reinforced with flat X bracing on the back. The solid pine wood shelving is suitable for supporting a microwave or some of those lovely rattan baskets/drawers. It works equally well for storing supplies or displaying your favorite collection of beautiful canisters filled with essential ingredients.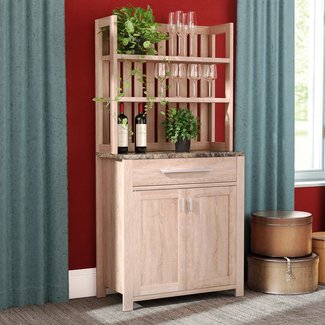 Brashears Transitional Manufactured Wood Baker's Rack
Made of natural wood and composition wood, this attractive baker's rack will certainly add storage and beauty to any kitchen. The lower section is a closed cabinet topped with a wide pull drawer. The upper half is openwork shelves with slat backing. The whole is a natural wood tone, so no two units are precisely the same, thanks to the nature of wood grain. If you are looking for something a little different, this is an attractive choice.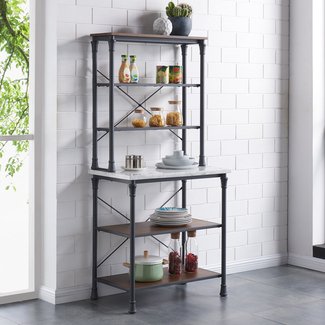 Magana Iron Baker's Rack
Simple, with clean lines, this tubular iron frame is black with flat metal X bracing. The shelves are primarily made of wood, with a marbleized center work surface. Perfect for your smaller appliances, such as coffee maker, toaster or waffle maker as the open back makes positioning with that all-important outlet easy to do. Spare and sturdy, it will be an asset to any kitchen. If you are seeking easy access added storage, this is it.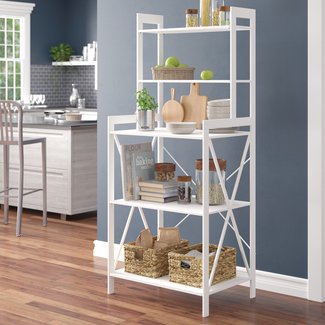 Worton Iron Baker's Rack
Crafted from iron and birchwood, this is another spare but elegant baker's rack that is perfect for your kitchen. The two lower shelves are deep, making them naturals for bins or baskets, while the upper two are narrower, creating a work surface. The frame is made of iron, the shelving from birchwood and the whole is painted white for a clean, unified look. Structured tall and narrow, it is a good choice for a space-challenged kitchen.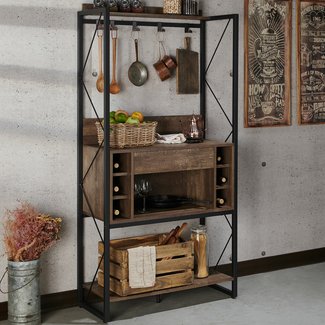 Waloo Iron Baker's Rack
Antiqued wood and iron make this baker's rack something very special. It is perfect for a country kitchen or shabby chic décor, but can easily fit in with vintage as well. The black iron frame supports a top shelf, a row of hooks, a central unit that includes space for six wine bottles, as well as an area for storing stemware, and a bottom shelf of matching distressed wood. In addition to being useful, it is sure to be a conversation piece.