Are you drinking your tea from random coffee mugs? A tea set can refine your tea experience and increase the pleasure you get from every sip.
In this article, we feature a selection of some of our favorite tea sets and tea pots. We've also added a selection of teapots for children.
Regardless of the types of tea you like to make, the following sets can make your tea drinking experience so much more enjoyable. Not only that, but they look great on any table, cupboard, or shelf.
But first...
What's in a Tea Set?
A tea set or tea service is a complete set of essential pieces for making and drinking tea. It consists of matching teaware and utensils used in the preparation and serving of tea.
The actual components of a tea set may differ widely across cultures and ages. You can expect to find quite a bit of variation in the sets.
The three fundamental pieces in any set tend to be the teapot, the milk or cream container, and the bowl for sugar. Also, a tray, saucers, and plates may also be included.
A notable difference between sets is that some may only include drinking ware but not the necessary tools for making a brew. In that case, you can get a tea infuser separately.

The tea service set that we all know today is very much different from the old traditions in the past.
A modern tea set normally consists of a teapot with a strainer or infuser and a teacup or tea mug.
History of Tea Sets
The history of tea sets started in China during the Han Dynasty Tea Dynasty (206–220 BC).
From what we know, the first tea sets didn't look anything like the tea sets we are familiar with today. Rather, tea at the time was served in bowls.
The first tea is thought to have appeared in China during the Song Distancy, sometime around the end of the first millennium or the beginning of the second.
It's interesting to note that while tea drinking has a history of almost 5,000 years, teapots are a much more recent invention.
In the beginning, teapots were made from porcelain, but as time went by, silver teapots became valued as well.
The first teapots were small. They were not as intricate as the tea sets we have today.
By the 1750s, though, teapots were big enough to hold several cups of tea. Some were so large as to be a bit uncomfortable to handle.
As time went by and different countries adopted the culture of tea, tea sets including teapots, teacups, infusers, sugar and milk bowls, and other accessories appeared.
Today, there are probably more tea set accessories out there than at any other time in history. In other words, it's an exciting age for tea drinkers.
10 Best Tea Sets for a Better Tea Experience
Choosing tea sets can be overwhelming as there are so many designs, sizes, shapes, and materials to consider.
To help you save time, we've shortlisted some of the best tea sets we could find online. We've stayed away from mainstream choices to focus on rare and special sets that stand out.
Whether you want to buy a set for yourself or to give one as a gift to a loved one, we hope you'll find a great one on our list.
1.

Porcelain White Chinese Tea Set

Who would not fall for this teapot and cup set? It's minimalistic and sophisticated, classic. and modern at the same time.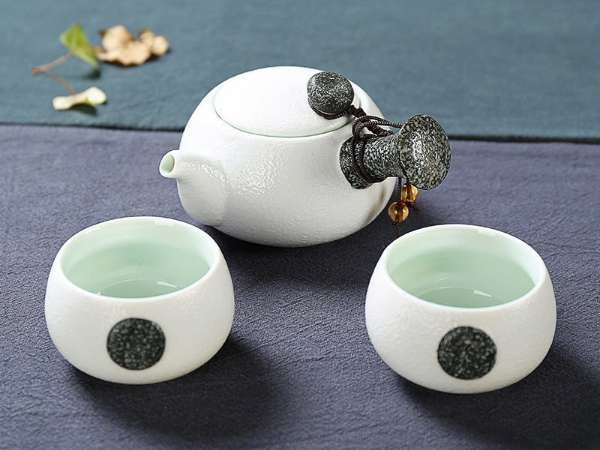 These handless drinking bowls will add an Eastern feel to your tea drinking.
Highlights
Made of lovely porcelain
Beautiful white design
Good value for the price
2.

Cast Iron Japanese Tea Set

We really liked this cast iron Japanese tea set from the moment we saw it. Tea sets made from cast iron can hold heat well while retaining the natural taste of tea.

This black heavy tea set comes with an iron teapot, four teacups, a trivet, and a removable infuser--everything you need to brew delicious tea in all seasons.

If you like old-style designs, you'll like this Japanese set which epitomizes the fine blend of strength and beauty of the traditional Japanese culture.
Tip: A good reason to choose a cast iron teapot is that you can boil water in it directly over a frame, something you can't do with ceramic or porcelain teapots.
Highlights
Made of cast iron
Comes with a trivet
Vintage Japanese design
Looks great
3.

Royal Albert Teacup Set

This exquisite Royal Albert floral tea set will make you feel like you're sipping tea in an English garden.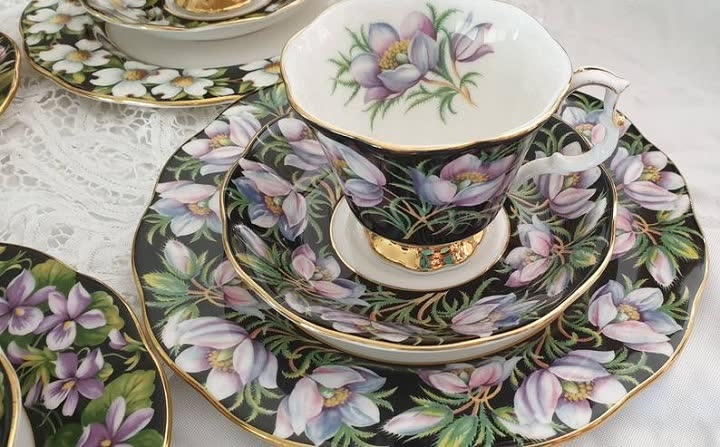 This set contains a cup, saucer, and plate and is available in different floral designs. It's elegant and striking while also being very easy to use.
Highlights
Great tea set for one
Lovely design
Puts average tea mugs to shame
4.

Zen White Ceramic Teapot Set

This timeless ceramic teapot with teacups and coasters is simple and elegant. We like the matte finish which makes it smooth to the touch.
The teapot with infuser comes with a convenient bentwood handle while the teacups have a double-walled design.
Tip: This set is an inspired gift for weddings, birthdays, anniversaries, and other special occasions.
Highlights
Made of fine ceramic
Teapot comes with stainless steel infuser
Double wall teacups
FDA approved, lead-free, non-toxic
Packaged in a well-designed safety gift box
5.

Churchill Blue Willow 11 Piece Tea Set

Next on our list is an exquisite china tea set with teapot, cups, milk jug, and sugar bowl. The careful detailing careful design of the pieces make this an elegant choice for any tea room.

If you're looking for an authentic china tea set that can be a calming and soothing presence, this could a good choice. It's big enough for guests whenever they are visiting.

Highlights
You can wash it in a dishwasher
Authentic feel
Very beautiful detailing
Big teapot capacity
6.

Gracie Bone China 11-Piece Tea Set, Blue White Magnolia

Floral motifs are a recurrent theme in tea sets, and this bone china set with teapot, cups, milk jug, and sugar pot is a beautiful example. We especially like the tall teapot with its swan-like spout.
Here at Planted Well we are fans of magnolias which are the oldest flowering plants in the world. So it's no surprise that this bone china set with its magnolia design caught our eye.
Highlights
Tall and beautiful teapot
Beautiful design
Elegant design
Large cup handles make them easy to handle
7.

Hinomaru Modern Marble Design Porcelain Tea Set

Our next choice is just the right tea set to use in a Japanese garden. But even if you don't have a Japanese garden just yet, this set can bring Zen moments to your home.

The set includes four 7 oz cups so you can share those Zen moments with your family and friends. The marble texture creates a striking contrast again with the smooth black porcelain.

Highlights
Fine glazed porcelain
Bamboo teapot handle adds a nice touch to the design
Includes a stainless steel infuser
Wooden tray complete the set
Striking design
8.

Large Porcelain Ceramic Tea Gift Set

If often drink tea with your family, this 21-piece porcelain tea set can be an elegant upgrade to your current tea set. It includes six beautiful cups with saucers with embossed golden rims.

This set also includes matching teaspoons, something you don't usually get with most sets. Overall it can be an inspired and very useful addition to your kitchen. Note that the teacup support is not included.

Highlights
Embossed golden rims add a nice touch
Premium quality bone china
Includes tea spoons
Elegant, timeless design
9.

Traditional Ottoman Style Turkish Tea Set for 6

The Turks may have a reputation as coffee drinkers, but tea is also popular in Turkey. Turkish tea sets have an ornate and somewhat extravagant design that really catches the eye.
This large, 26-piece set includes 6 small glass teacups with holders and covers, which are excellent for warm infusions on chilling fall or winter days.
The sophisticated glass teapot and large zinc alloy tray complete this beautiful and lavish set.
Highlights
Large tray makes serving tea outside easier
Beautiful cup and tea pot design
Zinc alloy is resistant and timeless
Turns tea drinking into a special experience
10.

Japanese Tea Caddy and Sweets Container

This small handmade set consists of a tea caddy and a sweets container. The vintage, rustic design evokes Japanese culture.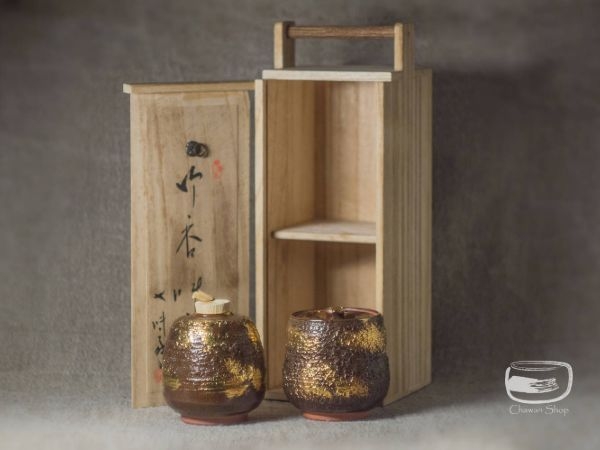 What's more, it has a wonderfully-crafted wooden box with Japanese calligraphy.
Elegantly boxed, this Japanese tea set is indeed a wonderful gift for your friends and relatives.
Highlights
Unique feel
Striking gold coating
Comes in a beautiful wooden box
Features Japanese calligraphy
Our Favorite Tea Sets for Children
Now let's talk tea sets for children. Blame it on the Mad Hatter in Alice in Wonderland, but tea-drinking is still popular among kids even in the age of consoles and smartphones.
Okay, many kinds pretend to drink tea rather than actually drink it, but still, they need a tea set for that. If you're going to get one for your kids, you may as well choose one that they can actually drink from.
That means choosing a BPA-free, non-toxic tea set made from food-grade materials. Durability is also important, of course.
Here are some of our favorite choices.
Schwarz Ceramic Tea Party Set for Kids, Pink Polka Dot
This cute 9-piece tea party set is perfect for a party of four. The very cute polka-dot design has a touch of elegance to it and looks more like a real tea-drinking set than a toy.
Will the teddy bears objects from drinking from pink cups? We don't know--that's up to your girl to decide.
Highlights
Includes four well-made cups with saucers
Made from good quality ceramics for an authentic feel
Lovely design makes it an enduring product
Green Toys Tea Set
For younger children, here's a plastic set that can take any number of drops. We like the vibrant colors. Blue cups, green saucers, yellow spoons--you can't ask for more than that!
Like all the sets on our list, this one is safe for drinking from it. Overall, it's an inspired choice if your child is too young to
Highlights
Made entirely from recycled plastic
Fun design will get kids interested
Lightweight but durable
Delton Products Pink Butterfly Children's Tea Set with Basket
This exquisite little set features two porcelain cups with saucers, a cute teapot, and other accessories, all of them carefully bundled in a basket. It's a beautiful and memorable gift.
If you think your child may pick her nose at a tea set that looks too much like a toy, you won't go the wrong choice with this one. It's so cute and elegant that she will want to show it off to all her friends.
Highlights
Beautiful basket makes it easy to take along on picnics or trips
Basket keeps the set safe and organized when not in use and simplifies storage
Includes two forks and spoons which come in handy for desserts
Tea Sets Frequently Asked Questions
Now here are some common questions we've been hearing about tea sets. You may want to check the answers below before deciding which set to get.
Pour Another Cup, Will You?
Whether you drink it from a common mug or a fancy cup, tea tastes just as good and is as healthy.
But having a tea set can encourage you to drink more tea and share the experience with your family and friends more often.
It will also encourage you to brew loose leaf tea and create your own little tea ritual. This, in turn, can help you savor your tea rather than simply drink it.
We hope that you'll find a nice teapot and cuts set among the many nice ones we've shared. And that you'll enjoy your favorite types of tea, whether these are chamomile tea, hibiscus tea, matcha green tea, or something else.
Do you currently have a tea set? We'd love to hear from you.
Until the next post, keep on drinking tea!