Trampoline covers are perfect to make your bouncy toy last longer and avoid unpleasant accidents ('cough cough' bird poop) while jumping up and down.
You can find all different kinds of trampoline covers here. However, the fact that they're available in so many options could be a bit overwhelming. While there are hundreds of different models, you should simply focus on choosing the right trampoline cover for you.
Don't worry, we're here to help!
Instead of bouncing back and forth between a few options, let's figure out what you need to look for before you start browsing them.
What type of trampoline cover do you need?
While trampoline covers are available in tons of designs, they fall within two main categories: standard trampoline covers and covers with enclosures.
Understanding which one is best for you will help you weed out half the options.
Standard trampoline covers
These are tarp-style accessories that fit very tightly onto the surface of the trampoline;

They're the most affordable options and are perfect to protect your trampoline from rain, sunlight and debris whenever you're not using it;

However, they won't protect you and your kids from the weather when you're actually bouncing on it;

A standard trampoline cover is still a handy solution if you have plenty of shade in your backyard (for example, if your trampoline is underneath a leafy tree) and don't have to worry about your kids getting too hot.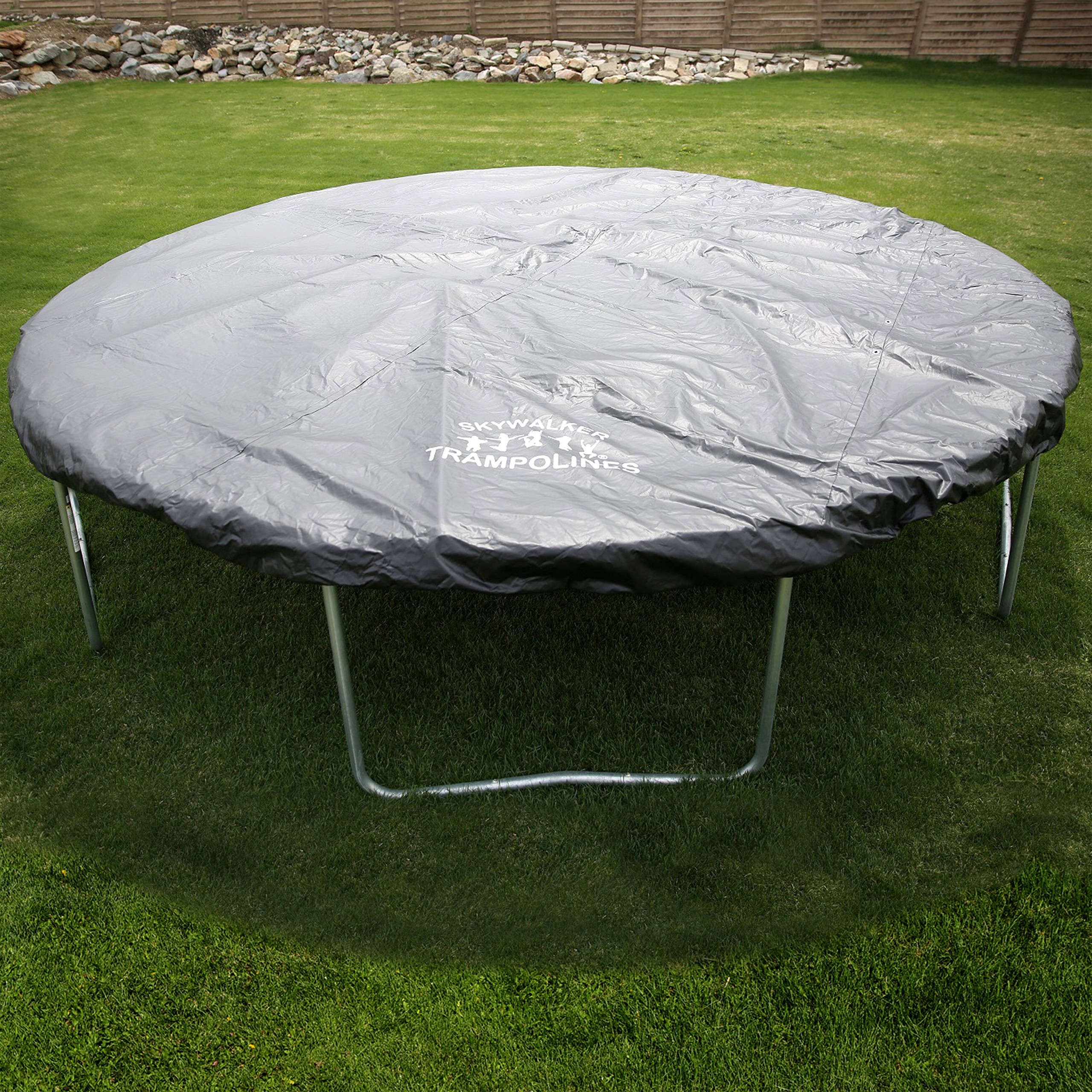 Trampoline covers with enclosures
These follow a tent-like design and are meant to stay on top of your trampoline even while you're using it;

They're usually a bit more expensive than standard covers, but there are lots of models for different budgets;

Unlike standard covers, they protect you and your kids from the weather when you're using it;

Trampoline covers with enclosures are definitely the safest choice if you live in a particularly hot climate and don't want your kids to get sunburnt while having fun.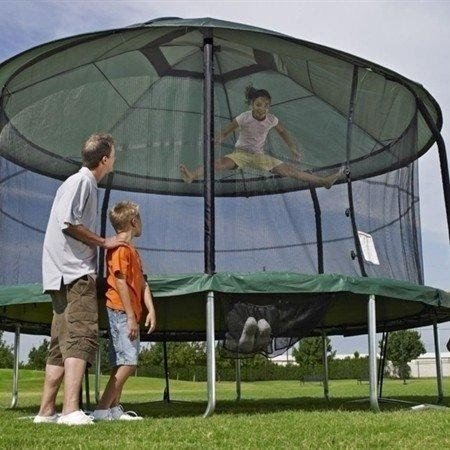 What size trampoline cover is right for your trampoline?
The most common mistake when choosing trampoline covers is thinking that one size fits all;

Don't wing it! Instead of relying on guesswork, make sure you measure the exact size of your trampoline so that you can look for a cover that matches its diameter.
What features do I need for my trampoline cover?
In most cases, a trampoline cover will give you everything you need to bounce around happily and safely. However, you can also consider a few extra features to make your life easier:
If your kids like to play games when they're on the trampoline, look for a cover that comes with storage bags on the side for their toys: it'll be much easier to keep your backyard nice and tidy!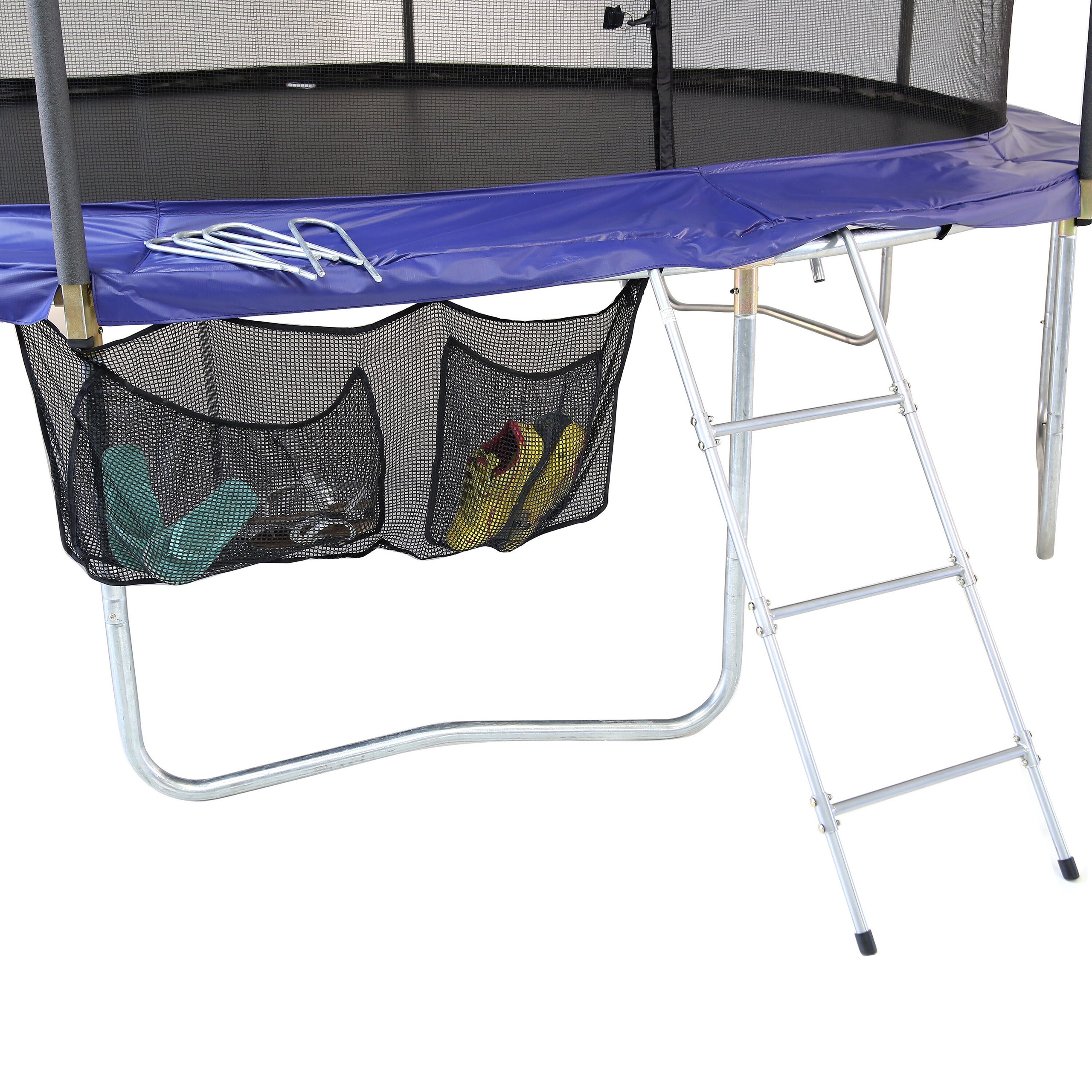 Basketball fans? Some trampoline covers with enclosures include a basketball hoop for some epic slo-mo action;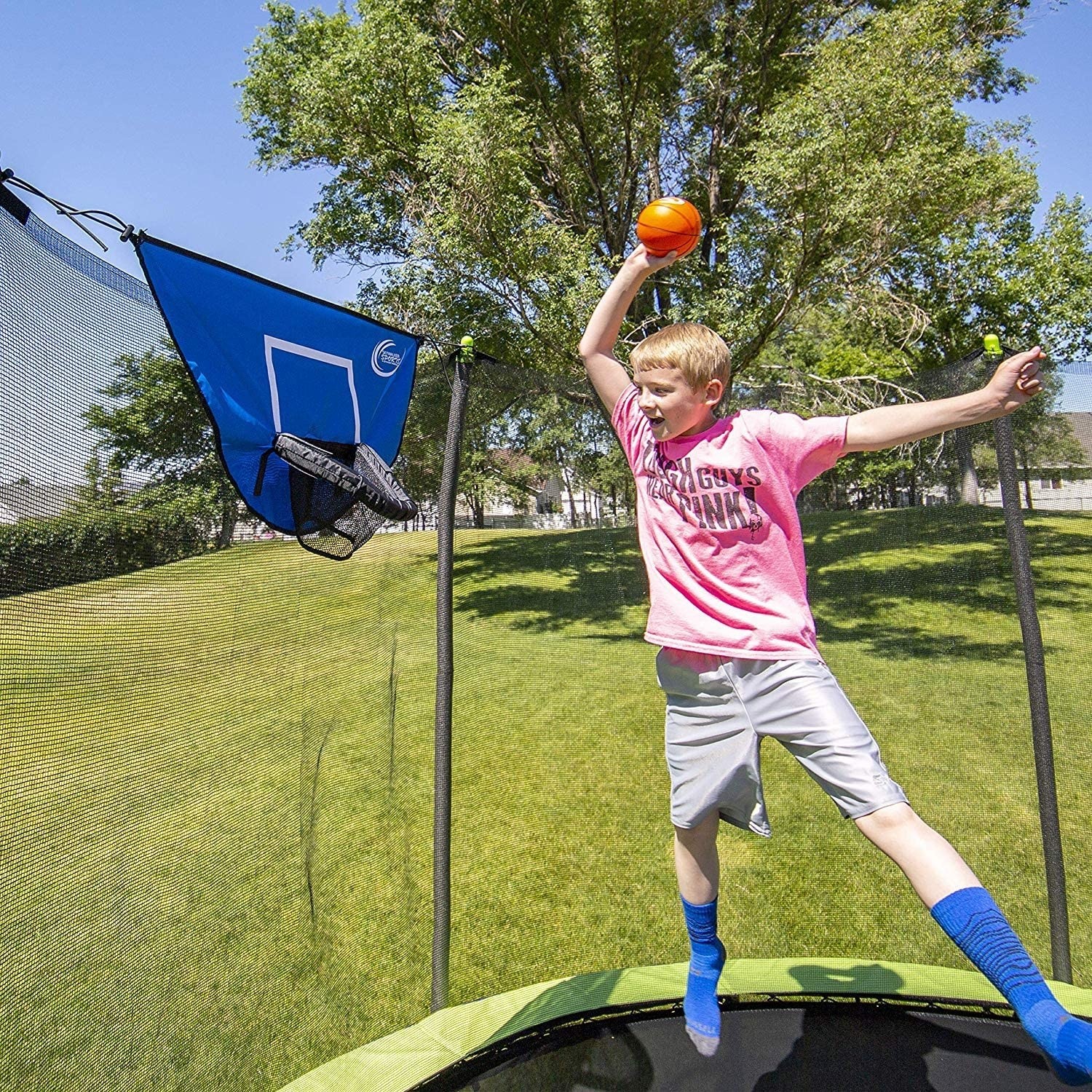 Being able to open its sides can help your kids enjoy some breeze and stay cool while jumping up and down;

Poles aren't always included! If your trampoline hasn't already got them, look for enclosures with poles or make sure you purchase them separately;

Do you live in a particularly rainy or snowy area? Then, as well as waterproof features, we recommend looking for trampoline covers with drainage to prevent the water from pooling and putting excessive pressure on your trampoline's springs.
What's the best design for my trampoline cover?
If you're going for a practicality-focused model like standard trampoline covers, its design will probably be trivial. However, you could consider looking for one in your backyard's accent color if you want to maintain an element of consistency;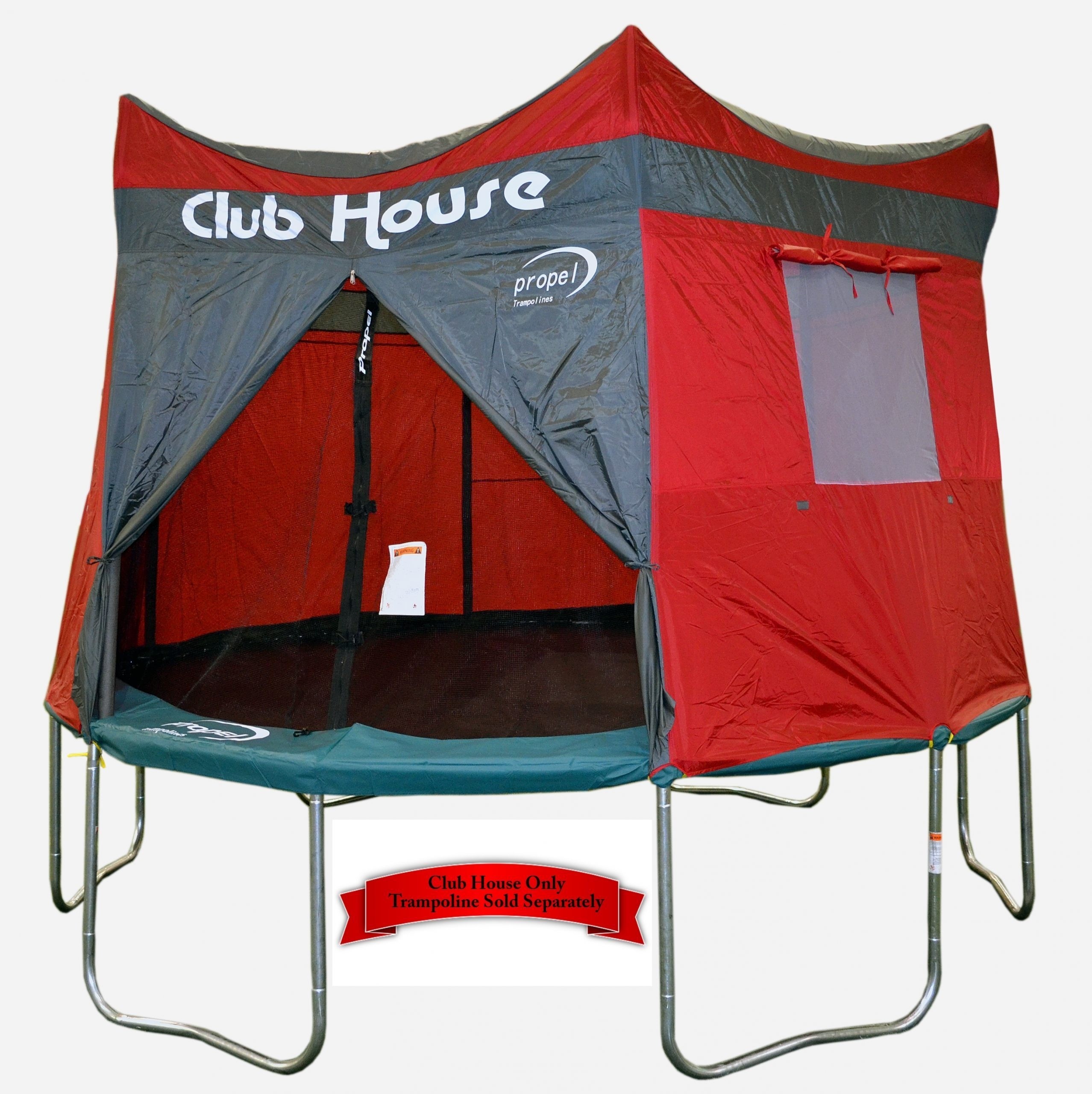 Trampoline covers with enclosures offer many more options. If it's for older kids or young adults, a classic monochrome design should do;

However, if it's for young kids, you could add an additional element of color and play! For example, you can buy them a cover that looks like a rocket ship, a treehouse, a clubhouse or a circus tent. Unless you're trying to surprise them, you might want to consult them first to see what they'd prefer!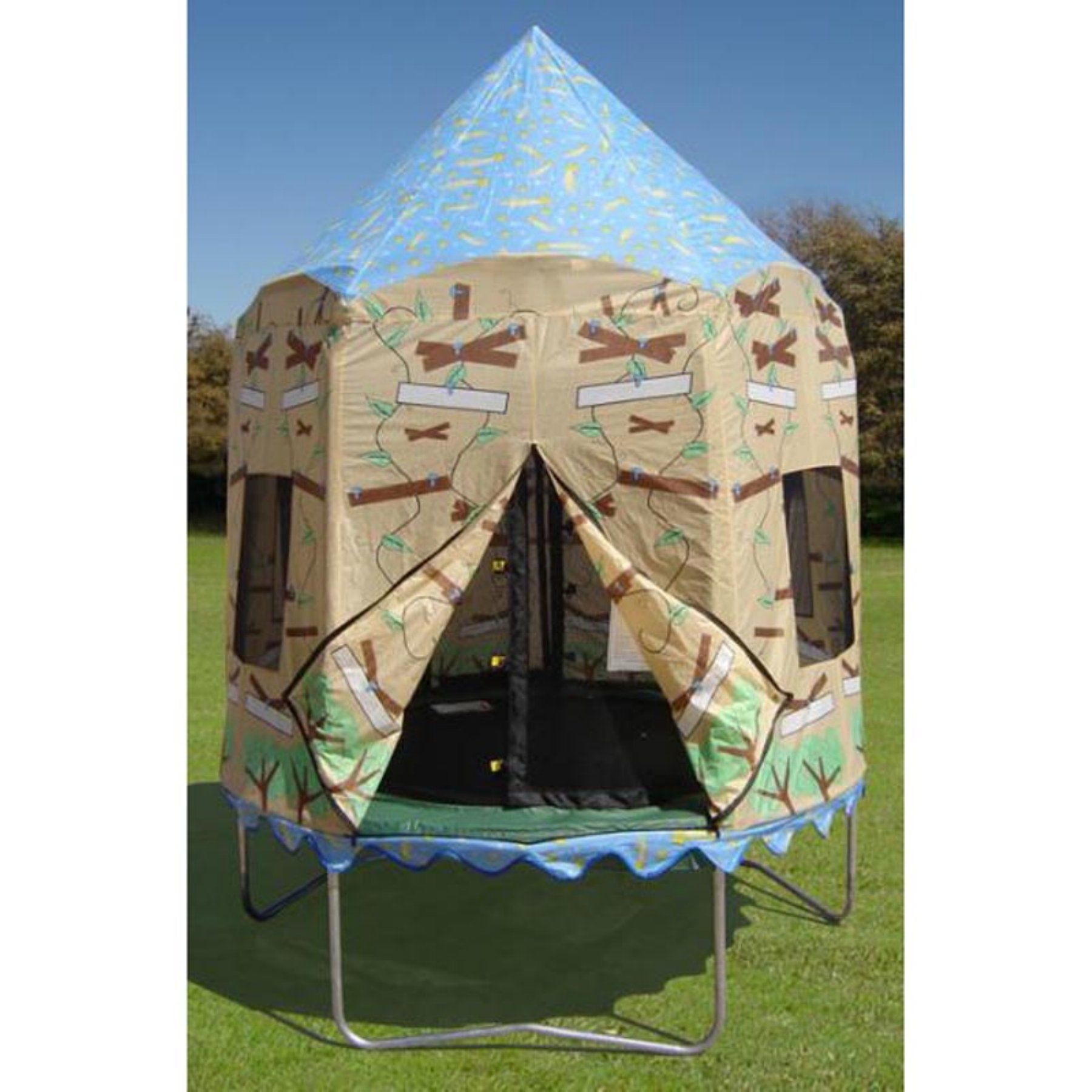 What's the best material for a trampoline cover?
The best materials for a trampoline cover are waterproof and UV-resistant options that can protect your trampoline from all kinds of weather conditions;

In general, to select the right trampoline cover and ensure its longevity, you should look for strong and tear-resistant synthetic materials like PE (Polyethylene) or PVC (Polyvinyl chloride).