Small Pub Table Sets
A patio is a serene place to enjoy a relaxing summer's day in the sun, host parties, or sip drinks with family and friends. So, finding patio furniture is important for the aesthetic appeal of your home's exterior as well as comfort.
A small pub table and chairs are an excellent choice for a patio. A pub table and bar stools are compact enough to fit comfortably on your patio while still providing enough tabletop space to hold drinks and snacks. From counter height round tables that people can gather around to small rustic style pub tables and chairs, there are numerous styles to choose from.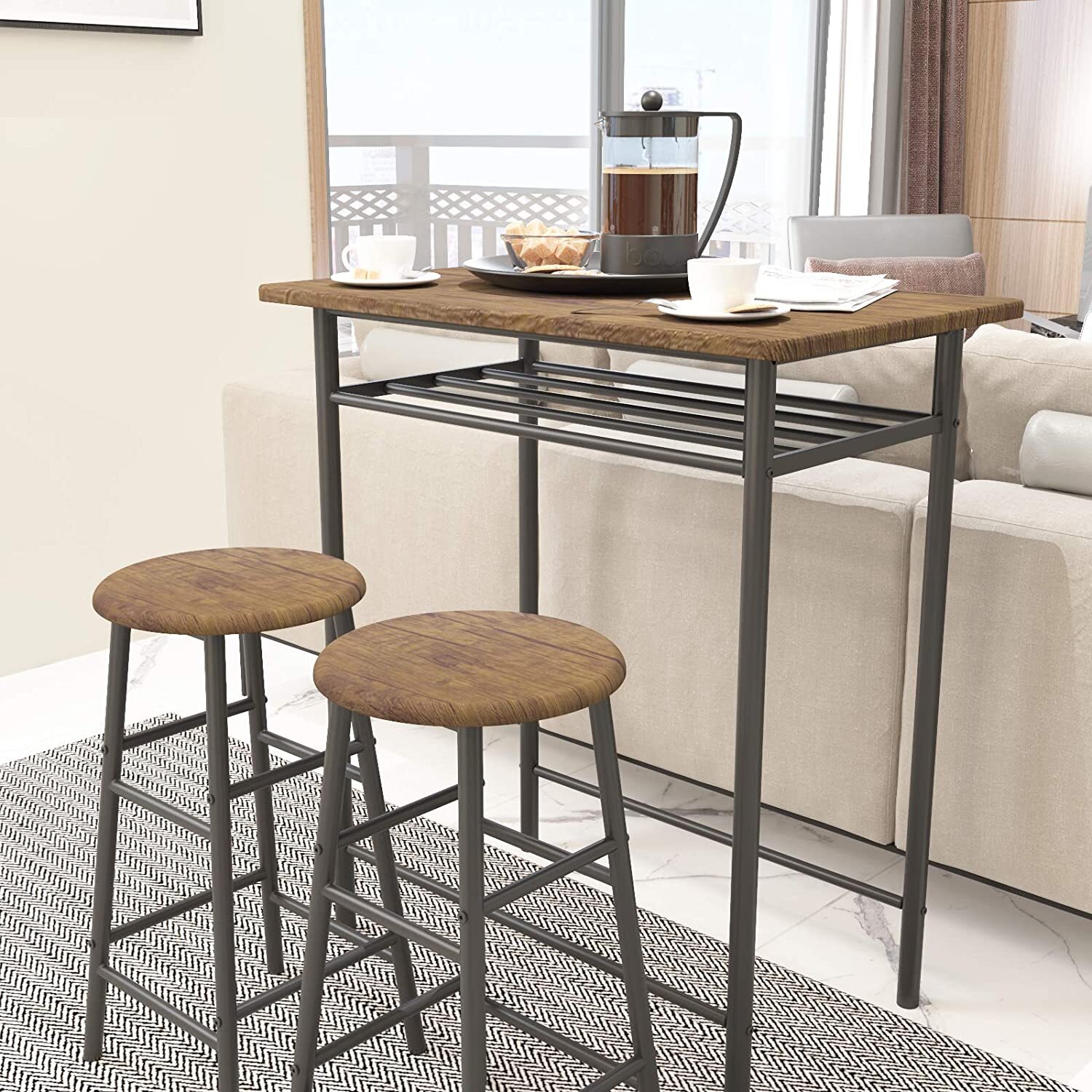 Bistro Style Small Pub Table and Chairs

A bistro-style pub table and chairs combine features from traditional bars with modern components to create a functional and stylish patio furniture set. Designed for casual dining, these tables are typically built for two people. Although, for larger patio get-togethers, a bistro-style pub table provides the perfect surface for serving a cheeseboard, snacks, or drinks.
MDF board is a common table and chair top surface, providing durability for the outdoors. MDF can be designed to replicate different materials, including faux marble or natural wooden pub tabletops.
$109.99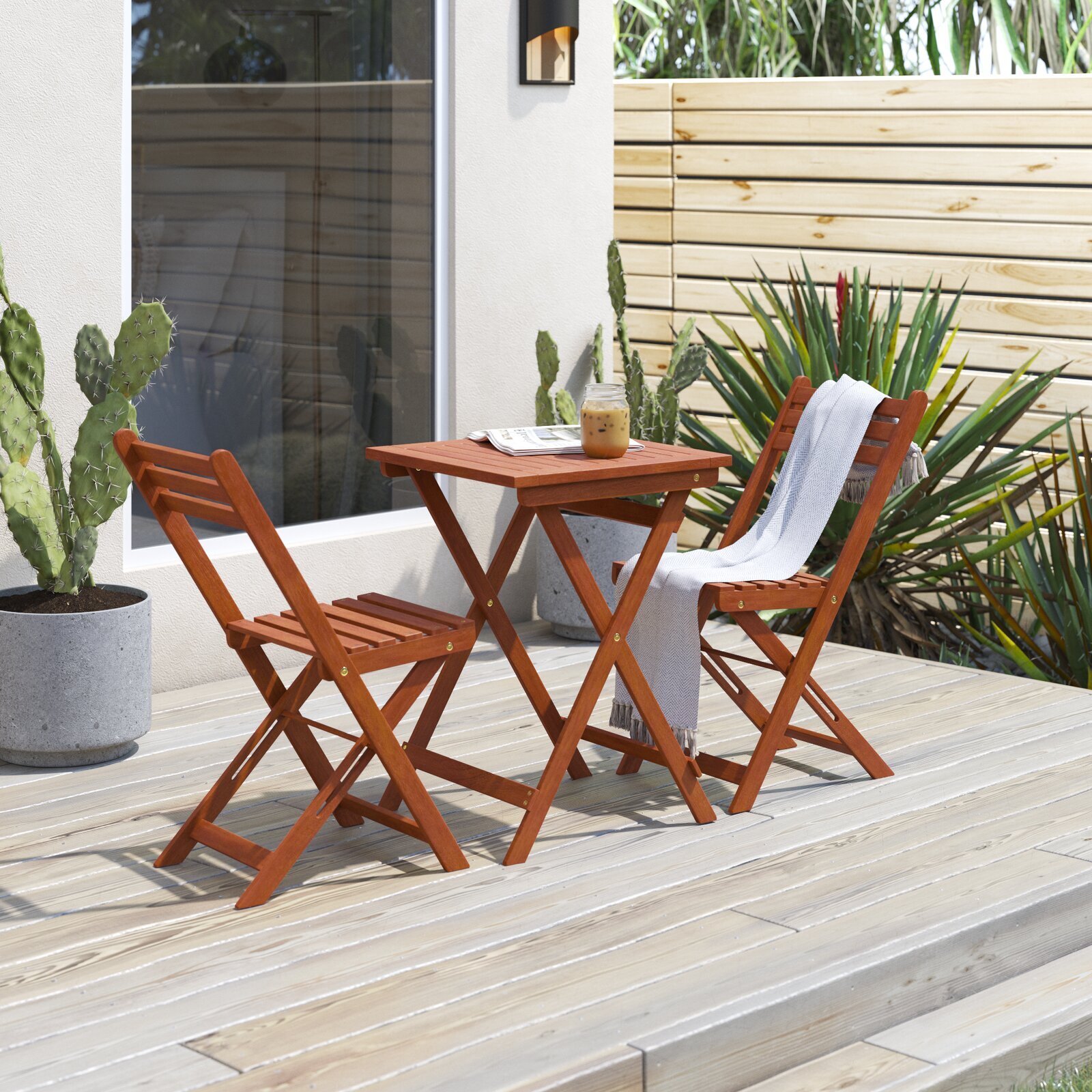 Foldable Low Pub Table and Chairs

If you have limited space on your patio and need temporary outdoor furniture for al fresco dining, a foldable pub table and chairs are the ideal choice. Solid wood models offer long-lasting durability and add natural warmth to the space. Opt for tropical hardwoods like teak or resinous hardwoods like cypress; their natural oils offer weather protection and repel insects.
Check that the hardware is corrosion-resistant. Galvanized or powder-coated hardware is rustproof and won't jam the folding mechanisms in the chairs and table.
$236.99
Rattan Rectangular Pub Table and Chairs

Rattan pub table sets can add a tropical touch to your patio. Wicker or rattan is carefully woven, giving the furniture a beautifully textured finish. Although they look lightweight, rattan tables are sturdy and durable. Synthetic rattan is ideal for outdoor furniture because it is resistant to moisture, UV rays, and extreme weather.
Match your rattan table with sophisticated bar stools for comfortable outdoor seating. One of the greatest things about rattan pub sets is that they are highly versatile and fit various decors. You can opt for a glass-topped table for added stability for drinks and snacks.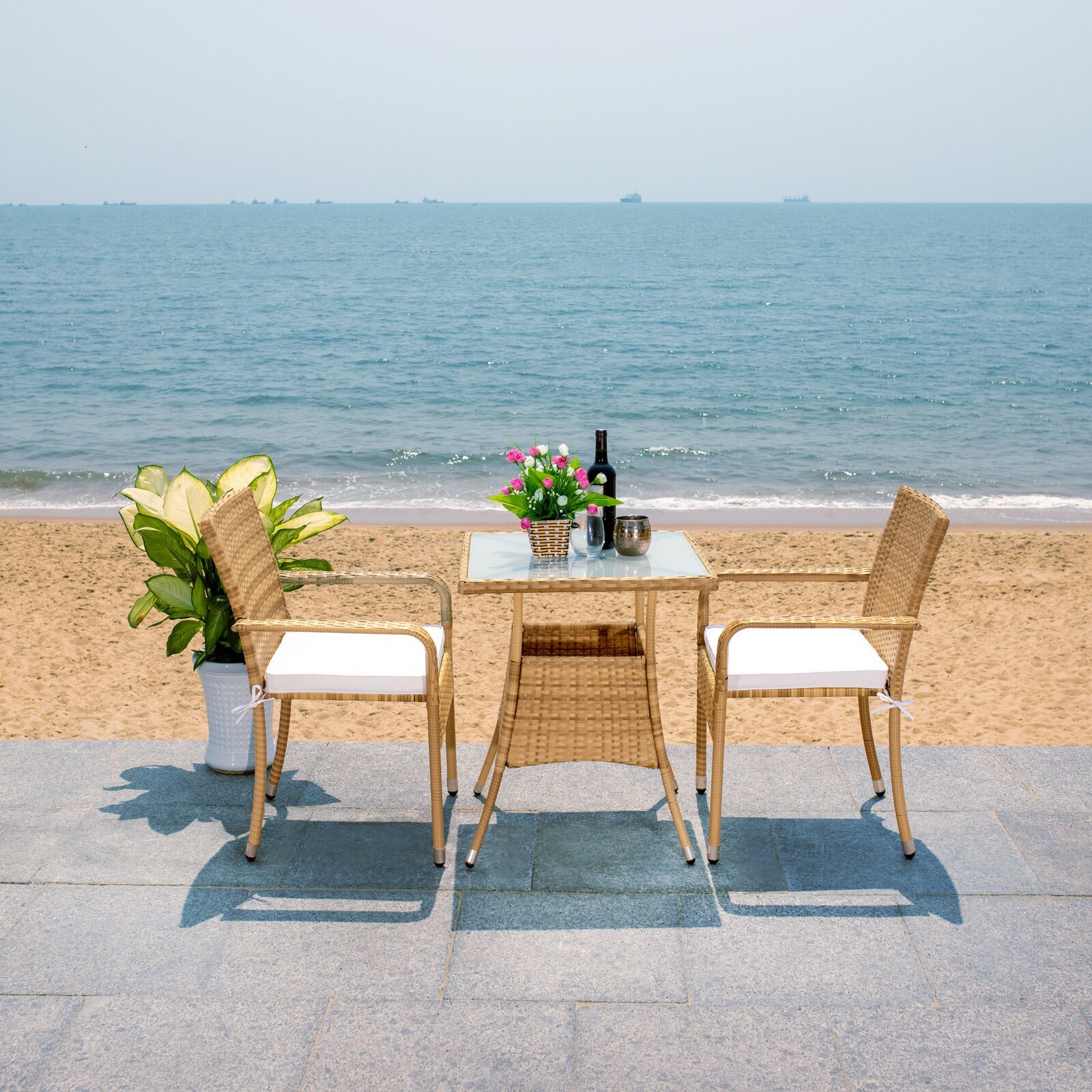 Glass Top Cocktail Pub Table and Chairs with Cushions

As well as providing a charming aesthetic, a glass top table is easy to clean and maintain. Glass top table sets come with a variety of trims, including metal, rattan, and wicker. Matching chairs are easily accessorized with cushions, adding a pop of color and comfort to your space.
A glass top table set with a wicker trim gives your patio a coastal vibe, while a metallic glass-topped table is perfect for minimal or industrial style homes. Glass top pub tables are also an excellent choice if you have a small patio or balcony; the clear tabletop visually opens up the space making it appear larger.
Aluminum Round Pub Table and Chairs

An ornate aluminum round table and chair set is an excellent alternative to heavier wrought iron to give your patio an elegant and grand look. Aluminum outdoor furniture is treated for weather, water, and rust resistance, so they are built to last.
Aluminum sets are often characterized by embellished designs on the tabletops and backs of chairs. If your patio is decorated with plants or trees, a floral pattern may complement the existing design.
$206.99 $217.99
Bar Height Summer Pub Table with Swivel Chairs

A bar height summer bistro pub table with matching chairs provides timeless elegance for your patio. A dark, powder-coated steel frame blends seamlessly with a glass tabletop and offers impressive durability. This also improves rust resistance, ensuring the table set is long-lasting.
Swivel stools add uniqueness to this set and give an outdoor pub feel to your patio. Light-colored or sun-themed upholstery contrasts with the dark frame finish and can be easily accessorized with cushions.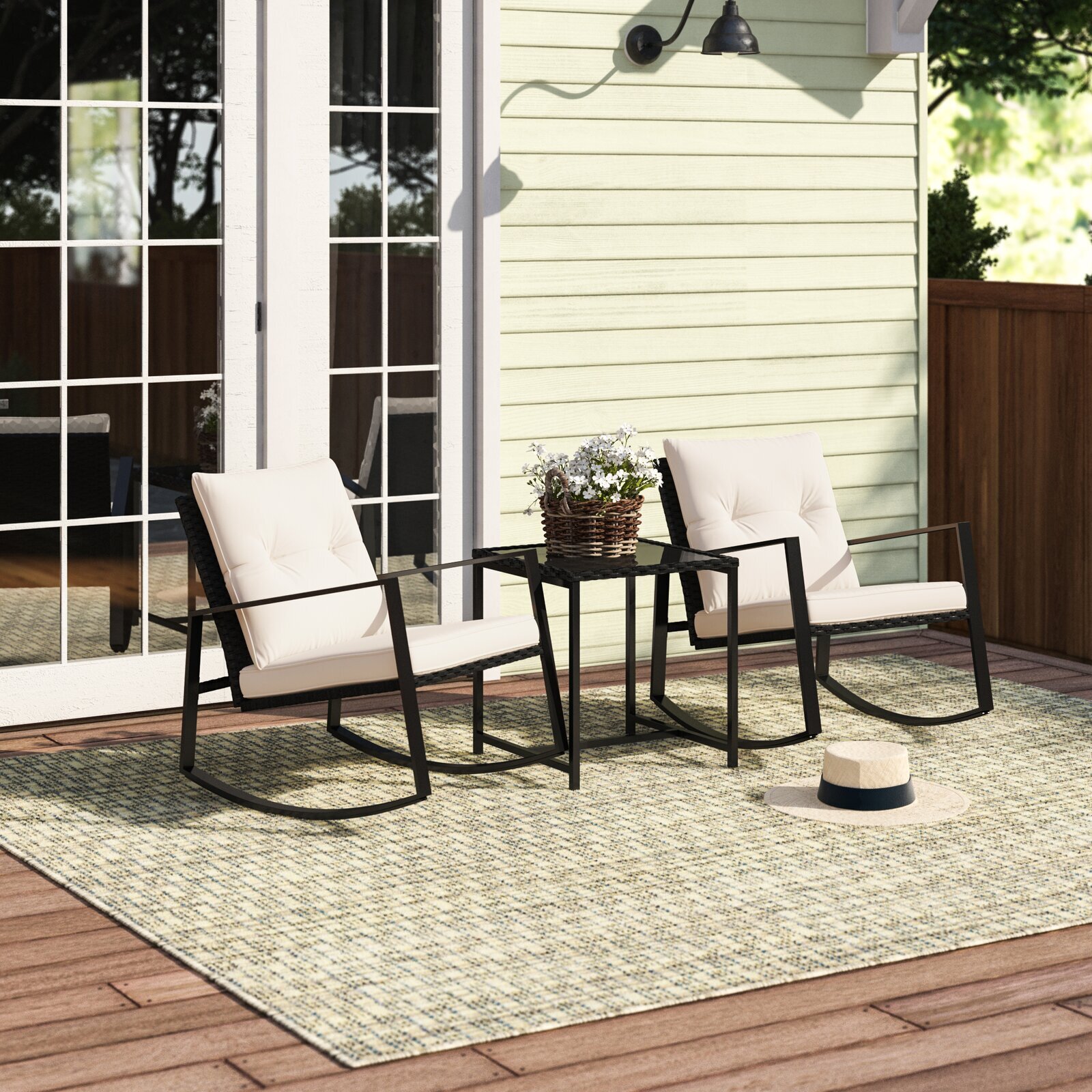 Low Pub Table With Rocking Chairs

Rocking chairs make some of the coziest spots for enjoying a drink, reading, or taking a nap. Metal framed models with plush padded cushions with tufted upholstery transform the classic colonial rocking chair into a sleek modern set, suitable for any contemporary home.
A low table is the best match for rocking chairs, giving you easy access to snacks or drinks. When not in use, rocking chairs can be accessorized with a floral print throw, and a bouquet of flowers on the tabletop adds a refreshing splash of color to your outdoor area.
$222.89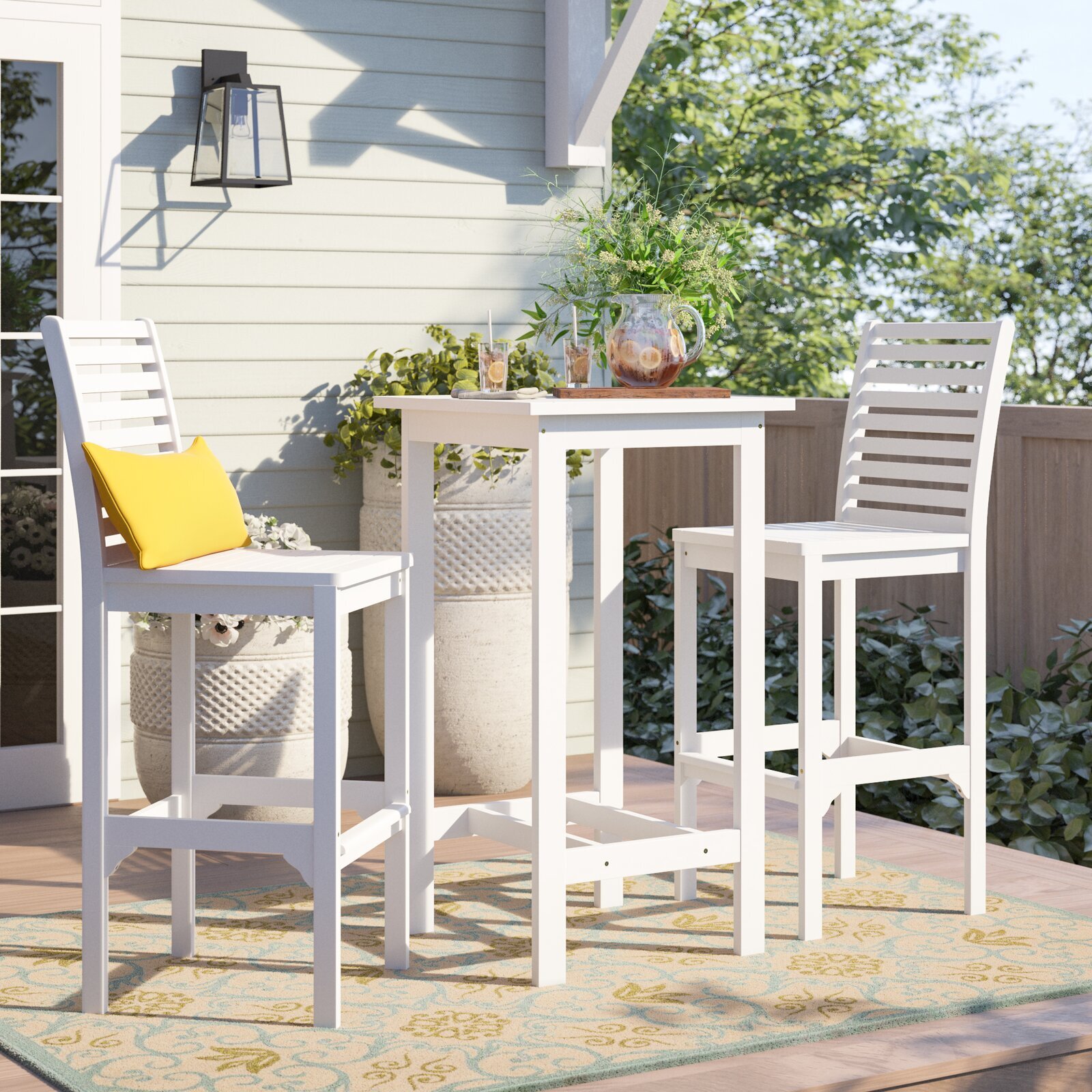 Tall White Beach Pub Table Top

Recreate a beachside or rooftop cocktail bar on your patio with a tall, white table set. A solid wood frame with a white finish exudes summer vibes and provides an ideal table for an al fresco dining experience. As a neutral shade, white is easy to match with existing outdoor decor, especially if you accessorize with flowers, cushions, and a mat underneath.
Although a coastal pub-style table and chairs set isn't large enough to host a large dinner, it offers plenty of space for drinks or a couple's date night meal.
$789.99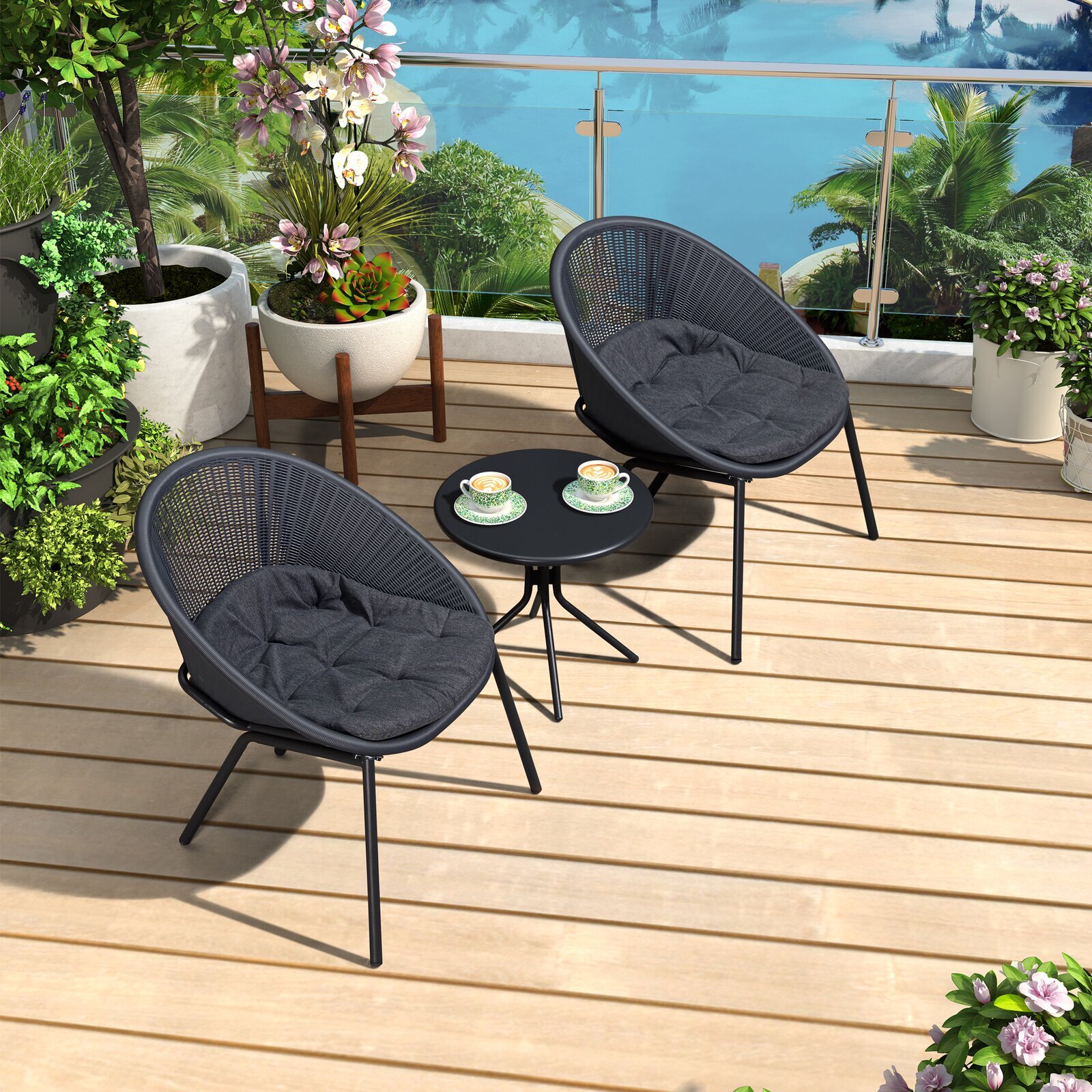 Garden Style Pub Table With Half Shell Chairs

A low pub table set is a great addition to your patio or pool deck for summer events such as barbecues, birthday parties, or lazy weekends in the sun. Garden-style sets are versatile and can be easily brought indoors for a conservatory or screened porch. The half-shell seats allow you to sink back into the chair for maximum comfort.
Opt for a set with a powder-coated metal table and chair frame and PVC woven seat base. Cushions should be at least 2" thick for optimal comfort, and for the chicest look, choose cushion covers in a color that matches the chair for a modern tonal aesthetic.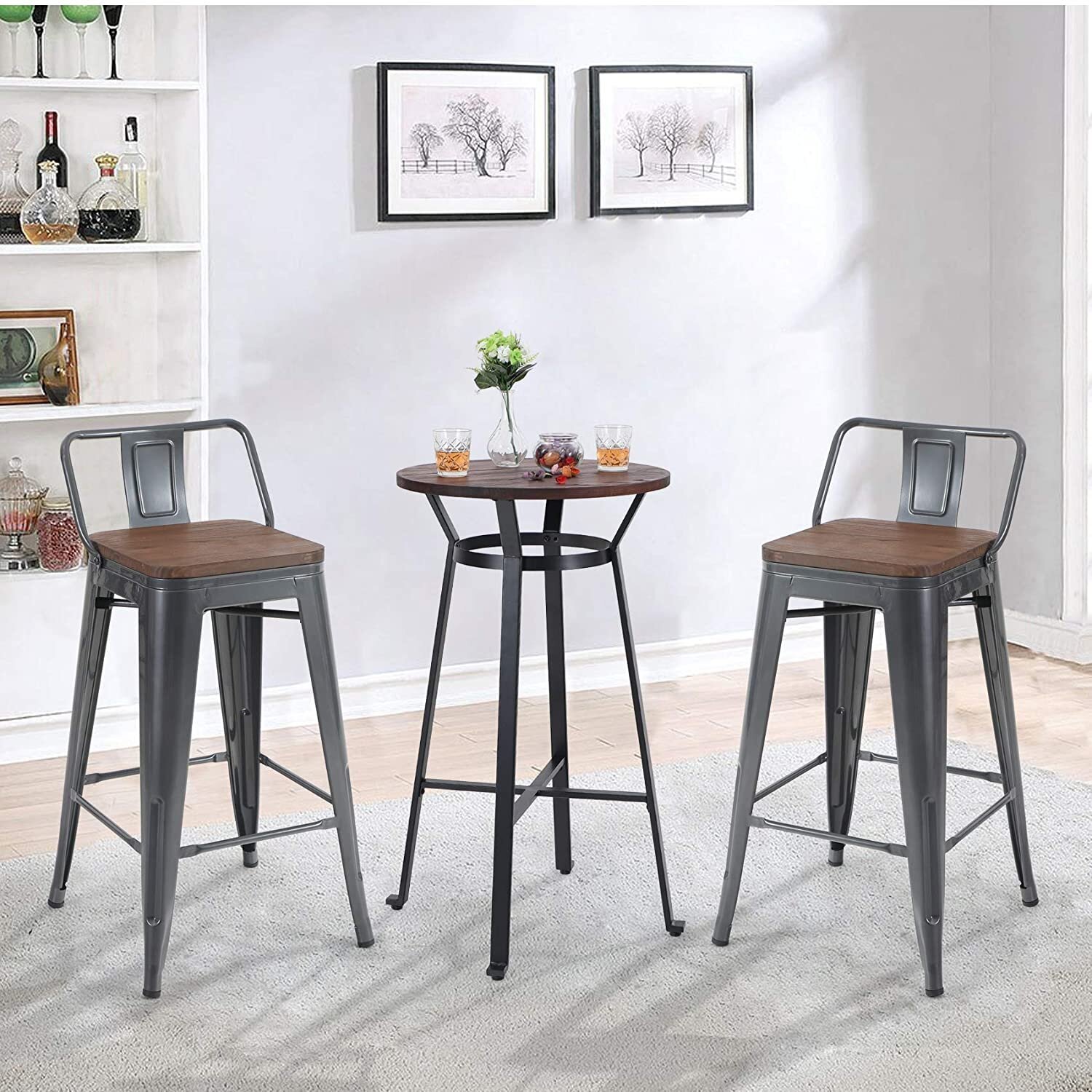 Small Bar Height Table and Chairs

A bar height table can give your patio a cozy home bar feel. The long legs ensure people can gather around and share drinks and conversations, whether they're seated on matching stools or standing. Small bar height tables are usually lightweight and easily transportable, so they can also be used indoors.
Aluminum steel legs and a durable wear-resistant tabletop make this set ideal for outdoor events.