Our Choice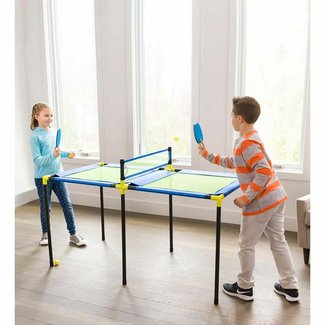 Portable Foldable Indoor/Outdoor Table Tennis Table with Paddles and Balls (25mm Thick)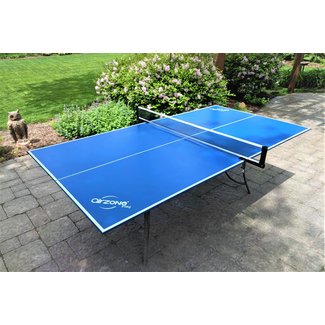 Foldable Indoor/Outdoor Conversion Top (0.5 in. Thick)
Tap into your competitive side with this large indoor/outdoor conversion top. It can be placed on any flat surface, whether a dining table, patio table or even a picnic table. The foam pads located underneath the surface allow sturdy adhesion and perfect levelling of the top. The all-weather plywood material is durable and resistant to wear, scratches and stains. You can rest assured the occasional rain won't damage it if you forget to bring it inside.
MyT10 Storm Foldable Indoor/Outdoor Table Tennis Table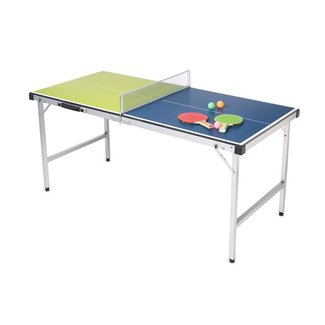 Indoor/Outdoor Table Tennis Table with Paddles and Balls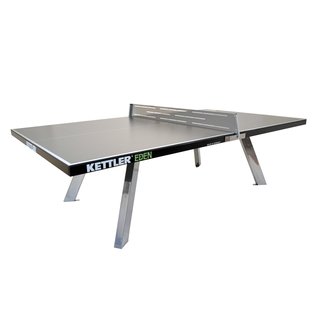 Kettler USA Eden Regulation Size Indoor/Outdoor Table Tennis Table
If you're looking for a tournament-grade table, look no further. With its weatherproof synthetic laminate top, it's ideal for park and recreation settings and larger sporting events. You can anchor the galvanised steel legs in the underlying surface for extra stability (the hardware is included). All outer edges are protected and supported by a 2" apron. It's manufactured in Germany so you can be sure it will provide years of competitive entertainment without loss of quality.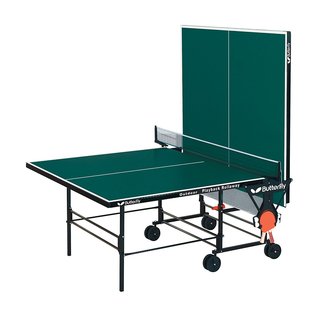 Butterfly Indoor/Outdoor Playback Rollaway Foldable Table Tennis Table (6mm Thick)
This classic-looking table will blend into any environment. Unlike most tables, it's backed with a 10-year warranty so you can unplug from technology and enjoy your wild outdoor ping-pong matches without worrying about it breaking. It features special child-safety levers. They lock the table in the storage position and prevent the table halves from falling down. |The 4 rotating wheels promote easy transportation, and the playback mode option allows one half to remain upright so you can play solo.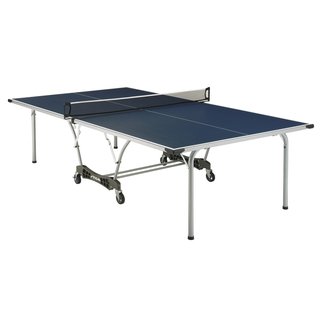 Stiga Coronado Foldable Indoor/Outdoor Table Tennis Table
This navy wooden table with steel construction is perfect for gaming time on a deck or porch or even in your garage. The aluminum component encapsulating the gaming surface is rust- and warp-resistant making it an ideal choice for outdoor conditions. The table is enhanced with lockable casters to ensure the table stays in place, and to ease the process of transportation between game and storage areas.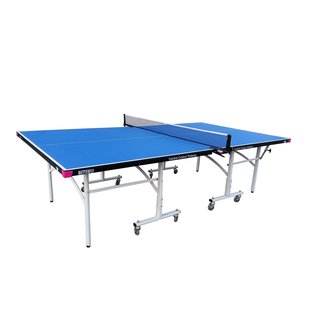 Butterfly Easifold Foldable Indoor/Outdoor Tennis Table (12 mm Thick)
If you're looking for top value, convenience, and playability in an indoor or outdoor ping pong table, this product has you covered. The proprietary 12mm Compgreg top consists of 11 layers of resin-treated plywood. This produces a consistent bounce and performance resembling a high-quality indoor table that's better than aluminum, melamine, and other hybrid materials offered by other manufacturers. The extra strong top incorporates a special coating of DuPont paint which protects it from adverse weather conditions and is virtually unbreakable.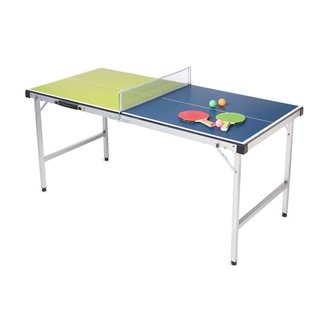 Pick-Up-And-Go Mini Foldable Indoor/Outdoor Table Tennis Table with Paddles and Balls
Ideal for kids, this ping-pong table is foldable and easy to carry making it a must-have during summer outings to your cottage or lake vacation spot. Set it up virtually anywhere to occupy your kids' time in a more active non-electronic way. You can pair the 2-colour top with matching t-shirts for an extra dose fun. The table comes with 2 colourful paddles, 1 net, and 3 balls so you can get all you need to kickstart a game with just one purchase.
Mini Foldable Indoor/Outdoor Table Tennis Table with Paddles and Balls
Maximise fun while minimising space with this crossover's slender tennis table. It's perfect for older kids, teenagers, and adults. It's extremely light and its compact size fits into a trunk when folded so you can bring it along for family reunions or holiday gatherings. With an easy 15-min. assembly you can quickly save your kids from boredom or internet addiction.