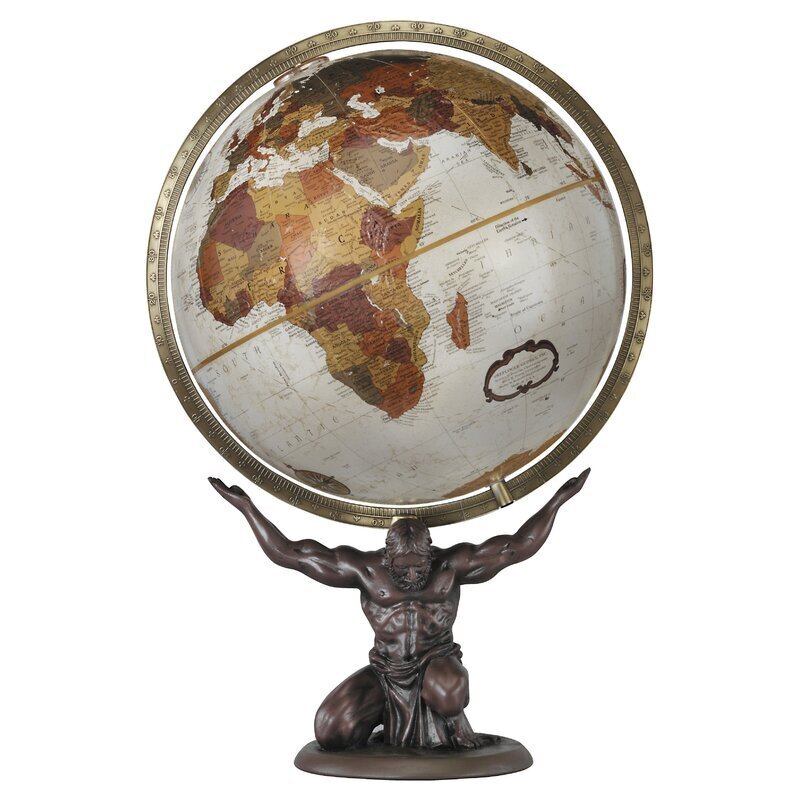 Floor World Globe Held Up by Atlas
This bronze floor globe has Atlas knelt and supporting the world on his shoulders. At 4.2 pounds, this piece stands 12" deep, 13" wide, and 20" tall and fits into any space. In addition, the globe displays political and topographical data.
Designer Advice:
Floor globes that tell a story, such as the powerful legend of Zeus and Atlas, are a great decor choice for libraries, offices, or studies. The bronzed frame adds a vintage vibe that can make your space feel upscale and fancy while blending with any design style. It can make a great educational piece or focal point for any room.
Merchant links are sponsored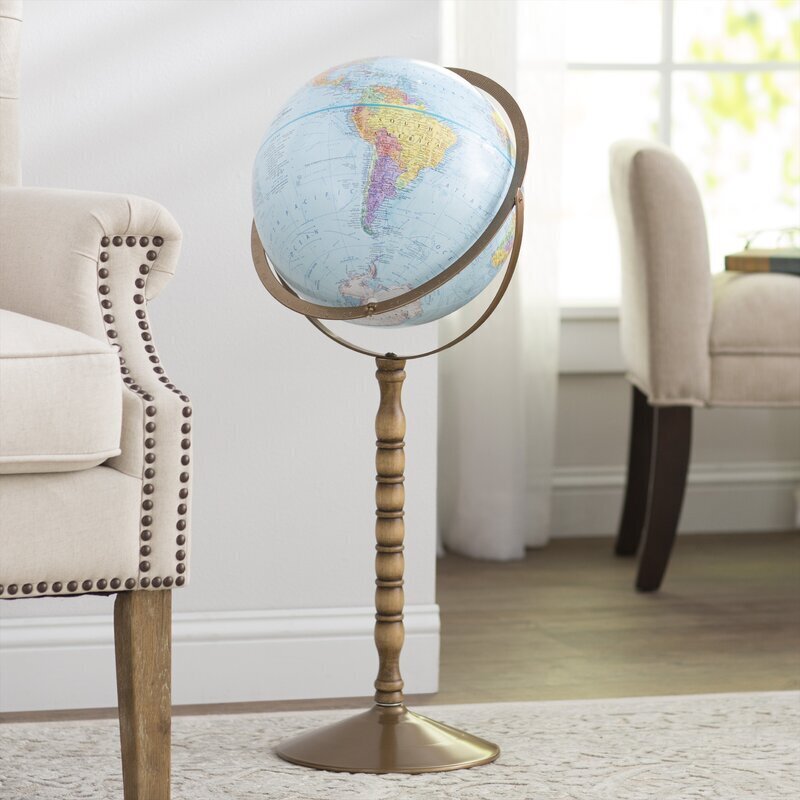 Minimalistic Turned Post Floor Globe
This understated globe has a 32" tall skinny turned post with a flared pedestal base. A gyro-Matic mount allows the calibrated meridian to have a full swing ability. You can remove the center post to use the raised relief globe on a desk.
Designer Advice:
Globes with swinging abilities make it easier to view the entire world or a specific section. Having a calibrated meridian means you'll always be able to orient the globe by equator and hemisphere. And being able to adjust from a floor globe to a desk globe gives you greater versatility with the same piece.
Merchant links are sponsored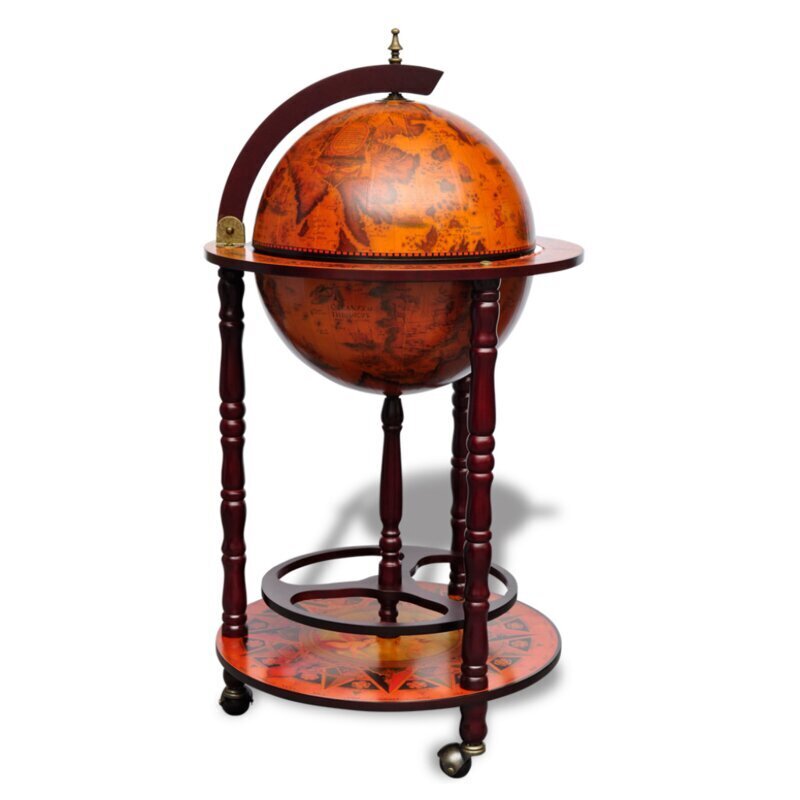 Tinted Rollable Floor Globe Bar
You can create an intelligent elegance in your space with this globe bar on wheels. The antique world map motif comes in three tints. A centered shelf holds drinks, while the 47" wide and deep globe stores casters, glasses, and bottles.
Designer Advice:
Globe bars can be a fantastic addition to your space, serving as function and fashion. It's a great way to keep your liquor hidden from plain view and your area organized. And by being a world globe, it makes you look sophisticated and intelligent. While the built-in wheels make it easy to relocate the bar to different areas or rooms.
Merchant links are sponsored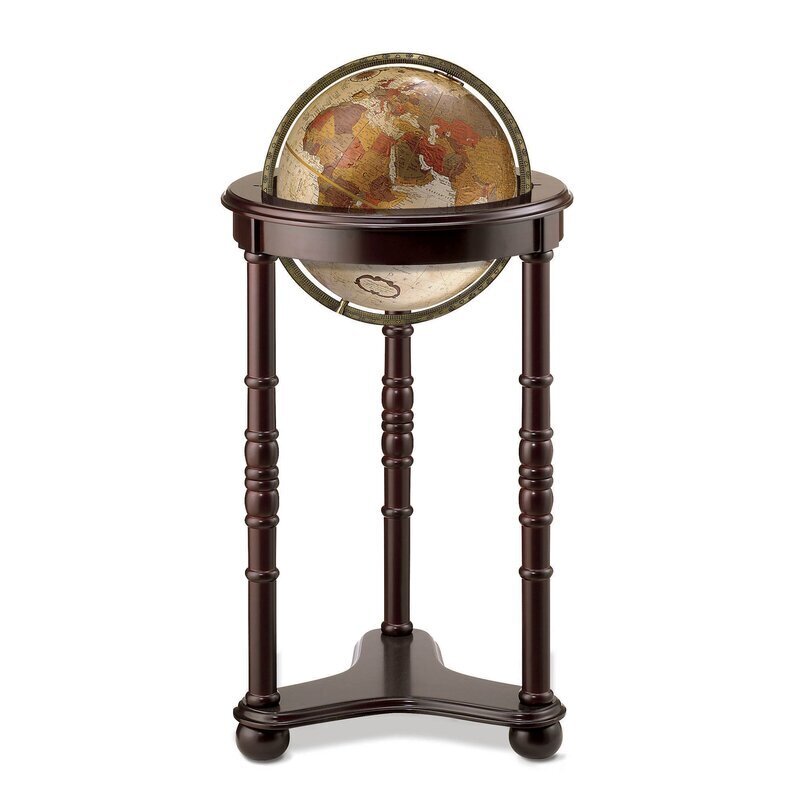 Minimalistic Vintage Spinnable Floor Globe
This floor world map covers a bronzed metallic ball set inside a chair-side wood stand in a rich cherry finish. Carved accents enhance the vintage 35" tall, 18" wide, and deep frame and highlight the 12" wide metal die-cast meridian.
Designer Advice:
Globes can be vintage or modern and look superb when mixed with materials. For example, the metallic bronze finish of the globe ball enhances the deep tones of the wood frame. And traditional touches like rounded ball feet complement the gray style of the metal meridian border that surrounds the globe opposite the centered wood chair border.
Merchant links are sponsored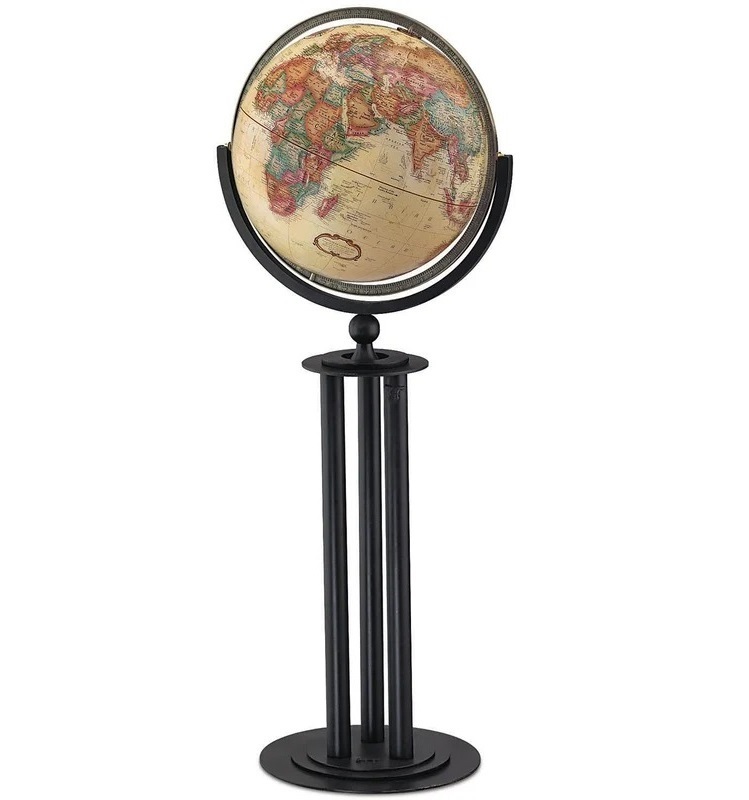 Industrial Modern Floor Globe Stand
Invibe your space with an industrial nuance with the inclusion of this all-metal floor globe. The central column has three 16" slender black cylinder rods. An antique ocean globe in tan rests atop a slender ball neck and a split meridian.
Designer Advice:
You can display world globes from various base styles, including wood, metal, or a combination of the two. All metal globes can be a great infusion of modern and industrial, giving you a bold statement with little effort. Simple accents like a split meridian and a ball neck can add modern touches to a vintage tan globe color.
Merchant links are sponsored