Are you looking for a functional pub table set that would also complement and blend well with your home style? If so, you've come to the right place.
Pub table sets come in all kinds of designs and styles, whether you're looking for a Victorian piece to match your current theme or a contemporary one to add a modern touch to the setting. Plus, these pieces of furniture are versatile, offer numerous benefits, and come with convenient features that could prove to be useful when needed.
You may be overwhelmed seeing all the different models available and don't know which one to pick. But don't worry. Here, we've rounded up 7 small pub table sets that may grab your attention.
1.

Dorel Living Tanner 3-Piece Brass Pub Set

If you're looking for a bar table set that combines style and functionality in a space-saving structure, this may be the one for you. Its sleek transitional design features a faux marble top perfect for meals and laptop work, elegant glass shelves for your storage needs, and a soft brass finish that adds a luxurious touch to the setting.

It comes in a rectangular shape that doesn't take up too much room yet provides ample space for an intimate dinner between two.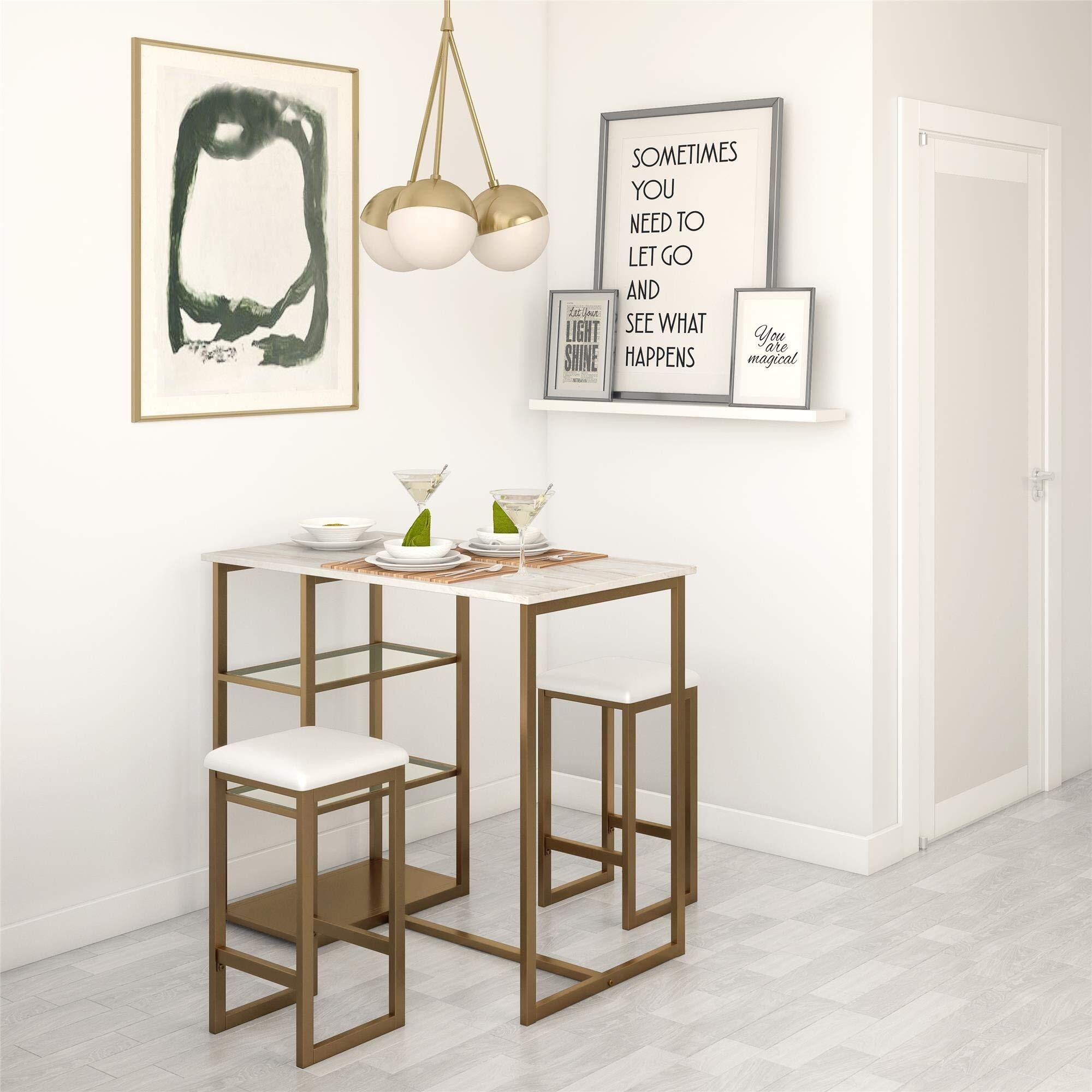 2.

Francis 3 Piece Counter Height Pub Table Set

This space-saving pub table set offers versatility in terms of usage and style. Its black and walnut color combo can easily blend well with both bright and dark colors and suits various home styles, such as modern and art deco.

You can use this pub table set as an entertaining spot for board games and drinks, a working area for uninspired days, a breakfast nook in the morning, and much more. This set comes with 3 shelves and 2 nooks for displaying your glassware, books, and decors. In addition, the chairs can be stowed underneath the table to save space when not in use.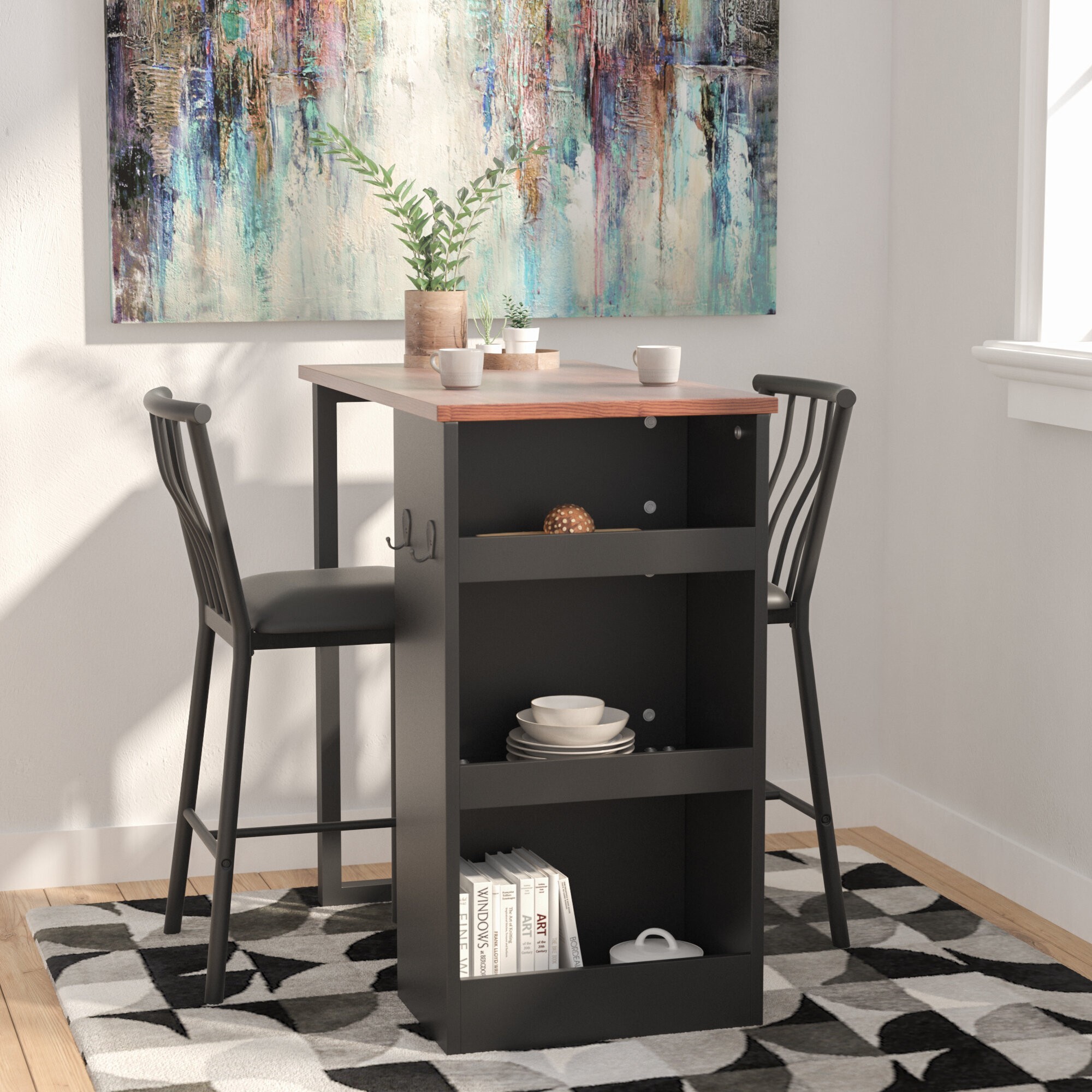 3.

Antique Carmona 3 Piece Adjustable Pub Table Set

Add an eye-catching addition to your home with this industrial pub table set. It serves as a unique focal point in the room and has a bar-like flair with its round tabletop and metal base. Its charming design will surely attract your guests.

This pub table set is compact while still being able to provide enough room for two people to enjoy a meal and drinks. As a bonus, the set comes with matching stools that can be adjusted according to your preferred height.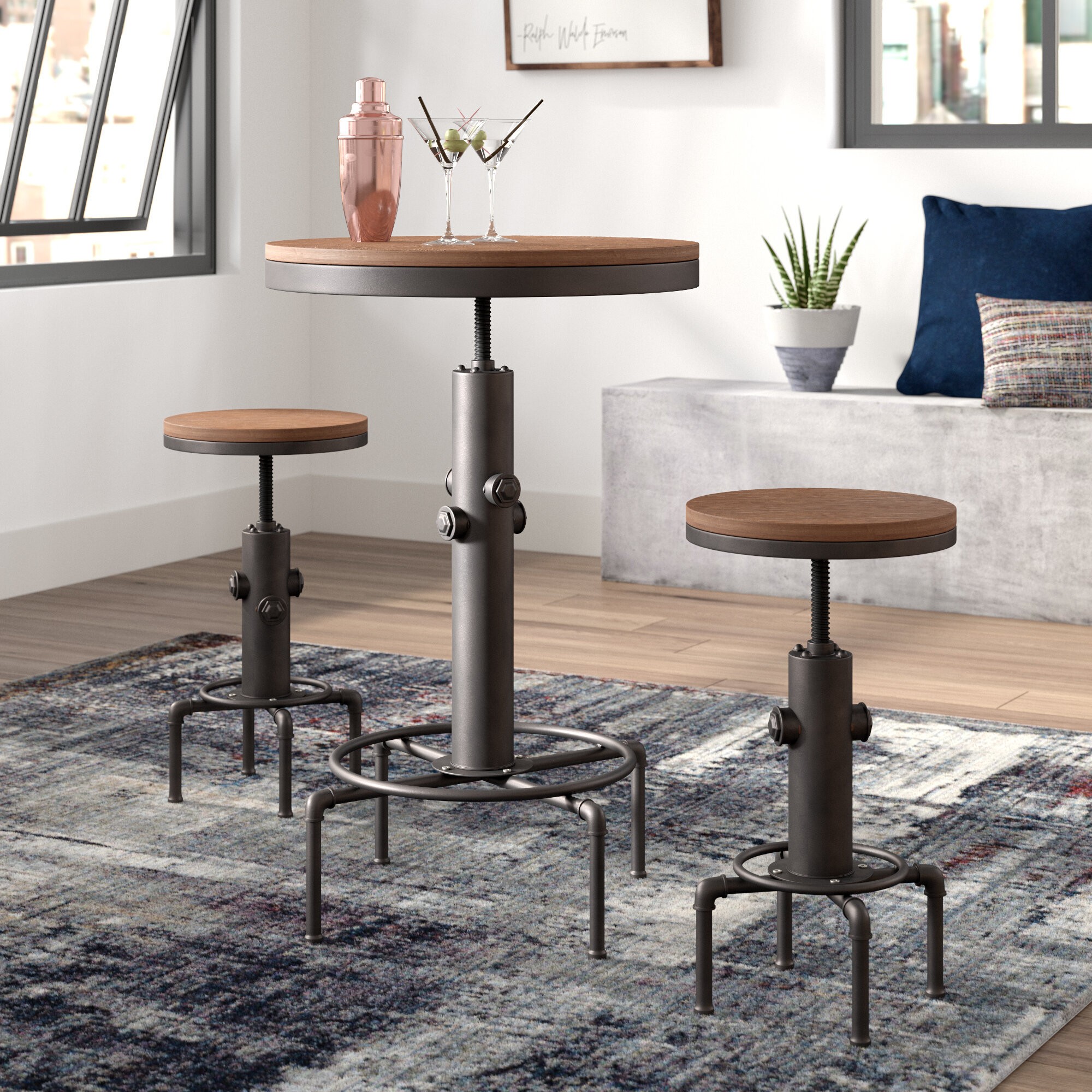 4.

Black Ealy 3 Piece Pub Table Set

Are you looking for something a bit more traditional and classy? If so, this pub table set is a great option.

Made from solid wood in a shiny deep finish with seats in warm colors, this set offers a comfortable and luxurious dining experience for those with tight spaces. You can also use this pub table set for afternoon tea, drinks with a friend, or turn it into a fun area for board and card games.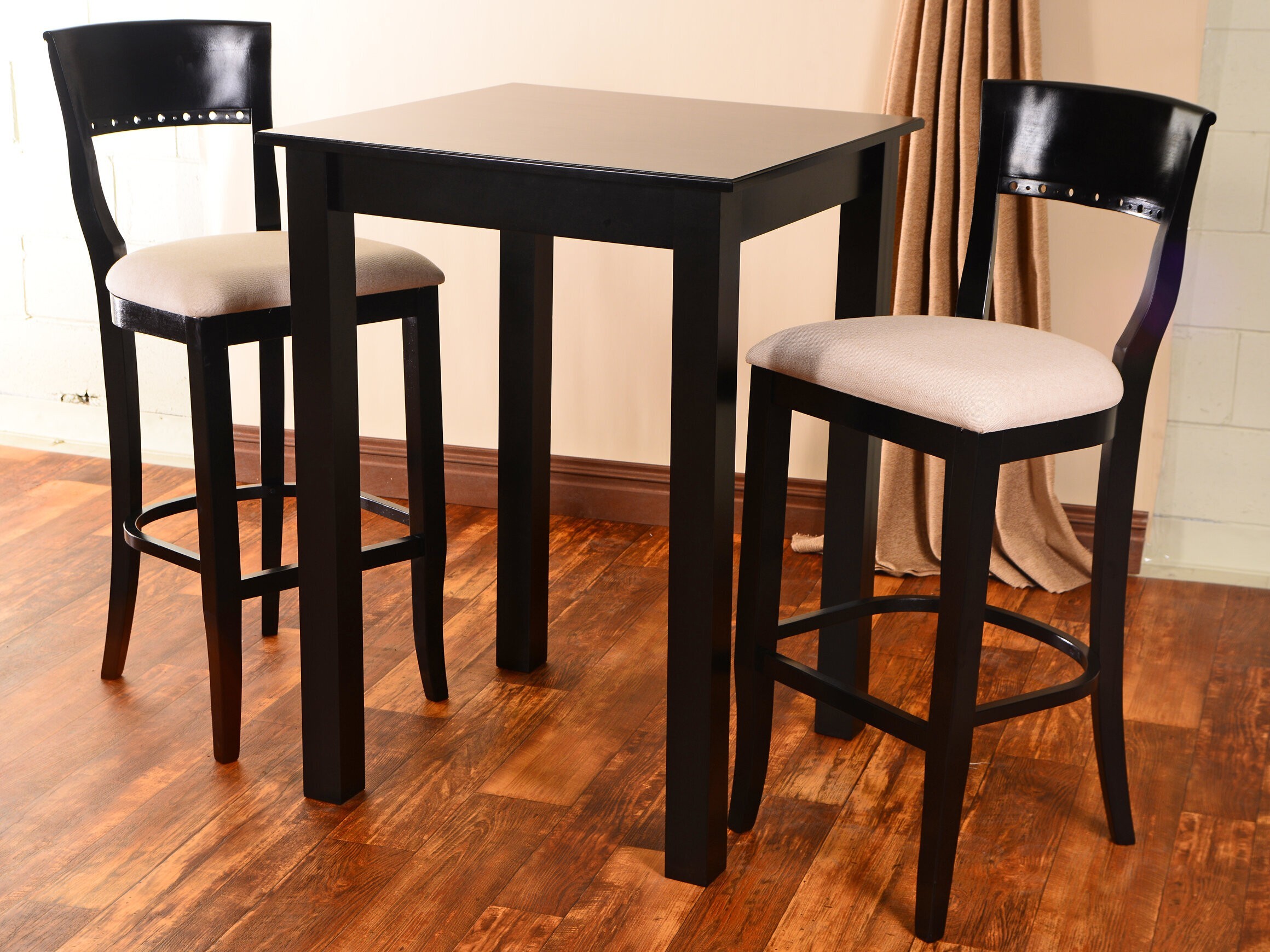 5.

White Cuyahoga 3 Piece Pub Table Set

Elegant with its faux marble tabletop, this pub table set is perfect for contemporary spaces in need of a luxurious addition. It takes up minimum space, yet can easily open up with its two leaves, creating a spacious surface for you and your guests.

The stools come with padded leather cushions, ensuring you'll be comfortable while you relax with a glass of wine or enjoy a meal between friends and families.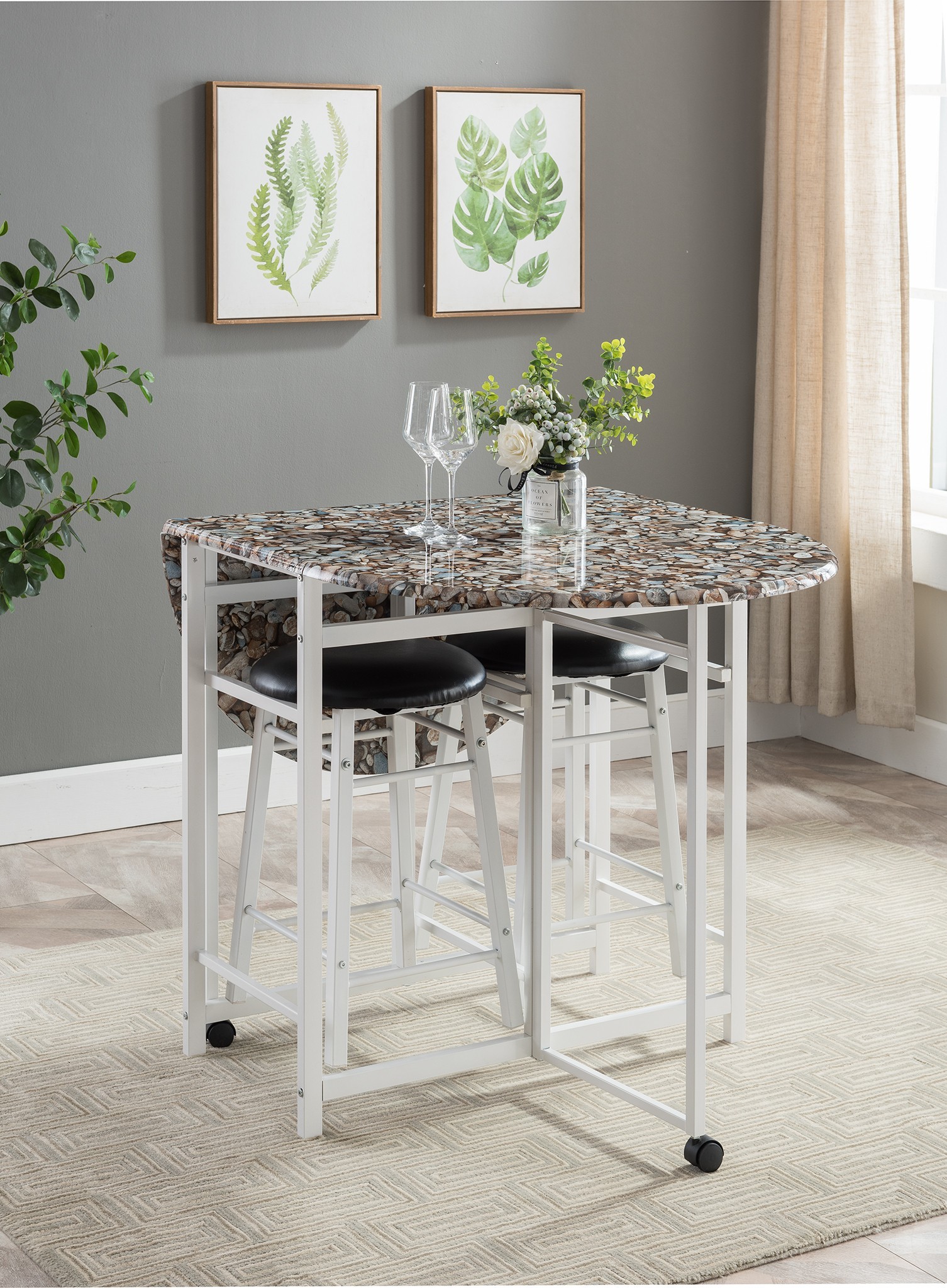 6.

Crownover 3 Piece Bar Table Set

Space-efficient, multifunctional, and charming are adjectives that best describe this bar table set. If you struggle with lack of space, this set can come in handy, while providing the room with a traditional flair.

Its graceful design in walnut comes with 2 pull-out side panels for extra surface, a drawer for keeping your essentials nearby, and two stools that can be stored under the table to maximize space.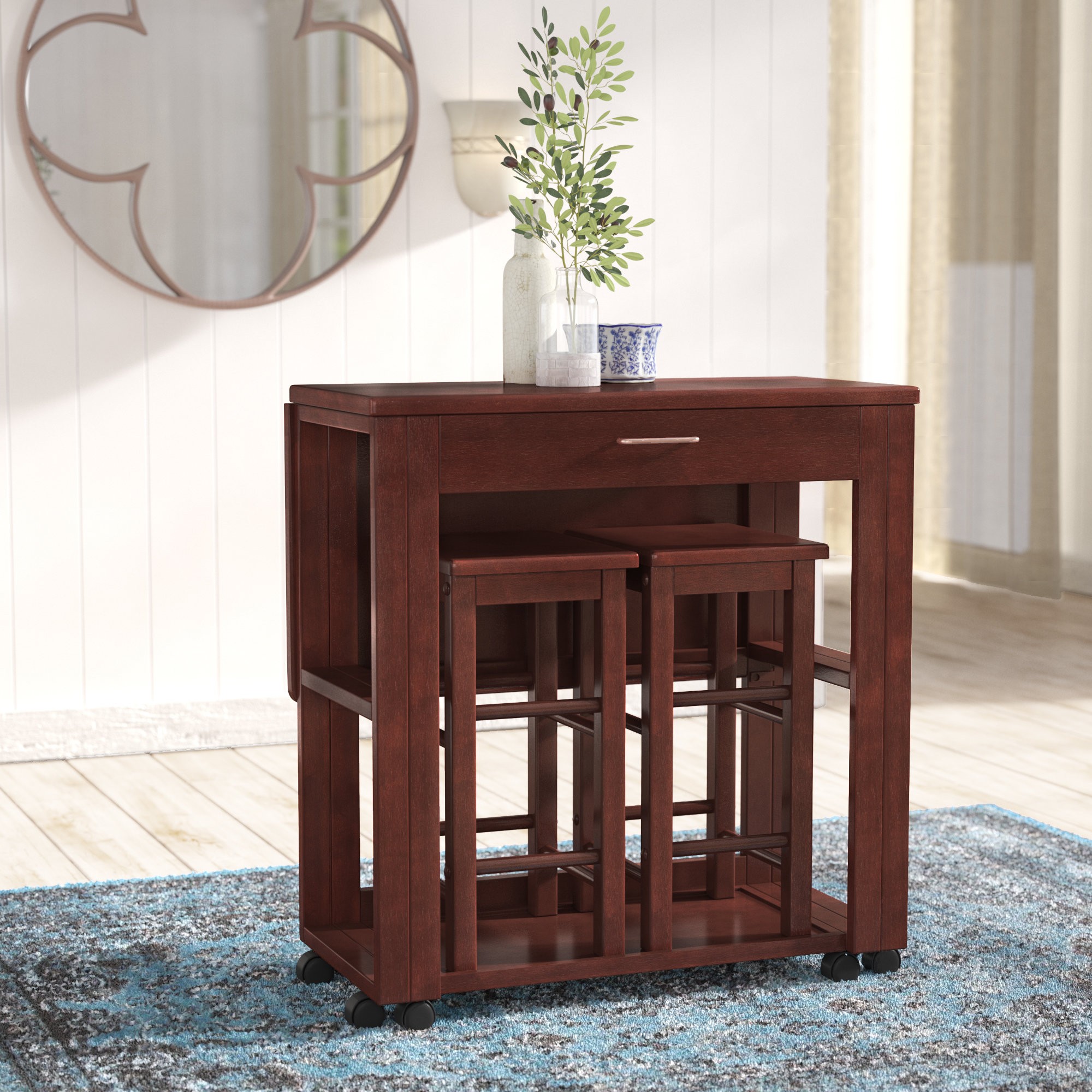 7.

Villani 3 Piece Pub Table Set

If you're looking for a pub table set that'll stand out and make a striking statement, this bold set is a perfect choice. Whether you have a cozy rustic living room or an industrial kitchen, its metallic design will provide your space with style and uniqueness that is sure to impress your guests.

Its neutral brown tabletop adds a welcoming touch to the design and is perfect for intimate dinners in the evening or coffee breaks during the day.