Buying a sandbox with cover is obviously the most practical solution. However, if you enjoy getting creative with DIY projects and want to surprise your kids with a unique model that can't be found in a shop… roll up your sleeves!
Here are 5 DIY sandbox cover ideas to get your crafty juices flowing.
We've made sure to include tutorials for every budget and skill level, especially with a few projects that involve items and materials that you probably already have at home or were about to bin.
Don't you dare take that dresser to the dumpster!
Upcycled DIY sandbox with cover
We might as well start with this one just in case you thought we were joking. Yes, you can make a sandbox with cover using that old dresser that looks a bit outdated!
This DIY tutorial will result in a compact sandbox that's perfect for an only child to entertain themselves at home, especially if you haven't got a lot of room in your backyard;

It even has a seat for them to play comfortably without necessarily having to sit in the sand all the time;

This project is highly customizable and you can paint the sandbox in your kid's favorite color;

What we love the most about this DIY tutorial is that, as well as it resulting in a top-notch sandbox, it also helps you reduce waste by prolonging the life cycle of your old dresser. A great idea both for your kid and the planet!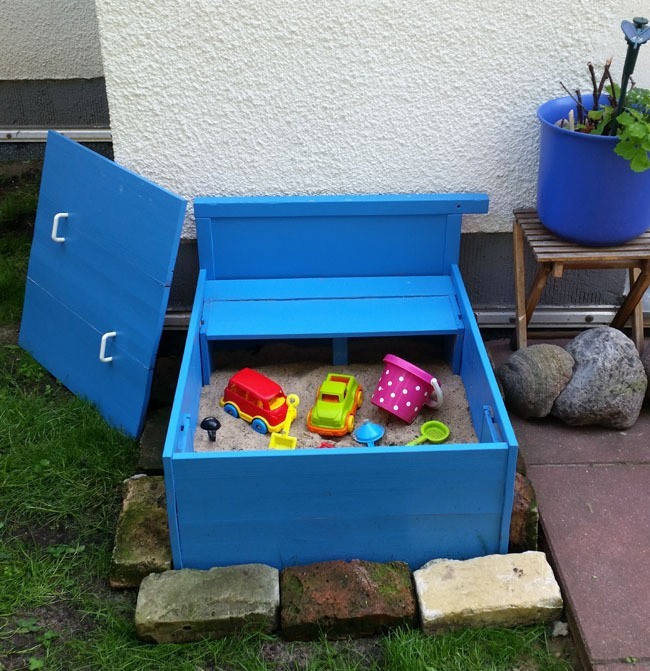 Wooden sandbox with cover
Were you after something bigger? If you've got a large garden or backyard and would rather build something from scratch, this wooden sandbox with cover could be your solution.
Because it's 5 feet wide, it offers plenty of space for your kid to play with a few friends;

You can keep the wood's natural color to match the style of your garden or you can easily decide to paint it and make it brighter and quirkier!

Since the cover looks just like the rest of the sandbox, it guarantees a pleasant element of consistency both when it's open and closed.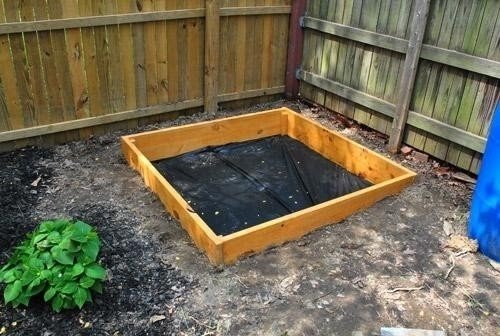 Color-block sandbox with cover… from a bookcase!
Some parents just never run out of creative ideas! As well as from a dresser, apparently you can create a DIY sandbox with cover using an old bookcase.
You can divide it into separate compartments: the larger one is obviously for the sand whereas the smaller side will allow you to keep your kid's toys safe and tidy;

Unlike most sandboxes, this is a better option to let your kids play around it rather than sitting inside it. Definitely a handy space-optimizing solution for those who haven't got enough room for a large sandbox but don't want to disappoint their kids!

Because it involves several shelves and compartments, it'll be easy to paint it in different colors to create a fun palette that pleases your little one;

Its cover is light and easy to lift thanks to its handles.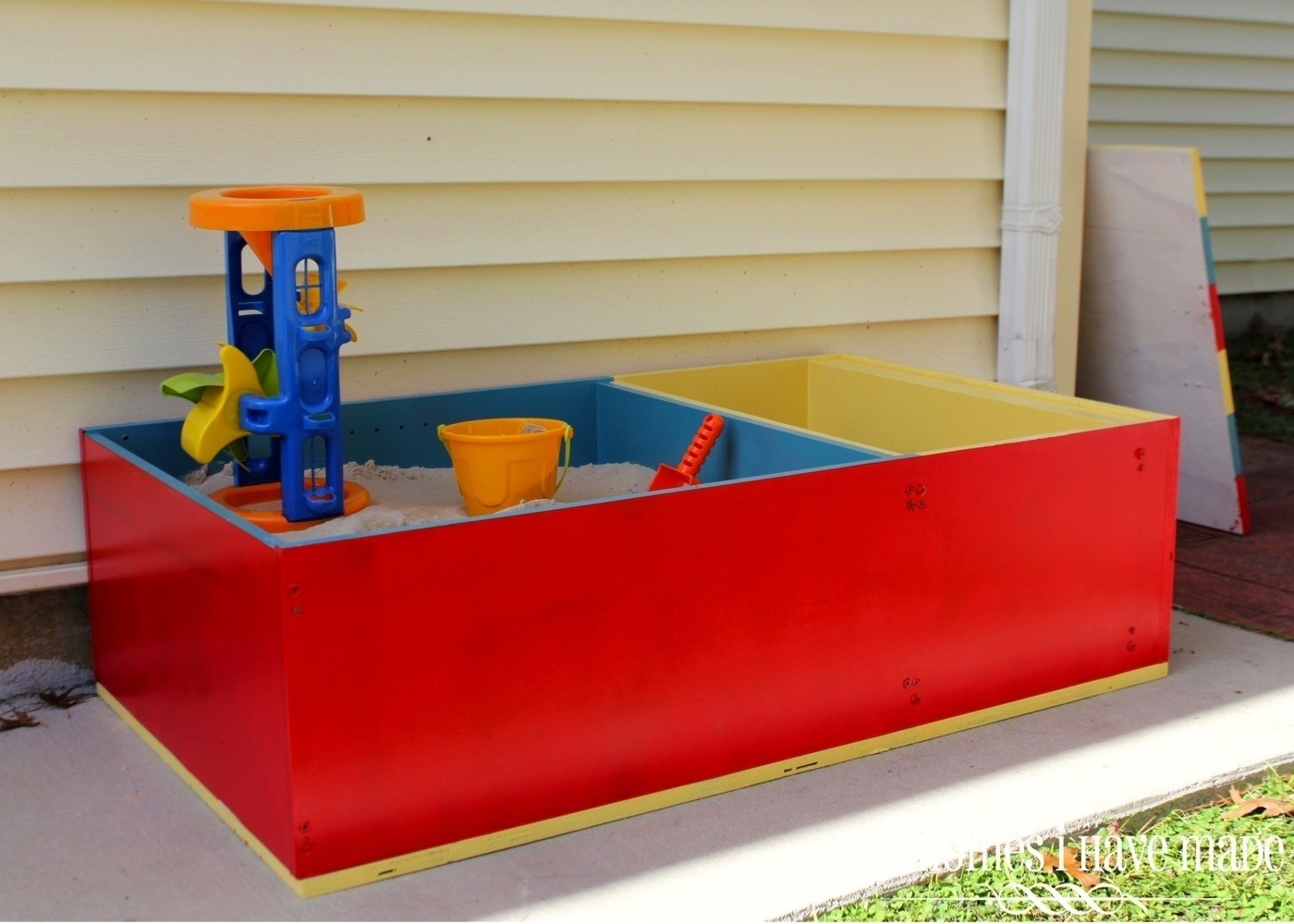 DIY sandbox with tent-style cover
Here we have a very different type of DIY sandbox with cover: instead of featuring a lid-style accessory to use once playtime is over, it flaunts a beautiful sail-like tent!
This is the safest option if you haven't got a shaded spot in your garden. If your kids spend hours playing in their sandbox under the sun, they could get sunburnt. This type of cover solves that problem while ensuring plenty of ventilation;

We're confident that your kids will immediately fall in love with its teepee-style structure;

It also provides them with their own little safe space (no adults allowed in, obviously!);

To make sure it lasts longer, opt for UV-resistant fabric;

If you live in a particularly windy or rainy area, this type of sandbox won't be your best choice, as the tent doesn't protect its content as well as tighter types of covers.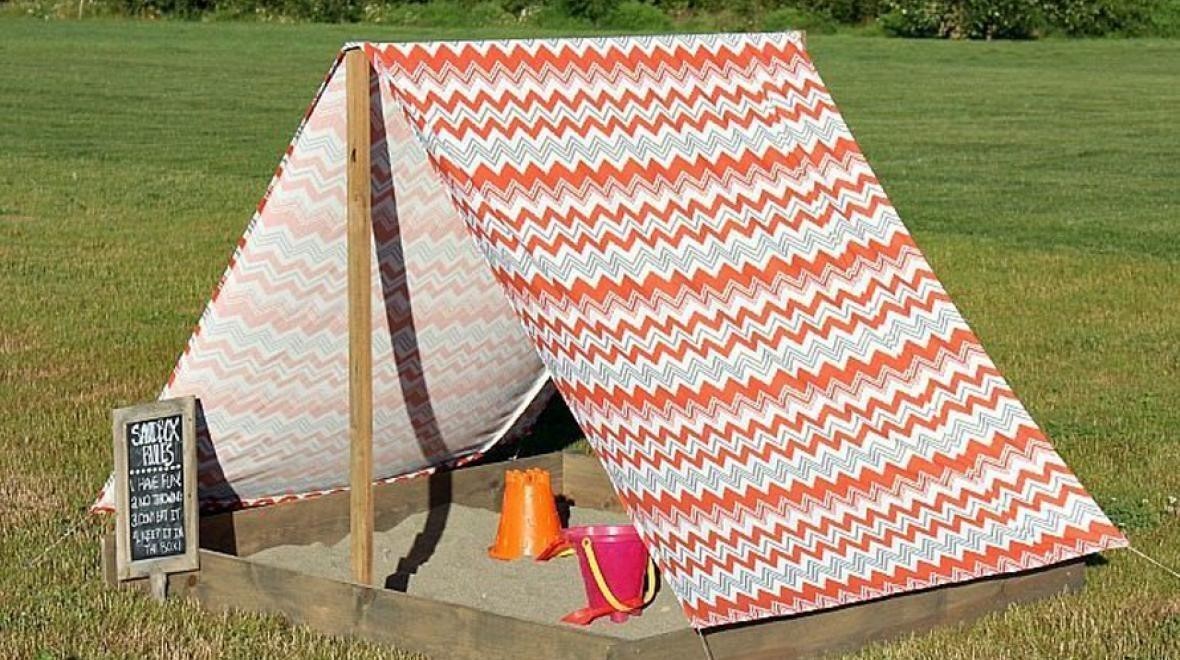 DIY sandbox with folding lid and seats
We'll be honest: this isn't the easiest sandbox to build for beginners! However, if you're already pretty skilled at DIY projects involving wood or you're simply up for a challenge, this deluxe sandbox with folding lids and seats will be a real treat for your kids.
This DIY project gives you a beautiful sandbox with cover that, made of natural wood, will look in harmony with the rest of the garden;

Although it's quite large, it's still a space-optimizing choice because the seats turn into the lid and vice versa;

It's very comfortable because a few friends can sit next to each other while playing;

You know what that means: sand parties for your kids!

There's still enough room to leave their toys in between the sand and the lid;

This wooden sandbox with cover will certainly require more maintenance if you want it to look just as good in a few years: you should probably recoat the wood and use weather-resistant paint.