What better way to start the day than to gather around a cozy breakfast nook with your entire family?
These versatile sets are available in all kinds of sizes, colors and designs, so it won't be hard to find a breakfast nook that matches your kitchen's layout and décor here.
However, if you were hoping for some inspiration, you can always check out our ten favorite breakfast nooks.
Stephanie 3 Piece Solid Wood Breakfast Nook Dining Set
This beautiful white and walnut-colored set would be a stylish addition to any traditional décor as well as French country and shabby chic styles. Thanks to its natural palette, it would also work harmoniously in Scandinavian settings;

Because of the natural wood grains, each piece is unique and charming;

This breakfast nook can fit six people and, thanks to its flexible layout, you can place it left or right to best fit your kitchen;

The benches also hide a secret storage space, which can always come in handy.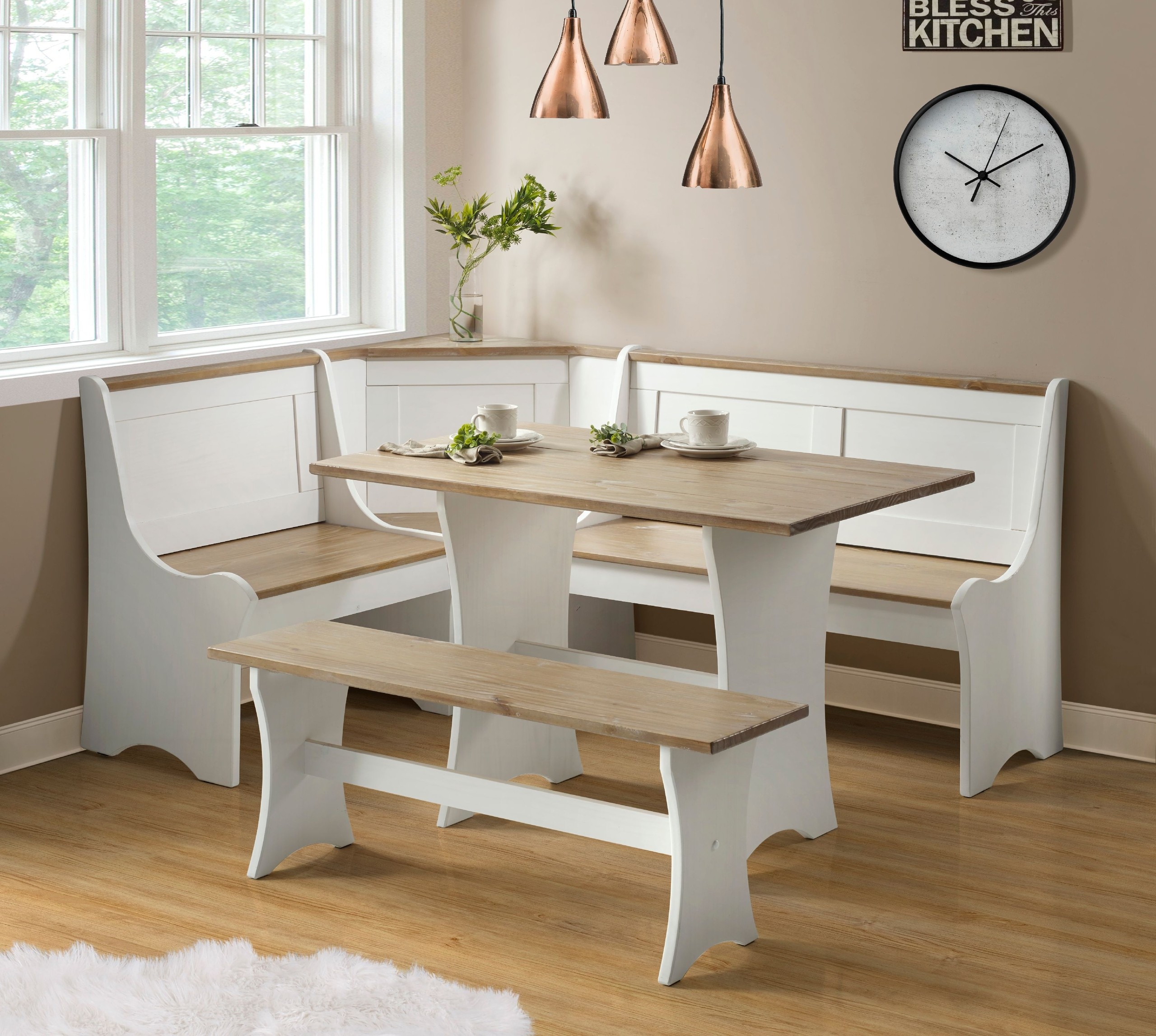 Villepinte 4 Piece Breakfast Nook Dining Set
This breakfast nook follows a similar design to our previous recommendation, but, while it also seats up to six people, it's made for larger settings;

You can either use it to make the most of the corner between two walls or show it off in the middle of the room;

Thanks to its Mindi and mahogany build, it works better in rustic settings and for whoever wants to combine stylish and casual vibes;

It also comes with that coveted secret storage that we all love!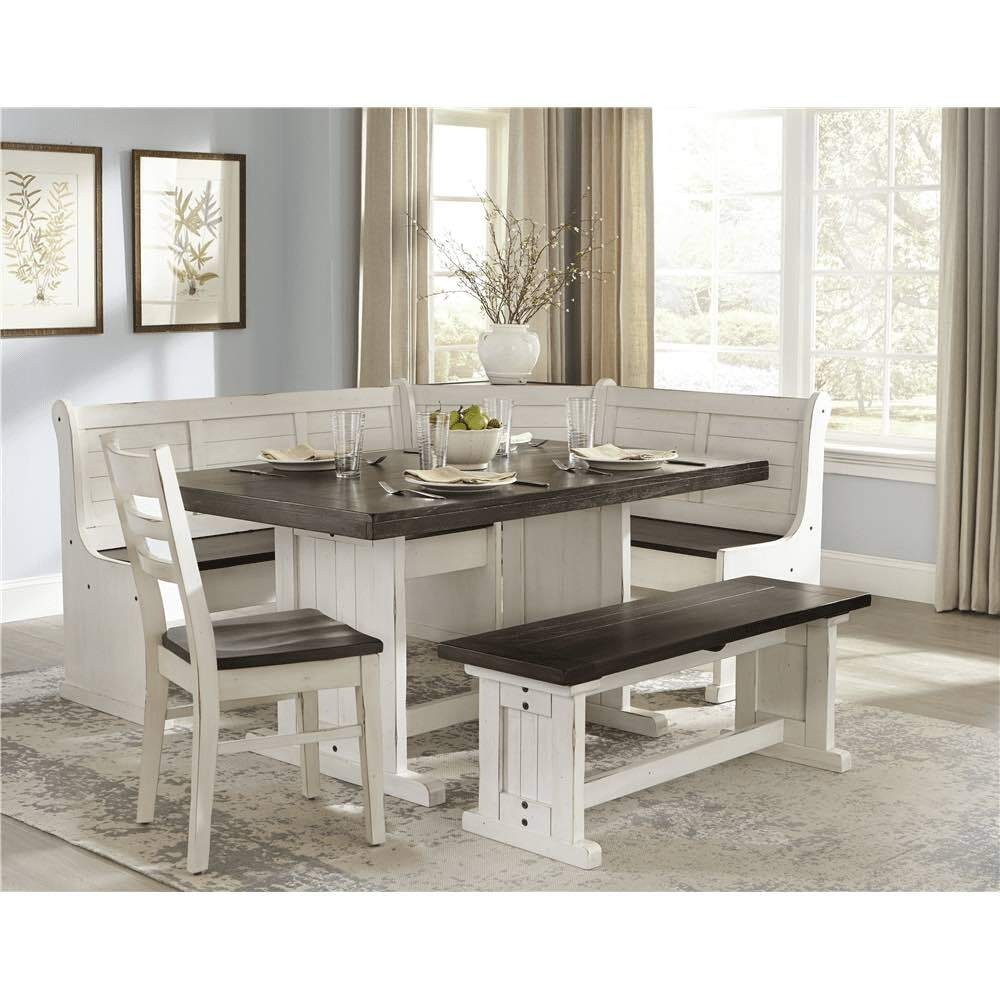 Beldane 5 Pieces Breakfast Nook Dining Set
This sleek model is ideal for those who are after a table-style nook;

It almost goes without saying that, with those perfect geometrical lines and the combination of wood and metal, it practically screams industrial décor;

Because you can easily push the four stools back underneath the table whenever you're not using them, this breakfast nook is a rather space-optimizing option;

You can also find the right finish for your kitchen or dining room since both the table and the stools are available in two color options.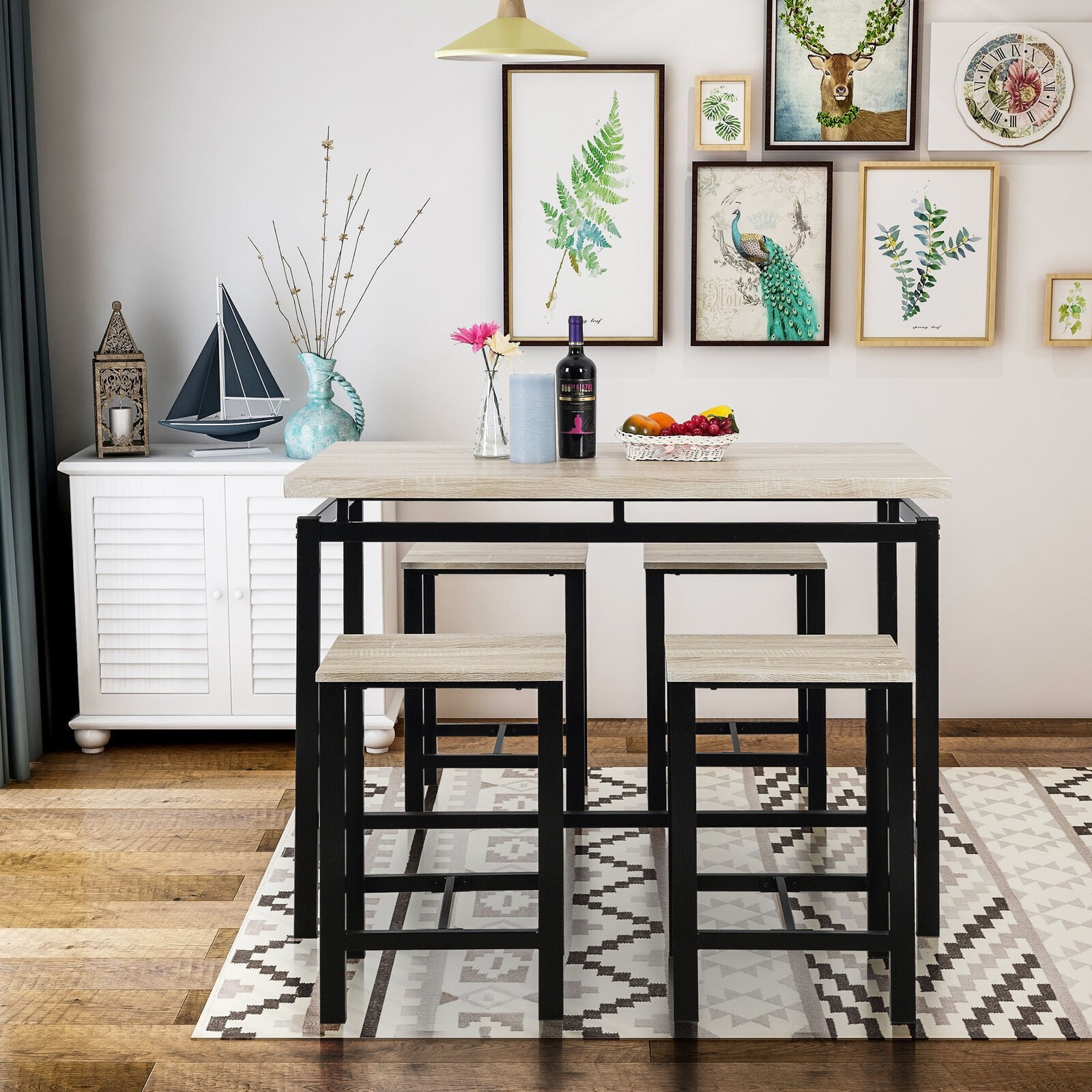 Winsome Trading - Burnett Kitchen Breakfast Nook
If you're tight on space and shopping on a budget, we think this would be the best solution for you;

This small but mighty beechwood model is a welcome surprise: you can store the two bar stools underneath the table when you're not using them and fold down the top surface;

The result? When closed, it doesn't even reach 16" in depth!

As if that weren't incredible enough, it also somehow manages to pack in two drawers that are just what you need to store your breakfast cutlery or a couple of cookbooks.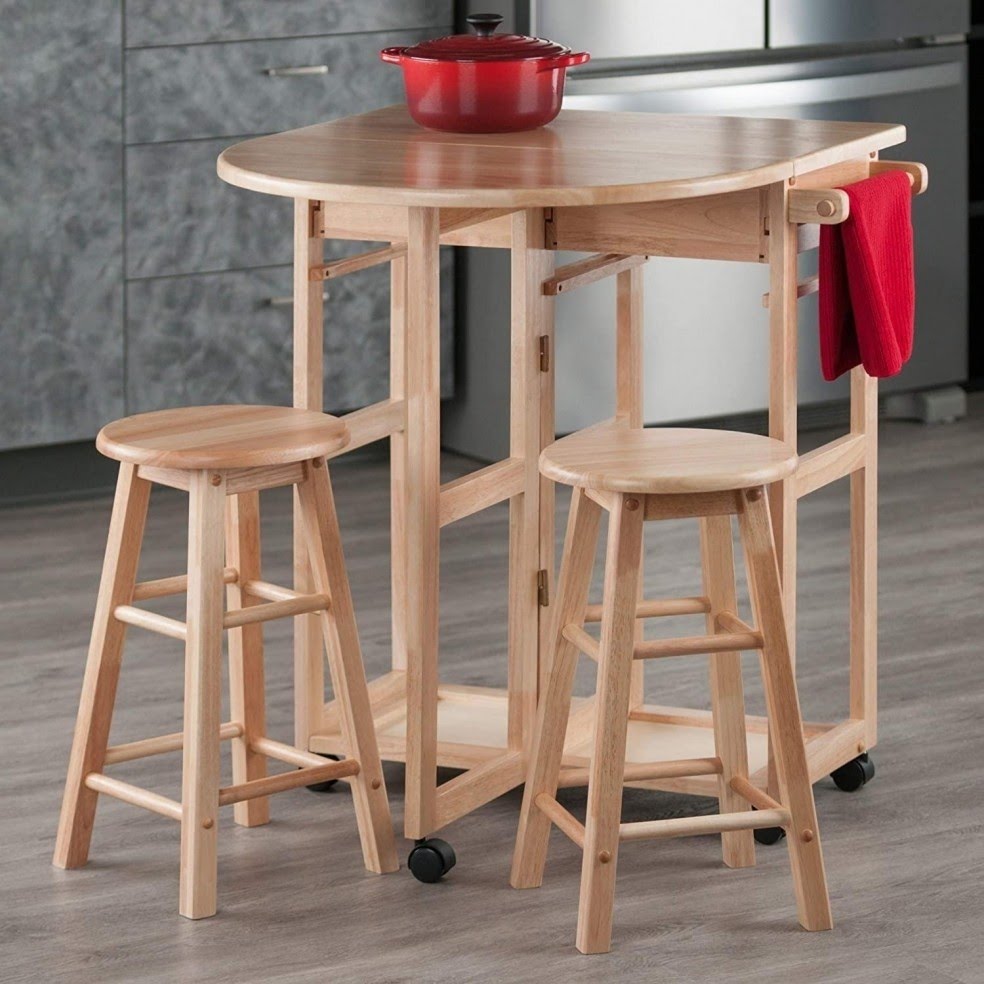 Salida 3 Piece Counter Height Breakfast Nook Dining Set
Were you excited at the idea of finding a breakfast nook but worried that your kitchen wouldn't be big enough for those bulkier models? This small set is a fantastic solution!

A beautiful compromise between traditional nooks and American-style breakfast bars, it's perfect for the modern couple who lives in an apartment and must optimize their existing space;

The shapes of its wooden frame and top make it a dream for minimalist and Scandinavian décors in particular;

The two stools are topped with light polyester upholstery that's effortless to clean.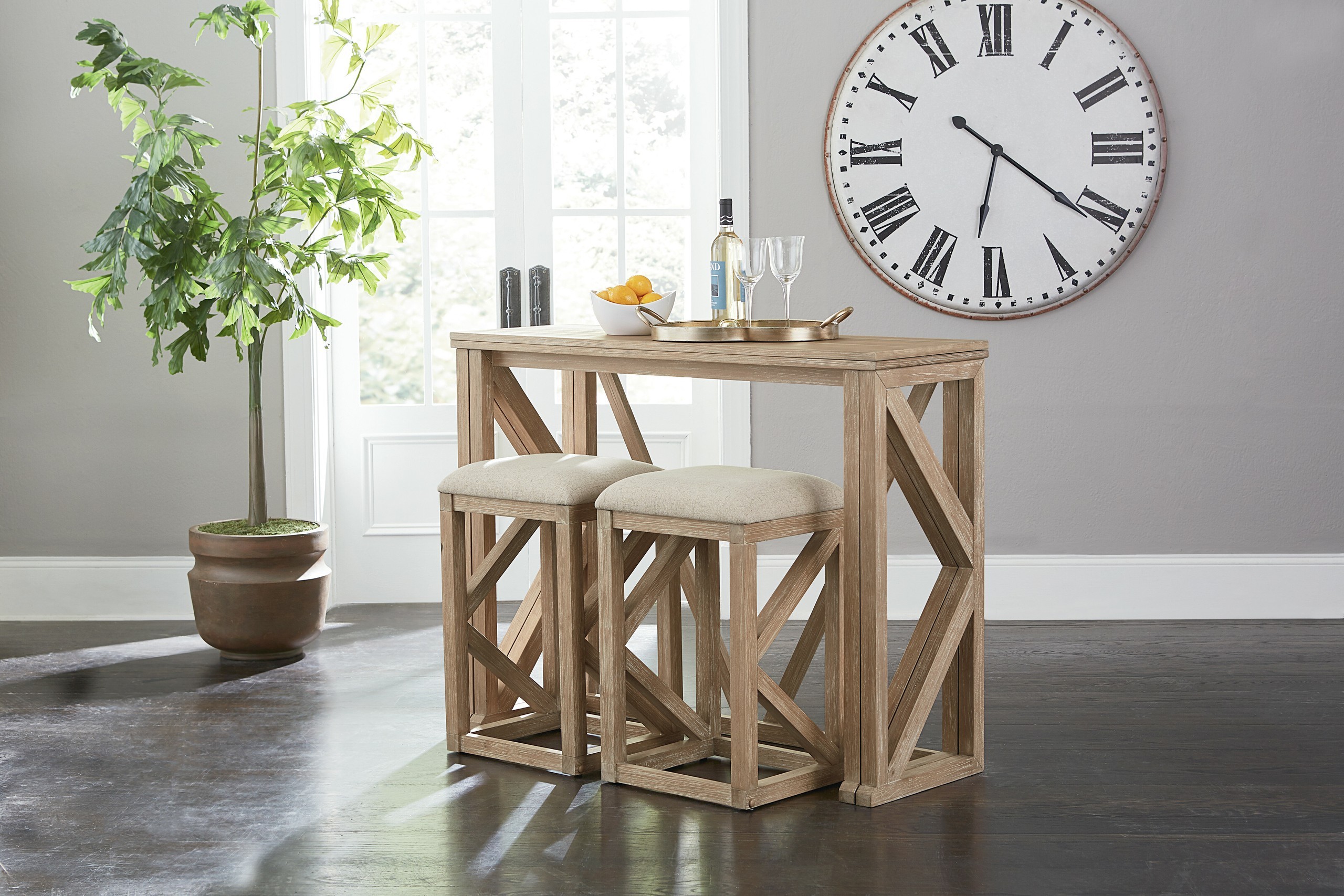 Toscano 3 Piece Dining Set
Imagine starting the day with your better half and feeling like you had been transported to a literary café in Italy!

This bookish breakfast nook is a real treat for vintage décors and sophisticated homes;

Hand-painted, with a lacquer-finished top and an ebony trim, you can really see the attention to detail that went into its creation;

This breakfast nook for two is also an impressive space-optimizing piece of furniture with dual use: you can push the chairs together and turn it into a small table with a faux-bookshelf look;

It also features two hidden compartments for storage, perhaps to keep your favorite books.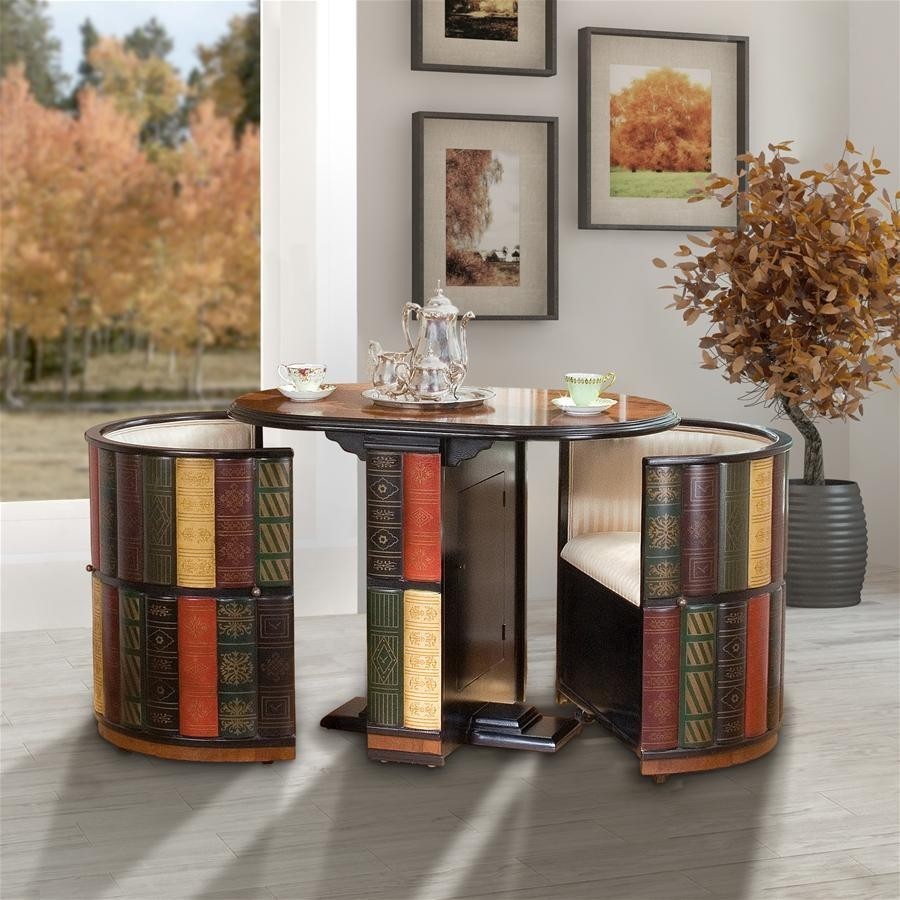 Eastep 5 Piece Counter Height Breakfast Nook Dining Set
If you want to create a separate area in your kitchen or living room but keep it casual and easy to access, this table with tall stool-style chairs is a great option;

As well as being ideal for breakfast, it's practical for quick meals, drinks or to enjoy a few appetizers before moving onto a larger table with your guests;

It's made of solid wood and it can easily complement a warm color palette;

Bonus feature? The table has two shelves for extra storage. Handy!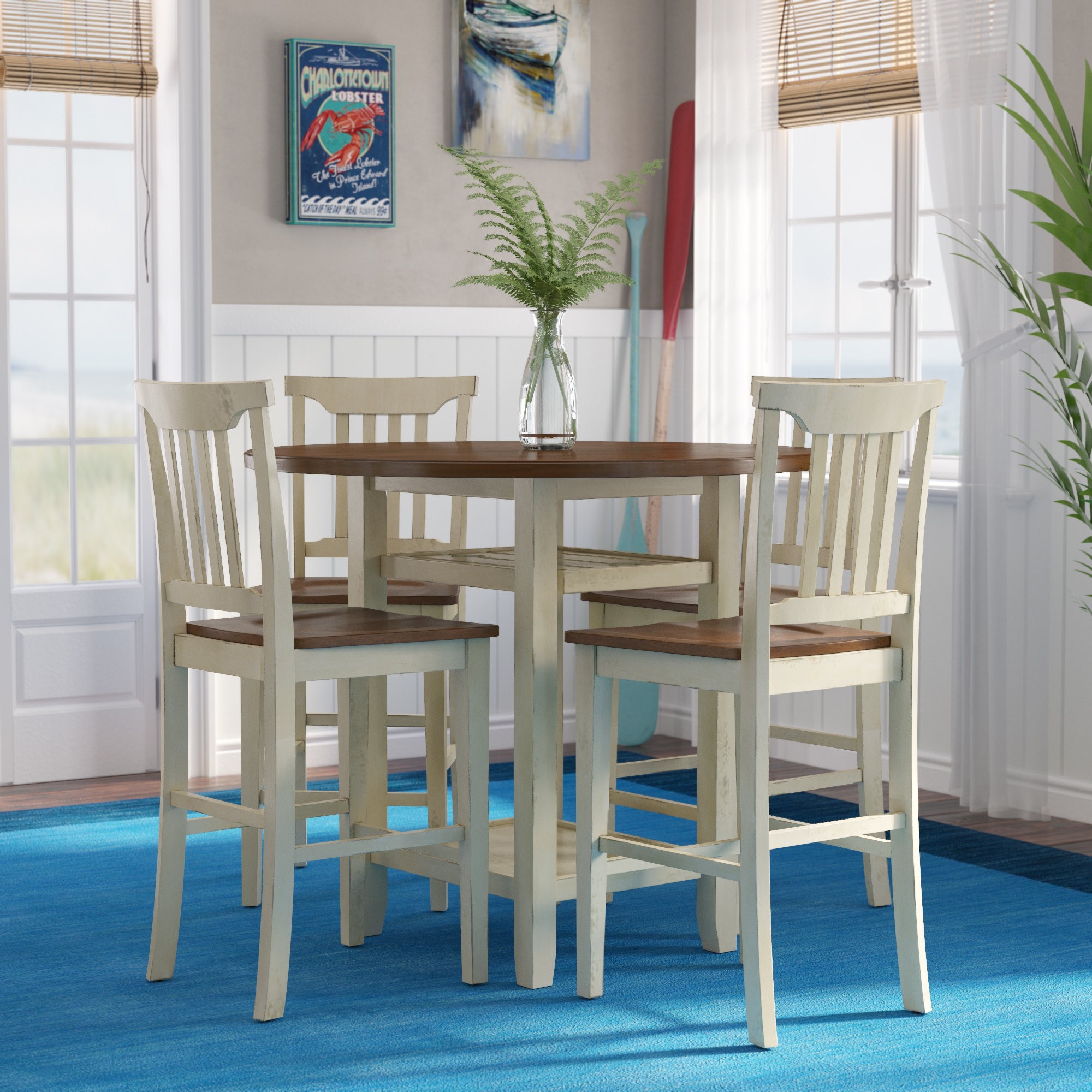 Dardanelle 5 Piece Counter Height Breakfast Nook Dining Set
Are you torn between an extra kitchen surface and that breakfast nook that you've always dreamed of? This** three-in-one solution** is a real game-changer!

Coming with four stools, it's a comfy nook to enjoy breakfast all together;

Once you're done using it, you can push the chairs underneath the table and use its top as a kitchen surface for food preparation;

If you were hoping for some extra storage, you bet it's got it! It comes with three practical shelves, serving as an extra cabinet, too;

Available in grey or white, this luxurious design is bound to complement the style of your kitchen.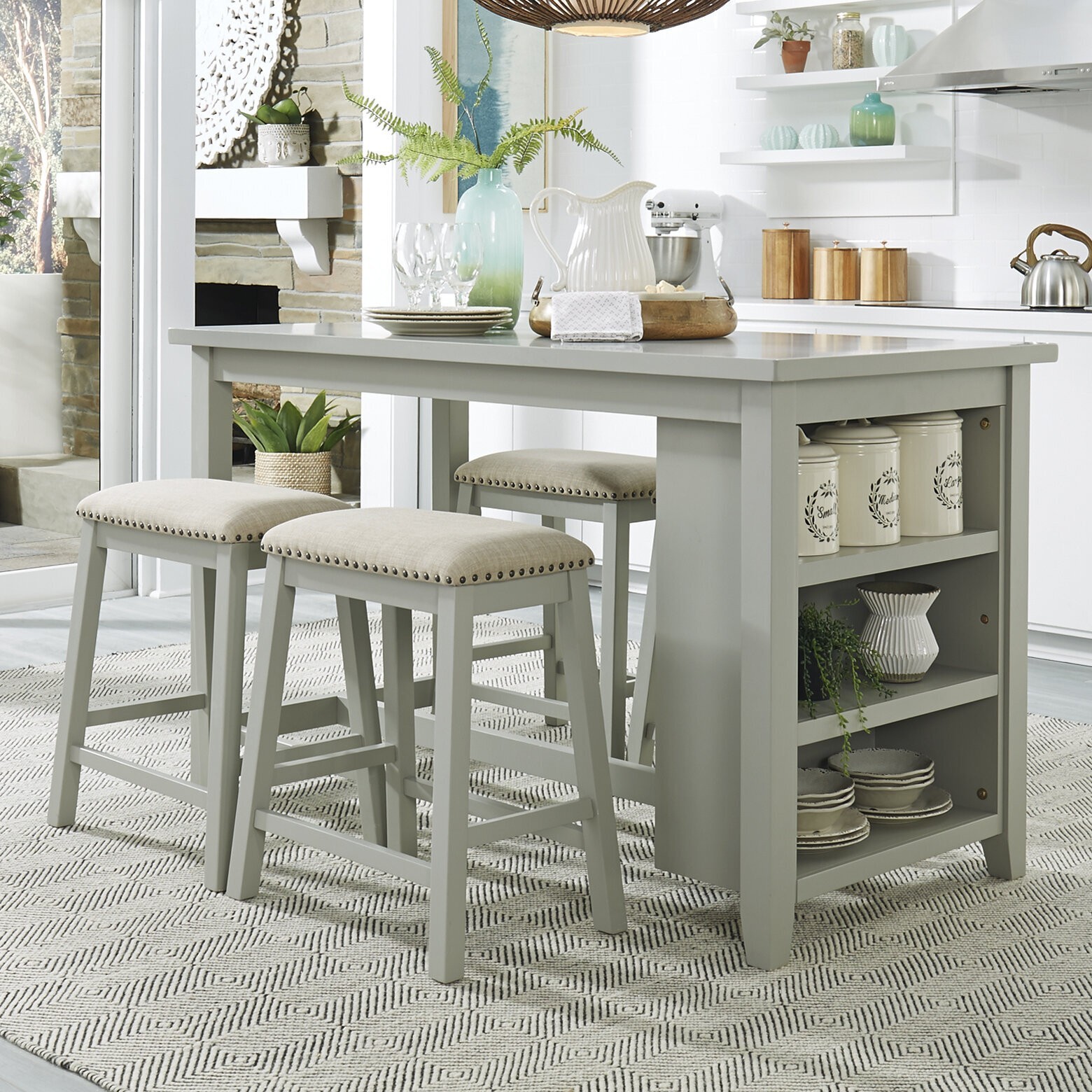 Mckesson 5 - Piece Extendable Breakfast Nook Dining Set
This elegant table can help you turn part of a room into your designated breakfast area, but also enjoy a coffee or a drink with your guests;

Its secret weapon? The small solid wood table is actually extendable!

We love its charming rustic design inspired by country houses, and the four upholstered chairs are incredibly comfy!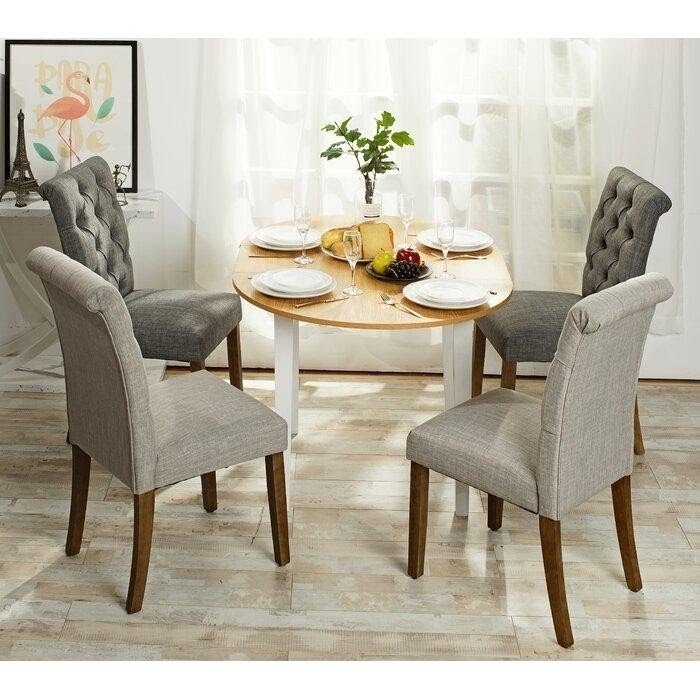 Wardour 6 Piece Breakfast Nook Dining Set
Have you got a large household? Would you like to be able to welcome your guests at your breakfast nook but are worried about space? The design of this table will save you a headache!

Choosing a traditional table approach, instead of coming with six individual seats it features a combination of four chairs and a bench for two. The perk of this change is that, whenever you're not using the latter, you can simply push it underneath the table, leaving the room more spacious;

Thanks to its dark wood, it's especially ideal for vintage and mid-Century modern décors.