Our Choice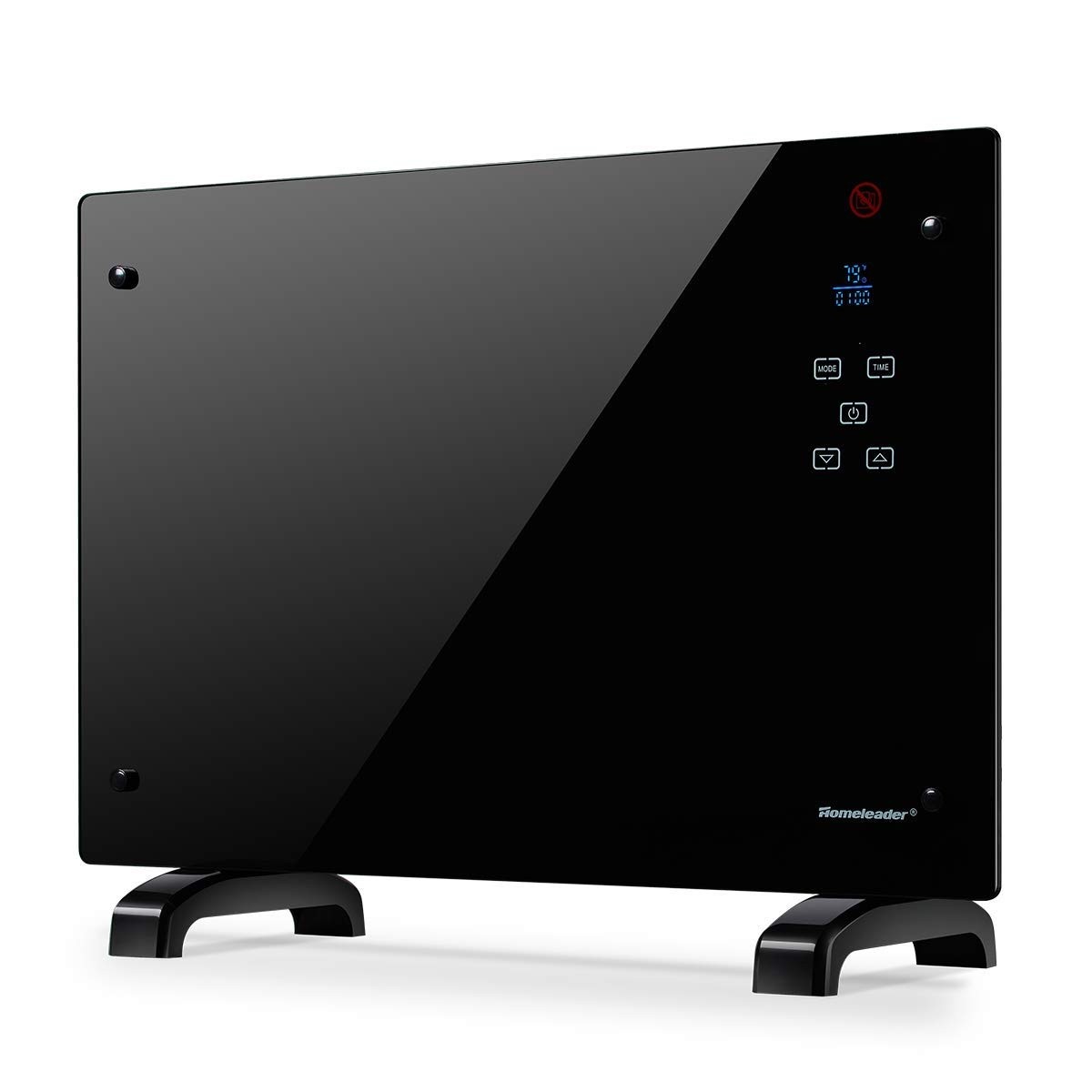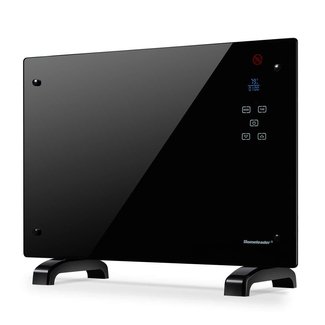 1500 Watt Electric Convection Panel Heater
Warm-up your drafty bedroom by mounting this versatile heater to the wall or set it up in the corner of a finished basement to keep you comfortable in cooler months.
It makes only 5 decibels of noise for whisper-quiet operation, and the micathermic X-shaped heating element and convection airflow ranges from 41-86℉. It works on a timer via an LED digital thermostat or remote. The auto shut off, tip-over switch, and cool-to-touch safety features give you peace of mind and make it a great addition to a family home.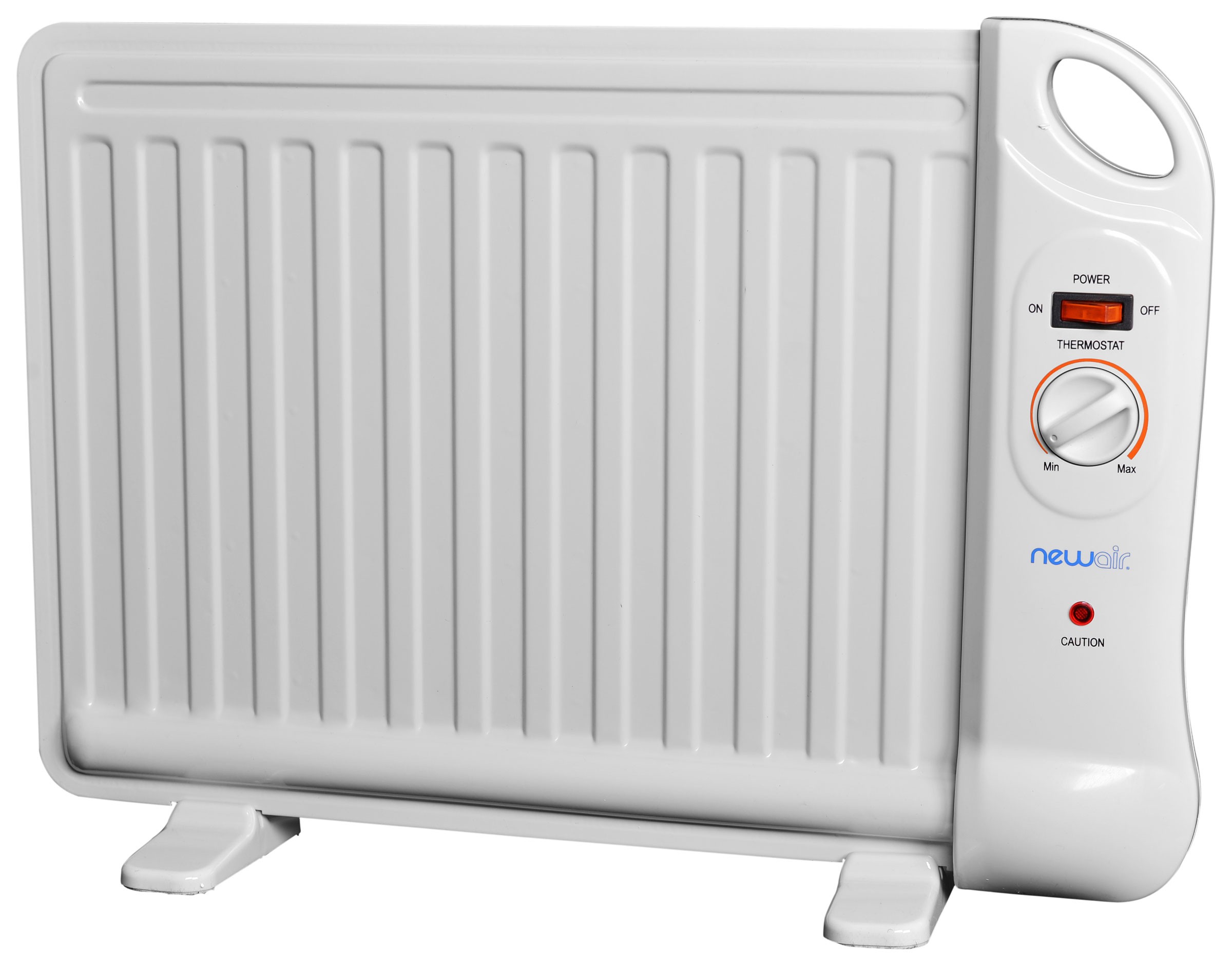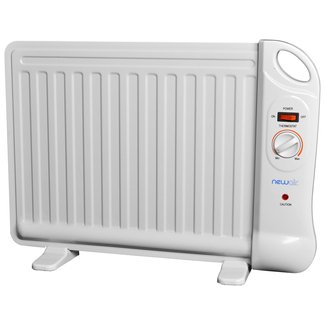 400 Watts Oil-Filled Radiator Panel Heater
Put this slim electric radiator under your desk in your home office to keep you cozy in the wintertime.
The low-watt heating element warm diathermic oil which emits 1365 BTUs of energy to heat up a 40 sq. ft. space. The cord length is 72" so it can follow you anywhere without having to unplug it.
The adjustable dial thermostat controls temperature up to 85℉ of radiant heat while the safety features include automatic shut off and a tip-over switch so you don't have to worry while working.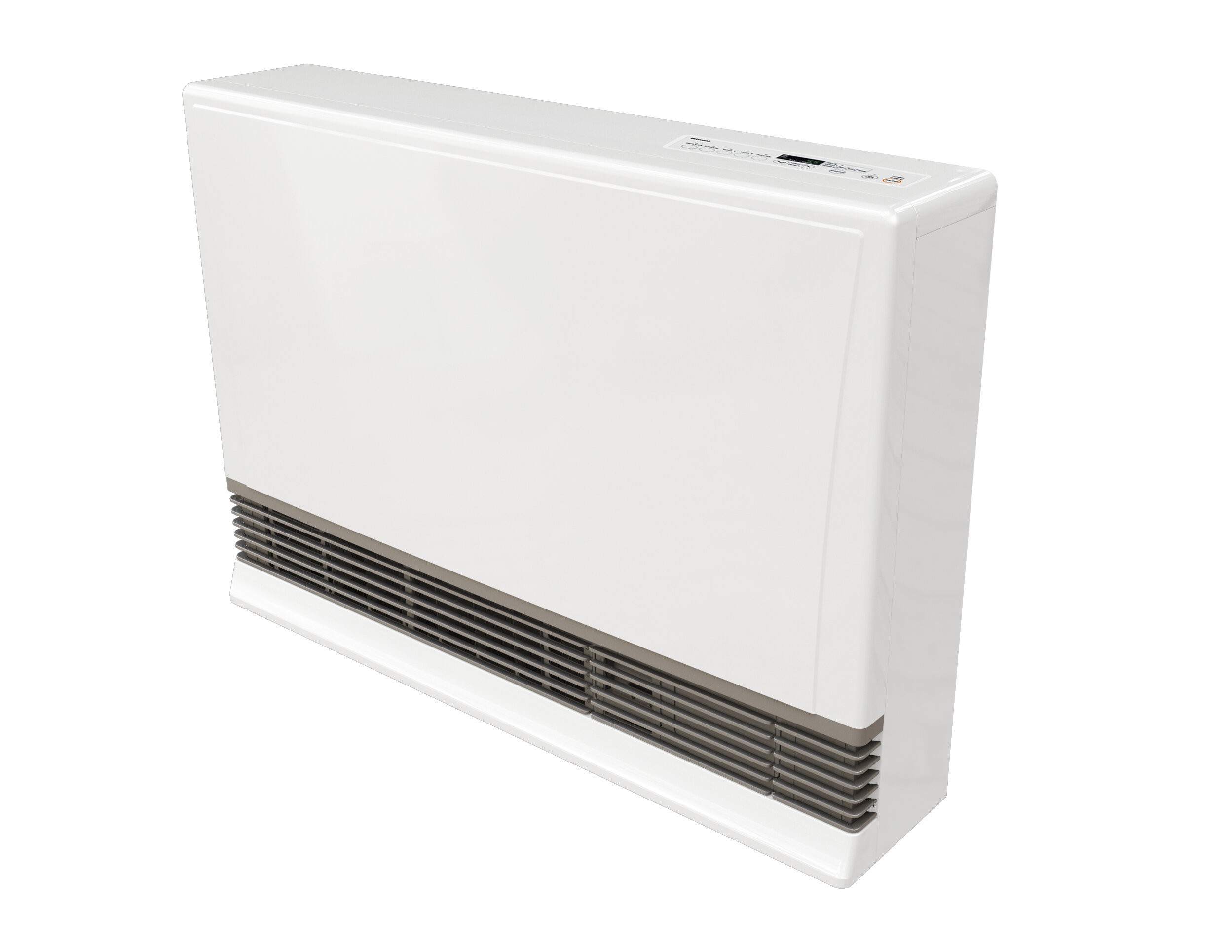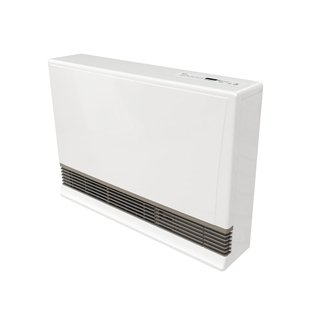 Energy Saver Direct Vent Furnaces 117 Watt Convection Panel Heater
Customize this 30.12'' H x 16.54'' W x 39.37'' D sized radiator to meet your specific room and energy consumption needs. Available in white or beige, you can have your choice of liquid propane or natural gas-powered ductless heating.
Good for living areas and bedrooms, the convection airflow is powered by flame but the safety features include a cool-touch casing, automatic shut off, and a tip-over switch. The control panel for the adjustable thermostat also has a locking feature to prevent accidental operation by the youngest member fo the family.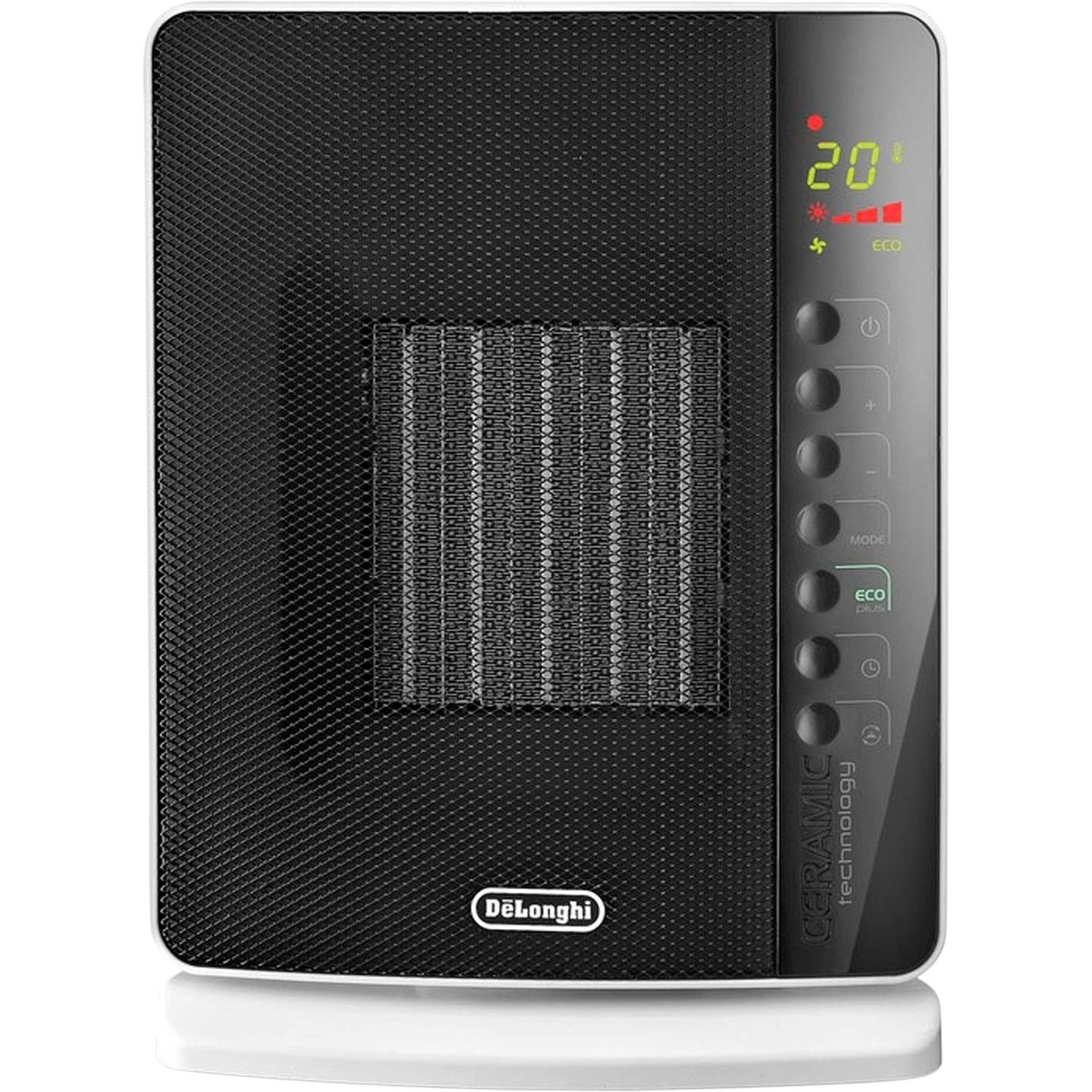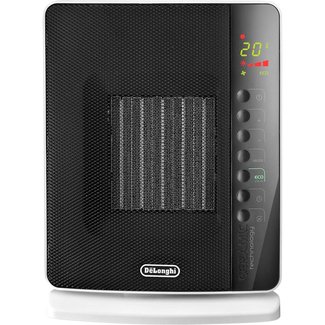 1,500 Watt Portable Electric Fan Panel Heater with Remote Control
This electric oscillating furnace weighs under 5 lbs. making it the perfect portable solution for keeping warm in smaller spaces.
With three temperature settings, it can heat up to 150 sq. ft. so it's great for the office, bedroom, or living room.
The black wire grill houses an internal, 2-speed fan and a ceramic heating element which puts out 5120 BTUs, and the digital thermostat helps you to maintain a comfortable temperature all year long.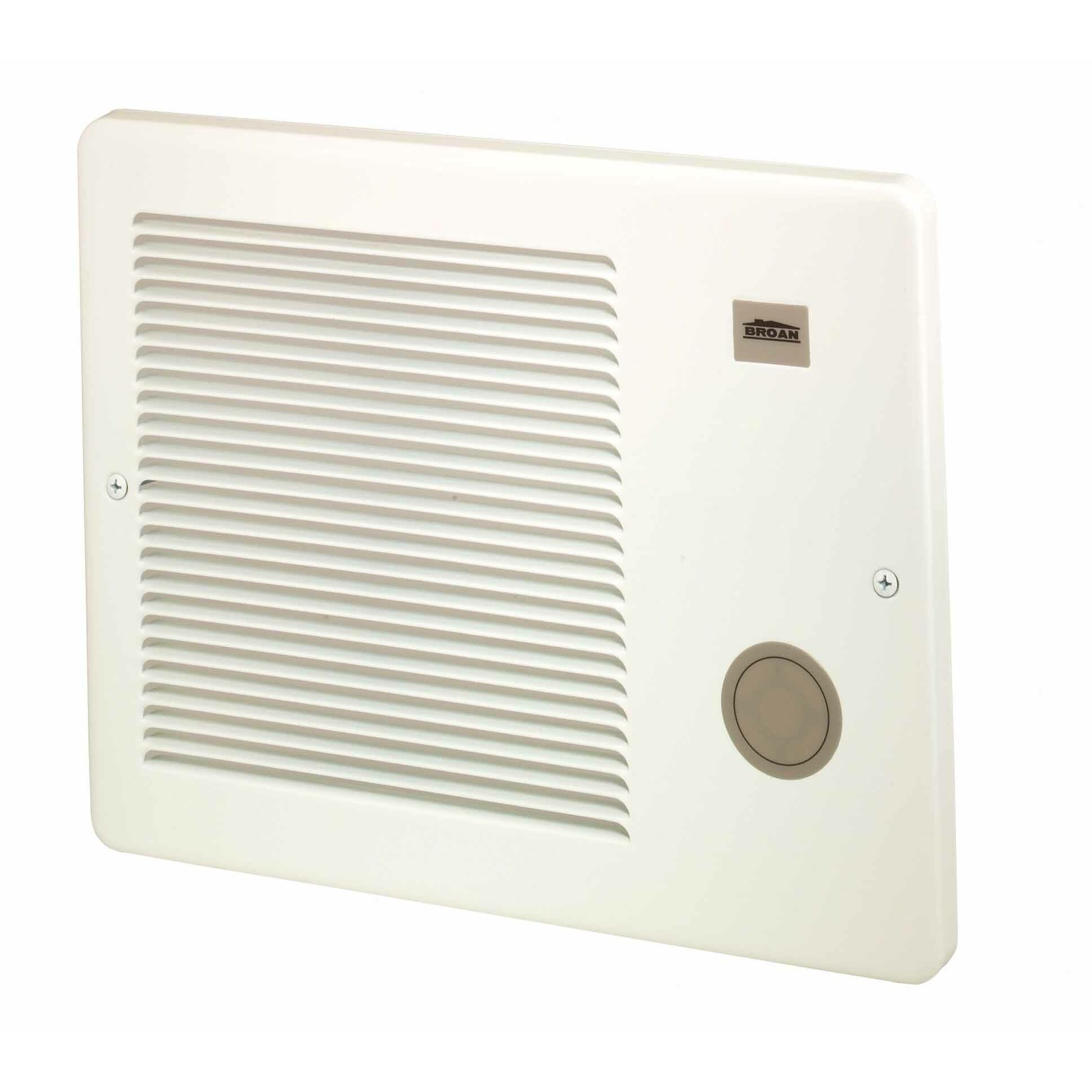 750/1500 Watt 240 VAC Panel Heater
This electric wall-mounted radiator is perfect for smaller, downstair bathrooms that need a boost of warmth. The 2560 BTUs require 240 volts of electricity to heat up to 75 sq. ft. of space to 115℉. It is energy efficient and air purifying with an automatic shut off feature.
The adjustable thermostat controls the internal fan and coil heating element, while the front grille can be louvered to direct the heat where you want it. It is finished in white to complement all décor tastes.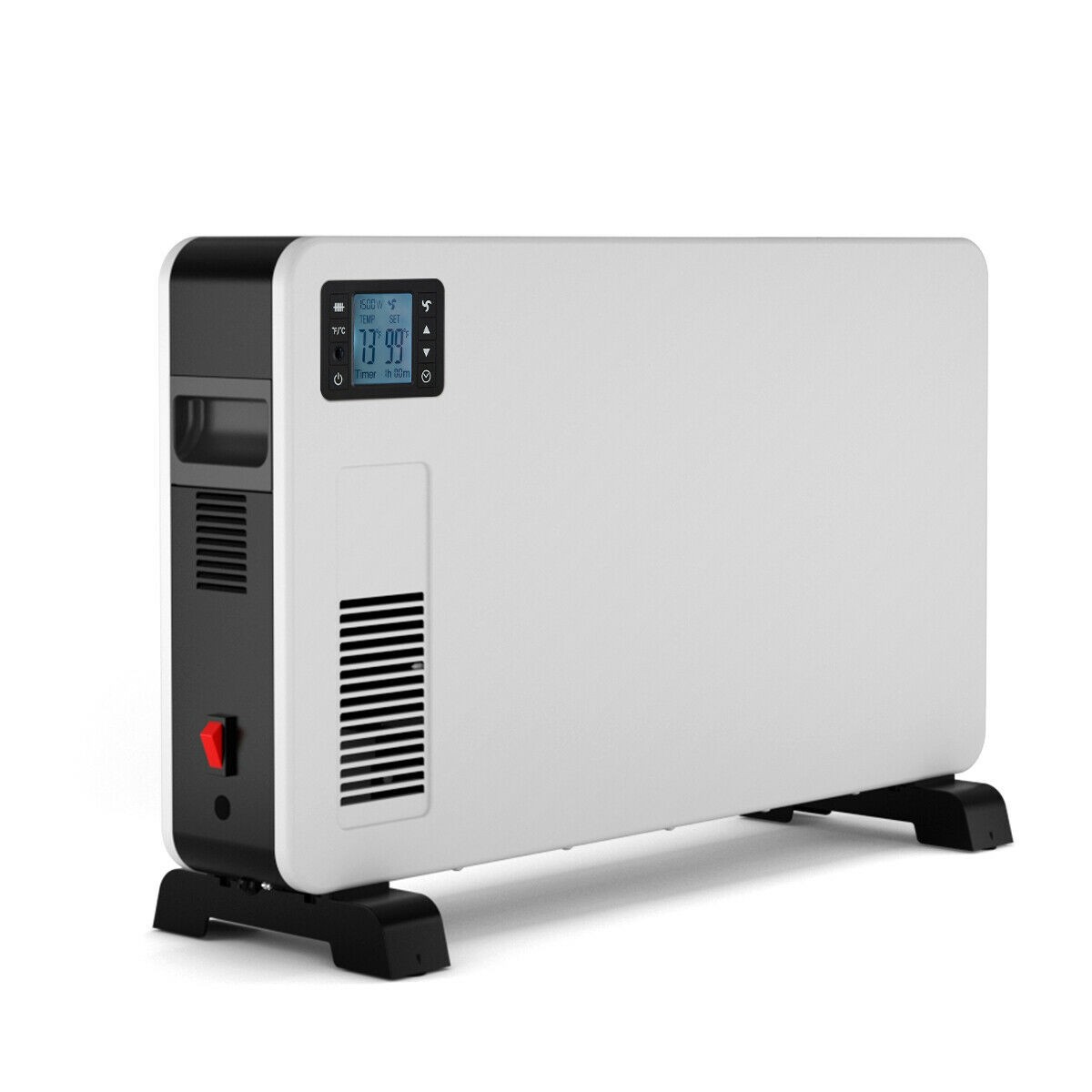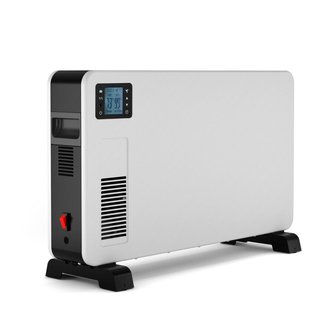 1,500 Watt Freestanding Electric Convection Panel Heater with Remote Control
Enjoy your morning coffee on your patio during chilly autumn months or cuddle up to read a book with this electric, convection heater. Manufactured from white plastic, it is available as 650W, 850W, and 1500W to heat up to 35000 BTUs for up to 1100 sq. ft. of comfort and warmth.
Oscillating and bladeless, it is controlled via a remote and digital thermostat. It works by just plugging into any standard electrical outlet. It sits on two removable stands that feature non-skid pads to protect floors.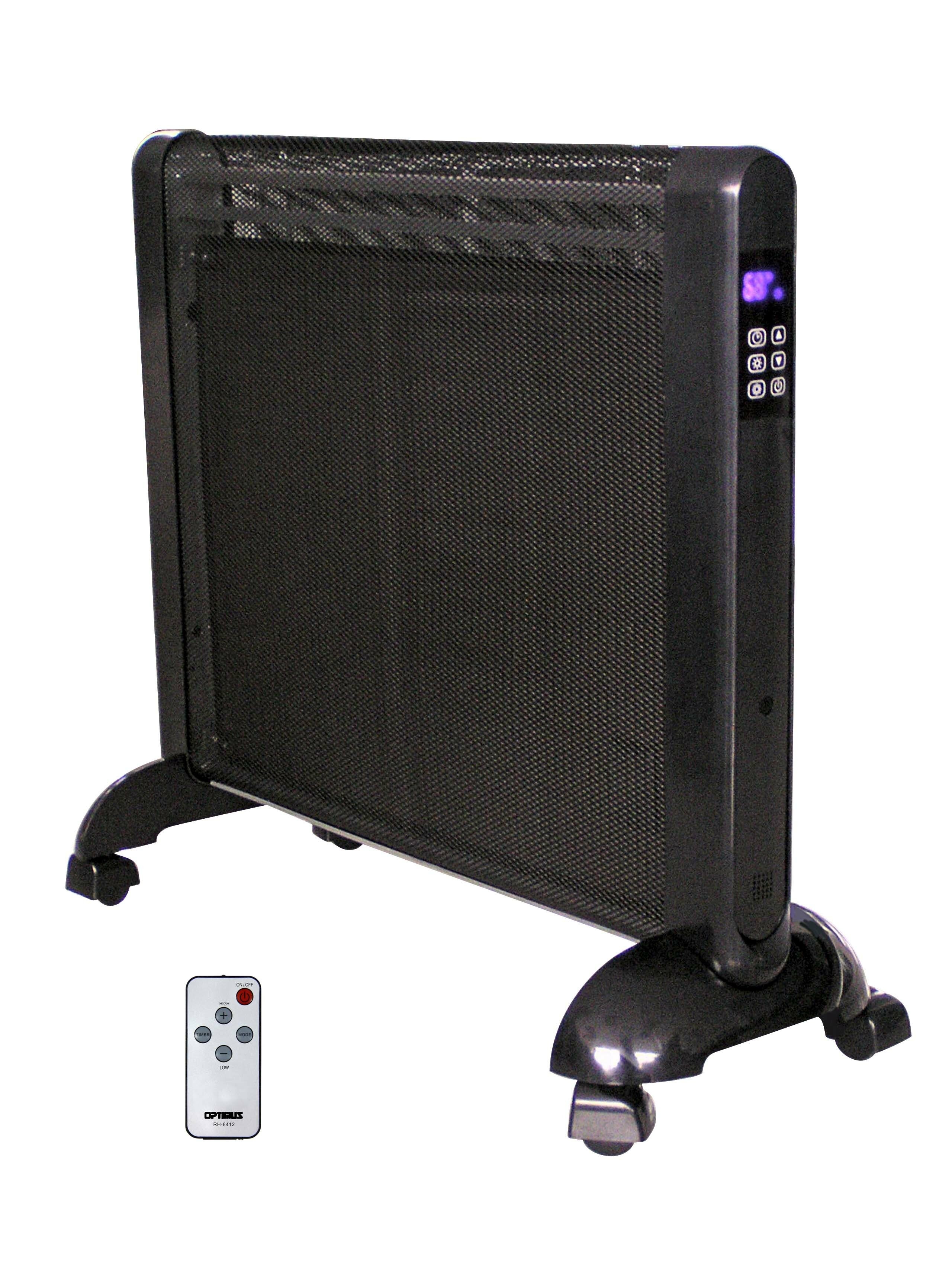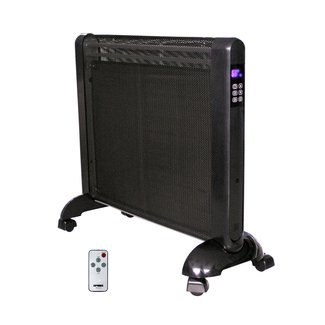 1,500 Watt Portable Electric Convection Panel Heater with Remote
Your drafty office or bedroom gets a little warmer with this electric panel radiator. Working with 1500 watts, it heats up to 150 sq. ft. The digital display clearly indicates the adjustable thermostat temperature.
The panel measures 22'' H x 32'' W x 5'' D, weighs 16 lbs. with a cord length of 18". It sits on a frame with casters attached to it, making it easy to move from room to room. It has an automatic shut off and remote control to round out its convenient features.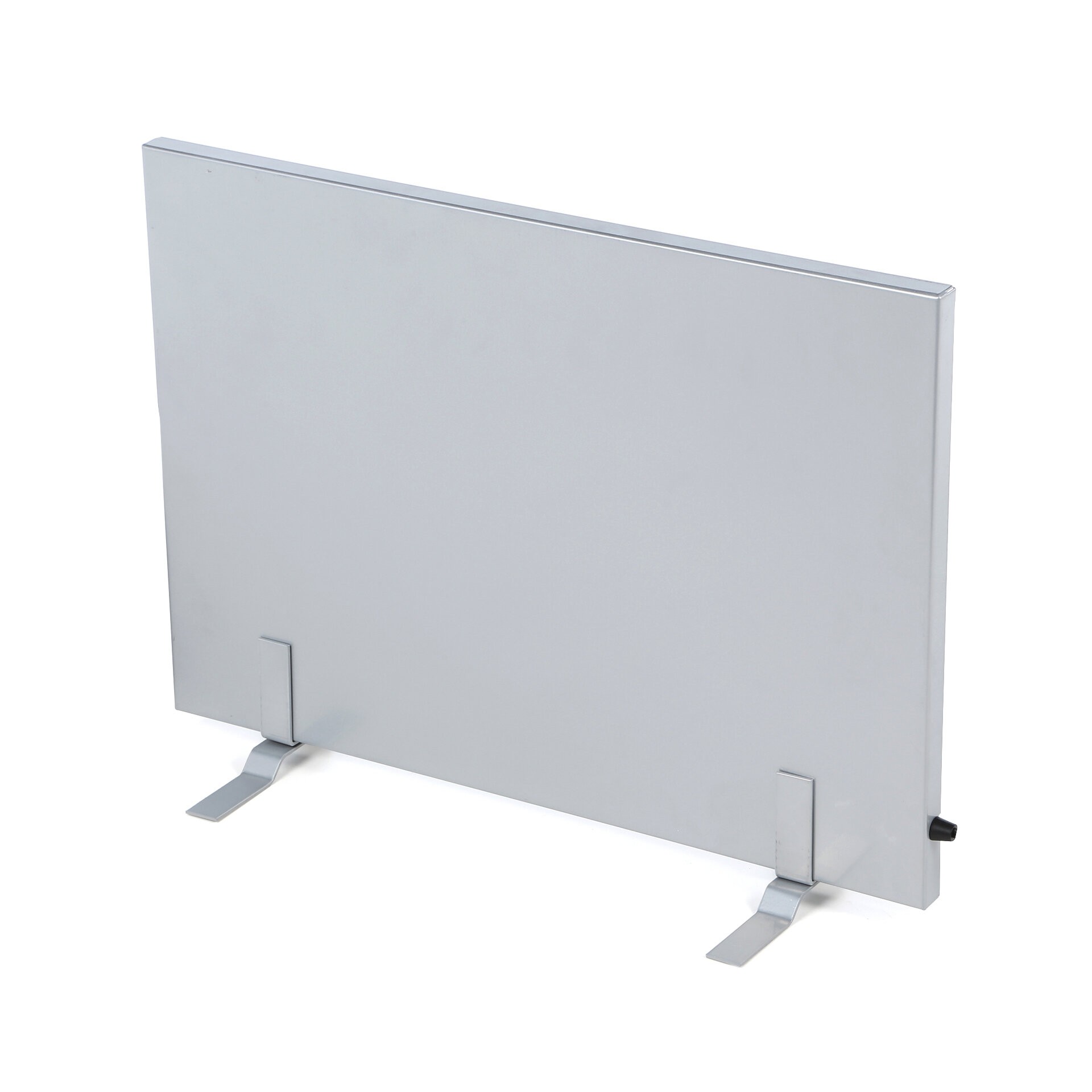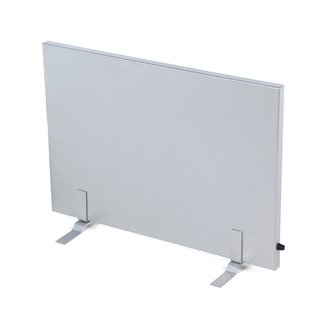 Personal Space Heaters 150 Watt Wall Mounted Electric Radiant Panel Heater
The minimalistic approach to this low profile electric radiator ensures its functionality without taking away from your decor. The 10" cord powers connects to a 120V outlet to produce 512 BTUs of heat to warm a 50 sq. ft. room making it perfect to hide under a desk, mount in your reading nook, or place inside a mobile home.
The 16'' H x 23'' W x 1'' D steel plug-in panel only weighs 8 lbs. and is finished in a neutral gray color. It reaches a maximum temperature of 130℉.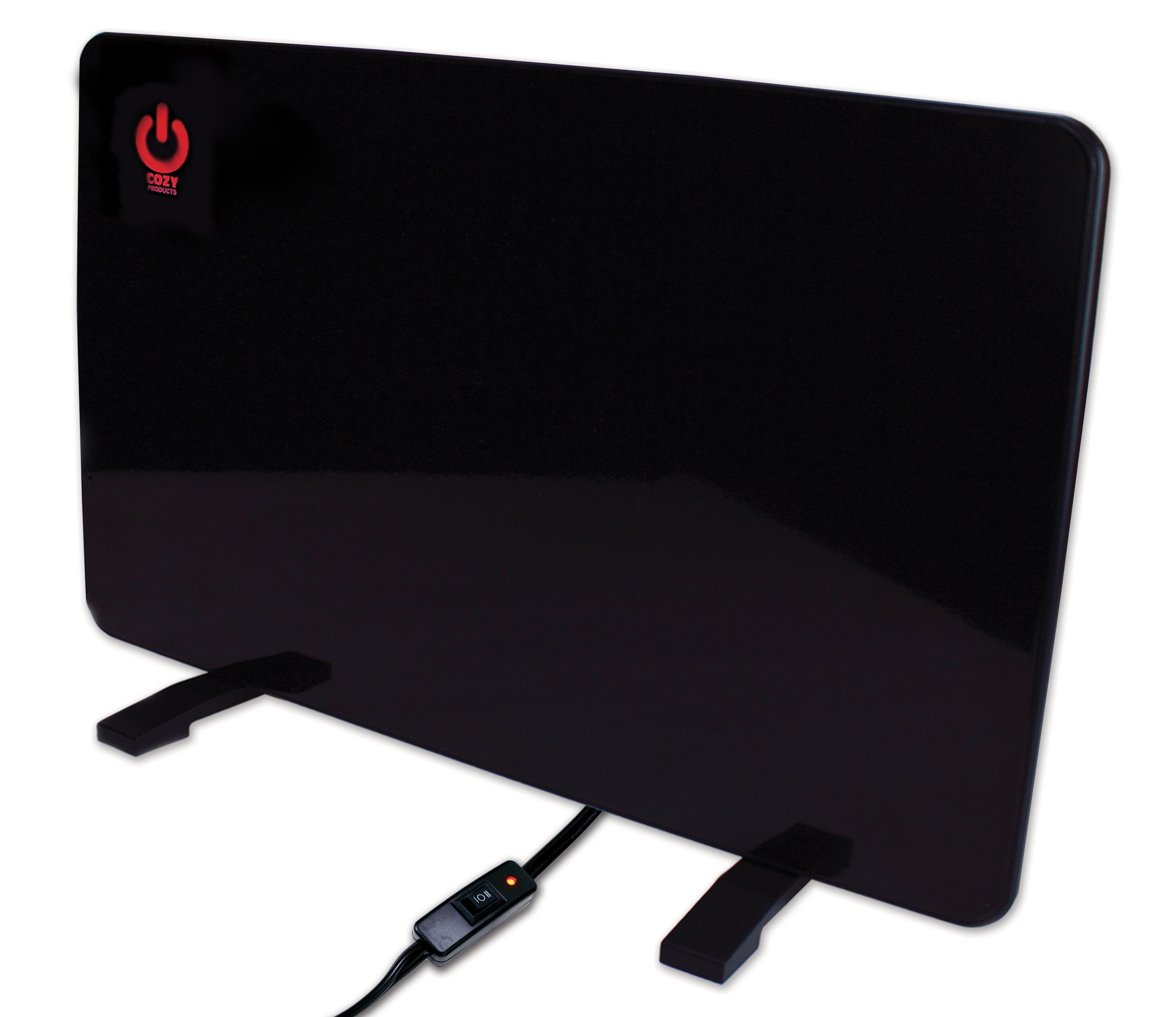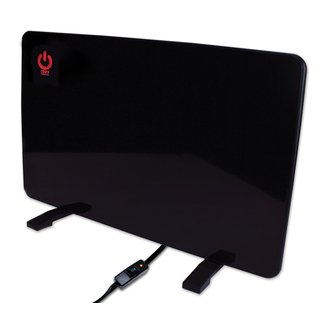 250 Watt Electric Radiant Panel Heater
Designed to heat a person rather than a room, you can mount this sleek 2'' H x 23'' W x 13'' D panel radiator to the wall under your desk with the included wall bracket or leave it freestanding.
The slim profile of this 6 lb. unit allows it to radiate up to 682 BTUs without taking up a lot of space. The modern black finish of the plastic casing gives it a high tech feel but the operation couldn't be easier. Just plug it into an outlet and turn it on to warm up 25 sq. ft.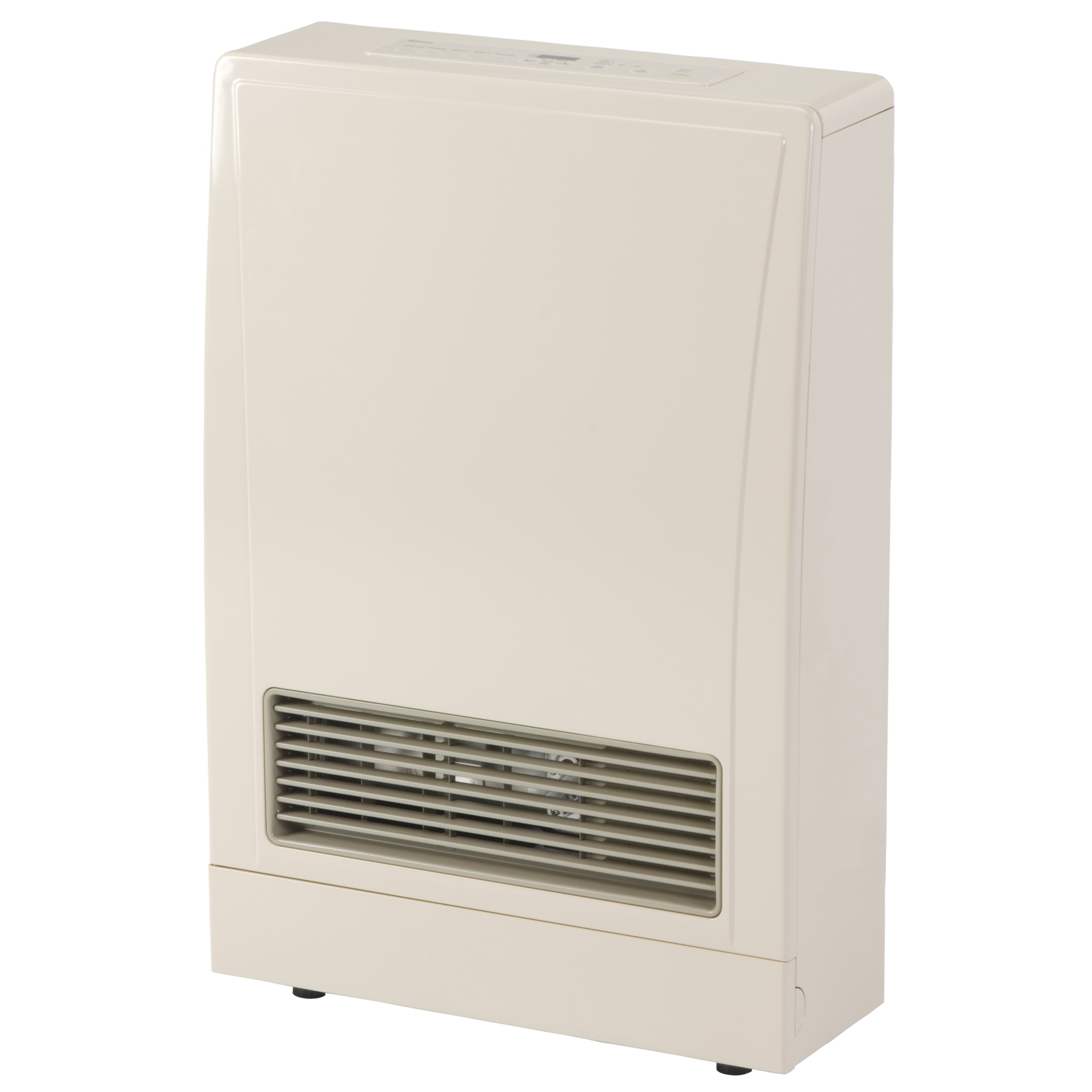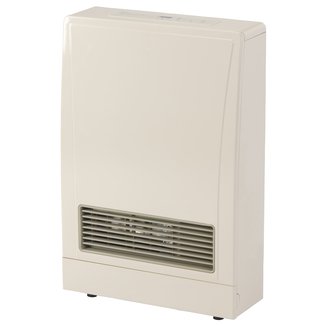 Energy Saver Direct Vent Furnaces Convection Panel Heater
This cool-to-touch, weather-resistant panel radiator is available with the choice between liquid propane or natural gas fuel. The overall dimensions are 31'' H x 17'' W x 10.1'' D and it weighs 48lbs making it a permanent indoor fixture for your enclosed patio or sunroom.
The adjustable flame heating element is enclosed in beige-colored steel. The automatic shut off and tip-over switch are two safety features that will give you peace of mind and on-board diagnostics ensure optimal performance.