Fireplace Tools
Keeping your fireplace properly maintained and efficiently working wouldn't be possible without the best fireplace tools. These toolsets are designed to give you an easy way to operate, clean, and maintain your fireplace. From important shovels, pokers, tongs, to cleaning brooms and brushes, these tools are all essential in the safe and effective operation of your fireplace. It doesn't matter whether you have a modern electric fireplace or an old classic wood pallet or gas-powered furnace. You will always need the proper tools to fully make the most out of them. However, different fireplaces may require different tools. Some fireplaces may also require specialized tools as well.
Our choice Best fireplace tools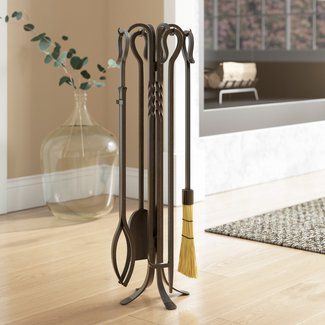 Everson 4-Piece Fireplace Tool Set
Crafted from durable iron material with a black powder coating finish, this well-constructed fireplace toolset features a poker, broom, shovel, tong, and stand for rounding them up together. It comes in three sizing options of 26.5", 33", and 38.5" height to suit your specific requirements. Twisted center and curved hooks amps up visual appeal. To maintain superb performance, regularly wipe with a clean cloth.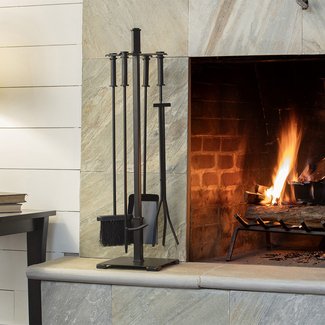 Craftsman Design 5 Piece Steel Fireplace Tool Set
Complement your fireplace with this five-piece contemporary toolset. Cylinder shaped handles ensure a firm fit to your hands during use, while a sturdy square stand base provides reliable stability to the fireplace tools. Classic lines and sleek design conveys a modern, elegant look making it an attractive accessory to your fireplace. Recommended to use indoors only as exposure to the outdoors might cause rusting and corrosion.
Vancedale 4 Piece Iron Fireplace Tool Set
Tend to your fire with this clean-lined modern silhouette four-piece fireplace toolset. The powder-coated iron making up the tools is heat resistant and highly durable, with the natural palm fiber material in broom comfortable to use and cleanses cleaner. Measures overall 32.25" height, which is ideal for most standard fireplaces, whereas its 9lb weight makes it lightweight for easy moving around. Clean by dusting with a soft, dry cloth to preserve its immaculate look.
5 Piece Iron Fireplace Tool Set
Classic and sophisticated, this glistening five-piece fireplace tool set bestows glamour and opulence to any interior. Polished brash finish oozes plushness and captures light, whereas the striking geometric shaped base adds visual depth. Terrific sheen characteristic of polished brash will look splendid, reflecting the roaring fire's mellow glow. Complement it with matching brass or golden décor accents, say, a centerpiece to tie up the bold look.
5-Piece Wrought Iron Fireplace Tool Set
A significant advantage of this stylish set is it arrives at your doorstep ready to use. Sturdy stand with shepherd's crook handles and starbase holds up all your tools in one place. Measures 28" tall plus stand, which is long enough to offer sufficient protection against the burning fire when controlling it. Centered weave details and stylish base introduces an appealing look to this functional set. Regularly clean with a dry cloth to prevent buildup and maintain its luster.
5 Piece Steel Fireplace Tool Set
Made from heavy steel with a satin pewter finish, this high-quality five-piece set features a poker, brush, shovel, tong, and a robust stand. The satin hue is neutral and will effortlessly blend with existing décor. Ergonomically designed large ball handles are easy to grip to guarantee efficiency when handling your fireplace. Sets a grand scene due to its 31" H tall demeanor. Ideal for a modern interior due to its contemporary appearance.
3 Piece Steel Fireplace Tool Set with Log Rack
Made with primary steel material with a scratch-resistant hammered steel finish, this highly functional fireplace tool set features a log rack, shovel, poker, and exclusive sorghum broom. Over a square foot of floor space in lower and upper rack provides ample space to stack your logs for the night, reducing the number of trips made to outside/where logs are stored. Store large logs on the straight lower rack and smaller pieces on the curved upper rack.
Odriscoll 4 Piece Round Base Fireplace Tool Set
Beautify your cozy fireplace with this beautiful four-piece fireplace toolset. Premium iron material is fireproof and heavy-gauge, while the natural Tampico fiber in the broom is durable and has excellent texture to efficiently sweep ashes falling from burning wood and mess around the hearth. Overall, it weighs 20 pounds, which is lightweight for easy moving around, yet sturdy enough to avoid tipping. The antique brass and black toolset is the perfect finishing touch to a vintage fireplace.
Garry 2 Piece Steel Fireplace Tool Set
Boast of a squeaky clean hearth thanks to this two-piece toolset featuring a heat resistant bucket and shovel. The 4.47 gallon capacity of the shovel offers a spacious spot to hold ash/embers falling off the fireplace. Thermal insulated raised bottom prevents smoldering ash from heating the floor while a wooden handle protects your skin from getting burned when carrying it. It's advisable to place the bucket on stone, brick, slate, or hearth as the surface might get too hot.
5 Piece Iron Fireplace Tool Set
Create extra storage space near your fireplace with this multifunctional five-piece fireplace toolset. Showcases a 12" deep log rack with designated areas to keep kindling and firewood sufficient for one night. The tong, poker, shovel, and broom neatly hang from the shepherd crook handles. The wrought iron material in black finish will endure heavy duty and prolonged use without losing its radiance. Inadvisable to use outdoors as it may get damaged.