Our Choice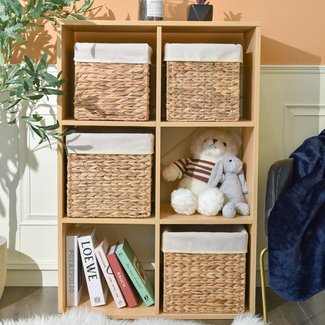 Seagrass Water Hyacinth Wicker Basket (Set of 2)
Chic with a minimalist style, this decorative basket is the perfect addition for storing your household items and accessories in style. Made of natural water hyacinth, this basket comes in a woven pattern with a sturdy iron frame that suits a variety of home styles including boho-chic and contemporary.
Add a cozy touch to your interior while leaving your space clutter-free with this versatile and durable basket that features a space-saving folding design along with a washable linen lining.
2 Piece Belly Rattan Basket Set
Add a traditional touch to your space with this versatile 2-piece rattan basket set. It provides a neat and tidy way to store your items while bringing originality and uniqueness to the room. Stylish and functional, this decorative basket has a weave and 2-tone patterned design in black and is big enough to hold blankets, toys, books, and more.
It features handles for transporting the baskets and its contents with ease and a stackable design when not in use.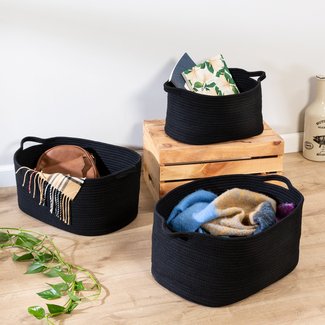 3 Piece Fabric Basket Set
This 3-piece decorative basket is the perfect addition if you're looking for something simple yet useful to keep your space tidy. These baskets blend well with various color palettes and look good in any setting, whether traditional or modern.
Featuring convenient built-in handles to easily move the baskets around and set nests for stacking them when unused, they act as a catch-all storage for various items from blankets to kid toys.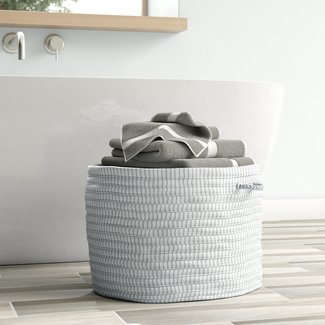 Storage Fabric Basket
Minimal and elegant, this decorative basket has a versatile texture that suits various color arrangements and decors.
Woven from a sturdy cotton blend fabric and featuring 2 grip handles for easy transportation, this basket is multifunctional, keeps clutter concealed, and can be placed anywhere in the house, whether to hold your children's toys or to store your bathroom accessories and products. Store your kid's stuffed animals in this basket for easy access while keeping the bedroom neat.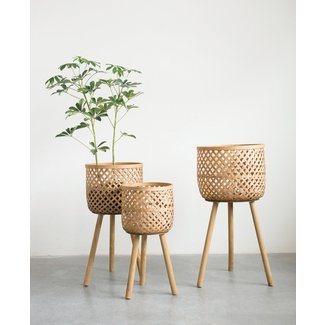 Round Bamboo Floor 3 Piece Wicker Basket Set
Display your plants in this stylish and unique 3-piece wicker basket set. Each basket positions your plants up off the ground for an elegant arrangement.
Their laid-back design offers versatility in terms of storage and ideally suits a variety of home styles, including coastal, contemporary, and modern farmhouse spaces. You can use them to store clothes, toys, and decor pieces to fill your space.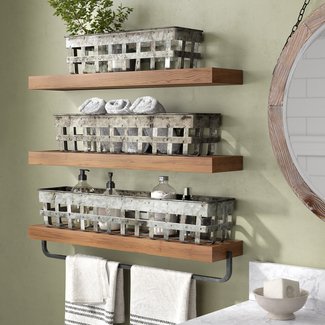 3 Piece Iron Open Weave Basket Set
This 3-piece basket is a combination of style and function. They add charm and warmth to your existing decor while adding a farmhouse touch to your interior.
Its gray finish with distressed accents ideally suits rustic, vintage, and modern farmhouse settings. Measuring 16", 20", and 24.5" wide with a depth of 5.12", you can store a great amount of items such as bathroom essentials, books, and fruits. Place on an open shelf for an elegant arrangement.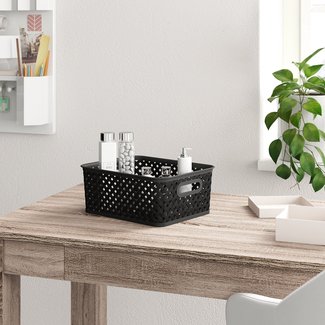 Wicker Plastic Basket
Keep your products and miscellaneous items well organized with this modern and charming decorative basket.
Crafted from polypropylene, this basket has a lightweight woven design that can be placed anywhere in your home or office to store your cleaning products, medicines, toiletries, office supplies, and much more. Its neutral finish in black easily blends with other decors and complements various color arrangements. Add labels on your baskets for an easy to view and convenient layout.