With a design visualized by Joseph Design Build and brought to life by Revent Builds, this unique eye-catching home blends clean modern architecture and technology with stunning Victorian style and materials.
Created as a one-of-a-kind residence, this 3,025 sq ft home encompasses the true beauty of ornate Victorian architecture with its pointed central cupola with dragonscale shingles and Hardie artisan series siding, while also keeping clean modern style in mind with its 2-car garage boasting a custom steel front door and black brick construction.
This home is the culmination of my entire build career, says John Gioffre, owner of Revent Builds.
Conveniently located in the highly desirable Zilker Park neighborhood, this stunning home is within walking distance to many amazing restaurants and bars on South Lamar including Eberly, Black Sheep Lodge, Uchi, and Gibson Pub, among others. You'll also have easy access to walking trails along Lady Bird Lake and Zilker Park to enjoy the great outdoors on your terms.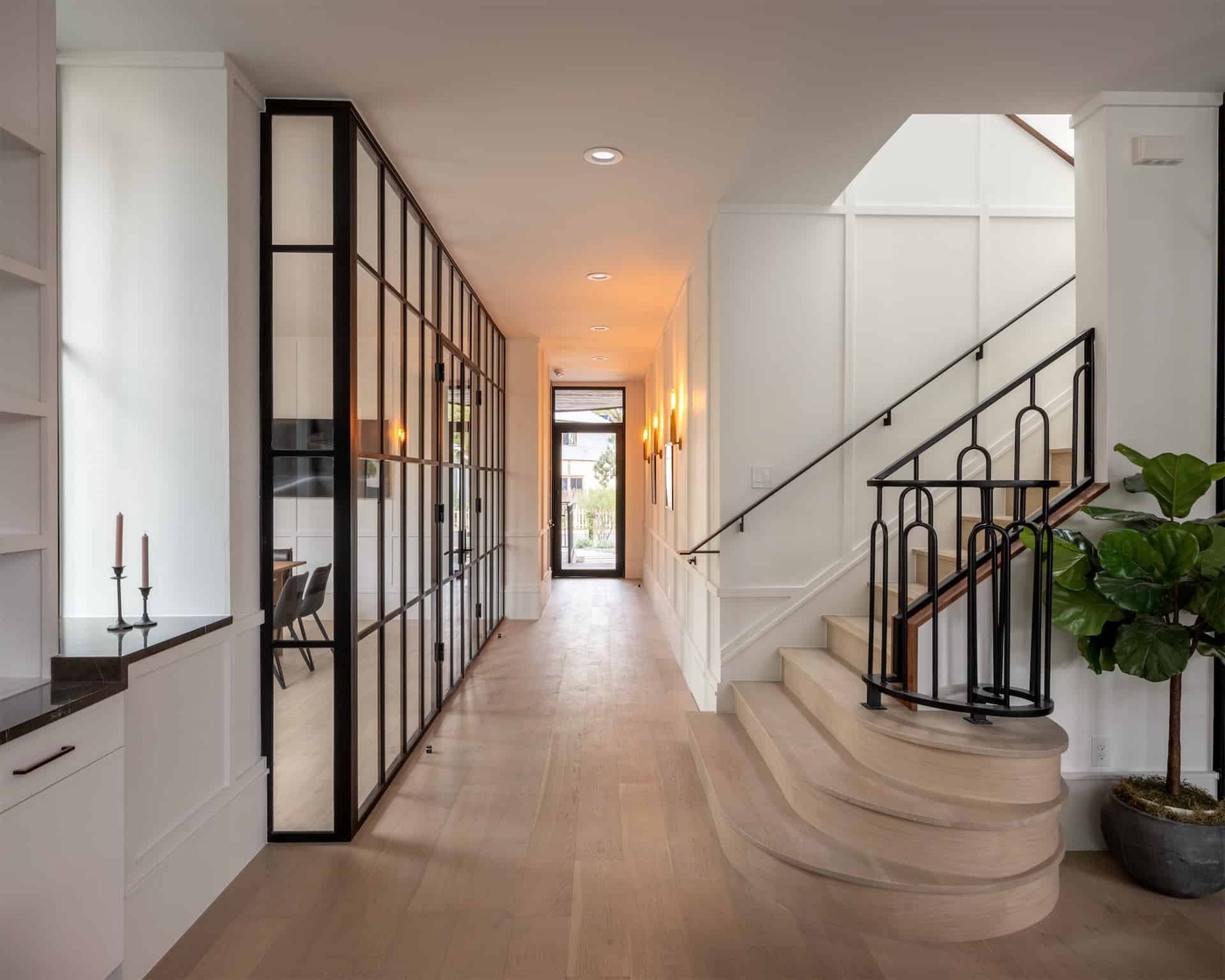 As you enter this 4 bedroom and 3 bath two story home, you are welcomed by the beautiful and warm richness of floor-to-ceiling walnut and brushed oak walls, with ample amounts of marble flooring, countertops, and accents throughout.
The main entry corridor provides a soft entry into the home with beautiful wall paneling and concealed SOSS hinge doors which builder John Gioffre says was very intentional.
Continuing into the home, you will encounter a truly unique 18' wide steel and glass, as well as massive picture windows to allow natural light into the room. This space is the perfect formal dining or banquet room, or can be used as a conference room for a CEO.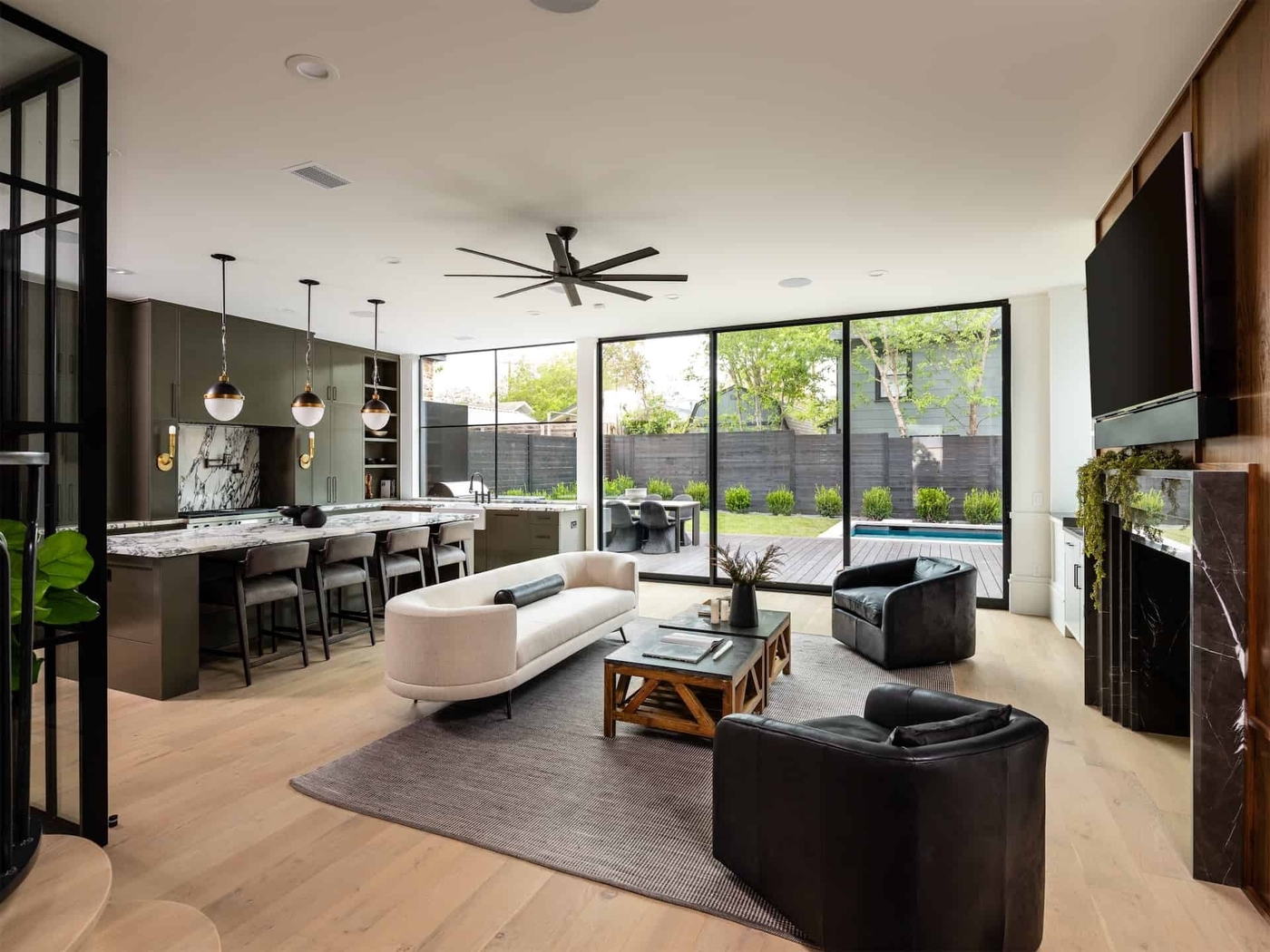 The home's main common area and kitchen space are made to be open and welcoming, with an abundance of room for family and guests to congregate. The main focal point is the large fireplace, surrounded by 11 pieces of Cierra Pietra marble to provide a truly eye-catching look.
This area metaphorically and literally packs warmth into this home, says John Gioffre of Revent Builds when showcasing the living space.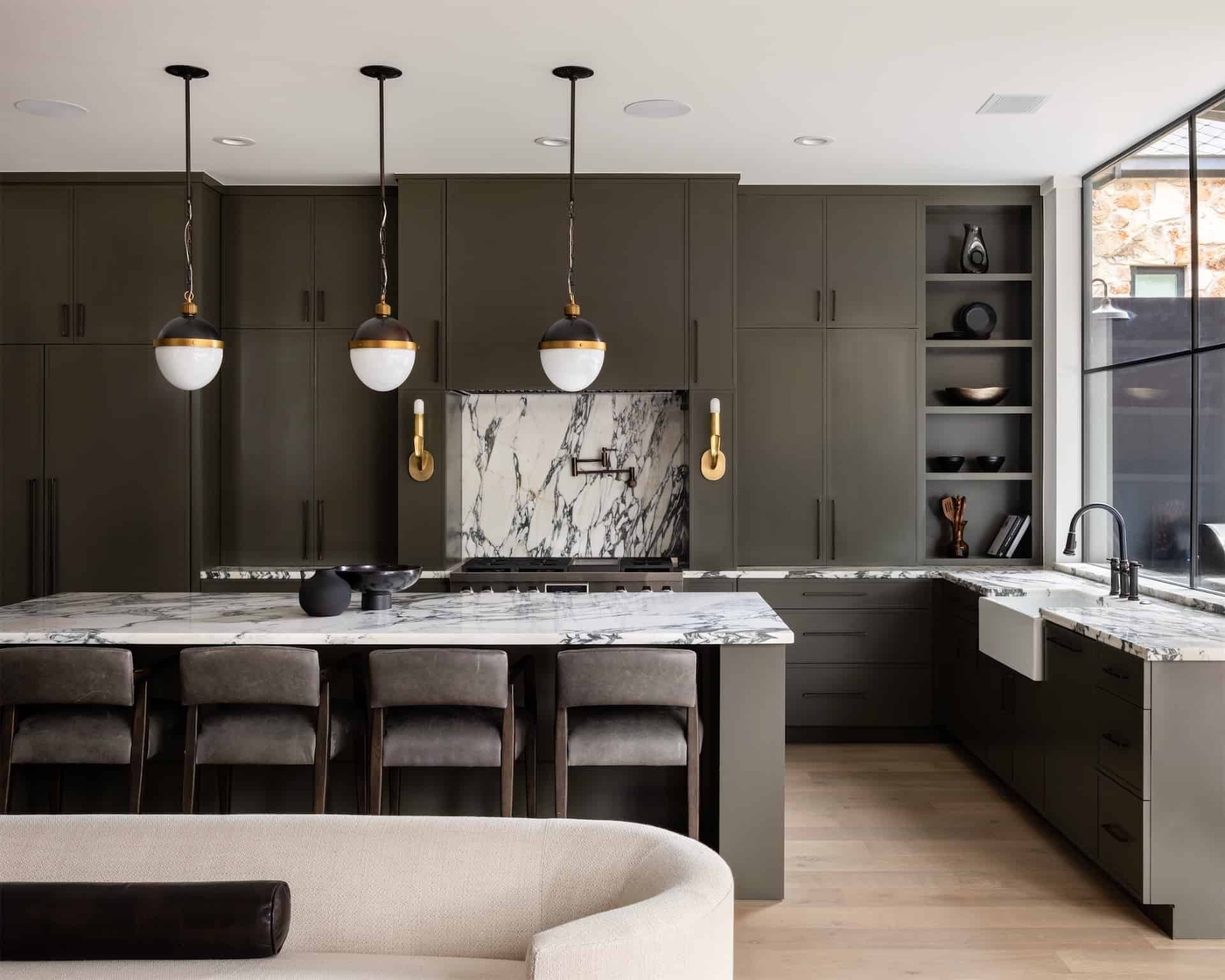 The kitchen itself offers gorgeous Italian Arabescato marble countertops, with a single massive slab being used for the sprawling freestanding center island. The Signature Kitchen Suite appliances stand behind sleek and modern seamless paneling to give the overall room a clean and elegant look.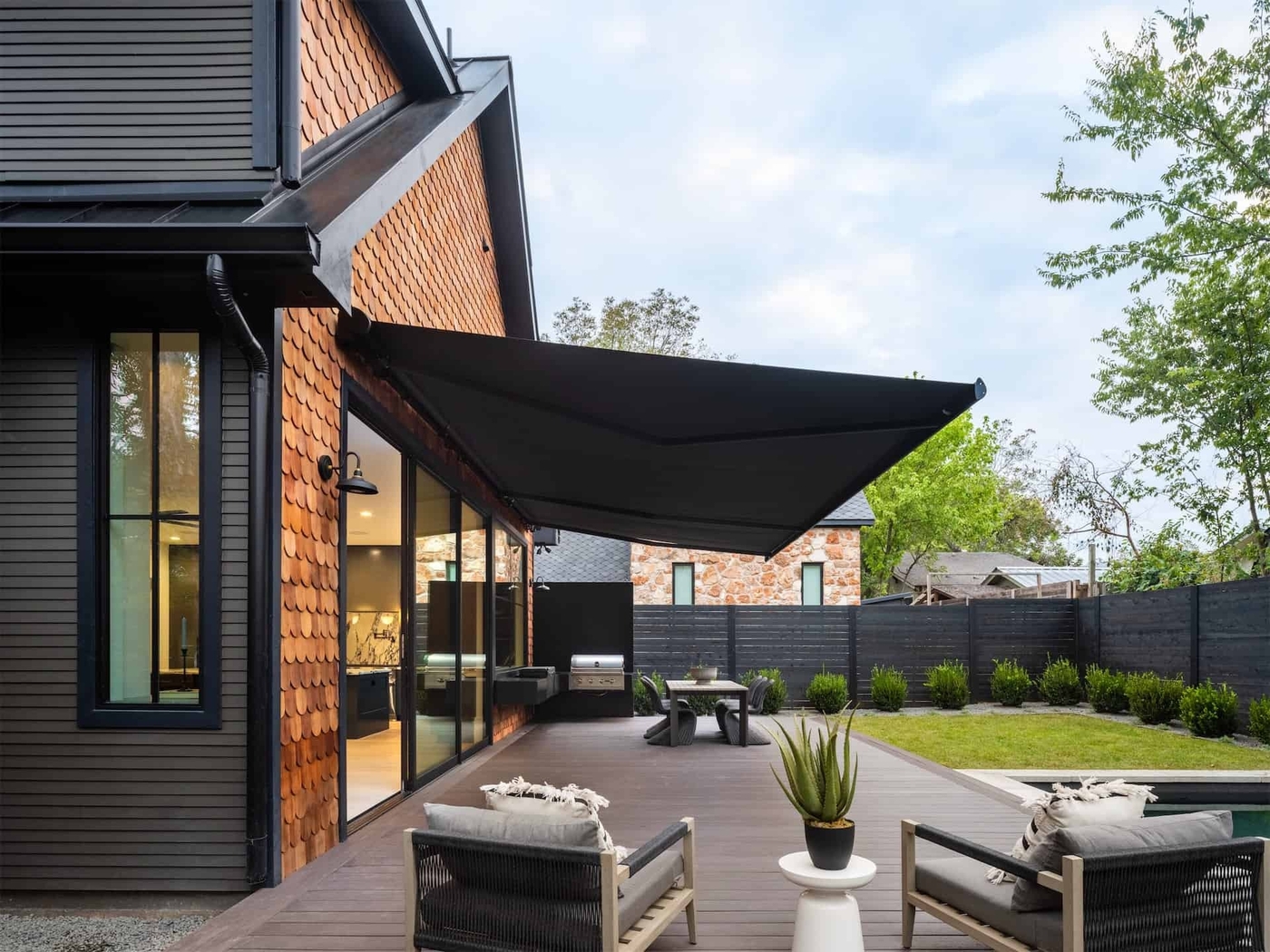 The backyard space invites you and your guests to relax or socialize with a soothing Zen garden complete with a Japanese Maple tree. As you move around the exterior of the home, you will notice a truly gorgeous facade that provides a warm contrast to the dark trim of the eaves and windows.
I wanted the optics here to be as dramatic and breathtaking as the front facade, states Revent Builds owner John Gioffre, when referring to the gorgeous individual cedar halfmoon shingles.
The outdoor kitchen boasts cantilevered countertops, an outdoor grill, and a full automatic awning to provide instant shade when needed. Additionally, you can take advantage of the integrated hot tub and spacious pool on a hot day.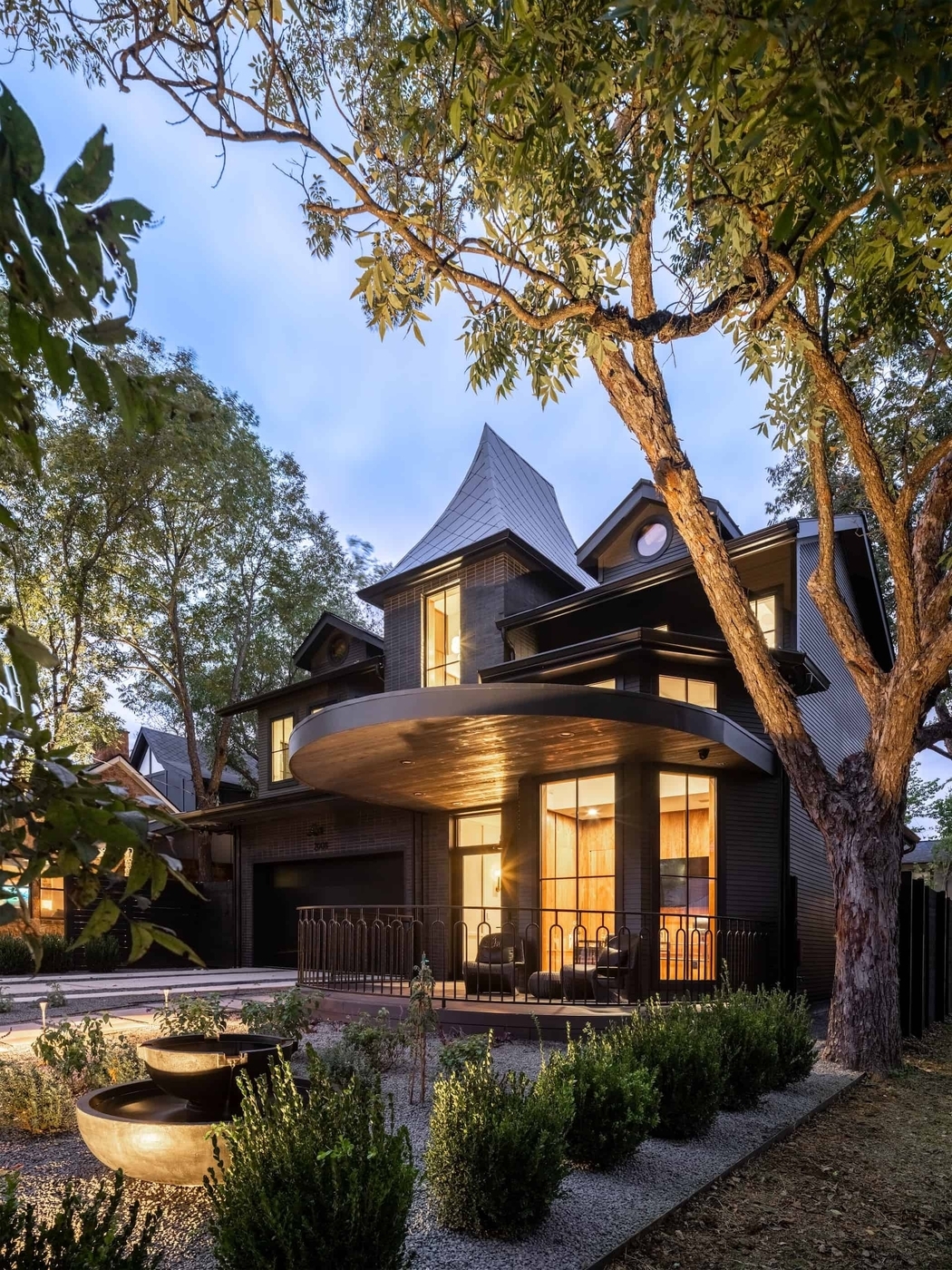 This iconic masterpiece is a complete 5-star turnkey home with a full automated home security system and video surveillance. There are smart locks throughout, with centralized smart lighting and 2GB Google Fiber throughout. It's a true lock & leave style property making it suitable as a primary residence, corporate retreat, or vacation home.