Whether dramatically drapey or more minimalist, curtains are both functional and decorative elements that can really make a difference in any room.
As well as blocking out direct sunlight and offering you some privacy whenever you wish, they can help you tie the room together, create a consistent palette, and reinforce your décor style.
Obviously, this also means that you shouldn't choose them randomly. Taking some time to figure out exactly what type and style of curtains would work best in your room will really pay off!
The best thing? We've summarized it into a practical curtain buying guide to help you narrow down your choice.

Identify the right type of curtain model for your needs & room
Before you fall in love with a cute valance only to realize that you actually needed more protection from the sun, let's start by identifying the most popular categories of curtains.
Panel pair
Probably what you usually picture when thinking of curtains, a panel pair simply consists of two curtains on both sides of a window.
They're ideal to ensure a symmetrical look but also to enjoy the most flexibility when it comes to sunlight: depending on what time of the day it is and where the sun is in the sky, you can pull one of the two to avoid a direct glare.
Obviously, this is especially helpful for larger windows.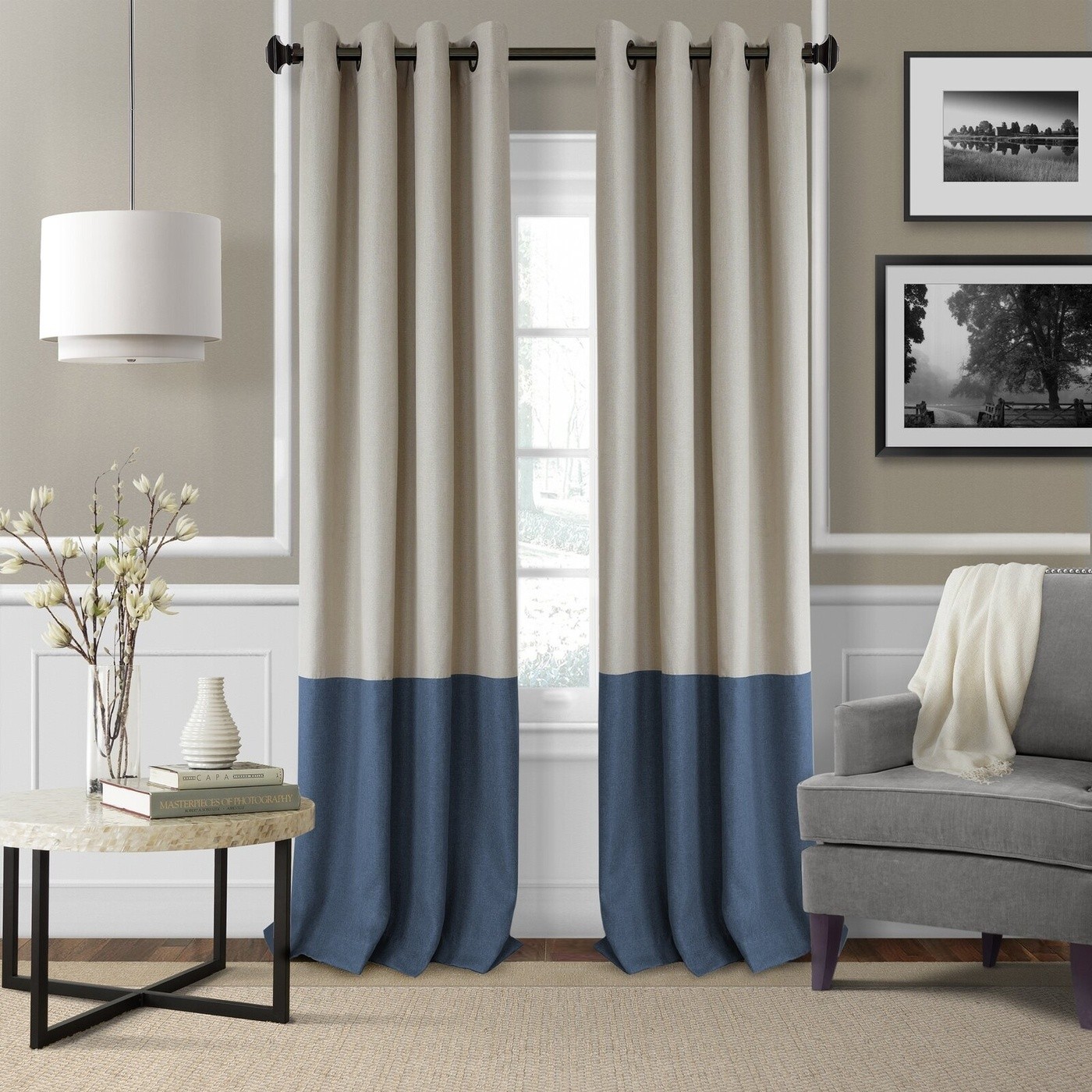 Single panel
Instead of two symmetrical panels, you can decide to rely on only one that covers the entire window.
You can find single-panel models for wider windows too, but it's certainly a more obvious choice for smaller or single-pane ones.
This type of curtain will allow you to get creative with an interesting, asymmetrical look which can be a statement in itself, especially in the most contemporary settings.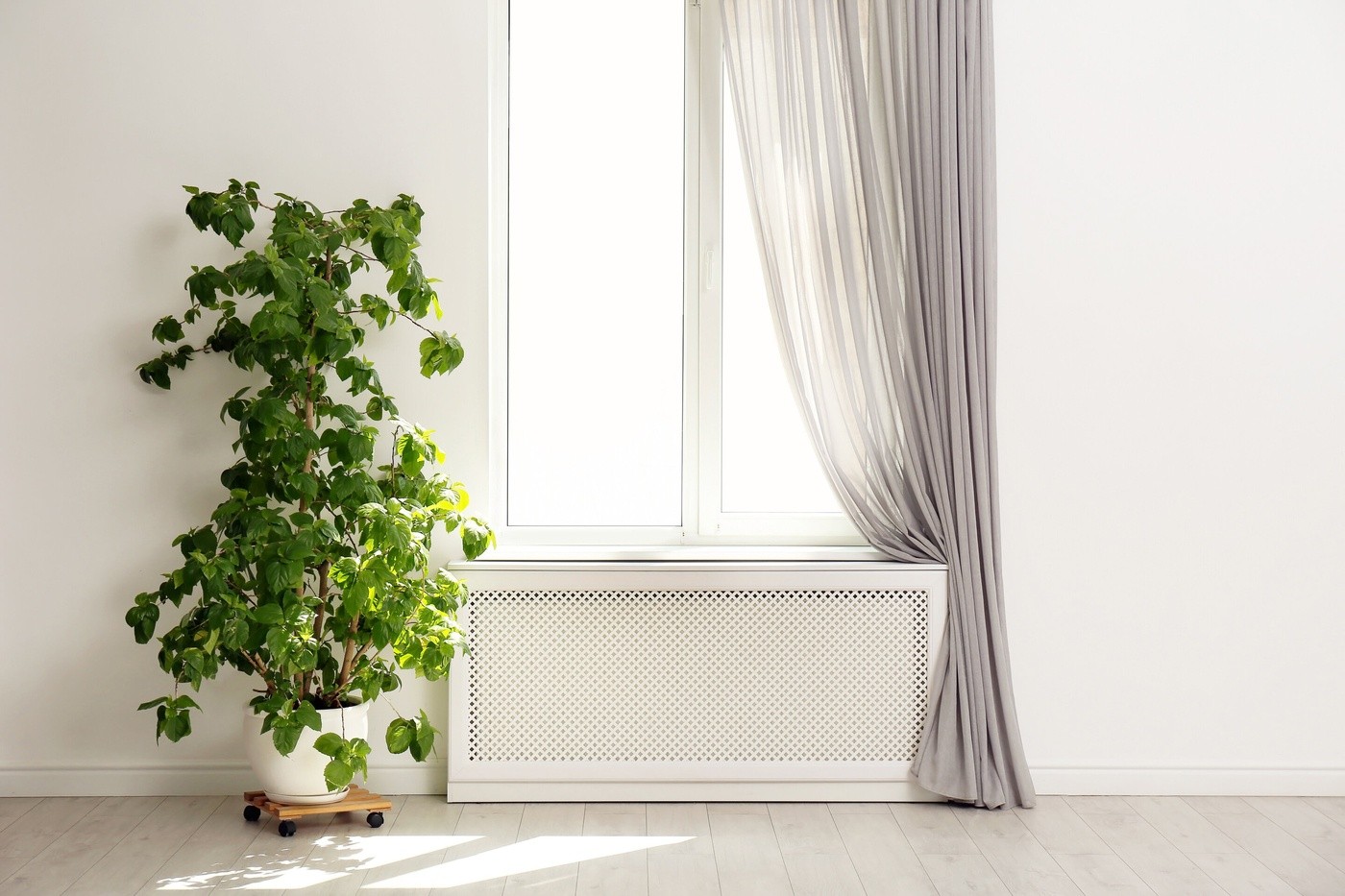 Valance
Unlike the longest and drapiest models, valances are much shorter curtains that only cover the top part or corners of a window.
They're mainly decorative since they don't offer you the privacy of traditional models, but they can still help you block direct sunlight while ensuring plenty of brightness in that room.
Although you can make them work in any setting, valances are particularly popular in kitchens or even bathrooms where privacy is already ensured by shades or the position of the room in relation to its surroundings.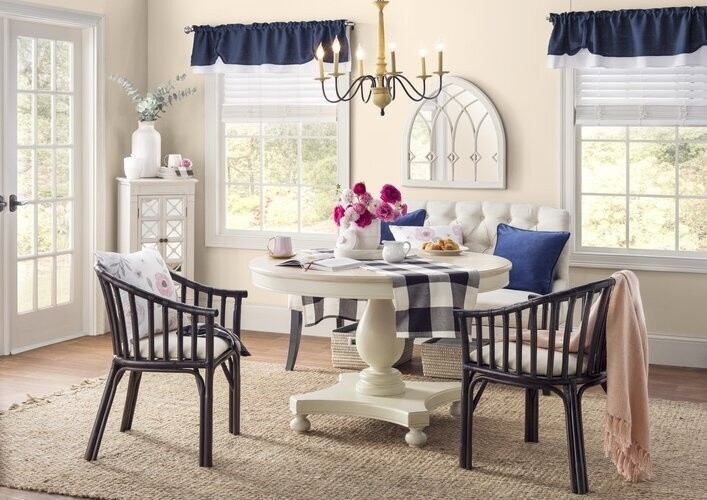 Window treatment set
If you can't choose between traditional panel curtains and valances, a full window treatment set will give you the best of both worlds.
These sets consist of a top valance and either a panel pair or a single-panel curtain, although some others can include additional elements (such as a rod or tie-backs).
Window treatments are usually chosen in the most decorative or vintage settings.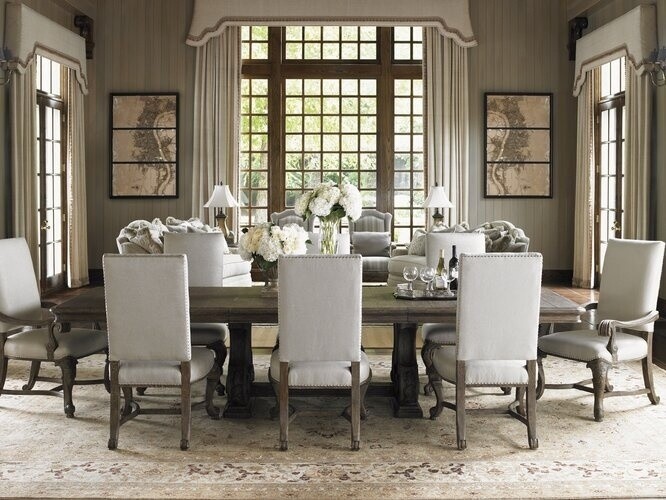 Window scarf
The rarest option out of the ones included in this list, window scarves might still be worth scouting for if you're after a decorative statement rather than actual help blocking the light.
They're fairly similar to a valance but they consist of a long piece of fabric hung from the top of the window in a dramatic way, allowing you to play with either symmetrical or unusual shapes.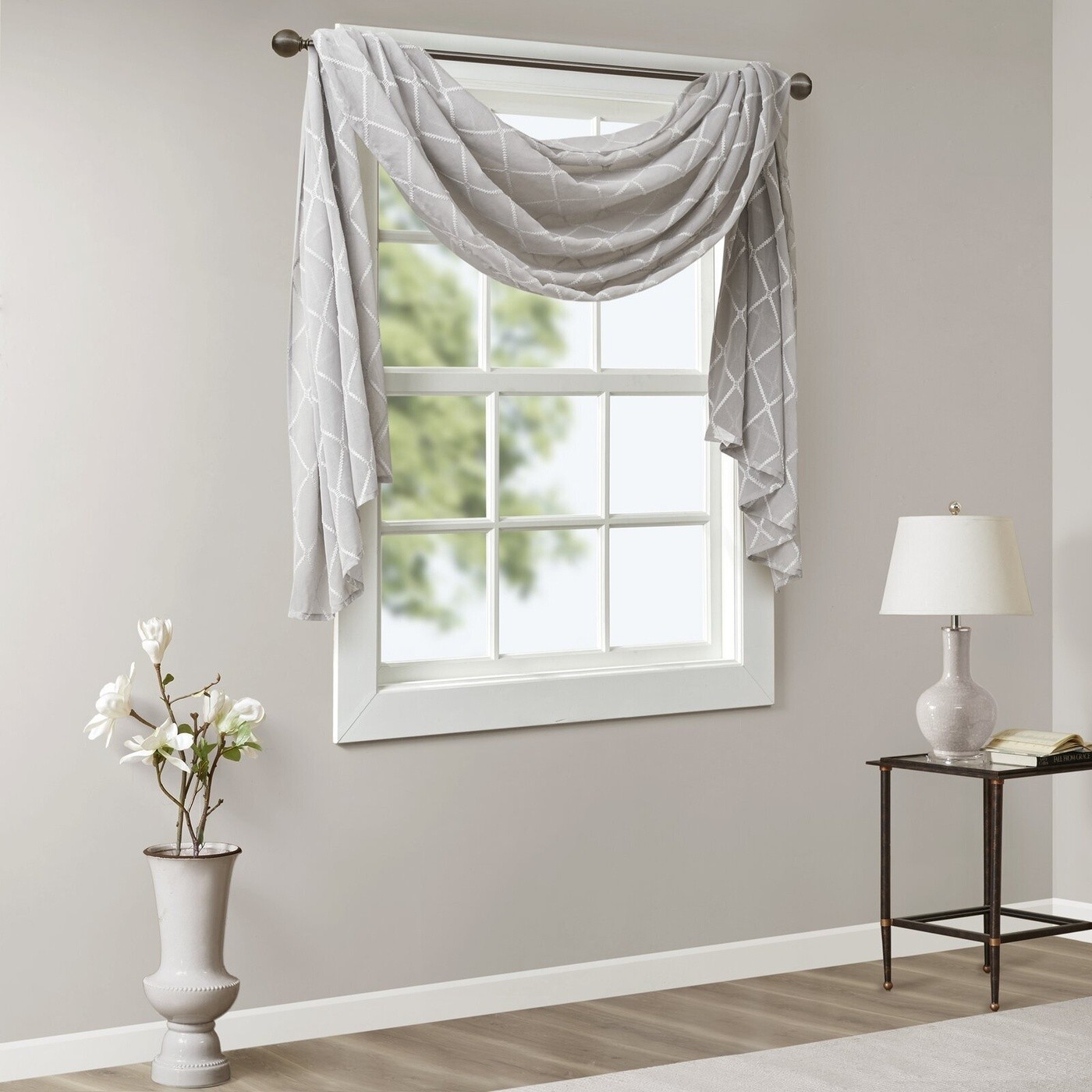 Choose the type of attachment & pleat
With the most traditional types of curtains (e.g. panels rather than scarves), you might also want to look at the way they attach to the rod.
This can help you better match a specific style and will also result in a different pleat within the actual curtain, influencing the final overall look.
Pleated curtains
If you have traditional or classic interiors or you secretly want to impress everyone with the most majestic feel, you can't go wrong with pleated curtains.
This type of rod attachment offers several different choices.
Pinch or tailored pleat
These curtains couldn't be truer to the name as they're literally stitched and pitched at the very top, letting the folds flow below them and resulting in an elegant look.
This makes them ideal in main rooms such as your living room or bedroom.
Pinch pleat models usually range between two- to five-finger pleats: the higher this number, the fuller your curtains will look. If you're not too sure, stick to three-finger pleats, the most common type.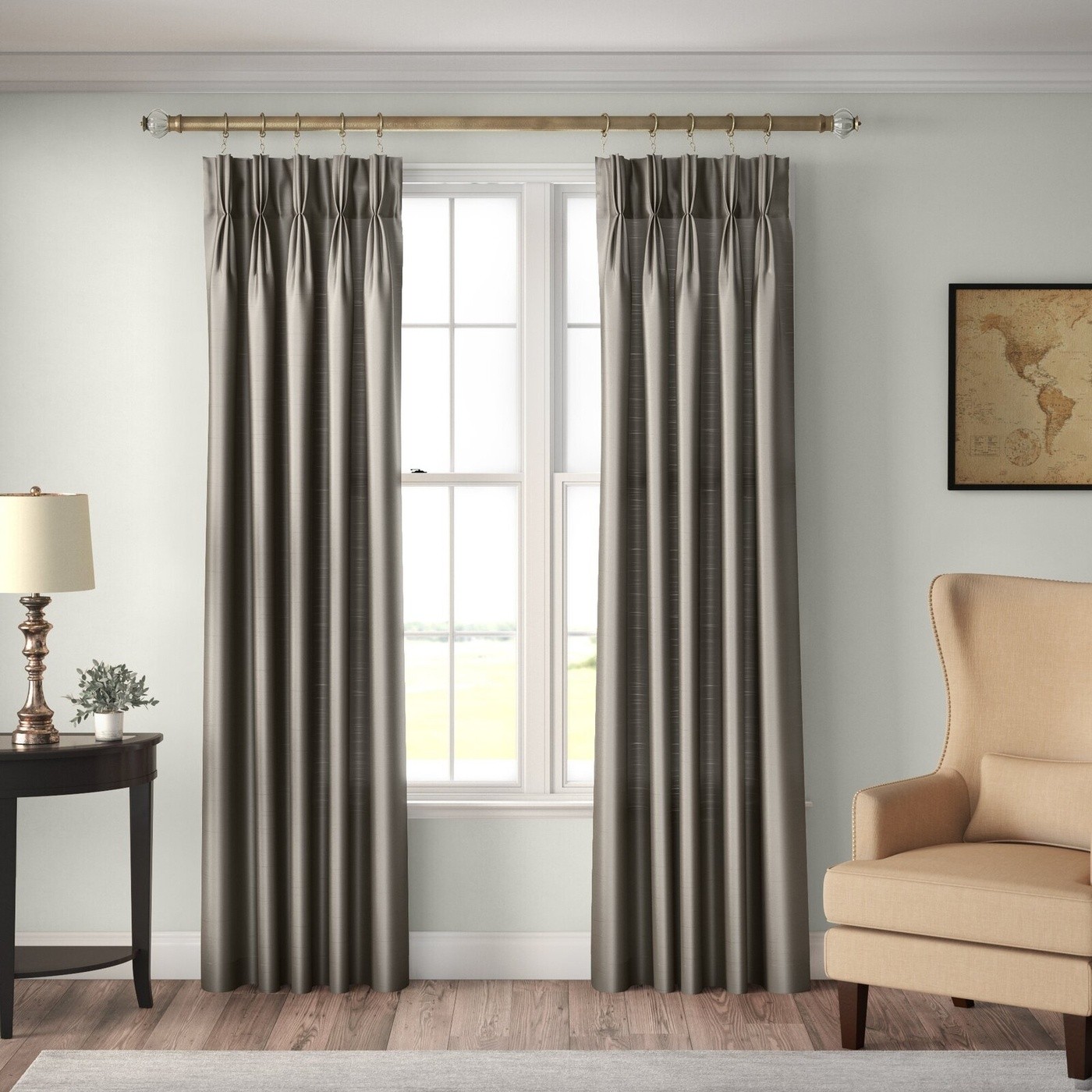 Box pleat
In this case, your fabric folds will run deeper but uninterruptedly along the entire length of your curtain: a stylish idea for dining rooms and bedrooms in particular.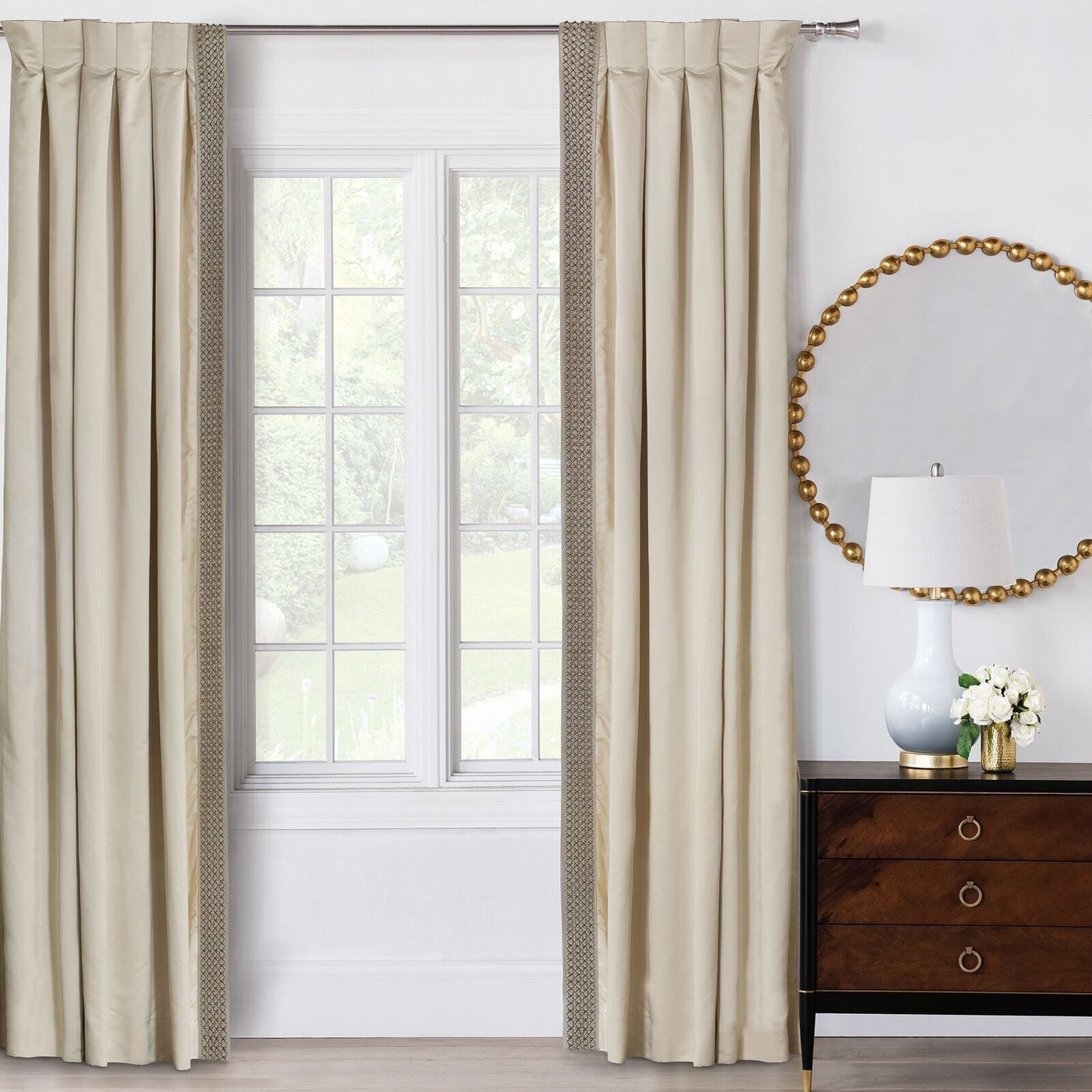 Pencil pleat
To make an eye-catching statement while maintaining a more casual feel, you could consider pencil pleat curtains that involve a busier repetition of much thinner single pleats.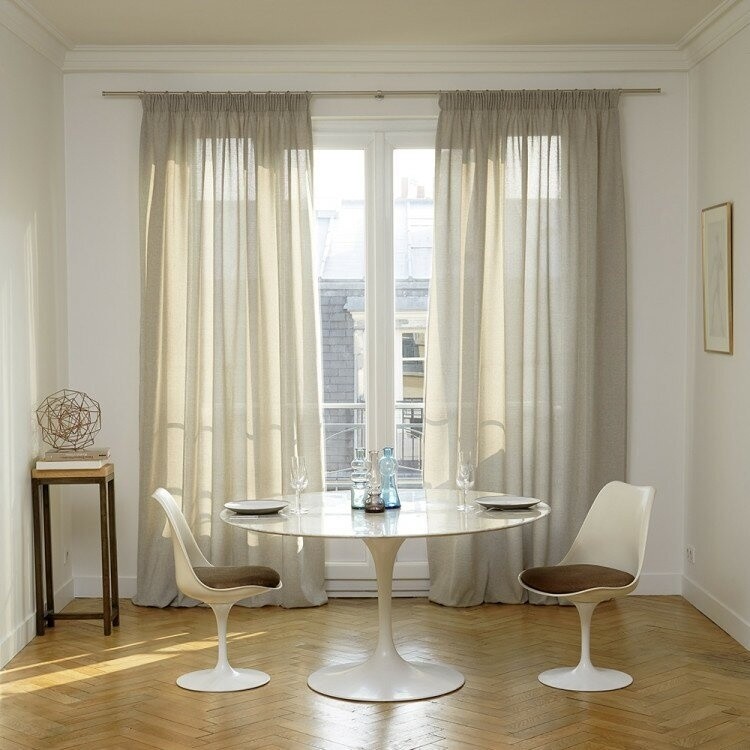 Goblet pleat
If you happen to have high ceilings and love hosting more formal parties, you'll probably love goblet pleat curtains.
They involve a very peculiar type of pleat that resembles an actual goblet and results in dramatic double folds.
However, they're also more delicate, so we only recommend them for decorative purposes rather than frequent use.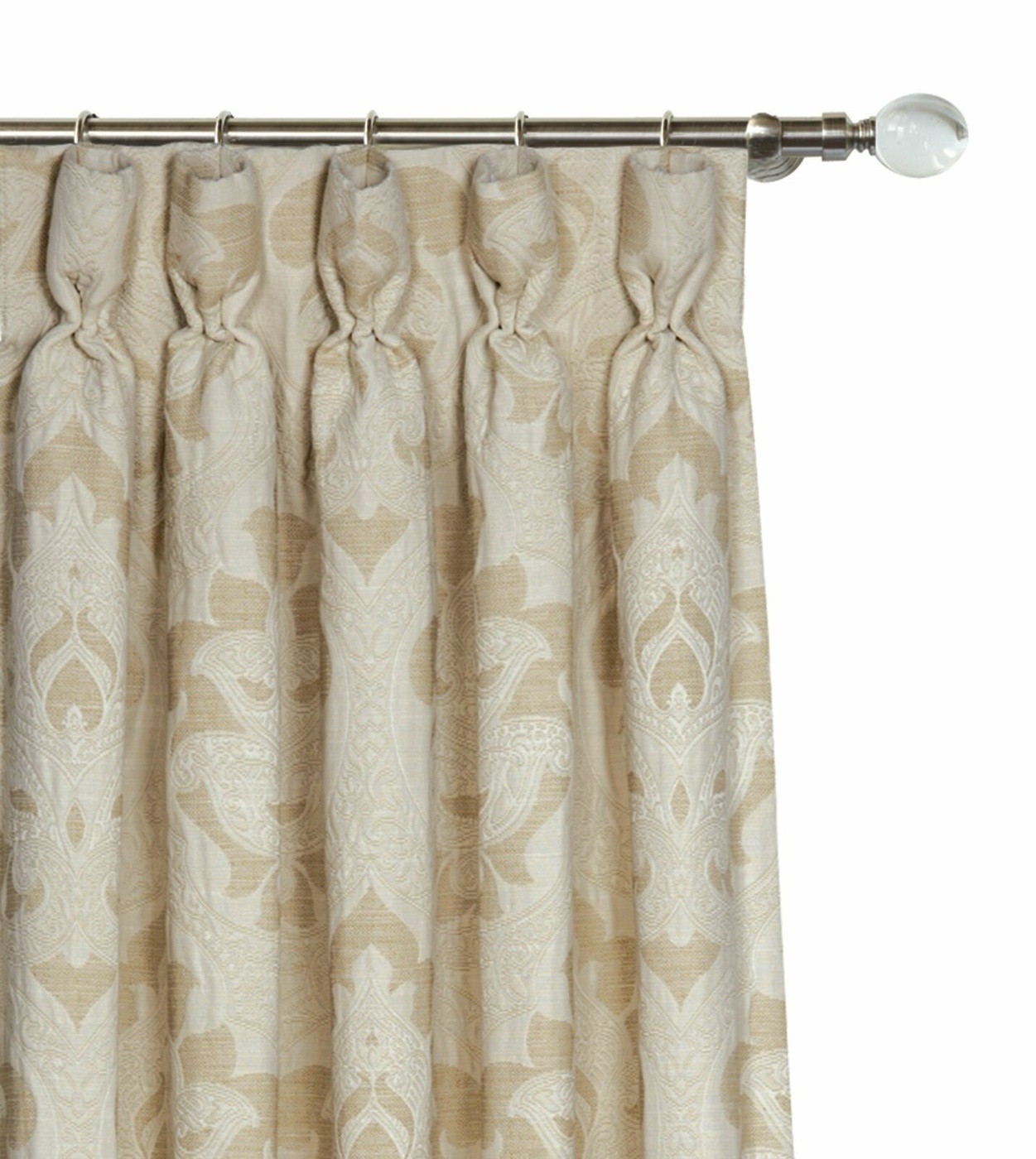 Eyelet or grommet curtains
As the name suggests, these curtains rely on large eyelets (reinforced with grommets) to attach the fabric to the rod.
As well as making it a breeze to open and close the curtains, this functional model will also offer you a more minimalist type of top-window statement rather than more decorative valances.
Eyelet curtains are particularly handy in bedrooms and popular in contemporary or modern settings.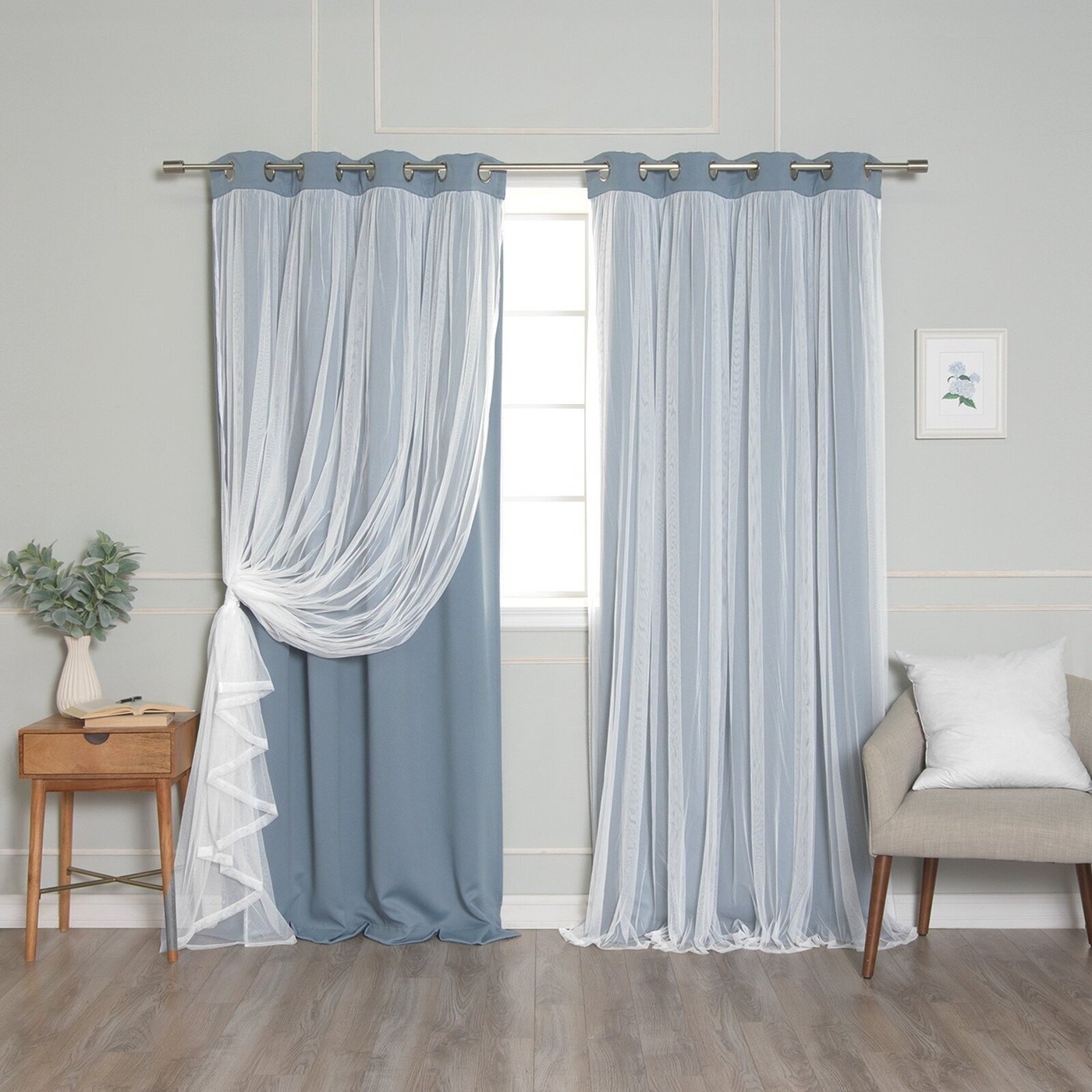 Rod-pocket
This category involves a top pocket sewn into the fabric and through which you can easily slide the rod.
Rod-pocket curtains are mainly made of lightweight fabrics, which is why they're often paired up with a valance or a second layer.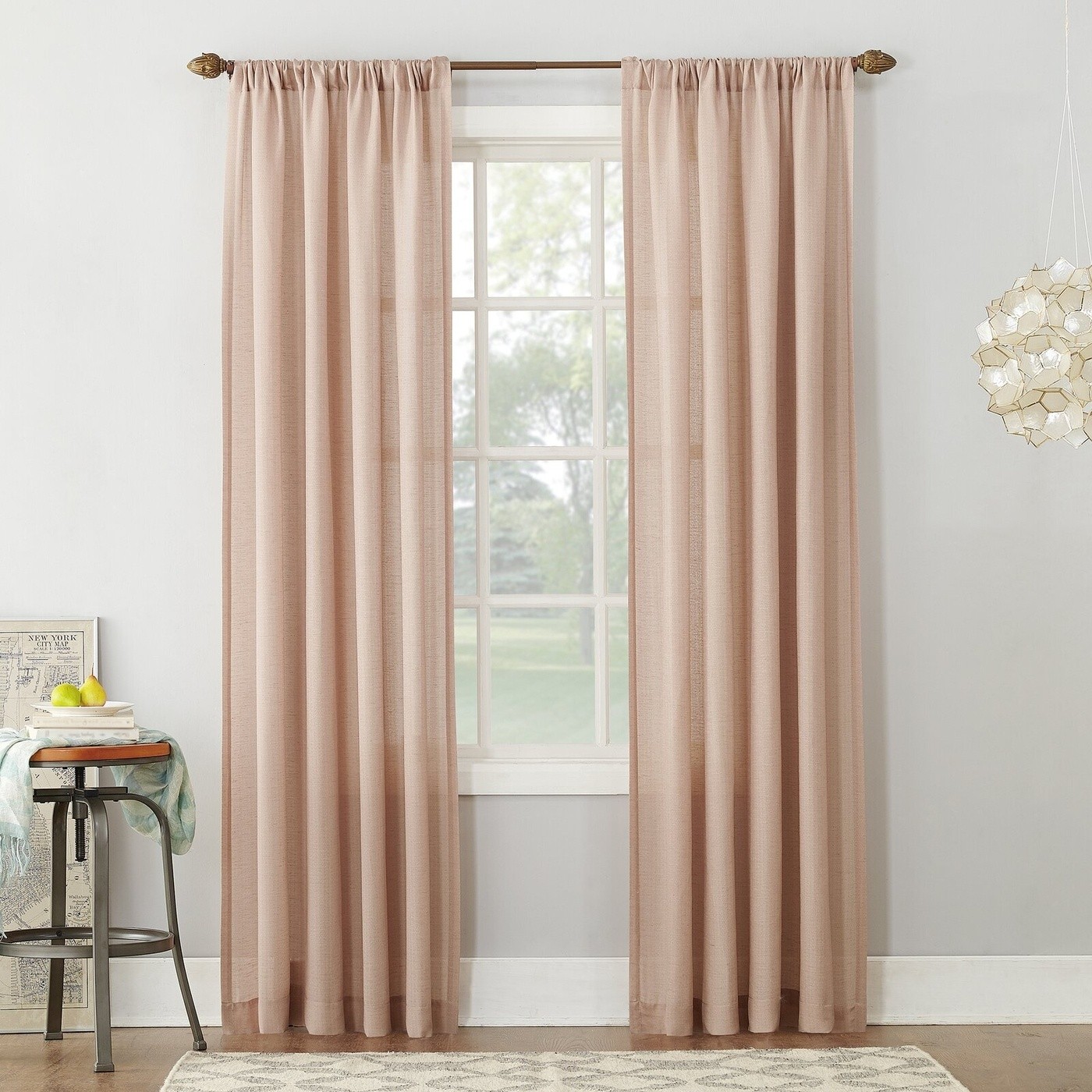 Tab-top
Relying on fabric loops to attach themselves to the rod, these curtains usually result in a flatter look which makes them ideal for patterned or printed designs.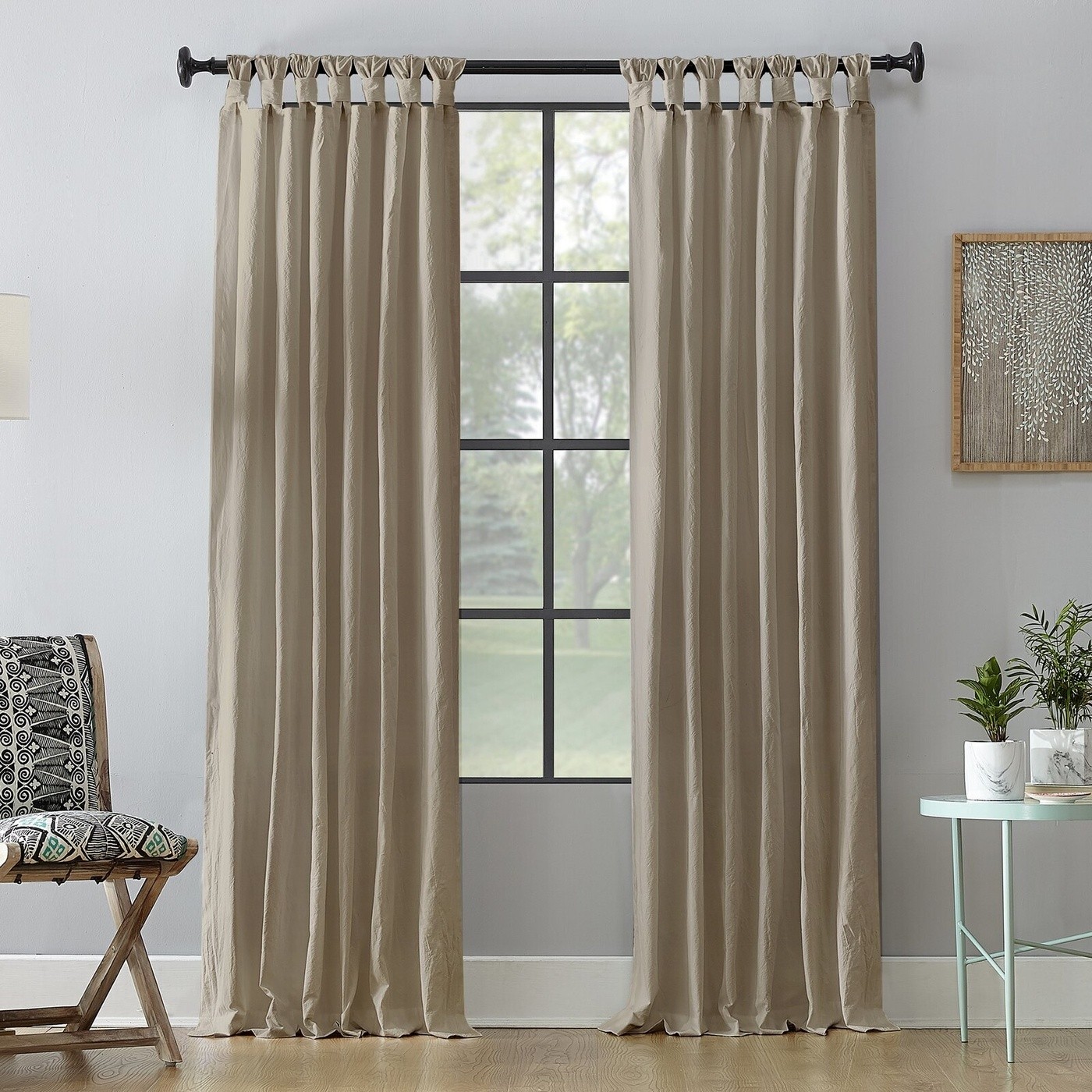 This is a great compromise between rod-pocket and tab-top models: hidden-tab curtains still rely on loops but, thanks to an additional decorative layer of fabric, they're kept out of sight.
Given the cozy feel that this creates, hidden-tab curtains are popular in country and traditional settings, but you can also make them work in more contemporary rooms.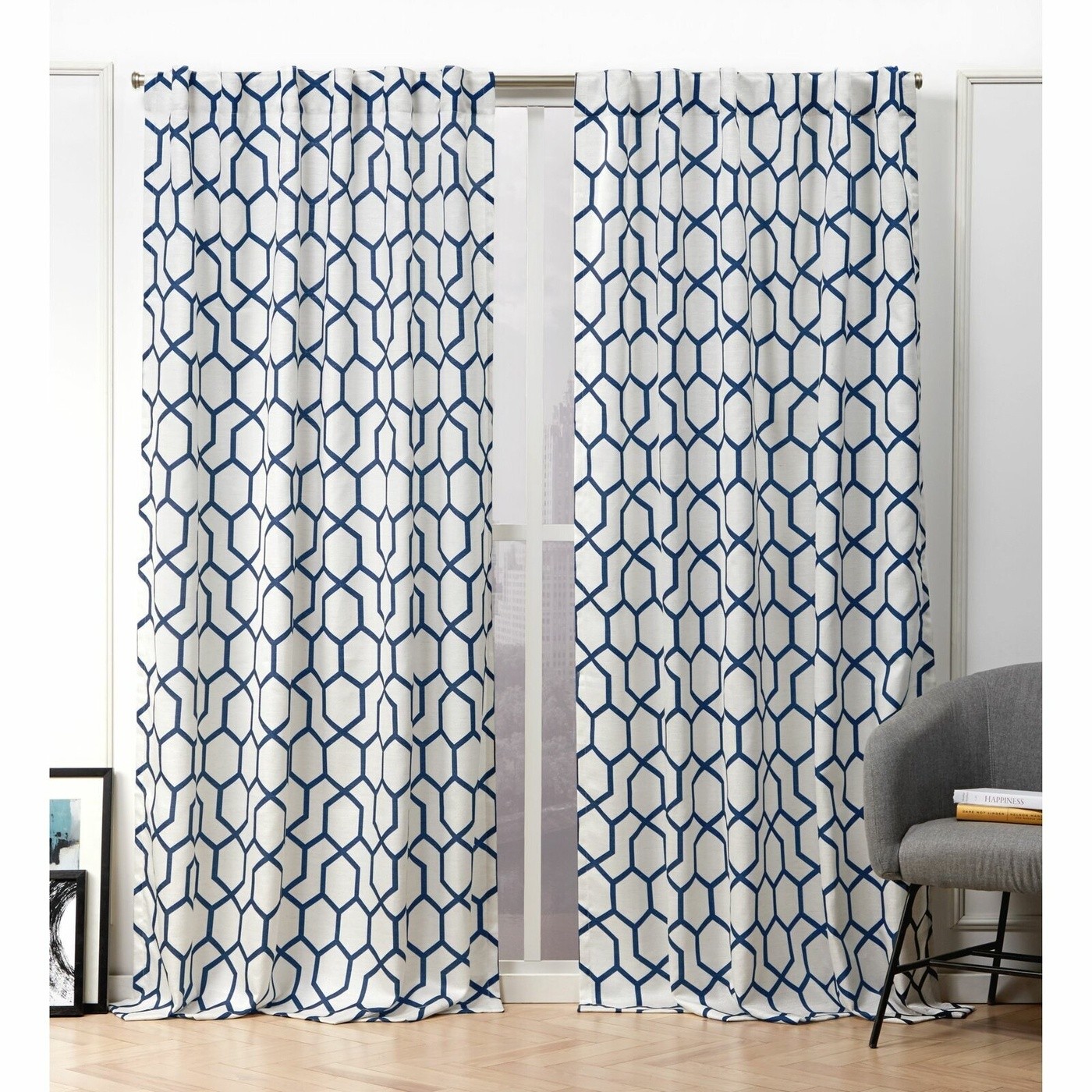 Measure the correct length
The optimal length of your curtains will ultimately depend on that of your window. However, you can also keep in mind the type of effect that you'd like to achieve.
Float
With this popular solution, your fabric will dangle just above the floor. The safest trick is to allow around one inch in between your panel bottom and the floor surface.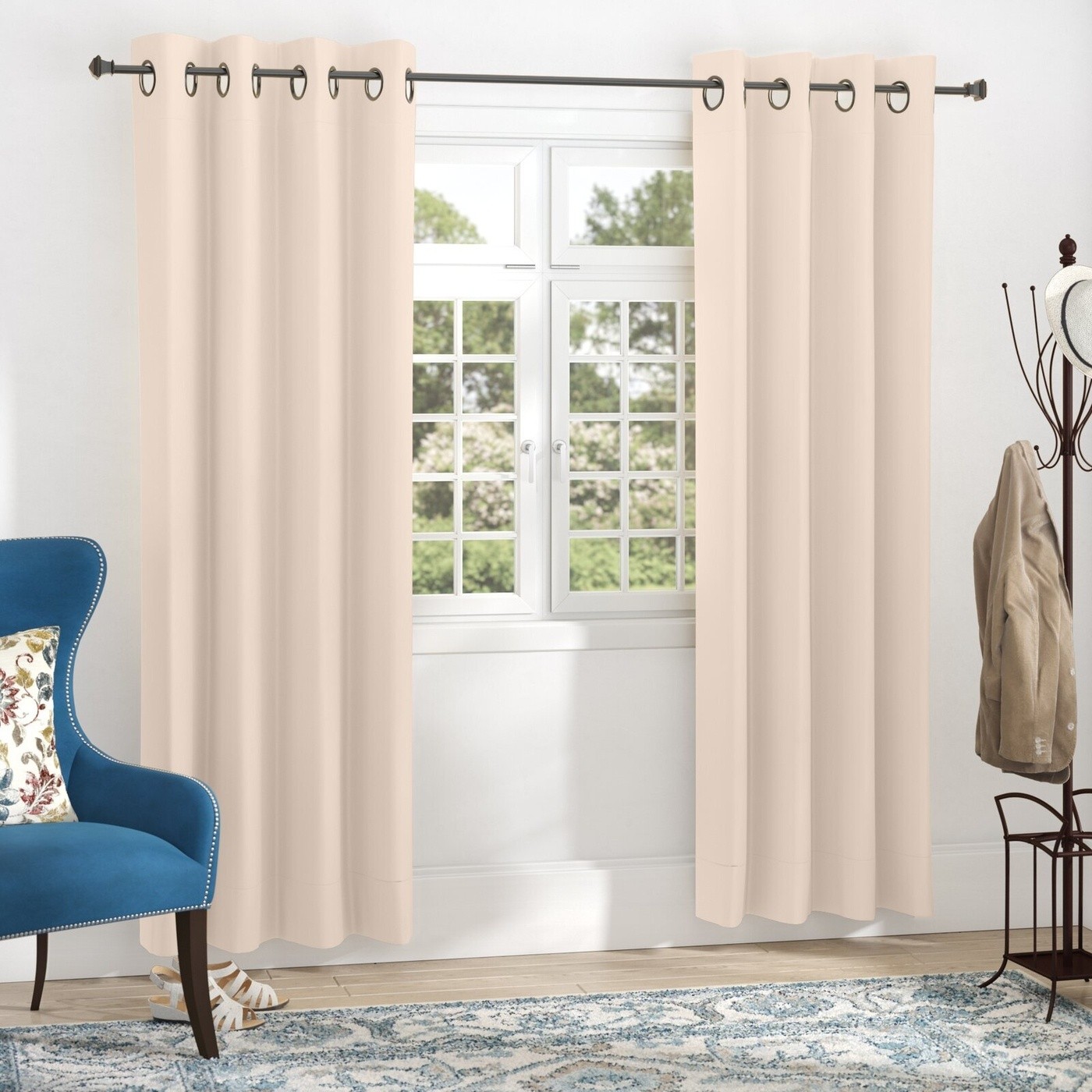 Kiss
If you want to enhance your room's symmetry by having your curtains actually graze the floor, you'll need to measure them to the millimeter (taking hardware and rings or type of attachment into account) to ensure that they do so precisely.

Puddle
Not the most practical option, but certainly the most dramatic!
If you don't use your heavy curtains every day and are hoping for the most majestic setting (for example, in a room used for formal gatherings), have them slightly longer so that they flare out as they touch the floor.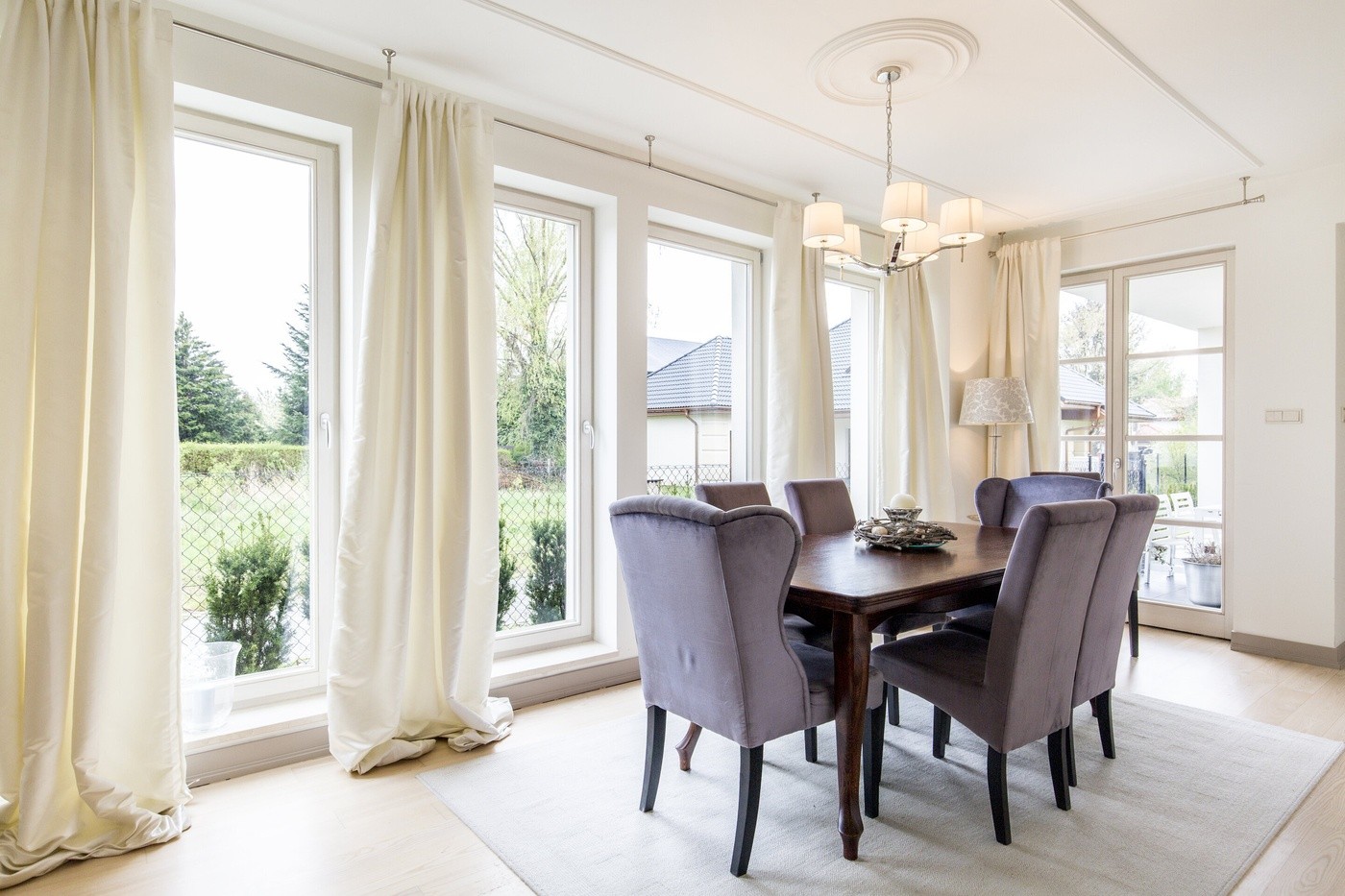 Sill
For smaller windows and, especially, those that you use almost every day, it might be more practical to opt for the same height as your window sill (or only just above it).
This is particularly handy in kitchens, bathrooms, and settings where you have a larger piece of furniture below your window (such as a sofa or chest of drawers) that would get in the way of floor-length designs.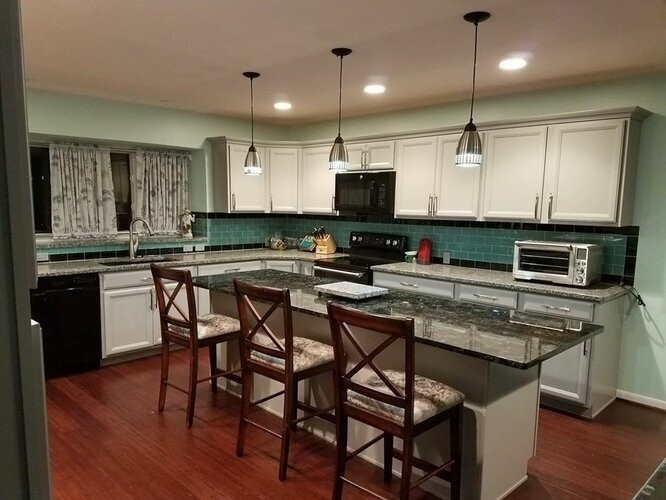 Apron
This is a crafty option to elongate the look of smaller windows, enhancing a vertical effect.
Apron curtains are, in fact, hung slightly higher than the top of the window and they extend a few inches below its sill. They're especially used in modern and vintage rooms as well as nurseries.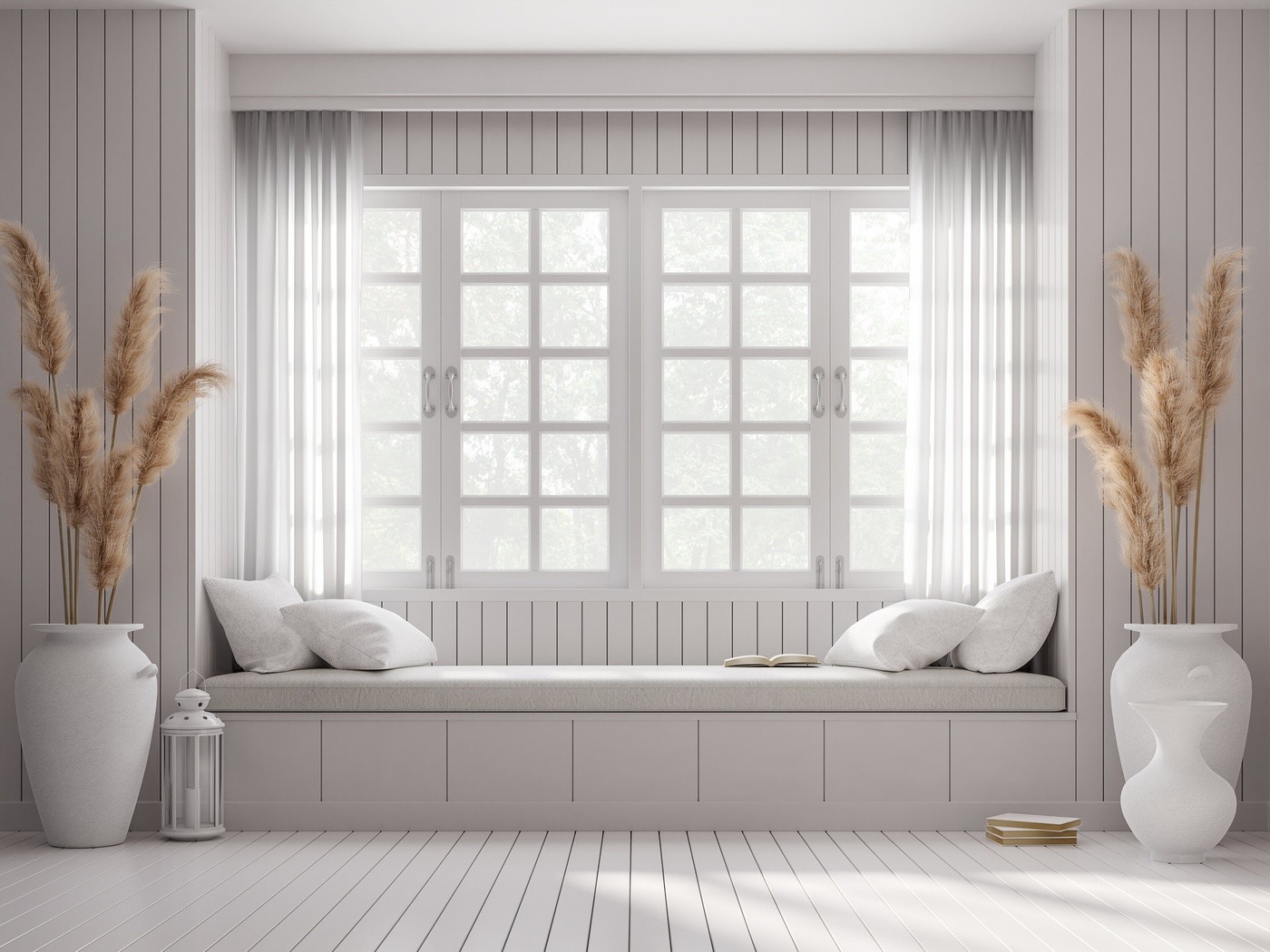 Valances
The measurement side of things is obviously very different for valances since these models aren't expected to cover the entire length of the window.
In that case, just opt for a valance that's between one-sixth and one-quarter of its height to maintain a balanced look.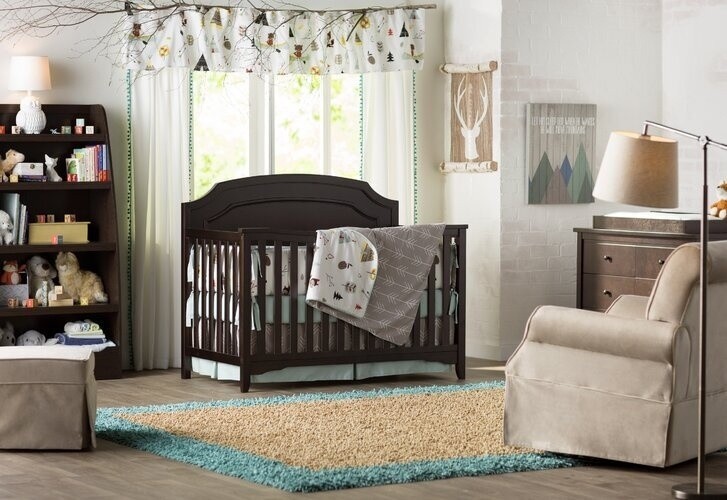 Keep the optimal width in mind
While this factor is often overlooked especially when compared to curtain length, it's actually helpful to consider the estimated width of your model as it can influence the final result.
As a rule of thumb, aim for curtains that are twice as wide as your actual window.
However, consider what effect you'd like to create:
Curtains that are as wide or only slightly wider than your window will result in a flatter, more minimalist look and are only recommended for pleat-free designs

Much wider curtains will have thicker folds and, therefore, a more dramatic effect
Figure out if you need additional features for different functions
Now that we've got a good idea as to what categories you can choose from and what dimensions you should aim for, it's helpful to consider your curtains' function before moving onto the fun part (colors and styles).
Duh, we know that you're going to use them to block sunlight, but trust us: there are a few points that you might regret overlooking.
Opacity
Ask yourself whether you want that room to still be fairly bright even when the curtains are closed as well as whether or not you're after some privacy.
Your main options are:
Sheer curtains: these semi-transparent fabrics allow the most sunlight in while still helping you avoid a direct glare, so you can consider introducing them in a room that you'd like to keep full of light like a dining room or a sunroom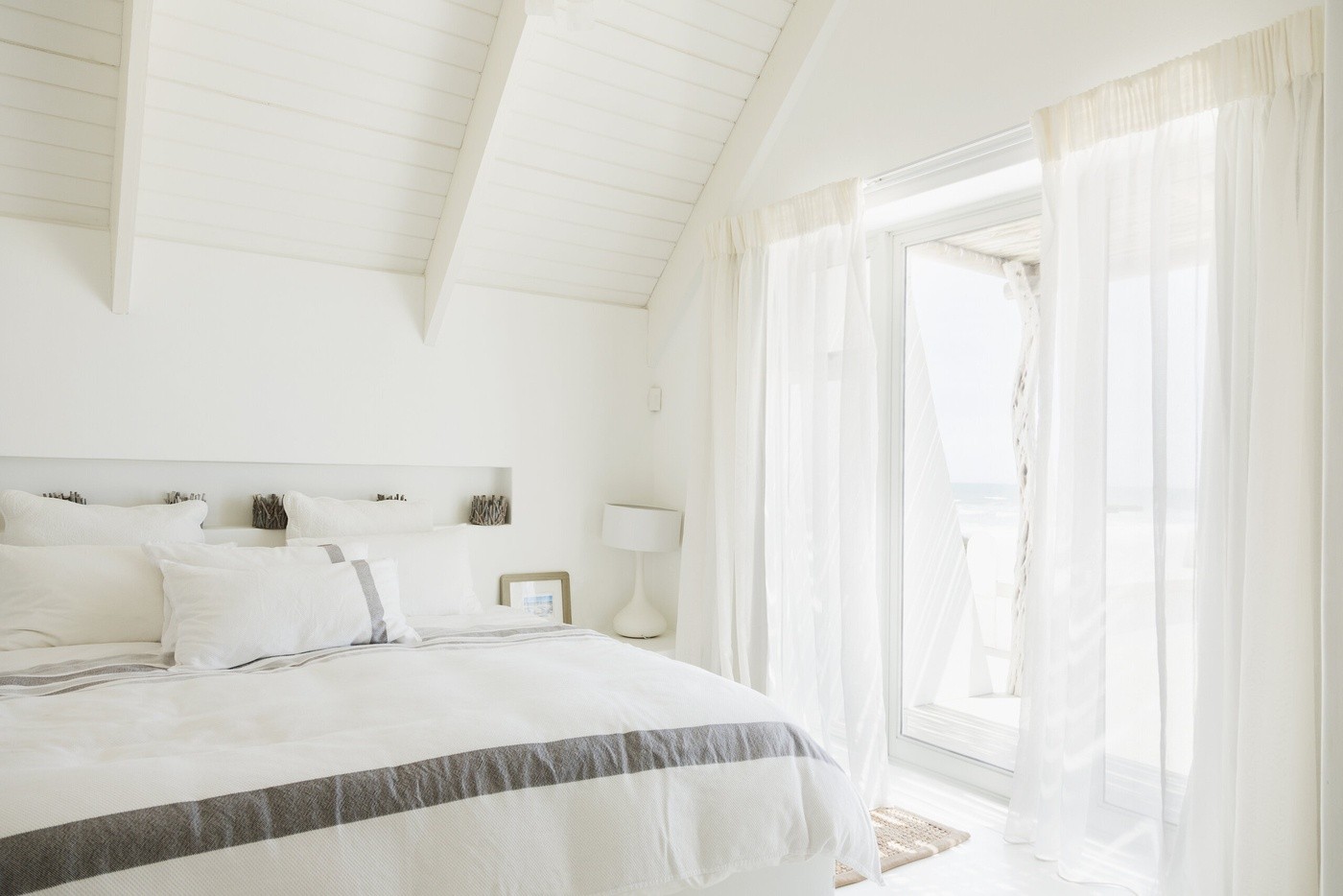 Blackout curtains: as the name suggests, they don't allow any light in when you close them as they're made of much heavier materials and often feature built-in linings. Since they offer you the most privacy, they're a popular option in bedrooms but can easily be introduced in other rooms where you want to be able to create a darker mood when needed (e.g. to watch a film)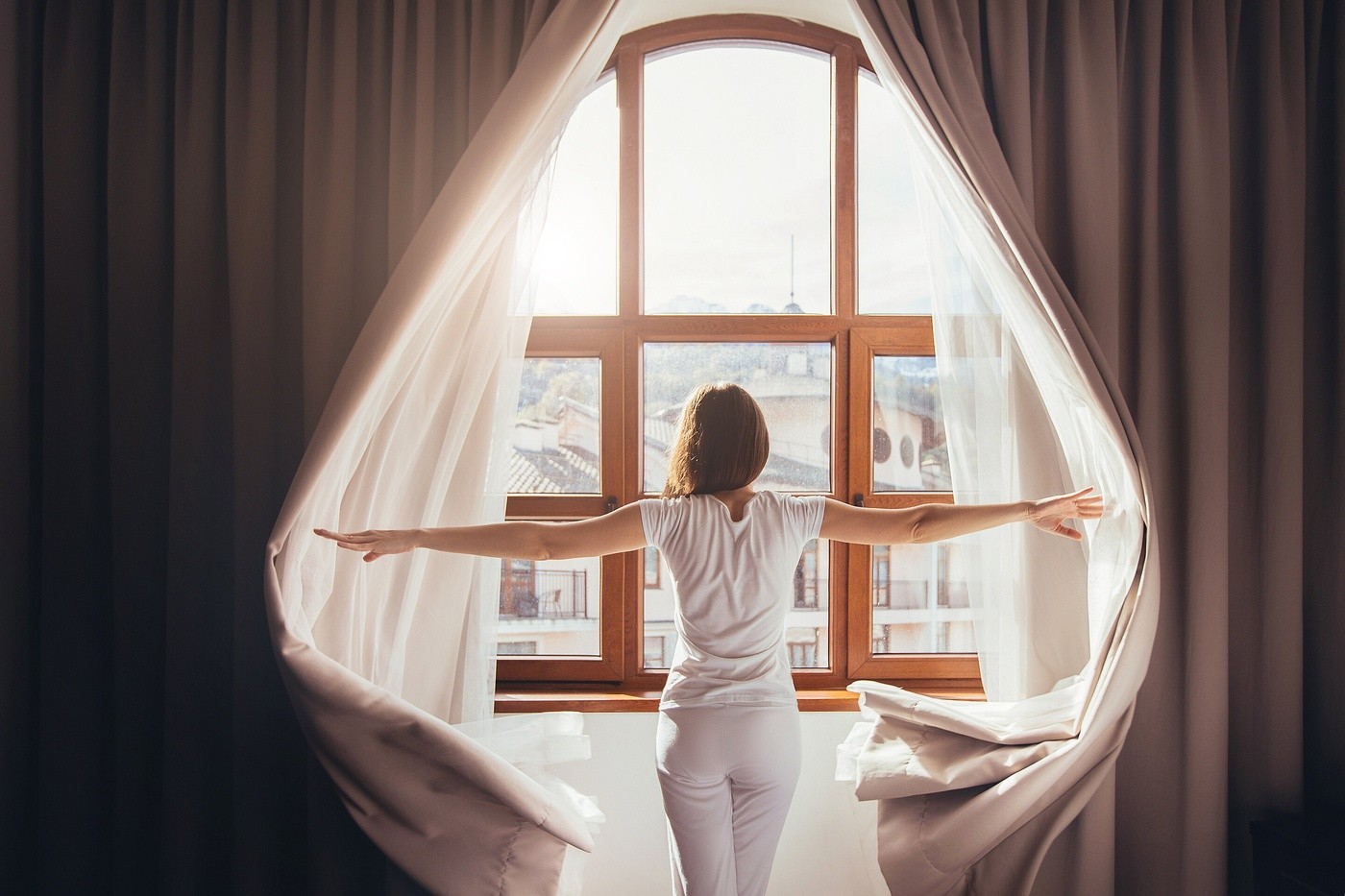 Semi-opaque curtains: this is a handy compromise between the other two. They provide more privacy than sheer curtains but aren't quite as light-blocking as blackout models. However, they can still be combined with linings, should you wish to.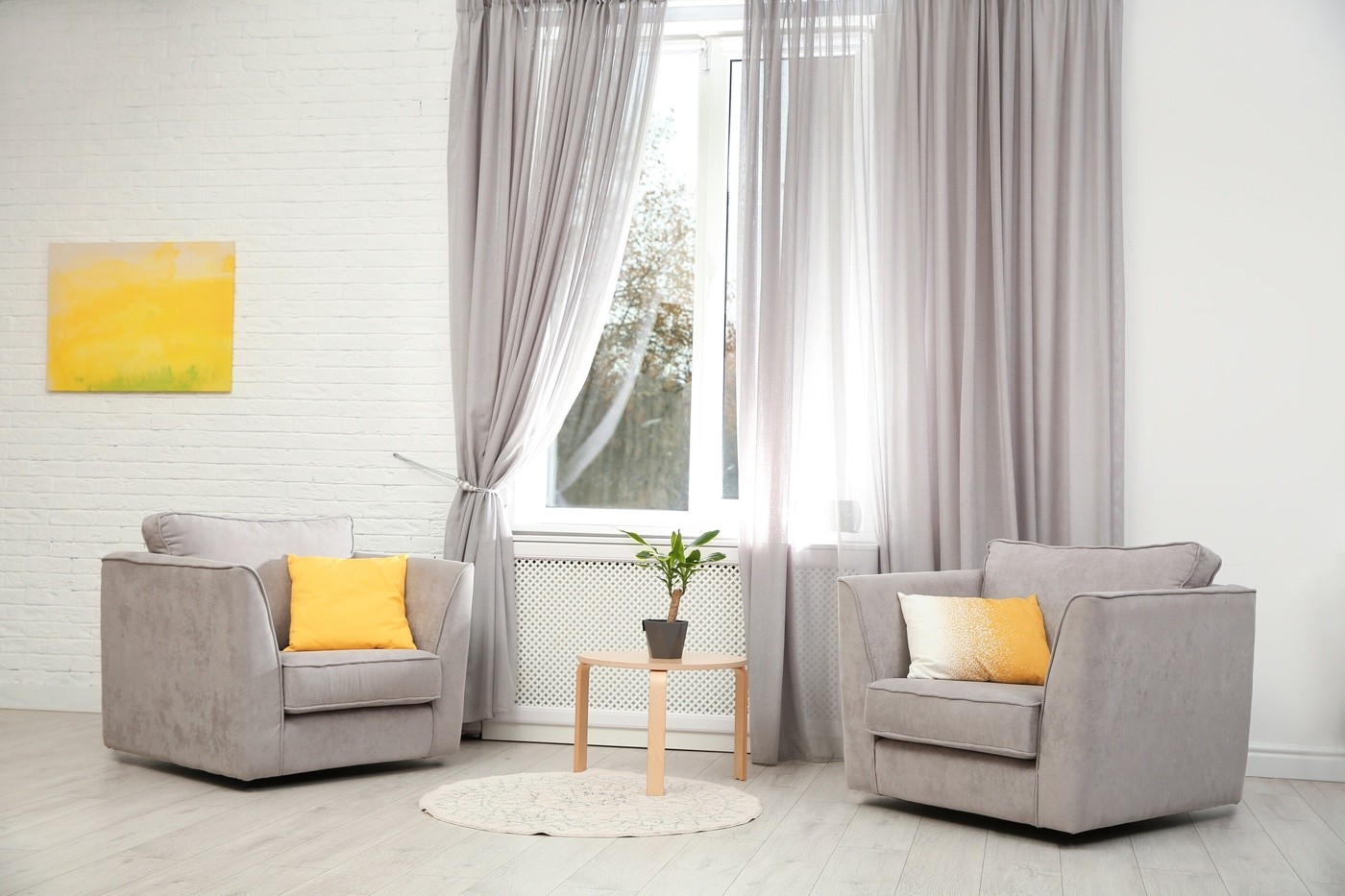 Insulation
If you have drafty windows or you live in a particularly cold/hot climate, it'd be wise to look for curtains that offer a higher degree of insulation:
In most cases, it can be enough to look for heavier fabrics such as velvet or strong synthetic options

For the best results, you can always invest in thermal curtains that hide an additional layer of foam or mylar without compromising on looks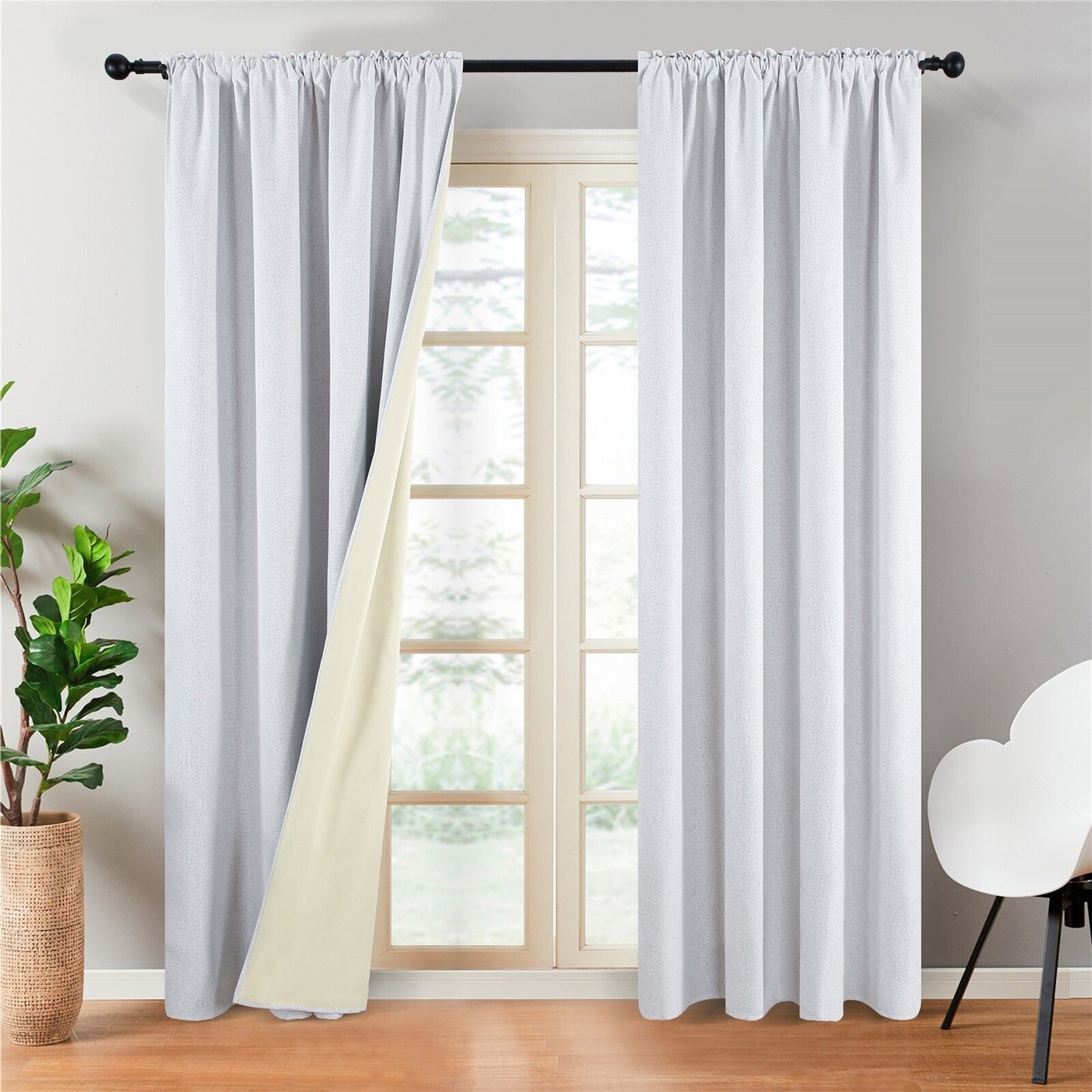 Noise reduction
Light sleeper? Living in a bustling urban environment? You can save yourself some stress by looking for soundproof curtains.
They obviously can't work miracles, but they can still absorb up to 75% of these noises (which is pretty close to it, if you ask us).
Choose the material of your curtains
The material will influence the level of opaqueness of your curtains but also the overall feel of your window area.
Cotton
Classic cotton is still one of the most popular curtain fabrics, especially as a semi-opaque option.
Cotton curtains are often paired up with other materials to create a different style or result, such as a heavier lining for increased privacy.
They're available in a wide variety of styles and they're easy to clean and maintain.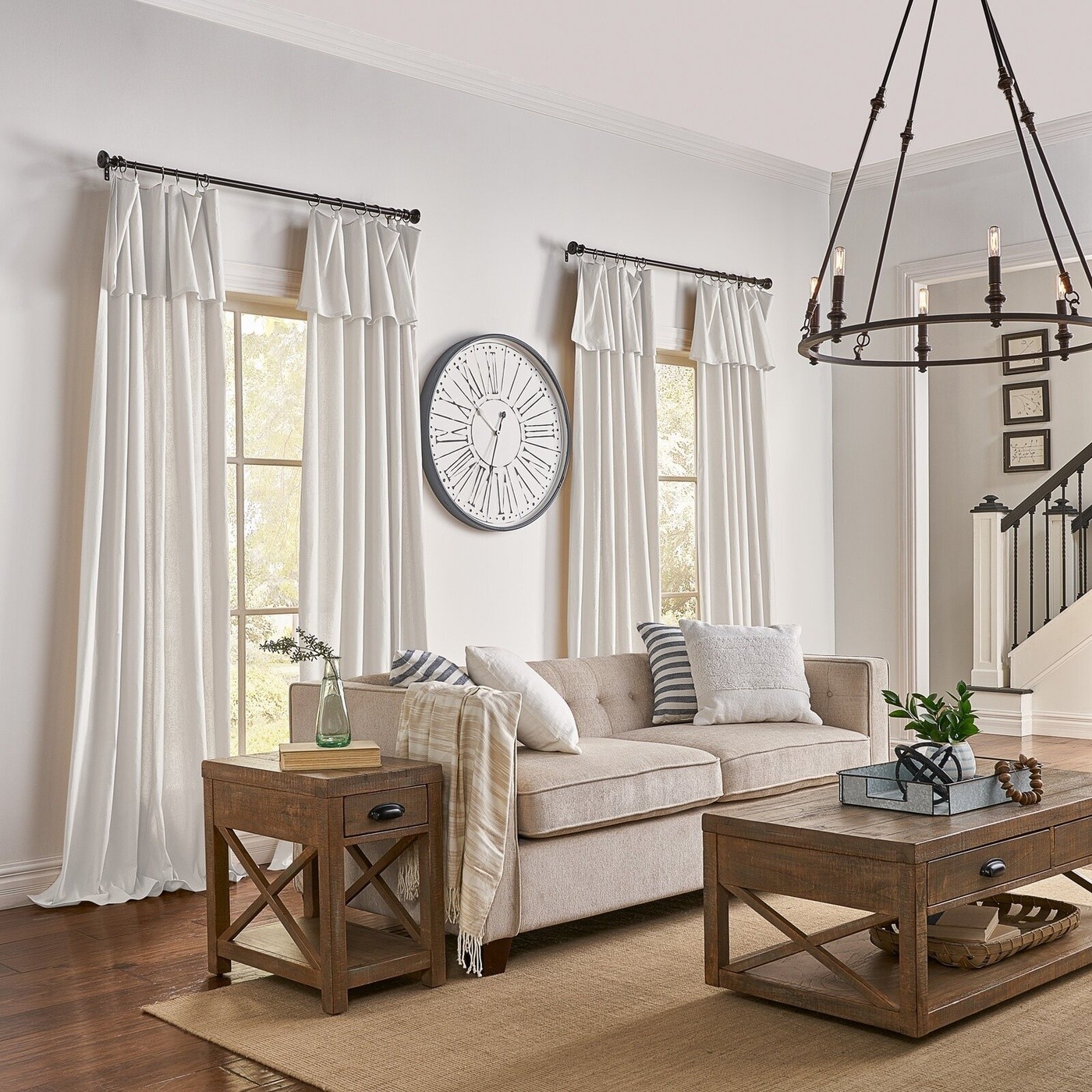 Linen
Still fairly casual but slightly heavier, linen curtains are another stylish option that balances brightness and privacy.
While it can be considered more sophisticated, keep in mind that linen isn't as easy to clean as cotton and, due to its rough texture, it can attract more dust: maybe consider using these curtains in airier environments only?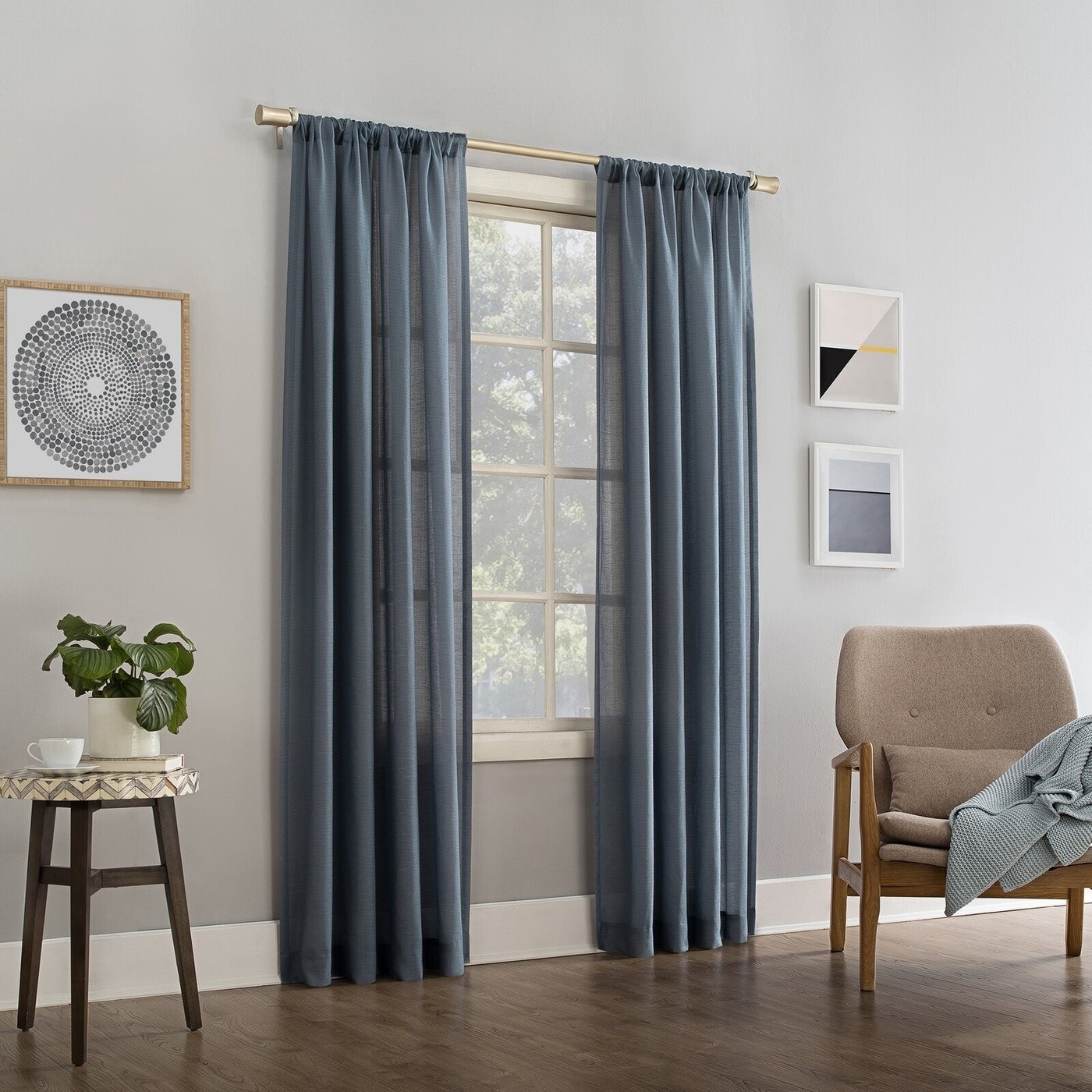 Burlap
Fairly similar to linen, burlap introduces an element of coziness and rustic charm that's perfect in rural or country settings.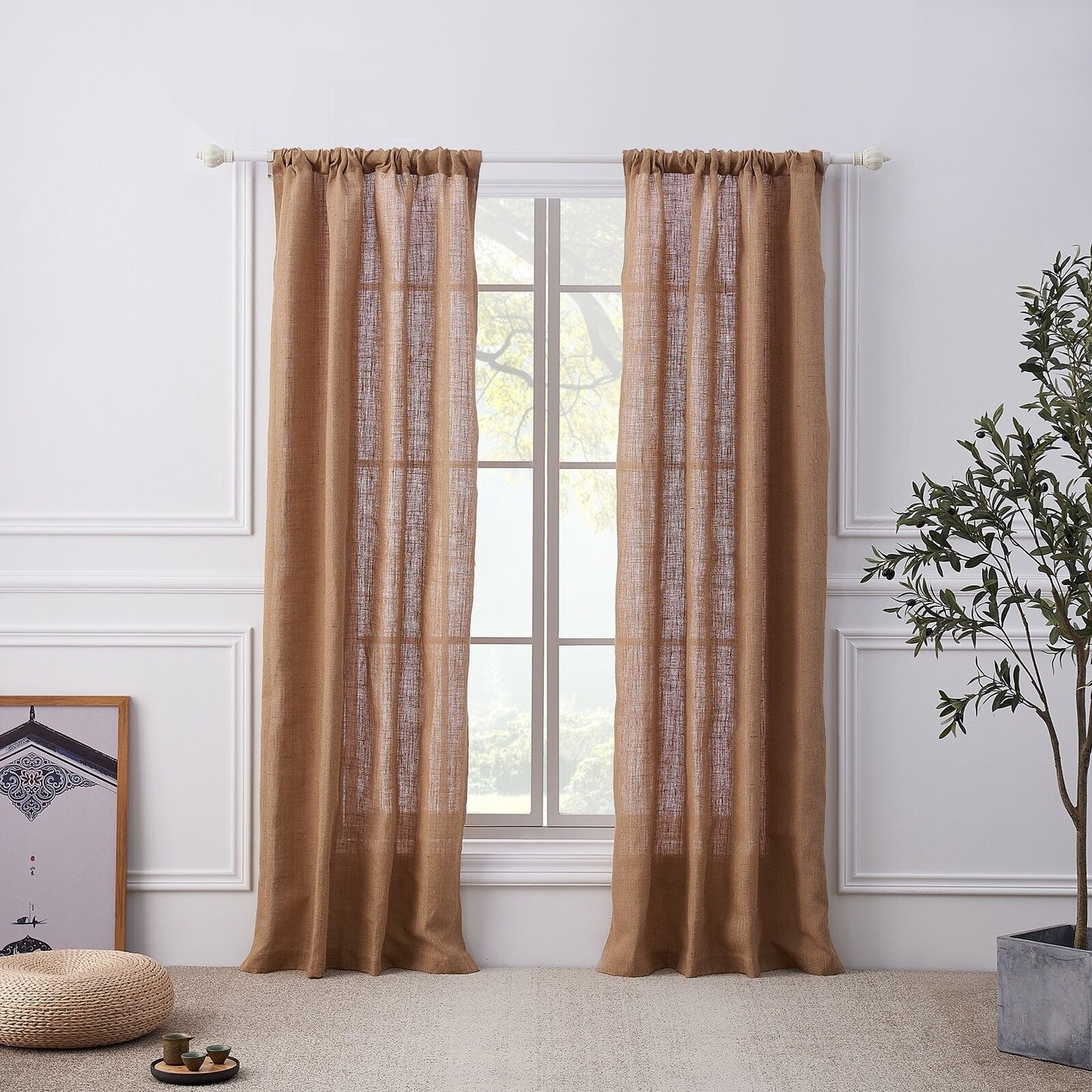 Polyester and synthetic fabrics
Synthetic options are a practical, versatile choice that might be right for you if budget is your main concern.
These curtains mimic the effect of natural fabrics and are available in a wide range of patterns and colors. Psst: they're also the easiest ones to keep clean.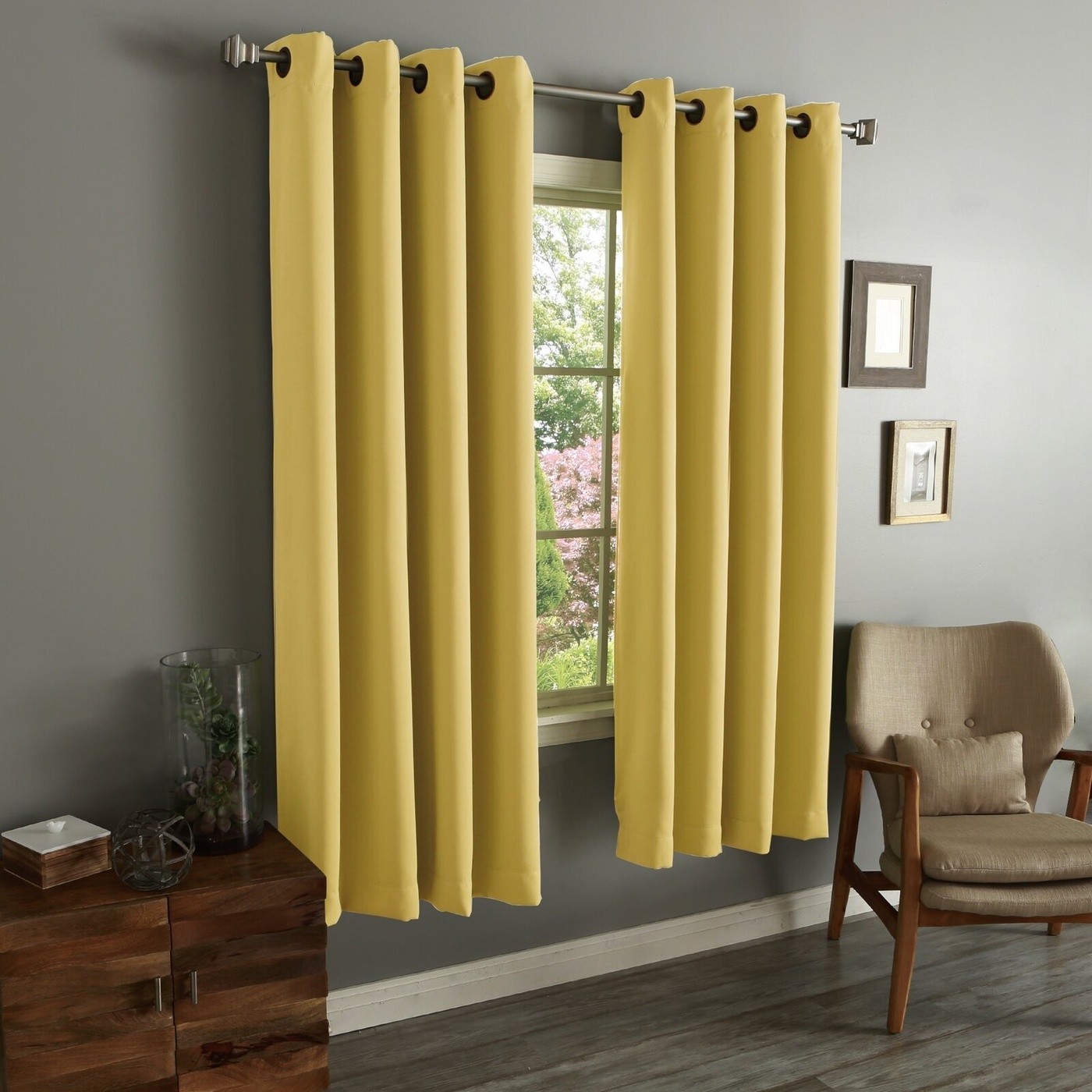 Lace
This is one of the most popular materials when it comes to sheer curtains.
It doesn't really provide much privacy, but it's the best fabric for a bright and airy feel.
Don't forget that you can still pair up your lace curtains with a liner or another layer of a different fabric to get the best of both worlds.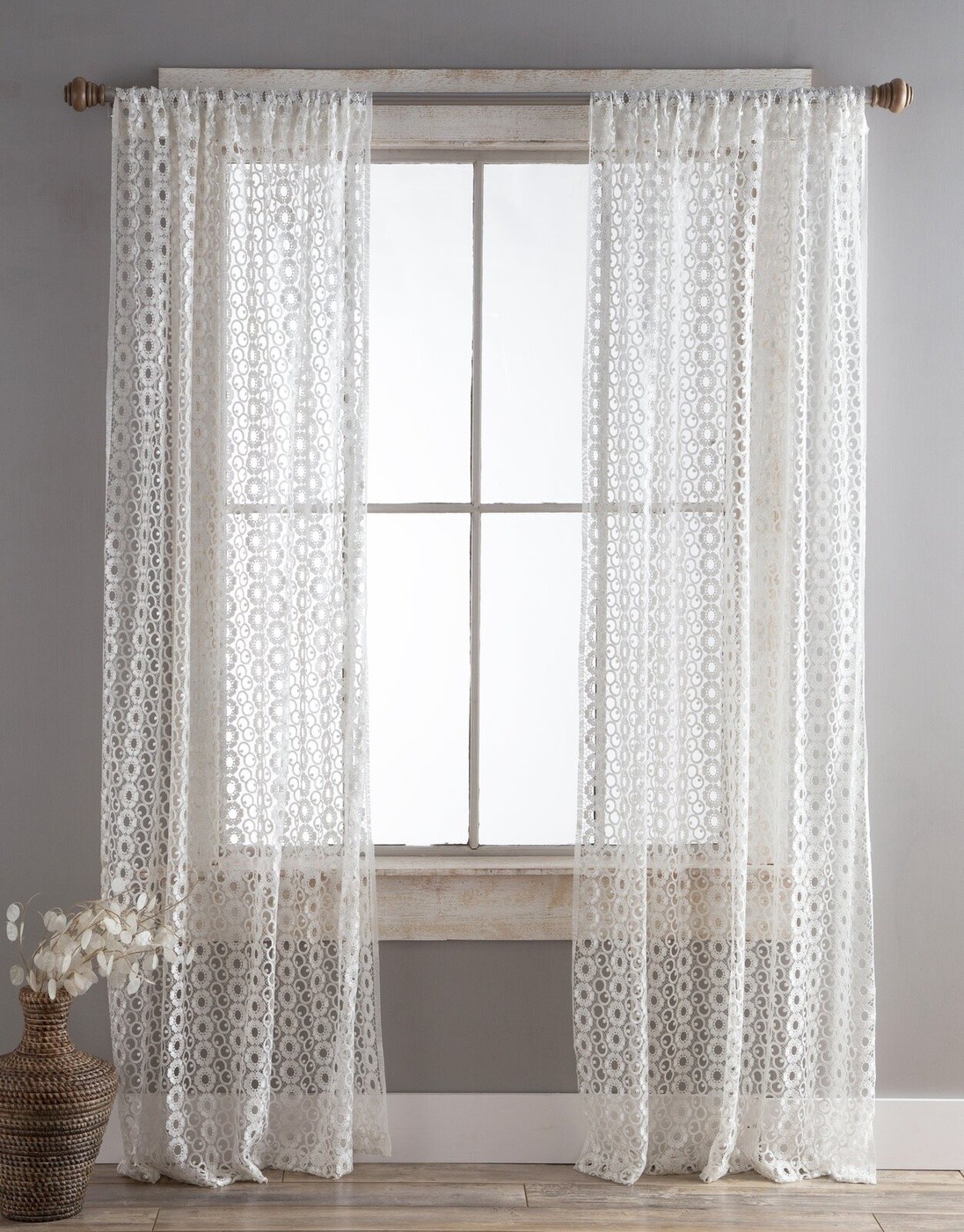 Velvet
If you were hoping for the most drapey and sophisticated result, stick to elegant velvet curtains.
They're perfect for long models and majestic or formal settings. Plus, because this material helps block drafts and reduce noise, it's handy in colder rooms and bedrooms of light sleepers.
However, you'll need to have your velvet curtains professionally cleaned.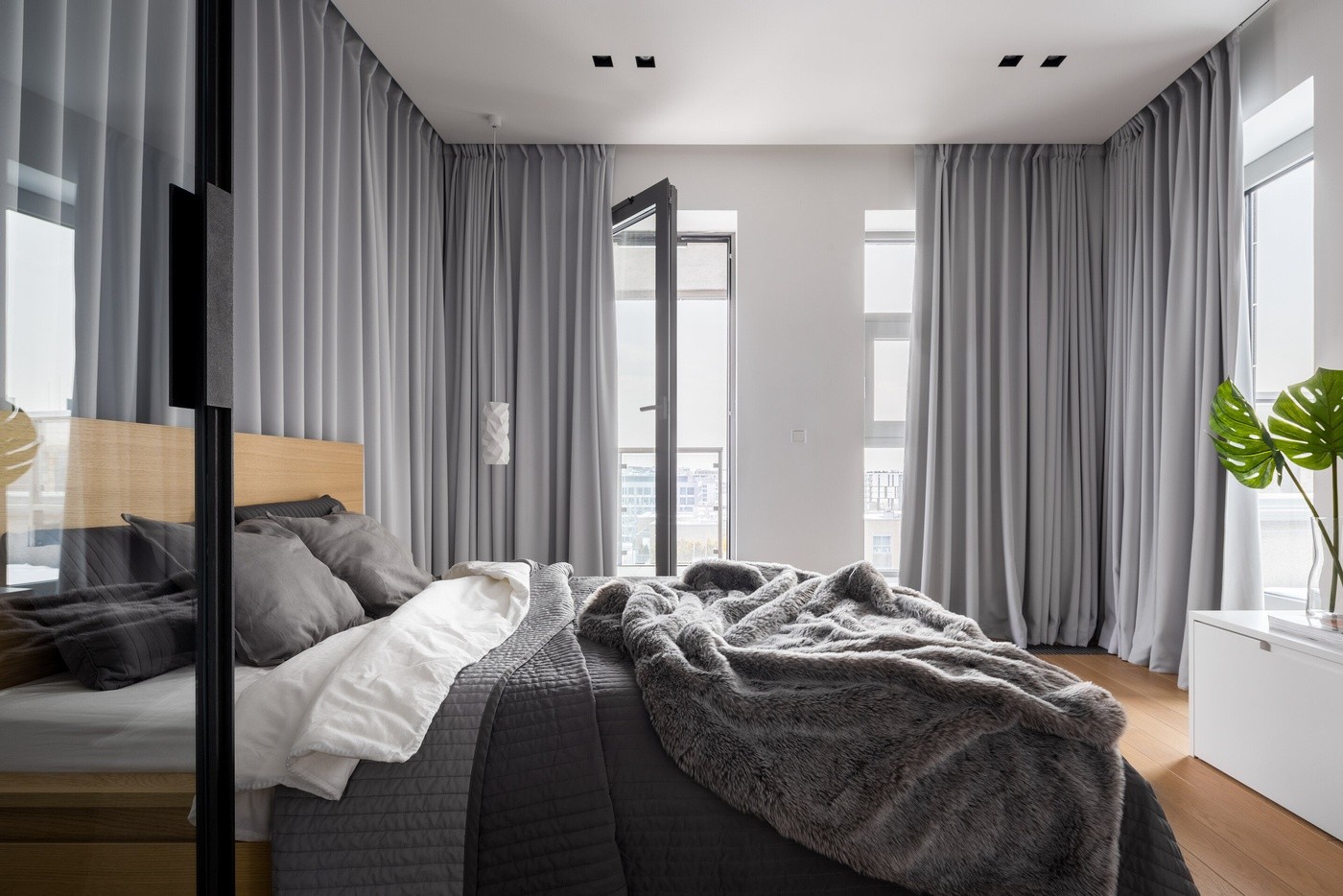 Silk
Silk is the semi-sheer option par excellence when it comes to curtains, although you can still find thinner and thicker models.
It will immediately achieve a luxurious feel, but keep in mind that you'll also need to have it professionally cleaned.

Choose a curtain style that works with the rest of the room
Here's the thing: it's easy to start browsing different types of curtains and instantly fall in love with a hue or pattern. However, the fact that it looks great on its own doesn't mean that it will be the same once you introduce it into that specific setting!
In fact, you should consider your curtains in relation to the rest of the room, both when it comes to palettes and your overall décor style.
Colors & palette
Identify your room's palette first and keep the 60-30-10 rule in mind:
60% is your primary color (e.g. walls, rugs, and larger pieces of furniture)

30% is your secondary color (e.g. smaller chairs, painted furniture pieces, and curtains)

10% is your accent color (e.g. artwork and smaller decorative items like throw pillows)
Since your curtains fall within that 30%, it would be wise to choose the same color as the other elements in that category. For example, if you have a light-blue chair next to a sofa in a neutral hue, you could opt for light-blue curtains.
However, you can easily use your accent color too, especially if you have shorter curtains.
The only thing that we advise against is to stick to your primary color: in fact, having curtains in a very similar shade as your wall means that they won't really pop.
Monochrome or patterned?
This choice will also depend on your décor style, which we're literally about to cover in the next section (exciting!). Still, we thought we'd give you a little heads up:
Monochrome curtains are the safest choice in rooms that are already heavily decorated or that rely on patterned wallpaper. They're also popular in more contemporary and minimalist settings

Patterned curtains will pop against a monochrome neutral wall. They can also help you tie the room together when they rely on at least one of your main colors or if the same pattern is repeated elsewhere (e.g. a piece of artwork). Depending on what pattern style you opt for, these curtains can allow you to emphasize your décor style even more explicitly
Décor styles
Can you imagine a busy curtain pattern in a minimalist room? Or a dark monochrome curtain in a delicate shabby chic setting? Neither can we.
When you choose among different types of curtains, you should consider the overall style of your interiors, too. Sure, the palette alone will be a pivotal factor, but here are some useful points that we thought you could find helpful:
In contemporary rooms, it's common to choose either monochrome or printed models that rely on a symmetrical pattern

Modern curtains can be more decorative. While solid colors are always a versatile option, you can experiment with different patterns depending on what decade or period you're drawing inspiration from. For example, geometric shapes characterize mid-century modern interiors, whereas bolder trapezoidal and zigzagged motifs are a must with art deco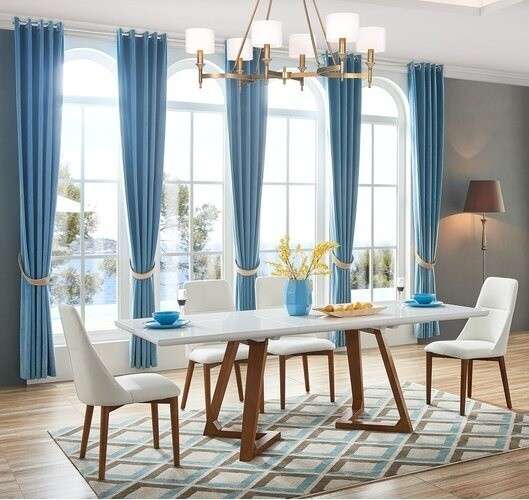 When it comes to curtains, nothing screams minimalism more than a solid design! If you want to experiment a little more without running the risk of ruining this streamlined inspiration, consider simple models with limited elements (for example, a clean line running alongside the floor surface, or a second solid color towards the bottom)

Minimalist curtains work well in Scandinavian settings too, but try and stick to a natural palette: for example, yellow, gray, dark blue, brown, or forest green. You're freer to get creative with patterns too. If your Scandinavian interiors mainly draw inspiration from these countries' streamlined design, choose circles and geometric shapes. If, on the contrary, you admire their connection to nature, look for flora or fauna patterns such as trees or stags.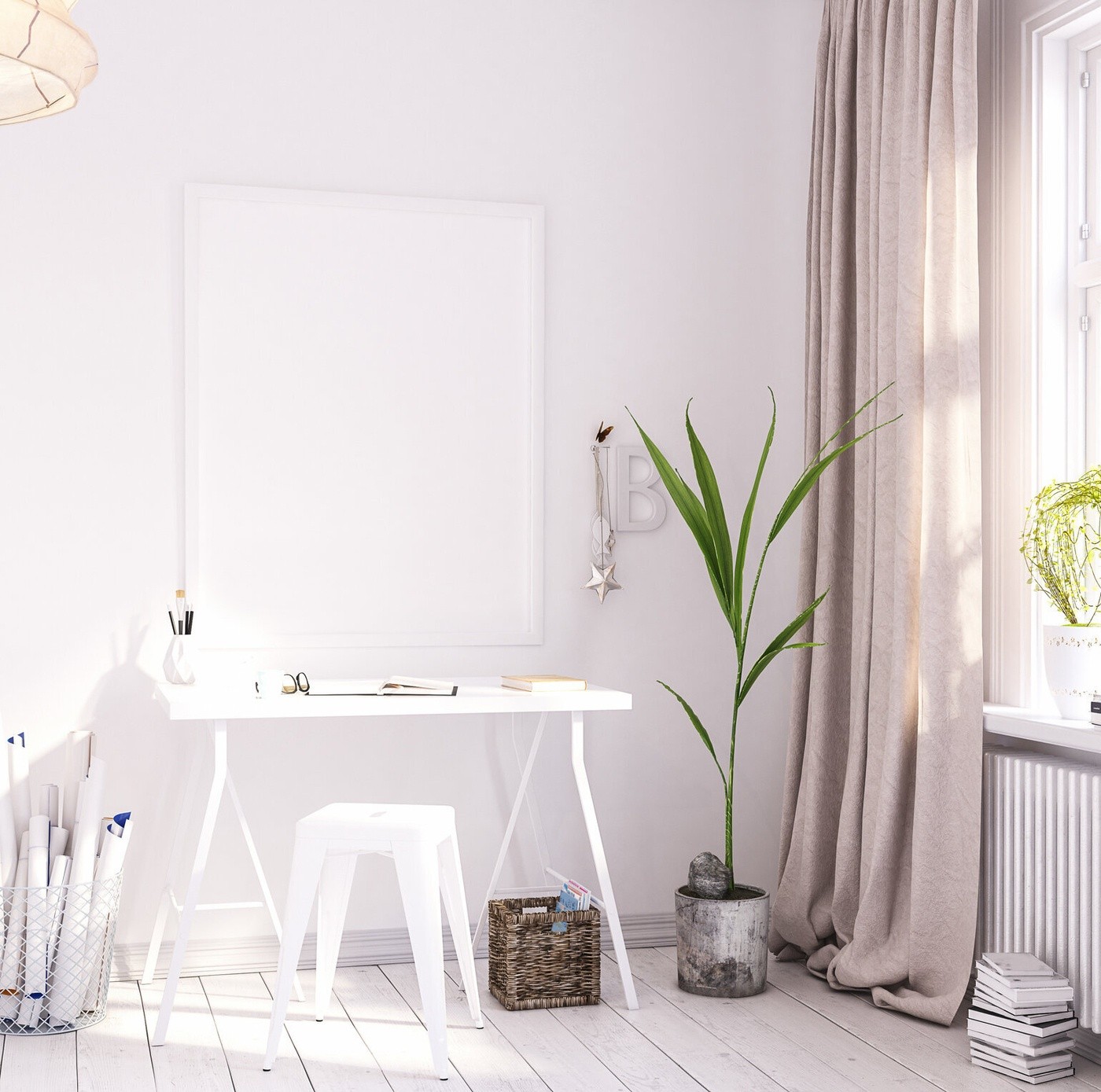 In shabby chic rooms, the more decorative your curtains, the better! That's why ornate window treatment sets and valances are especially popular with this style. As for colors, choose white, pink, or a delicate pattern that combines them. Floral motifs are also a beloved feminine choice

The most decorative curtains will work astonishingly in French country settings too, but you can easily play with darker colors and bolder patterns. However, don't stray away from harmonious lines and delicate elements

In a farmhouse room, you want to emphasize the feeling of casual coziness and airy environments. You can do so with neutral curtains, burlap models, or the most recognizable chequered designs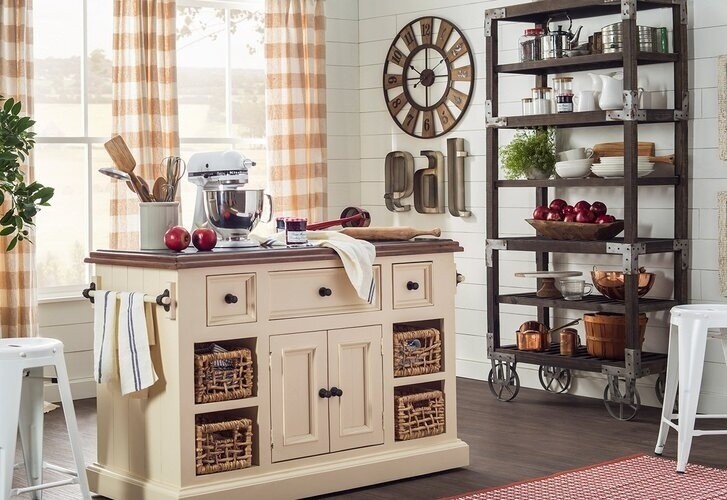 For a raw industrial feel, darker and neutral curtains in solid colors or very simple patterns seem to be the best choice, especially when featuring noticeable eyelets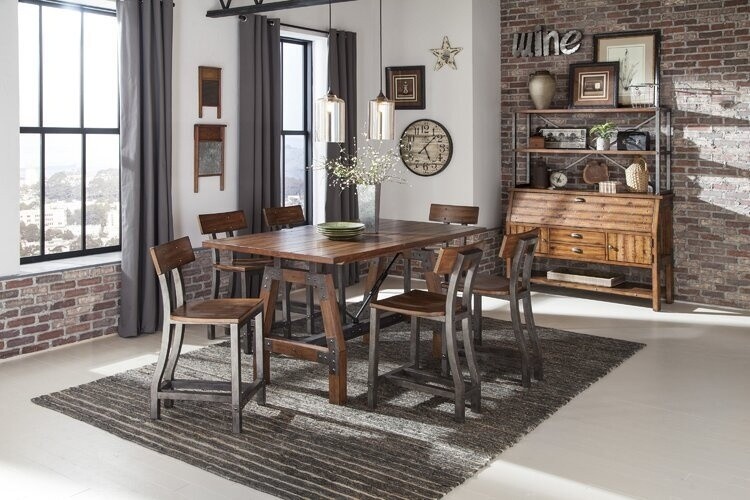 For maritime lovers, white and light-blue will help you complement your coastal feel, whereas don't be afraid to go darker (e.g. navy blue) if you were hoping for a more nautical approach. Patterns like ships, wheels, and anchors are another stylish trick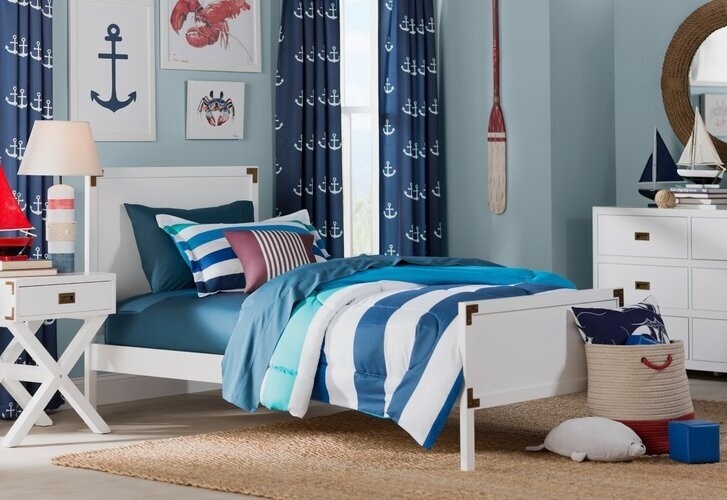 If you have a bohemian room, your curtains can be the chance to showcase your spontaneous spirit and global inspiration. As long as you have neutral and monochrome walls, look for the craziest and most eye-catching pattern involving at least one bold shade or ethnic prints. Window treatment sets, valances, and noticeable pleats are also popular with this style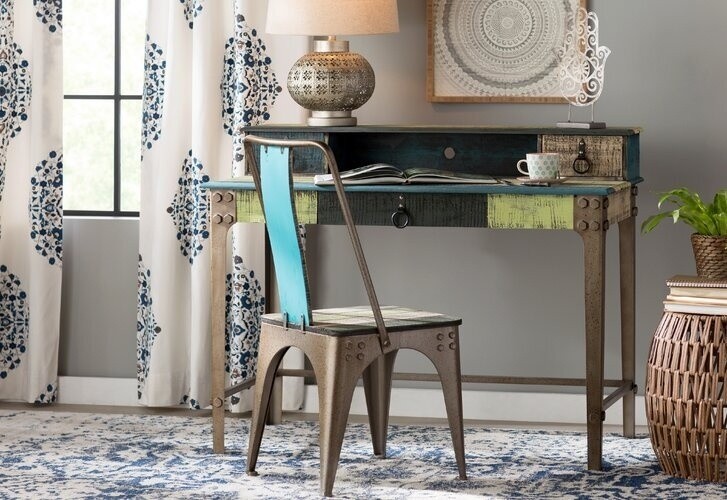 FAQs on different types of curtains
Should my curtains be floor length?
Whether or not your curtains should be floor length really depends on your personal preference: floor-length curtains help you enhance the verticality of your window area and achieve a more elegant or symmetrical feel. However, they might need to be washed more often, especially if they're fair or white.
We don't recommend floor-length curtains if your window is located behind a bulky piece of furniture that would get in the way whenever you want to close them (unless, of course, you only do so occasionally).
What's the best curtain fabric for a sunroom?
The best curtain fabric for a sunroom is lace. Being the most popular sheer fabric, it will allow plenty of sunlight into your room even when the curtains are pulled close.
Can I wash curtains in the washing machine?
Whether or not you can wash curtains in the washing machine really depends on the type of fabric. For example, cotton, lace, some linen curtains, and those made of synthetic fabrics can usually be washed in your machine.
However, we still recommend checking their labels to be on the safe side when it comes to a specific model.
More delicate curtains like velvet or silk cannot be machine washed and should always be cleaned professionally.
How often should I wash curtains?
For the best results and to avoid buildups of dust, you should wash your curtains every six months or, even better, once per season.
That's why, unless you don't mind organizing to have it done professionally, it's more practical to opt for materials like cotton or polyester rather than fancier but more delicate fabrics (e.g. velvet).
Do curtains crease?
Curtains can crease after washing them and, in the long run, once you hang them, but it's worth noting that it happens less when you opt for heavier fabrics.
With some other materials, you can easily leave them that way: for example, linen is famous for being wrinkly.
However, if you find it distracting, you can iron or steam your curtains to get rid of these creases (check their labels or manufacturer instructions first to avoid ruining them, though).
Should I have curtains in my kitchen?
Curtains can be both a good and bad idea in a kitchen.
In fact, they can absorb smells and cooking odors, so we don't recommend them in the smallest ones. On the contrary, they can be a stylish idea in larger and open-plan kitchens that are well-ventilated.
If you're not too sure or your kitchen is medium-sized, a good compromise is to opt for smaller valances: that way, you'll still have a decorative statement and a chance to block direct sunlight, but you won't have long drapey curtains in the way when cooking.
What are some trending living room curtain patterns?
Some of the best trending curtain patterns for the living room are those involving saturated tones, natural prints, oriental styles, and a white design.
However, unless you're planning on changing them every year, we mainly recommend choosing a curtain pattern and color that work well with the style of your room rather than one that follows a temporary trend.