Our Choice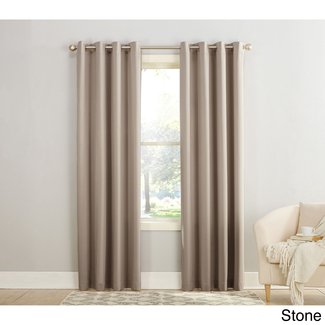 Wayfair Basics Solid Room Darkening Grommet Curtain Panel
Its neutral hue means this grommet curtain panel will blend in effortlessly with your color scheme while its classic style and full length elegance will enhance the sophistication of your decor. The drape which features a woven solid design is also ideal for filtering out both sound and light  and will keep out the harsh glare of the midday sunshine. 
Hang  it over a french window or a sliding glass door in your bedroom to create a relaxing ambience of seclusion and calm.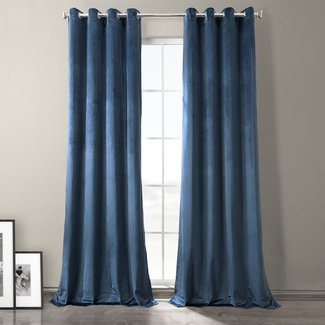 Leitch Solid Blackout Thermal Grommet Single Curtain Panel
Brought to you in a warm white reminiscent of summer lilies, the Leitch Velvet Single Curtain will instantly bestow its pristine appeal on any room it is placed in while also creating the illusion of a larger window. Its ability to blackout light along with its weighted hem will also enable you to enjoy a cool evening breeze without your privacy being compromised while its thermal properties will also minimise heat loss when the curtain is drawn. Place as the final finishing touch in a room with white colored walls and dark seats and tables to enhance contrasts for an especially dramatic effect.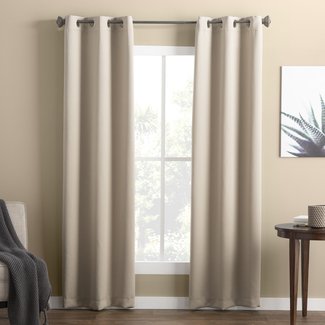 Wayfair Basics Solid Blackout Thermal Grommet Single Curtain Panel
Manufactured from polyester, this thermal grommet single curtain comes with a resistance to wear and wrinkles which is a desired quality in all household fabrics. The machine washable single panel also features excellent blackout qualities ensuring you will be able to maintain your prefered levels of light and sound in any room of your choosing. Complement its solid appeal with a lighter window treatment as well as an upholstered wingback seat and single cabinet to add an element of contemporary refinement to your living room.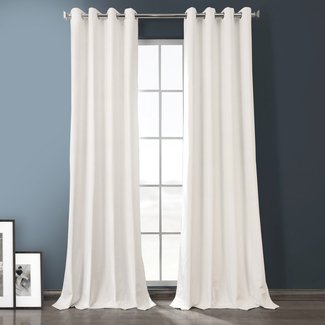 Solid Blackout Thermal Grommet 2 Curtains / Drapes (Set of 2)
Made from triple weave fabric, this curtain set comes with woven-in blackout fibers and tiebacks ensuring you will be able to conveniently regulate the ambient light and insulation in your surroundings. It also features Grommet tops which will lend a modern touch to your decor while also contributing to the energy efficiency of the drapes. Hang against lightly colored walls in a nursery or bedroom to create an intimate feel thanks to its navy blue hue.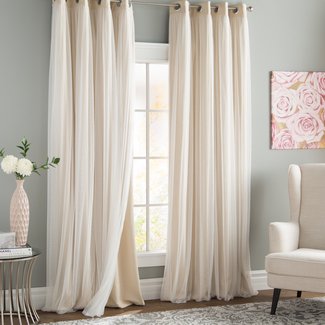 Brockham Solid Blackout Thermal Grommet Curtain Panels (Set of 2)
Featuring a brilliant white which will instantly enhance the spaciousness of their surroundings, these brockham solid curtains will also add an element of luxury to your home office or living room. Their even pleats and monochromatic tones will also ensure that they will fit right into any contemporary setting they are placed in. Place as the perfect backdrop to your desk, seat and table or standing lamp to fully showcase the timeless appeal they provide.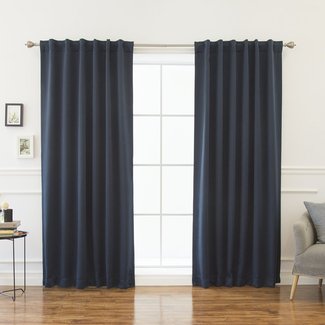 Sweetwater Solid Blackout Thermal Rod Pocket Double Curtains (Set of 2)
This curtain set comes with the ability to effortlessly blend aesthetics with functionality. Brought to you in an alluring navy, it will play off wonderfully against a wide range of lighter accent colors providing you with endless decorating options. Set in an area with heavy traffic such as your dining room or lounge where its dark blue tones will add a luxuriant depth to its surroundings.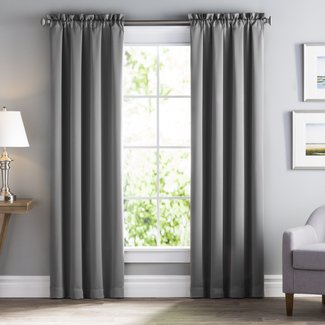 Wayfair Basics Solid Blackout Rod Pocket Single Curtain Panel
With a neutral gray which makes it ideal for both warm and cool decorative themes, this curtain panel is an excellent choice for styles which focus on emphasizing space. Its three-inch ruffled header will also contribute an additional stylish element to its overall effect balanced out by its three-inch bottom hem. Its energy efficient design which is capable of insulating your home is also another advantage it provides and will enable it to reduce heat loss by up to 30%.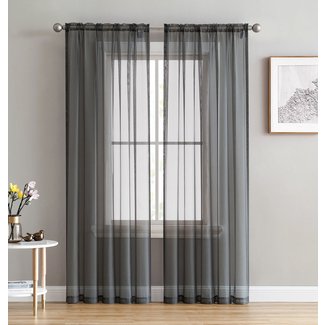 Brushgrove Solid Sheer Rod Pocket Curtains (Set of 2)
Made from polyester and featuring a solid hue, these sheer curtains will illuminate your surroundings while ensuring you are able to enjoy privacy at the same time. Their ruffled headers will also subtly enhance the classical elegance they provide while their rod pockets will provide them with even pleats. Incorporate into a bohemian-style living room to add brightness to otherwise darker colored pieces of furniture and indoor plant ceramics.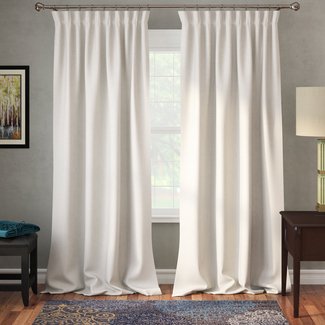 Freemansburg Room Darkening Rod Pocket Single Curtain Panel
Reminiscent of a virgin winter landscape, this curtain panel in an immaculate white will instantly highlight the various hues and accents in its surroundings owing to its subtle neutral touch. Manufactured from 100% polyester with a rod pocket, it is easy to install and a varying choice of panels will provide you with even more options for color as well. Its flowing pleats which end in a pool at its base will provide a luxuriant waterfall effect making it an excellent option for spacious rooms where it will enhance the elegance of its surroundings.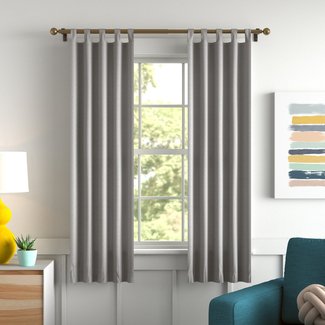 Wayfair Basics Solid Blackout Thermal Tab Top Single Curtain Panel
A finished hem and full-length pleats make this single blackout curtain a stylish option for controlling both light, warmth and sound within your immediate environment. Made from 100% polyester, it is also especially durable and easy to maintain due to being suitable for machine washing and ironing. As a result, it will remain satin smooth and wrinkle resistant making it an especially excellent choice of window treatment. Take advantage of its silver gray coloring to add a cooling touch to balance out warmer colors such as gold, orange or ochre.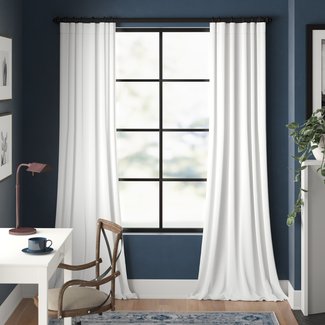 Clem Solid Blackout Rod Pocket Single Curtain Panel
With its brilliant, flawless white, this blackout single curtain panel is perfect for offsetting the color of background walls as well as furnishings which happen to be of a darker hue. Especially stain and fade resistant, it is also capable of creating an intimate ambience thanks to its max blackout feature which will keep out any unwanted lighting. Complement with a dark gray rug and matching picture frames against a lighter colored wall to create an eclectic blend of minimalist and traditional styles.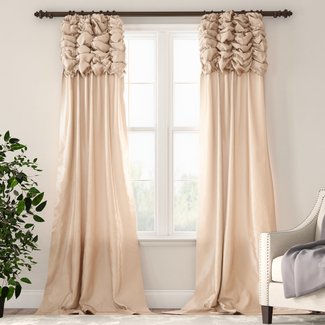 Hallman Ruched Room Darkening Rod Pocket Single Curtain Panel
Luxuriant and inviting, this blackout curtain panel is ideal for a setting which incorporates both opulence and comfort, such as a shabby chick or traditional dining room or lounge. Its rich coffee brown hue accentuated by its faux silk glamor and ruched detail will also further enliven the overall effect of lighter colored furnishings. The fact that it consists of  a nylon-polyester blend also means that the panel will come with an extra element of softness while also being especially resistant to stretching and shrinking.