Our Choice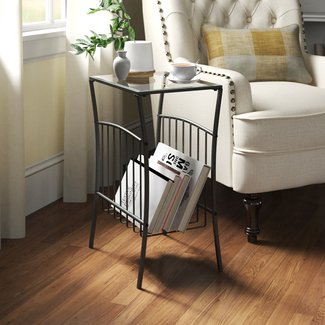 Ellyn End Table with Magazine Storage
This multi-function freestanding furniture serves as a side table and a magazine rack. The open steel design provides visibility to stored magazines or books which not only expedites access but also looks airy and fashionable. The sleek glass tabletop can be decorated with a lamp or a plant while being an ideal waterproof surface for your morning coffee or afternoon tea.
Zina Magazine Rack
This eye-catching minimalistic design is great for tight spaces as it can be hung on a wall. The hexagon shape topped with diagonal steel rods awash in metallic titanium will suit a contemporary room or bathroom decor. It can hold up to 10 magazines, few books or vinyl records of the total weight of 5lbs. There is no assembly required and it comes with a 5-year warranty.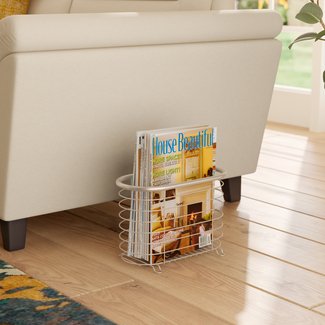 Eisele Magazine Rack
Organise your daily readings in style with this wire curved magazine rack available in bronze, satin, and black. These universal matte colours will easily match your existing bathroom faucets ensuring visual cohesion. The sturdy steel construction keeps the magazines, newspapers, books or tablets upright and prevents the rack from tipping over. Wipe it with a damp cloth and gentle cleanser to maintain its like-new appearance.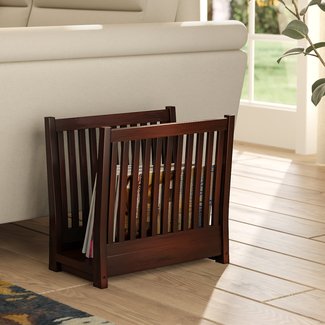 Perlowitz Magazine Rack
This freestanding classy magazine rack will complement traditional decor filled with cream leather sofas, cherry furniture, and wooden floors. The mahogany wood construction and dark brown finish will add a touch of warmth and richness to your living room or indoor porch. It's extremely easy to assemble—just connect the wooden pieces with 4 screws and you can immediately enjoy the exquisite organisation of your periodicals.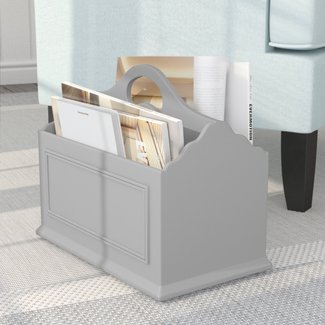 Adaline Mobile Home Park Magazine Rack
Invest in a sturdy design by acquiring this manufactured wood magazine rack. It features 2 compartments for more organised storing and it's enhanced with a handle for effortless repositioning. It comes fully assembled so you can enjoy its benefits without any additional work. It's bigger than most magazine racks available on the market giving you the opportunity to surround yourself with all your most treasured titles.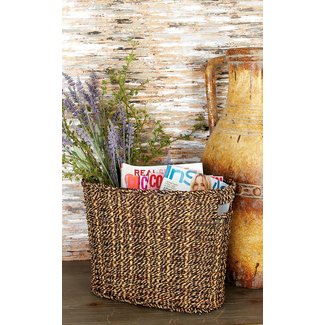 Schrader Magazine Basket
This is a perfect magazine basket for any nature-loving decorator. The flickering seagrass woven design embracing the curved structure gives an impression of a hand-made product, therefore it's ideal for people who appreciate the uniqueness of arts. The brown/sand hues will blend effortlessly into monochromatic colour palettes but will also complement strong colour accents in your room.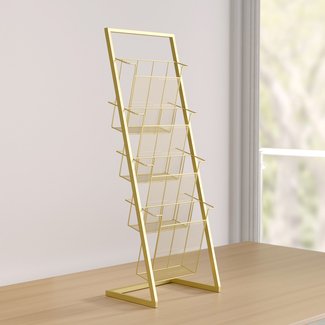 Kris Traditional 4-Shelf Slanted Magazine Rack
Avoid magazine clutter with this highly-organised magazine rack. It features 4 large compartments allowing plenty space for multiple monthly subscriptions, while the vertical design doesn't take up a lot of floor space. Its upright diagonal construction will enhance the look of any office, reception or trendy living room. The iron frame covered in gold will look posh against a burgundy, dark teal, chocolate or black wall.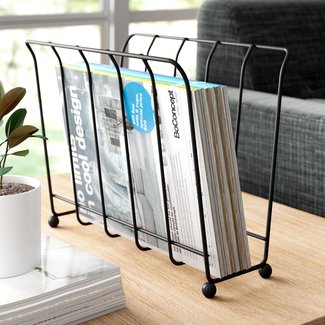 Emery Wire Magazine Rack
This chic magazine rack is crafted from powder-coated steel providing sturdy support for your daily readings. The open curved design makes it easy to quickly scan the contents. The delicate wire construction allows it to be placed on a desk in case you need an organiser for your work folders or documents, and the slender base turns it into a perfect little magazine holder fitting virtually into any narrow nook.